WANDRD PRVKE Review: Best Photography Backpack?
In this post, I tell you my opinion about the WANDRD PRVKE backpack, a photography backpack that has become my favorite and probably yours.
If you are looking for the perfect travel backpack to carry your camera, look no further! You've come to the right place!
Many different camera backpacks are on the market, making it challenging to find the right choice. You will see convenient and (very) ugly backpacks or very nice backpacks that would not protect your equipment from a strong wind.
Today, I bring you a review of this backpack that is designed for travel photographers.
After the WANDRD PRVKE backpack experience, I can confidently say that today this is the best backpack on the market for travel and photography. (If I find another one I like better, I'll tell you too)
Whether you're a professional photographer, video blogger, or amateur, the WANDRD PRVKE backpack is a great choice for everyday use or longer trips, where you can carry your camera and equipment comfortably, safely, and by hand at all times.
There are two versions of the same backpack; you have the WANDRD PRVKE 21L and WANDRD PRVKE 31L version.
In my opinion, the WANDRD PRVKE 21L backpack is ideal for everyday use and the 31-liter backpack is for longer trips.
Do you want the lite version? I love it!
Photo camera bags and backpacks have been around for years, but many are simply ugly, unstylish, and only designed to be practical.
Sometimes these typical photography bags catch the pickpocket's attention because everyone knows that there you have a camera.
It may also happen to you that you can only use it as a photo backpack and period, or that only the photographic equipment comes in, and they don't have room for your wallet or a bottle of water.
Check out WANDRD backpacks and especially PRVKE: a stylish, practical backpack that has it all. It will accompany you perfectly in a photoshoot, on multi-day trips, and for daily commutes.
With a combination of three intelligently designed access points, expandability, weather resistance, and usefulness.
The WANDRD PRVKE is something worth contemplating. By taking it out of its protective bag, you can't help but be impressed by its aesthetics, its materials, its great potential to pack a lot of equipment.
With two sizes, 21L and 31L, they come in great for traveling, either during a short getaway or trips abroad.
WANDRD has done an excellent job retaining a minimalist/urban aesthetic while including an excellent variety of features.
What is the WANDRD PRVKE Backpack?
Designed by photographers for photographers, the WANDRD PRVKE is a simple and elegant backpack that has caught a lot of attention. It began as a Kickstarter campaign and quickly reached its goal. Since then, they've sold out a couple of times.
It is a highly sought-after backpack among photographers looking for a backpack for their equipment, suitable and at a reasonable price.
It comes in three colors: black, green and blue. The green and blue colors are quite subtle. WANDRD currently offers two sizes: 21L and 31L.
You can also look at Horizn Studios backpacks; they have a wide variety of backpacks for traveling. From small and waterproof for day to day or for long trips.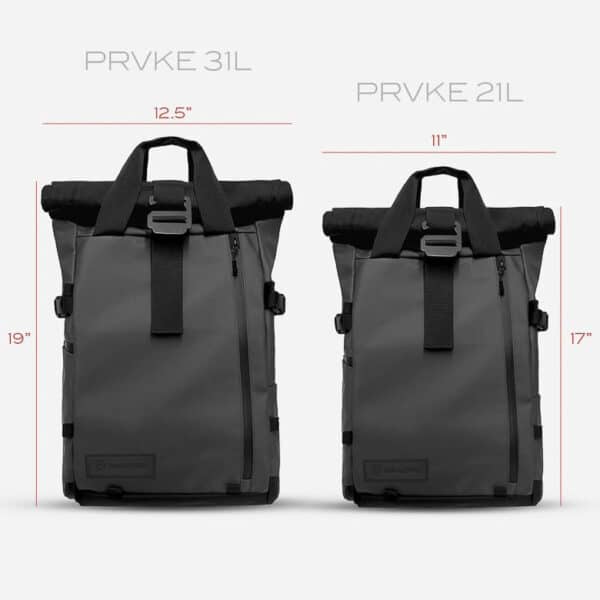 Pros & Contras
PROS
CONS
Who is the WANDRD PRVKE Backpack for?
The WANDRD PRVKE backpack is for those who want a versatile backpack that can fit various equipment configurations, including a single travel backpack (when you can only -or want- to carry a bag on the plane) and a camera and/or drone needs, especially in its 31L version.
The number of pockets, both hidden and not, offers a lot of options. It is all together with a huge main compartment that includes some organization with an optional camera cube and a built-in partition that can be used or saved.
It is for the worker, the traveler, and the explorer who needs to carry a lot of equipment; it's a comfortable and functional backpack.
Photographers
This backpack is designed specifically for professional or amateur photographers.
The dimensions are large enough to accommodate a substantial amount of equipment but small enough to be easily portable.
Accessories are 100% focused on photographers, with additional protection against weather and impacts in protective camera housing and rain cover.
The Essential Camera Cube is a very interesting accessory for the equipment organization, and it comes in different sizes.
You can also buy other accessories, such as straps and other small bags. Overall, it is one of the best photography backpacks for photographers.
Day by day
It is ideal as a backpack for day to day, going to work, taking on public transport, etc. Are you a cyclist who needs something weatherproof, elegant, and light?
Take the train regularly and look for a discreet and safe bag to store your equipment? My friends, the WANDRD PRVKE is all of the above and more.
Travelers
The WANDRD PRVKE backpack is a good travel companion with its incredible range of safety features.
It is durable and comfortable to use and is the perfect size to be placed under a seat or in an overhead compartment on the aircraft.
People who live or travel in wet areas
Extreme durability and waterproofing come standard with the WANDRD PRVKE. It's an ideal backpack if you live in a place that rains often or is very humid.
It's good for everything from shopping to daily walks!
Who isn't this backpack for?
If you want to keep a low profile and not draw attention to yourself, the PRVKE backpack is not ideal.
Personally, it would not lead her to explore cities with potentially dangerous places. Its aesthetic, elegant and modern, can attract the attention of pickpockets.
Hikers: While this article will show you that the WANDRD PRVKE backpack has many useful features for a hiker, it probably won't be your first choice to get into the bush, especially if you plan to go alone. While it has impressive durability and will travel the distance wherever you take it, the PRVKE is a bit small to be useful as a real hiking backpack.
Travelers traveling only with carry-on baggage: This backpack is too small to be useful for traveling alone with it. While it has some features that would be absolutely useful to you, there are better WANDRD options available that offers a little more space, such as the 45L HEXAD Access Duffel or FERNWEH BACKPACKING BAG (I love the latter).
Sport: the WANDRD PRVKE backpack is many things, but being ultralight is not one of them. This backpack is designed to protect and carry your expensive photography equipment safely.
Who's Behind WANDRD?
WANDRD has a fantastic history of origin. In 2015, three young photographers realized they were tired of enduring poor-quality camera backpacks.
At the time, photographers had to choose between a bag that protected their cameras but looked like garbage or a backpack that looked pretty but completely failed as a backpack for photographic equipment. WANDRD was created to change that.
Since the company launched its first product with a Kickstarter campaign from its parents' basement, the founders have tried to attach a stylish, functional backpack for the photographer who wants more of their equipment.
Two more Kickstarters, four years and several product lines later, the PRVKE ("Provoke") has emerged due to its desire to offer one of the best camera backpacks for travelers.
Today, they are one of the best brands of backpacks out there.
What particularly attracted me to this brand is that they are, above all, passionate travelers, photographers, and creators, and these passions run strongly through the veins of their business, and you can see it!!!
Their Mission is:
"Inspire people to get out and live passionately, exploring, creating, and living life at the moment. We just happen to do that by creating the world's best gear."
In addition to all this, they create products that last for a lifetime and are functional, useful, and beautiful.
They have different backpack options according to your needs; you have the PRVKE series, the DUO backpack, the HEXAD Duffel backpack, the Fernweh, and the VEER folding backpack, as well as other accessories for travel and photography.
I'll tell you everything in detail; read on.
WANDRD PRVKE features
The PRVKE is a wonderful combination of useful and functional features. From an easy-to-use roll-up lid to a wealth of smartly placed, secure pockets, this backpack exists to make your life easier.
Let's take a few minutes to analyze each of these unique features.
If you're short on time, watch this WANDRD video:
Storage and functionality
Insight, it looks smaller than it really is. But in this backpack come two cameras and 3 lenses easily.
In addition to having a special pocket for a 15-inch laptop, a 15-inch MacBook Pro along with its charger comes in perfectly.
As if that weren't enough, you'll still have room to store your phone and camera chargers.
Outside you will find a pocket to carry a tripod or a bottle of water of one liter.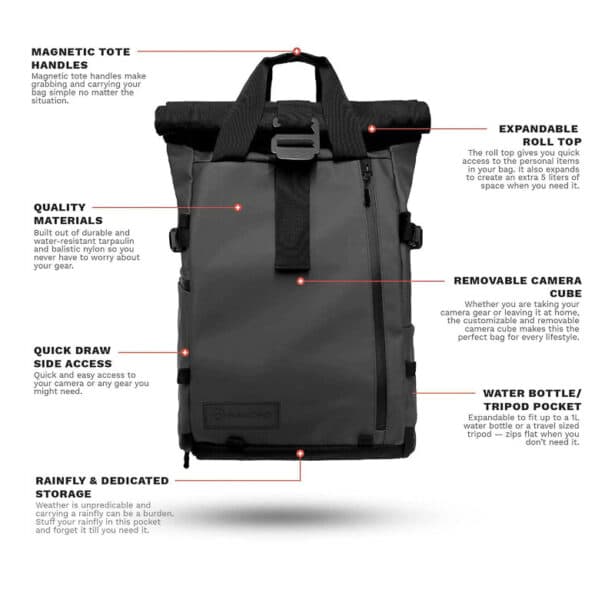 Size and weight
The WANDRD PRVKE comes in two sizes: 21 and 31 liters.
PRVKE 21
Dimensions: 17″H X 11″W X 6.5″D
Volume: 21 L to 25 L (25L when you extend it completely)
Weight: 1.3 kg (2.8 lbs) – if you want something lighter, check out WANDRD Veer.
PRVKE 31
Dimensions: 19″H X 12.5″W X 7.5″D
Volume: 31 L to 36 L (36 L fully extended)
Weight: 1.5 kg (3.4 lbs)
Construction and robustness
Made of waterproof canvas leather and a nylon inner layer, the WANDRD PRVKE 31 is designed to last. All zippers are super resistant, solid, and of high quality.
Fortunately, WANDRD offers a lifetime warranty for this backpack, which denotes the quality of its construction and materials.
Appearance and comfort
This backpack shows that they have created it thinking about the comfort of the people who will use it.
It is beautiful and minimalist on the outside, has 3 accesses to the inside of the backpack.
It can be transported very easily on the back or with handles.
Organization
The organization of the inside of the backpack is highly configurable. Everyone can adapt it to their needs.
The backpack comes with rigid separators that stick with Velcro, or you can get the cube camera.
Also, if you're not traveling with the camera or all the photographic equipment, you can leave the inside free to store your travel clothes or whatever you need for your day-to-day.
This backpack is clearly designed for the needs of the photographer.
There are many pockets beside the main compartment to store different items.
One of my favorites is the "hidden" pocket against my back when I use the backpack. This is the ideal place to store your passport or other sensitive documents such as boarding passes or cash.
In addition, it is one of the only pockets that offer some kind of organization to place pens, etc.
I found the front pocket useful to store my notebook and other papers to have on hand.
The quick-access top pocket is cleverly located and easily accessible.
It has a small side pocket with a clip for keys; it is hidden behind a strap. Presumably, you can store something small and valuable here, but you can store whatever you want.
Finally, there is a pocket where the rain cover is stored at the bottom of the backpack.
Depending on where you will use the backpack, the rain cover will not be very useful since the backpack is already waterproof, and instead, you can store straps or some cables.
Durability
It doesn't make sense to have all these lovely features in a backpack if you have to throw it away after three months of use.
Fortunately, I haven't had any problems with the durability of this backpack. The materials that have been used to make this backpack are very resistant.
Price: value for money
The value of money is always somewhat difficult to evaluate, as it is very subjective. How much do you value what something looks like versus how it works, for example?
In my case, I like things to be functional, durable, and beautiful.
What is functional for a backpack: it has to be efficient in use, able to carry all my equipment, and have space for some other things, so I don't have to carry another bag, be comfortable and pleasant to use for long periods.
Fortunately, the WANDRD PRVKE backpack achieves all those goals for me, so I think it's excellent value for money.
Is it expensive? Yes, I think it is because I prefer the bundle. You can get a lot of cheaper camera backpacks, but that's the case with anything. I'd rather pay more for something that meets all the requirements for me.
You know the saying that cheap comes out expensive. I'd rather buy a photo backpack that lasts for years and not have to change it every year, or it breaks the first trip.
Besides, having a lifetime guarantee is worth the investment.
Shipments worldwide
One of the things I like the most about this company is that they ship their products virtually anywhere in the world. Whether you're in the United States, Europe, or Asia, your backpack will go where you live and also in about two business days.
Guarantee
Good news! Your WANDRD PRVKE backpack comes with a lifetime warranty in case of defects. Obviously, this doesn't mean you'll get a new bag if you burned yours while you were camping… but if it breaks or gets rid of it in any way, the company backs it up.
WANDRD PRVKE Accessories
Rainfly: waterproof cover to protect your photographic equipment. Although the backpack is already weatherproof, this cover can be critical to keeping your equipment protected depending on where you travel.
Clip Straps: These straps are useful for holding a tripod or carrying extra material.
Waist Straps: an accessory, which should perhaps be part of the original configuration of the backpack, but comes apart, are these straps to hold the backpack to the hip. The good thing about this accessory is that it has a couple of pockets to have things handy.
Where to Buy WANDRD Backpacks?
WANDRD backpacks can be purchased directly on their website (Recommended) or sometimes is available on Amazon.
My recommendation is to buy it on its website through one of the links you will find in this article.
[wptb id=25986]
You Have Several Purchase Options:
WANDRD Backpack (non-bundle)
Photography Bundle: Includes rain cover, straps, and cube camera.
Pro Photography bundle: includes straps, rain cover, and PRO cube camera.
WANDRD PRVKE Review | Conclusions
Overall, my opinion on the WANDRD PRVKE backpack is quite neutral. On the one hand, it has managed to do what so many other backpacks did not achieve in the past: combining functionality, innovation, and organization with a spectacular look.
It's designed for outdoor activities, is comfortable, and you can carry all your equipment in one place.
Also, they have excellent customer service and a lifetime warranty.
On the other hand, the roll-up opening and access to the cube camera could be improved.
That said, if you're a photographer, it's definitely one of the best travel backpacks out there.
It is tough enough to withstand heavy use. It is made of high-quality materials that are weatherproof and tear-resistant. It is perfectly organized, with access points and plenty of pockets.
Other Travel Backpacks
Last Updated on 27 September, 2023 by Veronica
Disclosure: Some of the links on this post are affiliate links, meaning at no additional cost to you, I may earn a small commission if you click through and make a purchase.
Author: Veronica
Vero, a seasoned traveler, has explored 25 countries and lived in five, gaining a rich perspective and fostering an infectious passion for travel. With a heart full of wanderlust, Vero uncovers the world's hidden gems and shares insights, tips, and planning advice to inspire and assist fellow adventurers. Join Vero and let the shared passion for travel create unforgettable memories.