Best Things To Do on Turquoise Trail from Albuquerque to Santa Fe, NM
The Turquoise Trail is a scenic route full of great attractions that starts about 30 miles from Albuquerque and links this city with Santa Fe, New Mexico.
Actually, this route starts in Tijeras and ends in San Marcos. Tijeras, Cedar Crest, Madrid, and Cerrillos are the most important places to visit.
This article tells you everything you have to see on the Turquoise Trail.
How Much Time Do You Need to Drive the Turquoise Trail?
The road from Tijeras to San Marcos, NM, is only 50 miles (80 kilometers) long, so you can easily do it in one day. If you leave early, even stopping at the best places along the route, you will reach your destination before nightfall.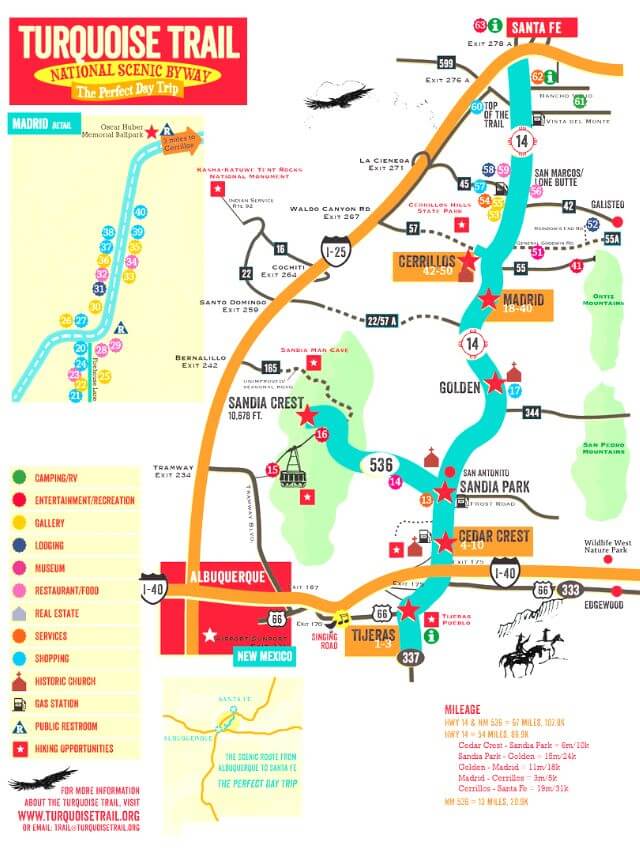 We made this trip as part of our route 66 road trip summer and then in January, in the middle of winter, as part of our trip to New Mexico to visit family.
Even though it was winter, we could do the tour in one day. As you can see in the photos, this area is snowing and cold. And in summer, it's hot as hell. But no matter what time of year you travel there, I'm sure you'll love it.
Must-Stops on the Turquoise Trail, New Mexico
Now, let's take a look at the best stops on the Turquoise Trail.
Tijeras
Tijeras is the gateway to the Turquoise Trail and its mountain communities.
Two canyons meet here, so Tijeras offers an incredible landscape to enjoy.
The area was first inhabited by the Pueblo Indians, something you can learn about when you visit the Tijeras Pueblo Archaeological Site.
Numerous trails are available for hiking, biking, horseback riding, camping, skiing, and even snowshoeing.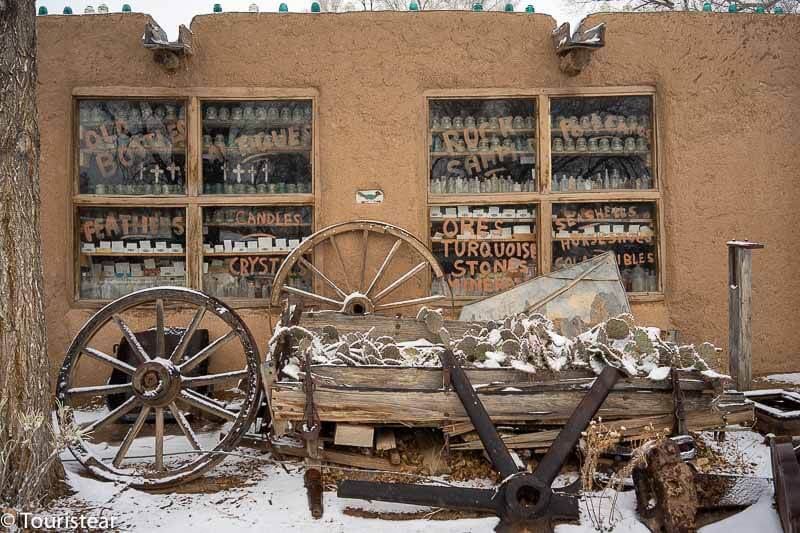 Cedar Crest
Traveling less than 4 miles (6 kilometers) along the Turquoise Trail you will find Cedar Crest, which houses the Museum of Archaeology and Material Culture, where you can explore the history of North America's earliest inhabitants.
The Cedar Crest Mountains have experienced an archaeological continuum of human activities from the end of the last Ice Age to the present, so the museum is fascinating to learn about this history.
Also in town, there are some interesting stores to see like Back Roads Home Decor, where you'll find used goods and some odd antiques.
Another thrift store where you could buy some interesting gifts is Talking Talons Thrift Shop.
Sandia Park
6 miles (9 kilometers) from Cedar Crest is the next stop on this road trip: Sandia Park.
If you head north, you will see the Sandia Mountains and the Cibola National Forest, a scenic and recreational paradise where you will find various outdoor activities.
Activities include biking, hiking, horseback riding, and climbing; you can ski in winter.
In addition, this beautiful area is home to a great diversity of animals and plants. In fact, this area is very popular with birdwatchers from all over the world, who enjoy the migration of hawks and eagles.
Just outside the community of Sandia Park, along the Sandia Crest National Scenic Byway, you'll find Tinkertown Museum, which is perhaps one of the most interesting things to see on the Turquoise Trail.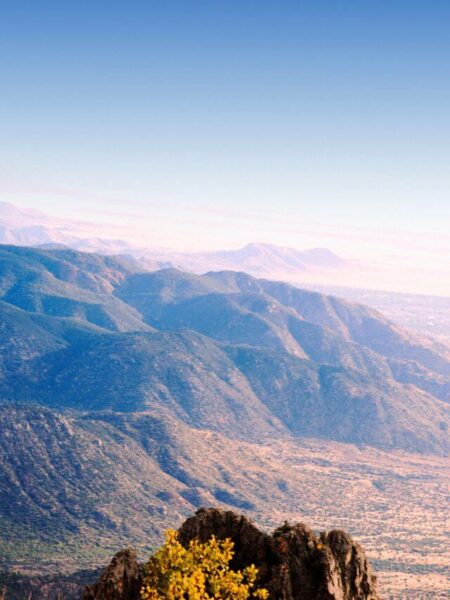 This museum began as a hobby in the 1960s when Ross Ward began collecting miniature figures carved in wood. Today more than 50,000 glass bottles form labyrinthine walls surrounding the 22 rooms of the museum.
The exterior of the museum is as surprising as the interior, thanks to the collection of some strange objects and others typical of the American West.
And inside, you'll find a giant circus tent with tiny performers and much more, including an old 35-foot sailboat that circumnavigated the globe in 10 years.
Golden
Did you see any movies about the gold rush in the United States? This town was the site of the first gold rush west of the Mississippi.
The town used to be called Real de San Francisco, but in 1880, many mining companies moved in and changed the name.
However, there was not as much gold as they thought, and soon, the miners left, and the population almost disappeared. Today, it is practically a ghost town. Golden's most important monument is the church of St. Francis of Assisi, which is still in use.
To get to Golden, you will have to drive about 12 miles (20 kilometers) from Sandia Park.
Madrid
Madrid was also born as a mining town when coal was discovered, but unlike Golden, Madrid is lively, especially on weekends when almost the whole city turns into an enormous shopping mall.
Almost all the galleries you visit in Madrid belong to the artists who exhibit in them. Also, in Madrid, you will find the best places to eat on the Turquoise Trail.
Some of the most popular choices are The Mine Shaft Tavern and Maggie's Wild Hogs, an old film set from the movie "Wild Hogs."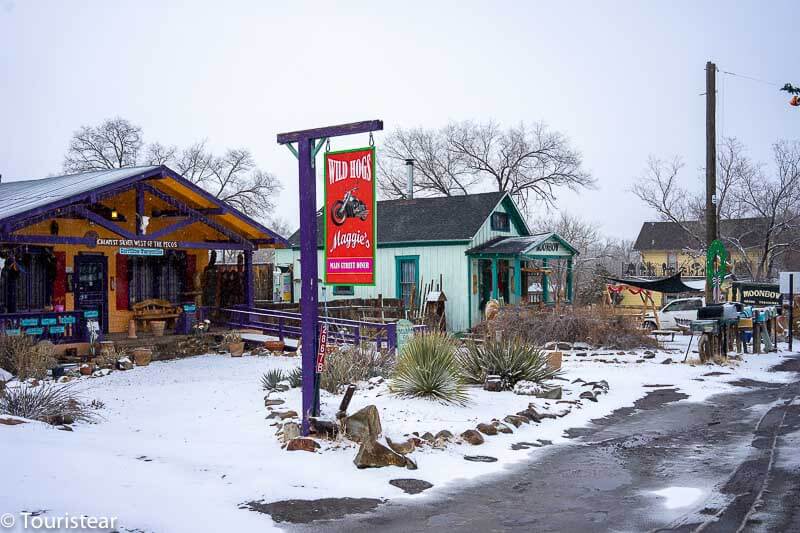 If you are interested, you can enter The Old Coal Mine Museum. And if your trip to the American South coincides with the 4th of July, they say that the parade in Madrid is beautiful, so it can be an excellent place to see the most characteristic celebration of all.
Many festivals and concerts are organized in the village during the summer.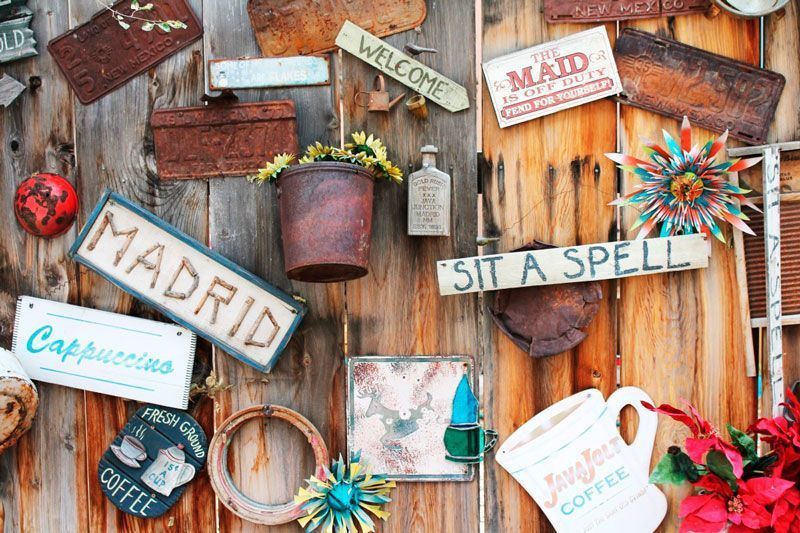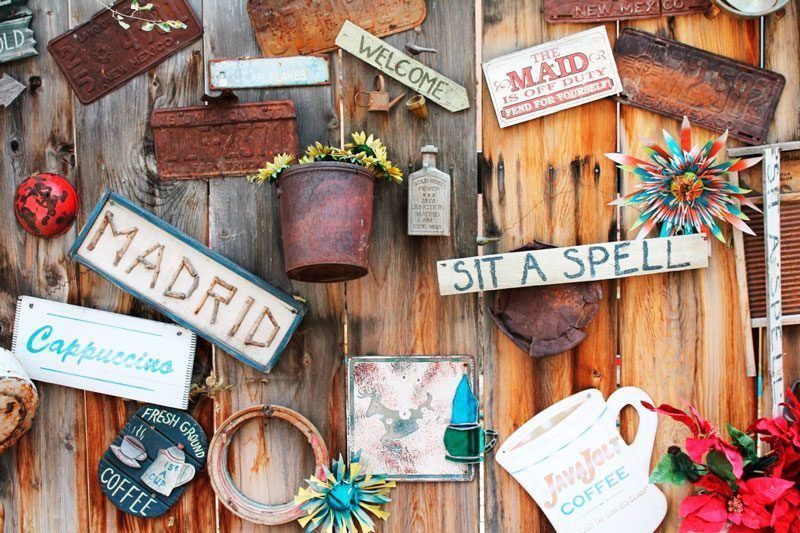 Cerrillos
Less than 4 miles (6 kilometers) from Madrid, you will have Cerrillos. In the hills of Cerrillos, the inhabitants of the Pueblo community mined turquoise stone for millennia to make jewelry and trade.
The city reached its peak when gold was discovered in the 1870s. At that time there were 21 taverns, several brothels, and hotels.
Walking through this old town today is like walking through the set of a Wild West movie, with dirt streets and adobe houses.
From that boom, only the church of San José, a bar, and a handful of businesses survive today.
Perhaps the main attraction is the Casa Grande Trading Post and Mining Museum, with its petting zoo and thousands of artifacts. One of the must-sees on the Turquoise Trail.
Another option is to go to Cerrillos Hills State Park, which has a 5 miles (8-kilometer) trail that can be hiked or biked.
San Marcos
San Marcos Pueblo and Lone Butte are small towns nestled on a plateau that was once an important pottery center for the Pueblo community until the Pueblo rebellion of 1680. Today there are only a few houses and stores.
Passing Lone Butte and taking a detour on Route 45, you will see two old private ranches used for dozens of Wild West movies.
As you drive, watch the countryside in the direction of the Sangre de Cristo Mountains; maybe you'll get lucky and catch a glimpse of some antelope.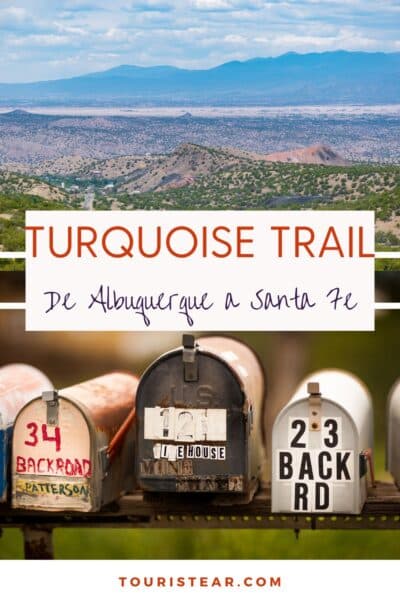 Where to Stay along the Turquoise Trail, NM?
Although there are a few small hotels in some of the towns along the way, you will have more variety and choices in Albuquerque and Santa Fe.
Of course, along the way, you will have some different proposals. For example, the Cedar Crest Country Cottage & Stables, which is located in the Cibola National Forest and where, in addition to sleeping, you can go horseback riding.
Another option in Cedar Crest is to stay in the Mountain View State Hotel, with fabulous mountain views and excellent prices.
If what you prefer is a complete house for a few days, you have the option of renting Albuquerque East Mountains. It is a complete house, with three bedrooms in a fantastic location. Perfect for traveling with family or friends.
Another exciting option is Ghost Town Trading Post & Lodging in Madrid. It is located behind the Ghost Town Trading Post. Here you can rent some of the furnished apartments they have to offer.
The Turquoise Trail is an ideal one-day tour to continue to see the best landscapes and stories of New Mexico.
Its small towns have stores, museums, native art, and local gastronomy. In other words, everything you could want to do on a road trip in the United States.
You can read all the information about this path on its official site.
Plan Your Trip to New Mexico and Old Route 66
Last Updated on 15 September, 2023 by Veronica
Disclosure: Some of the links on this post are affiliate links, meaning at no additional cost to you, I may earn a small commission if you click through and make a purchase.
Author: Veronica
Vero, a seasoned traveler, has explored 25 countries and lived in five, gaining a rich perspective and fostering an infectious passion for travel. With a heart full of wanderlust, Vero uncovers the world's hidden gems and shares insights, tips, and planning advice to inspire and assist fellow adventurers. Join Vero and let the shared passion for travel create unforgettable memories.