Best Things to Do in Albuquerque, New Mexico
In this post, we will tell you everything you can see and do in Albuquerque. This city became famous thanks to Breaking Bad, has many more exciting places to visit, and is a must if you travel along Route 66.
Albuquerque is the largest city in the state of New Mexico and has over 300 years of history.
Albuquerque is home to more than 500,000 people and is located in the middle of the desert, offering magnificent scenery that you can see from the sky or the road.
Thanks to its past as a Spanish colony and former settlement of native tribes, the city will allow you to immerse yourself in history full of stories as tragic as they are magnificent, which you can learn about in the various museums in its historic center.
What to See in Albuquerque, NM, on Your First Trip
We start with the most important sights to see and activities to do in Albuquerque, ranging from traditional sites along the famous Route 66 to hot air balloon rides and a craft beer-tasting tour.
Albuquerque and Old Route 66
Albuquerque is traversed by Historic Route 66, The Mother of America's Highways.
If you look at the map, you may not find it because I-40 has replaced many sections of Route 66, and other times it runs parallel and serves as a service road.
Albuquerque is crossed by the longest urban stretch of Route 66, which within the city is called Central Ave.
At the intersection with Coors Blvd, you will see a Route 66 neon sign with all the aesthetics of the 1950s.
And if you want to continue with the same energy, you can try a hot dog at Dog House or go to the traditional 66 Diner.
Another alternative is the Owl Cafe, where you can choose from 20 varieties of milkshakes while enjoying the aesthetics we've seen so much in the movies.
Want to sleep in a classic Route 66 motel? You can stay in El Vado. El Vado is one of the first motels in the area and today mixes a retro style with modern comforts.
Check out all you can see between Santa Rosa, NM, and Grants, NM along Route 66.
Visit Historic Downtown Albuquerque
Albuquerque's historic downtown was built in 1706 by Spanish settlers and is where most museums and businesses are located.
When you see the city layout, you will notice that it has the typical design of the Spanish colonies, with a central square in front of the church.
The San Felipe de Neri church is the oldest in the city and is made of adobe, an element with which most of the old buildings are constructed since it was the style used by the natives and was adopted by the Hispanics.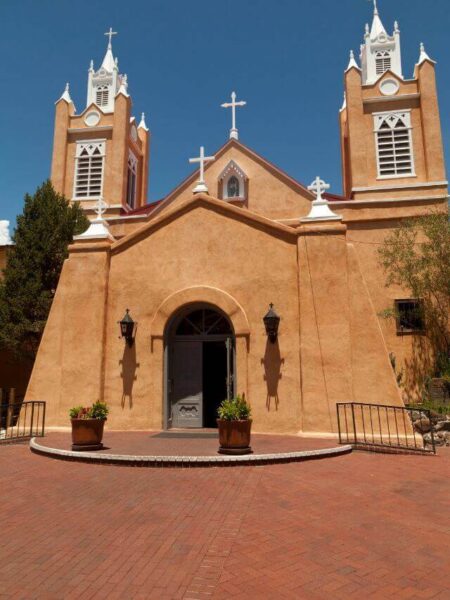 Visit the Albuquerque Museum
It is the largest museum of art, history, and culture in New Mexico, so you should add it to your list of what to see in Albuquerque, of course, if you're the type who enjoys museums.
The museum has several permanent collections, ranging from works related to the area's landscape to portraits of the city's families to a collection of photographs taken by an artist who is part of a native New Mexico tribe.
Visit the New Mexico Museum of Natural History and Science
The Natural History Museum is one of the best things to do in Albuquerque, especially when traveling with children.
It is an innovative and interactive experience that allows you to explore the region's natural history.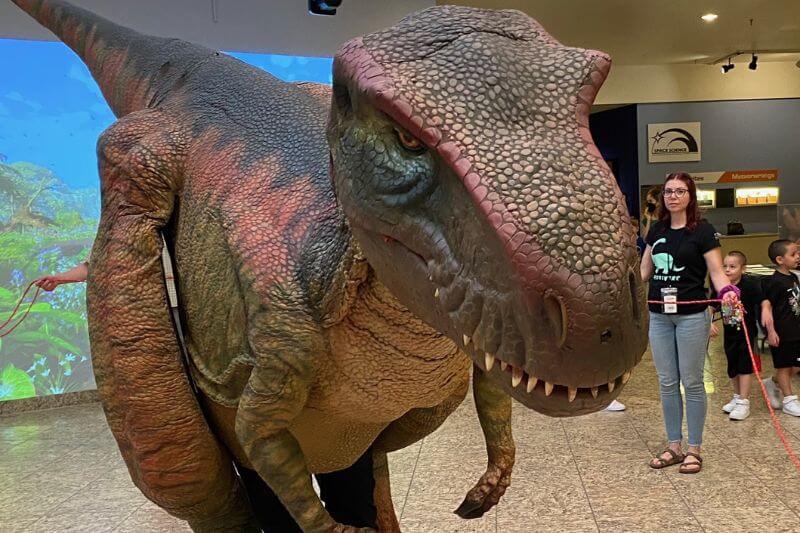 You will learn about its origins, the dinosaurs that inhabited it, and what its ancient coasts were like. Among other things, you can walk through an active volcano. And you will see the 30-ton, 33-meter-long Seismosaurus, the world's giant dinosaur.
They have different events, such as evenings focusing on the senses, Saturdays where the protagonist is chocolate, or relaxing evenings with small groups that prefer to avoid the crowds.
Look for statues of Walter White and Jesse Pinkman in Albuquerque.
If you want to go sightseeing in Albuquerque to get into the world of Breaking Bad, you can start by looking for the statues of Walter White and Jesse Pinkman.
The bronze statue of the main characters of one of the best series in history is inside the Albuquerque Convention Center.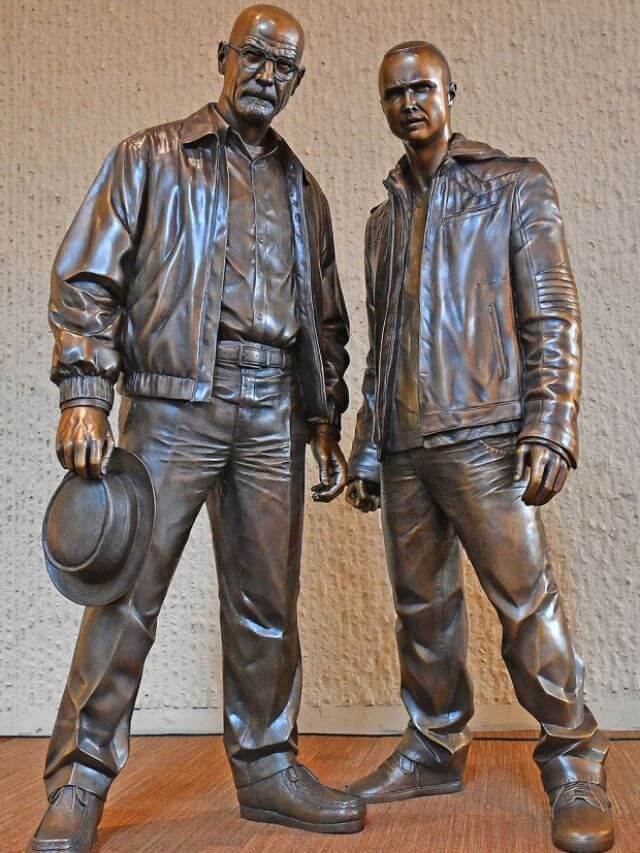 In this place, you can also see art exhibitions and enjoy the very good local gastronomy.
But if you went in search of the adventures of Breaking Bad, you won't be satisfied with just looking at statues.
You're sure to love it take this tour in Albuquerque that will have you walking through Walter White's house, Saul Goodman's office, the vehicle junkyard, the car wash, Jane's apartment, Jesse's house, and much more.
In addition, you can travel in a motorhome like the one used by these famous "cooks" from the Breaking Bad series, and you can even have breakfast at Los Pollos Hermanos.
The tour is very dynamic and ideal for fans since they have quiz games about the curiosities of the show to win prizes and the guides tell you many stories about the show and its protagonists.
Climbing the Sandia Peak Tramway
If you want to see some incredible scenery and do something adrenaline-pumping, you can take the Sandia Peak Tramway, the third-longest aerial tramway in the world. Sandia Peak Tramway is the third longest aerial tramway in the world.
The Sandia Mountains are about 3,200 meters high, and the tramway links the northeastern boundary of the city to the top of the mountain.
Once you are at the top, you will have one of the best panoramic views in the southern United States.
You can see the Sangre de Cristo Mountain from their restaurant while you choose to eat a casual meal or try some of their more elaborate dishes, such as homemade pappardelle, New Zealand lamb, or steak with truffles.
Visit the Indian Pueblo Cultural Center
One of the things you can do in Albuquerque is learn about the Pueblo culture.
At the Indian Pueblo Cultural Center they will tell you about the evolution of this culture from ancient times to the present through different exhibits and a collection of murals done by Pueblo artists.
You can also dine at the Indian Pueblo Kitchen restaurant, which is focused on indigenous foodways, education, and exploration.
In the souvenir shop, you will find traditional and contemporary jewelry, pottery, rugs, and more products made by local artists, who create authentic Native American art.
Want to relax a little after seeing so much in Albuquerque? Then enjoy this beer tour through the best breweries in the city.
With this tour, you will learn about the brewing process, taste several different styles, and try different snacks at each bar.
Albuquerque is a craft beer paradise. There are more than 30 small factories! Don't worry; you won't visit all 30, just the best ones.
Do you remember which Breaking Bad character made his own beer in his garage at home?
Book your beer tour in Albuquerque here
This tour has all the necessary ingredients to become one of the best things to do in Albuquerque, New Mexico.
Start early in the morning to see the sunrise over the Rio Grande Valley from your hot air balloon. Once you are well up, you will have a breathtaking view of the entire valley and desert area.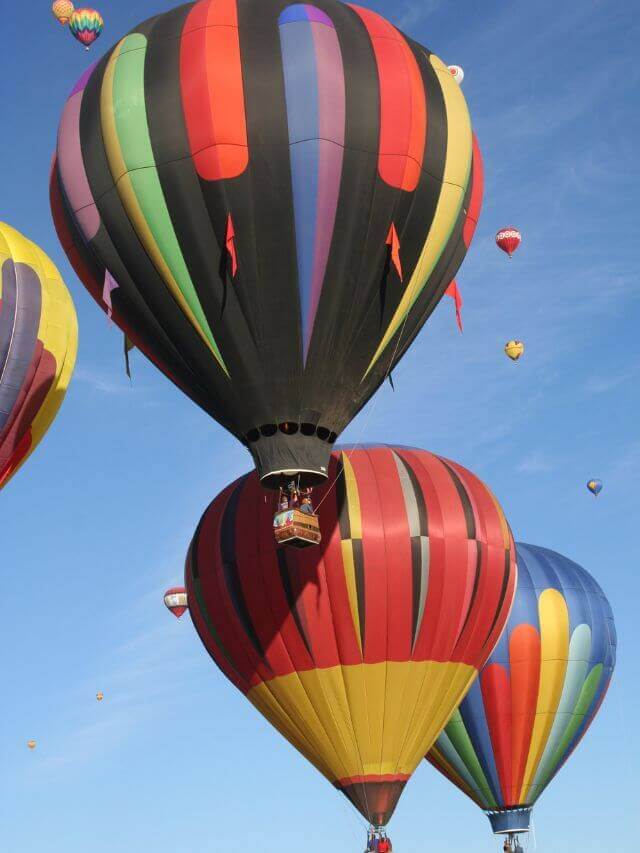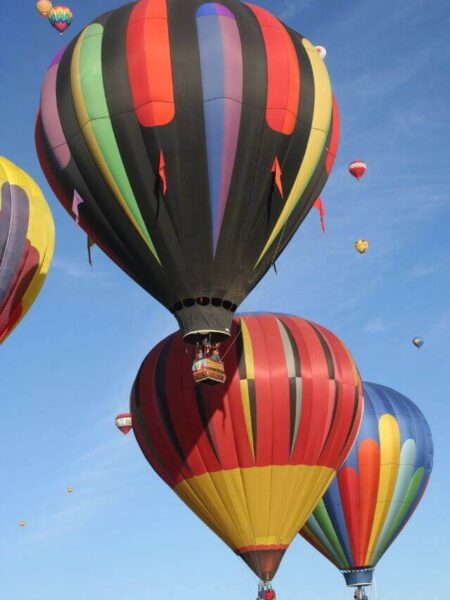 Then you will go back down to almost touch the river and go back up to enjoy the aerial view once again. Seeing how the sun's rays color the Sandia Mountains is incredible, one of those beauties you never forget.
As you fly, the pilot will tell you about the region's natural history.
As if such a visual experience were not enough, the tour includes a glass of sparkling wine and a continental breakfast at the end of the flight.
Book your balloon flight over Albuquerque here.
Visit the New Mexico State Fair
If you're lucky enough to coincide with the New Mexico State Fair, you won't believe it's like you saw in so many movies.
It's one of those classic American fairs where you can see concerts, rodeo competitions, farm animals, horses, farm machinery, duck races, comedy shows, and learn how to milk a cow. All in one place.
Oh, and you can also ride a mechanical bull, drink beer and try signature cocktails.
The fair is held every year in a vast venue 5 kilometers from the city's historic center.
This has been done since 1881, and some historic adobe buildings are still on the property.
Tour the ABQ Biopark
This park lets you see and learn about many natural worlds.
ABQ Biopark has a zoo, an aquarium, and many animals that receive unique treatments to help them recover from injuries and illnesses.
At the zoo, you will see flamingos, penguins, condors, eagles, jaguars, leopards, lions, monkeys, and much more.
You will also learn about the region's flora in its botanical garden.
The park also offers classes, camps, and special events.
Another of the park's highlights is Tingley Beach, where anyone who wants to can go fishing, but you need a fishing license. Here you can also take some walks and hikes.
Turquoise Museum
In this museum, they show you how turquoise is extracted and used. They have an impressive collection of turquoise from all over the world.
You will learn what makes this mineral more or less valuable in the museum. Here they have a large collection of pieces, of which several are worth up to hundreds of thousands of dollars.
The museum is in a modern castle that is as interesting as the exhibits and the antique furniture that decorates the entire establishment.
American International Rattlesnake Museum
As its name suggests, this is a museum dedicated to snakes, especially the Rattlesnake, which are rattlesnakes.
The museum is focused on education about this extraordinary reptile species, so they do many events to be in contact with the city's public.
The museum houses a very varied collection of live rattlesnakes. It also has an extensive library that serves as study material and educational tools for the entire New Mexico society.
The Rattlesnake Museum has the most extensive collection of different species of live rattlesnakes in the world. The best part is that you can see them in habitats that recreate their natural environments.
They also have art and books related to this type of snake.
Do you like baseball? Enjoy a Game at Albuquerque Isotopes Stadium
The first time we heard about Albuquerque was not in Breaking Bad, but in another legendary series; it was in The Simpsons.
Yes, there was talk of the Albuquerque Isotopes when Homer discovered that the Springfield baseball team was planning to move to Albuquerque.
The 11,000+ person stadium is called Rio Grande Credit Union Field, is located at Isotopes Park, and is used by the team to play Pacific Coast League games, a minor league baseball league.
KiMo Theatre
Built-in 1927 and located in the historic downtown area, the KiMo Theater has a long tradition in Albuquerque. There you can enjoy live performances, movies, art, and many events.
The architectural style and lighting fixtures remind us of the belle epoque cinemas, but it is built in the Pueblo architectural style.The adobe is used in its constructions and has rounded corners and edges along with decorative motifs of indigenous cultures and uses the tallest lines in its facades.
Hotel Andaluz
The Hotel Andaluz was built in 1939. It long belonged to the Hilton chain, and after passing through several owners, in 2019, it was transformed back into a Hilton, being part of the Curio Collection by Hilton.
It was the first high-rise hotel built in New Mexico. Its construction combined the generous use of local materials and craftsmanship with the most advanced construction techniques available just before World War II.
You may remember his diner featured in a few Better Call Saul season 5 episodes.
Here you can enjoy "Tapas y Vinos," a restaurant that highlights the tradition of Spanish gastronomy.
Here you can book your accommodation at the Hotel Andaluz de Albuquerque.
We finish the list of what to see in Albuquerque. It was a long list with many interesting and varied places. Balloon rides, series sets, baseball stadiums, historic hotels, museums, and lots of nature.
So now you know, if you visit the south of the United States, be sure to visit Albuquerque, a place with a lot to know.
Plan Your Trip through New Mexico and Route 66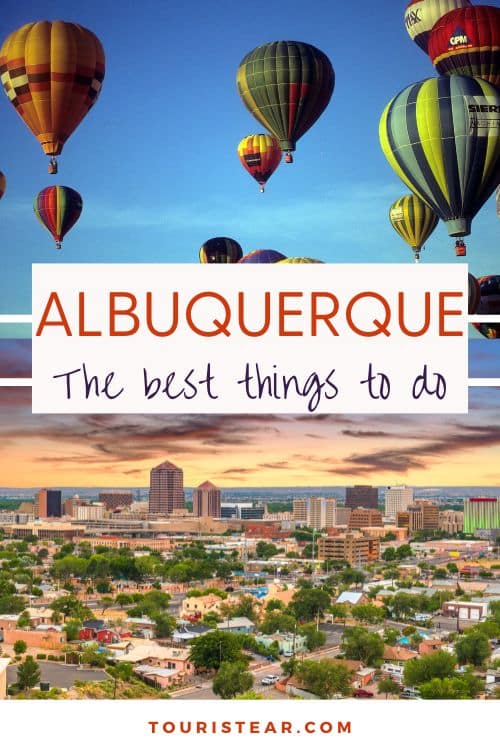 Last Updated on 25 October, 2023 by Veronica
Disclosure: Some of the links on this post are affiliate links, meaning at no additional cost to you, I may earn a small commission if you click through and make a purchase.
Author: Veronica
Vero, a seasoned traveler, has explored 25 countries and lived in five, gaining a rich perspective and fostering an infectious passion for travel. With a heart full of wanderlust, Vero uncovers the world's hidden gems and shares insights, tips, and planning advice to inspire and assist fellow adventurers. Join Vero and let the shared passion for travel create unforgettable memories.