How to Plan Your Trip to Grand Canyon?
Today, we discuss an extraordinary trip and how to visit the Grand Canyon National Park in Arizona.
Whether you're traveling to Las Vegas or you're going to Los Angeles, or you're road-tripping US Route 66, or you go to Yellowstone Park, or even if you're going to be 1000 km around the Grand Canyon, I think it's a visit you have to do yes or yes!
The Grand Canyon is in the State of Arizona and constitutes the National Park of the same name.
It is 446 km long and 29 km wide, and approximately 1900 meters deep. Inside runs the Colorado River with murky, reddish-brown waters that give the river its name. Are you looking to rent an RV for your trip?
How to Plan Your Trip to Grand Canyon?
In our case, taking advantage of a trip to Las Vegas, we spent one day visiting Death Valley and another day visiting the Grand Canyon National Park.
It's about 450 km from Las Vegas. If you're going by car, you leave at least at 06:00 am to enjoy the park. And you can spend a night (or two) in one of the Grand Canyon National Park hotels.
If you don't want to drive, you can do a guided tour from Las Vegas or take a helicopter or plane. Again, there are a lot of options. Click on the link to choose one!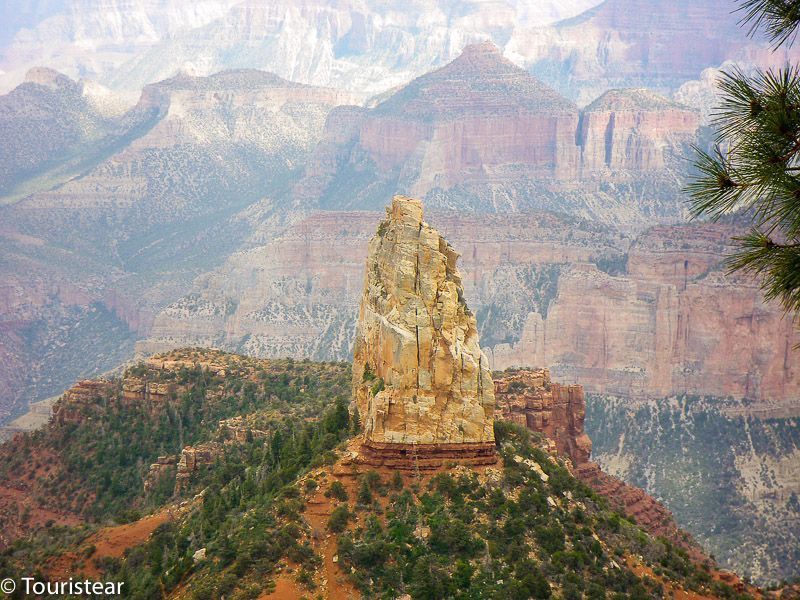 Choose South Rim or North Rim
If you're going one day and don't want to spend all day driving, you have to choose to visit the South Rim or the North Rim.
The Grand Canyon runs from East to West, so there is one North Rim and one South Rim. The most famous is the South Rim, which is the one with the glass platform. If you go in high season, there will be many people.
Grand Canyon South Rim Entrance
The south rim is the most visited and touristy, has many tourists, and is where the visitor center and the famous glass walkway are.
The north rim has far fewer tourists and is quieter but has fewer facilities. The thing is that going from one rim to another is about 200 miles, that is, about 320 km.
So, you have to decide which shore you're going to go to. We didn't think twice and decided to go to the north rim. It was July, and the last thing we wanted was people everywhere.
We couldn't see the glass walkway, but I personally didn't care enough about the catwalk to enjoy the Grand Canyon; I didn't need it.
You can do the tour to the South Rim from Las Vegas. Click on the link for more information.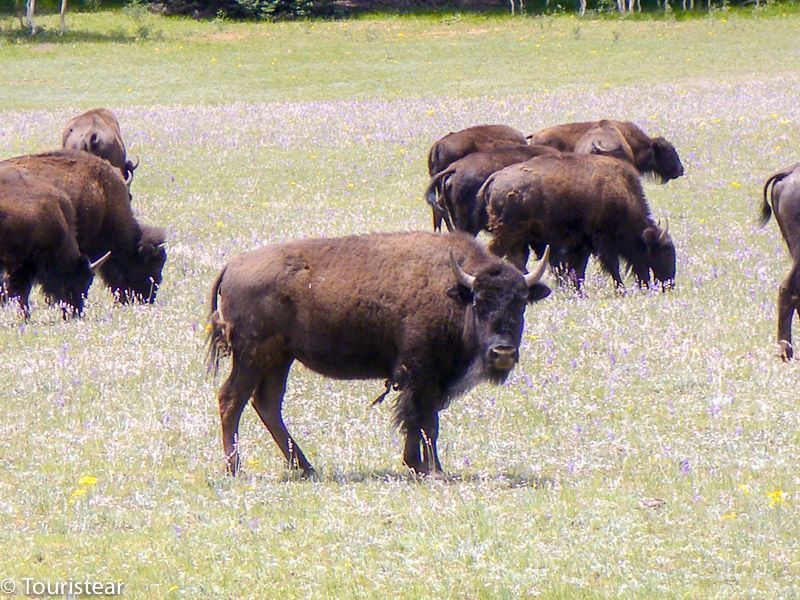 How to get to North Rim?
To get to the north rim of the Grand Canyon by car, from Las Vegas, you must leave towards Utah, take I-15, and when you have passed St George, you must take the exit to Hurricane. From here, you take the 59th direction to Fredonia.
You know, these indications can change with time, so it's best you carry a GPS 🙂
From Fredonia comes the 389, which takes you directly to Grand Canyon National Park. The journey is entertaining, especially when you leave the highway and get on the two-way road to the park. Are you looking to rent an RV for your trip?
Grand Canyon Tours From Las Vegas
If you don't feel like going by car or want to do the helicopter or plane tour, here I leave you some links to take a look at it, see the prices and choose the one you love the most!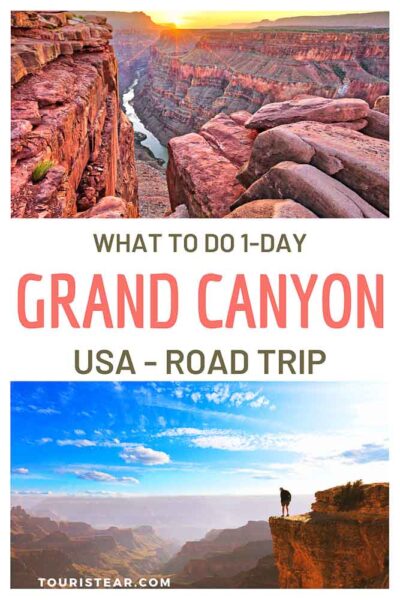 On the way to the Grand Canyon
Please pay attention to the speed limit on this road; it looks like you can go fast (which I did), and the police fined me.
Besides, the police's mobile radars read the speed whether you're going in the same direction or going the other way.
The cop who fined me told me this is one of America's deadest roads because you're dazzled by the sun at sunrise and sunset.
Shortly after entering Utah, we stop to buy food and drink at a supermarket. I was hallucinating when I found this exhibition the most unique next to sandwiches, york ham and cheese.
They have them there like tennis rackets or mobile phones! Also, look at the prices; anyone with a bit of money can buy one!
* I think this is no longer allowed, but you can tell me in the comments.
Leaving anecdotes aside, we continue to the Grand Canyon National Park, about two thousand seven hundred meters at altitude.
You will see that as you move forward, the landscape changes, and from being in a desert, you go to being in low forest areas to reach the coniferous forests that are more altitude.
Grand Canyon National Park Ticket
Admission to the Grand Canyon National Park is 25 euros per vehicle, regardless of the number of occupants. However, unlike in other parks, the entrance here is controlled.
Many protected animal species inhabit the park, but we were especially struck by a herd of buffalo grazing quietly.
We stop at the edge of the road to picture them, and we also catch their attention!
Continuing along the road, you end up arriving at a car park where you can leave the car, walk all you want, and enjoy the breathtaking views you have. Unfortunately, one thing we couldn't see properly from above was the Colorado River.
It was almost impossible.
As you can see, it's easy to have an accident if you are not careful. Nearly 600 people have been killed in the park since 1870 from various causes, of which 128 are outside the park as it was from a plane crash, but the rest have been from helicopter visits, sunstrokes, and falls. Be careful!
As you know, one of the options to visit the Grand Canyon is by helicopter, it costs you around $300 per person, and our budget was tight enough, so we didn't; I don't regret it either…
Imperial Point. Don't miss it!
One of the highest points on the south rim is the Imperial Point. It's 8803 feet high (approximately 2700 meters), the views from there are spectacular, including the view of the storm that came over us.
There was no guard there, so we had to get in the car and hold on to the sledgehammer, which went too fast, luckily!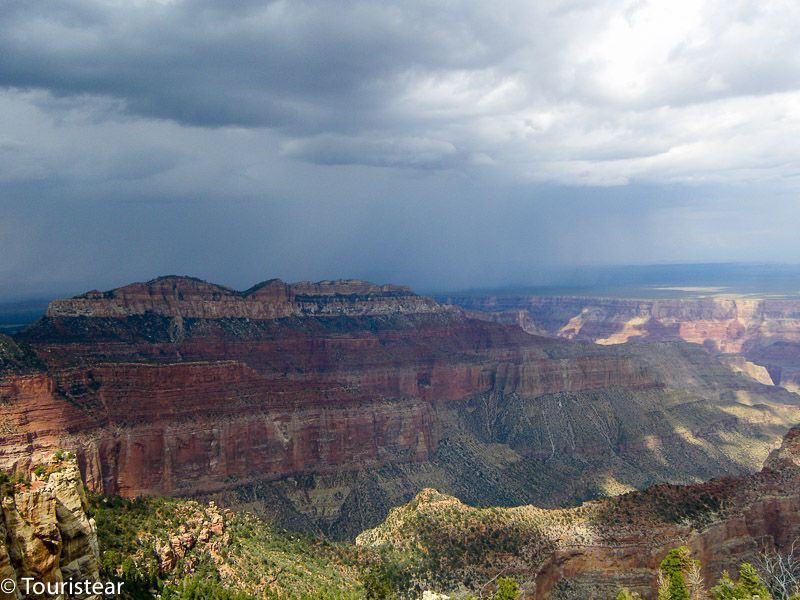 The thing is, we wanted to see the Colorado River, the classic picture. So we decided to go to see it.
Checking the map, we saw that in Marble Canyon, there was a road that crossed the Colorado River, so… you know, let's go! It was about four o'clock in the afternoon, so we had to hurry!
Vermillion Cliffs
When we started to drive to Marble Canyon, we came across a simply brutal landscape, at least for me, the typical Arizona plateaus you see in Western American movies, but you don't appreciate it at all until you're there.
Time to take pictures! It is a typical area of animal migration and buffalo habitat.
Also, the travel paths of travelers and nomads passed through here for centuries, long before colonization. It's the Vermillion Cliffs.
Marble Canyon and the Colorado River
We followed our path to Marble Canyon to see the Colorado River enjoying the landscape.
According to the course of the river, Marble Canyon is after the Grand Canyon. So it looks relatively calm and loaded to the tops of sediments and remnants of its passage through the lands of the Grand Canyon.
It's opaque, like it's a mud river instead of water. There were little crafts by the Navajo Indians at the bridge entrance where we were, a good place to buy a souvenir.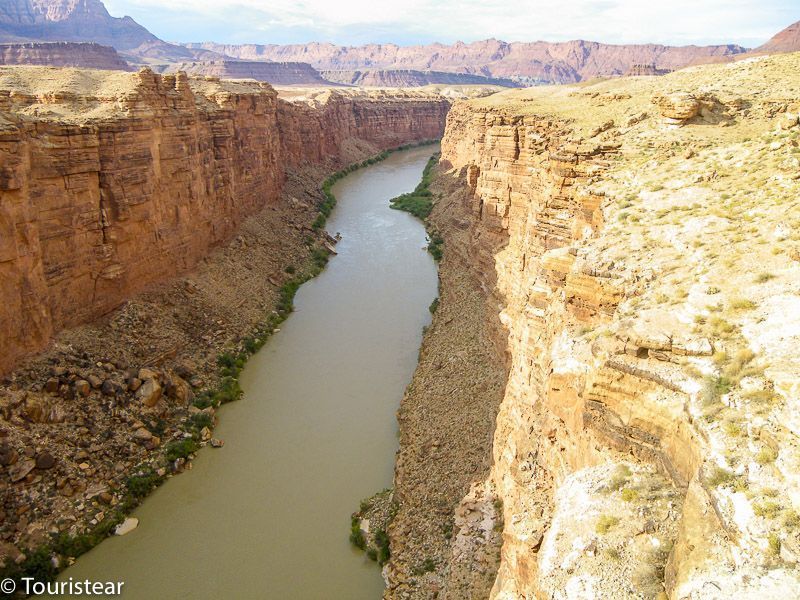 We could have tried to go to the south rim from Marble Canyon, but it was late, and we returned to Vegas. So after all day, we have to drive around 500 km more.
*Recommendation, spend the night in one of the hotels!!! You'll enjoy yourself more, and it is safer.
On the way back, we find some gigantic stones next to the road. Unfortunately, I don't remember the name of the place to tell you, but I left you a picture that I took.
It is an important place for the Navajo, and some stones had shapes that resembled giant skulls.
On our way back, we had the opportunity to enjoy the sunset over the cliffs of Arizona, five minutes of relaxation in which you forget everything.
Make sure you have Travel Insurance. Here you have 5% OFF, take a look, you'll see is cheaper than you think!
Enjoy your Grand Canyon National Park trip, and tell us about your experience! I hope you enjoyed this post just like I enjoyed this tour!!
The truth is that it is something that I will not forget, and I want to go again and be able to tell you even more about these places. So let us know your must-visit places!
Greetings Travelers!
"Travel is an exercise with fatal consequences for prejudice, intolerance, and narrow-mindedness." – Mark Twain.
Plan Your Trip to the United States
Last Updated on 9 December, 2022 by Veronica
Disclosure: Some of the links on this post are affiliate links, meaning at no additional cost to you, I may earn a small commission if you click through and make a purchase.