How to Plan a Death Valley Day Trip from Las Vegas
Death Valley, a visit to the California desert
Death Valley is a desert and a National Park located in southeastern California, about 240 kilometers west of Las Vegas, and a must-visit place for travelers on Route 66, Las Vegas, or the West Coast of the United States.

Itinerary from Las Vegas
7 AM Las Vegas direction Beatty to enter through the park's north.
9.30 AM Sand Dunes Mezquite Flat
Salt Creek
Furnace Creek
Zabriskie Point
Artist Palette
Bad Water Basin
Dante's View
Devil's Hole
Las Vegas
Below I tell you everything in detail so that you can enjoy this beautiful Californian National Park.
*Tip: Start the visit early in the morning. If you go in summer to take advantage of the less hot hours and if you go in winter to take advantage of light hours.
Map
What is California Death Valley?
California Death Valley is a National Park. The lowest point is located relative to the U.S. sea level, reaching 86 meters below sea level.
It is also the hottest spot in North America and one of the hottest in the world. Arrived every summer at 50 Celsius temperatures and occasionally recorded temperatures of 56 and 57 degrees (134 Fahrenheit).
The U.S. Death Valley has an elongated and narrow shape. They are about 200 km long from north to south, while from east to west, it ranges from 10 to 20 km wide.
Due to extreme temperatures and almost total water absence, the risk of death from heatstroke and/or dehydration is high.
Who the hell can think of crossing around here?
During the gold rush and migrations of the eighteenth, nineteenth, and twentieth centuries this desert took hundreds and hundreds of lives.
And I couldn't help but wonder who the hell can think of crossing around here? First of all, the migrants didn't know where they were getting into until there was no solution, and the same thing was turning around as trying to continue to get out of there.
On the other hand, it was a route little frequented by bandits and thieves (logically), so some ventured to avoid them and, if they were unprepared, died in the attempt or those trying to shorten their way into their migration to Northern California.
Another different thing was miners who were purpose to establish extraction settlements to obtain minerals (borax above all). And on this, it's simply a visit, which you shouldn't miss if you go to Las Vegas or the West Coast of the United States.
How to Plan Your Visit to Death Valley from Las Vegas
Where to enter Death Valley: South or North Entrance from Las Vegas
We leave from Las Vegas about 06:00 am to take advantage of the time and hours of sunshine.
You have two possible roads going south and going north or backward.
We decided to go north and go south. Especially since if you go south, the road to Las Vegas back is shorter, and tired of walking around all day, the return should be as short as possible.
So we headed for Beatty first thing in the morning on 95th. The road is about 190 km, and here we stop for breakfast at Ensenada Grill.
It has a good breakfast and is cheap. It's the last place you'll find for breakfast before entering Death Valley National Park.
From Beatty, we take Highway 374, which takes us directly to the Sand Dunes of Mezquite Flat. Again, this road I loved, you're going down these endless roads, with absolutely nothing on either side except the desert.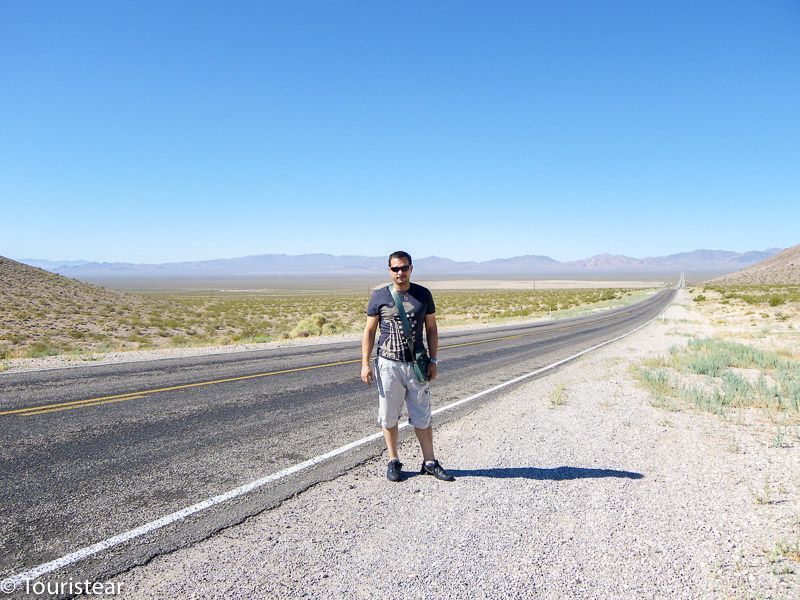 When we went, not a single car all the way, who the hell goes to Death Valley in Summer? Well… us… So be cautious and take a couple of gallons of water.
Death Valley National Park Admission
Death Valley National Park has an entrance fee. The entrance fee is $30 per car and is valid for a week.
Pay attention because you won't find any hooks with barriers or anything like that (unlike in the Grand Canyon, there are).
What you're going to see here is that at any given time, as you go down the road, on the right, there are like some canopies similar to those of bus stops with a ticket vending machine, and you take off the entrance.
Once you have your entrance, put it visible on the car's windshield if security is doing checks inside the park.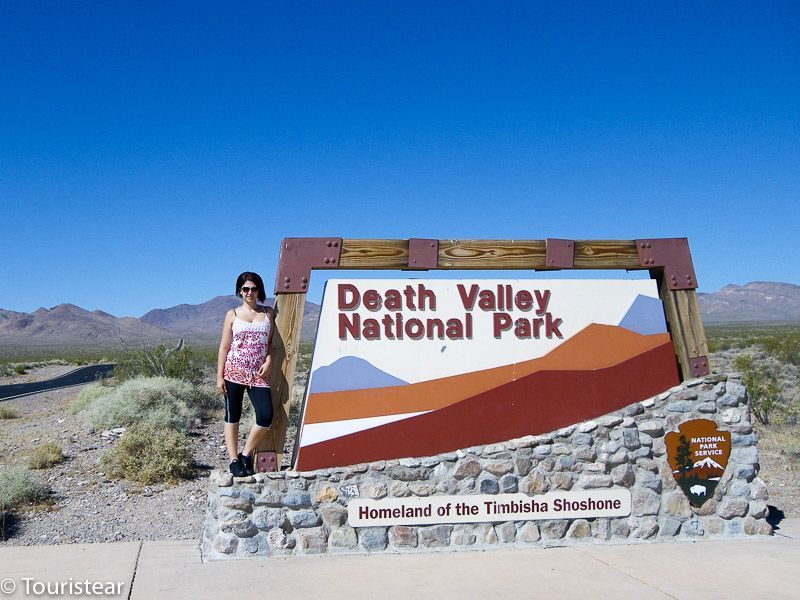 Must-stops in Death Valley
Here are the must-stops you have to make when visiting this extraordinary National Park. And at the end of the post, you'll find a little guide that will help you organize your trip easily.
1. Flat Mesquite
Continuing down the same road we're going to our first stop, Mesquite Flat and the sand dunes is an area north of death valley characterized by its dunes of fine sand, beautiful and quite bucolic.
The absolute silence makes you want to go a little deep to feel surrounded by absolutely nothing.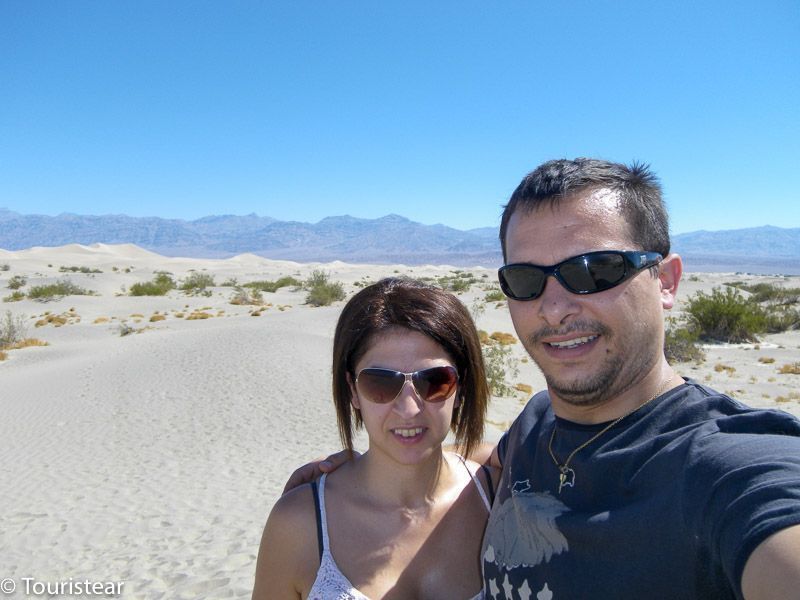 If you do, be careful, especially do not lose sight of your car (there is an area to leave them parked) or a clear reference point, since it is very, very easy to disorient and get lost.
Since the year 2000, there are already three dead for delving into the dunes, disoriented and dehydrated or suffering a heat stroke, the dunes in the background seem to be close, but it's 3 km away.
From here, you head to Salt Creek; you have to go back where you came from to take 190 south; you're about to cross Death Valley from the north.
2. Salt Creek
As you can see in the photo, there's salt everywhere. It was about 11 or 12 noon, and they already made us 46 degrees (Celsius).
It must also be said that we went in mid-July and could not have chosen a little more benevolent days, not no, the butt of heat, and not a single cloud!
3. Furnace Creek
When you enter Furnace Creek, that's when the real ordeal of Death Valley begins. The heat is hardly bearable, and we would only get out of the car if it were strictly necessary, that is, to take a photo we wanted to take and little else.
The reason is that as you progress, you also go down in height; you will see that at any given time, you are indicated that you are under sea level, and from there, you will be at heights below sea level.
Halfway to Furnace Creek, you'll find a Borax mine that's the ore extracted fundamentally here.
It's "The Old Harmony Borax Works." From 1882 to 1889, the Borax was extracted manually by Chinese-made labor and then transported for 165 miles (265 km) in cars pulled by 20 mules to the train tracks.
Although there are defined routes on the maps, be careful. There are car routes and routes for off-roaders; take a good look. They clearly indicate it, but be careful because if you mess with the car down an off-road route, you could have a problem.
Furnace Creek was an Indian village that was settled in this place. It is at the height of -190 feet, i.e., approximately -60 meters. It is a few points within the park with a service area with a restaurant, park employees, and a small hotel.
If you need anything, you can buy it here, because you're not going to find anything else until you leave the park. You have to know that inside the park things are expensive, you better go prepared.
4. Zabriskie Point
When you leave Furnace Creek, you have a fork; if you go left, you head to Zabriskie Point and then leave the park; if you go right, you continue down the park. Zabriskie point is spectacular and worth a visit.
We went left towards Zabriskie Point and then turned around to continue entering the park. This is the one-way road that allows you to turn around to get back to the park.
When you return from Zabriskie Point and arrive back at Furnace Creek, you take the southbound direction towards Badwater Basin, the hottest place in Death Valley.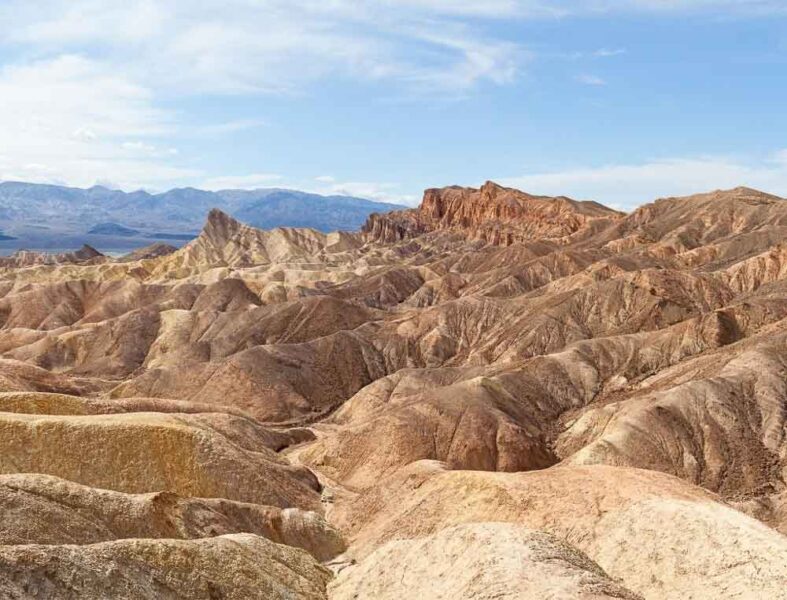 5. The Artist's Palette
On the way to Badwater Basin and your left hand, there is a very nice and very particular place; they call it the artist pallet since there are rock strata of different colors, it is very nice. This photo was an effort…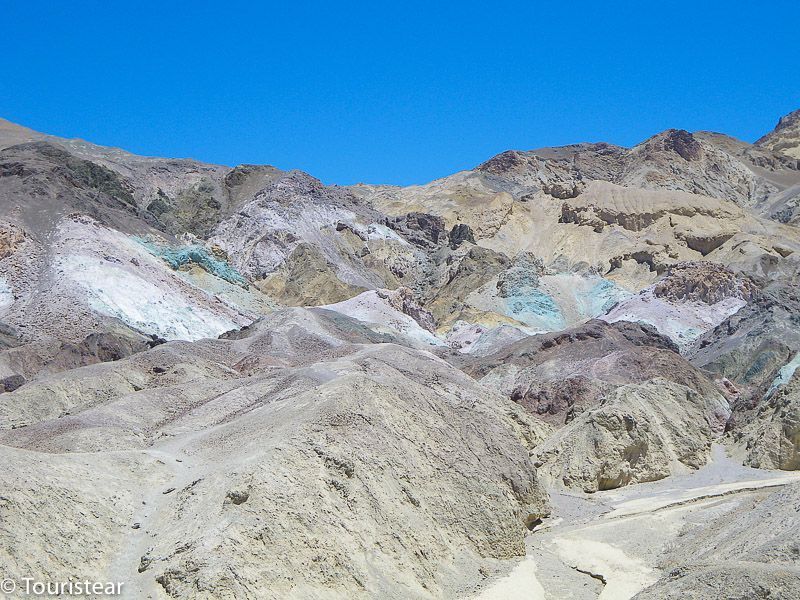 Leaving The Artist's Palette on our left, we continue on our way to Badwater Basin, and at this point, I put you in a bit of a situation.
We are more or less at the midpoint of Death Valley; as its name suggests, it is a valley about 10 km wide and with mountains on both sides.
The road we are going along the left side of the valley as you go from north to south is close to the mountains on our left.
On our right, what we have is literally a sea of petrified mud 8 km wide with a river of salt in the center that forms the typical hexagons having evaporated the water.
Right now, we see that there is a sandy road on our right that crosses the valley from side to side and that you can see in this photo.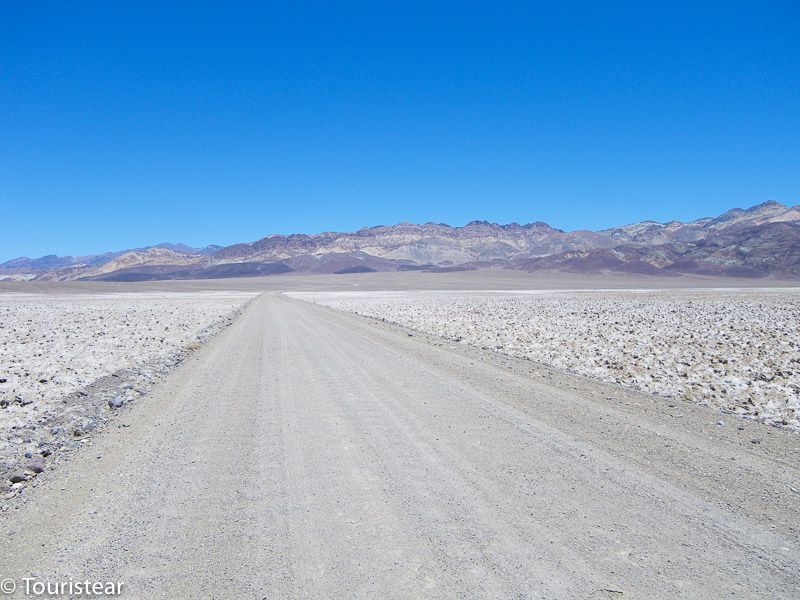 So, we looked at each other and said… Well, we'll have to get in there, won't we? Well…
And what looked like a sandy road is actually a road covered with very sharp small and medium stones, especially later, but of course, we were already halfway, at least a couple of kilometers.
And I was freaked out because getting a flat tire with this heat is very easy. So I wouldn't say I liked the idea at all.
The valley acts as a perfect conduit for the wind, but you don't realize when you're on the side, but when you get in the middle of the valley, things change and a lot.
The wind is strong, very strong, and it's 50 degrees. Look what the thermometer of our car was marked at this point.
Taking the Photo at 50 degrees Celsius! (122º F)
And again, since we are and we have come this far… you'll have to take a picture, don't you? So we got out of the car, and that's when we realized the wind, the heat, and the mother who gave birth to it.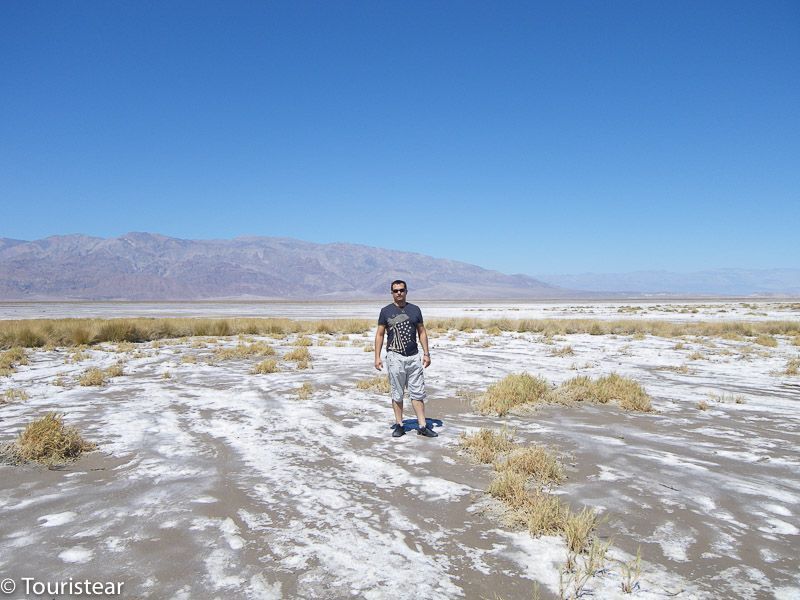 It was like we got into a giant convection furnace. At full throttle, we took the picture and ran to the car again. Also, monitoring the car's temperature because there was a risk of engine heat.
How long were we out of the car? I would tell you that at most three minutes and the result was that Vero was given a brutal headache and was dizzy for about half an hour, I peeled my forehead and arms. It's all about the little photo…
6. Badwater Basin, another Major Death Valley Stop
We turned around and went back on the road to get to Badwater Basin. Here's water coming out of the ground, although it's obviously not drinkable. The heat isn't that intense, about 45 degrees.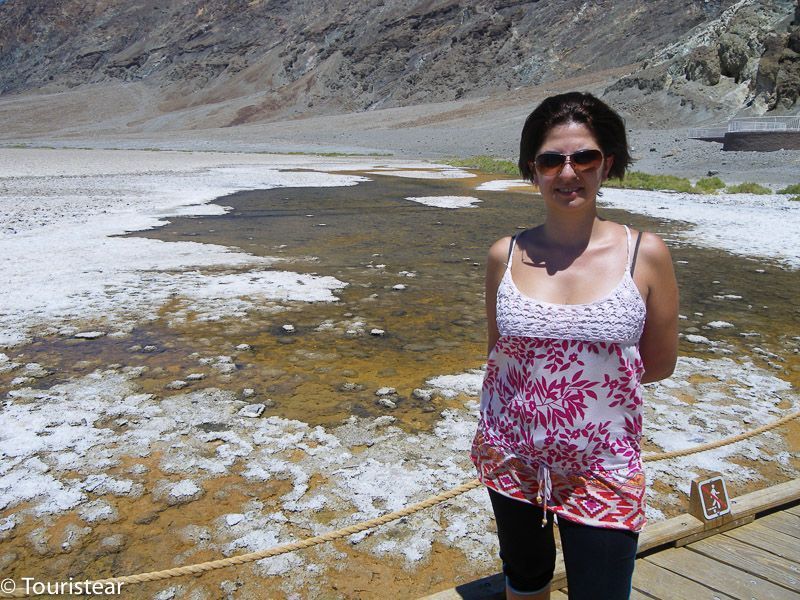 How to get to Las Vegas from Death Valley
Once you leave Badwater Basin and continue down the same road, you leave Death Valley Park and take the road to Amargosa Valley to return to Las Vegas.
7. Dante's view
Dante's View, Zabriskie Point, is passed, and you see Death Valley from the top of the mountain.
8. Devil's Hole
Devil's Hole is just off the park from the south at Ash Meadows. It is a hole where water flows from an underground aquifer that extends 100 km to the north.
The waters that flow have been underground for thousands of years and are the habitat of a fish species called "Devils Hole Pupfish."
9. Watch the sunrise and sunset in the park
One of the essentials of the visit is to see the sunrise or sunset in the park. The best panoramic views are at Zabriskie Point.
10. Spending the night watching the stars
If you have a clear day, take advantage and take night photography or just look at the stars. It is one of the places with the least light pollution, and the darkness is breathtaking.
Take a picnic at dusk. Like the Frenchs, if you want, with your blanket and your bottle of wine. And if you don't want to drive at night, you can stay in Death Valley.
11. Hiking trails
You can make several hiking trails in Death Valley, especially if you don't go in summer 😉 I'll tell you below.
How to Get to Death Valley?
You have two ways to get to Death Valley National Park, one on your own and the other is with a guided tour from Las Vegas.
Death Valley Visit on Your Own
To visit the park on your own, you need to rent a car and follow the directions we have proposed or the itinerary you have prepared.
From Las Vegas, it's about two and a half hours of driving to the Dunes of Mezquite Flat, north of the park. Or about two hours of driving if you go south.
Our recommendation is to start north, which is as far away from Las Vegas, and go down south so that the return to Las Vegas is shorter.
One thing to remember is that Death Valley's internet coverage is quite non-existent. So my recommendation is that you carry a paper map. They're cheap and can get you out of trouble.
Visit Death Valley with a Tour from Las Vegas
On the contrary, if you don't want to do it on your own and prefer to go in a group or with a guide, you can hire an excursion from Las Vegas. However, it's cheaper to rent a car, but I leave you the options, and you choose.
Best Time to Visit Death Valley
The best time to visit Death Valley is in spring. It is when temperatures are friendlier and the blossom of wild plants occurs.
In summer, temperatures are overwhelming. It's boiling, with temperatures ranging from 46 degrees to 56 degrees (120 – 134 F). So go well, equipped with sunscreen, a hat, and plenty of water. On these dates, you'll find fewer visitors.
Winter is another perfect time to visit Death Valley. The temperature is nice and it cools down at night. On US vacation dates, there are usually many people making hiking trails.
In autumn, temperatures remain warm but much less than in summer, and tourists return.
What to Pack to Death Valley
When planning your visit to Death Valley, you have to consider when you are going and go well equipped to make your visit safe and very fun.
Lots of water
Hat
Sunglasses
Snacks and some food
Camera
Binoculars
Where to Stay in Death Valley
You can stay inside the park and outside the park.
Within the park you have these options:
Stovepipe Wells Village
Panamint Springs Resort
Outside the Park to the EAST
Out of the Park to the WEST
7 Reasons to Visit Death Valley
The landscapes look like another planet; you have salt flats, dunes, places below sea level, mountains, canyons. It's awesome!
It's close to Las Vegas
The hottest air on the planet was recorded here on July 10, 1913, at 134 degrees Fahrenheit, 56.6 Celsius.
Wildlife and vegetation. More than 300 species of birds, more than 50 mammals, 36 species of reptiles, and more than 1000 different types of plants, 23 grow only here.
Spring Blossom.
More than 90 films were shot here, including Star Wars (The C-3PO and R2-D2 robots crossed the sand dunes of Mesquite Flat in Star Wars: Episode IV – A New Hope; and walked to Jabba Palace near Twenty Mule Team Canyon in Episode VI – Return of the Jedi.
Ubehebe Crater is 600 feet deep.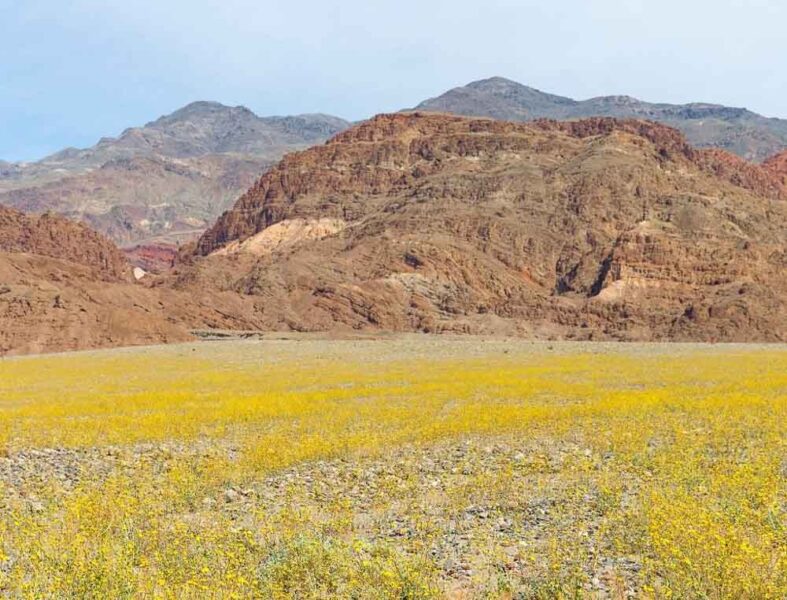 5 Hiking Routes in Death Valley
Death Valley has spectacular landscapes that look like they're out of another planet. People from all over the world visit this place for hiking and to enjoy a different place.
There are several hiking trails with different levels of difficulty and length. *TIP: The best dates for hiking are from November to March.
Easy routes
Bad Water Basin (1 mile, 1.6 km)
Mesquite Flat Sand Dunes (2 miles; 3.2km)
Salt Creek Interpretative Trail (0.5 miles; 0.8km)
Moderate routes
Badlands Loop (2.7 miles; 4.3km)
Golden Canyon (3 miles; 4.8km)
Desolation Canyon (3.6 miles; 5.8km)
Difficult routes
Little Bridge Canyon (7 miles; 11.3km)
Wildrose Peak (8.4 miles; 13.5km)
Telescope Peak (14 miles; 22.5km)
Security Tips to Visit Death Valley
Drink plenty of water. On the park's website, they recommend 4 liters per person.
Avoid hiking on hot days.
Bring extra water in your vehicle.
Stay on paved roads in summer.
Pay attention to any rare symptoms, such as nausea, dizziness, or headache.
Respect the directions. The biggest cause of death in Death Valley are solo car accidents, not wearing a seat belt, fast speed, etc.
Don't put your hands where you don't see. You may encounter a scorpion, snake, or venomous spider.
Avoid canyons in the rainy season.
Recommended; take a look.
I hope you enjoyed the post; share it with your friends!
Greetings!
This publication may include affiliate links. This means that if you make a purchase using one of these links first, we will receive a small commission that will help us continue with this project's maintenance and create useful content for your trips. Thank you so much for your support!
Save this post for later on Pinterest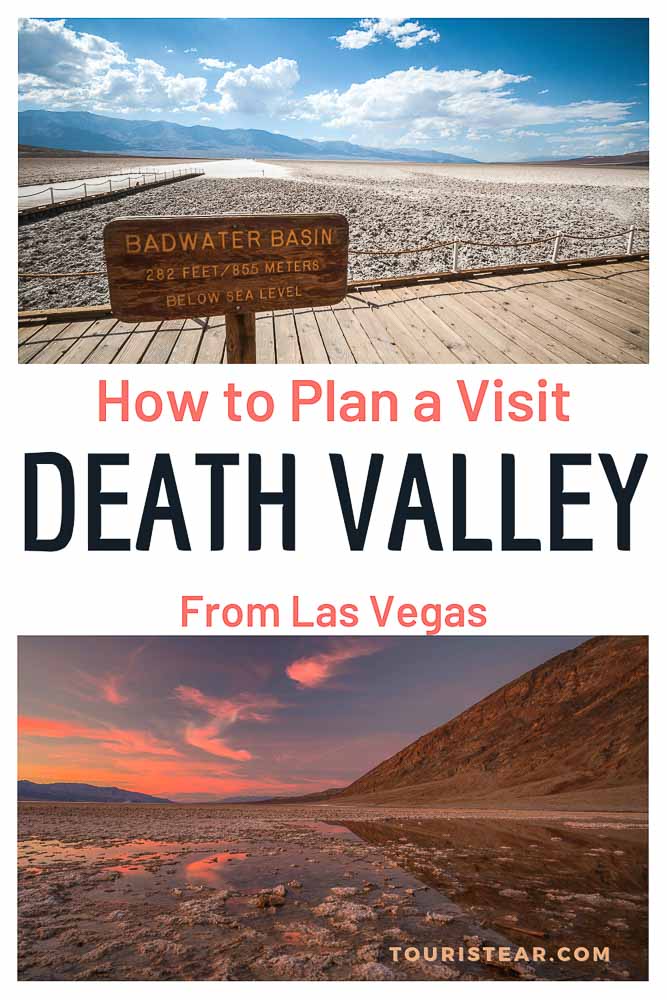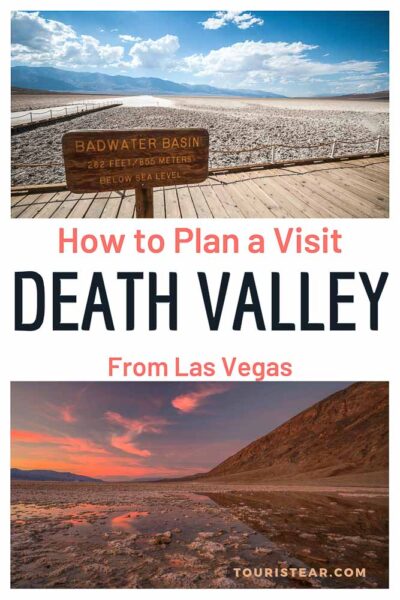 Last Updated on 14 March, 2023 by Veronica