Route 66 Road Trip, from Amarillo TX to Clinton OK
Today you start in Amarillo, Texas, and finish in Clinton, Oklahoma. Again you are going to cross from one state to another. Then, finally, you'll enter the state of Oklahoma.
Its slogan is "Native America." Its name comes from two words of the Native Americans, and it means "red people." As its slogan clearly says, it is the land of the Native Americans and has been part of the United States for just over a century.
Oklahoma, the Sooner State
This state is also known as "The Sooner State"; the reason is historical. In the beginning, Oklahoma was one of those states where the pioneers and immigrants went to gain a piece of land.
To do this, they were all aligned at the border, and when the signal was given, they all started to run toward the defined farms and claim their land. Some people arrived before this process and claimed their land.
They were called the "Sooners" because it is named "The Sooner State."
But to reach the border between Texas and Oklahoma, you have ahead around 110 miles and still some things to see along the way.
If you had time yesterday to see everything you wanted, you start directly on the route after a good breakfast.
You have two options to start. First, visit Palo Duro Canyon and then return to Amarillo to go to Groom.
The second option is to go to Groom directly. Palo Duro Canyon is the second-largest canyon in the United States. Its size is not even near close to the Grand Canyon's size, but if you want to see it, you have it so close.
It is better to go back where you went, so after visit again towards Amarillo and Groom.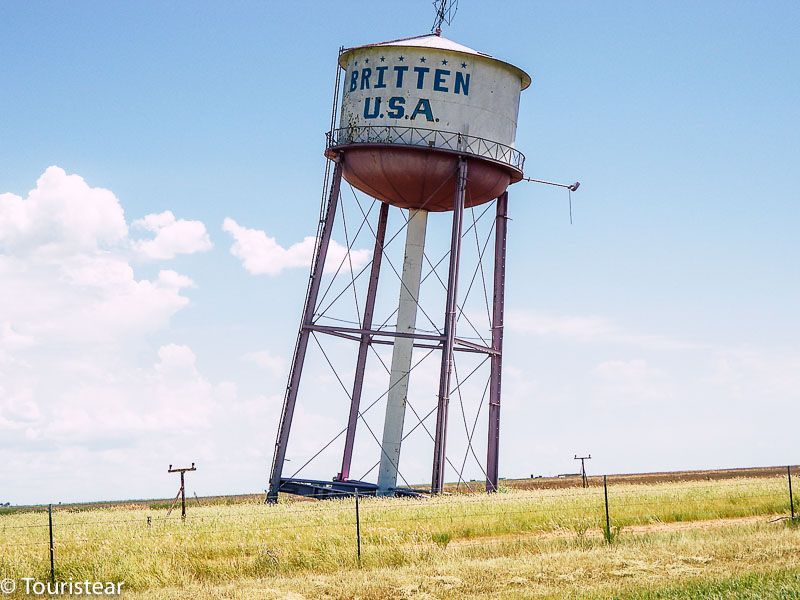 Between Amarillo and Groom Drive on Original Route 66
Between Amarillo and Groom, a section of the original Route 66 runs south of I-40; the road nº is 2161. The section is short, about 3 miles.
Unfortunately, this stretch dies on I-40, so you must continue within the Highway.
Groom, What to See?
When you get to Groom, you have two interesting landmarks. There aren't going to take you too much time. The first one is the large cross erected to protect travelers along the route, it is pretty large, and you will see it from far away.
The second is the Leaning Tower of Texas!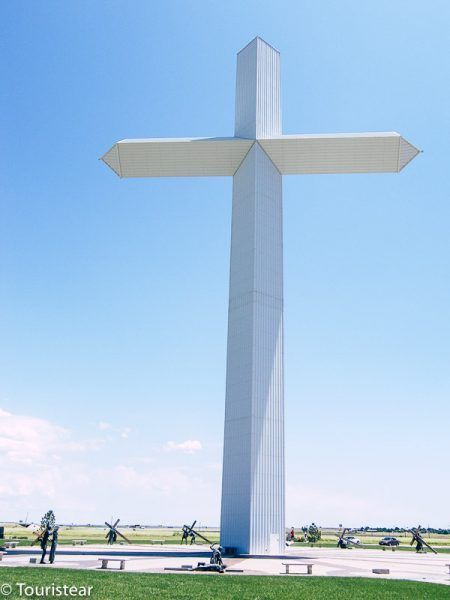 Just like the one of Pisa! But is actually a water tank of Britten USA whose base moved and stood inclined, is a curious picture.
Groom and Alanreed is a section of Route 66 called "The Jericho Gap." It was a stretch of Route 66 of 18 miles in length.
Initially, it was a dirt road (more mud than soil). However, many cars got stuck on this stretch, becoming well-known.
Jericho
Jericho was a small village. In the 30s reached 100 inhabitants! A post office, three stores, a gas station, and a little more. You can still see the remains of the village if you go.
It is a dirt road and slippery if it rains. Actually, if it rains, it's better to don't go.
The best way to find it is to take exactly halfway between the Groom and Alanreed the 70th and then exit 124. It corresponds to county road B, which is south of I-40. This section ends on private property.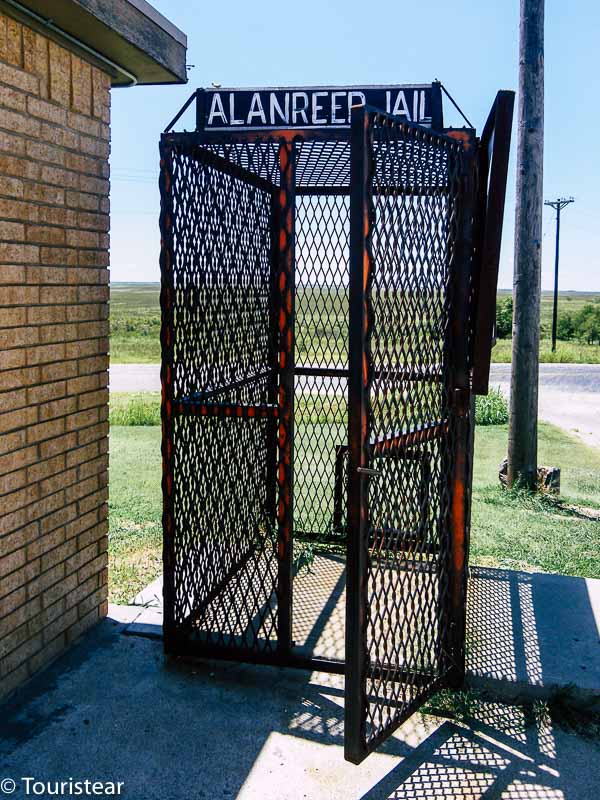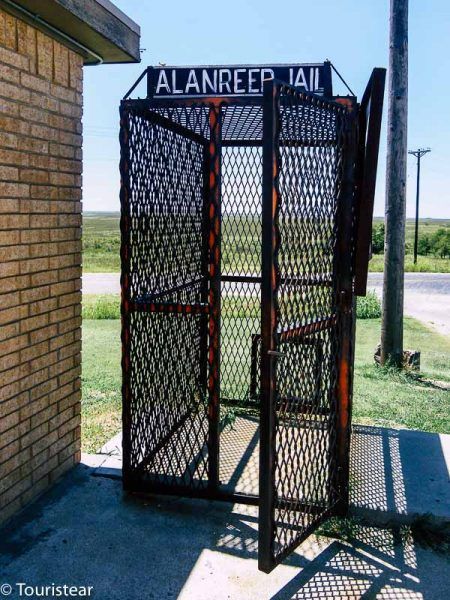 Alanreed
You continue to Alanreed; you can stop at the post office, you can see jail (kind of a joke) and a poster listing the population (52 people, 104 dogs, 88 cats, 2 skunks, and a few snakes).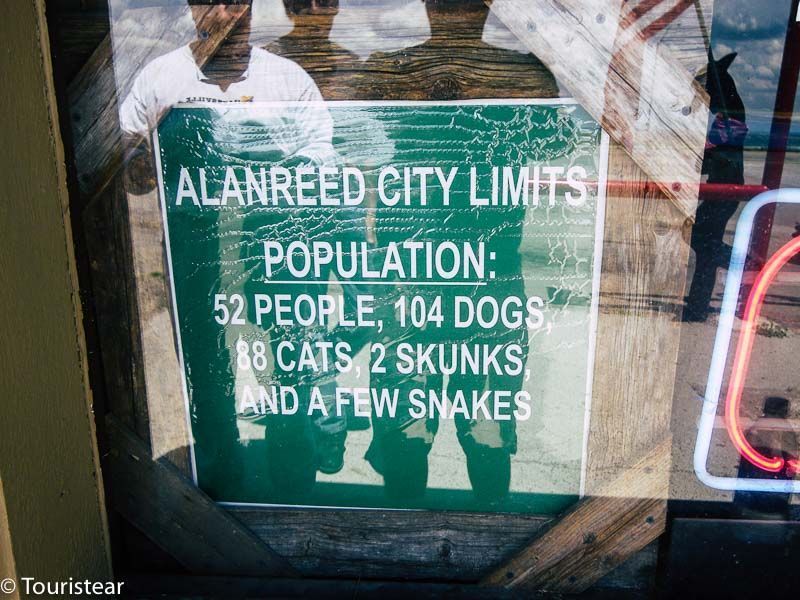 McLean
From there, you take the road to McLean. McLean has the barbed wire museum (Devil's Rope museum), and I wonder, why make a museum of barbed wire in Texas?
The truth is, I got no idea. However, it is indeed an invention patented in the United States.
The barbed wire, as you know, nowadays was patented in Illinois as far as I know.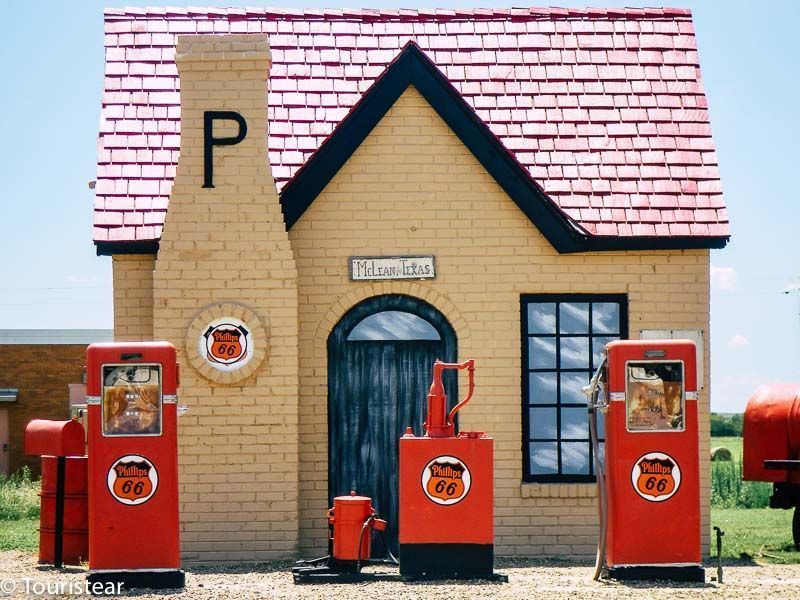 You'll also find a (restored) Phillips gas station built in the 20s, and it was the first in Texas; it worked for 50 years.
We had lunch at Red River Steakhouse, a restaurant where everything was really well, both the food and the atmosphere.
You continued to Shamrock, and about 5 miles before Shamrock, there is a village called Lela. The only thing curious about it is that you are just 1000 miles from Chicago.
Shamrock on Route 66
You cannot miss the U Drop Inn and U Drop Cafe in Shamrock. Typical and classic Route 66 venues.
The U Drop Inn was previously called the Nunn's Café. You'll see some references there as that's how it was known in the past.
It combines a gas station and cafe and is placed right in the crossroads of Route 83 and Route 66. The building is in the Art Deco style of the '20s. It was restored in 2003 and today is the home of the chamber of commerce.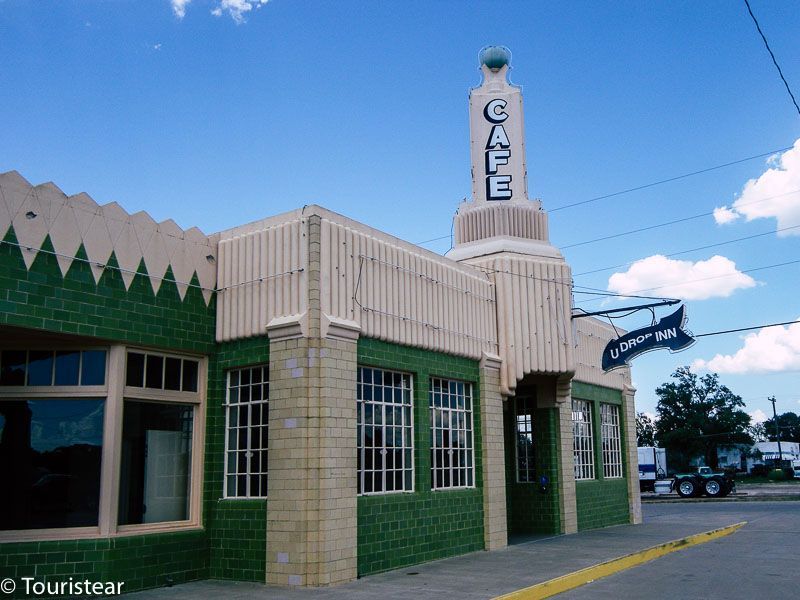 You keep going, cross the border between states, and point to the first town just after crossing the border, called Texola. In Texola are the remains of a prison.
You'll see what the jail is, a tiny little cabin where they kept the bad people! In the middle of nowhere! In fact, you will see that Texola is more or less a ghost town, actually.
Erick, Oklahoma
Erick has 66 as its main street and has an amusing 66-inspired shop called Sand Hills Curiosity Shop run by a man named Harley with lots of vintage signs and 66 paraphernalia, who will basically give you an entire show while you're there.
He's actually fairly famous on the Route 66 scene. You missed out cuz he's a lot of fun.
Recommended by Jordan.
Elk City
From Texola, you drive to Elk City, this city is already larger, and the roots of Route 66 in it are intense. But, first, you have to see the National Route 66 Museum and the Old Town Museum.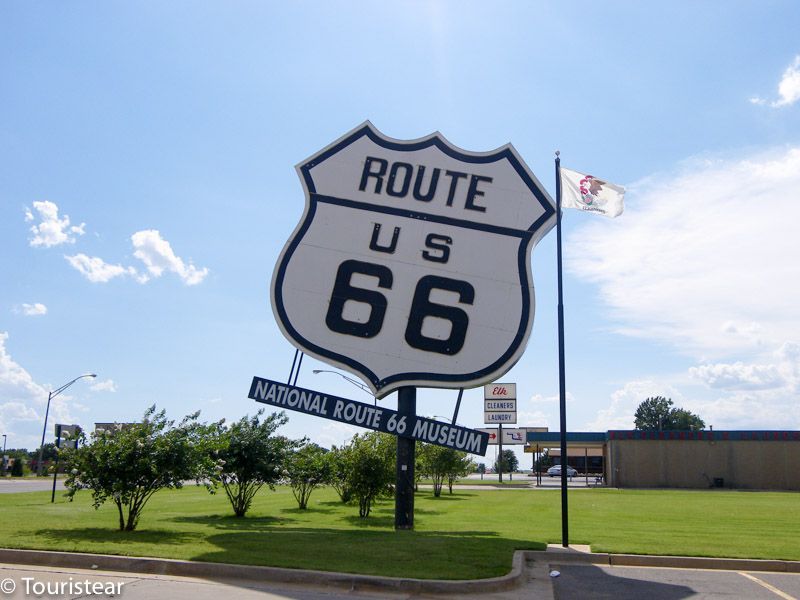 The first is the museum of Route 66, and the second is a complex of buildings, some original, others are reproductions, and it is right next to the museum. There are typical buildings of Route 66 of that time. There is also a museum of farm tools.
You get out of Elk City and are reaching the end of our stage of today, Clinton. On the way, you can visit Canute, a real jail of 1918.
On Sheidel Street, west of Main StreetAfter that, you will pass by Foss and arrive in Clinton.
In Clinton, you have to visit the Oklahoma Museum of Route 66.
Enough for today, don't you think?
Rest and have a good dinner. Tomorrow you have an exciting day because you'll pass through Oklahoma City and begin your tour to the north.
"Travel is fatal to prejudice, bigotry, and narrow-mindedness." – Mark Twain.
Plan Your Road Trip on US RT66
Route 66 Itinerary
Day 8. Amarillo. Texas – Clinton. Oklahoma. 176 Miles.
Did you like this post? Please share it, retweet it, or whatever. Thanks!
Last Updated on 31 August, 2023 by Veronica
Disclosure: Some of the links on this post are affiliate links, meaning at no additional cost to you, I may earn a small commission if you click through and make a purchase.