From Cambridge to York, What to See on a One-Day Road Trip?
Ready for an epic road trip from Cambridge to York in just one day? Buckle up and get ready for a journey through the picturesque English countryside, charming towns, and historic landmarks.
From stunning cathedrals to quaint tea rooms, this adventure has it all. Let's hit the road and explore!
In today's post, we are going to talk about what to see from Cambridge to York, and the best things to do in each town we visited.
Disclosure: Some of the links on this post are affiliate links, meaning at no additional cost to you, I may earn a small commission if you click through and make a purchase.
How Far is Cambridge To York?
So, you're probably wondering how far it is from Cambridge to York, right? Get ready for a road trip of about 200 kilometers, with the entire journey taking about 2 to 3 hours.
It's the perfect opportunity to listen to your favorite tunes and munch on tasty snacks.
Visiting Cambridge to York
As always, we woke up early to make the most of the day and explore Cambridge at our leisure.
I think we woke up too early because we found very few places open for breakfast! We had breakfast at Café Rouge, a chain you can find throughout England. They serve the typical English breakfast as well as coffee with pastries.
The place is very cute and they treated us well even though it was somewhat expensive. Nowadays you can take a free tour of Cambridge with an English-speaking guide. It can also be a good idea to start your visit.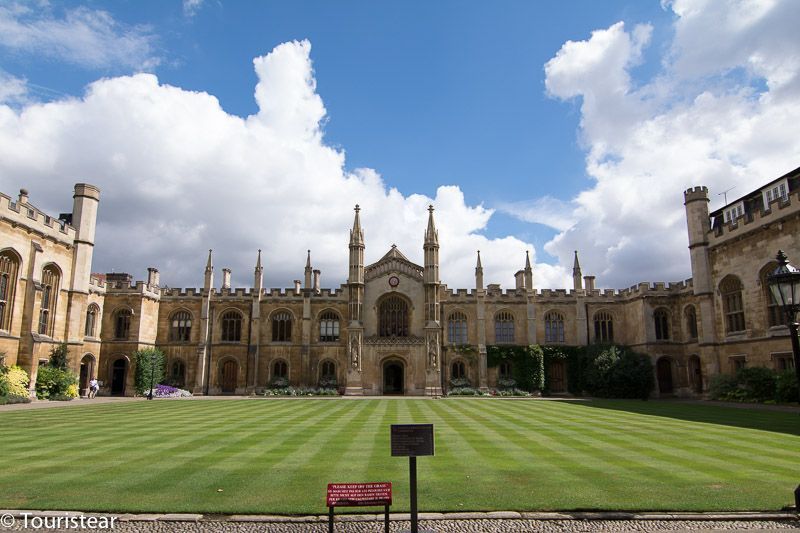 I do not know if it was because it was Monday or because it was quiet, but we did the visit between 8:30 and 1:30 p.m., and it gave us time to see the essential parts of the city, which is part of the university:
Trinity College,
Kings College,
The chapel and gardens,
The round church,
See the Corpus Chronophage,
Take a leisurely stroll,
Buy a magnet or your favorite souvenir
and have a drink in the market square, etc.
Cambridge is very close to London and can be easily reached by public transportation. However, since we were on a road trip, we arrived by car and parked it outside the university area.
As it was a public holiday, we did not have to pay for parking by the hour. However, make sure to check when you go because it may be different!
Cambridge is located on the banks of the River Cam and is home to one of the most prestigious universities in the world. It was founded in the 13th century and is where we begin our visit.
The University of Cambridge
The university is organized into colleges. These are the different faculties, and in addition, there are the residential colleges where students and professors live.
The best-known are King's College, Trinity College, St John's College, and Magdalene College.
We left the car on Chesterton Lane and then took Magdalene Street, passing in front of the college with the same name, and arrived at the circular church facing St John's.
St John's College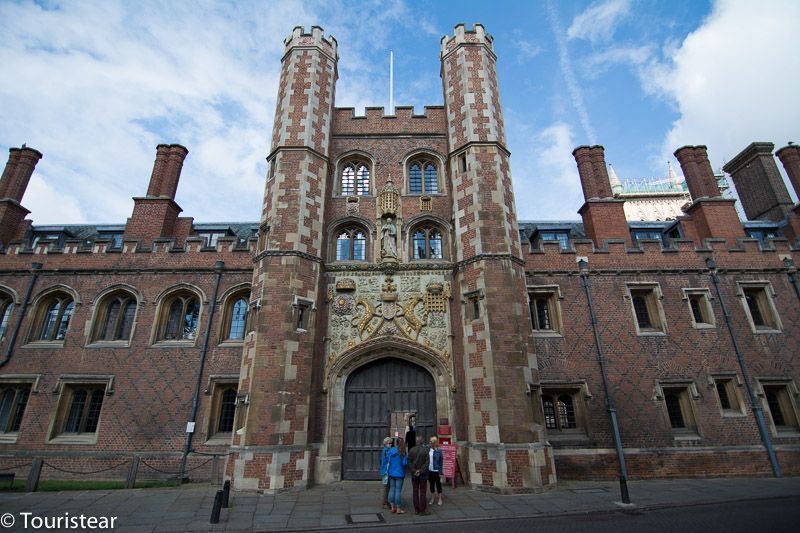 The Round Church of the Holy Sepulchre (or the Circular Church of the Holy Sepulchre)
It is a round church dating from the 12th century and is one of the oldest buildings in Cambridge.
Trinity College
A visit to Cambridge is incomplete without including Trinity College, one of the largest colleges in England and the largest at the University of Cambridge.
Moreover, Trinity College is renowned for being the alma mater of illustrious figures such as Lord Byron, King Edward VII, Sir Isaac Newton, King George VI, and Prince Charles.
During the visit, you can access different parts of the premises. They say that the library is one of the most beautiful areas, but it was closed when we went because it was a holiday.
The entrance fee was £3 per person. They provide you with a map and a brochure containing information about what you see, and you are free to explore at your own pace.
Isaac Newton's Tree
Alright, listen up! Let me tell you about Isaac Newton's Tree at Cambridge University. Picture this: a mighty apple tree, standing tall and proud in the courtyard of the university.
Legend has it that it was under this very tree that Sir Isaac Newton, the genius physicist, got bonked on the head by a falling apple, inspiring his groundbreaking theory of gravity.
Today, visitors flock to this spot to pay homage to the tree that played a part in shaping our understanding of the universe. So, grab your friends, strike a pose next to the famous tree, and embrace the magic of science and history all in one go.
Newton's Tree is an icon worth experiencing in the heart of Cambridge University.
King's College and The Chapel
King's College and Chapel are the most famous and most visited buildings in Cambridge.
Tickets for the visit are purchased in front of the main entrance, which is actually the same door you will later exit through.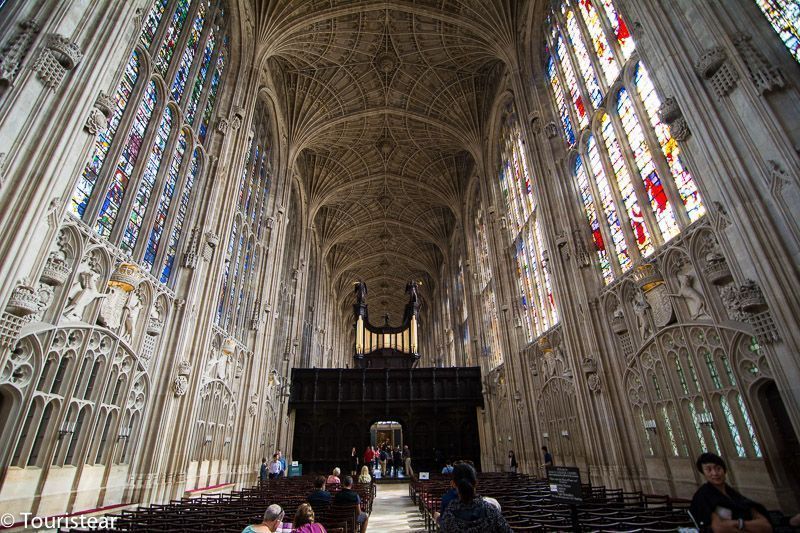 You enter from the side, cross a small garden and go directly to the chapel.
King's College Chapel is fantastic, you have to think that it is 500 years old or more! The chapel has a rectangular shape, with a length of over 88 meters, a width of 12 meters, and a height of 24 meters. Be sure to take a look at the ceiling and its spectacular stained glass windows.
Since it was the last few days for enrollment, the staff not only talks to you about the chapel and provides all the details but also tries to "recruit" you to enroll with them if you are of age to be a student. Obviously, this was not our case, but we found it curious.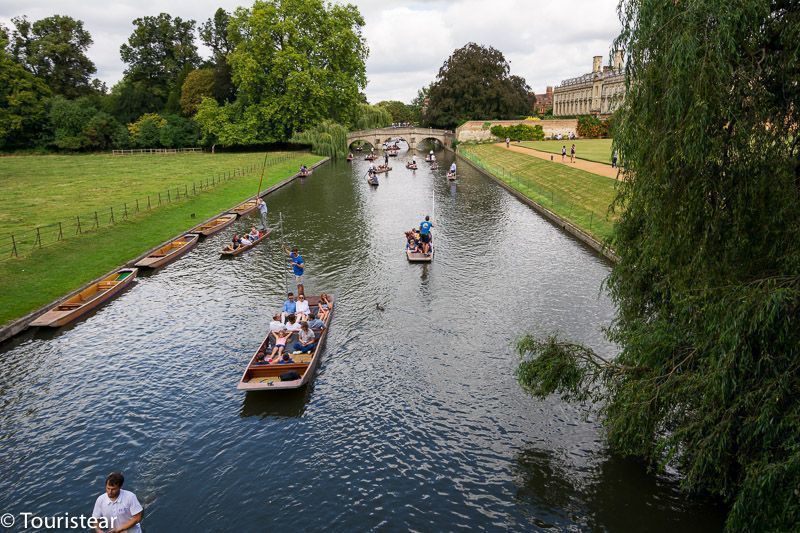 Once you finish the visit, you can exit the gardens and stroll along the riverbank or even hire one of the boat tours offered by the students to earn some extra money.
The entrance fee is £9 per person. NOTE: If you go during the exam season (April to mid-June), the gardens are closed but you can visit the chapel.
Corpus Chronophage
It is a rather peculiar-looking clock, which stands on the corner of Corpus Christi College, and is visible to all.
As you can see, the most striking feature of this clock is the "creature" on top, known as the "chronophage," the time eater.
The inventor of this clock, John Taylor, stated that he designed it that way because "I basically don't see time on your side. It will eat up every minute of your life, and as soon as one is gone, it is relishing the next one."
Indeed, it may not be very encouraging, but it is certainly intriguing, enigmatic, and consistently draws visitors. Its unique concept and symbolism make it a captivating attraction.
Of course, do not miss the opportunity to explore this beautiful city bustling with students. Taking a stroll through its streets and along the riverside will allow you to experience a less touristy side of Cambridge.
We missed St John's and the Bridge of Sighs, but we wanted to get to York before sunset for a boat ride on the river.
Afternoon Visit to York From Cambridge
The first thing we did when we arrived in York was to check in at YHA York, where we had reserved our room for the day.
Then we went to walk around the center, left the car in a parking lot, and started walking, first along the wall and then looking for a place to eat.
Walking is key during road trips, offering the freedom to explore at your own pace. When visiting Cambridge's grand colleges, don't forget comfy shoes for a delightful tour.
We had eaten something along the way, but apparently, it wasn't enough!
We ended up in a place where I had the worst burger of my life. I couldn't even finish half of it because it was ridiculously spicy, and there was no indication of it on the menu… The place was called GBK. Fer ordered a vegetarian burger and enjoyed it, though.
We wandered through the streets towards the Cathedral, which is spectacular, especially its stained glass windows. However, we saw it the next day as we could not enter at that time.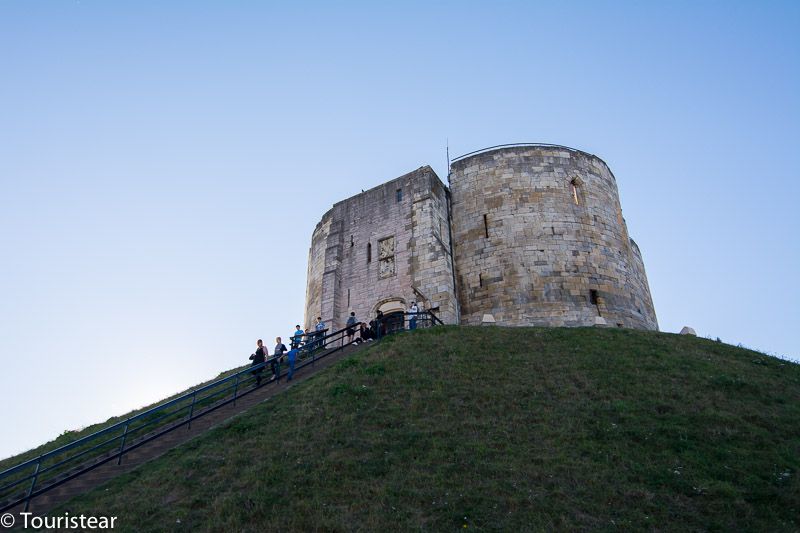 Later, following the street directions, we walked towards the "York Castle." Actually, there is no castle per se. There is the York Castle Museum and Clifford's Tower, a 13th-century tower, in that area.
Honestly, the tower is worth seeing from the outside only. Inside, you won't see much, and it is not worth paying the 10 pounds entrance fee.
Read here, for the best things to do in York
Boat Ride
From there, we walked to the Ouse River and saw the schedules for the boat rides. We were lucky that there was a boat departing at 7:30 p.m., and we were able to enjoy the sunset in a very romantic setting.
The captain of the boat was charming, telling anecdotes of York and things that happened on both sides of the river.
The price of the boat ride is £9.5 per person. It costs one pound less if you buy it online. You can also join a boat ride and meet new people on an Ouse River City Cruise here.
We Had Some Pints At King's Arms
After our boat ride, we went for a beer at a typical place called the King's Arms. It is on the river bank, a few meters from where we left the boat.
Here, people usually enjoy their beer with their feet dangling over the edge and they wave to the passing boats each time one goes by! We enjoyed our beer indoors.
We met up with some friends, Carlos and Vanesa, who have been living here for a few years. They told us that this bar gets flooded every year. In fact, they have a column marked with the water levels from different years. It's quite fascinating! On several occasions, the water has surpassed one and a half meters!
Another interesting thing about this bar is the price of the pints. First, they are quite affordable, around 2 pounds and a bit, for example, £ 2.12. It seems they don't like round prices, hehe. The beers they offer are locally brewed, and the ones we tried were delicious.
Then we went to a bar called Bora Bora and ordered a pitcher of cocktails. Yes, instead of ordering individual cocktails, we decided to get a pitcher of a single cocktail!
It was enough for almost three small glasses each, and it cost us £16.50 to split between the four of us. They say England is expensive, but you just have to avoid the extremely touristy places.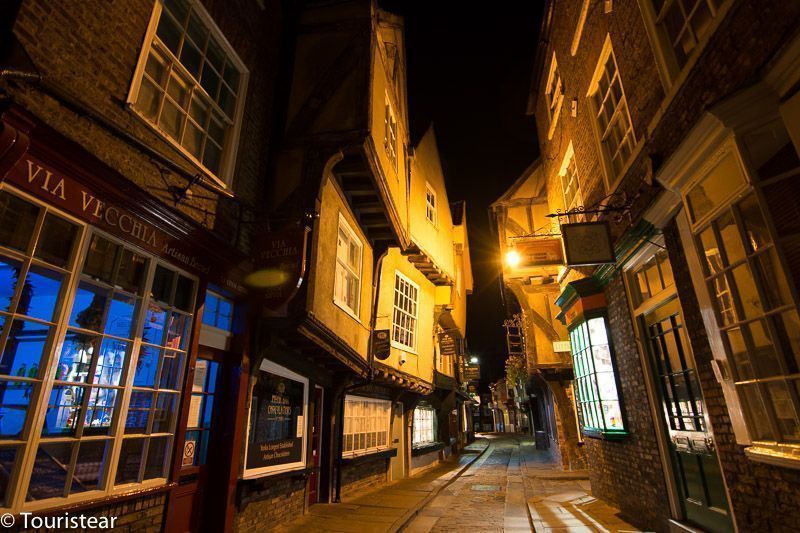 We took a nighttime stroll through the city, and our friends showed us the shortest street with the longest name in York. It was the latest night we stayed up!
We had a fantastic time!
How To Get From Cambridge To York?
Although we arrived by car, there are other ways to enjoy a road trip from Cambridge to York. Here are some options:
Train: The journey takes 2 to 2.5 hours, and the train ride offers scenic views. Check the train schedules and book your tickets for the best deals here.
Bus: The travel time can vary, usually around 3 to 4 hours.
Car: If you have your wheels or prefer the freedom of a road trip like us, driving from Cambridge to York is a great option. The journey takes around 2 to 3 hours. Remember to check for any tolls or parking arrangements. You can rent a car here.
Travel Insurance for Cambridge to York Road Trip
Planning a road trip from Cambridge to York? Don't let uncertainties hold you back. Safeguard your adventure with travel insurance from HeyMondo. Their coverage is tailored to handle health and travel hiccups, making it ideal for your English road trip.
Get sweet 5% off whether you need coverage for a long stay or a full year of exploration. Stay protected and embrace the open road!
Plan Your Trip To England
What to See From York to Newcastle
What to See in Whitby in One Day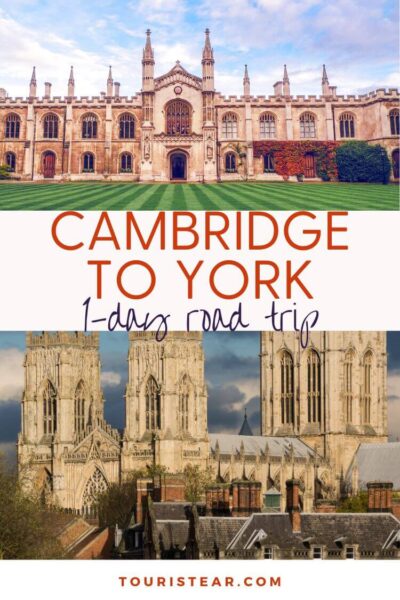 Last Updated on 6 September, 2023 by Veronica