Giethoorn Day Trip: What to See and Where to Visit
Giethoorn is a fairytale village in Holland surrounded by water. This wonderful Dutch village is located in the Weerribben-Wieden National Park. Even a Giethoorn day trip will leave you with many things to see.
What is most striking are the numerous thatched-roof buildings, the number of bridges linking the different islands, and how green it is everywhere.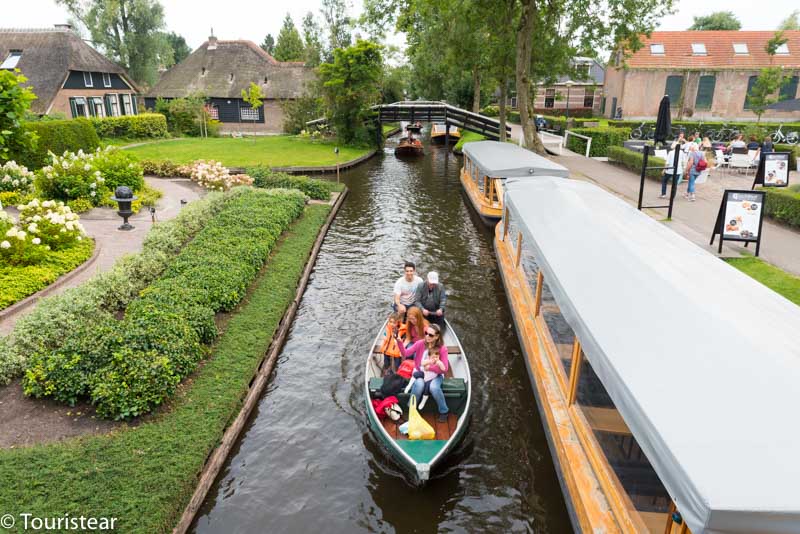 This post will help you visit this picturesque place in the Netherlands. Discover Giethoorn's history, the places to visit, and even how to rent a boat! We even add a couple of practical tips and different ways to get there from Amsterdam.
Giethoorn, the Dutch Venice
You could say it is a green Dutch Venice, surrounded by canals, with no room for cars, and full of trees and flowers. It's sure to be a place you'll want to visit.
A Little History Before Your Giethoorn Day Trip
Giethoorn is a typical Dutch village. Here you can see how the Dutch live with water.
This village is full of lakes, canals, wooden bridges, and numerous thatched houses and farms.
A settlement of peat diggers founded Giethoorn. This activity led to the creation of lakes and ponds, and people built houses on the forming islands.
The only way they had to go from one island to the other was through the little wooden bridges or a small boat called a punter, a small boat propelled by a pole.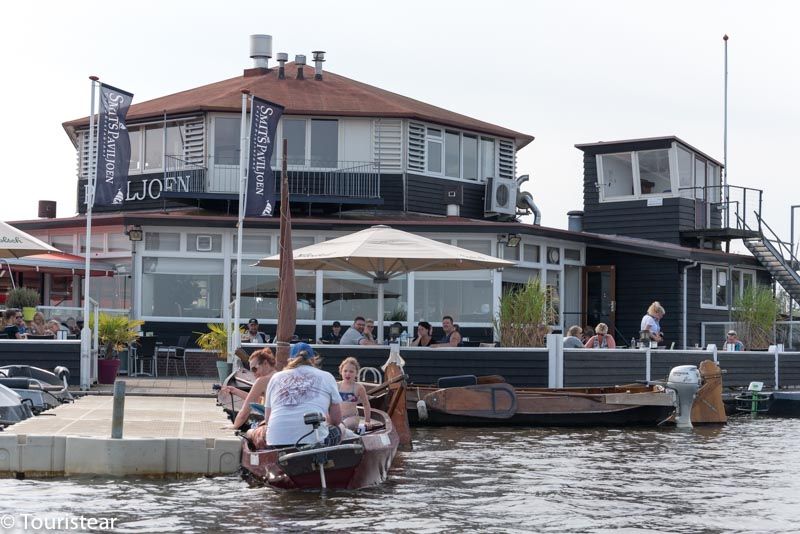 Despite the passage of time, Giethoorn has not changed much.
You can still take a punter ride. Stroll around the islands across the wooden bridges, photograph the beautiful 18th and 19th-century farmhouses, buy a soft drink in the middle of a lake, "park" your boat on an island, and have a refreshment!
What to See and Do on a Giethoorn Day Trip?
The most typical thing to do in Giethoorn and what all visitors do (including us) is to rent a boat and tour the canals and lakes.
If you are wondering about a license to rent a boat in Giethoorn, the answer is no. That's the Dutch way, haha!
Rent a Boat for Your Giethoorn Day Trip
Seriously speaking, these boats are designed for tourists. They are small electric boats that are very easy to handle.
They have two speeds. If I remember correctly, they have a reverse gear and the rudder to go left or right. It is a lot of fun and at the same time very relaxing.
There are several stalls in the main canal where you can rent different boats. Most rented is the electric boat in various sizes. It is a lot of fun and at the same time very relaxing.
But there are also other models, such as the punter.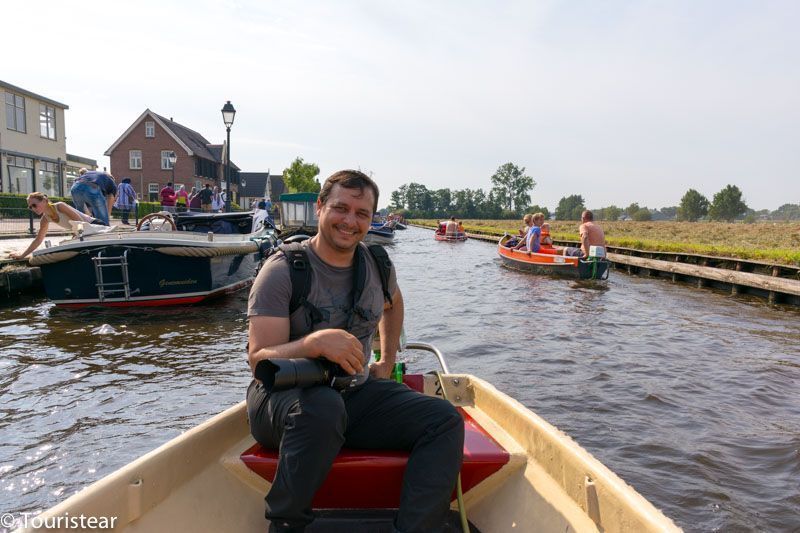 The tour duration is approximately two hours, and they charge 15€ per hour. In our experience, we paid 30€ for an electric boat for two. Maybe if it is bigger, they charge more, but we do not know the accurate rate.
The circuit is predefined, and they give you a map with the route. You must follow it because you can get lost among many channels.
We arrived in Giethoorn after visiting Edam and had lunch on the way. The first thing we did was the boat tour.
When we finished after two hours, we walked around the town, crossed some of its picturesque bridges, and had ice cream at an ice cream parlor with a terrace overlooking a canal.
We saw that there were many excellent-looking restaurants, all overlooking the canals. If your budget allows it, there is a restaurant with two Michelin stars called De Lindenhof.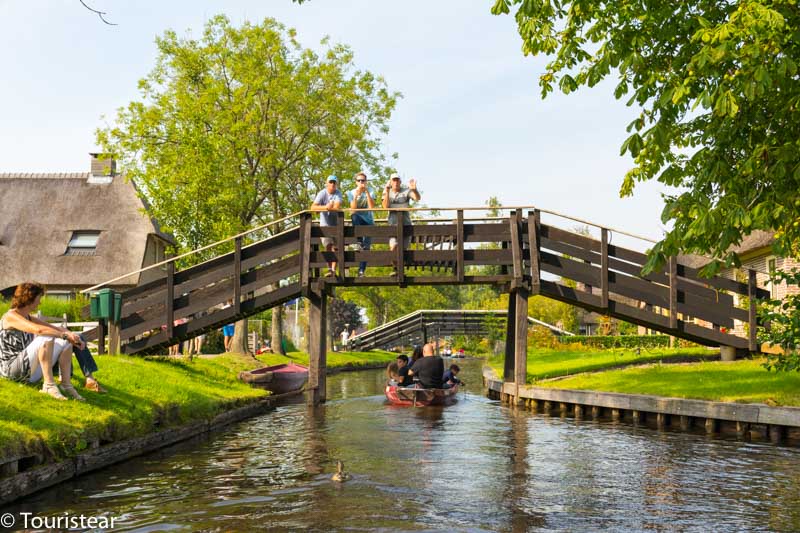 We did not eat in Giethoorn because we were going to spend the night at Utrecht. It was an hour and a half drive away. All the restaurants and bars had people having a drink or eating on their terraces.
How to Get To Giethoorn?
By Rental Car
We arrived in Giethoorn, the Dutch Venice, in a RENTAL CAR. We left our transportation to Giethoorn in one of the parking lots at the entrance to the village (you can't drive into Giethoorn) and then toured it on foot and by boat.
If you want to go from Amsterdam by renting a car, our recommendation is to look for an office on the outskirts of the city. We do not recommend driving around Amsterdam at all.
We rented the car at Schiphol, two stops from Amsterdam Central Station and one stop from the hotel where we were staying. Amsterdam and one stop from the hotel where we were staying.
Booking the Excursion from Amsterdam
During your visit to Amsterdam, you can make time to visit this idyllic Dutch village. You can do it via rental car or hire a guide for a boat tour.
The tour departs in the morning from the center of Amsterdam, about 120 kilometers, and returns after lunch.
The tour is with an English-speaking guide. Hiring a tour guide on your trip to Amsterdam is a good option if you don't want to hire a rental car, don't like to drive, or just for the convenience of a ride 😉
Where to Stay in Giethoorn
You can stay overnight if you want to spend the whole day and the night in Giethoorn.
The lodging prices range from 60 euros to 175 euros per night. So you know, depending on your budget and preferences, you can choose to stay in one place or another.
When is the Best Time to Visit Giethoorn
We recommend visiting Dutch Venice between July and September. These months have the best weather but also peak season.
You can avoid the crowd during October. The weather is still bearable, but you can feel the wind to be a little bit cold. If you are up for it, you can enjoy the boat rides without bumping into too many people at the canal.
Travel Insurance for Your Giethoorn Day Trip
Canal trips in Giethoorn are fun and safe. It is definitely an experience you get to try when in The Netherlands! While you plan your one-day trip to Giethoorn, get travel insurance from Heymondo!
Use this link to get 5% off. Hopefully, you do not have to use this while you tour the village.
As mentioned above, we continued on our way to Utrecht. That is where we had dinner and stayed for the day.
Read our Utrecht post for more information.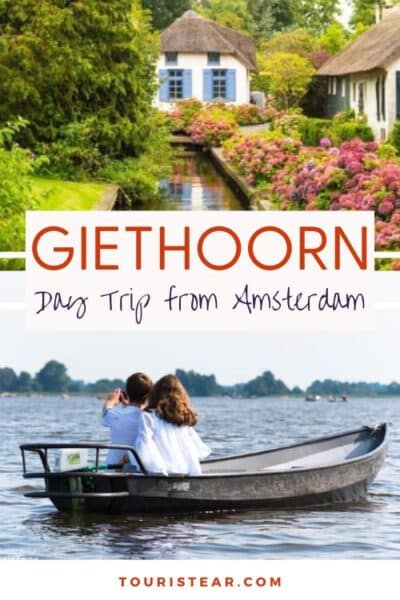 Do you know Dutch Venice? Did you like it? Leave your impressions in the comments!
Plan Your Trip to the Netherlands
10-day driving tour in Holland
Coffeeshops for beginners in Amsterdam
Visiting Amsterdam by bicycle
A weekend in Utrecht
Disclosure: Some of the links on this post are affiliate links, meaning at no additional cost to you, I may earn a small commission if you click through and make a purchase.

Book Your Trip
Book Your Flight
Find a cheap flight by using Skyscanner.
Book Your Accommodation
You can book your hostel, hotel, or apartments on Booking.com.
Don'torget Travel Insurance.
Travel insurance will protect you against illness, injury, theft, and cancellations. It's your protection in case anything goes wrong. You never go on a trip without it.
Best companies for Tours
Check out Civitatis.com and find the best tours in English (French, Spanish and Italian)
Are you looking for the best companies to save money with?
Check out my resource page for the best companies to use when you travel! I list all the ones I use to save money when I travel – and I think I will help you too! (Is in Spanish yet)
Last Updated on 24 February, 2023 by Abby