Where To Eat In Utrecht? 10 Super Cool Places
Utrecht is a city we love for its life, mixing the old with the latest trends and being super beautiful! In this post, we tell you what to see and visit in Utrecht. We bring you some of the coolest places to eat in Utrecht.
And at the end, we tell you where to have super tasty ice cream.
Where To Eat In Utrecht?
We asked a boy from Amsterdam, 'What are the most typical dishes to try? He recommended a couple of food to try.
He told us there were not very typical dishes in the Netherlands, like Paella in Spain, but the restaurants were excellent. You could try food from all over the world without leaving the country, and with everything they "copied," they did great.
We ordered some typical dishes such as Bitterballen and exquisite cheeses (they also make delicious beers). But walking through the streets, you find many restaurants, all very cool and with food from around the world.
In Utrecht, we started in the east, along the Scorelstraat.
While we spent most of our time riding a bicycle in Amsterdam, our preferred transportation in Utrecht was our feet. We geared ourselves with the best travel shoes to get to the different dining spots. The shoes are lightweight, stylish, and easy to pack in our bags.
Scorelstraat Street (East Side)
One of the first streets you have to go to eat in Utrecht is Scorelstraat (In the eastern part of the city).
It has bars and restaurants for all tastes and budgets. You can taste flavors from various parts of the world in a single street. Let's start!
District
You can have breakfast and lunch like a local in District. Locals usually frequented this place for a cup of coffee with delicious croissants or cakes of different flavors.
Van Oosst Pasta Bar
If you love Italian cuisine and can't go a day without eating pasta, this is the place for you.
Here locals, students, and of course, visitors gather to enjoy a good glass of Italian wine and pasta.
Café Jan Primus
Do you like traditional pubs? It has been in operation for more than 40 years. Here you will find excellent beers and a place to have a pleasant time.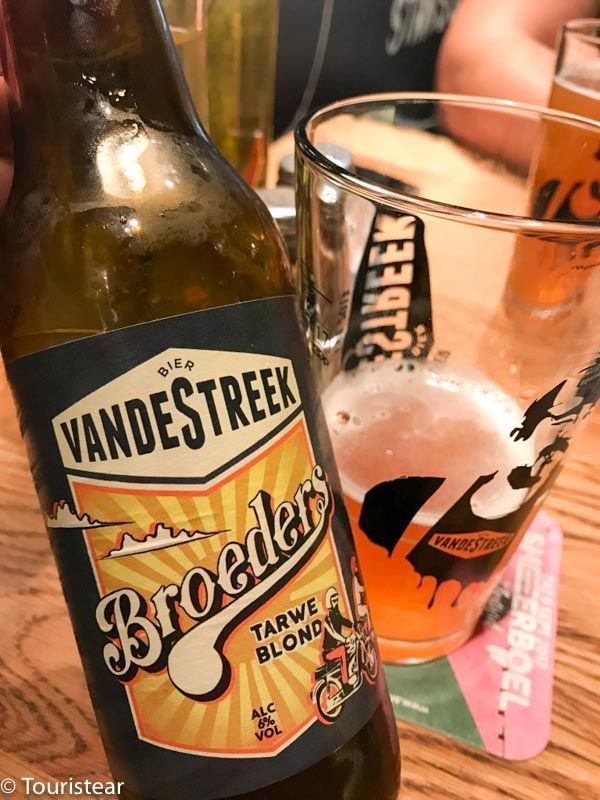 You can also go on a pub tour in Utrecht with your phone. The self-guided tour also includes activities to learn about the pubs and have fun!
Noen
This place is characterized by its use of organic products and attracts all kinds of customers, from students and young families to neighborhood residents and tourists.
A good mix to have a great time. Don't miss the delicious apple pie!
We recommend this guided tour if you want to go around Utrecht while snacking on vegan treats. You see the city's best while munching on delicious delicacies.
Eat In Utrecht in The City Center
Stan & Co
I think we were the only tourists in the place. This place is a mix of restaurants and pubs, and we ate like gods. We indulged ourselves, and we ate a delicious steak. The service was excellent, and so was the beer!
Another thing I liked about this place and the Netherlands, in general, because people are not always glued to their cell phones. In fact, you don't even see them on the table, and people are chatting!!!!
These are for those who can't live without a good cup of coffee
If you are one of those who need caffeine to start your day, I recommend these four places:
De Koekfabriek
This place with an unpronounceable name is ideal to start the day. Buy a cookie and a good cup of coffee.
Slachtstraat 2
30ML
30ML is a place that every coffee lover will love. They even roast the coffee beans themselves!!!! And they make all kinds of coffee.
Vredenburg 23
Courtyard Pandhof
When you go to visit the area of the Cathedral tower, you will find this beautiful place. Located in the gardens of the cathedral monastery, it is hidden between St. Martin's Cathedral and the University Hall.
It is an exceptional place to have a coffee and enjoy the surroundings.
Café Voortuin
Here you will not only enjoy a good coffee, but they also have a good menu of drinks such as wines, liquors, and whiskeys. They also have tables on the terrace and good music to have a pleasant time.
Voorstraat 4
Neude Square
We also found several restaurants and people of all kinds in this square. Some looked like they were taking a break from work, and others, like us, were getting to know Utrecht.
We had a couple of great sandwiches, large and very consistent.
Eat In Utrecht By The Oudegracht Canal
Next to the central canal of Utrecht, you will find many restaurants of all kinds, but they are much more touristy than the first ones in this post, but honestly, they are really cool.
We didn't dine here but came looking for dessert and had a super tasty pancake.
Where To Have An Ice Cream In Utrecht?
I don't know if you know this, but Fer is a super fan of ice cream. No matter the temperature, whether it rains or snow, we always look for the best ice cream parlors and try their ice creams whenever we go out there.
Of course, in Utrecht, we also had to have ice cream. This time it was in "Il Mulino," a family ice cream shop operating since 1987.
We found it on the internet, and we went for a walk. The ice creams are delicious and have a good variety without gluten, dairy, nuts, and sugar.
It is not in the town center but worth a visit!
Adelaarstraat 2-4
If you are going to different parts of the Netherlands, renting an RV to save on accommodations, or choosing a car for the convenience of long travels from one city to another.
Have you been to Utrecht? Tell me your recommendations for lunch and dinner in this fantastic city. Where did you eat in Utrecht?
Travel Insurance
After planning where to eat in Utrecht, remember to buy travel insurance. Although Utrecht is safe for travelers, your tummy may not be used to the food, or you may have some allergies that you did not know existed. HeyMondo's travel insurance will come in handy.
Of course, we always hope not to use travel insurance and continue to have safe travels. But in emergencies, you can feel assured that your travel insurance will cover most of the cost.
Use this link to get 5% off your travel insurance to Utrecht
Plan Your Trip to Utrecht
Save this image to your
Pinterest

!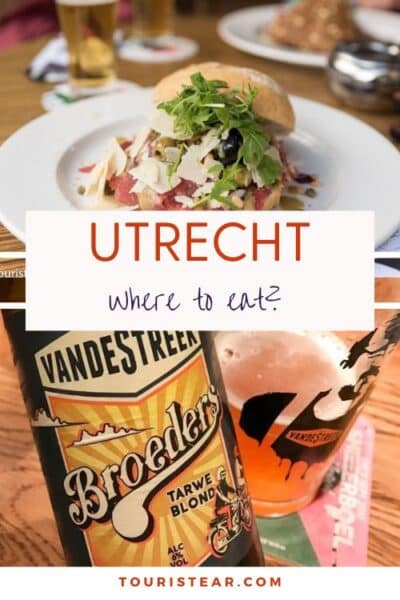 Last Updated on 8 September, 2023 by Veronica
Disclosure: Some of the links on this post are affiliate links, meaning at no additional cost to you, I may earn a small commission if you click through and make a purchase.
Author: Veronica
Vero, a seasoned traveler, has explored 25 countries and lived in five, gaining a rich perspective and fostering an infectious passion for travel. With a heart full of wanderlust, Vero uncovers the world's hidden gems and shares insights, tips, and planning advice to inspire and assist fellow adventurers. Join Vero and let the shared passion for travel create unforgettable memories.