Cheese Route in the Netherlands: Gouda, Edam and Alkmaar
The Netherlands (Holland) is much more than visiting for four days Amsterdam. For today's post, I want to talk about the cheese route through the Netherlands and its medieval markets in Gouda, Edam, and Alkmaar.
They are ideal and essential visits for cheese lovers and people who love to know a little more about tradition and have come to this day and have enjoyed this trip through the beautiful country of the Netherlands.
On my first trip to the Netherlands, we only visited the cheese market in Edam.
And in this second road trip across the Netherlands, we did the Medieval Market Cheese Route (Edam, Gouda, and Alkmaar).
Each one has a different day, so you can schedule the road trip to match the dates of the medieval markets.
If you come from the south by car or any other vehicle, the first village you'll find is Gouda.
If you travel from Amsterdam, the closest one is Edam.
The city of Alkmaar is ideal for a night out, as in the summer, it has one of the busiest and most famous cheese markets.
Disclosure: Some of the links on this post are affiliate links, meaning at no additional cost to you, I may earn a small commission if you click through and make a purchase.
The Cheese Dutch Drive Itinerary
Edam, famous Dutch Cheese
The city that gives its name to one of the most internationally well-known (and copied) cheeses has one of the most beautiful and picturesque cheese markets.
It is very close to Amsterdam (about 20 kilometers to the north), and there are excursions to be able to go to visit both the city and its market, yes, you have to fit the date and time.
Edam is in an area called Laag Holland, and for eight Wednesdays a year, we can enjoy its cheese market.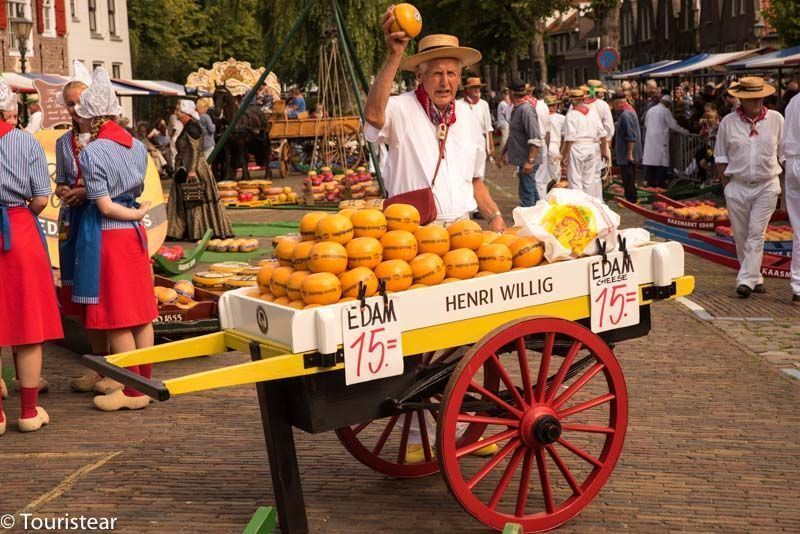 The cheese market in Edam is made traditionally. They recreate their market and take the cheeses by boat down the canal. They pick them up, take quality control, sell them, and make them heavy once the price is accepted.
It's exciting to see the whole process.
In addition, Edam is a very picturesque village that deserves a visit. So my recommendation for you is to visit their cheese market, Wednesdays at 10 a.m. and then walk the town.
Of course, you must taste the cheeses at the medieval market or buy some of them. They're delicious, and they're authentic Edam cheeses.
Gouda Medieval Cheese Market
Gouda is one of the most well-known types of cheese worldwide. So it's no wonder that in the city of Gouda, which gives its name to this delicious cheese, they also made a medieval-style cheese market.
So if you're a cheese lover and like to see places' different traditions when you travel, you have to make an appointment in Gouda, the cheese town, on Thursdays in the summer.
The Old Town of Gouda is beautiful; its town hall will leave you speechless. And here, in this square, the Gouda cheese market develops.
Farmers and traders negotiate the price against "Goudse Waag," where cheese is weighed once the price is accepted. This way, they know what taxes they'll have to pay.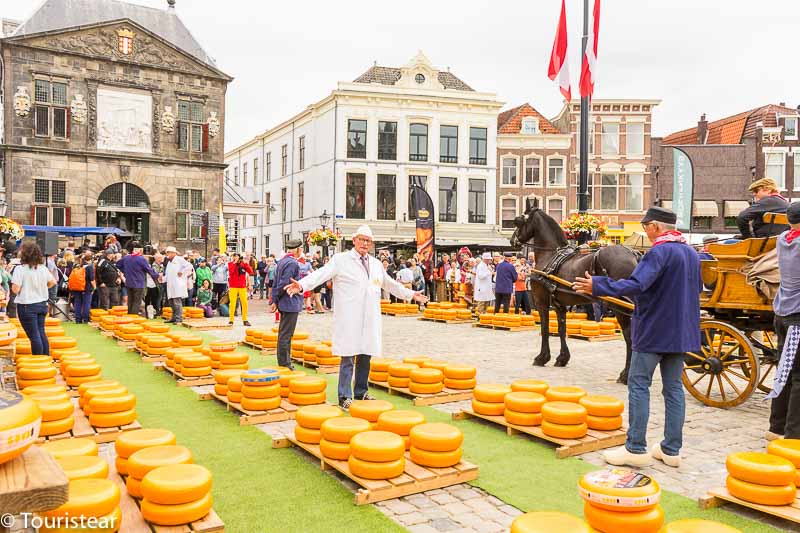 You're going to see horses carrying cheese, cheese stands, and people traditionally making crafts. It's definitely very nice. Don't forget to take a tour of the historic center.
The Goudse Waag is where the Gouda Cheese Museum is located.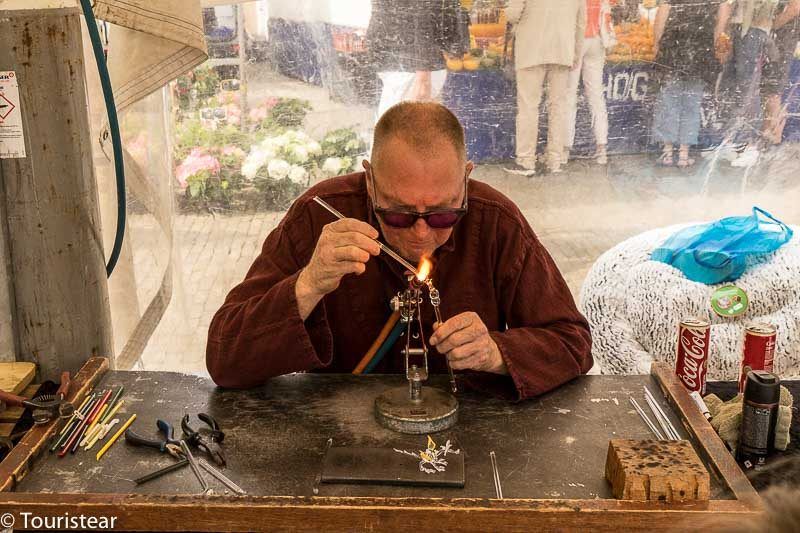 Curiosity caught my eye as to how Gouda is pronounced in Dutch. They say something like Hauda, with a very strong H.
Dates of the cheese market in Gouda: from April to August. Every Thursday from 10h to 13h.
Where to Sleep if You Go in a Van
While traveling in a van, we visited Gouda as part of our road trip through Belgium and Holland. To find places to sleep in our van, we use the park4night app; it's super practical if you don't want to go camping every night.
In Gouda, we sleep in a car park with electricity and bathrooms (although they are disgusting), and it is next to the center (5 or 7 minutes walk). Parking is available for a fee; it is 8€ per 24 hours.
If you want to go to the bathroom, there is a café library next to the parking with clean bathrooms. However, they charge 0.50 euros to get in.
Alkmaar, The Most Famous Cheese Market
Alkmaar has the largest cheese market and is perhaps one of the best-known.
In addition, the city has more than 100,000 inhabitants and has a lot of restaurants with terraces full in the summer months and plenty of leisure to spend a weekend or at least one day and one night.
In our case, we arrived at Alkmaar the day before the cheese market. We visited the city afternoon/night and the next day we enjoyed its medieval market.
The Cheese Market in Alkmaar
We visited the Alkmaar cheese market, the second market we saw and the third between the two trips to the Netherlands. I thought I would find more of the same, but each market has its charm.
It's better to arrive early at the cheese market before 10 am. This allowed us to find an excellent place to enjoy the show.
Besides, I don't know if other markets were made because we didn't get to the beginning. But in this one, they sell you bags with different types of cheese.
For 10€, you can purchase three types of cheese at the market, and some souvenirs are included inside the bag. The cheeses are spectacularly good, a recommended purchase, and, if you want, you can take it to give as a super gift.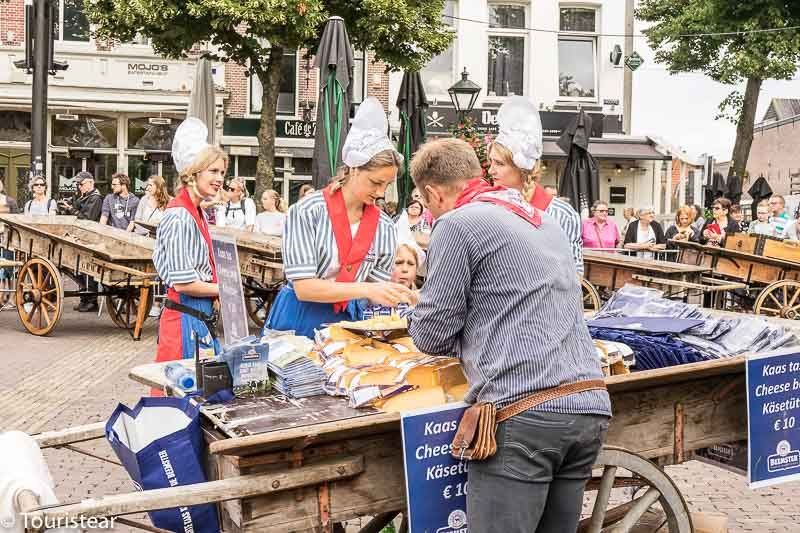 When you get to the market, you will see a lot of cheeses distributed throughout the square.
You'll see how the price is negotiated, the quality controls and how they weigh it, and how they take it.
This is the most disappointing part when you see them put in a truck, but you can see how they carry the cheese in small boats if you pay attention to the canals.
The atmosphere in the market is charming; you see that they have a good time, enjoy it, and spread out.
The market starts at 10 o'clock, when the bell rings, making it sound like someone famous or a politician from the area is in town.
Arriving earlier at 10 am, you can see how they're organizing everything and how the stands are set up around the surroundings. I think it's fascinating to see.
The cheese market in Alkmaar has been developing for more than 400 years in the balance square "Waagplein" in the same manner as today. But it's been growing, and they have enlarged the square to accommodate current needs.
Today, what we see is a show. It doesn't really hold any sale, but it's a way to keep traditions alive and to get to know it so much as if you were Dutch.
You're going to see everybody take their duties very seriously. You'll see the people who carry the cheese, about 120 kilos, with a smile as if weighing nothing.
Also, you'll see people walk/run curiously. Apparently, it's a typical thing to run in that unusual way.
You have to pay attention to the canals; there, you will see small boats carrying the cheeses as they did in the past.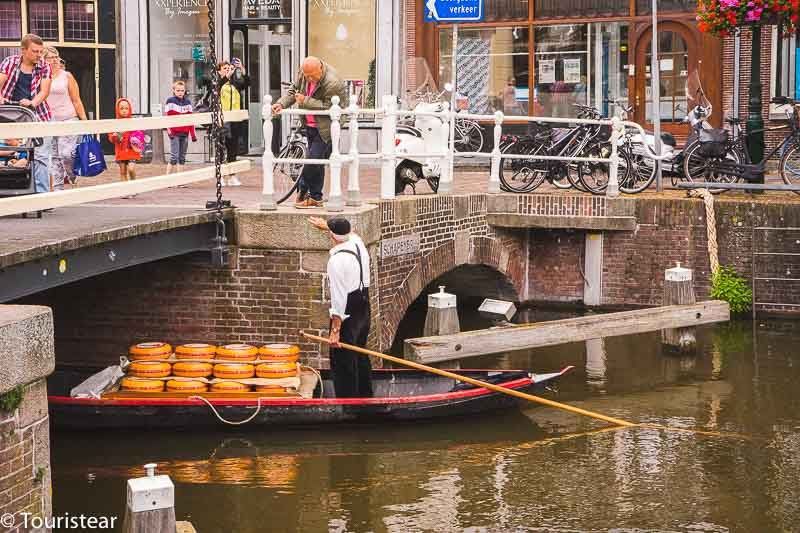 Cheese market opening hours in Alkmaar: from April to September every Friday from 10 am.
Recommendation: arrive about 15 minutes (or more) before 10 a.m. So you can have a better place. Look for one with a roof in case it rains.
Where to Sleep in a Van in Alkmaar
In Alkmaar, you can sleep with your van or motorhome in a cool place.
You'll have a view of the mills, and if you go with bikes, you'll get to the cheese market in some 7 minutes per bike path. The walk is long but just as nice if you go on foot.
Besides the views, the best aspect of the parking is that it is free. The worst part is that there are no bathrooms nearby. We also found it using the park4night app.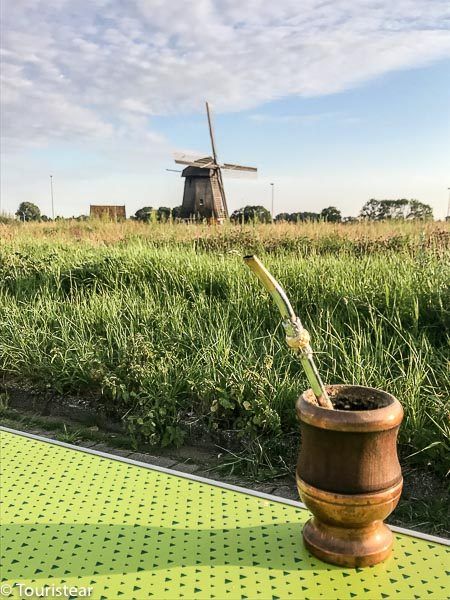 I was surprised that although the 3 markets of cheese have the same dynamics, they are different from each other.
Each has something that the other does not, and I think they are very nice to visit. Not to mention, they are in very picturesque places, the people are very nice, and they are super used to tourism.
Do you know the cheese markets in Holland? Would you like to visit them? Please leave us your comments.
Plan Your Trip to the Netherlands
Last Updated on 1 September, 2023 by Veronica