Visit Zaanse Schans, one of the Most Beautiful Villages in Holland!
We started the road trip across the Netherlands after visiting 4 days Amsterdam. Then, we head to Zaanse Schans, a beautiful "invented" village north of Amsterdam. Besides enjoying the views, we will learn about Dutch history and culture. Let's start!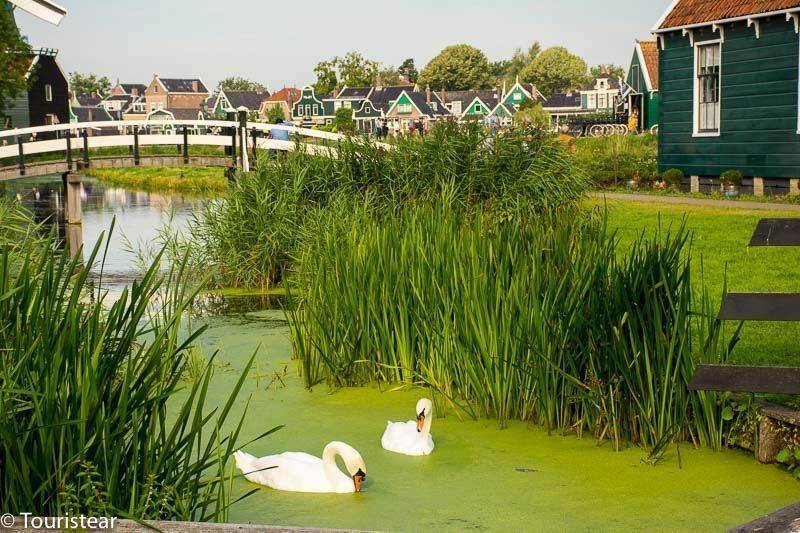 Zaanse Schans, A Little Bit of History
We got up around 7.30 in the morning and headed to Zaanse Schans. The place seemed like the ones from the fairytales. You can learn about Dutch culture, see its famous windmills, even enter them, stroll through its streets, taste its well-known chocolate, and take lots of pictures.
Zaanse Schans was born thanks to the vision of architect Jaap Schipper. Everything you see in the village has been placed there to preserve it (although Zaanse Schans already existed since 1574).
In his final thesis in 1946, the architect developed the idea of a place to preserve old buildings that were no longer in use and were in danger of being demolished and ceasing to exist.
Thus, the town was born as we see it today. The different mills, houses, and everything we can see were moved so that they could be preserved and future generations could know its history.
What to See in Zaanse Schans?
First recommendation. We visited the town with the "Zaanse Schans Card" which gives you access to all the exciting places in the town, such as:
the Zaans Museum,
the Zaan Time Museum,
the entrance to a mill
and several discounts in souvenir stores
and in the chocolate factory.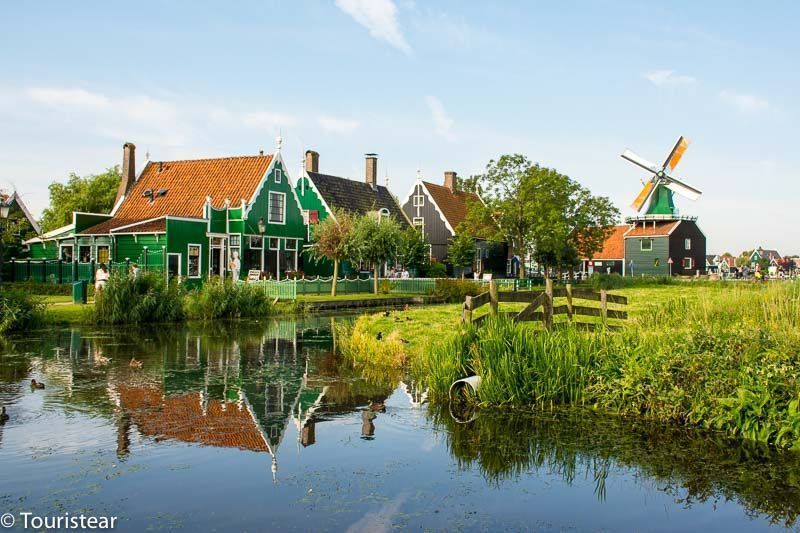 Zaanse Schans is a town you fall in love with at first sight. As soon as you arrive at the parking lot (10€ per car), you see it is super picturesque.
Depending on when you arrive, you can start with the Zaans Museum, or if you arrive earlier like us, you can start with breakfast!
You can also arrive with a visit from Amsterdam, and you avoid worrying about parking.
Zaans Museum and Verkade Pavilion
If you arrive at or after 10 o'clock, start your visit to the Zaans Museum. It is a fantastic place to discover part of the Netherlands, its industry, its entrepreneurial spirit, and its mills.
The tour is audio-guided and fascinating.
The Verkade was the largest chocolate and cookie factory in the Zaan region.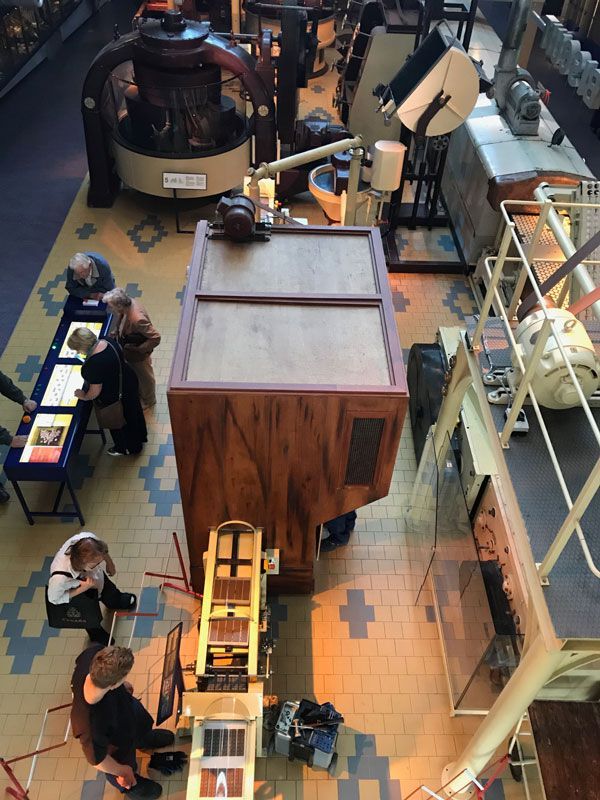 You can see how Maria cookies were made and at the end of the tour, you can taste the different cookies that are made.
The Windmills of Holland
In this region of Holland, there were more than 600 mills operating at the same time! It was the oldest industrial area in Western Europe.
Today, there are not so many mills left, but we can visit those that remain and get a clear idea of the industry of the time and the production of different raw materials, such as oil, paint, wood, etc.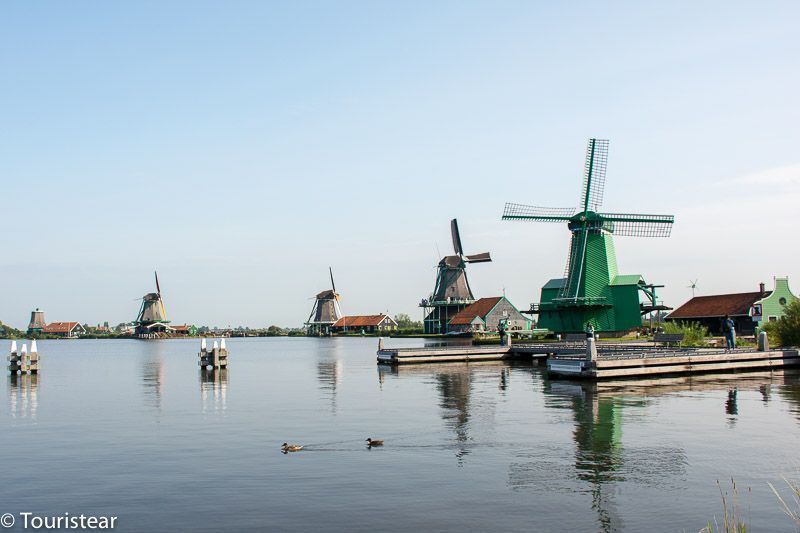 Today, we can visit six windmills. Each one performs a different activity and has super easy-to-learn names 😉
De Huisman or the Spice Mill
This mill dates back to 1756 and has been part of the Zaanse Schans since 1955. It functioned as a Tobacco and Mustard mill for centuries, and its production was sold to the rest of the world.
It is currently used as a spice mill.
De Gekroonde Poelenburg or the Sawmill
This mill was built in 1869. They say that the name derives from its silhouette, reminiscent of the jackets worn by the lumber merchants of the time. You have to have a little imagination!
De Kat or the Paint Mill
De Kat produces high quality paint and pigments. The most curious thing is that it is located on the site built in 1664 and is still in operation today!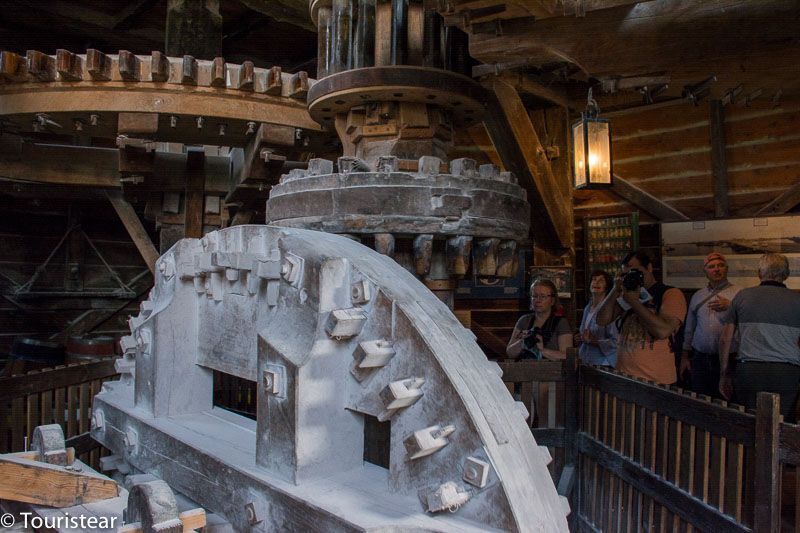 De Zoeker, Oil Mill, or Milling
De Zoeker is the oldest mill in the Zaanse Schans, but they need to determine exactly how old it is, as it is built with used parts. One is dated around 1600, and the rest from 1676.
It was created to obtain as much oil as possible. Since 1968, this large mill has been part of the Zaanse Schans.
Het Jonge Schaap or Sawmill
Het Jonge Schaap is the replica of the mill that stood at the Zaandam station in 1942. But even though it is a replica it works perfectly and when you enter you can smell the freshly cut wood.
De Bonte Hen, Oil Mill, or Milling Mill
De Bonte Hen was built in 1693 and has survived multiple lightning strikes. Imagine all the storms he must have suffered in so many years!
Cocoa Lab
For chocolate fans, this is a must-visit. At the Cacao Lab, they give you a demonstration of how chocolate is made, from the cocoa beans to the chocolate bar.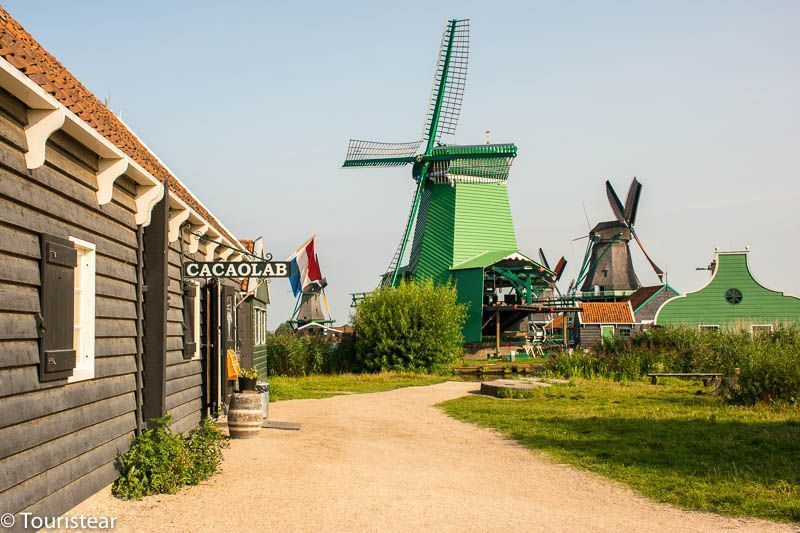 There is also a small store with all kinds of handmade chocolates; no doubt, you will be tempted like us.
When we went there, they had strawberries with chocolate that were to die for!
Zaan Time Museum
If you like watches, you can take advantage of the ticking of the Zaan Time Museum. They have an extensive collection of wall clocks of different sizes, models, and "ages."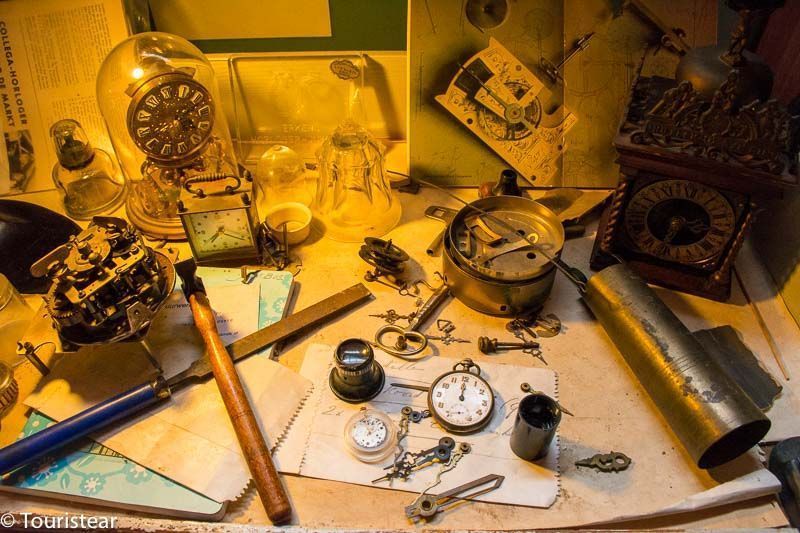 The Cheese Factory
Holland is famous for its cheeses, and you can find genuine delicacies in this area!
And of course, in Zaanse Schans, we found a place where besides seeing how cheese is made, you can taste it and take some for the road, and if you are lucky, you can get home. In our case, we ate it on the way…
You can also visit the Bakery Museum and craft stores. You can see how barrels are made by hand. There is even a distillery. And of course, you can take lots of pictures! Don't forget to go with a well charged battery!!!!
You won't be bored during your visit to the Zaanse Schans!
Where to Sleep
If you want to stay in Zaanse Schans, here you can see the hotels in the area. Hotels in the area. We liked Hotel Heerlijck Slaapen but, in the end, we stayed in Volendam. Volendam is a charming little fishing village that looks like something out of a fairy tale.
How to Get to Zaanse Schans
Zaanse Schans is about 20 kilometers from Amsterdam and can be reached by public transport, excursion, or car rental.
If you go by car, you can drive very comfortably on the roads and highways in Holland. But you must consider that you are not allowed to drive your car in many towns, and you have to leave it in a parking lot at the town entrance or in the indicated places.
Rent a car. If you want to rent a car, we did it with rental cars (as always) and picked it up at the airport because we didn't dare to drive inside Amsterdam.
Excursions from Amsterdam. If you want to forget about driving, the best thing to do is to hire an excursion (in advance) from Amsterdam. They will take you there and back like a queen or king 😉
Do you feel like getting to know this beautiful village with the famous Dutch windmills? Have you already visited Zaanse Schans? Tell me about your experience!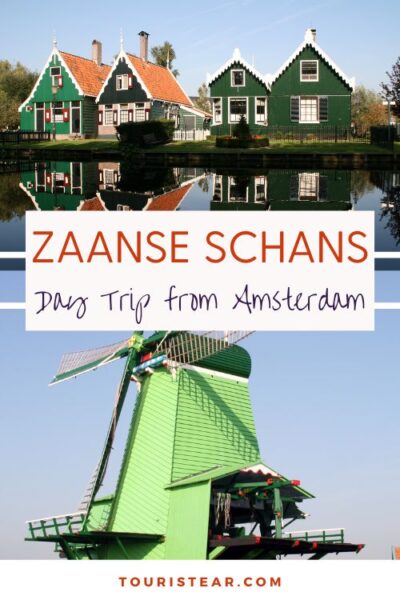 Plan Your Trip to the Netherlands
Visiting a coffeeshop for the first time (for beginners)
Last Updated on 24 February, 2023 by Abby