The Best 12-day Itinerary Trip in Bolivia
Bolivia is a landlocked country with the most diverse landscape on Earth. High mountain passes, lowland jungles, and vast salt flats look like some other planet.
Bolivia has 7 UNESCO World Heritage Sites and wonders to be found in cities and remote villages of indigenous peoples. So get ready for 12 days of adventure!
I arrived in Bolivia by bus from Puno, Peru. The day was cloudy at the border, and occasionally it rained as I waited for my passport to be stamped so I could enter the country.
After 12 awesome days in Bolivia, this journey continues in Quebrada de Humahuaca, Argentina.
Honestly, Bolivia has incredible landscapes that are not taken advantage of at all touristically, except for Titicaca lake and Salar de Uyuni.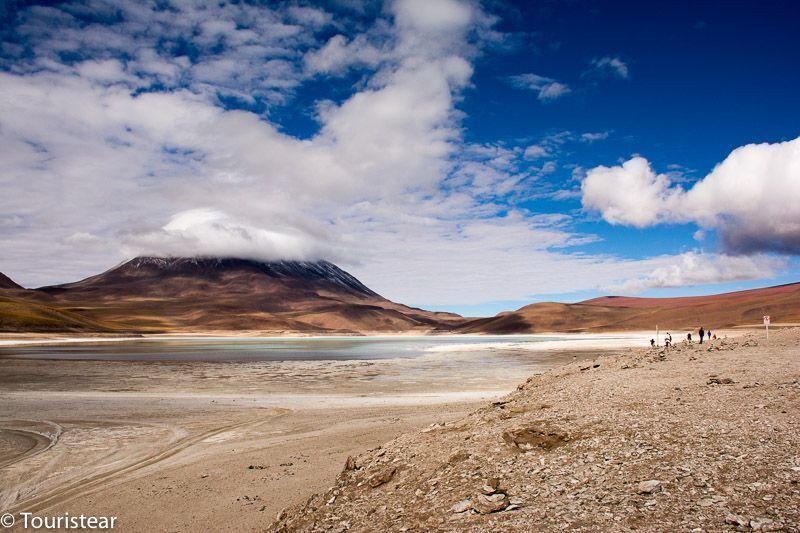 People in cities are not too used to tourism and are usually quite short. Some people think they are unfriendly, but I disagree.
What happens is that here you notice more, especially if you come from Peru, where most people are very nice and friendly.
I was talking to a German girl coming down from Colombia, which I met at the hostel in Nazca. She told me that people were becoming less friendly as she went down. Did the same thing happen to you?
There is usually a lot of contrast between the center and the periphery in cities, at least in the cities that I have visited.
The city I didn't like at all was La Paz; I'll tell you about it later, but besides this detail, Bolivia is a very interesting country, and I think it deserves a visit.
In this article, I will tell you about my 12-day itinerary.
Bolivia Map Itinerary
12-Day Itinerary to Travel to Bolivia
Copacabana and visit the island of the Sun
The first point of my travel itinerary to Bolivia was Copacabana. In this very tourist village, travelers from all over the world arrive to visit mainly Lake Titicaca and its islands, such as Isla del Sol, which was the one I visited.
In addition to the islands, the village of Copacabana is quite picturesque and has some interesting things to see, such as the Basilica of Our Lady of Candelaria, the Via Crucis, and the markets.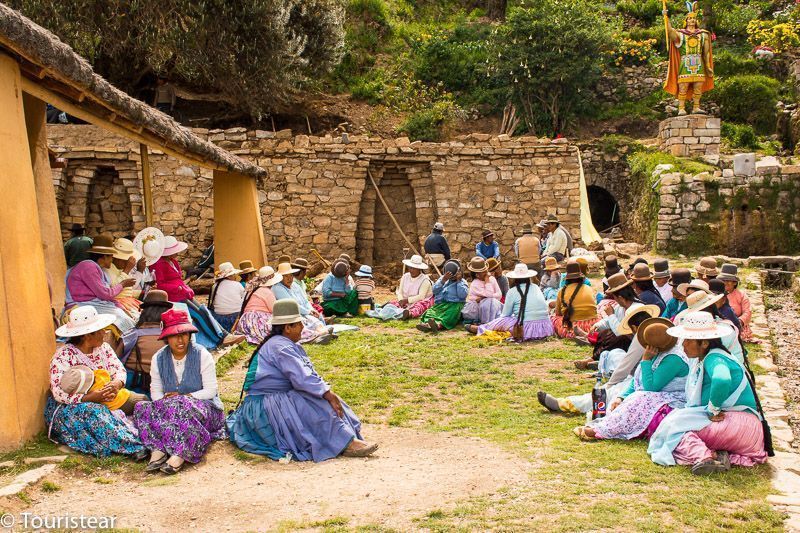 La Paz
I arrived in La Paz after a few very quiet days on Lake Titicaca. Instead, I found in La Paz chaos, real chaos, buses, people, traffic, and noise.
As I mentioned earlier, I wouldn't say I liked it. I don't know if it was because I arrived from a few quiet and peaceful days and I introduced this attitude with chaos, some pretty unfriendly people, the altitude, or the tiredness of the trip altogether, nevertheless as soon as I got to La Paz, I wanted to leave.
In another post, I will describe my experience in more detail.
Now we continue with the itinerary of the trip to Bolivia.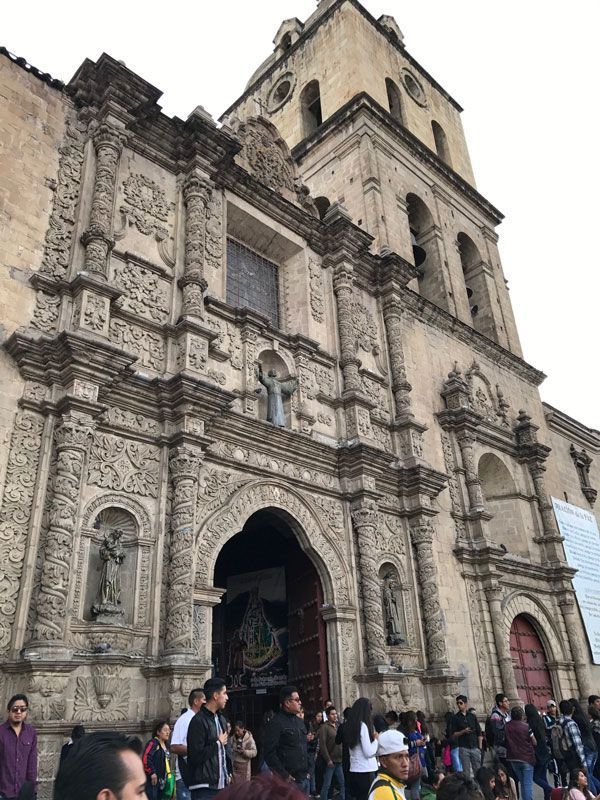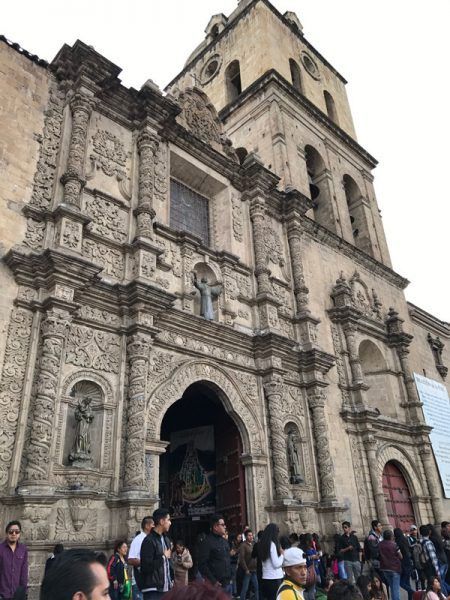 Oruro
After I visited La Paz, I went to Oruro. I took the first bus that left the terminal and went to one of the two destinations I had in mind, Oruro.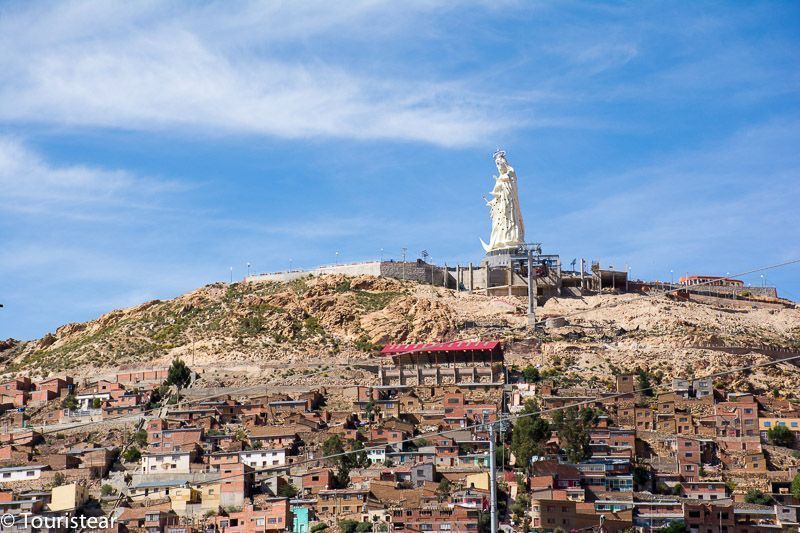 In Oruro, I stayed near the Sanctuary of Our Lady of The Socavón, the patron saint of the miners. It is one of the most interesting points in the area. Inside the church, you can access its mining museum, which is located in the subsoil.
That museum is more or less an abandoned mine, which was found when they were expanding the sanctuary.
After visiting this area, I went to the center of Oruro to walk through its squares and to walk its streets a little.
Oruro is very famous for its carnivals, that have been declared World Heritage Sites by UNESCO and are the activities for which this place receives the most visitors. If you can, fit your Itinerary in Bolivia to include the carnivals of Oruro.
Cochabamba
When I got off the bus and walked to the city center where I had my accommodation, my first impression of the city was not very good, but it got better over time.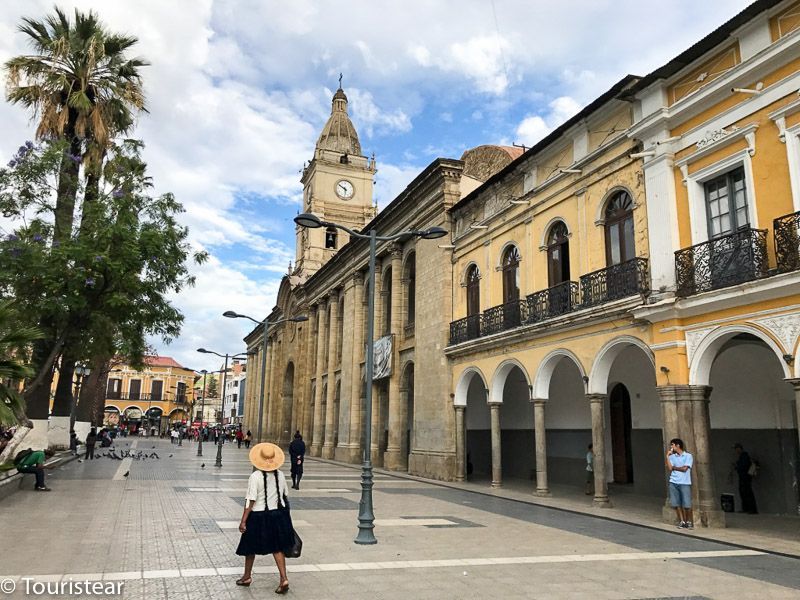 Cochabamba's city center has a colonial style. It has its main square, named September 14, where you can see the most important buildings in the city and where I found a café that I really liked called Café Paris.
In Cochabamba, you can visit different churches, museums, art galleries with works by local artists and climb the Cristo de la Concordia, which is located on Cerro San Pedro and can be reached by cable car.
Sucre, The White City
Sucre is the capital of Bolivia, as it puts in the Constitution and as they remind you in several posters in this city. In addition to being the capital, Sucre is also a World Heritage city.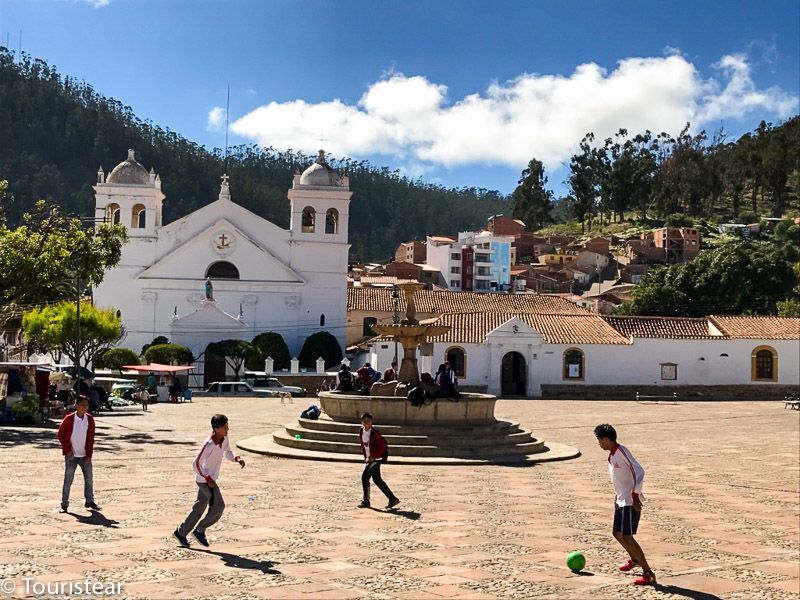 I arrived in Sucre very early in the morning. I waited in the station for the sun to come up a little and took a taxi to the center.
Sucre is a city that you can walk through quite well. But I have to say, going to the viewpoint of the Recoleta on foot is quite exhausting, even more, if you are carrying a backpack, as was my case.
Although the height above the city's sea level is 2900 meters approx, the last slope for the viewpoint is exhausting…
However, you have great views of the city and a Café to rest or just sit down for a little while to contemplate the views at the top.
Potosí, Bolivia
Potosí is known for its mines, but the city also deserves a walk through its streets and markets.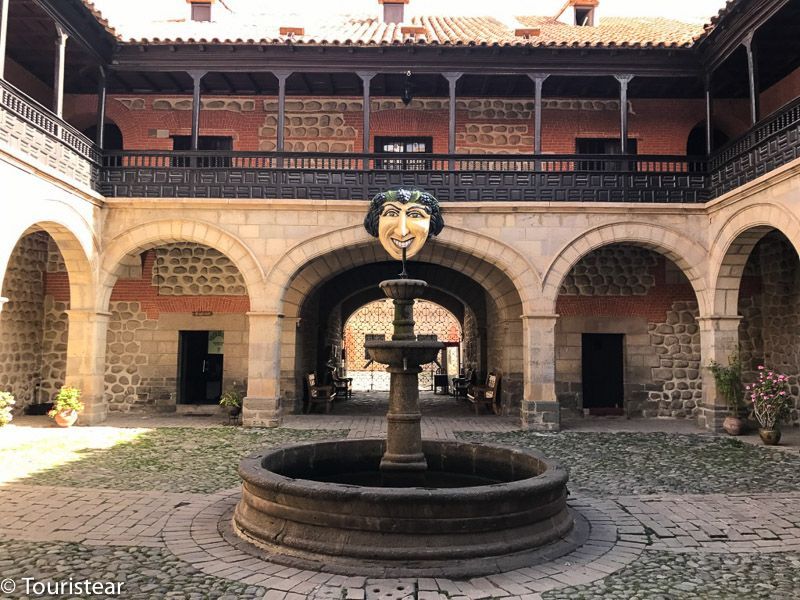 One of the first things I did was attend a tour of the mines of Potosí; if you do not have claustrophobia, it is an essential visit and a way to help the mining community.
Salar de Uyuni
My three days of the tour around The Salar de Uyuni were the days I liked most about my stay in Bolivia. It's a fascinating place that looks like it's from another planet.
Visiting in the rainy season, I risked missing out on many visits, but seeing the salt flat with that layer of water that makes heaven and earth not different from each other was definitely worth it.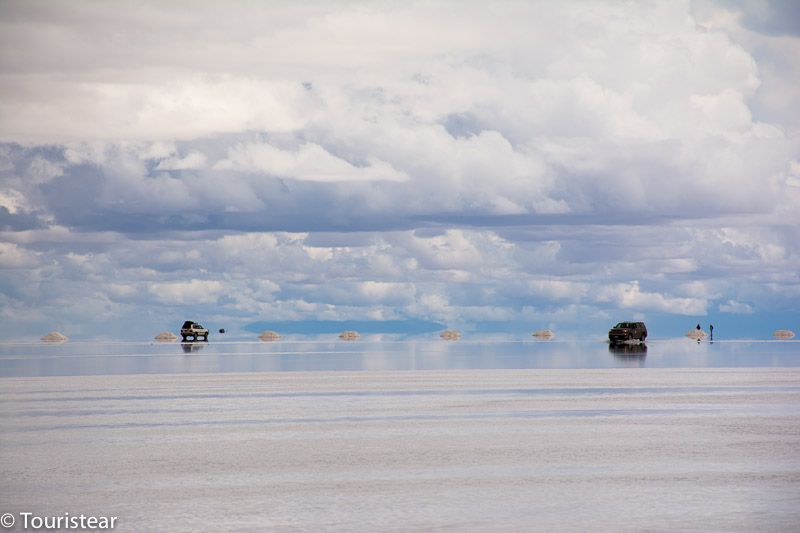 In this post, I will tell you all details of the Salar de Uyuni tour in 3 days. You will be able to see the menacing sky that followed us throughout the journey. We slept at over 4000 meters above sea level, and it snowed a lot.
The stone tree, which I could hardly see because it was raining, and I did not get into the hot springs at more than 5000 meters because the height made my guts twist a little. And despite that, it's an excursion that I would do again without hesitation.
How to Get to Bolivia?
Bolivia can be reached by land or by air. In my case, I arrived by bus from Peru, did the border procedure, and continued with the same bus to the center of Copacabana.
By plane:
Bolivia can be reached by plane to La Paz, Santa Cruz, and major cities from Europe, but the cheapest flights arrive in La Paz.
By land:
By land, it can be reached from neighboring countries. In my case, I came from Peru, I entered the north of the country, but I also met people who came from Chile and Argentina by bus.
Getting around Bolivia by bus is quite simple, even if its terminals are quite chaotic or a similar feeling caused by the "voceros," people who sell loudly the buses that leave soon.
The best thing about getting around Bolivia by bus is that it is super cheap and the buses are not bad. From my point of view, the best thing is to buy the tickets in the terminal itself.
I recommend you look on the internet at the times they leave. If not, you can always go to the terminal and start asking.
There will always be someone who wants to sell you a ticket, ask the price and what the bus is, and choose the one that suits you best!
Where to Sleep in Bolivia
This is where I made the biggest disappointments on my trip, as you can find cheap sites and you know what you stick to.
But what happened to me is that I tried to look for better places, and I ended up spending more money to go to a nicer place just to find a similar one that was cheaper.
In Oruro, for example, I was treated very badly. The hotel was supposed to have a viewing floor where you could see the city, and they wouldn't let me up, plus, the shower was a little scary because it had wires sticking out…
So if you're looking for accommodation in Bolivia, check out Booking, and if you want to book on the spot, ask them to show you the rooms before you pay.
Plan Your Trip To Bolivia
Save this image on your
Pinterest!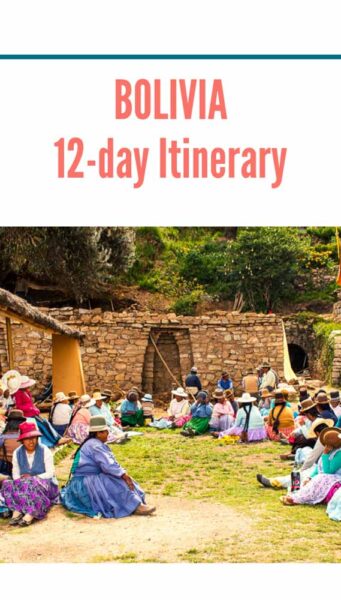 Last Updated on 9 October, 2023 by Veronica
Disclosure: Some of the links on this post are affiliate links, meaning at no additional cost to you, I may earn a small commission if you click through and make a purchase.
Author: Veronica
Vero, a seasoned traveler, has explored 25 countries and lived in five, gaining a rich perspective and fostering an infectious passion for travel. With a heart full of wanderlust, Vero uncovers the world's hidden gems and shares insights, tips, and planning advice to inspire and assist fellow adventurers. Join Vero and let the shared passion for travel create unforgettable memories.