In northwestern Argentina, in the province shaped like a boot or shoe, Jujuy, there is a colorful area called "Quebrada de Humahuaca". The Quebrada de Humahuaca was declared a World Heritage Site by UNESCO in 2003.
Quebrada de Humahuaca is one of the must-sees when touring northwestern Argentina. It is 170 kilometers that travel on both sides of the Rio Grande (Big River) and has more than 10000 years of history.
What to see in the Humahuaca Quebrada?
Quebrada de Humahuaca is a very attractive place for its nature and its colorful mountains. It is ideal for people who like to enjoy making mountain routes, visiting colonial villages, knowing other traditions and customs, etc.
The most important villages that are part of this amazing place are, Humahuaca, Uquía, Huacalera, Tilcara, Maimará and Purmamarca.
In my case, I arrived at Humahuaca from La Quiaca, the border with Bolivia. And I've been moving by bus between the villages and walking to get to know them better.
Humahuaca
The village of Humahuaca is located almost 3000 meters above sea level. Humahuaca is small and one of the best known villages of la Quebrada. You can walk very easily and despite being small you have many interesting things to know.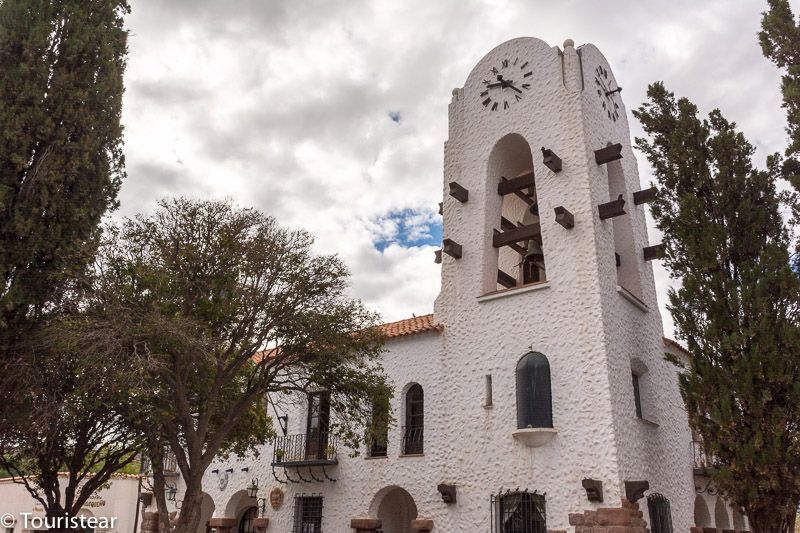 Like the Clock Tower, the Independence Heroes Monument, local craft stalls where we can find everything! From spices, coca leaves, fabrics, tapestries, paintings, typical meals, tamales, to objects with the most diverse shapes and colors, and intended for the most varied uses.
About 25km from Humahuaca is the Mirador del Hornocal, you can reach it on your own by car rental or with excursion. If you go on your own, you have to pass the village of Pucara to the apacheta and from there turn right to the viewpoint. Please note that the local community charges a contribution bonus to pass.
In this area you can also visit Calete and Ocumazo, in the first you can see an archaeological site in ruins and in the second, the Aboriginal community offers activities of the countryside in its natural environment.
Uquía
We continue to walk the Quebrada de Humahuaca in the direction of Purmamarca and we reach the village of Uquía.
Here we can visit the Church of San Francisco de Paula, which is a National Historic Monument and has the collection of Cuzqueñas paintings called Los Angeles Arcabuceros.
If you go by car or with excursion you can visit Colonia San José and its hill Yacoraite or "La Pollerita Colla" (pollerita means little skirt), has this name because it has a wavy shape that looks like a skirt. Archaeological ruins can also be seen in the area.
Huacalera
Another village of the Quebrada de Humahuaca. In Huacalera you can visit its church, a sundial next to the Tropic of Capricorn, La Huerta is an archaeological site that can be visited by walking or horseback riding.
In the area, between Tilcara and Huacalera, there are other charming places that we can visit and these are Juella, ideal for hiking and El Perchel, is a narrow place where the hills close over the route.
Tilcara
It is one of my favorite villages of the Quebrada de Humahuaca, here I stayed two nights and enjoyed its carnival.
Tilcara is a very interesting village, where you can stroll through its streets, enjoy the craft stalls and local food in the main square.
Hiking trails (also on horseback) to Devil's Gorge, Pucará de Tilcara and a high botanical garden are some of the things you can do around here.
If you go in carnival season you will have a great time, yes, you have to be prepared to be thrown flour, chopped paper and you have to carry a branch of basil.
Maimará
Another village with a lot of charm and life in the carnivals is Maimará. Here you can visit the Painter's Palette, it is a colorful mountain cord that frames the village, a high cellar called Fernando Dupont, the museum of peasant life and the cemetery.
A few kilometers from Maimará is the Posta de Hornillos, where you can visit its historical, archaeological and costumbrista museum. This site was a Posta on the way to Alto Peru.
Purmamarca
The village of Purmamarca is located at the foot of 7 colors mountain, which we can see from almost any of its streets.
In the main square are placed handicraft stalls and in the surroundings we can see shops of clothes, handicrafts and local products.
Of course you can not leave Purmamarca without going to the viewpoint of Cerro de los 7 colores, it is less than a kilometer from the square and you are charged to climb, I was charged 5 pesos, which today are about 0.30 cents of euro.
Where to sleep in the Quebrada de Humahuaca
I tell you, my visit to the Quebrada de Humahuaca I made it at the end of February, in the time of carnivals. There the carnivals are not only a weekend, but they start almost with the year! So the month of February is quite moved and if you go in the big week, with the most important days, I don't even tell you.
I've had a hard time finding decent accommodation at a good price. I have to clarify at a good price from there, after a month dancing through Peru and Bolivia, I found myself in Argentina with almost European prices.
I'll leave these links for you to take a look at. I used these two sites as a base of operations so I wouldn't have to change places every night.
Where to sleep in Humahuaca. I don't remember the name of the hotel where I slept. I arrived without reservation.
Where to sleep in Tilcara. Here I slept in a hotel called Gaia and which I loved.
Read: How to Prevent Altitude Evil.
Book Your Trip
Book Your Flight
Find a cheap flight by using Skyscanner.
Book Your Accommodation
You can book your hostel, hotel or apartments on Booking.com.
Don't Forget Travel Insurance
Travel insurance will protect you against illness, injury, theft, and cancellations. It's your protection in case anything goes wrong. You never go on a trip without it.
Best companies for activities
Check out Civitatis.com and find the best tours in English (French, Spanish and Italian)
Looking for the best companies to save money with?
Check out my resource page for the best companies to use when you travel! I list all the ones I use to save money when I travel – and I think will help you too! (Is in Spanish yet)
We are not native English speakers but we have decided to translate our post to English so we can share it with the whole world. If you see any spelling mistake or something, please let us know, it is so important to us. If you do so, we can improve our post and also our English knowledge! Thanks in advance!!!
Some of the links in this article include affiliate links. This means that if you make the purchase of a product listed here following this link I will receive a small commission. Using this link does not increase the price and helps me to maintain the blog and continue to create useful content for your trips.