Renting a Car in USA: What You Need to Know
Are you planning a road trip in the USA and considering renting a car in the USA? Renting a car is the perfect solution for your adventure. Renting a car in the USA gives you the flexibility and affordability you need to explore the country at your own pace.
Whether you're visiting relatives, embarking on a rent-a-car road trip, or traveling for work renting a car in the USA is a convenient option that allows you to have the freedom to go wherever you desire, whenever you desire.
Disclosure: Some of the links on this post are affiliate links, meaning at no additional cost to you, I may earn a small commission if you click through and make a purchase.
Things to Know about Rental Cars in the USA
When you're planning to rent a car in the USA, it's an exciting opportunity to explore the country on your terms.
But before you hit the road, I want to make sure you're equipped with some essential details. By being aware of these important factors, you can have a smooth and hassle-free rental experience.
Read next: How to Plan Your Perfect Road Trip
Car Rental Companies in the USA
When it comes to renting a car in the USA, there are numerous rental companies to choose from.
To ensure you make the right choice, it's crucial to compare prices and read reviews before deciding on a rental company. Take into account the location as well, as some companies may offer better rates or have more conveniently situated branches than others.
And this is precisely the problem from our point of view, comparing the prices of all the companies, each one with different conditions and services is almost an impossible task.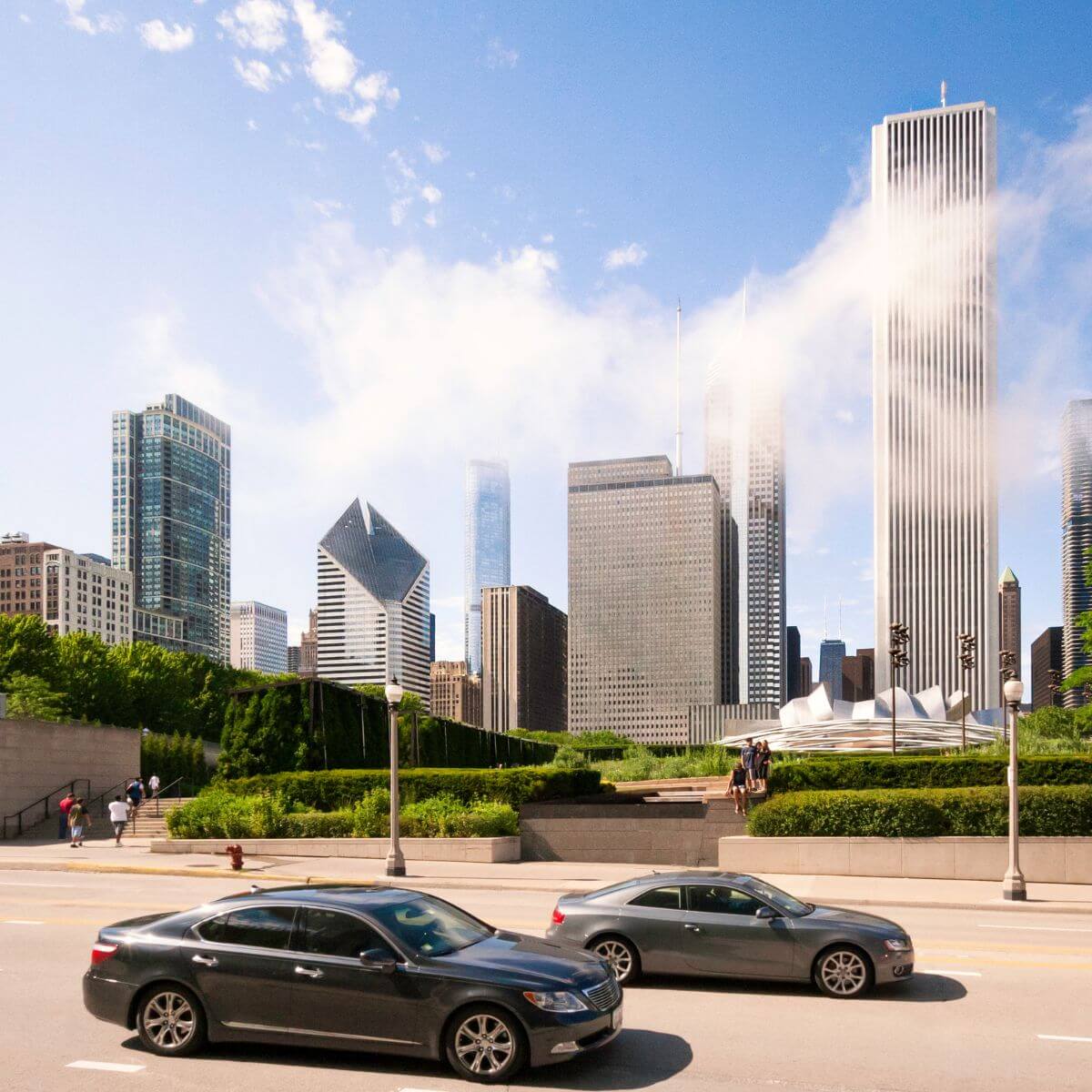 This is the purpose of companies like DiscoverCars, which makes this comparison between the top-ranked rent-a-car companies in the USA in terms of price/value and offers a wide range of vehicles to suit your needs.
With DiscoverCars, you can embark on your rent-a-car in the USA journey with confidence, knowing that you've made a well-informed decision.
Size and Comfort of USA Rental Cars
Consider the size and comfort of the vehicle. If you're planning long-distance trips or traveling with a large group, opting for an SUV or luxury car would provide you with ample space and comfort.
The size of the vehicle you choose significantly impacts the rental price among other options.
To ensure you get the best deal, it's advisable to compare prices across different rental car companies and browse through various websites to find the right kind of rental for your needs, and this is precisely where DiscoverCars, gets you covered.
Terms like "compact," "mid-size," and "luxury" can vary among rental companies, so thorough research is key. For instance, the estimated prices for renting a car in the USA are as follows:
Compact Car: Approximately €40-60 or $45-70 per day.
Mid-size Car: Approximately €50-80 or $55-90 per day.
Luxury Car or SUV: Approximately €100-150 or $115-170 per day.
Keep in mind that these prices are approximate and can vary based on factors such as location, rental duration, and seasonal demand. By considering your needs, comparing prices, and choosing the right car size, you can make an informed decision when renting a car in the USA.
Mileage in Rental Cars in the USA
When planning a rent a car for a USA road trip, it's crucial to check if the rental company offers unlimited mileage to avoid additional charges. Some companies provide this option, allowing you to drive without restrictions.
However, not all offer unlimited mileage, so it's important to verify beforehand. Exceeding the mileage limit can result in extra fees, typically around €0.15-€0.30 EUR or $0.17-$0.34 USD per mile.
Compare prices and terms to find the best deal and ensure a smooth road trip experience.
Additional Drivers in Your USA Rental Car
If you plan to share the driving responsibilities during your rent of a car for a USA road trip, it's essential to consider the policy regarding additional drivers. While some rental companies may charge extra for additional drivers, others may not.
The charges for additional drivers can vary among rental companies. As an estimate, the additional fee for adding an extra driver in the USA is approximately €10-€15 or $12-$18 per day.
Rental Car Accessories
Rental companies often provide various accessories to enhance your driving experience. Here are some accessories commonly offered, both free or for an additional fee:
Car Seats
If you're traveling with children, renting a car seat for them according to their age is essential for their safety. Some rental companies offer car seats for an additional fee, typically around €10-€15 or $12-$18 per day.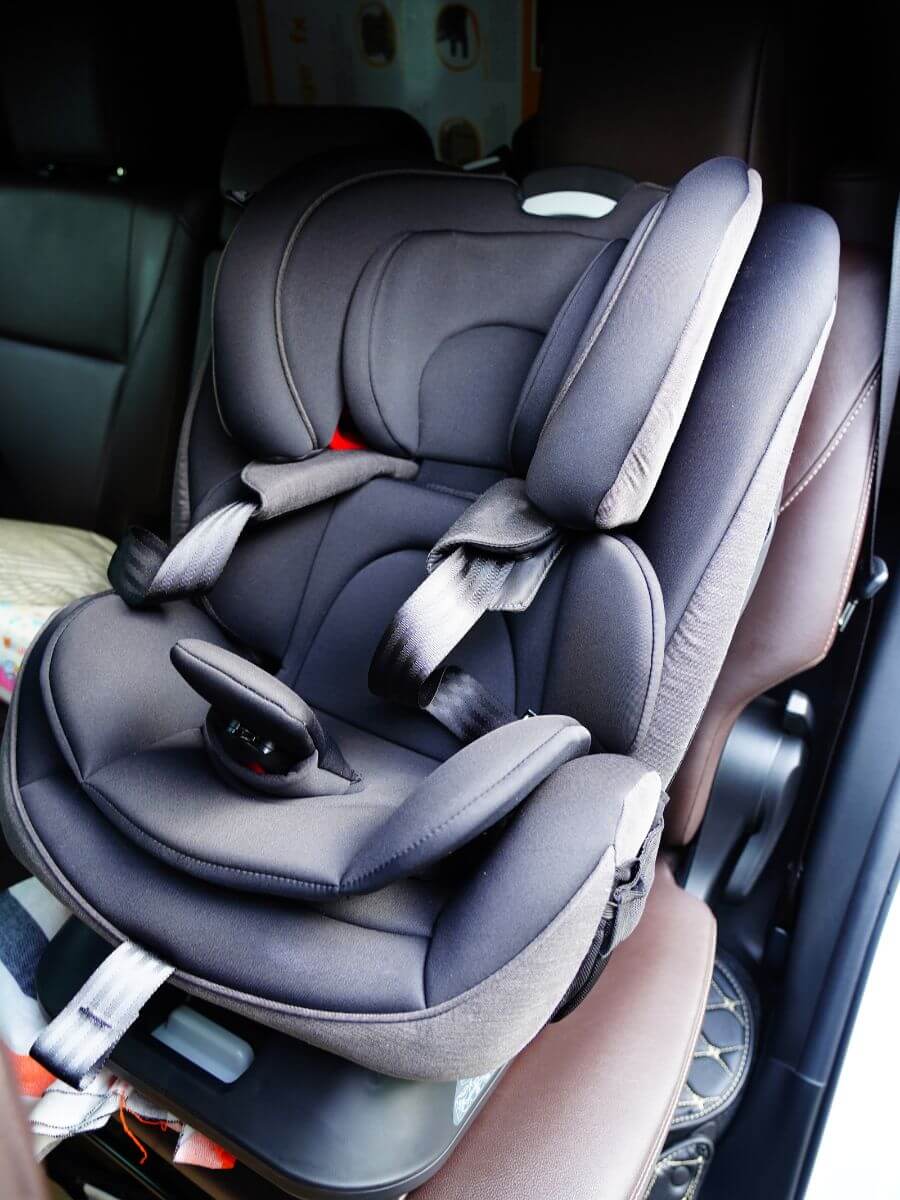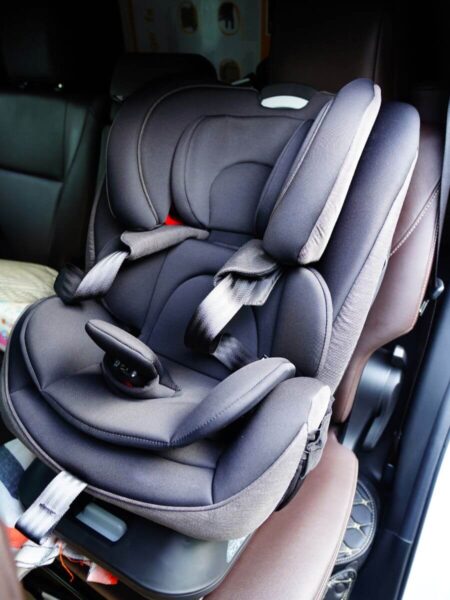 GPS Navigation
To ensure you never lose your way, rental companies offer GPS navigation systems. While some companies provide them for FREE, others may charge an extra fee of approximately €10-€15 or $12-$18 per day.
However, the best GPS I have ever used is Google Maps. The only drawback is that eventually, you will need to have access to the internet.
Of course, if you have a USA sim card, this is not a problem for you. But if you don't, there are two ways to overcome this hurdle.
The first one is that google maps allows you to download sectors or regions of a map. Depending on the storage capacity of your portable phone, and the parcours that you want to do, this is a great solution.
On the other hand, if you don't know exactly where you are going to be or your phone doesn't have enough capacity, then, acquiring an eSim Card to have access to the internet in USA is a must.
We know several companies that offer eSIMs for the USA, for us, the best is Airalo. We have tried others, sometimes less expensive, but the quality of the signal was really bad. I prefer to pay a bit more but have good service and quality of signal.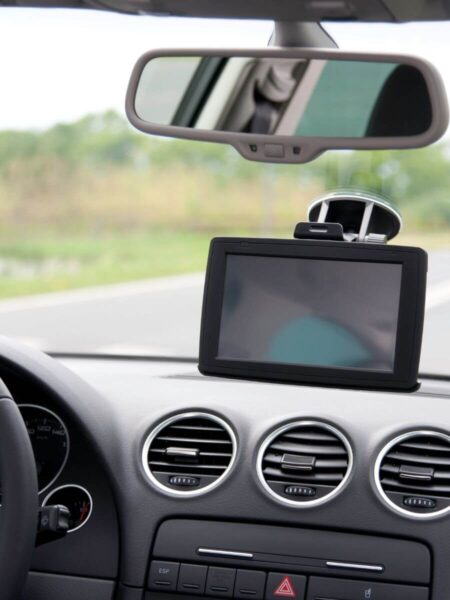 Roof Rack
If you require extra storage space, a roof rack can be useful. Rental companies may offer roof racks, and the cost can vary, averaging around €15-€20 or $18-$24 per day.
Wi-Fi Hotspot
Stay connected on the go by renting a portable Wi-Fi hotspot. Some companies offer this accessory for an additional fee, typically ranging from €10-€15 EUR or $12-$18 USD per day.
Use this option if you don't have a phone that allows you to use eSIM cards. If you have a phone that allows eSIM cards, we recommend installing one. Airalo is one of the best providers we know for this.
Requirements for Renting a Car in USA
These renting a car in USA requirements ensure a smooth rental process and helps you meet the necessary criteria. Here are some key things to keep in mind before renting a car in the USA:
Age Requirements
Most rental companies have specific renting a car in USA age requirements. Generally, the minimum age is 21, though some companies set it at 25 or 30.
If you're younger than the minimum age, you may still rent a car but expect a "young driver" fee that varies based on location and age. As an estimate, the young driver fee for those under 25 is approximately €15-€30 or $18-$35 per day.
Ensure you meet the age requirements, possess a valid driver's license, and have a credit card for payment and security deposit purposes. By understanding these age-related details, you can smoothly navigate the rental process and enjoy your trip.
Driving Record
Car rental companies usually conduct checks on your driving history to assess your eligibility. If you've had past accidents or traffic violations, you might encounter difficulties or be subject to a higher fee. So, remember to bring your driver's license when picking up your rental car.
In addition to your driving record, some companies may also consider your credit score. If you have a less-than-ideal credit score, you might be required to pay a higher deposit or, in some cases, be unable to rent a car.
Other Requirements When Renting a Car in USA
Renting a car in the USA as a tourist may require you to meet additional requirements. Here are five important factors to consider:
A valid driver's license: Make sure your driver's license is up to date and not expired. You'll also need to have a license that is valid in the state where you'll be renting the car.
Insurance: Most car rental companies will offer insurance coverage for an additional fee. However, if you have your own car insurance policy, you may be able to decline this coverage and use your own insurance instead.
International Driver's Permit (IDP): While not always mandatory, having an IDP can serve as a useful document for communication and identification purposes.
Payment: You'll need a credit card to rent a car and sign the contract. Although some companies may accept debit cards or cash for the final payment when you return it. If you don't have a bank account in US Dollars, Wise is a fantastic option for you. Make sure to check with the rental company ahead of time to see what payment options are available.
Proof of Return Travel: Some rental companies may ask for proof of your return travel plans to ensure you don't exceed the allowed rental period.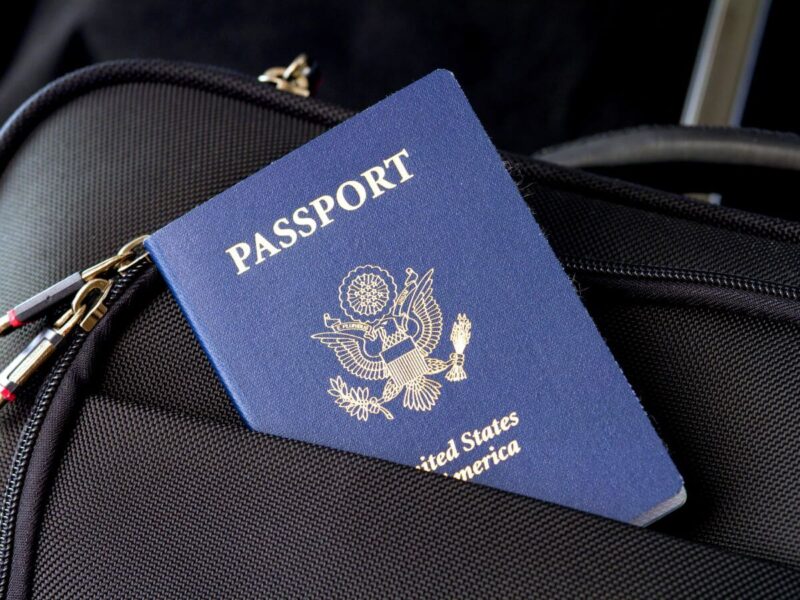 Valid Passport: As a tourist, ensure you have a valid passport as proof of your identity and travel status.
Pack your documents to keep them safe before your trip with this travel bag. To save money, you can bring road trip snacks too!
How to Rent a Car in the USA
If you're wondering how to rent a car in the USA, here are some things you should know before you rent a car.
Booking in Advance
Booking in advance can be a smart move that not only saves you time but ALSO money. Many rental car companies provide discounts for customers who book online or make advance reservations.
Comparing prices and options from different rental car companies is another effective way to find the best deal that suits your needs. By conducting thorough research and comparison, you can secure a cheap rent-a-car in USA that aligns with your budget and preferences.
As an estimate, booking a rental car in advance can result in discounts ranging from 10% to 30% off the regular rates. These discounts can vary depending on the rental company, location, and duration of your rental.
Rental Car Contract in the USA
Before signing a rental car contract in the USA, it's crucial to understand the terms and conditions. Pay attention to the rental period, ensuring it matches your intended duration. Check the rental rate, additional fees, and charges.
Understand the fuel policy, whether it requires a full tank return or other arrangements. Familiarize yourself with the process of reporting damages or accidents, noting the provided contact information.
Lastly, be aware of your responsibilities as a renter and a driver, including adhering to traffic laws and promptly reporting any issues to the rental company.
By carefully reviewing the contract and clarifying any uncertainties, you can ensure a transparent rental experience and avoid unexpected charges or disputes.
Car Inspection
Before you drive away in your rental car, inspect it carefully for any damage or issues. Take photos or videos of any existing damage and make sure it is noted on the rental contract. This can help protect you from being held responsible for damage that was already there.
If you notice any problems with the car during your rental period, report them to the rental car company as soon as possible. This can help prevent any disputes or misunderstandings when you return the car.
Damages: Before leaving the rental lot, thoroughly inspect the car for any damages. Note scratches, dents, etc., on the rental agreement to avoid being held responsible for pre-existing damages when you return the car.
Recalls: Check for open recalls by using the car's VIN on the National Highway Traffic Safety Administration's website. Notify the rental company if there's a recall and request a different vehicle if necessary.
Additionally, familiarize yourself with the car's safety features and adjust the mirrors, seat, and steering wheel before driving off. Know how to operate headlights, windshield wipers, and other essential features for a safe and comfortable road trip.
Car Rental Insurance When Renting a Car in USA
Insurance is a must when we are talking about rent-a-car in the USA.
Rental companies offer multiple insurance options, choose the one that fits you better.
On the other hand, it's wise to check if your credit card provides coverage. Be aware of any additional fees, such as airport fees and credit card blocks.
Liability Insurance: Covers damage to others' property and injuries in an accident you caused. Coverage limits vary but generally range from €1 million to €5 million or $1.2 million to $6 million.
Collision Damage Waiver (CDW): Optional coverage for rental car damage in accidents. Expensive but valuable in high-risk areas.
Loss Damage Waiver (LDW): Similar to CDW, also covers theft. Consider in areas with high theft rates.
Personal Accident Insurance (PAI): Optional coverage for medical expenses in car accidents. Consider if no health insurance or limited coverage.
Full Coverage: Combines all types of insurance. Expensive but recommended in high-risk areas or for less confident drivers. Check personal insurance and credit card coverage limits.
Sometimes only when an accident happens we realize the importance of some things. Like being able to communicate or access the internet to call for help.
If you don't have a USA phone line, our recommendation is to always buy a travel sim before your travel to get connected in the USA.
Fees and Charges When Renting a Car in the USA
As a renter, it's crucial to keep an eye out for those sneaky additional fees and charges that can creep up on you. Let's take a closer look at some of the common ones you should be aware of:
Hidden Fees
It's important to be on the lookout for those hidden fees that rental companies may spring on you. Trust me, I've learned this the hard way when renting a car.
You see, common examples of these fees include the notorious airport fees, those extra charges for adding an additional driver, and let's not forget the insurance charges that can catch you off guard.
As a renter, make sure you take the time to carefully read the fine print, ask about any extra fees right from the start, and hey, why not consider renting from non-airport locations?
Depending on your plans and timings it could be an option.
It's also wise to review the insurance coverage options, or better yet, check if your personal insurance or credit card provides sufficient coverage.
Remember, being proactive and upfront in your communication with the rental company will save you from any unpleasant surprises and keep your wallet happy.
Gas Charges
Let me share a personal tip when renting a car in the USA: Make sure you return it with the required level of gas.
Normally you will find two fuel policies, full to full or same to same.
In the first case, full to full, you receive the car with a full tank and you have to return it with a full tank.
The same to same policy means that you receive the car with a partial fuel tank and you have to leave it with the same level.
Trust me, I've had my fair share of forgetting this and getting hit with a fee to refill the tank that represents twice the cost of filling the tank.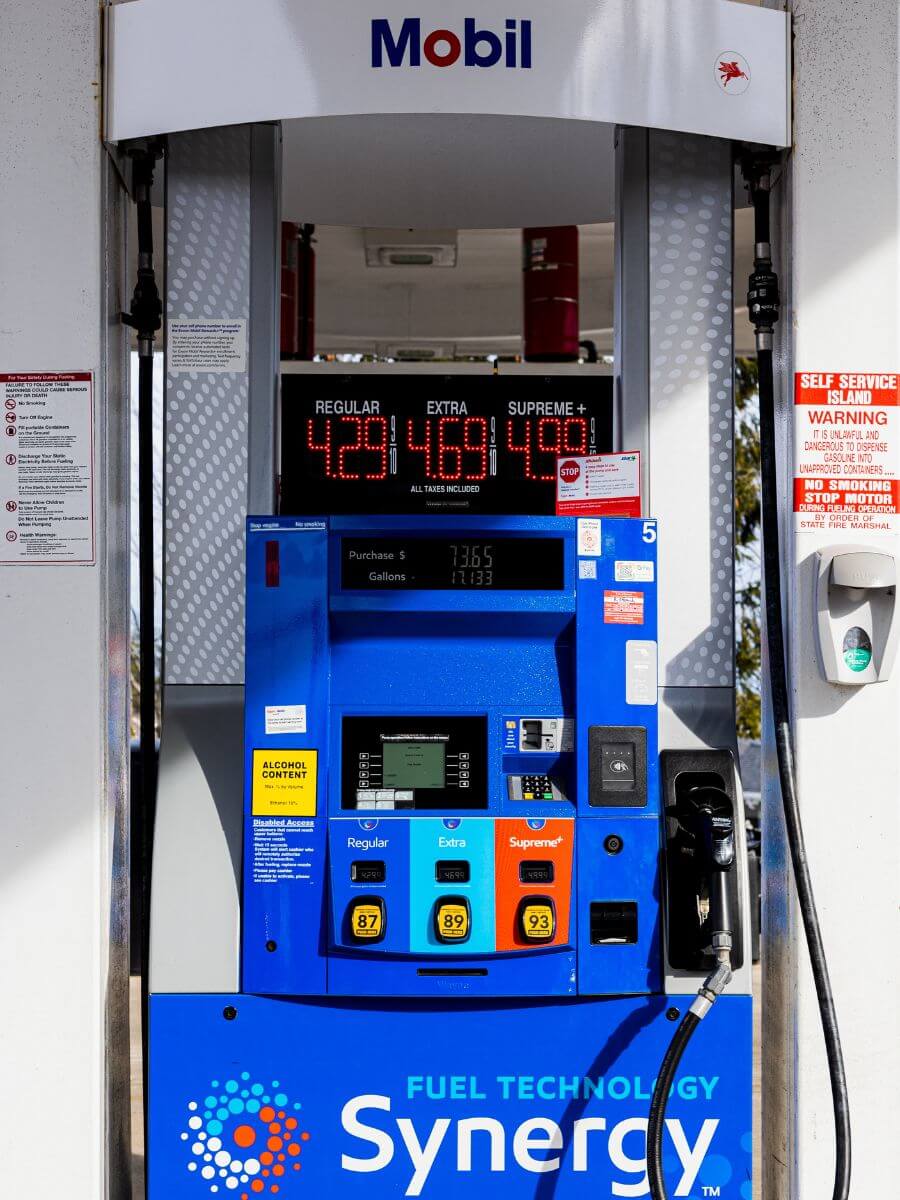 Those fees can range from around €50-€100 or $60-$120 , depending on the rental company and the size of the car.
But hey, here's a handy hack: Some companies give you the option to prepay for a full tank at a discounted rate. It's worth considering. It saves you the hassle of finding a gas station and can help you stick to your budget.
So, fuel up and hit the road with confidence!
Tolls
If you're planning to hit those toll roads during your USA road trip, watch out for those additional fees rental car companies can throw your way.
They may charge you an extra fee for using their toll transponders. But don't worry, there's a workaround! You can choose to pay tolls in cash or use your own toll transponder to avoid those extra charges.
It's all about finding the best option that suits your needs and saves you some bucks along the way. So, drive smart, pay your tolls, and keep those extra fees at bay!
Frequently Asked Questions for Renting a Car in USA
Can Tourists Rent a Car in USA?
Absolutely! Tourists can rent a car in the USA. Just make sure to meet the rental company's requirements, such as age, driver's license, and payment methods.
Do I Need a US License to Rent a Car?
Generally, you need a valid driver's license from your home country, along with an International Driving Permit (IDP), to rent a car in the USA as a tourist. Check with the specific rental company for their policies.
How Long Can You Rent a Car in the US?
The rental period varies, but you can typically rent a car in the US for a few days up to several weeks or even months. Longer-term rentals may offer better rates, so check with the rental company for specific options.
How to Get Cheap Car Rental in America?
To get a cheap car rental in America, compare prices from different rental companies, book in advance, consider off-airport locations, and look for discounts or promotional codes.
Can You Rent a Car in USA and Drive to Mexico?
Yes, you can rent a car in the USA and drive to Mexico, but make sure to check with the rental company about their specific policies and any additional requirements or restrictions.
Is It Worth Renting a Car in the USA?
Renting a car in the USA can be an incredible adventure, and I want you to make the most of it! Remember, it's all about being prepared and informed. Before you hit the road, carefully review the rental agreement and understand the terms.
Consider insurance options to protect yourself and your trip. Take your time to inspect the car for any pre-existing damage. Choose a rental car that suits your needs and budget.
And most importantly, drive responsibly and prioritize your safety. With these tips in mind, you'll be ready for an amazing and hassle-free journey across the USA!
Plan Your Trip to the USA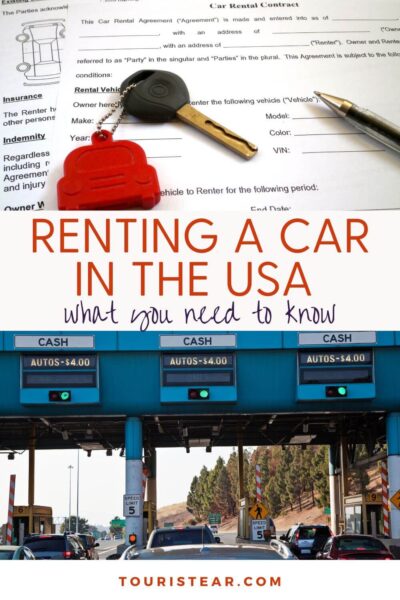 Last Updated on 6 September, 2023 by Veronica