Best Road Trip Destinations USA for Your Next Adventure
Are you craving a break from the city? Get your kicks on the route and discover the beauty of road trip destinations USA. Unwind, recharge, and embrace the adventure of the open road.
From the awe-inspiring Grand Canyon to the picturesque coastal towns of New England, the United States offers a plethora of incredible destinations for your road trip.
Whether it's a quick weekend getaway or an extended journey, the possibilities are endless. So pack your bags, stock up on snacks, and let the road lead you to your next city escape. Get ready for an unforgettable experience!
Disclosure: Some of the links on this post are affiliate links, meaning at no additional cost to you, I may earn a small commission if you click through and make a purchase.
Top Cross-Country Road Trip Destinations in the USA
Ready to escape the city? Explore stunning road trip destinations in the US. From breathtaking coastlines to majestic national parks, the options are endless.
Pacific Coast Highway
Taking a road trip across the country is the adventure of a lifetime, and one route stands out as a must-do: the Pacific Coast Highway.
This historic road trip route in the US has been captivating travelers since its completion in 1934. It's no wonder that it ranks high among the top road trip routes in the USA!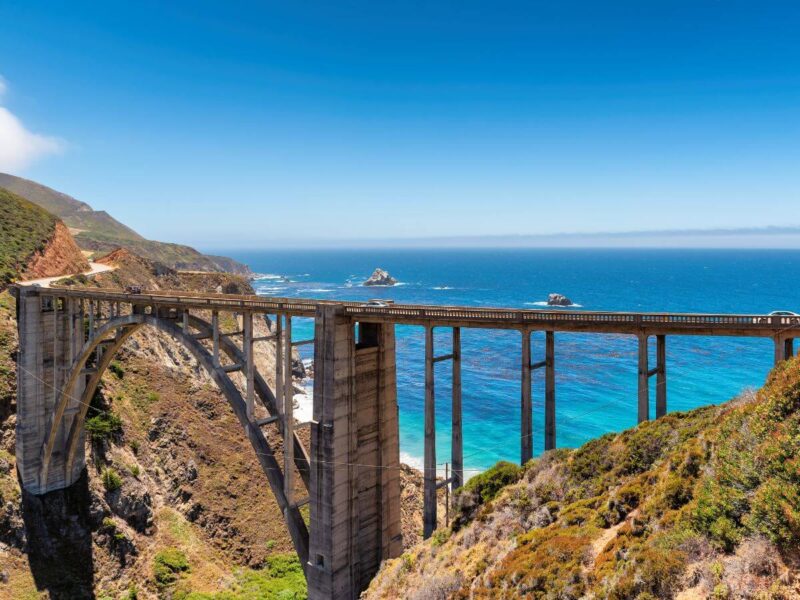 Spanning over 600 miles along the fascinating California coast, this iconic journey offers breathtaking views of the ocean, majestic mountains, and picturesque beaches.
As you traverse this route, you'll encounter remarkable destinations like the glamorous city of Los Angeles, the vibrant Bay Area, the stunning El Capitan, and the incredible Joshua Tree National Park.
Every year, this road trip destination entices millions of people who seek to experience its beauty and charm, solidifying its status as one of the top road trip destinations in the US.
Late spring and summer are particularly popular times to start this adventure, as the warm and sunny weather adds to the allure.
Route 66, Best Road Trip Routes in the USA
Looking for the best road trip destinations in the USA? Look no further than the legendary Route 66. This historic highway, dating back to 1926, spans from Chicago to Santa Monica, immersing you in a rich tapestry of American history.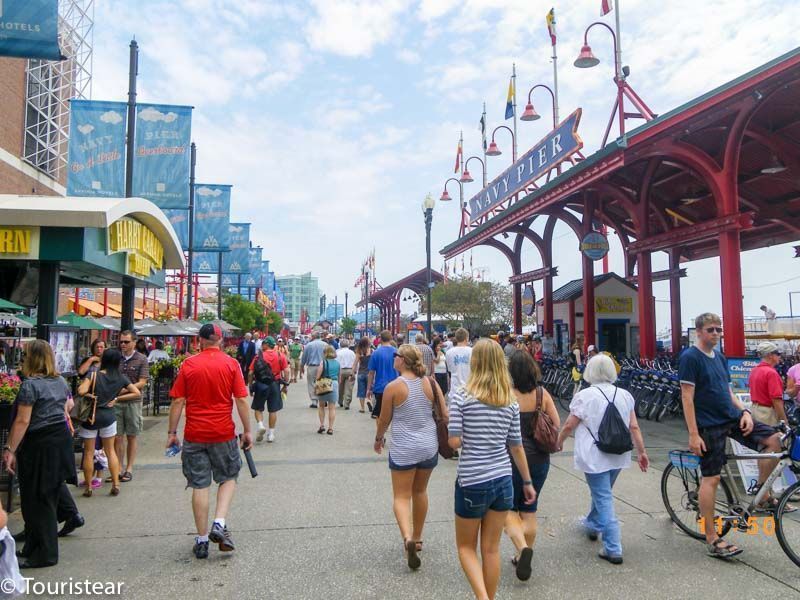 As you journey through diverse landscapes and iconic landmarks, you'll encounter highlights like Death Valley, the Grand Canyon, the impressive landscapes of Arizona, or the plains of Texas.
Late spring and summer, with their warm and sunny weather, provide the perfect conditions for this epic adventure and making it one of the most sought-after road trip routes in the USA.
Now, let's dive into how to plan a road trip across the US on Route 66. Research and map out your desired destinations and accommodations on Route 66, allowing room for unexpected discoveries.
Consider the length of your journey and allocate generous time at each stop. Don't forget to pack essentials and budget for gas, food, and attractions.
If you plan to stop for a while, you can book tours on Route 66 and nearby attractions.
Arizona Road Trip Destinations in the USA
Arizona, a treasure trove of natural wonders, beckons to road trip enthusiasts seeking a perfect side trip while driving the famous route 66. Traverse canyons, mountains, and vast deserts!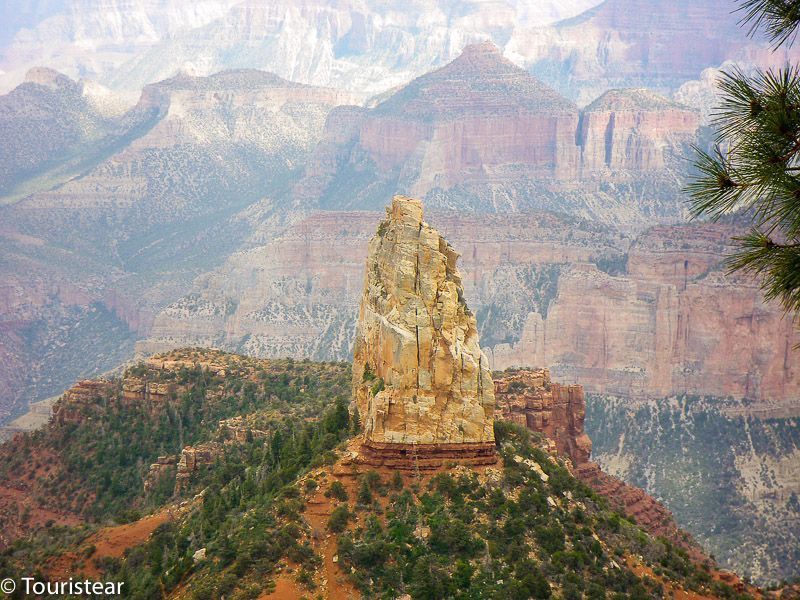 The Grand Canyon, a geological marvel, has captivated visitors since its establishment as a national park in 1919. Stand at the rim and witness the grandeur sculpted over millions of years. Experience Sedona's vibrant red rock formations and soak in its spiritual energy.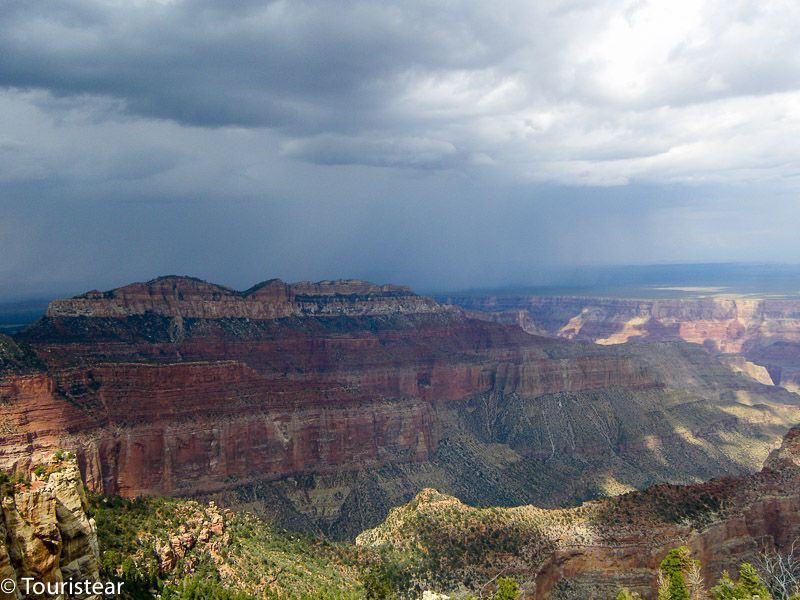 How to plan an American road trip to Arizona? Stop by Flagstaff, a mountain town offering respite from the desert heat, where outdoor adventures, historic sites, and local vibrancy await.
Atlantic Coast Road Trip Destinations in the USA
If you're looking for road trip ideas on the Atlantic coast of the USA you can start from Miami FL to Cape Cod MA.
Undertaking a road trip across the East Coast allows you to witness the diverse landscapes and cultures that make the United States unique.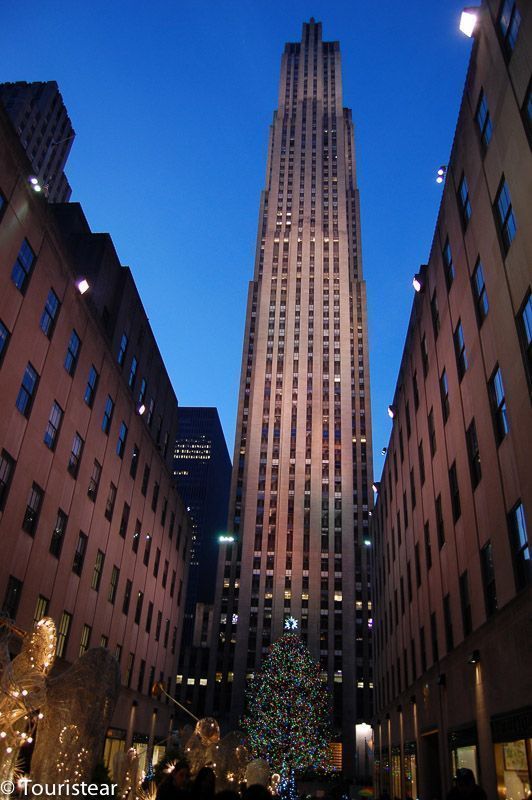 Explore iconic destinations like Miami, Orlando, Savannah, Charleston, Norfolk, Atlantic City, New York City, Cape Cod, Nantucket, and the breathtaking National Parks of Shenandoah and the Everglades.
In the east of the USA be careful with the tornado season, According to the National Severe Storms Laboratory the peak "tornado season" is in May and early June. We suggest taking this into account to properly plan your road trip dates.
National Parks are a perfect side trip for your Road Trip in the USA
If you're seeking road trip destinations or USA road trip ideas that offer a blend of scenic beauty and outdoor adventure, look no further than the national parks.
Among the top picks are Yosemite National Park and Olympic National Park, where you can immerse yourself in breathtaking landscapes and engage in thrilling outdoor activities. Get to know some of the below.
Yosemite National Park
When it comes to a side trip during your Pacific Coast U.S. road trip, Yosemite National Park should be at the top of your list. Yosemite has been captivating visitors since it was established as a national park in 1890, making it one of the oldest in the country.
Early explorers like John Muir and Theodore Roosevelt were among the first to venture through this natural wonder.
As you traverse the park, you'll encounter towering granite cliffs and the majestic sequoia trees of Mariposa Grove. Don't miss iconic landmarks like Half Dome and El Capitan, symbols of Yosemite's grandeur.
And when you reach Glacier Point, be prepared to have your breath taken away by the panoramic views.
Interested in a guided tour or activities of Yosemite National Park? Consider these options:
Yellowstone National Park
This will be a huge detour if you are doing the Pacific Coast Highway, but I can't help to include it here.
Yellowstone National Park is a road trip destination like no other. With its vast wilderness, abundant wildlife, and geothermal wonders, there's something for everyone in Yellowstone.
The park is home to over 10,000 geysers, including Old Faithful, one of the most popular tourist attractions in the world. You can also see hot springs, mud pots, and fumaroles, all of which are a result of the park's geothermal activity.
In addition to its geothermal features, Yellowstone is also home to a wide variety of wildlife. Bison, elk, bears, wolves, and bighorn sheep are just a few of the animals that call Yellowstone home. You can often see these animals roaming the park's roads and trails.
Yellowstone is also a great place to go hiking, camping, fishing, and boating. There are over 900 miles of hiking trails in the park, so you can find a hike to suit your skill level. You can also camp in one of the park's many campgrounds, or rent a boat and explore the park's lakes and rivers.
If you're looking for a road trip destination that is full of natural beauty, wildlife, and adventure, then Yellowstone National Park is the perfect place for you.
Here are some tips for planning your road trip to Yellowstone:
The best time to visit Yellowstone is during the summer months (June-August). However, the park can be crowded during this time, so you may want to consider visiting during the shoulder seasons (May-June or September-October).
There are five entrances to Yellowstone National Park. Choose the entrance that is most convenient for your route.
If you are planning on doing any hiking, be sure to bring plenty of water and snacks. The weather in Yellowstone can change quickly, so be prepared for anything.
Allow plenty of time to explore the park. There is so much to see and do in Yellowstone, so you don't want to rush through your visit.
Olympic National Park
When it comes to road trip ideas in the USA, Olympic National Park is a must-visit destination. I can't help but be in awe of the historical significance of this diverse park.
Olympic National Park has been captivating visitors since its establishment in 1938, preserving its rich natural beauty for generations to come. As you explore the park, you'll be greeted by majestic mountains, enchanting rainforests, and breathtaking beaches.
Take a hike at Hurricane Ridge and spot fascinating wildlife, or step into the magical realm of the Hoh Rainforest, teeming with unique plants and animals. Make sure you visit the captivating beauty of Ruby Beach, with its sea stacks and mesmerizing tide pools.
Want to go on a tour? Explore the National Park with a small group or by yourself.
Shenandoah National Park
The Shenandoah National Park is undoubtedly one of the best road trip destinations in the USA. Established in 1935, this Virginia gem has a rich history and breathtaking beauty that never fail to amaze.
Driving along the scenic Skyline Drive, I can't help but appreciate the hard work of the Civilian Conservation Corps (CCC) in the 1930s. These dedicated workers crafted a remarkable 105 mile road, allowing us to traverse the majestic Blue Ridge Mountains.
Beyond its historical significance, Shenandoah National Park envelops you in nature's wonders. The panoramic vistas, cascading waterfalls, and vibrant fall foliage create a tapestry of beauty that fills my soul.
More National Parks As Road Trip Destinations
The USA features several national parks worthy as road trip destinations and each offers incredible experiences like the Blue Ridge Parkway, Glacier National Park, Acadia National Park, Grand Teton National Park, and Denali National Park and Preserve.
Imagine cruising along the scenic Blue Ridge Parkway, connecting with the history of the Appalachian Mountains.
Glacier National Park will leave you speechless with its turquoise lakes and majestic glaciers, especially when you venture along the legendary Going-to-the-Sun Road.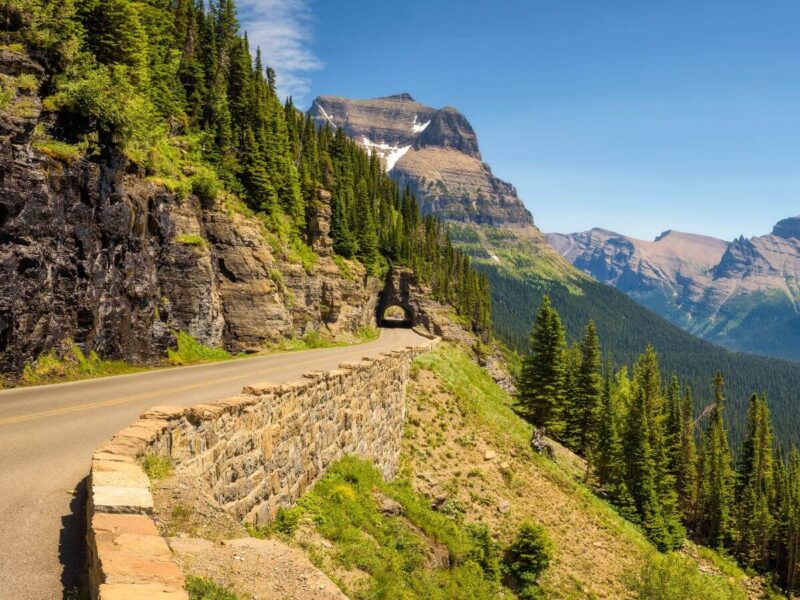 The Acadia National Park offers a perfect blend of coastal beauty and rugged wilderness, where you can cycle through the park and witness breathtaking sunrises over Cadillac Mountain.
As you explore Grand Teton National Park, you'll be amazed by the towering mountains and the chance to spot wildlife. And the untamed beauty of Denali National Park and Preserve, with its pristine landscapes and potential encounters with grizzly bears and moose, will truly ignite your sense of adventure.
Excited to go on a road trip to the USA? Buy a ticket in advance to save time and travel budget. Keep yourself safe as well with travel insurance!
Coastal Getaways
Embark on a coastal road trip along national scenic byways and discover stunning destinations like the beaches of Southern California, the picturesque Olympic Peninsula, and the scenic Columbia River Highway.
Pack your sunscreen, grab your camera, and let the open road trip destinations in the USA guide you to these remarkable coastal treasures.
Los Angeles
Los Angeles is one of the best coastal getaways in the USA for a road trip for two main reasons.
Firstly, the city boasts stunning beaches along the Pacific Coast Highway, including Malibu, Santa Monica, and Venice Beach, where you can soak up the sun, feel the sand between your toes, and catch some epic waves.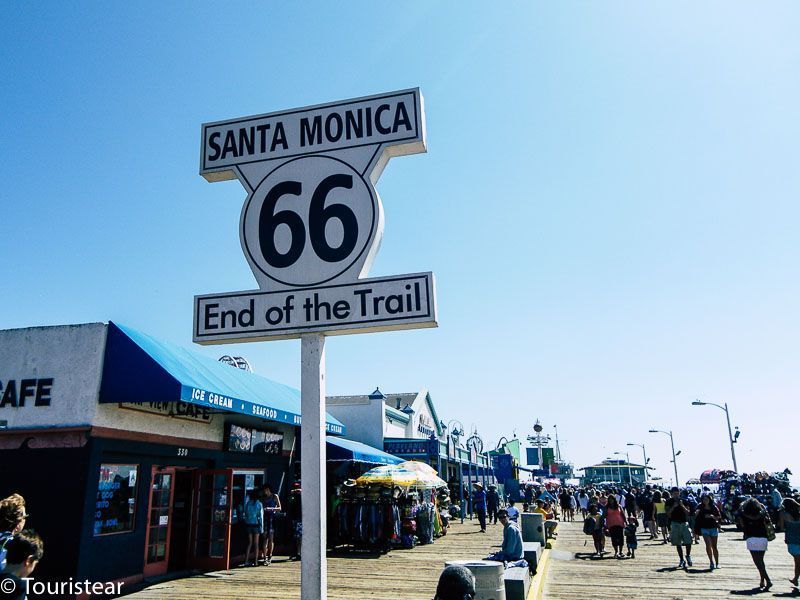 Secondly, Los Angeles offers a variety of adventurous activities such as kayaking or sailing along the coast, providing a unique and thrilling perspective of the city.
San Diego
From Los Angeles to San Diego, the view and culture continue to get better. Its laid-back vibe and stunning coastal beauty make it an ideal getaway. When exploring this coastal city, I recommend heading to La Jolla Cove for an unforgettable snorkeling or scuba diving experience.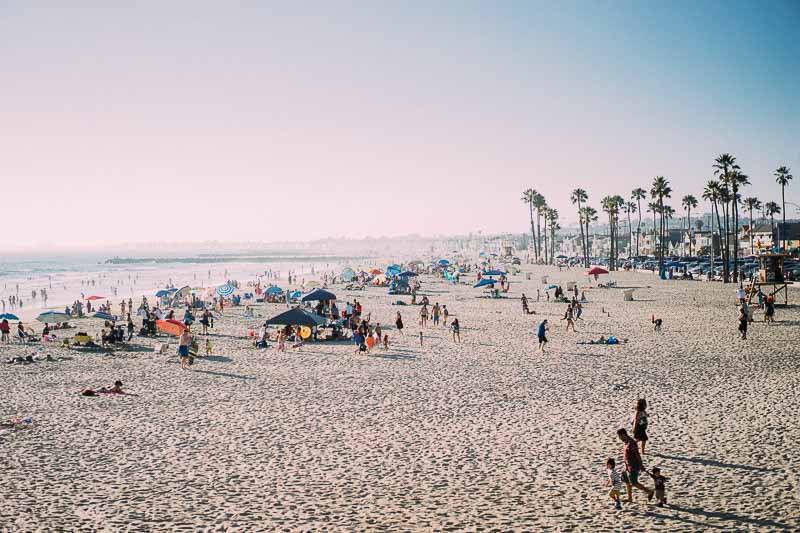 To soak up the classic beach atmosphere, take a stroll along Mission Beach's lively boardwalk. Feel the warm sun on your skin, breathe in the salty ocean air, and enjoy the vibrant energy surrounding you.
For a more tranquil and scenic escape, venture to Torrey Pines State Natural Reserve. Lose yourself in its captivating hiking trails, offering breathtaking ocean vistas at every turn.
It's a chance to reconnect with nature and experience the sheer beauty of the California coast.
San Francisco Bay Area
It is a coastal getaway that will leave you in awe. Picture yourself cruising down Highway 1, with the sparkling ocean on one side and breathtaking cliffs on the other.
As you make your way to Half Moon Bay, you'll find yourself captivated by the beauty of the beaches and the thrill of beachcombing.
When you arrive at Point Reyes National Seashore, you'll be greeted by endless hiking trails and opportunities to spot wildlife in their natural habitat.
But if you're craving an adrenaline rush, Mavericks is the place to be. As you paddle out into the waves, you'll feel the excitement building, ready to catch the perfect ride.
Whether you're a seasoned surfer or a beginner looking to challenge yourself, Mavericks will leave you with memories to last a lifetime.
No need to say that you have to surf the waves that are appropriate to your surf level to be safe. We absolutely do not recommend surfing big waves if you don't have the experience or training to do so.
Miami
Miami is a great starting point for an Atlantic Coast road trip, as it is located in the southeastern United States and is close to many popular destinations.
Miami is a vibrant and dynamic city located in the southeastern part of Florida. Known for its beautiful beaches, warm weather, and diverse culture, Miami is a popular destination for tourists from all over the world.
With its bustling nightlife, delicious cuisine, and numerous attractions, there is never a dull moment in this city.
Explore Miami's beaches. The city boasts some of the most beautiful and pristine beaches in the world, including South Beach, which is famous for its turquoise waters and white sand as well as its building in Art Deco architecture, and trendy restaurants and bars.
Enjoy the vibrant nightlife of Miami. The city has a wide range of bars, clubs, and restaurants that cater to all tastes and preferences.
Whether you're looking for a trendy rooftop bar or a lively dance club, Miami has something for everyone.
You can't leave Miami without tasting its cuisine. The city is known for its diverse culinary scene, which includes everything from traditional Cuban dishes to modern fusion cuisine.
Indulge yourself with delicious foods at the city's many restaurants and food trucks.
Do not forget to soak in the rich cultural heritage of Miami, and its many museums and art galleries. The city is home to several world-renowned institutions, including the Perez Art Museum Miami and the Bass Museum of Art.
New York City
New York should be a mandatory stop if you are on a road trip through the Atlantic coast.
New York City, also known as the "City That Never Sleeps," is an amazing city that I love especially. It surprises me every time I come back to her.
It offers visitors an endless array of experiences. From its iconic landmarks to its diverse cultural scene, there is something for everyone in this bustling metropolis.
One of the first things that comes to mind when thinking about New York City is its skyline. The city is home to some of the world's most iconic skyscrapers, including the Empire State Building and the One World Trade Center.
Visitors can take in the stunning views of the city from observation decks located at the top of these buildings. The last ones we made were the top of the rock in the Rockefeller Center and the Edge in Hudson Yards, both are amazing experiences.
This is the picture I took from the Rockefeller Center. It was foggy because of the fires in Canada but it was amazing anyway.
New York has that amount of places to know, to investigate or to stroll that is impossible to list mention all of them.
I strongly recommend you lose yourself in the streets of SoHo, Tribeca, Chinatown or Hells Kitchen.
Stroll Central Park without any specific direction, just watch the people picnicking, sunbathing, biking, or hiking. This sprawling park covers over 800 acres in the heart of Manhattan and offers visitors a peaceful oasis in the midst of the bustling city.
Enjoy its diverse cultural scene. Visit the MoMA, the Metropolitan Museum of Art, or the 11S museum, and don't forget Broadway with the art galleries and theaters that showcase a wide range of art and culture, from classical to contemporary.
Don't forget to walk around one of the most iconic landmarks in New York City, the Statue of Liberty. This famous statue, located on Liberty Island in New York Harbor, is a symbol of freedom and democracy.
Visitors can take a ferry to the island and climb to the top of the statue for breathtaking views of the city skyline.
If finances are your thing, then New York City is your place. The city is home to the New York Stock Exchange, take a tour of the financial district and learn about the history and importance of Wall Street.
We can't talk about New York City and not talk about food. The city offers a wide range of cuisines from around the world, from traditional American fare to exotic Asian and Middle Eastern dishes.
Visitors can sample some of the city's famous street food, such as hot dogs and pretzels, Mexican and pizza food trucks, or dine at one of the many Michelin-starred restaurants.
Do you like to get out at night? The city offers a wide range of bars, clubs, and lounges that cater to all tastes and preferences. Tribeca, Soho, and Broadway have everything you need.
Cape Cod
Cape Cod is a road trip destination that will captivate you with its coastal charm and rich history. Imagine the scenic coastal roads, with the salty ocean breeze in your hair and the sound of crashing waves in the background.
As you explore Cape Cod, you'll discover hidden gems like Provincetown, Chatham, and Hyannis, each offering its unique attractions and character.
Spend your days lounging on pristine beaches, dipping your toes with waterproof travel shoes in the refreshing waters, and taking strolls along the shoreline. Immerse yourself in the region's maritime heritage by visiting museums and historic lighthouses.
Very close to Cape Cod is the Island of Nantucket, a hidden gem and one of the top road trip destinations for coastal getaways in the USA.
As you embark on your road trip to Nantucket, you'll be captivated by its cobblestone sidewalks, historic architecture, and pristine beaches.
Spend your days exploring the quaint town, wandering through charming boutiques, and indulging in delicious seafood. Take a stroll along the picturesque coastline, admiring the lighthouses and enjoying the serenity of the ocean.
Nantucket also offers fantastic outdoor activities such as biking, kayaking, and fishing. Don't miss the opportunity to explore the island's rich maritime history through its museums.
Nantucket's unique blend of natural beauty, cultural heritage, and peaceful ambiance makes it a perfect destination for a road trip getaway.
Outdoor Adventures
From hiking and camping in national parks to exploring scenic coastal drives, there are endless opportunities to immerse yourself in the natural beauty of this diverse country.
Hiking and Camping
Hiking and camping are two popular choices that allow you to immerse yourself in the beauty of nature. National parks like Yosemite, Yellowstone, and the Grand Canyon boast some of the best trails and campsites in the country.
If you plan to visit Yosemite National Park, join a guided hiking tour. You can book the Yosemite National Park & Giant Sequoias Hike starting at €194.90 per person.
With knowledgeable guides leading the way, you'll have the opportunity to explore iconic landmarks and learn fascinating facts about the park's history.
For wildlife enthusiasts, a wildlife safari in Yellowstone National Park is a thrilling experience. Get a Yellowstone National Park Self-Driving Tour starting at €13.34 per person.
Venture into the park's vast wilderness and witness incredible wildlife, including grizzly bears and wolves.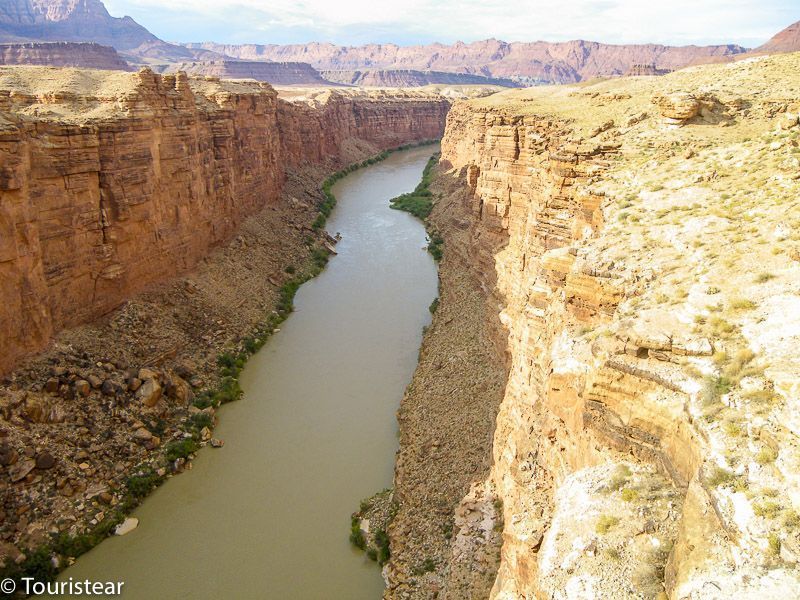 If you're drawn to the majestic beauty of the Grand Canyon, consider a camping adventure. Spend your nights under the stars, marvel at stunning sunsets and sunrises, and create unforgettable memories in this stunning location with this camping tour.
Kayaking and Canoeing
Kayaking and canoeing are fantastic ways to immerse yourself in the spectacular waterways of the United States. National parks like Glacier, Acadia, and the Everglades offer incredible opportunities for paddling.
I highly recommend the Glacier National Park Scenic Raft Trip. You can book this tour, starting at $USD 81 per person. Picture yourself rafting across the crystal clear waters of Flathead River, surrounded by towering mountains and untouched wilderness.
More or less close to the Acadia National Park, in Stonington, you can enjoy a guided sea kayaking tour. Imagine paddling along the rugged coastline, exploring hidden coves, and being amazed by the breathtaking beauty of this coastal paradise.
If you find yourself in the Everglades, don't miss the opportunity to go canoeing through this unique ecosystem. Book a Mangrove Tunnel Kayak Eco-Tour, starting at €106 per person.
Experience the serenity of the waters, observe fascinating wildlife, and gain a deeper appreciation for the importance of this biodiverse region.
Fishing and Golfing
Fishing and golfing are two popular outdoor activities that can be enjoyed on a road trip. Some of the best fishing can be found in lakes and rivers throughout the United States. Many national parks offer fishing opportunities, but many private lakes and rivers offer excellent fishing.
Golfing is another popular outdoor activity that can be enjoyed on a road trip. Some of the best golf courses can be found in the mountains and near the coast. Many golf courses offer stunning views and challenging courses that will test your skills.
Should I Plan Road Trip Destinations in the USA?
From hiking trails to camping grounds, kayaking adventures to fishing spots, and challenging golf courses, there's something for everyone.
Hit the road and embark on an unforgettable journey to experience the natural beauty and outdoor activities that road trip destinations in the USA have to offer.
Plan Your Road Trip to the USA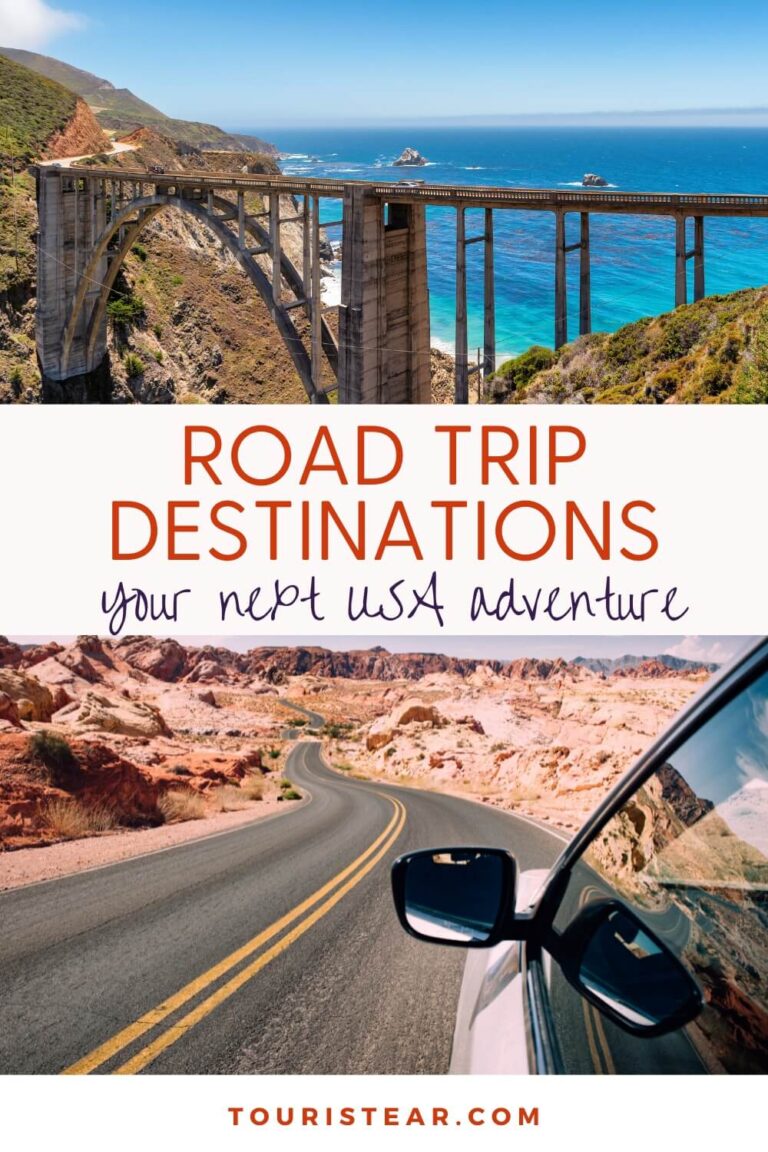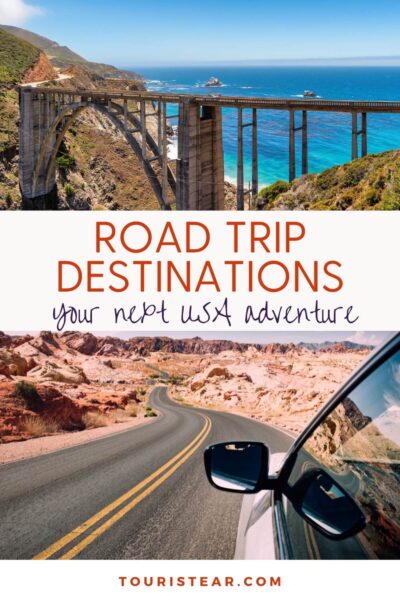 Last Updated on 1 September, 2023 by Veronica