The 15 Must-Visit Places in San Francisco
San Francisco is one of the most beautiful cities in the United States with its famous Golden Gate, Victorian houses, the sea, the hills, picturesque towns, and impressive national parks in its surroundings.
You have to include a visit to the city of San Francisco in your trip to the West Coast of California. And if you're going to take a trip to Los Angeles or even Las Vegas, you can't miss this beautiful Californian city.
It is one of my favorite cities in the United States; it has it all!
1. Walk the Golden Gate Bridge
What am I going to tell you about the Golden Gate? It is the quintessential symbol of this city. The bridge connects San Francisco with the peninsula to the north, where Sausalito and Santa Rosa meet.
It was inaugurated approximately 80 years ago, and since then, it has been one of the symbols of this city.
It measures 1.7 miles long and is known for having been the most outstanding engineering work of its time and also been the bridge from which the most people have committed suicide in San Francisco.
Rent a bike to tour San Francisco and cross the Golden Gate.
The Golden Gate Bridge is easy to get to as it forms part of Interstate 101, and if you follow the signs to Sausalito, you can't miss it.
There are several points where you can take a good photo of the Golden Gate. I took it from Battery Spencer, but you can also take it from Fort Baker, and it looks spectacular.
On the opposite side of the bridge, in Marin County, the Golden Gate National Recreation Area is another good spot. Also, if you plan on taking a tour of Alcatraz, there are entirely mind-boggling views from the ship and the island.
2. Take a ride on a streetcar through San Francisco
Another thing that distinguishes San Francisco is its streetcars. They call it "Cable Car" because they go on rails, but the movement is given by a cable buried along with the rails.
It has three routes, and any of them will take you to places with very nice views of San Francisco.
The ticket costs $7, so it is a worthwhile investment. The ends of the route are also very picturesque since for the tram to turn around, it reaches a platform, and this platform turns 180º, the tram does not move.
3. Visit Alcatraz in the San Francisco Bay
Of course, visiting Alcatraz is another of the things you can't stop doing. Alcatraz was the site of the first lighthouse in the western United States.
Later, from 1934 to 1963, it was one of the best-known prisons in the United States, mainly because it held Al Capone or George "Machine Gun" Kelly as prisoners.
To visit Alcatraz, making a prior reservation is mandatory. Prices range between $30 and $64 per person depending on the type of excursion or visit you want to do. Ferries leave from Pier 33.
Click on the link to make the reservation.
4. Visit Fisherman's Wharf in San Francisco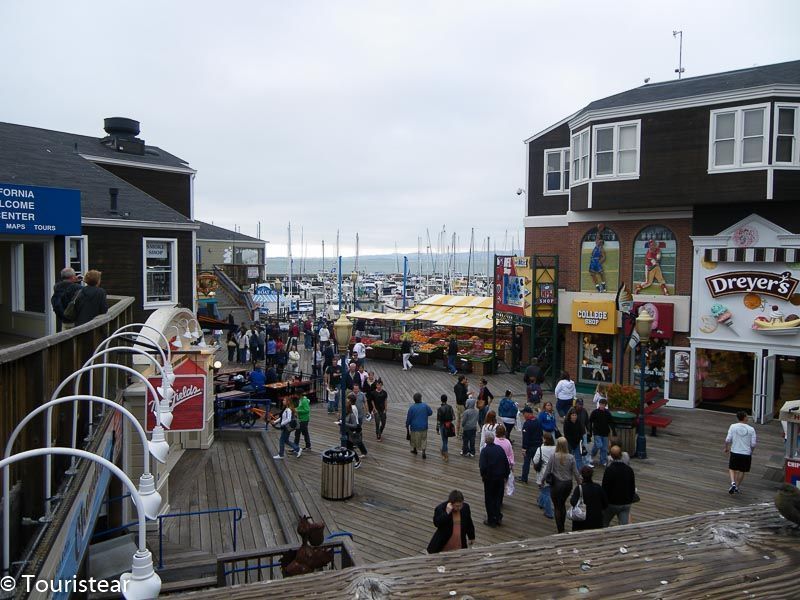 Fisherman's Wharf is a must-see neighborhood in San Francisco. In Fisherman's Wharf, there is Pier 39, a kind of shopping center established in one of the port's docks.
There are also floating platforms very close by that are literally taken over by sea lions and have established one of their resting places there.
At Fisherman's Wharf, you can visit the Aquarium of the Bay or the USS Pampanito submarine at Pier 45.
You can also visit the SS Jeremiah O'Brien, which is a merchant ship that was part of the fleet that participated in the Normandy landings.
If you have to choose because you don't have much time, it is much more interesting to visit the Pampanito, in my opinion.
Some of the main attractions in the area are:
5. Visit Union Square in San Francisco
Union Square is the most important square in San Francisco. It is called Union Square because it was the chosen place for demonstrations in support of the Union army during the civil war.
It is huge, and many events, concerts, demonstrations, art exhibitions, etc., are held there.
The shopping area is very close to Union Square, so if you want is to go shopping, then this is your area.
6. Visit Mission Dolores in San Francisco
Mission Dolores is the oldest building in San Francisco. It is a church founded in 1776 by Spanish missionaries to evangelize the Indians of the area.
The basilica was under construction until 1918. It is at 3321 Sixteenth Street and is an unavoidable visit due to its cultural importance.
Guided tours can be done, and the cost is low, $5 per person and $3 for children and the elderly.
7. Visit San Francisco City Hall
It's the San Francisco city hall. What stands out the most is the dome that it has, which is immense. As they tell you, it is one of the largest in the world. However, I have not been able to verify this data.
Yes, I can tell you that it is an imposing building and worth visiting. It's right in the center, so you don't have to move to see it. It has been the setting for several movies, and you can go in, so don't miss it.
8. Visit the famous steep streets of San Francisco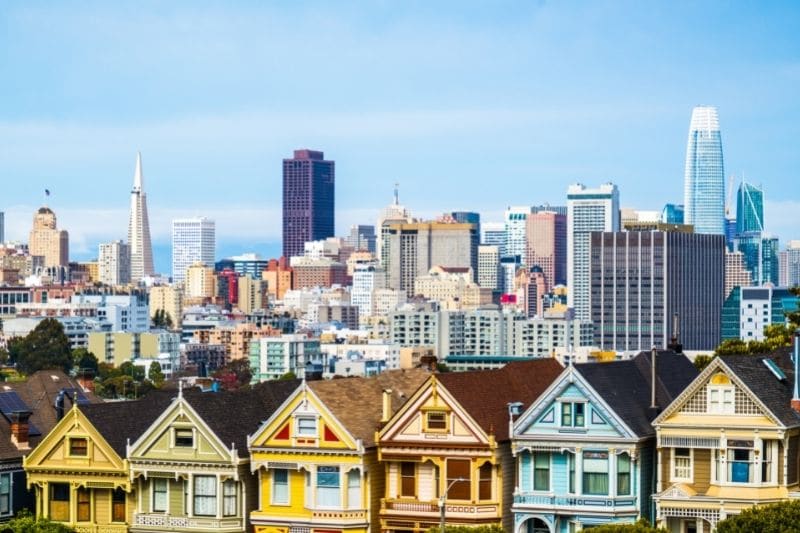 You will have seen in a gazillion movies, especially about cops, like in the middle of the chase of the bad guy in San Francisco, the cars jump from hill to hill without breaking! We all know that the vehicle is for scrapping with the first jump.
But well, silly stuff aside, these streets are typical of San Francisco, although the best known is Lombard Street for having a reputation for being the steepest. In any case, the Nob Hill district is where you can see these slopes and hills.
You can take advantage and take the tram route since the tram that runs between Union Square and Fisherman's Wharf has its way through Nob Hill. Victorian-style cottages are also characteristic. I loved walking around this area.
You can visit them on your own or with a free city tour.
9. Visit and eat in Chinatown and Little Italy (North Beach)
Very close to Union Square is the rectangle between Bush St (south), Broadway (north), Powell St (west), and Kearny St (east). It is a neighborhood worth visiting during the day with the shops open and full of people.
The most picturesque entrance to the neighborhood is between Grant Avenue and Bush Street. It is the second-largest Chinese community in the United States, after New York.
Don't miss Portsmouth Square with its people practicing Thai chi or playing typical Chinese board games. Come to Stockton Street, where the typical food markets are.
Following Chinatown on Broadway and Columbus is Little Italy. Here you will find many Italian restaurants, ice cream parlors, coffee shops, and their buildings, which are different from the rest. Do not miss it.
10. Visit Grace Cathedral
It is in the heart of the Nob Hill neighborhood. Its façade is very similar to that of Notre Dame of Paris; I would tell you that it is a copy.
But it is lovely, and you must not miss it. It is a significant monument of San Francisco culturally and religiously speaking, and it is in the heart of San Francisco, very close to everything else.
It is located at 1100 California Street, and admission is free.
If you visit San Francisco, I hope you enjoy it as much as I did. It seemed like a beautiful city, full of life, but totally different from Los Angeles or New York.
11. Golden Gate Park
Golden Gate Park, home to gardens and museums, is a fabulous green space in the heart of San Francisco, often considered the "lungs" of the city.
Before development began in 1871, this was an area of barren dunes.
Today, the park has an extensive network of walking and cycling paths, more than 5,000 different plants and dozens of tree species, several lakes, etc.
The main attractions:
Golden Gate Park is one of those places that can take you a couple of hours or a couple of days.
Bike rentals are available and can be an excellent way to explore the park, rather than trying to do it all on foot.
12. Golden Gate National Recreation Area
Not to be confused with Golden Gate Park, the Golden Gate National Recreation Area is a large natural area across the Golden Gate Bridge from downtown San Francisco.
This 600-square-mile park in Marin County is a designated Biosphere Reserve and is home to a host of attractions. It's also just a beautiful place to enjoy nature and relax.
The park has trails, campsites, picnic areas, and beautiful beach areas. Some of the beaches have fabulous views of the Golden Gate Bridge.
The park is also a place of history and home to historic Fort Baker, a former US Army post from the early 20th century.
13. Muir Woods and Sausalito Tour
On this tour, you will discover the incredible giant sequoias of Muir Woods, the largest trees in the world, and you will also visit Sausalito, a charming city with stunning views of San Francisco.
To do this tour, you have to book in advance. The good thing is that it has free cancellation, just if your plans change.
14. Twin Peaks
These two uninhabited hills, more than 900 feet high, have one of the city's best views and the bay.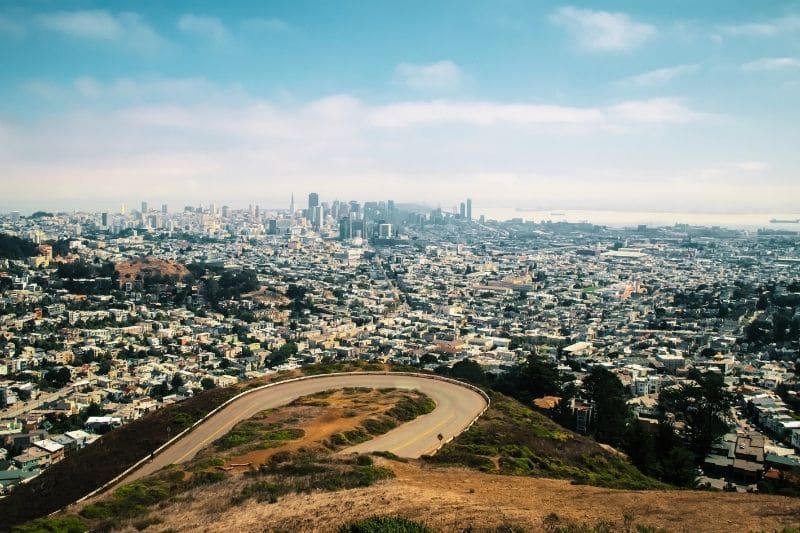 Access is easy – you can drive to the north peak parking area, park your car, and enjoy the fantastic view.
Hike the trails above the North and South Peaks for those looking for a bit of activity.
This is one of the best hikes in San Francisco. While you're here, you can be forgiven for thinking these are the tallest of San Francisco's 43 hills; however, that lofty distinction belongs to Mount Davidson, which is 33 feet taller.
Twin Peaks are the only hills in San Francisco that have not been built on and remain in their original state. The Spanish called them "The Breasts of the Chola" or the Breasts of the Indian Maiden.
Even on warm days, strong, cool breezes blow from the Pacific, especially in the late afternoon.
15. Yosemite Tour
On this tour, you will get to know the most famous National Park in the United States. The good thing about visiting with a guide is that you will discover all its secrets, including its forest of giant sequoias, the largest trees in the world.
Plus, they pick you up at the door of your San Francisco hotel, and you forget about driving. You are just going to enjoy, take photos, and get to know wonderful places.
You can book your tickets here.
Buy the City Pass?
If you are thinking of buying the San Francisco City Pass, you have to do numbers. Think about what places you want to visit, see how much the ticket costs without the City Pass, and see if it's worth it.
In general, it is a good option, since you save a lot of money on tickets, but it all depends on what you want to see and your budget.
Here I leave the link to the San Francisco City Pass so you can take a look and buy it if it works out for you! You can save a lot of money on the entrance tickets.
Where to Sleep in San Francisco?
San Francisco is not known for being cheap in accommodation; I can't recommend where we stayed, because it was expensive and not worth it.
But, here, you can find different options to stay in San Francisco.
Rent a car
If you like to drive, renting a car in San Francisco can be an excellent option to get to know the city and visit the surroundings.
I leave you the link to Rental Cars, where we usually rent cars because it usually has the best price.
If you think I have left something, do not hesitate to tell me!
Don't Forget Travel Insurance
Do not forget to buy travel insurance to travel to the United States. Hopefully, you don't need to use it, but it is better to be prepared for any eventuality or emergency.
In my case, I have Chapka's annual insurance, with worldwide medical assistance with good coverage. Also, you can use our link to get a 7% discount on Chapka Insurance.
Choosing travel insurance will depend mainly on the duration and coverage of the insurance. Therefore, it is best to inform yourself well to choose the best insurance available.
If you want, you can review our guide on choosing travel insurance, where you will find comparisons, opinions, and discounts.
Prepare your trip to the West Coast of the United States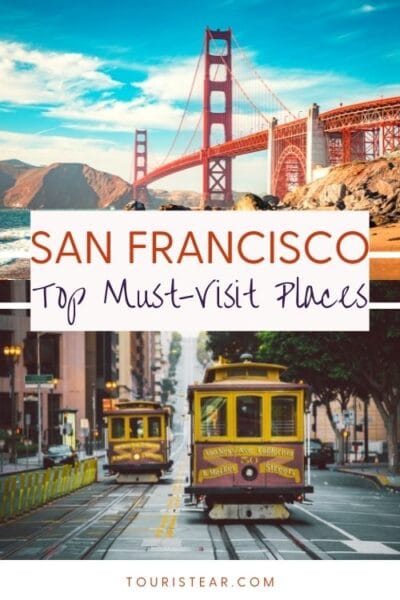 Disclosure: Some of the links on this post are affiliate links, meaning at no additional cost to you, I may earn a small commission if you click through and make a purchase.
Book Your Trip
Book Your Flight
Find a cheap flight by using Skyscanner.
Book Your Accommodation
You can book your hostel, hotel, or apartments on Booking.com.
Don'torget Travel Insurance.
Travel insurance will protect you against illness, injury, theft, and cancellations. It's your protection in case anything goes wrong. You never go on a trip without it.
Best companies for Tours
Check out Civitatis.com and find the best tours in English (French, Spanish and Italian)
Are you looking for the best companies to save money with?
Check out my resource page for the best companies to use when you travel! I list all the ones I use to save money when I travel – and I think I will help you too! (Is in Spanish yet)
Last Updated on 14 March, 2023 by Veronica