The Ultimate Big Sur Road Trip Itinerary
Big Sur is easily one of the most scenic drives in the world and a must when visiting California. Boasting a rugged coastline to the west and towering mountains to the east, this 90 mile-long drive guarantees stunning views galore every mile of the way.
Even though the drive is relatively short, the road trip itself can take several days to weeks to complete since the entire road is dotted by a myriad of state parks, sights, quirky towns, and natural wonders worth making a stop at.
Put in simple words, a Big Sur road trip is meant to be taken slowly, so give yourself time to soak up the views along the way truly!
If you're currently in the planning stages of your Big Sur road trip, chances are you're feeling a bit overwhelmed while planning your route. To make things easier for you, I created the perfect itinerary with the places you absolutely cannot miss along the way.
What's best? You can easily adjust how long you want to spend at each destination depending on how much time you have to dedicate to the trip!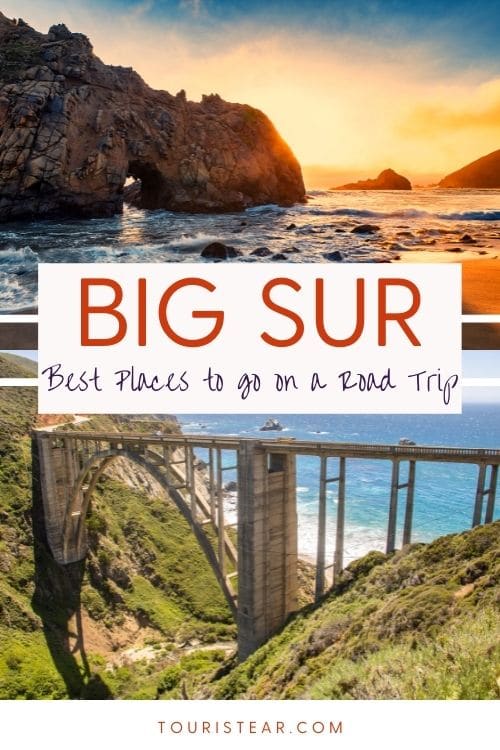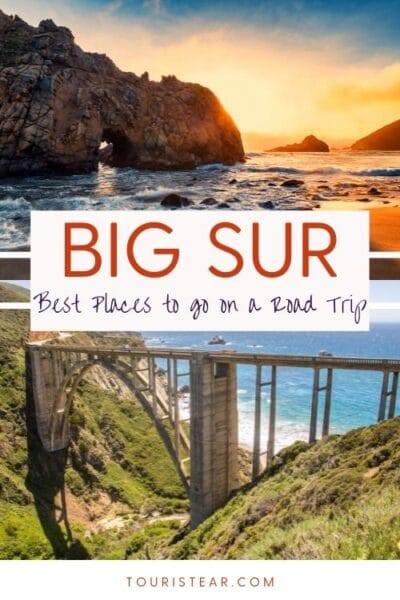 Carmel
Narrow cobblestone streets, tiny cottages coated in greenery and flowers, and charming boutiques boasting all kinds of local goodies are the staples of Carmel (all with the roaring sounds of waves crashing in the background, of course!).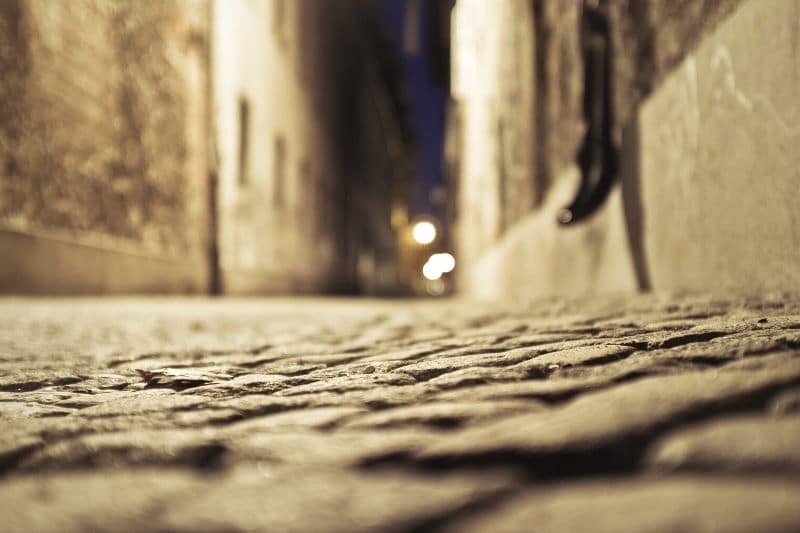 Carmel is easily one of the quaintest towns in the USA, making it the perfect starting point for your Big Sur road trip (plus a wonderful place to pit stop in case you need to stock up for the trip or buy any last-minute items!)
Time needed: 1 to 2 days
Bixby Bridge
Offering expansive views of the ocean to one side and a mesmerizing canyon to the other, Bixby Bridge is one of the most iconic stops to make in Big Sur.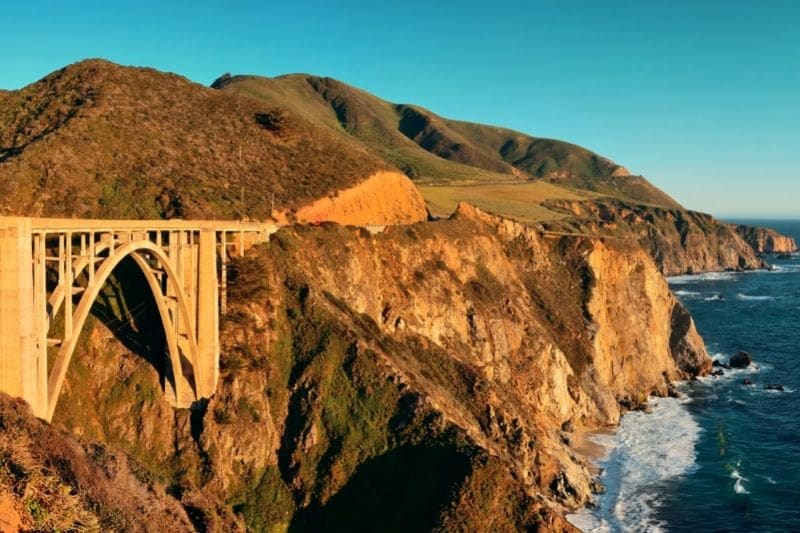 While not an actual destination, Bixby Bridge is a sort of rite of passage on a Big Sur adventure.
Even though you'll definitely drive over it during your road trip, make sure to stop for a few minutes here to soak up the views and take some pictures before moving on.
Time needed: A few minutes
Andrew Molera State Park
Offering spectacular views of Monterey Bay, Andrew Molera State Park is pretty undeveloped and a wonderful place to visit to get an authentic Big Sur experience.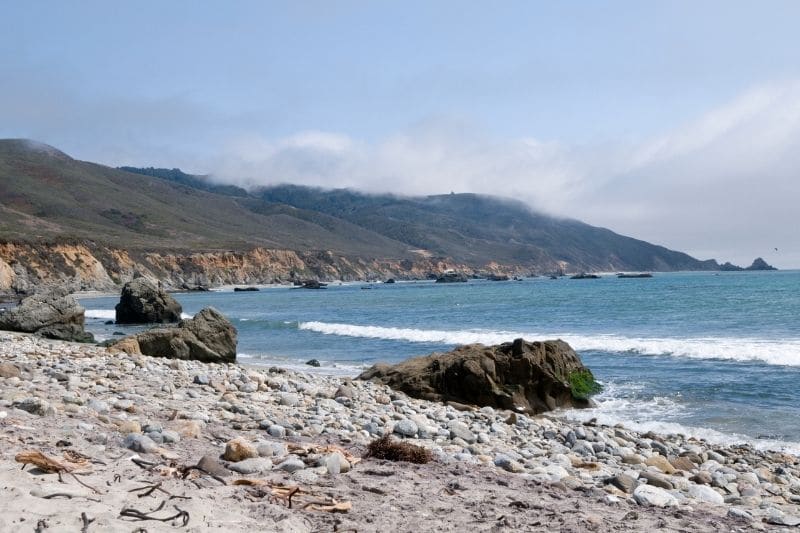 Even though spending a day lying on the beach is an absolute dream, make sure you also plan time to go on a hike or two. Andrew Molera's landscapes are incredibly diverse, with meadows, beaches, hilltops, and bluffs on the repertoire.
For an easy trail with both beach views and wilderness, the Bluffs Trail is a great option.
If you're looking for a bit of a tougher hike, you can continue on to Panorama Trail, which gets a lot steeper but rewards you with some of the most amazing vistas in Big Sur.
Time needed: 1 to 2 days
Pfeiffer Big Sur State Park
Big Sur is all about gorgeous coastal views, but there are a few landlocked spots that are worth detouring for. A great example? Pfeiffer Beach Sur State Park!
Set on the slopes of the Santa Lucia Mountains, a visit to this park is a great way to connect with the mountainous side of Big Sur as well as get close encounters with the nature and wildlife that most visitors don't see.
While hiking, you'll get to walk along rivers, stroll through groves of redwoods and maple trees, and spot fauna (watch out for bobcats and black-tail deer!)
Time needed: 1 to 2 days
Pfeiffer Beach
Pfeiffer Beach is the kind of place you need to see with your own eyes to believe.
Set two miles south of Pfeiffer State Park, this beach is unlike any other in the world because it boasts purple sand (yes, you read that right!).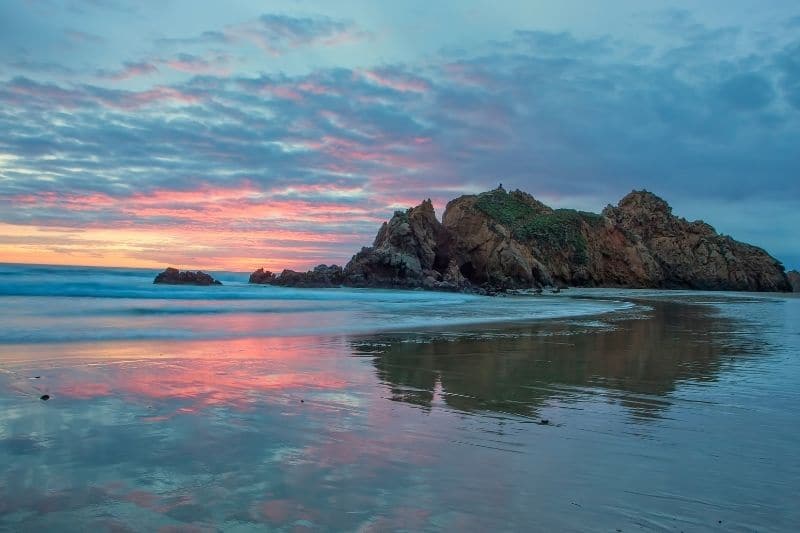 Aside from its iconic purple-shaded coast on the northern end of the beach, Pfeiffer Beach is also home to sand dunes, tide pools, and a striking natural rock arch that allows waves and the last rays of sunlight to pass through.
Insider tip: Plan your visit to Pfeiffer Beach before sunset, when sunlight washes through the arch, creating the most magical view to bidding the day goodbye!
Time needed: Half day
Julia Pfeiffer Burns State Park
Boasting one of the most beautiful stretches of coastline in Big Sur, Julia Pfeiffer Burns State Park is the perfect place to cap off your Big Sur road trip with incredibly dramatic views.
The main reason most people stop at this state park is to gaze at McWay Falls, an 80-foot waterfall that cascades down from the cliffs and crashes into a hidden cove.
If you've got time, though, make sure you spend at least half a day at Julia Pfeiffer Burns, as the state park is also home to wonderful coast side hikes, enchanting forests, and even an authentic shipwreck!
Time needed: 1 day
I hope this itinerary made planning your Big Sur road trip a little easier. You can easily do it in a few days if you're in a rush, but if you have time, I recommend lingering a while at the state parks to get to know Big Sur beyond its main highlights.
Which of these stops in Big Sur are you looking forward to the most? Let me know in the comment section below!
Travel Insurance
Do not forget to buy travel insurance to travel to the United States. Hopefully, you don't need to use it, but it is better to be prepared for any eventuality or emergency.
In my case, I have Chapka's annual insurance, with worldwide medical assistance with good coverage. Also, you can use our link to get a 7% discount on Chapka Insurance.
Choosing travel insurance will depend mainly on the duration and coverage of the insurance. Therefore, it is best to inform yourself well to choose the best insurance available.
If you want you can review our guide on how to choose travel insurance, where you will find comparisons, opinions, and discounts.
Plan Your Trip to California
Last Updated on 25 September, 2023 by Veronica
Disclosure: Some of the links on this post are affiliate links, meaning at no additional cost to you, I may earn a small commission if you click through and make a purchase.
Author: Veronica
Vero, a seasoned traveler, has explored 25 countries and lived in five, gaining a rich perspective and fostering an infectious passion for travel. With a heart full of wanderlust, Vero uncovers the world's hidden gems and shares insights, tips, and planning advice to inspire and assist fellow adventurers. Join Vero and let the shared passion for travel create unforgettable memories.