We continue to create useful content for your Route 66 road trip. If you have reached this post, you have already quite advanced the planning of Route 66. And you know it's imperative to travel with travel insurance.
This post will tell you the best travel insurance for Route 66: the different insurances there are and what the coverages are. Besides, we have a 7% discount for our readers, click on the link, and continue reading.
Read: International Travel Insurance, Which is the best?
Why do you have to travel with Health Insurance on US Route 66?
We always travel with travel insurance, regardless of the destination we travel to. But there are some destinations, such as the United States, that are practically mandatory to be insured. As you know, public health in America is practically non-existent and not free; what's more, it's very expensive.
In the case of a trip like the one you will make on Route 66, in which you will drive so many miles per day on roads you do not know, it is essential to buy travel insurance.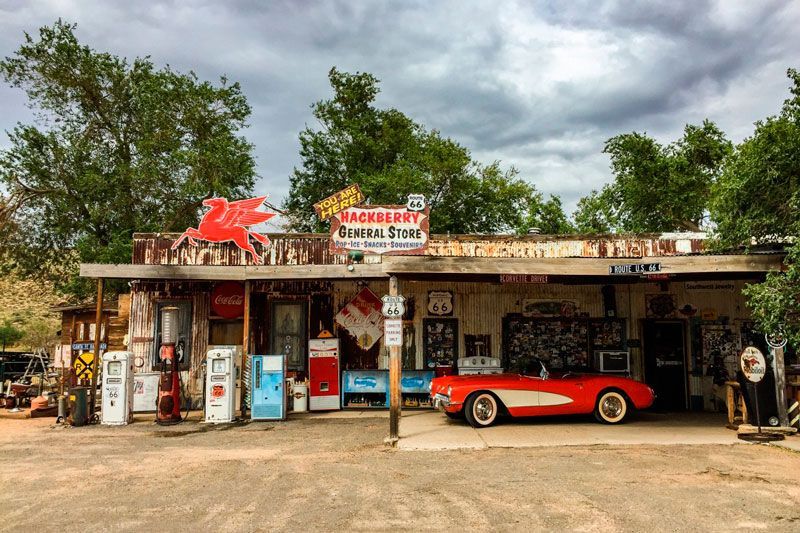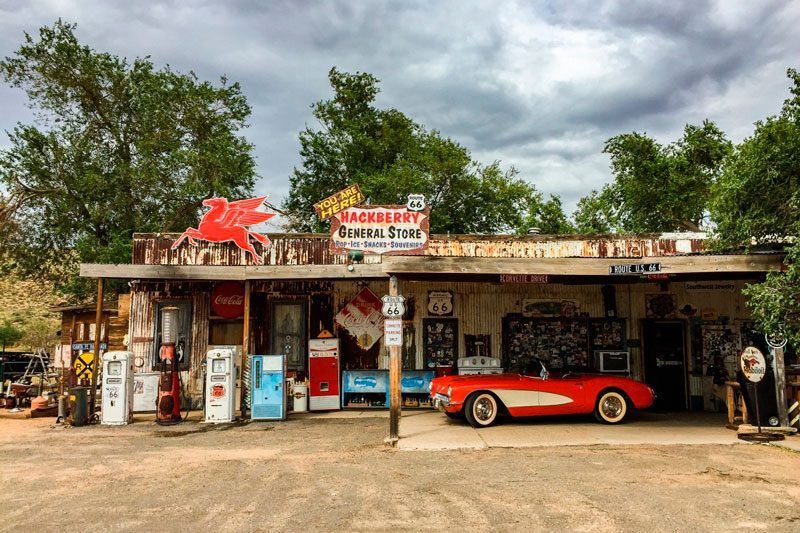 All of the information provided about travel insurance is a brief summary only. It does not include all terms, conditions, limitations, exclusions and termination provisions of the travel insurance plans described. Coverage may not be available for residents of all countries, states or provinces. Please carefully read your policy wording for a full description of coverage.
Travel Insurance coverages on Route 66?
There are several Travel Insurance in the market, but we only recommend 3. These are the best quality/service enterprise we work with.
Travel insurance: simple & flexible
You can buy and claim online, even after you've left home. Travel insurance from WorldNomads.com is available to people from over 130 countries. It's designed for adventurous travellers with cover for overseas medical, evacuation, baggage and a range of adventure sports and activities.
7 things you should know about travel insurance from WorldNomads.com
Trusted reliable underwriters
WorldNomads.com is backed by a suite of strong, secure, specialist travel insurers who provide you with great cover, 24-hour emergency assistance, and the highest levels of support and claims management when you need it most.
Value for money with the cover you need
WorldNomads.com provides cover for what's important for travelers from over 130 countries. By focusing on what you need and leaving out what you don't, World Nomads prices are some of the most competitive online.
Flexibility when you need it most
Had a change of plans? You can buy more cover or claim online while you are still away. You can even buy a World Nomads policy if you're already traveling.
Cover for a range of adventure activities
From skiing & snowboarding in New Zealand to whitewater rafting in Colorado, WorldNomads.com covers a range of adventure activities, giving you peace of mind to get the most from your travels.
World Nomads keeps you travelling safely
All WorldNomads.com members have access to up-to-date travel safety alerts, as well as travel safety advice and tips online through the World Nomads Travel Safety Hub.
More than just great value travel insurance
All WorldNomads.com members can learn the local lingo through a series of iPod & iPhone Language Guides and can stay in touch with family and friends with an online travel journal.
Commitment to exceptional customer service
We want to make sure you get the most from WorldNomads.com. You can find out more about why travel insurance is important for your trip. If you have any questions about your travel insurance or travel safety in general, please contact WorldNomads.com directly.
7 things you should know about travel insurance from HeyMondo
*COVID-19 COVERAGE: All travel insurance plans that you see on our website cover medical assistance and expenses even in the event of infection by COVID-19.
Trip cancellation will cover for non-refundable expenses if, before you leave home, you have to cancel your trip after you or your travel companion test positive or if a close relative develops an unexpected emergency medical condition or dies, including COVID-19 cases.
Insurance HeyMondo has excellent coverages on the market. Also, their prices are excellent. I think they're one of the cheapest on the market in value for money. You know we travel insured with them. What's more, on the last trip to Buenos Aires, we went to my uncles' house, and of my grandparents, we travel safely.
We hired the Premium insurance because it's the one with the most coverage for the material computer and as there are many thefts, better to prevent than to regret.
Travel safely on Route 66
hires the best travel insurance
Advantages of taking out Mondo travel insurance
24/365-day attendance
With a team that will help you at all times in whatever you need to put yourself in the hands of the best specialists.
Transfers and medical care around the world
They take you to the nearest medical center and bear all the costs of care.
Refund of bookings if you do not travel, with no limit of days
It may have been more than 7 days since booking your trip, which you can take out travel insurance without problems.
Coverage of computer equipment or for risky sports.
You can add coverage for your computer equipment; for us, this is a very point in your favor.
Hire or renew, having already started the journey.
If you are reading this post from Route 66 and want to take out travel insurance, you can do so. Or if you change plans and your journey lengthens, you can extend the insurance.
What to know about Chapka Travel Insurance
Cap Assistance 24/7: the Assistance-Insurance for Trips up to 90 Days Anywhere in the World.
It is complete assistance and repatriation insurance for overseas trips of fewer than 90 days. Cap Assistance 24/7 is for travelers, on holidays, on a road trip, alone, with friends, and with children!
Chapka Assistance platform will talk to you 24 hours a day, seven days a week should a problem arise when you are far away from home: luggage, medical expenses, repatriation, loss of identification documents, need for a replacement driver, a refund for a trip cut short… A simple call and our assistance platform will organize to help or refund you.
The Benefits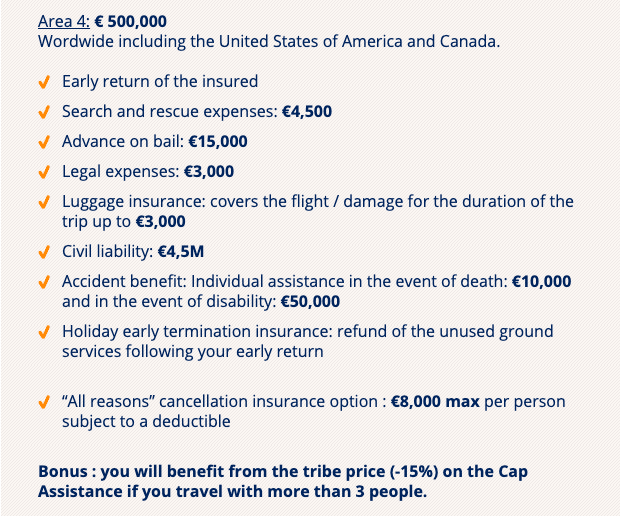 Hire the best travel insurance for Route 66
Insurance Mondo Insurance to travel on Route 66 covers everything you need. Here you are; I leave an image with the most important features.
One of the things more importantly, with this travel insurance, you do not advance a euro.


As you can see, you have medical coverages of up to 500,000 euros
Repatriation or early return included
You're covered for up to $3000 for theft or damage to luggage
For changes, delays or loss of services cover you up to 3000 euros
You have 24-hour travel assistance
Civil liability of up to 60000 euros
How to take out Mondo travel insurance
Indicate your country of residence and where you travel.

Indicate the dates of your trip, as in the photo.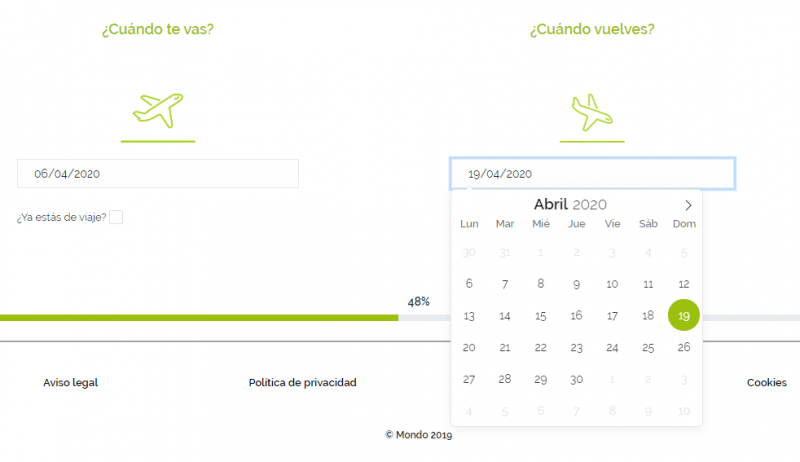 And here's the result for a two-week trip to the United States, with a 5% discount for our readers. Is it cheaper than you thought? You know that you will travel with peace of mind for this price and with all the coverages you need for your trip.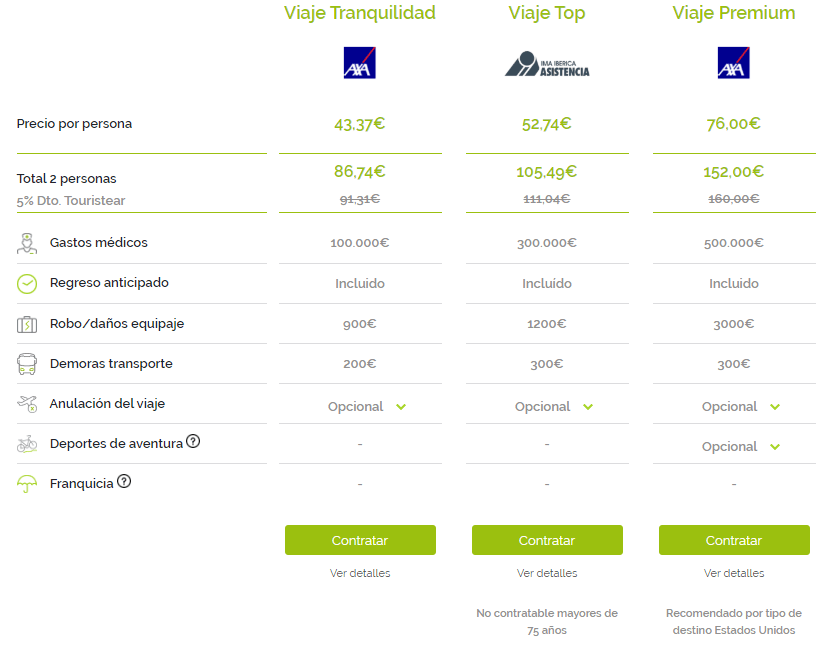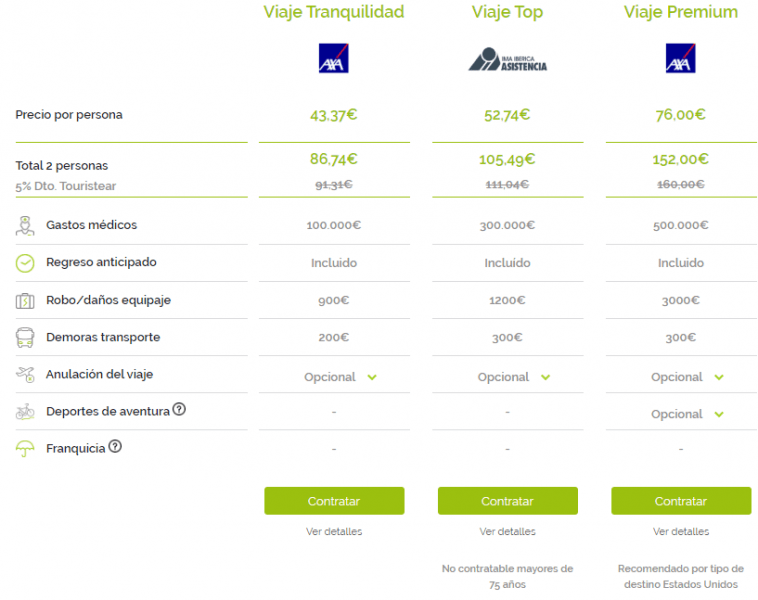 Travel safely on Route 66
hires the best travel insurance
How to take out Mondo cancellation insurance
First, choose the dates of your trip and indicate when you made the booking of the trip.

Indicate how many people do you want to ensure how much you've spent on transportation plus accommodation. Leave your email to send the proposal.

In the photo, I show you the price of travel cancellation insurance. As you can see, if for anything you can't make your trip to the United States and travel on Route 66, for about 50 euros you can recover 2000 euros of expenses from your trip.
Read: If you have questions about how the travel cancellation insurance works, click the link. We explain it in detail to take away all the doubts.
Tips for your journey on Route 66
The weather, which is the best time to travel route 66?
The best time to travel on Route 66 is in spring and summer. When temperatures are nicer and the days are longer.
You can find very hot days in some areas in summer, and in others, such as in Oklahoma, you can find storms. It is best to be well prepared for driving slowly or stop if there are storms.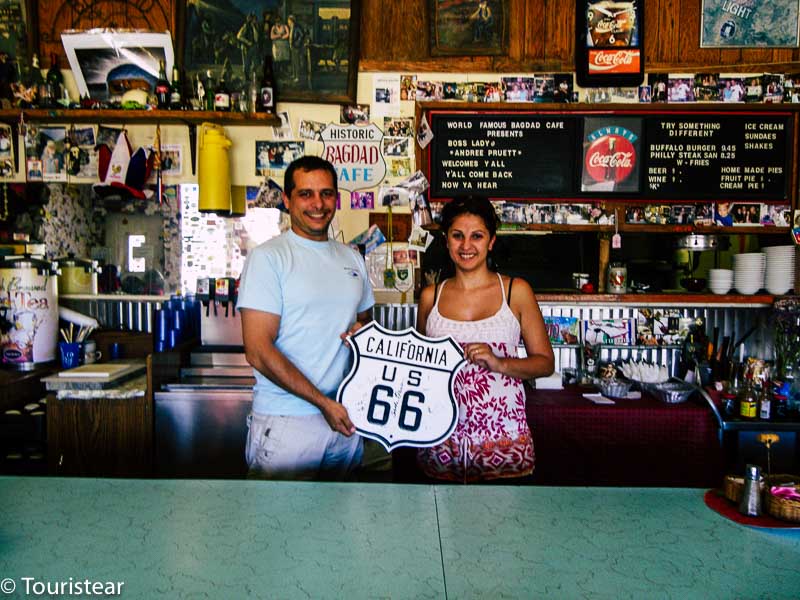 In spring and autumn, temperatures are more pleasant. There are fewer tourists. It's the best time route 66 if you're free to choose holiday dates.
Winter is the worst time to travel on Route 66, as the days are very short; in some states, snow a lot, and temperatures are very cold. I'd do the travel at this time if you know how to drive with snow, if you are a lover of cold and if you have more than 2 weeks to make the route.
Rent a car to travel on Route 66
Renting a car, either a motorbike or a motorhome, is part of the journey. We did Route 66 by rental car. The price usually varies depending on the in advance make the reservation.
You have to have noted that when you return the car to an office other than where you have rented, they're going to charge you a fee. In our case, it was $500…
My recommendations for car rental in the United States are:
Rentalcars has the best prices in the United States. It is a car rental finder/comparator, and the truth is that the prices are excellent.
Auto-Europe, we have used it in Europe, but it also works in the United States. We always look at both of them and choose to see which one convinces us the most.
Exchange currencies to travel to the United States
When you travel to America, you need to go with dollars. Almost everywhere you can pay with the card, but they have a surcharge on many of these sites. You're going to see this in all gas stations and clothing stores. Like this that my recommendation is that you go with dollars in your pocket.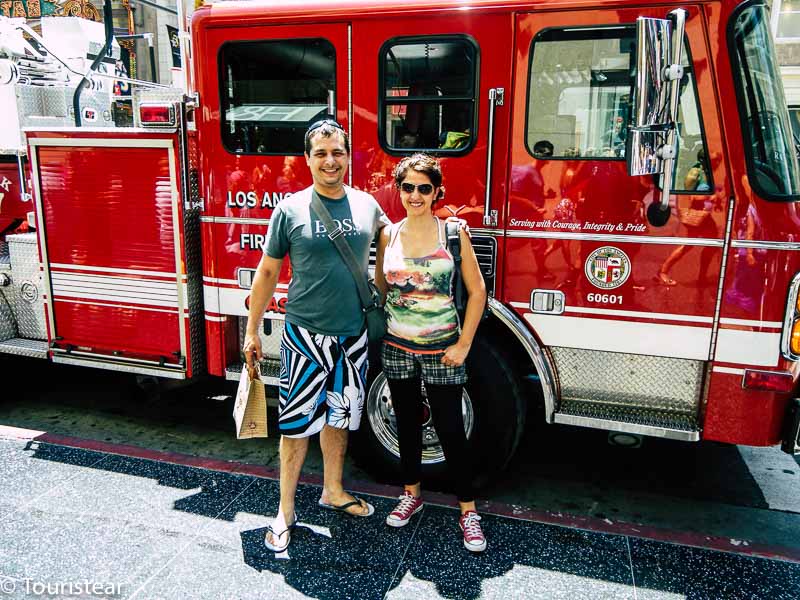 To change dollars you have several options, some better than another.
You can change the currency in your bank, where you will be charged quite high commissions, and that in many cases, you have to wait because they don't have currency availability in the office that's near your home or work.
At the airport, the worst option of all, as they usually have a very very bad change.
In an exchange house like Ria Currency Exchange, they have the best currency exchange on the market, they do not charge you a commission, and also, they can send you the money to your house in 48 hours. This is, without a doubt, one of its most attractive points.
Types of insurance available to travel to the United States
Travel insurance
Route 66 travel insurance that covers up to 500000 euros in medical expenses. It includes repatriation or early return. It also includes the movement of a family member or companion in case of hospitalization or death of the insured.
Assistance in travels 24 hours up to 6000 euros. Depending on the insurance coverage choose covers you:
rescue of troubled policyholders
expenses generated by the hijacking of public transport
advance funds when you're abroad
convalescence at the hotel for illness
interpreter service
information service
transmission of urgent messages
sending medicines abroad
card cancellation
opening and repairing safety deposit boxes
management fees for theft or loss of documents
loss of keys to the usual home
Annual Insurance Multivoyage
It covers you all the trips you make in the year, with a limit of 120 days each.
Travel health insurance up to $250,000
Repatriation and early return included.
Theft and damage to luggage up to 1,500 euros
Changes and losses of services up to 200 euros
Insurance travel cancellation
Cancellation insurance should also be among your must-haves on every trip you're going to take. This insurance ensures you of your trip's cancellation costs if you are finally unable to travel or have to return in advance.
Includes more than 39 cancellation causes.
Secure your accommodation transport bookings.
Includes holidays not enjoyed.
Hire travel insurance for Route 66 here with 5% off
Prepare your journey on Route 66