Route 66: Best things to do from Springfield to St. Louis MO
Today we begin at Springfield to St. Louis… There's little to finish Route 66! We've traveled at least 1,600 miles (probably more), and we still have 512 miles ahead to get to Chicago (counting with today).
Day after tomorrow, we will be entering Chicago. We are in the state of Missouri, and we have to go further north to reach the state of Illinois.
From Chicago to St Louis on Route 66
If you want to go from Chicago, IL to St Louis, MO, you have around 300 miles.
Also, you have some things to do and visit, so my recommendation is you split this day into 2.
Here you have how we did these stretches: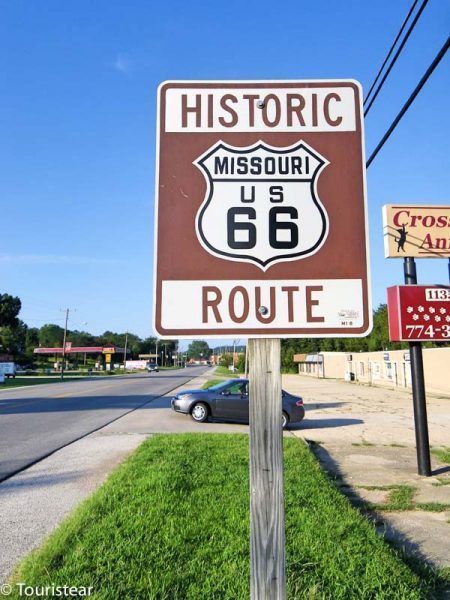 Route 66. From Springfield to St. Louis
From Springfield to Marshfield
We begin our route in Springfield, where we've spent the night today. If you couldn't see Springfield yesterday, then you can do it in the morning, after a good breakfast, of course.
If you want to go down Route 66 from Springfield, you must go to E Kearny Street heading east. This street continues on Route 66, which runs parallel to I-44.
We are going toward a village called Strafford. Once you cross Strafford, Route 66 merges with I-44, so there is no choice but to continue on I-44 from Strafford until a little before Marshfield, where Route 66 splits again from the I-44.
The first stop today is Marshfield. Unfortunately, it doesn't have something special connected with Route 66 but has a farm worth going to called Walnut Springs.
Although you have to detour a little bit, it is on the road called Old Wire Rd, in 1880 and is located in the Trail of Tears; you can also visit the inside, which is restored.
Hubble telescope in Marshfield
This is the way you should follow to get there. It is a detour of about 7 miles which isn't too much.
In Marshfield, there's also a replica of the Hubble telescope. It's in Webster County Courthouse 140 S. Clay St. It's not something amazing, but for the curiosity, worth a stop.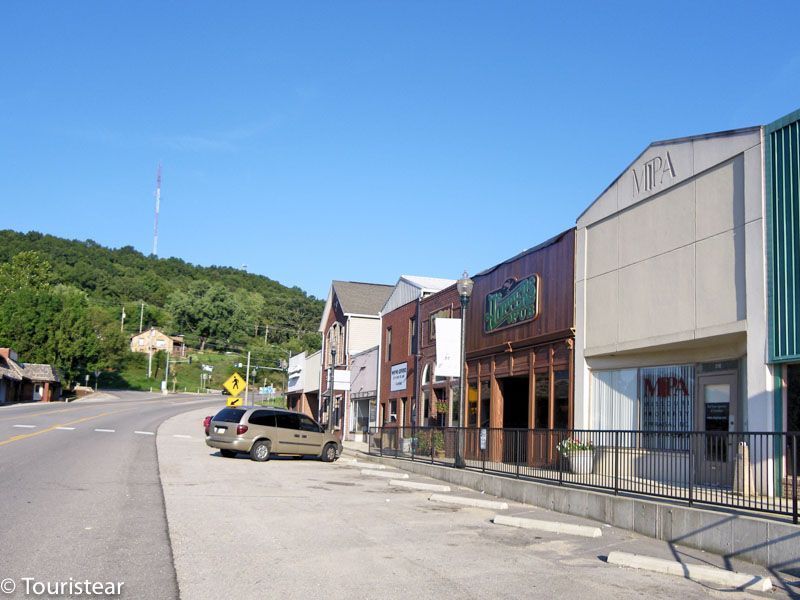 Route 66 indications from Marshfield to Phillipsburg and Lebanon
Once you return from Walnut Springs, you can take from Marshfield again Route 66 (from Washington St at the right side and Hubble Drive W). Continue driving along with it quite separated from the I-44, in fact, until you get to Conway.
In Conway, Route 66 ends, and you're forced to merge onto I-44 again … until Phillipsburg.
In Phillipsburg, you get off the I-44 and pass under it. Route 66 exists as a service road of two directions by the left of the I-44 as you go to St. Louis, and you can continue up to Lebanon.
What to visit in Lebanon?
Lebanon is already a larger town and has some places to visit. The Munger Moss Motel, a classic on the road with a good collection of toy trucks.
The Munger Moss was a sandwich shop and opened first in the Devil's Elbow around 1940 (we will see later) and was moved to Lebanon in 1946 with the highway's modification.
Taking advantage of the move, it was turned into a Motel and was acquired in 1971 by Bob and Ramona Lehman, known for their passion for Route 66.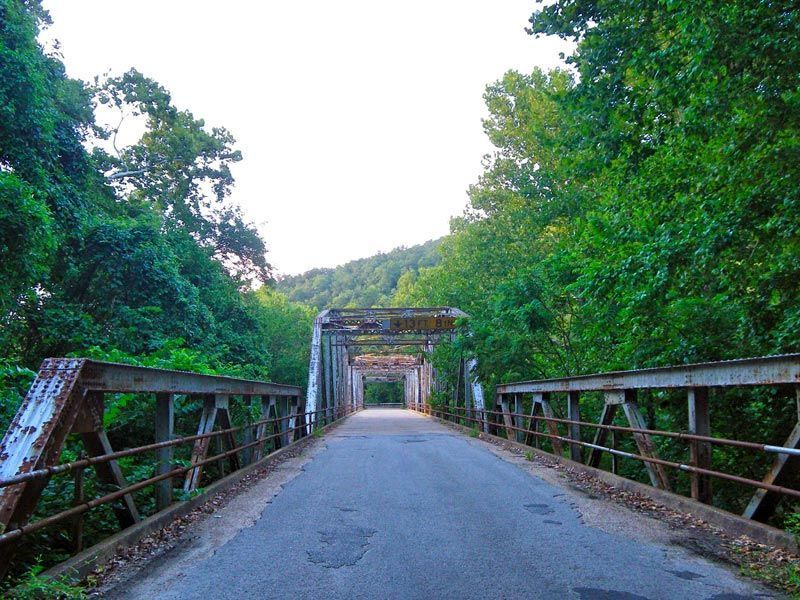 Also, check Wink's Food Market. It opened around 1955 and operated for 50 years until its owner died in 2005. It was left, abandoned, and half-destroyed until his son reopened it in 2007.
It became somewhat famous when Paul Harvey recommended his bologna sandwich of 99 cents. It is curious, but for 5 minutes, and keep going.
From Lebanon to Waynesville
We keep driving!. We leave Lebanon and point to a section with many things to see. You can continue on Route 66 in E Seminole Avenue, taking it straight (right where the Munger Moss is), and Route 66 runs parallel to I-44 on your left side as you drive.
Careful! When you find an intersection with some signs that say "Sleeper United Methodist Church," tour to your right to go over I-44 and continue on Route! It's not indicated, and if you don't, you'll be going the wrong way.
Hazelgreen's Bridge
We arrive at Hazelgreen. And what's in Hazelgreen?. Well, a typical Route 66 bridge allows passing over the Gasconade River. The peculiarity of this bridge is that it is equal to the Devil's Elbow Bridge.
Route 66 is separated significantly from the I-44 and is fully immersed in the forests of Fort Leonard Wood, which was the first training camp of the American army. It is 100% operational and is visitable, especially in military museums.
I personally didn't get too much interest, so I didn't go, but I leave it here if you're interested.
Waynesville and the Devil's Elbow
And we've got to Waynesville approaching the Devil's Elbow. As you get out of Waynesville to your left and up in a landfill is The Frog Rock, a stone that apparently looks like a frog, often painted so that the resemblance is greater.
Just after The Frog Rock, you drive under I-44, but Route 66 continues as if it were a service road, sometimes closer and sometimes further.
And you will see that something happens, and Route 66 has two lanes for a few kilometers! This is part of its original design!. Meanwhile, you may have noticed that the landscape is much greener!!!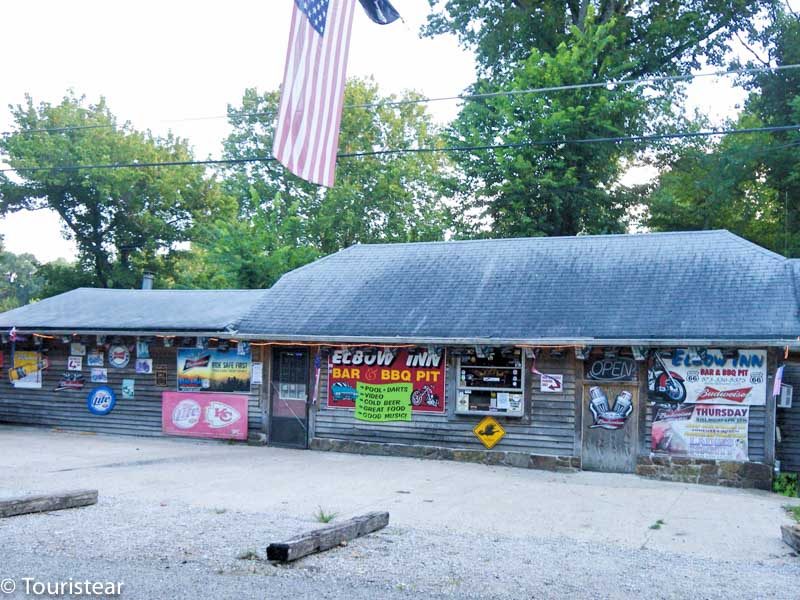 Why is it call the Devil's Elbow?
You are about to cross the Big Piney River Bridge and Devil's Elbow. It is called Devil's Elbow because it is a tight bend where the ships carrying the river logs jammed. As you cross the bridge, you can get closer if you take a small road that goes to the right and runs close to the river.
A good place to relax for a few minutes. As you continue on Route 66, you are going to go through what they call the "Hooker Cut."
Basically, it's a point where they had to dig the surrounding mountain so Route 66 could pass through. Of course, nowadays, we are used to seeing, but it was exceptional work for those times.
From Waynesville to St. Louis
A little further, Route 66 and I-44 merge again. You can use the service roads if you don't like the highway, I did it !. You'll pass Arlington. At the east is the Trail of Tears. A little further, you can go see "The Johns Modern Cabins," if still standing.
There are some cabins in the woods that, despite the name, aren't modern and half-destroyed or at least were. I don't know if they have been restored since 2010. So, back to I-44, we follow up with Rolla.
What to see in Rolla?
In Rolla, you have inside the university a replica of Stonehenge but half the original size. At least curious.
Also, in Rolla, it is one of the roads that take you to Mark Twain National Forest if you want to visit. So, finally, you leave Rolla and drive to St. James.
Visit St. James
St. James was one of the destinations of the Italians who emigrated to America.
They began planting vineyards in that area, and today it produces wines of the recognized name. You can find a kind of shop at the roadside where you can taste it if you want, but beware! You know, if you drink, don't drive!
Visit Cuba on Route 66
After Rolla is in Cuba and Sullivan, before arriving in Cuba, you can take exit 203 from I-44 to retake Route 66. Cuba is full of churches, and also there is the Wagon Wheel Motel.
It is quite well preserved and offers visitors the possibility of experimenting with how the old hosting service was. Of course, it has a typical neon sign of Route 66.
What to visit in Sullivan?
Route 66 continues parallel to I-44 to Sullivan, which has nothing special except that it is the hometown of George Hearst, Senator and newspaper magnate.
He is Patty Hearst's grandfather which kidnapping took the international press breathless in the '70s. Patty Hearst suffered an extreme case of Stockholm Syndrome. She even to rob a bank with her captors. Finally, she was captured and sentenced.
Meramec Caves in Stanton
Just after Sullivan is Stanton, where you can find Meramec Caves open since 1930 and highly recommended. Also, the Jesse James Wax Museum and the Ozark Court are old motels with a characteristic neon sign, a deer.
The sign is no longer there, and the motel …. maybe not.
From here, Route 66 and I-44 are the same except for some short stretches, very short. Once you get to Gray Summit, you can stop to see the botanical garden, Shaw Arboretum. And …. we arrived in St Louis!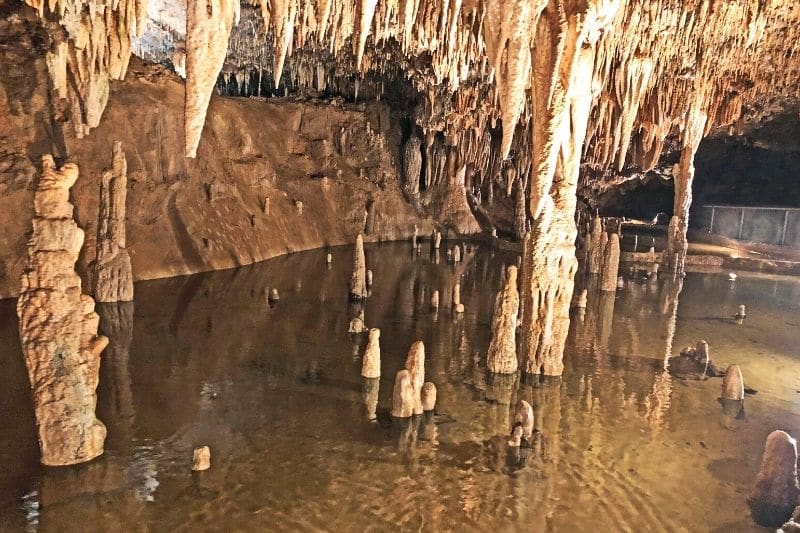 In St. Louis, you cannot miss and the Chain of Rock Bridge. It was built in 1929 and was originally a toll bridge. Then it supported traffic of Route 66 over the Mississippi River!!
This allowed avoiding crossing the entire city by migrants who did Route 66 and therefore reduce traffic congestion.
This worked from 1937-1967. At that time, it was closed to traffic, and its destiny was uncertain until 1990.
In 1990 it was saved from demolition and turned into a pedestrian path. It is characteristic because the middle of the bridge has an angle of 22°, which allowed it to be resistant to the river current and easier transit vessels.
And for today is enough. Don't you think?. Use your remaining time to know St. Louis and walk around St Louis. And if you find something interesting, do not hesitate to tell us, we'll include it immediately!
"Travel is fatal to prejudice, bigotry, and narrow-mindedness." – Mark Twain.
Route 66 Itinerary + Travel Tips
Day 11. Springfield. Missouri. – St. Louis. Missouri. 216 Miles.
Did you like this post? Please share it with your friends. Thanks!!
Book Your Trip
Book Your Flight
Find a cheap flight by using Skyscanner.
Book Your Accommodation
You can book your hostel, hotel, or apartments on Booking.com.
Don't Forget Travel Insurance.
Travel insurance will protect you against illness, injury, theft, and cancellations. It's your protection in case anything goes wrong. You never go on a trip without it.
Best companies for activities
Check out Civitatis.com and find the best tours in English (French, Spanish and Italian)
Are you looking for the best companies to save money with?
Check out my resource page for the best companies to use when you travel! I list all the ones I use to save money when I travel – and I think will help you too! (Is in Spanish yet)
Last Updated on 5 July, 2021 by Veronica