Route 66 from Bristow to Springfield
In today's blog post, you will leave Oklahoma, passing through Kansas to finish in Springfield, Missouri, the birthplace of Route 66.
The stretch you do today is relatively long, 213 miles. Considering the stops and all along, today you will be a good long time on the road. Especially because there are plenty of things to see and landmarks, really it's going to be intense.
So try to get up early enough, you would wake up at 5 am or 5.30 am so you can begin Route 66 by 6 am, but as always, you decide.
What to See from Bristow to Springfield
Bristow – Tulsa
We start in Bristow, and we have definitely left the I-40 to continue to the northeast, in the same direction of the I-44, but we will try to take it as little as possible and drive through the original Route 66; as always …
Originally, Route 66, as in many other US national roads, crossed the towns and cities, and it used to turn on the main street; this is the case in Bristow. If we continue down Main Street to the north, we'll find Route 66. Easy this time!
What to visit at Kellyville?
We began our journey; the first stop, Kellyville, it's nearby, about 15 miles.
When you leave Bristow on Route 66, you should know that you are on the last design of Route 66, which dates from 1965, but in this area, some paths were operating from 1926 to 1965, and others were renovated in 1938.
I will not detail all of them because it would be a mess. But I'm going to review two particulars.
*Route 66 indications may change with time
The first is a path only included on Route 66 from 1926 until 1938 and is 1.6 miles long. Part of it is now private property and can't be driven. But another part of it is still accessible. It is known as the "Tank Farm Loop."
This is because, in this stretch, you will see a lot of oil tanks on each side of the road. You can see where it is in this Google Maps link to avoid trouble finding it.
If you do not know it, you'll skip it for sure! I also indicated this stretch of here, which is a fraction of the original route operating from 1926-1965 if you want to drive it.
We go on Route 66 to Kellyville. In Kellyville, you will find some rest of the original paved Route 66, especially between Ruth St and Maple St.
If they haven't already removed it, there's a ruined bridge through which Route 66 passed in the past at the entrance. So we keep going to Sapulpa. Sapulpa is a bit bigger than Kellyville.
What to see in Sapulpa?
At Sapulpa again, you have two possibilities. First, you can take the section that was designed and operative in 1926-1952 or go through the operative from 1952 onwards.
If you take the first, you must take a detour to the right before a Phillips 66 gas station.
Here I leave you indicated in google maps. The second option is to keep going on the track you are on now.
Don't forget to see the Rock Creek Bridge. It is an ancient bridge of Route 66 with a steel structure and red brick pavement. It is in the old section and was built in the 20s.
In Sapulpa, I would highlight some buildings of that time and The Frankhoma Pottery, which is ancient pottery that has been operating since the beginning of Route 66.
Tulsa, OK
And gradually, we are getting close to a big city, Tulsa, the city where Cyrus Avery was born. He is the one who conceived the creation of this route, and he's called "The Father of the Route 66".
In Tulsa, we have a few things to see. First, the Blue Dome is at the junction of "E 2nd Street" and "S. Elgin Street," a Gulf gas station built in 1926, and was also an auto repair.
Tulsa has The Blue Dome District with many businesses, buildings, and referrals to Route 66.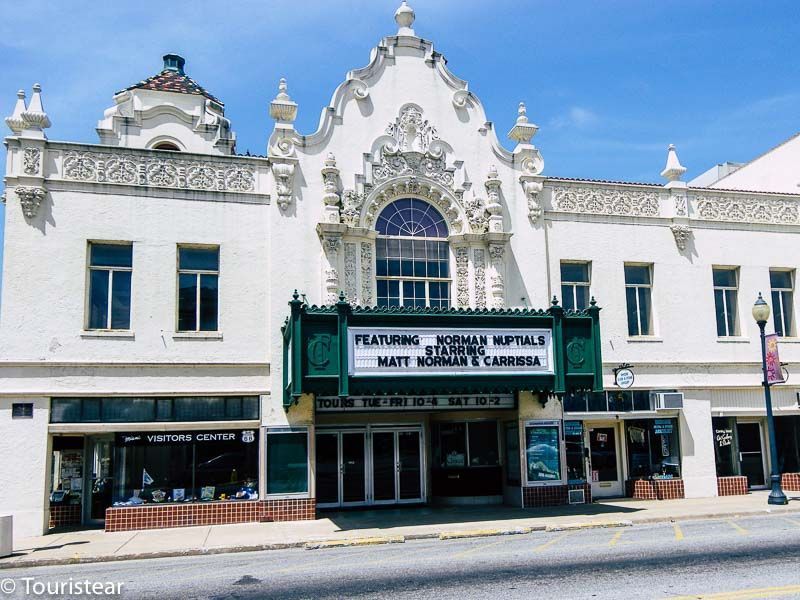 What to See in Tulsa?
Center of the Universe: It's on Archer Street between "Main Street" and "N Boston Avenue" access is pedestrian, and it's a classic stop for tourists. Also, it's one of the "mystery spots" of Route 66. What's special is the acoustic properties of the environment.
There is one point inside a circle on which you stand up and speak in a normal voice, not loud. And the echo of your voice has much more strength and volume than the one you've talked to. But, outside the circle, nobody can hear anything; you can hear yourself.
Golden Driller: 4145 E 21th Street. It is a statue of an oil worker about 23 meters high.
Meadow Gold Sign: It is a neon sign located for 50 years at the intersection of 11th Street and Lewis Street. The building owner in which it was located notified his idea of taking it down and throwing it away. This provoked a powerful popular movement. They managed to dismantle it and keep it stored in 2004 to be relocated in 2009 at 11th Street Quaker Street.
Red Fork: It is a small community southwest of Tulsa where oil was discovered in 1901; this led to a boom of growth for the city.
Philbrook Museum of Art: 2727 S Rockford Road. It's a museum set up in a mansion with gardens that are worth seeing them.
Gilcrease Museum: 1400 Gilcrease Museum Road. It is a museum of the history of the United States.
Boston Avenue Methodist Church: 1301 S Boston Avenue. It is a Methodist church with a high tower.
Woodward Park: East 21st con Peoria. A park where you can relax if you like is quite good.
The Cave House: 1623 Charles Page Blvd. It is a house built inside the mountain.
The Escape Tulsa: 1448 S. Carson Ave. It is a game where you have an hour to escape a room is for groups of 2 to 6 people.
Downtown Tulsa is Art Deco and worth it walking quietly. If you can, visit the Route 66 Harley Davidson store only for curiosity. Right next to it was 5 & Dinner, a classic Route 66 venue. But it was closed in 2009.
How to Continue on Route 66 from Tulsa
You have arrived in Tulsa through Southwest Blvd. You will pass through the Arkansas River over a pretty old bridge registered in the National Register of Historic Places.
After the bridge, go to the right to 11th Street, continue with it to 193rd Street or Country Line Road and then turn on the left (to the north) to continue on Cherokee Street. The continuation of Cherooke street is Route 66. You are leaving Tulsa and entering Catoosa.
The Catoosa Whale
Once you arrive at Catoosa on your left side, you will see an icon of Route 66, and stop here is mandatory, "The Blue Whale" (also called The Catoosa Whale). The blue whale was part of a small water park on Route 66 from the '70s. It is in a pond and a quiet environment with a few tables and benches.
Dipping in the pond by jumping from the whale was typical among the bikers on Route 66. In 1980 the park was closed and left in an abandoned state until 2002 was restored by volunteers.
We leave Catoosa and follow the road on Route 66 till we get to Claremore. In Claremore, the Will Rogers Memorial Museum (I told you about it before), the Linn Riggs Museum, a famous singer of the 40s, and The Nut House Road 66, a store specializing in nuts and their derivatives.
Actually, it's entirely built of walnut logs from the nearby forests.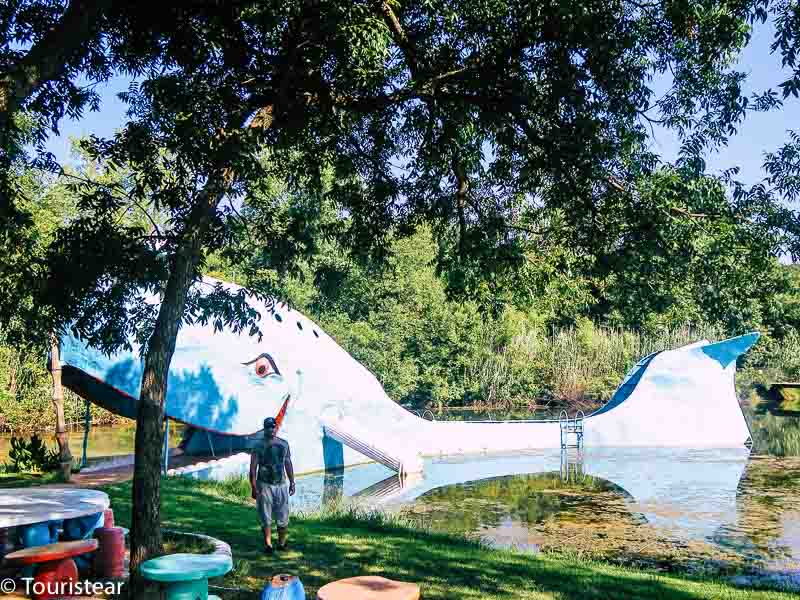 Well, we drove Route 66 and left Claremore, and approached Foyil. Pay attention when you pass by Foyil because you'll notice the road is made of pink concrete pieces. That is the original Route 66!
When you walk by Foyil, you can go to Galloway's Totem Pole Park.
To go, you must take on the right 28A rd. In this place, there are huge Indian totems. It was built by Nathan "Ed" Halloway, which began in the 30s and ended in 1948.
At the junction of Route 66 with 28 A, you could visit the Top Hat Dairy Bar, but it's currently closed.
Continue on Route 66, and we arrive at Chelsea. In Chelsea, there is Oklahoma's first oil well.
Unfortunately, I don't remember exactly where it is, and I cannot place it on google maps. However, I would like to do it because it was so hard to find it.
One or two signs indicated where it was, but they were not clear. Try to find it if you have the energy.
Vinita on Route 66
We leave Chelsea, and we point toward Vinita. Just before Vinita, the road is renamed Hwy 60.
Vinita is the second oldest town in Oklahoma City. When the separation of the Cherokee people was caused and led to the Trail of Tears, Vinita was one of the towns that lived this drama. You will find antique shops on Route 66 and one of the largest McDonald's in the world.
Afton
We get out of Vinita and continue on Hwy 60 to Afton. In Afton, there's the Buffalo ranch, closed nowadays. It was an emblematic museum of Route 66.
Miami
After Afton, Route 66 goes north to Miami on Hwy 69. Miami ends an old stretch of Route 66 of 1922; you'll find the Coleman Theatre from 1929. It's a Spanish colonial style designed by the Boller brothers.
Commerce and Bonnie & Clyde
When you pass Miami, Route 66 takes you to Commerce. It is a tiny village with nothing special, except that Bonnie & Clyde were sometimes here.
It is said that they were captured here, but it is not true; they were caught in Louisiana.
Baxter Springs
We keep driving on Route 66, and we change state! We will cross Kansas, only a few kilometers to Baxter Springs. Here you will find a museum about the American Civil War.
Also, Baxter Springs has transformed some former bank offices into restaurants like Murphey's, Cafe on the Route, and the Little Brick Inn.
We follow Route 66 to Riverton. Just after Riverton, about two miles, is the Rainbow Bridge. Enjoy the way you are driving because it is pure Route 66!
Galena's Museums
You arrive in Galena with two museums, one Howard "Pappy" Litch Park and another about the mine and mining history. When you leave Galena, you also leave Kansas and enter Missouri. Route 66 in this stretch is also called 7th Street.
After crossing the border with Missouri, the first town you'll find is Joplin. Unfortunately, there is nothing too noteworthy in its Main Street unless it is picturesque.
Carthage on Route 66
Pay attention to staying on Route 66. It would be best to turn left to N Range Line Rd, which heads north to our next destination, Carthage.
Carthage looks like the town of the movie Back to the Future. Worth seeing Jasper County Courthouse (Jasper County Courthouse), where there's a mural.
Be sure to see 66 Drive-In, one of those typical American movie theaters where you see the movie inside the car; the address is 17231 Old 66 Boulevard.
We could get in, but it was empty because there wasn't any play at that time. You can have dinner at Iggy's (2400 Grand Avenue) or Carthage Deli (301 S Main Street). You can notice some of the buildings in this city there are beautiful mansions.
After Carthage, Route 66 is the 96th, and from here to Springfield, the rest of the villages are abandoned.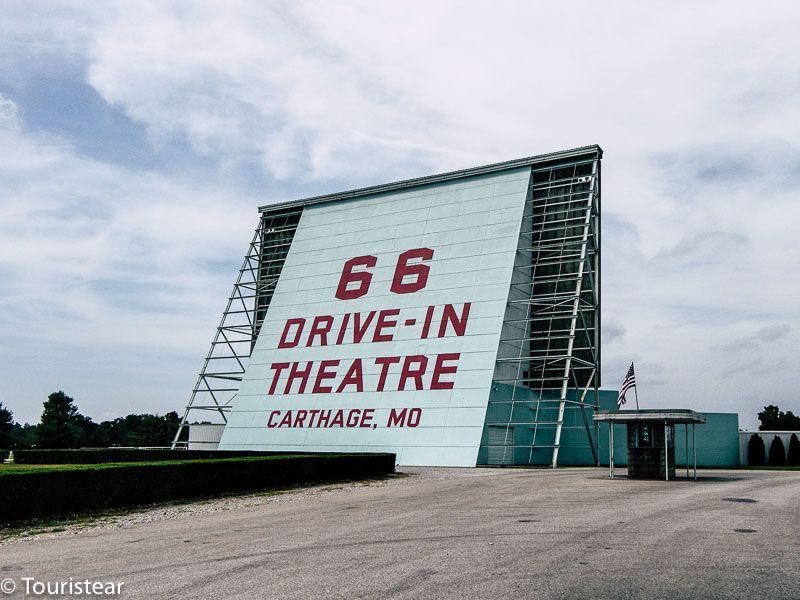 Before arriving in Springfield, Route 66 and I-44 joined again. Springfield is the southern largest city of Missouri.
On Saint Louis street, you can feel the atmosphere of Route 66 on the facades and building decoration. But be careful because the speed limit is 20 miles per hour!
You can visit the Shrine Mosque Theater (601 E. 1st Street) and, undoubtedly the sports shop Bass, which claims to be "The world's largest outdoor sports shop." It's immense, and it is located at 1935 S. Campbell Street. Inside it has a huge pond, a waterfall, and its own McDonald's.
It would be best to sleep here; my recommendation is Route 66 Rail Haven.
The room costs between 55 and $ 75 a night, is at 203 S. Glenstone Avenue with Route 66 and has been open since 1938, but it's been remodeled and is now part of Best Western.
Well, I think you've had enough for today. I told you today that the tour was challenging. I guess you'll arrive late and so tired that you might want to see Springfield tomorrow morning as you consider.
But please note that tomorrow the route ends in Sant Louis and although it isn't like today you will have to leave early if you want to enjoy Sant Louis.
Sweet dreams.
"Travel is fatal to prejudice, bigotry, and narrow-mindedness." – Mark Twain.
Route 66 Itinerary day by day + tips
Day 10. Bristow. Oklahoma – Springfield. Missouri. 213 Miles.
Did you like this post? Please share it, retweet it, or whatever. Thanks!
Book Your Trip
Book Your Flight
Find a cheap flight by using Skyscanner.
Book Your Accommodation
You can book your hostel, hotel, or apartments on Booking.com.
Don'torget Travel Insurance.
Travel insurance will protect you against illness, injury, theft, and cancellations. It's your protection in case anything goes wrong. You never go on a trip without it.
Best companies for Tours
Check out Civitatis.com and find the best tours in English (French, Spanish and Italian)
Are you looking for the best companies to save money with?
Check out my resource page for the best companies to use when you travel! I list all the ones I use to save money when I travel – and I think I will help you too! (Is in Spanish yet)
Last Updated on 12 October, 2022 by Veronica