The Best Tips for Visiting Niagara Falls Canada & USA
I've always wanted to visit Niagara Falls since I was little. Of course, it was Superman's fault for saving that boy who was playing on the railing.
The fact is that Niagara Falls' image was recorded on my retina, and since then, I have always wanted to go, and I was lucky enough to be able to see them in the first person.
Visiting Niagara Falls is an experience that you have to live at least once in your life. Although if you have to choose between Niagara Falls and Iguazú Falls (Argentina), I definitely prefer Iguazú.
To visit Niagara Falls, you need to have a plan prepared and know how you will visit and how many days you will stay if you visit on your own or on an organized tour.
Here, I tell you all the options you have to visit Niagara Falls and enjoy the visit to the fullest.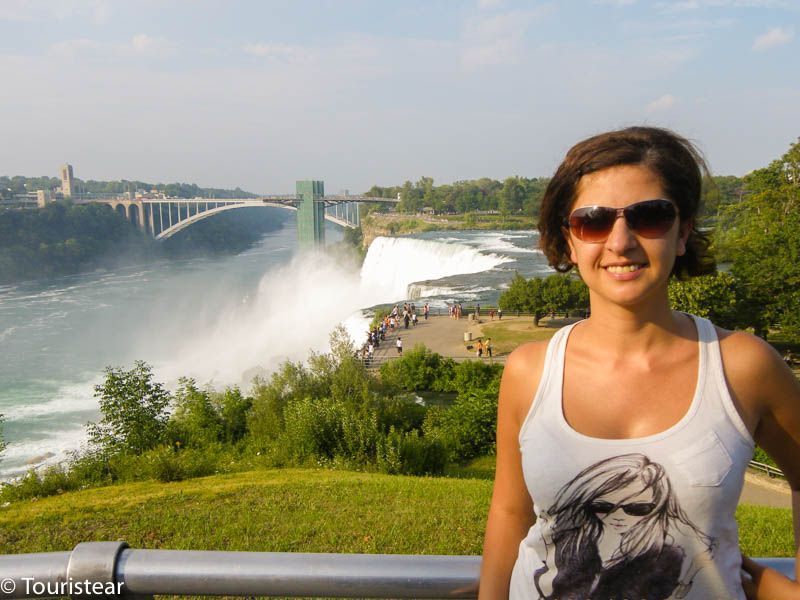 Niagara Falls
Niagara Falls are three different waterfalls located on Ontario's border (Canada) and New York (United States).
Niagara Falls comprises three waterfalls: Horseshoe Falls, American Falls, and Bridal Veil Falls.
This means Horseshoe Falls, American Falls, and Bridal Veil Waterfall; the latter is the smallest of the three, and Horseshoe Falls is the largest. About 90% of the Niagara River runs over this waterfall.
The falls' history dates back to the early 17th century, with various accounts and documentation from European eyewitnesses. The falls' immense beauty and hydroelectric capacity became one of the main tourist destinations and a reliable energy source.
The park itself is small. There is the island of Goat Island, which is accessible by car. On this island is the restaurant "Top of the Falls" to take a drink while seeing the falls. Then, at the end of the road, it has a viewpoint from which you can take a very nice panoramic view.
You cannot take the boat from Goat Island. The boat is taken from a structure, a monstrosity in the middle of such a beautiful place for my taste.
It is like a platform placed on a giant column that is actually an elevator that goes down to the pier of the Maid of Mist. Integration with the environment is conspicuous by its absence.
Click on this link to book the tour.
How to Go to Niagara Falls?
A common concern when visiting Niagara Falls is determining which side of the border to experience. Both sides of the falls feature a variety of activities, sights, and attractions.
Most would agree that the Canadian side offers better views of the falls, while the American side is home to Niagara Falls State Park.
Fortunately, you can visit both sides of the border in one day via the Rainbow Bridge. This bridge connects the two countries and visitors can cross on foot or by car.
If you plan to cross the bridge, you will pay $ 1.00 when leaving Canada. Those who cross the bridge will pay USD 3.75 or CAD 4.75 round trip.
If you are using a rental car, be sure to check the rental company's policy on crossing the border with your vehicle. Violation of this policy could result in an unexpected fine.
If you have time, I recommend including both sides of the border in your trip. Or, if you are going to spend the weekend, visit one country per day.
Check here to rent an RV for your trip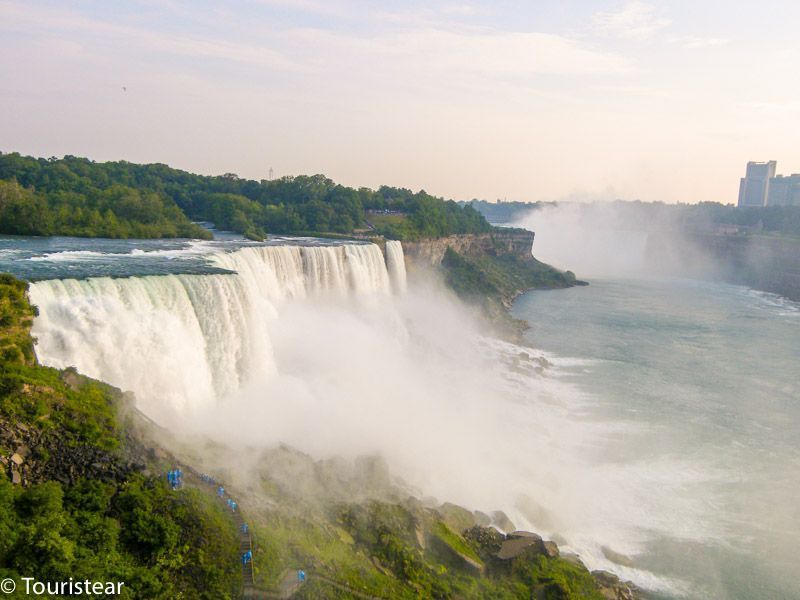 Visiting Niagara Falls from New York
Niagara Falls (on the American side) is located in New York State, about 400 miles from Manhattan.
You can get to Niagara Falls from New York City by car, on your own, or on a guided tour.
On your own
On your own, it is best to rent a car and spend at least two days, since the journey takes about 6.30 hours.
Take a plane to Buffalo or Rochester, the two closest airports.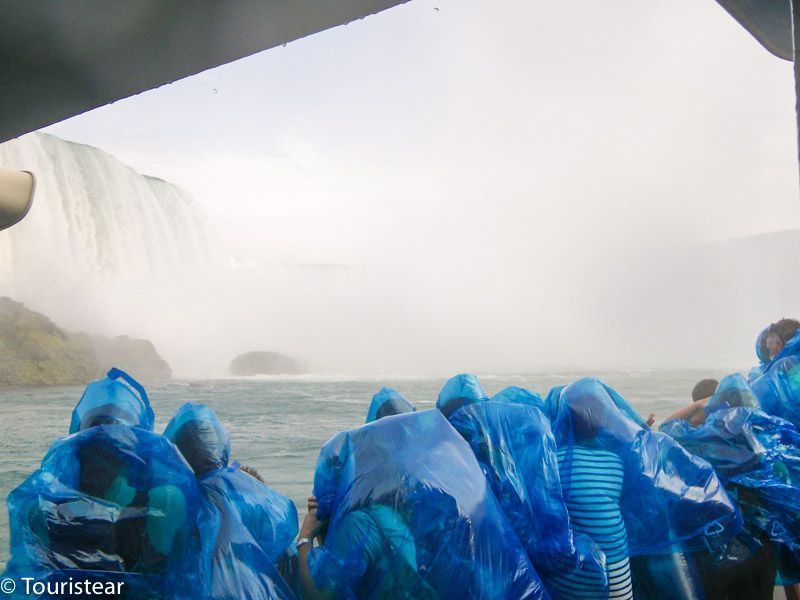 With a guided tour or organized tour, there are different modalities
By plane: the visit to the falls lasts 4 or 5 hours and includes:

They'll pick you up at your hotel
By minibus: It leaves Times Square around 4 am, and it is about 8 hours of travel.

Includes Maid of the Mist boat ride
If you have to choose between the last 2 options, the two-day option is much more worth it because of the price difference. You will enjoy it much more, and you will be more rested.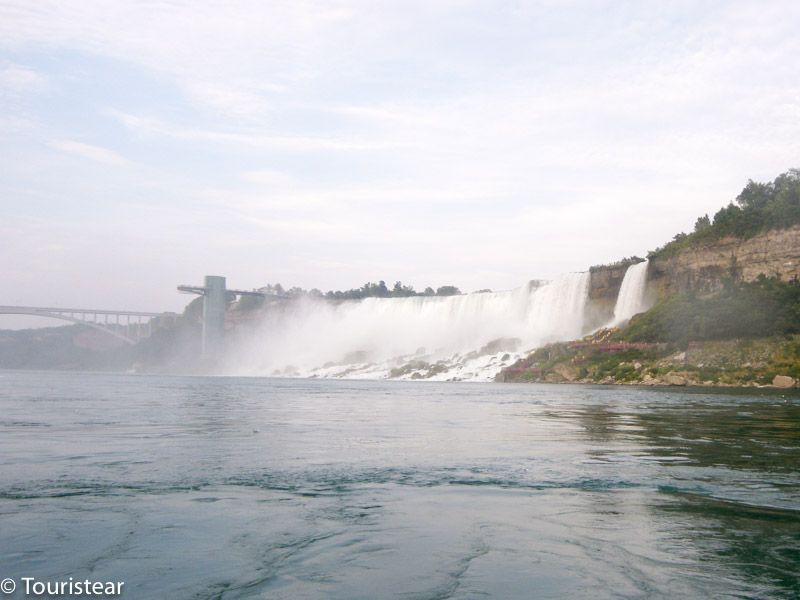 Visiting Niagara Falls from Toronto
Niagara Falls on the Canadian side is located in Ontario, just 130 kilometers from Toronto.
You can do the visit on your own or with an organized tour.
On your own
Car rental: You can rent a car and in 1.15h be at the falls, it is ideal to do the visit in one day.
Train / Bus: You can leave the station and arrive in about 2.30 hours by train or bus.
Guided tour / organized tour
By minibus, the journey takes about an hour and a half.

Includes English-speaking guide
Where to Stay in Niagara Falls?
Should I stay on the Canadian or American side?
I always tell people to visit both the Canadian and the American sides of Niagara Falls.
But when it comes to choosing accommodation, the best hotels are on the Canadian side. However, some excellent boutique hotels exist in Niagara Falls, New York.
Another thing to remember is that the Canadian side has more attractions and dining options. And the night excursion to Niagara Falls.
Best Hotels in Niagara Falls, Canadian Side
The best hotels are on the Canadian side. These three hotels have rooms with magnificent views of Niagara Falls.
Hotels on the American side
There are no hotels with views from the American side. But yes, good hotels to stay in.
There are many hotels to stay in with beautiful views of the falls; remember that they have more than 30 million visitors a year. You can see the best hotels here.
How to Get Around Niagara Falls?
The best way to explore the Niagara Falls area is on your feet 😉
Yes, the best way to get around is on foot or by bike when it is not snowing.
Crossing the border between Canada and the United States, it is also possible to do it on foot; by the Rainbow Bridge is only about 20 minutes on foot.
Another option to get around the falls is with WEGO, a tourist bus which works with the hop-on-hop-off system.
We parked the car and then moved around, walking everywhere.
What to See in Niagara Falls
Main attractions and activities
Canadian side
On the Canadian side of the border, you'll have not only great views of the falls but also a host of things to do while visiting.
Boat ride
When you visit Niagara Falls, you must take a boat tour. Get up close and personal on these boat tours with the Niagara River, American Falls, Bridal Veil Falls, and Horseshoe Falls for incredible views. And yes, you will get wet! But don't worry, they provide free ponchos.
Niagara Skywheel
Take a ride on the largest observation wheel in Canada, just down the road on Clifton Hill.
Skylon Tower
Skylon Tower offers indoor and outdoor viewing opportunities for those looking to get a different view of the falls. Inside, you'll also find a multitude of shopping, dining, and entertainment options.
WildPlay MistRider Zipline to the Falls
Feel the wind under your wings … err, arms … as you soar over the falls on a zip line!
Travel behind the falls
Please take a look at the falls from below and behind them! This 30-45 minute trip is best visited during the warmer seasons, such as spring and summer.
Niagara Falls Fireworks
At certain times of the year, you can watch Niagara Falls light up with a spectacular fireworks display.
Other activities include Niagara's Fury and helicopter tours. There are also plenty of free things to do just a few minutes beyond Niagara Falls.
American side
On the American side of Niagara Falls, you'll find Niagara Falls State Park. This year-round park offers a multitude of walking trails, viewpoints, and other activities to enjoy, such as:
Cave of the Winds
The Cave of the Winds is by far one of the most popular activities in Niagara Falls. Ideal for those who enjoy a bit of adventure, this tour takes you directly to Niagara Gorge and just yards from Bridal Veil Falls' splendid waters.
Discovery Center and hiking trails
While visiting Niagara Falls on the American side, visit the Discovery Center, where you will find interactive exhibits about the falls and the park. Several hiking trails also start from the Niagara Gorge Trailhead Center located here.
Maid of the Mist
Travel to the Horseshoe Falls Basin on this exciting boat tour. Get ready to get soaked!
Observation tower
Those who want an unobstructed view of the falls should head to the Observation Tower. This is the only place for a complete panoramic view of the three waterfalls.
Other popular attractions at New York's Niagara Falls State Park include the Aquarium, the fireworks display, nighttime illuminations, and the Adventure Theater.
If you plan to experience more than some of the attractions, consider purchasing a Discovery Pass to save money.
Discovery Pass
The Discovery Pass is a ticket that includes various activities at Niagara Falls. Depending on how long you will be and what activities you want to do, you are interested in this pass to save money on your trip.
The activities included in the Discovery Pass are:
Cave of the Winds
Adventure Theater
Maid of the Mist (boat ride to Horseshoe Falls)
Trolley
Aquarium
Discovery Center & Hiking Trails
Boat Ride
If you only want to do an excursion, the boat trip is essential regardless of the side you visit.
What is the Best Season to Go to Niagara Falls?
Niagara Falls can be visited all year round. Although the high season and when there are more visitors, it is in summer. At this time, the temperatures are more pleasant, and there are many more activities to do.
If you choose to travel in summer, you must have your accommodation and rental car reservations in advance.
If you decide to visit with an organized tour in summer, you have to book it a couple of months in advance.
How Much Does a Trip to Niagara Falls Cost
The average cost of visiting Niagara Falls depends on the activities you want to do, the side you want to see, and if you are going to stay overnight or not.
American side
The entrance to the park is free.
Maid of the Mist boat
Cave of the Winds
Discovery Pass
Hotels (cheaper than the Canadian side)
Canadian side
You can see the falls very well for free.
Parking
Hornblower boat
Ziplines
Wonder Pass
Hotels (hotels with views are more expensive)
How Much Does the Entrance to Niagara Falls Cost
You really pay the entrance fee of $ 18 to get on the boat; this includes the raincoat, so you don't get completely soaked.
When you pay the entrance to the falls (18 dollars), they give you a blue raincoat so that the cloud of water caused by the falls does not soak you.
Do not worry that it will not do you much good, and you will get soaked like it or not. But hey, it serves to cover the camera a bit and not get too wet.
We didn't have to wait long in line, really, and we got on the boat pretty quickly. The journey is very short. I would tell you that in total, you are on the boat for half an hour, at most. It takes you up to the waterfall and stands very close.
The truth is that it is quite impressive to see it up close, but what is most impressive is the noise and the wind. The water rush down there generates a constant wind in the form of rain that soaks you completely. When we were up, there was not a drop of air.
Everything gets wet, and it doesn't matter if you wear that blue raincoat or whatever you want, everything gets wet.
So I recommend that you be very careful with your mobile or with the camera. If you want to take photos, you'd better carry your phone in a waterproof case. One of these plastic ones that cost you five euros is enough.
Niagara Falls are not the highest in the world (that is the Angel Falls at 979 meters) nor the widest in the world (which I don't know what they are), but they claim they are the largest in the world.
I am not very sure about this data; I have also read the same about the Iguazu Falls or the Khone Falls on the Mekong River.
How Long to Be in Niagara Falls
I was amazed at how much there is to do in the Niagara Falls area. Ideally, you can spend some time on both sides of the falls. A day trip to Niagara Falls doesn't do it justice.
To have a complete experience, I think you need at least two days. If you like wine, add another day so you can also visit the nearby wineries in Niagara-on-the-Lake.
If you have more time, you can also add day trips to Toronto or Buffalo, NY.
Other Recommendations
To cross from the Canadian side to the United States or vice versa, you need a passport and the ESTA or ETA electronic visa.
If you are going to cross by rental car, make sure it is included in your contract, or you could get a significant fine.
Last Updated on 29 September, 2023 by Veronica
Disclosure: Some of the links on this post are affiliate links, meaning at no additional cost to you, I may earn a small commission if you click through and make a purchase.