Best Things To Do in Santa Fe, New Mexico
New Mexico has several exciting cities to visit. In this article, we tell you what to see in Santa Fe, the state's capital located at the foot of the Sangre de Cristo Mountains and, thanks to its art and culture, is one of the most touristic cities in New Mexico.
This city is a must-stop if you are driving the Route 66 road trip.
15 Places to Visit in Santa Fe on Your First Trip
Let's see what the 15 most attractive places to see in Santa Fe are.
Visit the Historic Downtown of Santa Fe
To begin a tour of Santa Fe, New Mexico, nothing better than to start with its historic center. This is where you will get to know the energy of the local environment.
There is the central square, and in front of it, you will see the Governor's Palace, a building built by the Spaniards in 1610.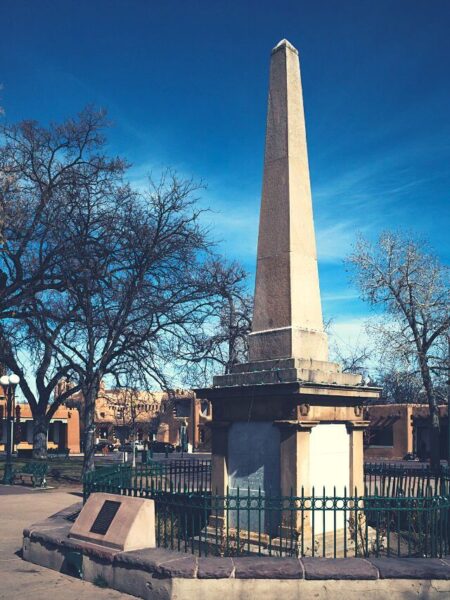 From May to October, you can visit the palace every day from 10 am to 5 pm. They have the same opening hours from November to October but are closed on Mondays. And if you go on a Friday between 5 pm and 8 pm, you get in for free.
Around the plaza and in front of the palace, you will find street vendors and Native Americans selling handicrafts. The specialty is the works made with turquoise.
In the historic district of Santa Fe, you will also see the Cathedral and Basilica of St. Francis of Assisi and visit some of the many art galleries and museums in the city.
Travel insurance for the United States (Click, and you get a 5% discount)
Visit the Cathedral of St. Francis of Assisi
The current building was built in the second half of the 19th century and is the third religious building on the site.
The first was erected in the early 1600s but was destroyed a few years later by the "Pueblo Rebellion," and the second version was The Parish of 1714.
It has a neo-Romanesque style and is striking for its contrast with the surrounding adobe buildings.
Its beautiful façade, interior design, and stained glass windows are strongly influenced by French architecture.
If you go for a walk at night, you will be able to see it from a new perspective thanks to the lights that highlight its beauty.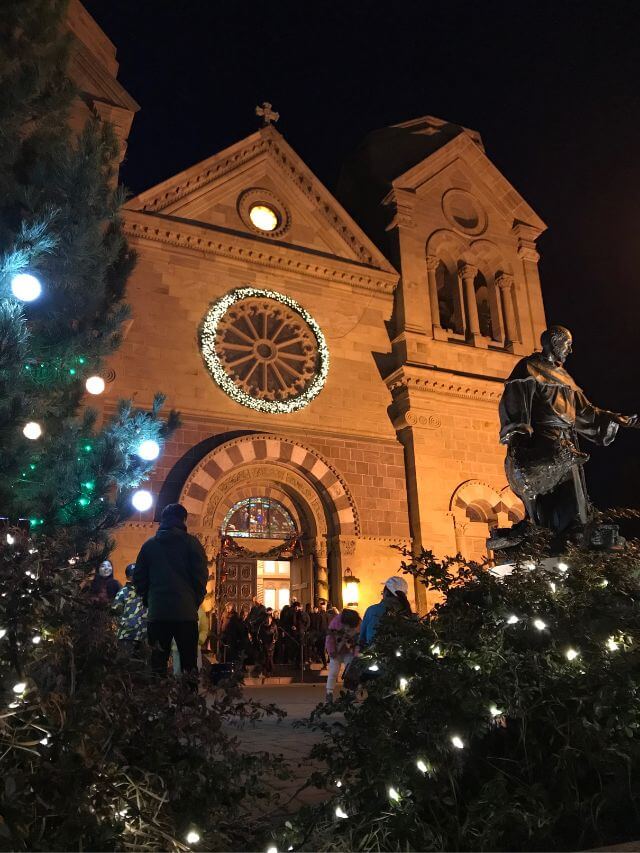 Visit the Chapel of Loreto
This Catholic church was built in a Gothic style in the last quarter of the 19th century, inspired by the Sainte-Chapelle in Paris.
The most notable feature of this church is its spiral staircase, a work of architectural art that holds an incredible legend.
According to the Sisters of Loreto, the staircase was built by an outsider sent by St. Joseph, the patron saint of carpenters.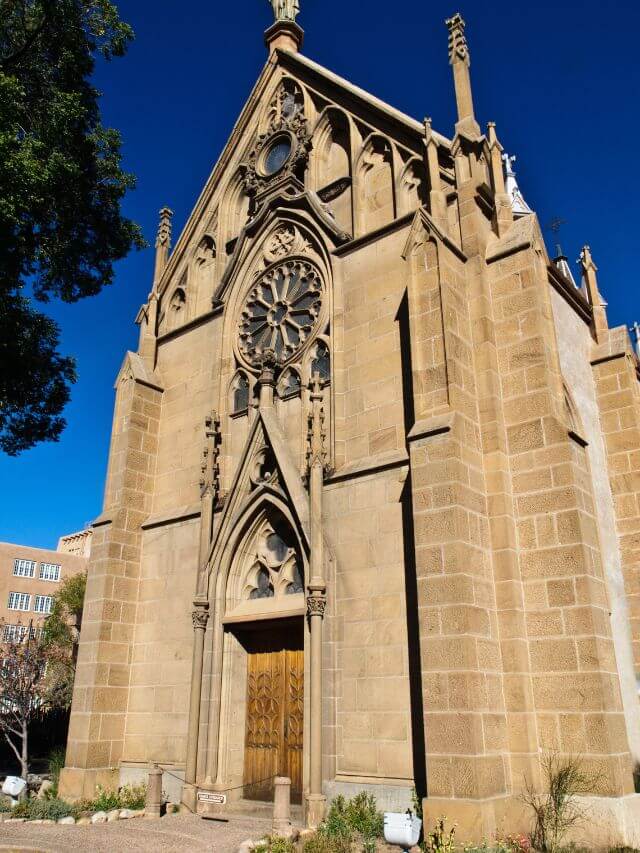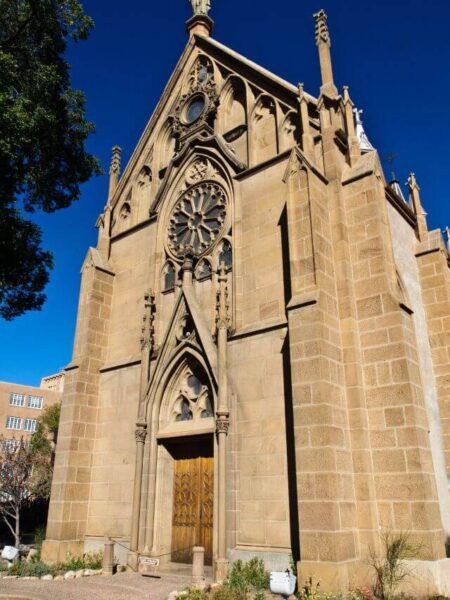 The staircase has 33 steps, and no one can explain how they are supported, as there is no support base for the stairs.
Currently, the chapel is a private museum that you can visit every day of the week.
Visit the Museum of Indian Art and Culture
The Museum of Indian Art and Culture is the best place to go to learn about the culture of the native peoples of the region. So add it to your list of things to do in Santa Fe.
Among the museum's exhibits, you can see the one dedicated to the art of the Pueblo tribe, which stands out for its isometric designs used in its porcelain products.
They also have a collection of jewelry created by the various native peoples of the American Southeast over the past six centuries.
In addition to the art exhibits, the museum has a vast collection of archaeological pieces from all over the state of New Mexico.
The museum seeks to bring the general community closer to the culture of the native peoples, which is why they frequently organize educational programs, such as breakfasts with the museum curator or with one of the artists.
Enjoy the Breweries of Santa Fe
New Mexico's state is famous for its breweries' quantity and quality. In Santa Fe, you can taste some of the best in New Mexico. You'll appreciate that when the Santa Fe heat starts to get to you.
The largest brewery in Santa Fe is Santa Fe Brewing Company, and its specialties are Pale Ale, Java Stout, and some varieties of IPA.
In 2021, Rowley Farmhouse Ales took home several awards from more than 2,000 competitors at the Annual Great American Beer Fest.
On their terrace, you can try their German-style beer or their variety known as Côte d'Or, in addition to eating sandwiches, chicken, shrimp, and New England-style clam chowder.
And the last one we recommend among all the ones you can choose from is Second Street Brewery.
This brewery already has 3 locations and prepares some very curious varieties, such as its 6 Fruit Under, flavored with different red fruits, peach, and orange.
Of course, they also have more classic beers, which can accompany chicken and mushroom sausages or traditional fish and chips.
Tour the New Mexico Museum of History
The New Mexico History Museum has a collection of more than one million objects, photos, and documents.
Among its permanent collections are archaeological collections and a collection of documents and photographs showing the contribution of the inhabitants of New Mexico in World War I.
You will also find an exhibition that, through objects and stories, shows the past and present of the different inhabitants that populated the state, from the Native Americans to the present, including the Spanish colonizers.
In this last exhibit, you will learn stories of miners, hippies, soldiers, scientists, and many more people.
In addition, the museum often hosts temporal exhibits from other museums.
Outside the History Museum, you will find artisans offering their native artwork. Artisans are part of the 23 pueblos and native nations that live in New Mexico, so you'll have a choice of artistic styles to choose from.
Visit the Santa Fe Farmers Market
One of Santa Fe's attractions is its farmers' market. Here you can feast on all the colorful fruits and vegetables of the region.
But there is much more. Here you can also stroll, have a coffee with some bakery specialties such as burritos and donuts, and enjoy the aroma of flowers displayed by different stallholders.
You can also buy handicrafts and gifts typical of the area.
On Sundays, the market is held at the Railyard Artisan Market, where there is a wide variety of artisans from whom you can buy their work and watch them at work and see how they make their products.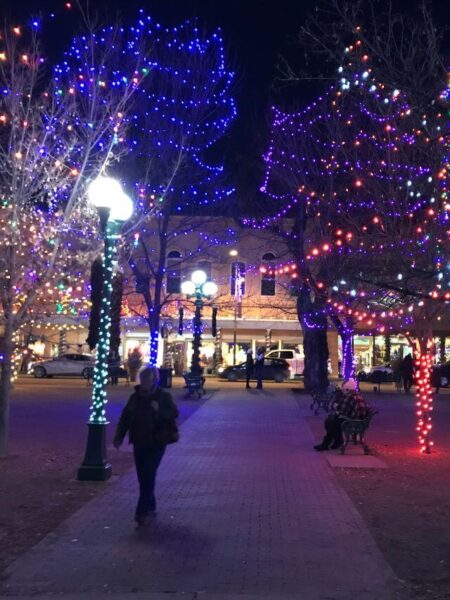 Georgia O'Keeffe Museum
Georgia O'Keeffe is one of the most recognized American artists. Among her most famous paintings are those of New Mexico landscapes and New York skyscrapers.
So her museum is one of the things to see in Santa Fe, New Mexico. Not only is it a museum, but it is also a historic house since it is where the artist lived. This house is located in Abiquiú, 95 kilometers from Santa Fe.
Among the exhibits that can be seen is one that, through photos, shows the connection Georgia had with nature.
She used to hike around her home to see the rivers, canyons, and cliffs that are part of the landscape.
There is also a collection that shows the different stages of the construction of this house, and you can see in the courtyard the different plants that grow there, one of the features that convinced O'Keeffe to buy the property.
Of course, you can also see many of her paintings. In addition, you can hire a private Santa Fe tour that includes tickets, a guide, and a visit to the O'Keeffe Museum.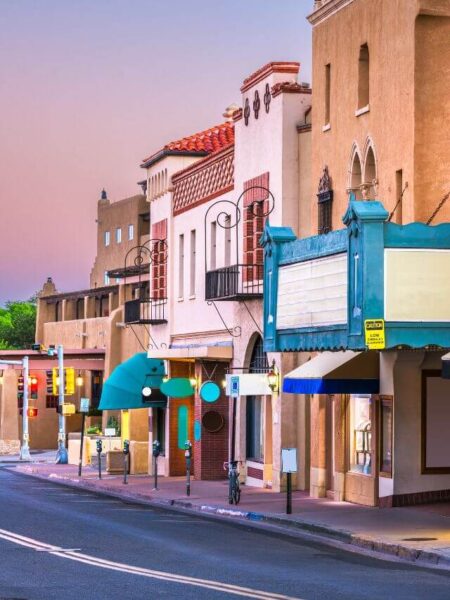 Visit Rancho Las Golondrinas
This ranch, which seems frozen in time, is a living museum that lets you know what life was like in the American Southeast between the 18th and 19th centuries.
It is located on the old Camino Real that connects Santa Fe with Mexico City.
Rancho Las Golondrinas still performs the daily activities of a farm, and everything is done as it used to be done in the old days so that you can learn about the ancient customs of the area.
There are artisans and historians who, in addition to telling you about New Mexico customs, will show you how they used to grind sorghum, shear sheep, cook in adobe ovens, weave and fix wagon wheels.
Enjoy a Typical Dinner in Santa Fe
We already mentioned the breweries in Santa Fe, but you can also enjoy good food.
There is a tour that combines two strong aspects of the city, culture, and gastronomy. With this walking tour, you will visit the most exciting points of the historic center of Santa Fe and make some stops to try various dishes and taste some drinks.
We had dinner at Mustang Grill, typical American food, a hamburger, and a beer. I don't remember what Fer ordered; here are the photos. Everything was excellent!!!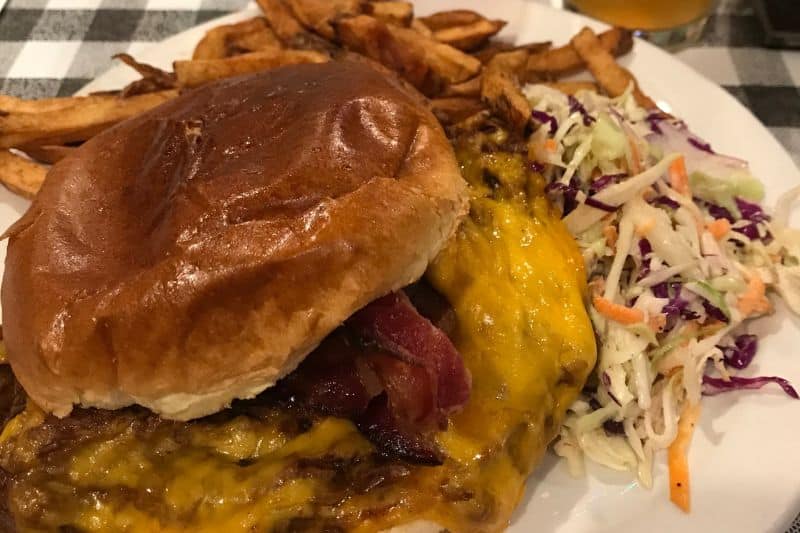 Santa Fe Opera
The Santa Fe Opera is among the best in the southern United States.
If you want, the experience can start before the show. At the pre-opera dinner, an announcer explains what the opera you will later see is about. In addition, the restaurant is open-air and offers a great view of the surrounding landscape.
If you prefer, you can have a picnic in the opera's backyard, bringing your food or ordering some of the restaurant's menus.
As for the artistic aspect, the opera offers different shows that vary from year to year and have been recognized by experts for their high quality.
Historic Fort Marcy Park
This building is a symbol of the Mexican-American War.
Ten-foot-high, five-foot-thick adobe walls formed the star-shaped outline of Fort Marcy. The fort also had a moat along its walls and a log building that served as a powder magazine.
Unfortunately, after some time, the fort's walls began to erode. So today, visitors cannot see much of the ancient fortress.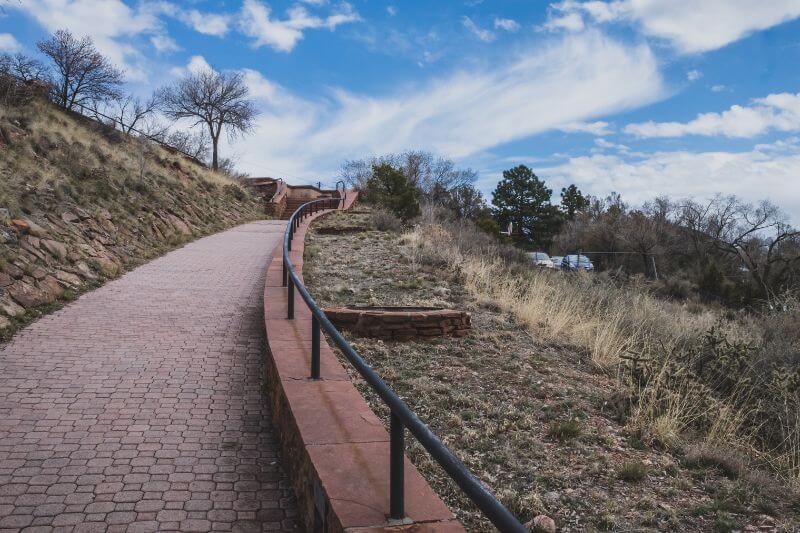 The fort is located about 8 blocks from Santa Fe's historic downtown plaza.
Visit the Canyon Road Galleries
This art district is one of the things to see in Santa Fe.
Originally, Canyon Road was a residential neighborhood of the city, with houses made of adobe. Its beauty seduced many artists of the early twentieth century.
The arrival of artists was changing the neighborhood's atmosphere, and soon, it was filled with art galleries and painters' studios.
There are currently more than 80 galleries, so you'll be able to enjoy it. if you like art, this will be one of the most enjoyable tours in Santa Fe, New Mexico.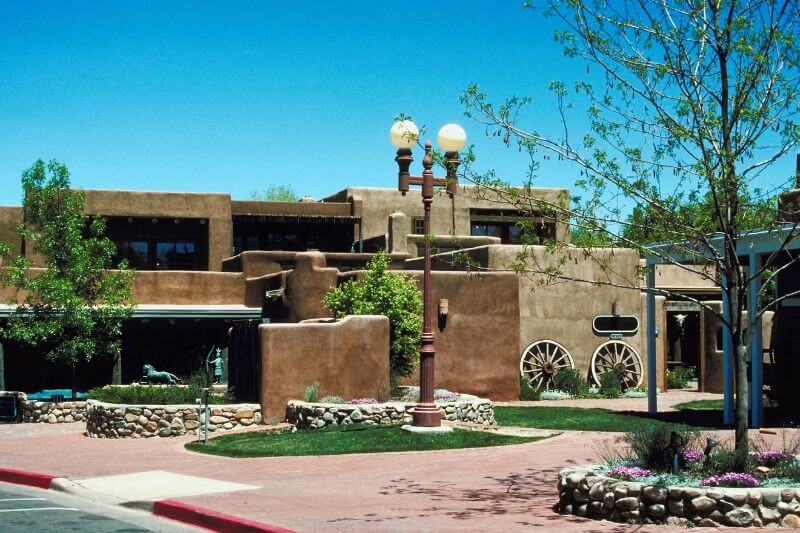 Skiing on One of The Nearby Slopes
Although summers are sweltering in Santa Fe, winters can be very harsh, with temperatures reaching as low as 17 ºF (-8°C).
So if you visit New Mexico in the winter, you can go skiing on some of the nearby slopes. We did it in Pajarito Mountain Ski Area.
We have already visited New Mexico twice, once touring Route 66 and once because my brother-in-law and his family live there. So, just the holidays before the pandemic, we were over there, and it was the first time I skied.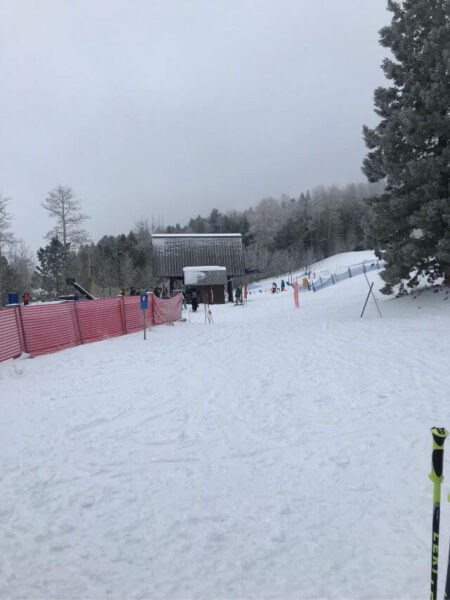 In Pajarito, there are several slopes, but skiers say they are more or less easy. I saw them as super steep, hahaha.
Classes are available. My first day was in a group, in a track to practice, and the second day, I paid as a group class, but there was only me. So I had a private instructor all day.
It was fun, even though the next day, I had sore muscles that I didn't even know I had!!!!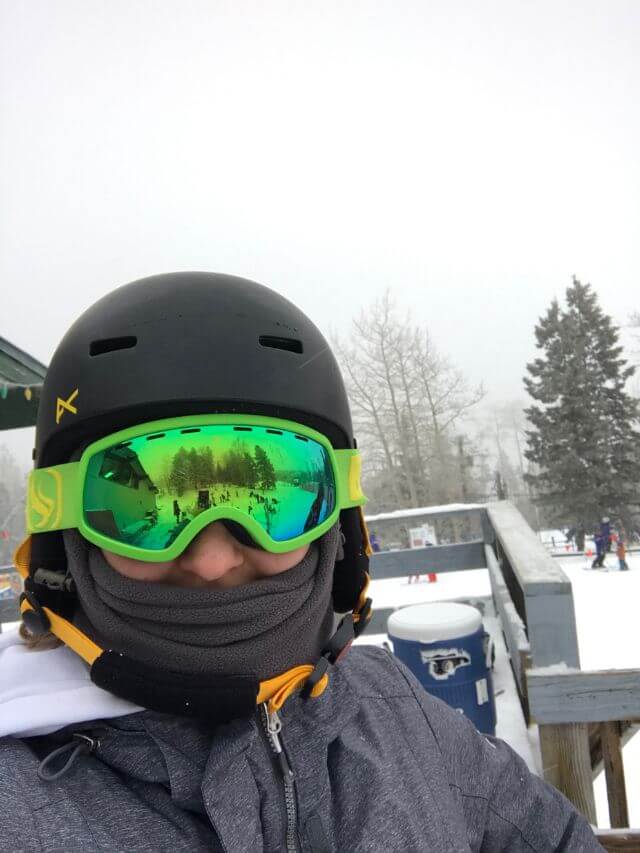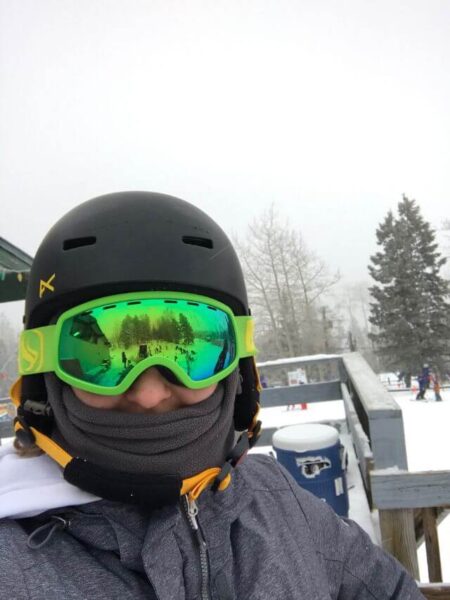 The first ski slopes in this area were created by scientists and soldiers who worked at Los Alamos during World War II, where the Manhattan Project was trying to develop the atomic bomb.
Today Pajarito Mountain is privately operated and has many amenities you will love.
You climb to the top in a chairlift, and there you will find a restaurant that offers everything from breakfast to dinner.
If you want to go skiing at Pajarito Mountain, you can get there by blue bus or by driving from Santa Fe. The trip takes about 30 minutes.
The Turquoise Trail Road
Moving away from the freeway, you will find this road that connects Santa Fe with Albuquerque.
Traveling the Turquoise Trail, you will see a scenic and historic area that runs through the heart of the state and includes 50 miles traveling parallel to Route 14.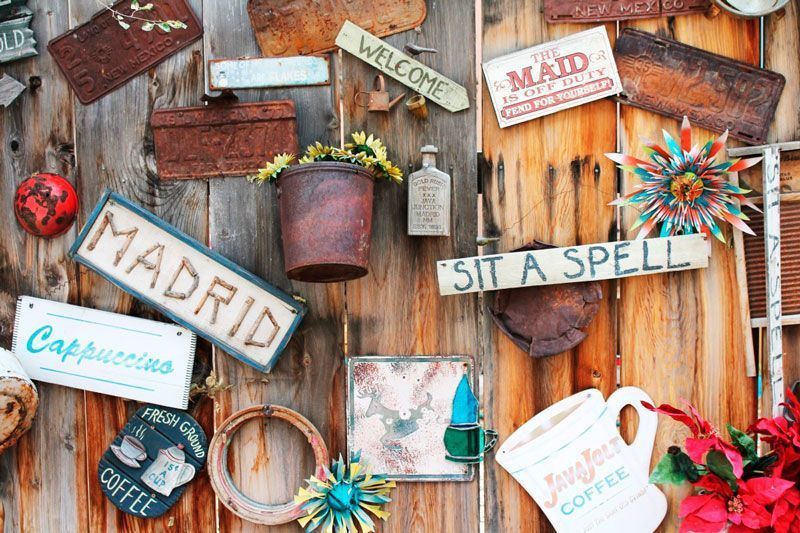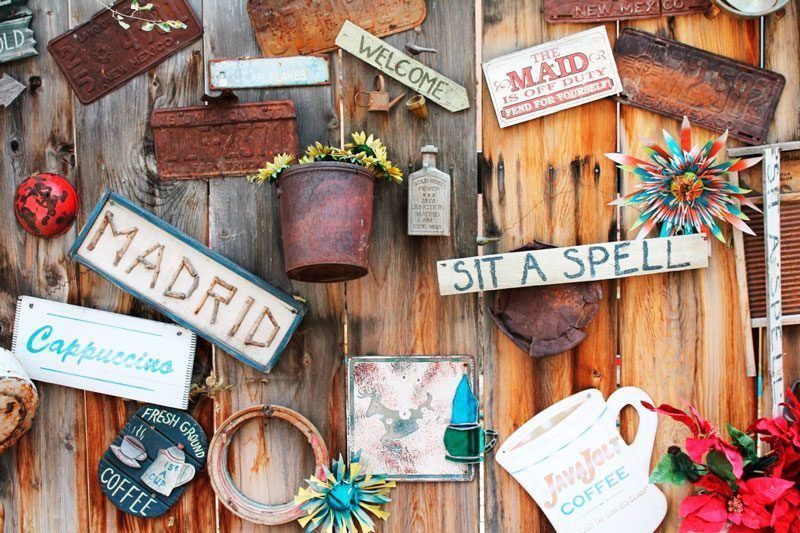 You will pass Sandia Crest, from where you will have one of the best views of New Mexico.
You will also pass through former mining towns, such as Golden, Madrid, and Cerrillos, which left behind their mining past and today live thanks to art, museums, and regional gastronomy.
On this tour, you will also find ghost towns and old saloons.
Where to Stay in Santa Fe
As Santa Fe is one of the most touristic cities in the southern United States, it has accommodations for all tastes and budgets. Here are some of the best hotels in Santa Fe, New Mexico.
The Hacienda & Spa
The Hacienda & Spa hotel is located on a 10-acre (4-hectare) property and is beautifully decorated with native art.
Its spa is also great and will help you to relax totally.
In addition, the hotel organizes wine and cheese tastings every night, so you will also be able to taste delicious gastronomy.
Rosewood Inn of the Anasazi
The Rosewood hotel is in the heart of downtown Santa Fe. It stands out for its restaurant that offers traditional Southeastern American food.
Four Seasons Resort Rancho Encantado Santa Fe
The Four Seasons Resort Rancho Encantado is a 5-star hotel with great spa service. All rooms have a patio and fireplace.
Among its amenities, the Four Seasons has an outdoor pool, an art gallery, and a yoga studio.
These were our recommendations of what to see in Santa Fe, New Mexico, a state that offers attractions in both summer and winter.
Enjoy its landscapes, art, and architecture, which amalgamate the culture that crossed the state in the last 600 years.
Plan Your Trip to New Mexico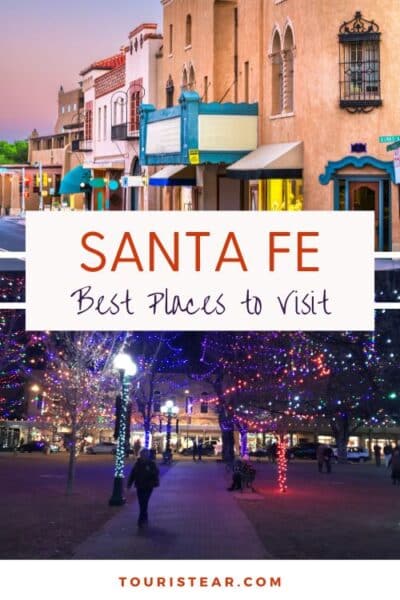 Last Updated on 15 September, 2023 by Veronica
Disclosure: Some of the links on this post are affiliate links, meaning at no additional cost to you, I may earn a small commission if you click through and make a purchase.
Author: Veronica
Vero, a seasoned traveler, has explored 25 countries and lived in five, gaining a rich perspective and fostering an infectious passion for travel. With a heart full of wanderlust, Vero uncovers the world's hidden gems and shares insights, tips, and planning advice to inspire and assist fellow adventurers. Join Vero and let the shared passion for travel create unforgettable memories.