Route 66. What to see Between Amboy CA and Kingman AZ?
In this post, we will discuss what to see in the section from Amboy, CA, to Kingman, AZ, on Route 66.
It is a 143-mile stretch where we will cross from California to Arizona and enjoy the desert, ghost towns, and small charming towns.
First, if you're starting to organize your trip, read the Route 66 Planning and Budget post. We clarify any doubts and give you many valuable tips for your trip.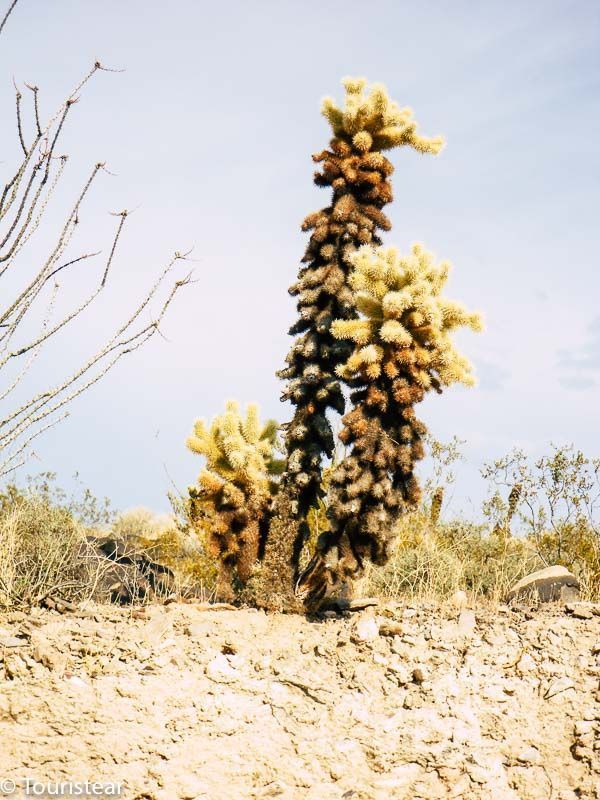 Best things to do between Amboy, CA and Kingman AZ
Today we start the section between Amboy and Kingman. It is one of the shortest in planning, only 143 miles, about 230 kilometers.
This is not on a whim since, in this section of Route 66, I have planned for you to take a detour to the Colorado Reserve, enjoy the view it offers, and then make a stop in Oatman, a small town that is one of the more curious.
But I will be in order; otherwise, it gets complicated.
Goffs CA
You continue on Route 66; you are on the original route; I took it easy; there is no rush.
You are going to Goffs; there is nothing except landscape and desert. You'll find a gas station with an abandoned restaurant, the Roadrunners Restaurant (Roadrunner is roadrunner).
It is one of the must-sees stops on Route 66. A typical abandoned restaurant in the middle of the Mojave desert.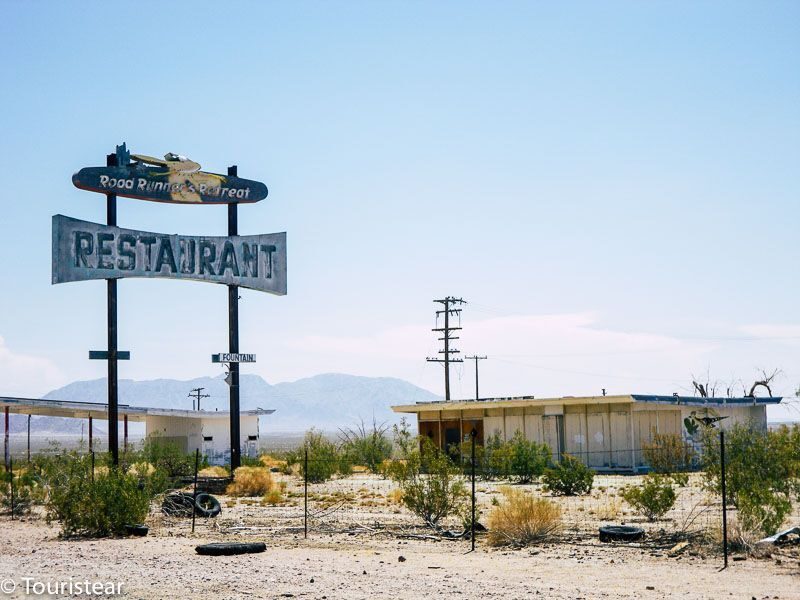 Detour to Las Vegas
We continue on Route 66 until we reach 95, which is the road that takes you to Las Vegas.
This is where we turn north towards Las Vegas and, as we cross the border with Nevada, turn right onto the 163 Laughlin direction.
Here, you will enjoy the landscape and relax for as long as you want. In addition, you will see the Colorado River and the natural park.
From Laughlin, you go down 95 (be careful not the highway but a road, although they call it the same number) to Needles, through Fort Mojave and Mojave Valley to Needles.
Needles
If you don't detour Las Vegas, continue on US 66 to Needles, the California-Arizona border.
Needles is a small, dusty town on the Mohave Desert's eastern edge, where California meets Arizona and Nevada.
On any given summer day, Needles is likely to be the hottest place in the entire United States, except for Death Valley, 200 miles to the northwest, which will surely be a few degrees hotter.
In August 2012, Needles broke the world record for the hottest rain ever recorded when drops fell from the sky on a 115-degree Fahrenheit (46-degree Celsius) day.
To alleviate this relentless heat, the options in Needles are few. You can dive into the Colorado River, which borders the city and forms the border between California and Arizona in that region of the desert.
Beyond this, there is not much to do. It's the kind of place that can make a traveler wonder: Why the hell does anyone live here?
So if it's not hellishly hot, hit the town's main street, Broadway. And be sure to visit the Old Trails Inn, a 1930s hotel initially called Palms Hotel. You will see that there are many motels to take photos of!
You can also see an old women's club (Historical Women's Clubhouse) and the Needles Borax Wagon. You will see many buildings of the time, such as the fire station, the Needles Transfer, or "El Garces."
And, of course, the murals that commemorate Route 66 and its best times.
Where to eat in Needles, CA
If you're hungry, eat at Wagon Wheel Restaurant in Needles and help local economies. It is the best way to prevent businesses from closing.
Topock AZ
Topock is a must-stop on Route 66, and it is a place that will surprise you.
Topock may not be as popular as other cities in America, but don't let that fool you. Topock is a small but beautiful tourist destination that is worth visiting.
You will be amazed by some of the unique things to do and the places you can explore in this hidden destination.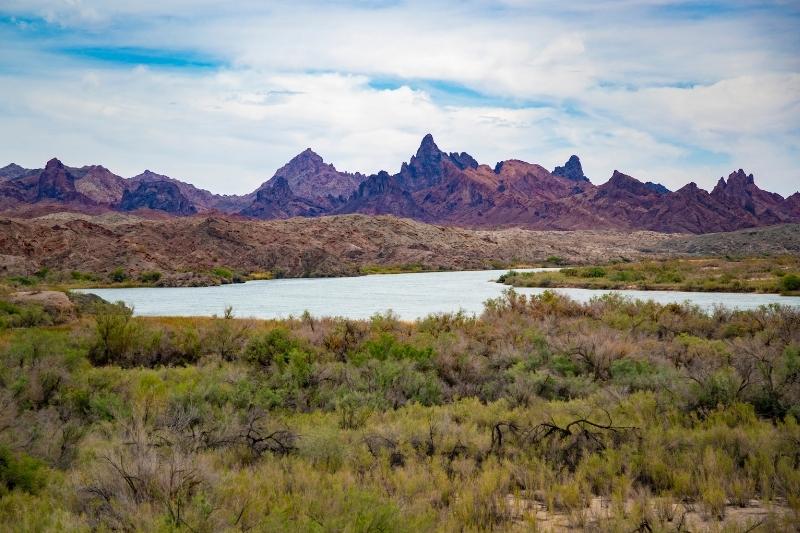 What can you visit in Topock AZ?
Lake Havasu State Park: Beaches, boat ramps, campsites, and nature trails… An ideal park for the whole family and lovers of water sports.
California Arizona Border
Topock Marsh Lake
Fun fishing
Old Trails Bridge
Dust Witch Gallery
Topock66
Oatman AZ
If you continue on Route 10, you'll get to Oatman. Oatman is a mining town that has been preserved since the American West's time.
It is a rather curious village, where donkeys roam the street without problems; you will see many. You have to watch when you get to Oatman; everything is closed after three in the afternoon.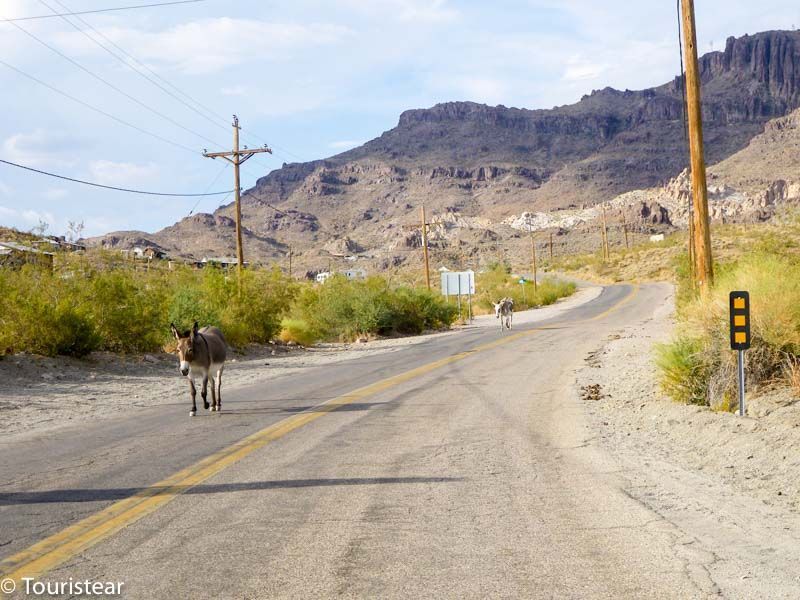 You will also meet people who emulate characters from the American West and a saloon covered with US dollar bills. To get to Oatman, you will start climbing a path that goes up the mountains, which are not very high.
When you leave Oatman, you will find on the side of the mountain some white crosses placed in memory of the pioneers who have died in the attempt in search of gold and fortune.
You will also see an abandoned Goldroad mine; until recently (I do not know if they will continue), two old men were still looking for gold in this mine and living there.
Right after, you will see a souvenir shop that is quite picturesque, it is called Cool Springs Cabin, and you can buy a souvenir if you want.
It only remains to cross the black mountains to reach Kingman. During the journey, you will find an ideal place to stop the car and enjoy the view.
When we did it, two bikers who looked like they had come from Sons of Anarchy stood next to us. We couldn't help taking a picture of them, asking permission first, of course.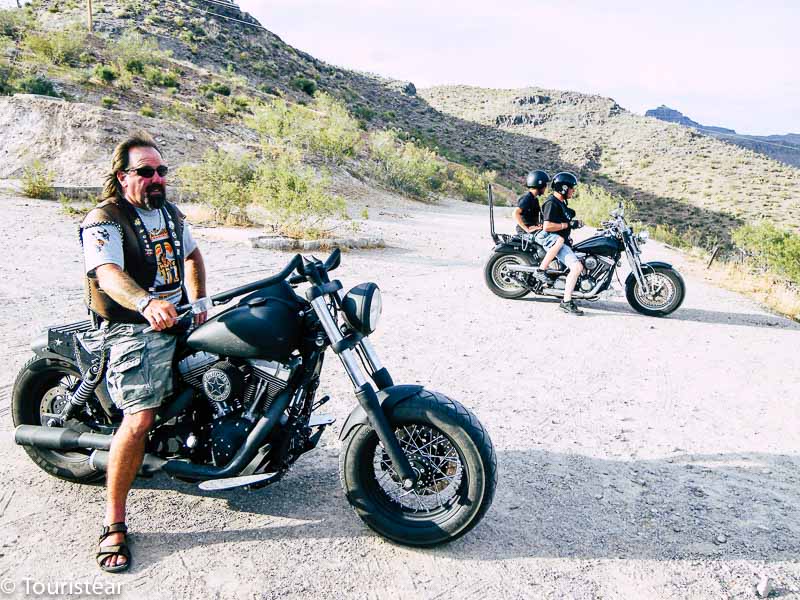 Kingman
And we came to Kingman, Arizona. Here is one of the museums on Route 66 that you have to visit. It closes at five in the afternoon.
Route 66 has played a historic role in the US. "Meandering from Chicago to Los Angeles," as the famous 1946 Bobby Troup song goes. Kingman in northwestern Arizona is one of the cities you will pass through on your way.
It is the closest city to the Grand Canyon and is a great place to visit, partly due to the mild climate it enjoys due to its elevation of 3,300 feet.
Kingman, the capital of Mohave County, with a population of just under 30,000, developed in the late 1800s when the railroad arrived. In the following years, it became an important mining and livestock center.
The history that you cannot see in its streets is certainly available in its museums.
Kingman is a city where you can spend a whole day or more. There are many things to do and visit in Kingman, and you are likely to feel a bit melancholic when it comes time to leave.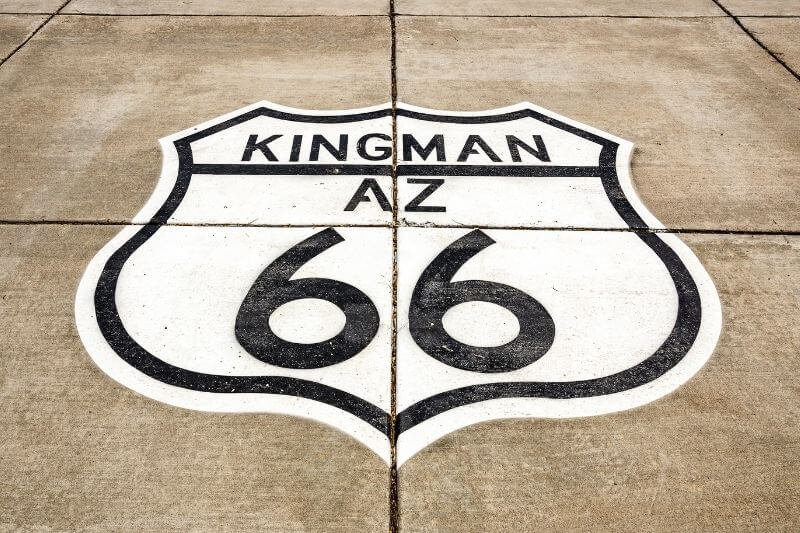 Top things to do in Kingman
Historic Route 66 Museum: The Arizona Route 66 Museum tells the story of this famous road and the transportation forms that have traveled it over the years. The Historic Powerhouse housed it and was a significant addition to Kingman's attractions when it opened in 2001.
Mohave Museum of History & Arts: The Daughters of pioneers founded the Mohave Museum of History and Arts in 1961 in a room within the Chamber of Commerce. Six years later, he moved into a new building with his own parking lot.
Mojave Lake
Kingman Railroad Museum
Kingman Visitor Center
Bonelli House
Black Bridge Brewery
Tombstone detours to a very famous ghost town.
Speed limits on Route 66
Today will be the first time we cross a state, and we will cross from California to Arizona.
You will see that every time you cross a state, apart from the fact that they put the sign on duty with the state's name and its slogan on the border, there is a kind of toll on the right. It is to do inspections, but above all, to trucks, nothing to worry about.
But beware! Speed limits change from state to state, so stay tuned. Actually, the western states have a speed limit of 75 mph as a rule, except for California with 70 mph, and Utah which has 80 mph, two states that you are going to cross.
While the eastern states have a speed limit of 70, beware that some have it at 65 miles per hour.
Another rule that varies depending on the state is the obligation to have the lights on at all times. So it's best to pay attention to the rules every time you cross a state.
Route 66 Daily Itinerary
Day 3. Amboy California – Kingman. Arizona. 143 Miles
Essentials of Route 66
Last Updated on 31 August, 2023 by Veronica
Disclosure: Some of the links on this post are affiliate links, meaning at no additional cost to you, I may earn a small commission if you click through and make a purchase.