20 Must visit places on Route 66
We haven't written about Route 66 in a while and we already felt like it! We have counted you what to see in every kilometer and in each town, when you travel the most famous route in the United States, but we have never told you what are our favorite places and what are the 20 Must visit places on Route 66
Do you travel on Route 66?
1. Lou Mitchell's Café (and breakfast there before starting Route 66)
The starting point for Route 66 is at the "The Buckingham Fountain" fountain that was built a year later (1927). And it's tradition take breakfast or lunch at Lou Mitchell's Restaurant before start the route 66. Which is on Jackson Street, built in 1923 and has been serving travelers who venture west on Route 66 for more than 85 years.
2. Wilmington Gemini Giant (and take a photo next to its feet)
The "Gemini Giant" is one of the giant classics that were placed along many routes in the United States, including, of course, Route 66. They are about 20 feet high (7 meters approx.) and usually have one hand with the palm up and the other with the palm down, to be able to hold some kind of tool or element.
They are known as the "Muffler Man" because they were usually placed in front of the car shops and what they held was the muffler of a car. In the case of the Gemini Giant, he's got a rocket in his hands and he's got a scabbard. This is because it was redesigned to advertise the café in which it is in front right now called "Launching Pad", the redesign was to turn it into a kind of astronaut with a rocket in his hands.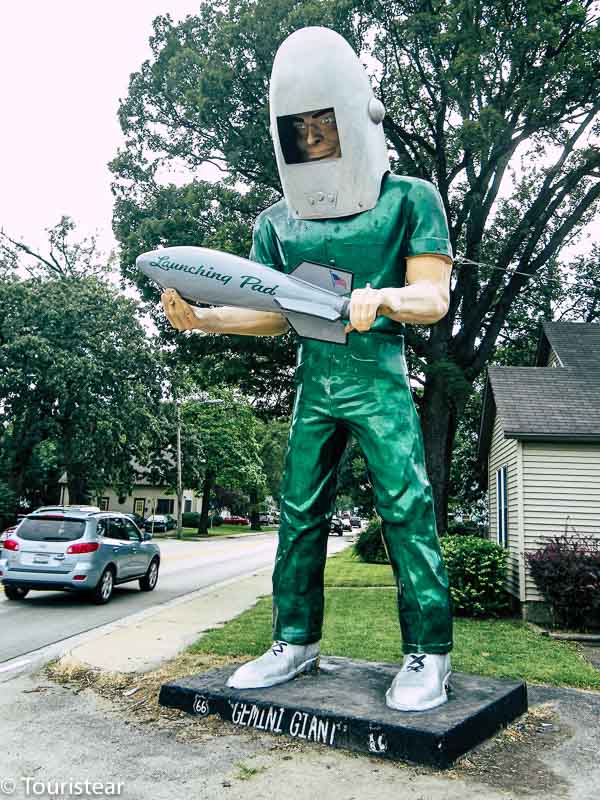 3. Mustang Corral from Edwardsville (and wander through the old and dusty mustangs that are for sale)
It is a repair center of Mustangs where they also have them exposed, both old and dusty and new, in case you want any. If you enter the store you will see that they also have all the spare parts of all versions of Mustang. I was as a fool to walk the mustangs that were in that kind of decamped, half-fucked, but that retain that dignity of that beautiful model of car that is already a classic.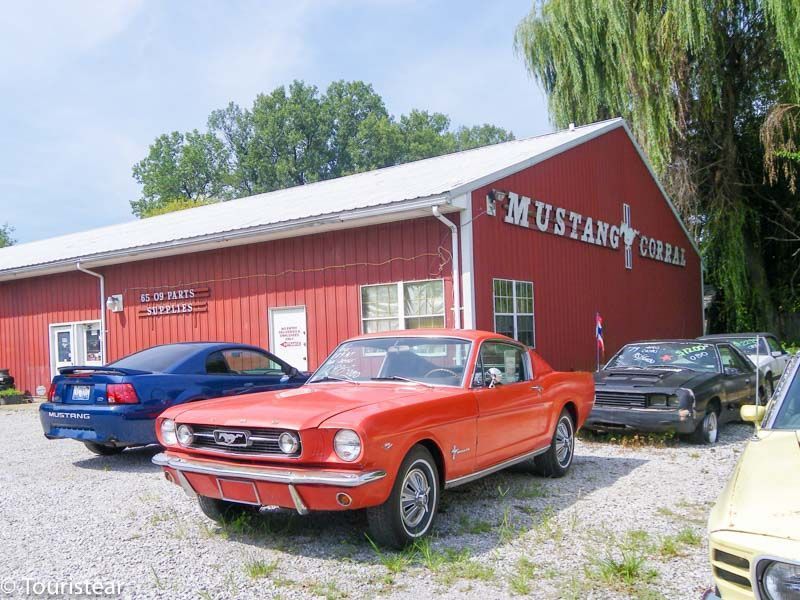 4. Cuba (and observe its murals on Route 66)
Named in honor to the island. This city was founded in 1857, most of its inhabitants were engaged in mining or were farmers. At the beginning of the twentieth century it was known as "The Land of the Big Red Apple". In 1931 Route 66 arrived and more business grew.
The walls of Route 66 are beautifully preserved and restored in this city, so Missouri's chamber and senate have named it "Route 66 Mural City" Highly recommended to take a walk around the city to see them.

5. Devil's Elbow (and take a picture of the view and the river)
It is called the devil's elbow because it is a very closed meander where the boats carrying the logs were jammed along the river. It is a very special stretch because it is the only stretch that was modified to have 4 lanes, 2 for each direction.
6. Bonnie & Clyde's Hideout (and tour Joplin by the way)
Famous Bank robbers Bonnie & Clyde toured much of Route 66. In Joplin they rented an apartment with garage at 34 st, 2 blocks west of Main St. The police found out and went looking for them. The result was a shootout between the gang and the police. Two policemen were killed and the gang escaped.
In their escape they left a camera that contained the famous photos of Bonnie & Clyde playing with the weapons and more typical of a comic than of real life. Bonnie also lost a necklace that's on display at the Joplin Museum
Joplin is a very typical village of Route 66 and we recommend that you visit it quietly. Strolling through the historic center will allow you to see many examples of buildings as they were when it created this mythical American Route.
7. Bank branches converted into Baxter Springs cafes
Baxter Springs is another of the towns that were victims of Bonnie & Clyde. Its name comes from the Reverend Baxter, who bought land and erected his house here. In this village they transformed old banks headquarters into restaurants and cafes in which some of the facades were later murals. They also have badges with the dates they were stolen!
8. Catoosa Blue Whale (and lie on the lawn for a while – if you can-)
In Catoosa, you'll see one of the icons on Route 66 and it's a completely obligatory stop, "The Blue Whale".
The blue whale was part of a small water park on Route 66 of the 1970s. It is in a pond and in a quiet environment, with some tables and benches to sit on. It was typical among bikers to take a dip in the pond by throwing themselves from the whale. In 1980 the park was closed and left in a state of abandonment until in 2002 it was restored by volunteers.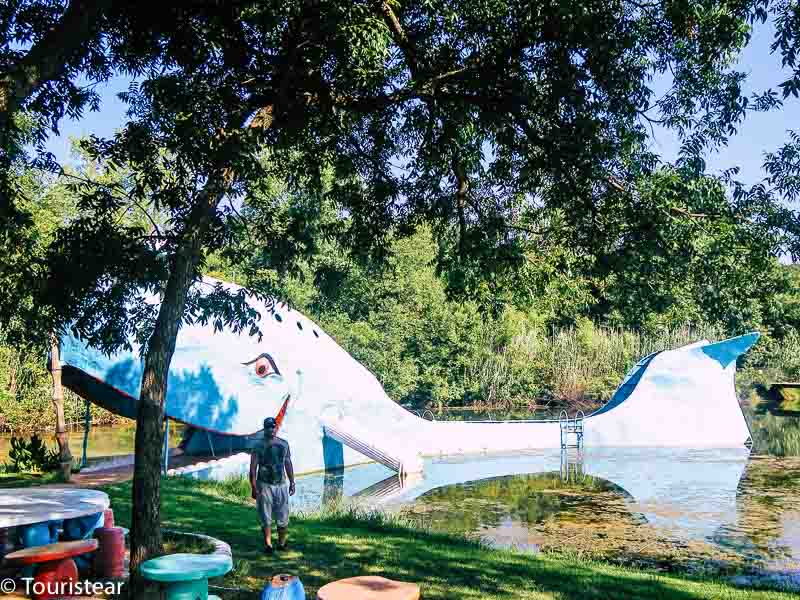 9. Center of the Universe in Tulsa (and listening to yourself when you speak)
Tulsa is a big city, always related to Route 66. The Center of the Universe is a very curious attraction of this city.
The access is pedestrian and is a classic stop for tourists and one of the "mystery points" of Route 66. What is especially important are the acoustic properties of the environment. There is a point on which you stand, and speak in a normal tone, not too high, and you will hear how the echo of your voice makes you much more strongly and bulky than the one you spoke to, besides the one outside the circle hears nothing at all , only you hear it.
10. Bridgeport (to travel the longest stretch of Route 66 there is)
On the bridgeport to Hydro stretch is one of the longest original stretches of Route 66 with 19 miles of concrete with its characteristic junctions that generate the typical sound of Route 66.
This segment begins just west of the Pony Bridge over the Canada River, and heads west to the end of Hydro. This section was paved with concrete from Portland in 1931, 33 and 34. There are some asphalt patches, but otherwise it's intact. It has the original ditches and drains to help discharge rainwater.
11. Lucille Hamons Gas Station (and take a photo of your car with the gas station in the background)
It was built by Carl Ditmore in 1929, three years after Route 66 was built, half a mile south of Hydro. It had two floors, on the top floor lived the Ditmore family and in the lower, customers were served.
As in other bungalow designs, the upper floor covered the porch at the bottom where the pumps were. In 1934 it was acquired by W.O Waldrup and his wife, and they added 5 motel-rooms. In 1941 he was again traded to Carl and Lucille Hamons.
Lucille Hamons was born in 1915 and died in 2000. She owned this service station and ran it for almost 60 years, became well known on Route 66 and its establishment became known directly as Lucille's.
She became well known for her kindness and good treatment to tourists, so much so that they ended up calling her "The mother of the mother road". In 1997 it was registered as a national historic site and in 1999 it received the Oklahoma Route 66 Hall of Fame Award.
12. Big Texas Ranch in Amarillo (and take a 72-ounce steak with everything so you don't have to pay)
This restaurant is famous all over America because everything is huge. The most famous thing is the Steak of 72 Ounces and the restaurant bets with you that if you eat the Steak of 72 Ounces with all its accompaniment and you finish it, you do not pay. Otherwise it is 72 dollars, at least when I was, now the same is more.
Needless to say, finishing it is almost impossible. See if it became famous that he has even a chapter on the Simpsons. He used to be on Route 66,but was moved when the interstate arrived.
Mandatory stop if you travel on Route 66!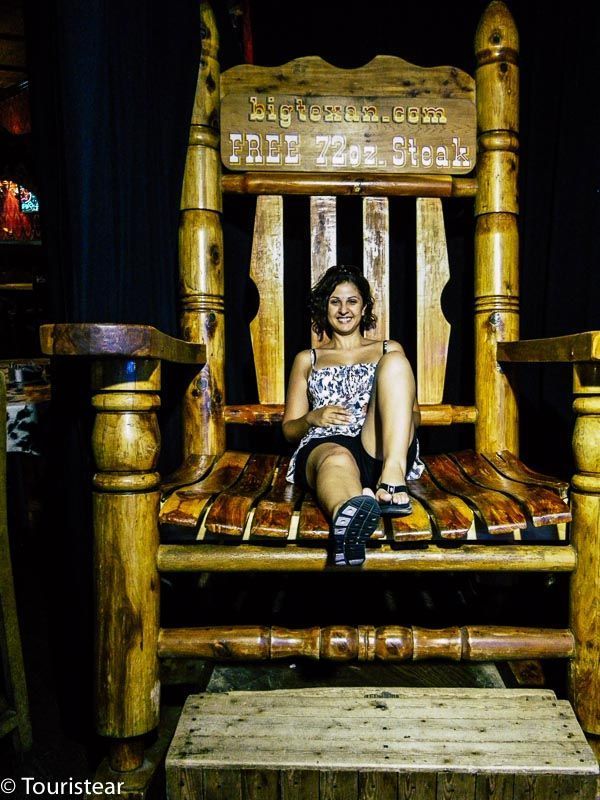 13. Cadillac Ranch in Amarillo (and paint a car with colored spray)
Cadillac Ranch is an urban work of art commissioned by local representative Stanley Marsh to a group of artists who called themselves "the Ant Farm". This group was founded by two architects in the 1960s and involved numerous artists.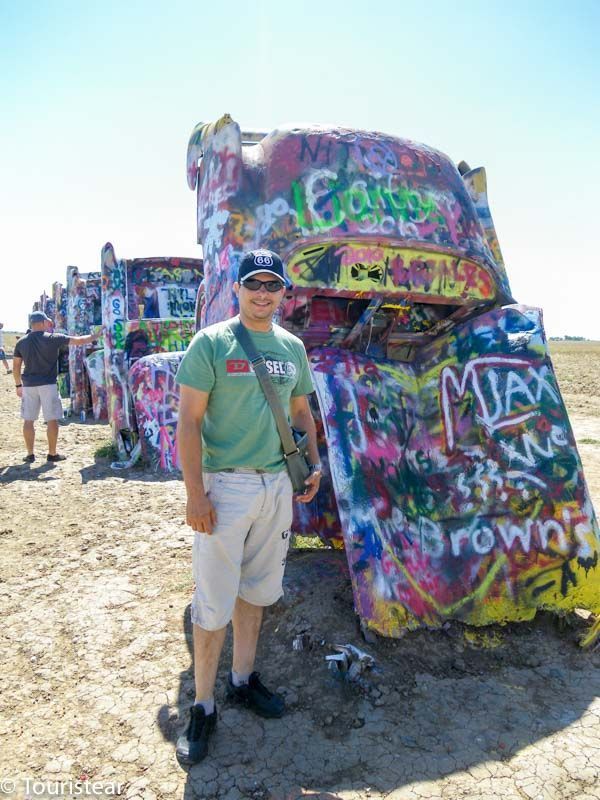 Cadillac Ranch consists of 10 Cadillacs partially buried in the ground at an angle pointing their trunks towards the sky. The tradition is to go with a spray can and do a graffiti on the cars. Don't worry, it's part of the art work. Periodically repaint them in base color so that they can be re-graffiti. Its current location is not the original as it was moved when Route 66 was removed from its original route, some authors say it was never on Route 66, but it is a must stop for all travelers who travel on 66.
14. Midpoint Café (and take a photo under the Midpoint sign)
It's just the midpoint between Chicago and Los Angeles and is a popular stop for travelers on Route 66, telling you you're halfway there.
You're exactly halfway there. You leave behind 1139 miles that are about 1830 km and you have another 1139 miles of travel ahead. It's a good time to stop and have a coffee or soda. .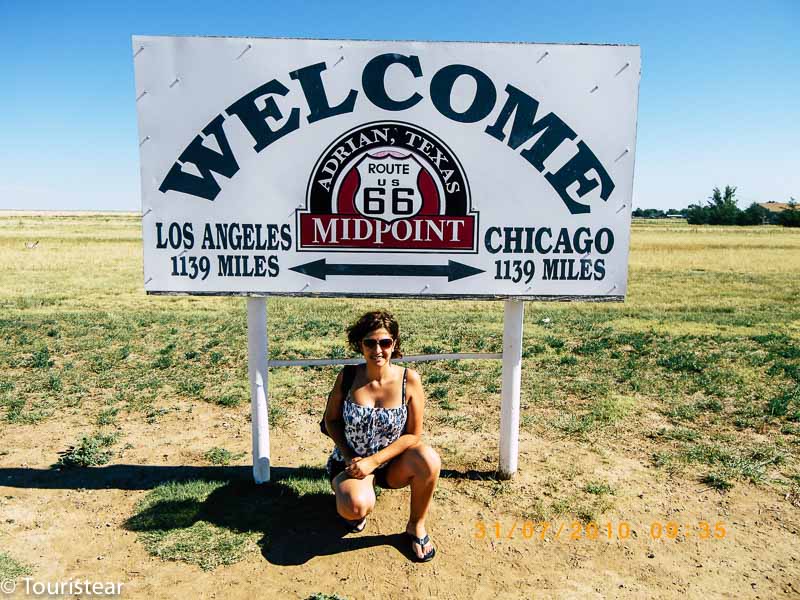 Here you have to take "the ugly crust pie", it is the most famous cake! You can also buy some souvenirs from your time here.
15. Santa Fe (and tour the Turquoise Trail)
Turquoise Trail is a beautiful road that joins Santa Fe and Albuquerque. It is considered by the U.S. government as a National Scenic Byway. Or what is the same, a tour with great views or very interesting points to see.
It is a tour with a lot of history, where you will go back in time and you will see unique villages, also has many attractions, recreational activities, a good gastronomic offer, museums, among others. There's room for everyone.
16. Petrified Forest (and traversing fossilized logs)
It's a visit you can't miss: The Petrified Forest National Park. It is a national park, and as its name suggests it is a petrified forest, a stone forest.
They are fossilized trees with millions of years, but what you see are fossil or fallen logs on the ground. But it's really awesome and worth a visit.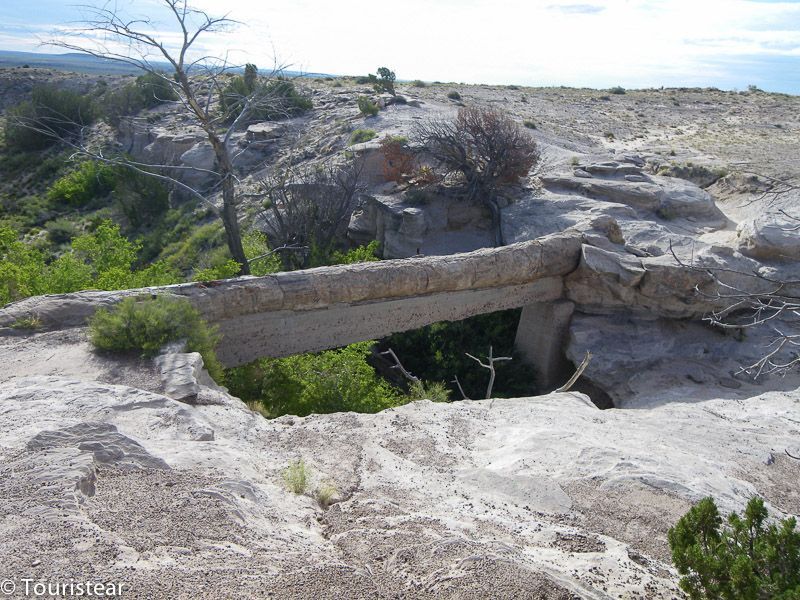 The visit can be done in one and two hours. You enter with the car and you do the visit in your car, upon payment of the entrance. When we went it was $10 per car (regardless of the number of occupants). It's an interesting visit when you travel route 66.
17. Meteor Crater (and see one of the best preserved craters in the world)
Meteor Crater is a huge crater left by an asteroid that traveled at more than 26,000 miles per hour about 50,000 years ago.
During the golden age of Route 66, an observatory was built to observe the crater from a telescope for 25 cents of the dollar, today only the ruins remain. To see the crater you have to go to the visitor center and pay the entrance fee of $18 per adult… To get there you have to go south by a small road about 20 or 25 km
18. Oatman (and wandering among donkeys as if it were the old American West)
Oatman is a mining town that has been preserved as is since the times of the American West. It's a rather curious little town, where donkeys roam the street without problems, you'll see many and they'll come up to you to feed them something.
You have to keep an eye on what time you arrive at Oatman, because from three o'clock in the afternoon everything is closed.
In Oatman you're going to find people who emulate characters from the American West and even fictional shootings, and a saloon that's wallpapered with American dollar bills.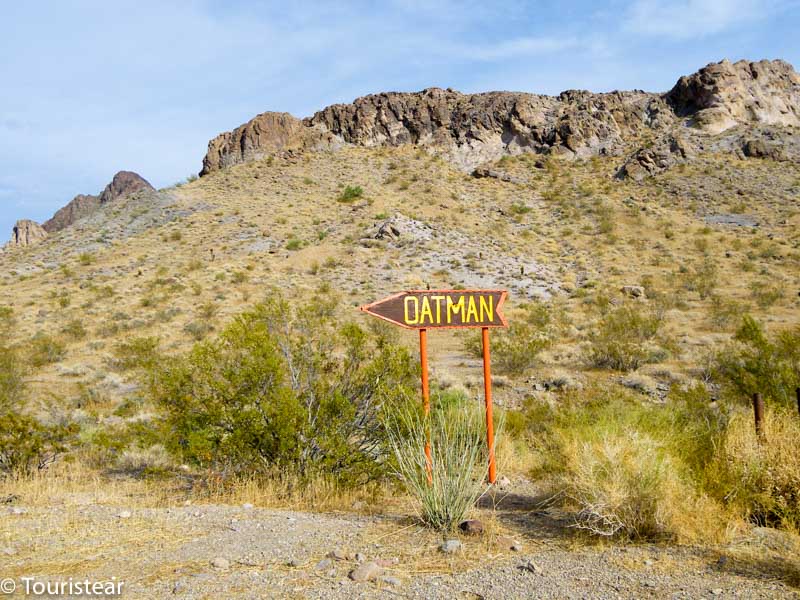 19. Baghdad Café (and have a coffee there)
It is one of those places with history, and it reminds you of those images that one has of Route 66 or of the typical lost cafes of God's hand in the middle of the desert. It is an important point to stop, eat and take a break. It's full of images and references to route 66.
20. Santa Monica (and take a photo under the sign of the end of Route 66)
The last point is the Santa Monica Pier and its famous arcade symbolizing the end of Route 66. It is not the original signal as it had to be moved with path changes. You can visit the Santa Monica Pier and take a dip in Pacific waters!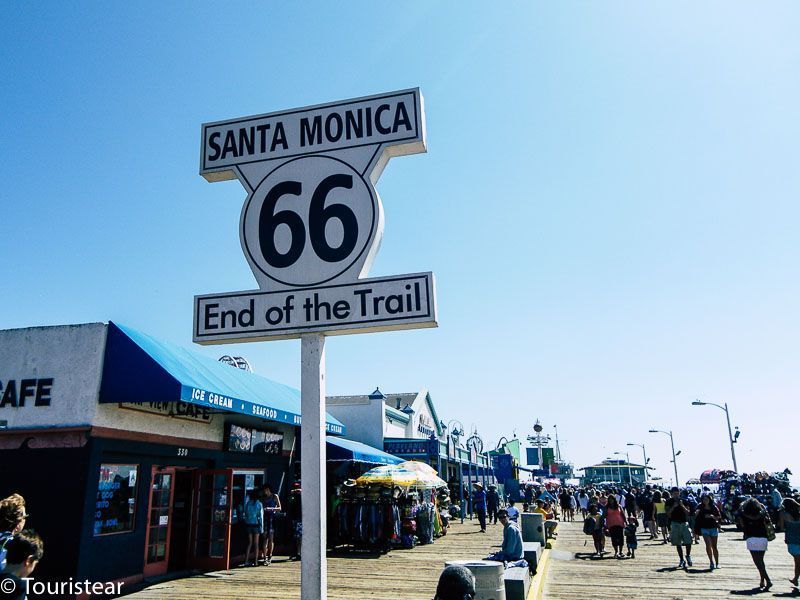 I'm sure you're interested in:
Guide to Route 66 from Chicago to Los Angeles
Have you traveled Route 66? What are your favorite places?