Oatman AZ, Route 66 Unique Ghost Town
In today's post, I will tell you about the visit to Oatman, Arizona. A must-visit town for those who travel the old Route 66 or take a trip along the United States West Coast.
Oatman is the typical western town and among its curiosities is that there are burros (donkeys) roaming the streets, and they come to you looking for food (by the way, you don't have to give them).
But better read on, and discover everything you can do and visit in Oatman, Arizona.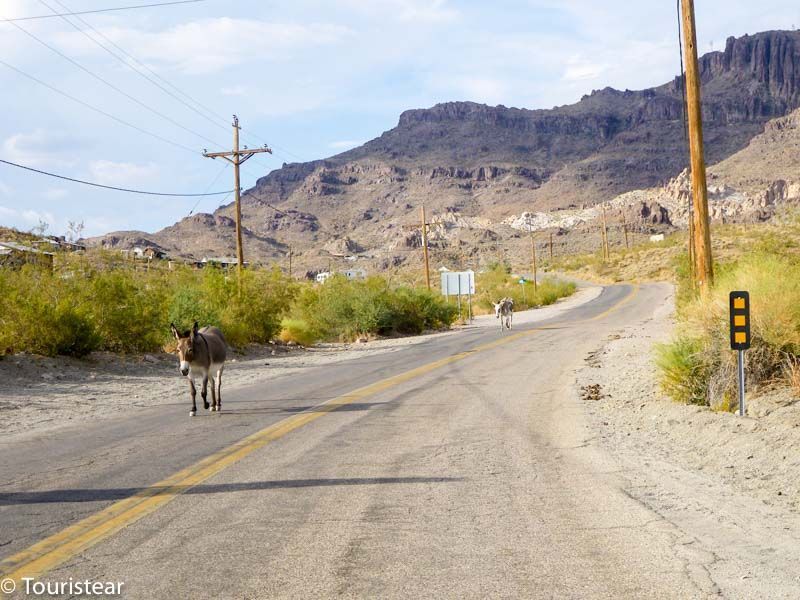 Disclosure: Some of the links on this post are affiliate links, meaning at no additional cost to you, I may earn a small commission if you click through and make a purchase.
Best Things to Do in Oatman AZ Ghost Town
Oatman is a town where you can have different experiences than in other parts of Route 66.
Oatman's Burros
Oatman's donkeys are descendants of those used as beasts of burden and abandoned their owners when they left town.
Today, Oatman donkeys roam the city streets freely by day, heading to the Black Mountains to graze at night.
They are part of the city's appeal and one of the reasons why more than 500,000 people a year continue to visit the ghost town of Oatman.
They are extremely used to tourists, and they approach with great confidence hoping that they will give them something to eat.
Sometimes they are too cheeky and try to steal what you are eating.
For some years now, the tourist office has encouraged tourists not to feed the donkeys and look for their food in the mountains.
Allowing them to graze on the hills is healthier and safer for both donkeys and tourists.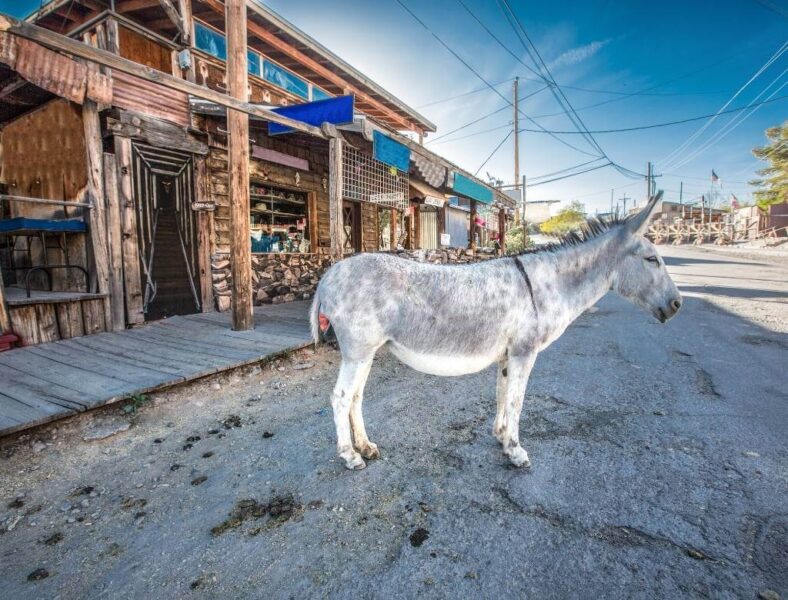 Roam along Route 66
Old Route 66 runs through the middle of Oatman. So a big part of the experience of your visit to Oatman is knowing that you are walking down what was once America's main street.
And with the old buildings on both sides of the street, it's pretty easy to visualize this highway's golden age, which cut across the country from Chicago to Los Angeles.
Today, you are more likely to come across many motorcycles, 4x4s, and classic cars. It's all part of the charm of Route 66.
Oatman and its Abandoned Mine
Oatman, Arizona, was founded in 1906, and by 1931, the mines had produced more than 1.8 million ounces of gold.
It became a booming city by the gold rush of 1915 to 1917, but things soon slowed down, and in 1941, the United States government ordered all mines closed due to World War II.
You can visit the abandoned mine; there are organized tours for a visit. To this day, two older people operate the mine as a hobby. Although it does not give them much benefit, it allows them to pay for the beers they drink according to their words.
You can also visit the Oatman Mine Museum.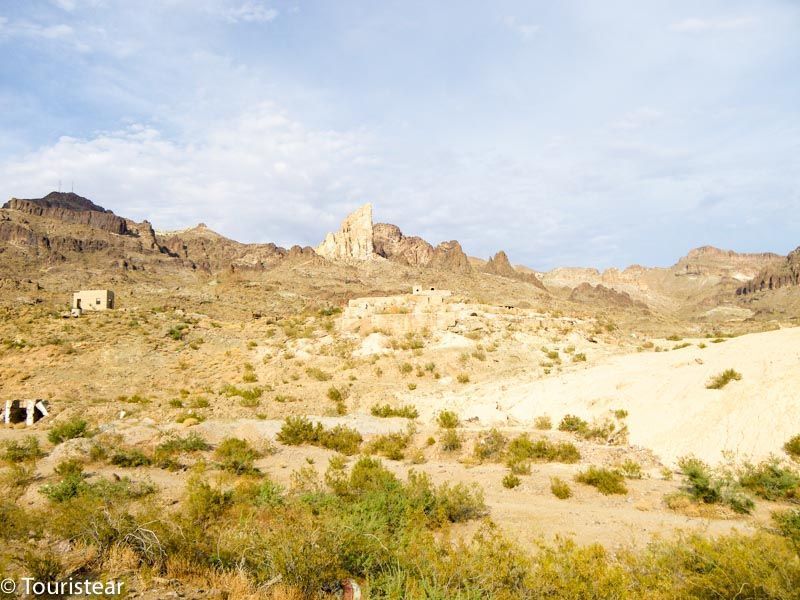 Live a (fake) Gunfight
If you really want to go back in time and experience what the Wild West might have been like, you have to visit Oatman between 1.30 and 3.30 in the afternoon.
During those two hours, the city traffic is cut off, and the shootings begin, just like in the movies.
The "Oatman Ghost Rider Gunfighters" is the oldest group of cowboys in Arizona, and you can't miss them. After the donkeys, the Ghost Riders attract the most tourists.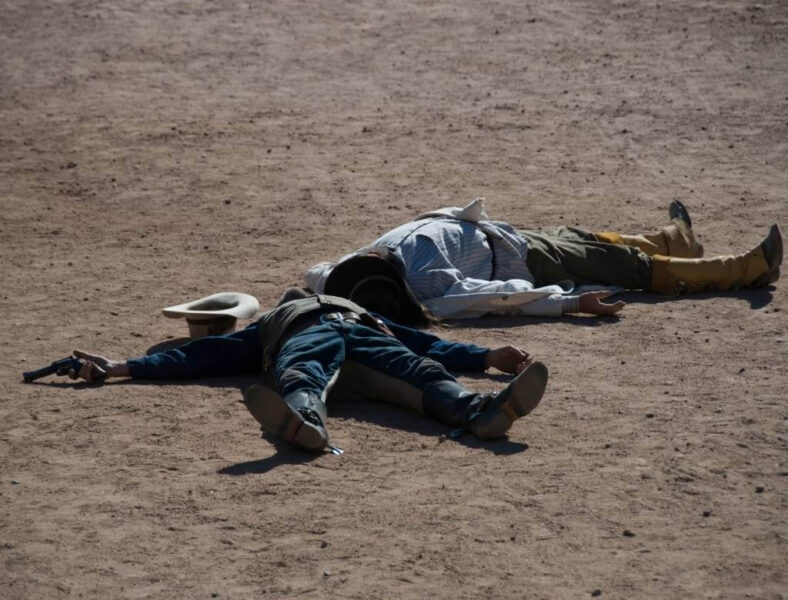 This is a short show, lasting about half an hour. You will be able to enjoy a great combination of history, theater, and comedy that visitors of all ages love.
Learn about Oatman's Past
How the name of the town originates
Olive Oatman, a teenage girl from Illinois who was abducted by members of a Native American tribe in 1851 while traveling west with her family, was named for Olive Oatman.
Olive's parents and four of her siblings were killed in the attack, but one brother managed to escape. Olive and her sister Mary Ann, who later passed away, were captured.
Olive became a de facto member of the Mohave tribe until 1856 when she was liberated and reunited with her brother, her chin permanently tattooed in a tribal design.
Oatman's Gold and Mines
The mountains around Oatman are rich in gold, silver, and other minerals. When gold was selling for $ 20 an ounce (today, the price is between $ 1,400 and $ 1,500), miners pulled more than $ 36 million out of the mountains.
Oatman was a booming mining town in the late 19th and early 20th centuries with more than 10,000 residents, two banks, seven hotels, 20 bars, and a dozen other businesses.
The miners were unable to deplete all of the gold, and the mines still operate profitably in the district, although the population has dropped to less than 200.
Buy a Souvenir from One of its Stores
In Oatman, you will find the most curious souvenir shops. You can buy biker gear, stuffed donkeys, and art made from different metals. And, of course, gold rush memorabilia.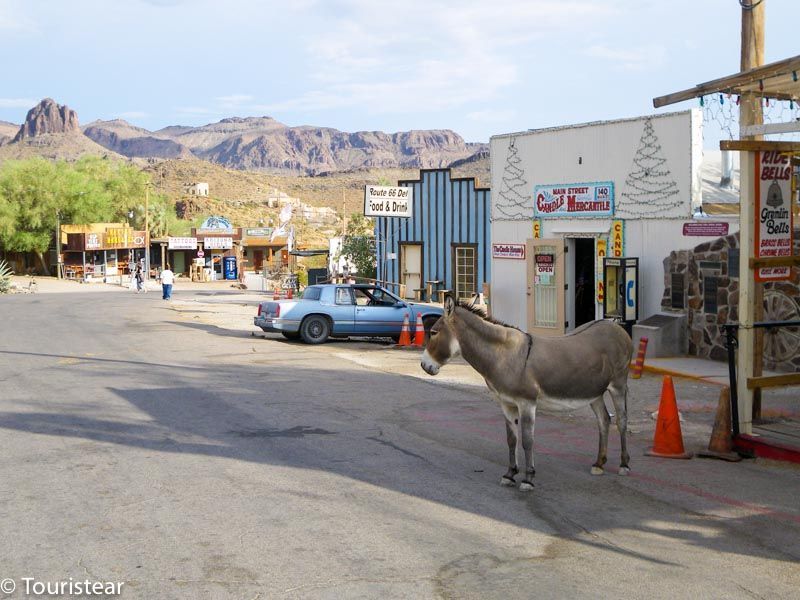 Have a Beer at the Haunted Oatman Hotel
Follow in the footsteps of Clark Gable and Carole Lombard, the famous actors who came here on their honeymoon, and have a drink at the old Oatman Hotel.
Here you will see all the walls covered with dollar bills. And although you can no longer stay at the hotel, you can enjoy a good beer or ice cream.
The Great Oatman Fire
In 1921, a fire swept through Oatman and destroyed many of the buildings.
However, it miraculously forgave the Oatman Hotel, which is known today for two reasons: It was where Clark Gable and Carole Lombard spent their wedding night after getting married in Kingman on March 18, 1939, and it is the home of a ghost nicknamed Oatie.
The two-story hotel is the oldest adobe structure in Mohave County. The upper floor has been converted into a museum.
The restaurant, bar, and room where the Gables spent their wedding night are still open to the public. A replica of Lombard's blue wedding dress is displayed on the bed.
The Ghost of Oatie
Hotel guests and employees reported seeing a spirit wandering the corridors of the old building at night.
The current owners claim that Oatie is William Ray Flour, an Irish miner who was reportedly killed in an extraction shaft behind the hotel during drunkenness.
Enjoy Ice Cream at Olive Oatman
Olive Oatman is a small restaurant that serves breakfast, sandwiches, and ice cream. The decoration will transport you to the salons of the old west, but the most famous are its ice creams—ideal for surviving the heat of the desert.
Of course, beware of the donkeys who like to taste the food of the visitors 😉
Visit the Annual Egg Fry Festival on July 4th
They say it's so hot in Oatman you can fry an egg on the sidewalk. If you want to check it out, visit Oatman on July 4 at noon, which is when "The annual Egg Fry Event" takes place.
Contestants are given 15 minutes to fry an egg using only sunlight. Unfortunately, we visited Oatman in July, but not on July 4th, so we cannot verify that an egg can be fried on the sidewalk. But if I can tell you, it was hellishly hot!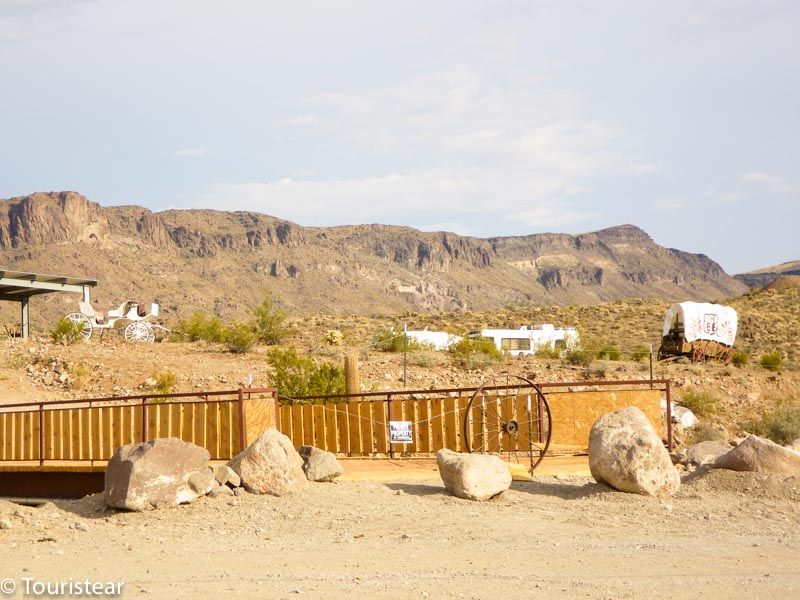 Where is Oatman, AZ
It is located in Arizona, south of Las Vegas in Mohave County. Although, anyone could tell you that it is in the middle of nowhere!
It is located on old Route 66, almost halfway between Kingman and Topock.
This is a beautiful stretch of Route 66, covering about 45 miles. It is narrow and winding in places and suitable for vehicles less than 12 meters (40 feet) long. The city of Oatman is located in the Black Mountains at an elevation of 820 meters (2,700 feet).
How to get to Oatman, Arizona
The easiest way to get to Oatman is with a rental car. Or you can go on a guided tour from Las Vegas.
Most likely, you will arrive from one of these cities:
Las Vegas. From Las Vegas, it is about 130 miles, and the journey takes about 2 hours.
Kingman, if you come on Route 66 from Chicago. From Kingman, the drive is 28.6 miles and takes approximately 45 minutes.
Topock if you come on Route 66 from Los Angeles. From Topock, it is 21 miles, and the drive is approximately 30 minutes.
Keep in mind that the Oatman Highway has sections with many curves and is totally different from Route 66 or other American highways.
Oatman Az Hotels
You can spend the night in Oatman or the surrounding area. Here you can see all the accommodations there are for your night in the wild west 😉
A Brief History About Oatman AZ
Oatman was a mining town; in 1915, a gold mine was discovered, which stopped working completely after World War II.
In the 1950s, with the rise and growth of Route 66, it resurfaced a bit, but when the route deviated, it declined again.
In the 1960s, Oatman was almost completely abandoned and turned into a ghost town.
It is currently a tourist attraction, which, as I mentioned earlier, is a must for those who travel Route 66.
Some characters emulate the American West, and in times of high tourism, there are duel simulations and gunfighters.
There is also a hall whose walls are covered with dollar bills in the hotel of Oatman. Make sure you arrive before 5 pm because at 5 pm everything or almost everything closes.
Continue on Route 66
Plan Your Journey on Route 66
If you liked the post, share it, and if you plan to do Route 66 and have any questions, you can consult me whenever you want.
Disclosure: Some of the links on this post are affiliate links, meaning at no additional cost to you, I may earn a small commission if you click through and make a purchase.
Last Updated on 14 March, 2023 by Veronica