Route 66 What to See from St Louis, MO to Bloomington, Il
Are you one step away from completing Route 66 or just starting your journey? In today's post, you'll find what to do and visit from St. Louis to Bloomington (or vice versa).
If you start in St Louis, Missouri. You must visit the Chain of Rocks Bridge and the city of St Louis, and you are about to perform another stretch of Route 66. First, you have to know that you are crossing the Mississippi River.
Not too long ago was called the Mississippi-Missouri river and was considered the longest river in the world as it flows from Montana to New Orleans.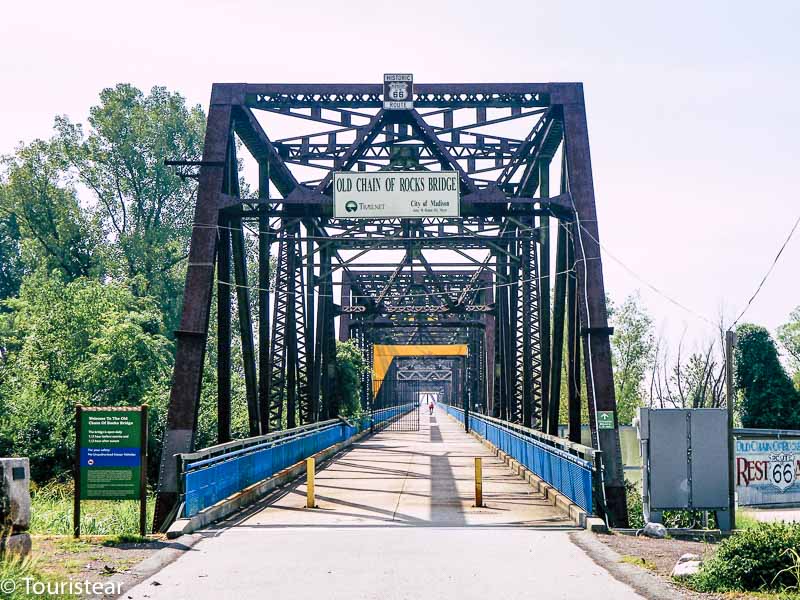 Route 66 Illinois: from St Louis to Bloomington
Besides, you are crossing the eighth state of your road trip. You are stepping into Illinois, the last state you'll see on this beautiful travel (or maybe the first one!).
We say it easily, and when you're doing it seems quite normal, but when you look a little backward and look at what you have driven on a map or on Google Maps, you realize the route you have taken.
Perhaps you wonder why I didn't set this section straight to Chicago, as you are at 297 miles. The truth is I have two reasons for doing so.
The first is that every day we walk an average of about 200 miles and there is no reason to change that; the second and most important is you are not in a hurry and it is better to arrive in Chicago tomorrow with plenty of time to enjoy it.
And at the same time, you can drive to this stage today without hurrying and missing a thing.
So we start in St Louis; if you didn't have time last night to know it, you could do it this morning. If you did it yesterday, then you start directly going to Bloomington.
Today's section is relatively short, 162 miles. It will take a short time, so you can enjoy stops and take it easy, with no rush at all.
How to go from St Louis to Bloomington on Route 66?
To exit St Louis, you must cross the river; you can do it through the "New Chains of Rock Bridge" or the "McKinley Bridge" since both have taken part in any of the historical paths of Route 66.
Whether you cross by McKinley Bridge or the New Chains of Rock Bridge, you will follow Route 66.
The first is to the south, and it is the one I recommend you follow as you can pass by Brooklyn, Venice and Granite City, and St Louis. You should follow the 203rd until you cross the 270th in Mitchell.
If you do it through the Chains of Rock Bridge, you drive into the 270, but you'll miss these villages through the Route 66 passed until the '50s.
In addition, there is a mustangs cemetery between Granite City and Mitchell along the highway, which is curious.
*Note that these indications can change with time.
How to get to Mustang Corral?
When you cross the 159th Hwy, you take it north to Edwardsville, where the Moon Cafe is. Furthermore, in Edwardsville is the Mustang Corral, a repair center for Mustangs.
They have an exhibition where the old and the new are if you want any.
If you go, you will see that they also have all the spare parts of all versions of Mustang. In Edwardsville, you take the 157 Hwy toward Hamel.
At Hamel, you have two alternatives, take Interstate 55 or take the old Route 4, both were part of Route 66 at different times and layouts, but the older is Route 4.
UPDATE: It looks like it's closing permanently.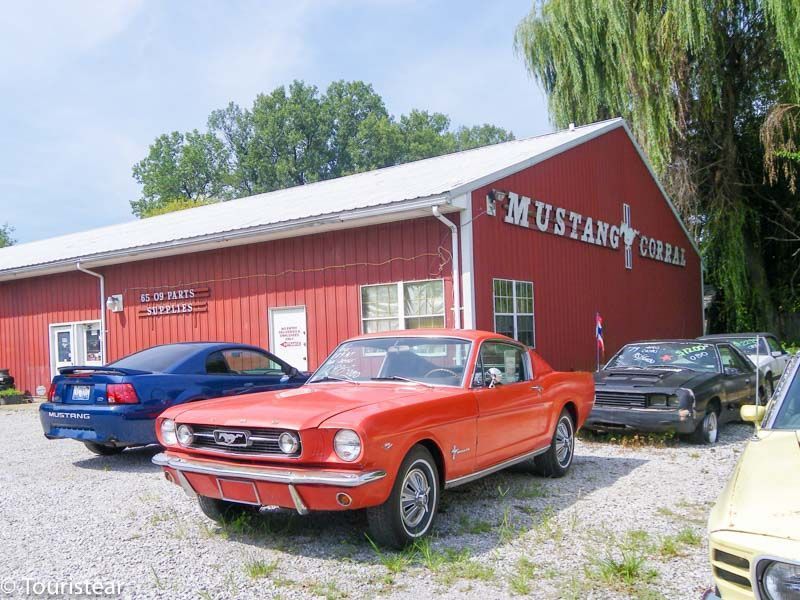 Visit the Henry Rabbit Station
If you take Route 4, you will go through Staunton, the Henry Rabbit Station, an old gas station that also acts as an outdoor museum of Route 66.
Route 66 from Staunton to Mount Olive runs parallel to Interstate 55. There's a former Soulsby Shell Gas Station in Mount Olive, although already seen many of these.
Continue along the old Route 66 that runs parallel to I-55 to Litchfield, where you'll find the motorcycle shop called Niehaus. When we were there, the exhibition was brutal, mostly Goldwings.
From Litchfield, Route 66 and I-55 merge, so there's no alternative; you have to go within the I-55. Continue to Waggoner, where there's a Virgin Mary statue, which is a replica of the Virgin of Lourdes called "Our Lady of the Highways."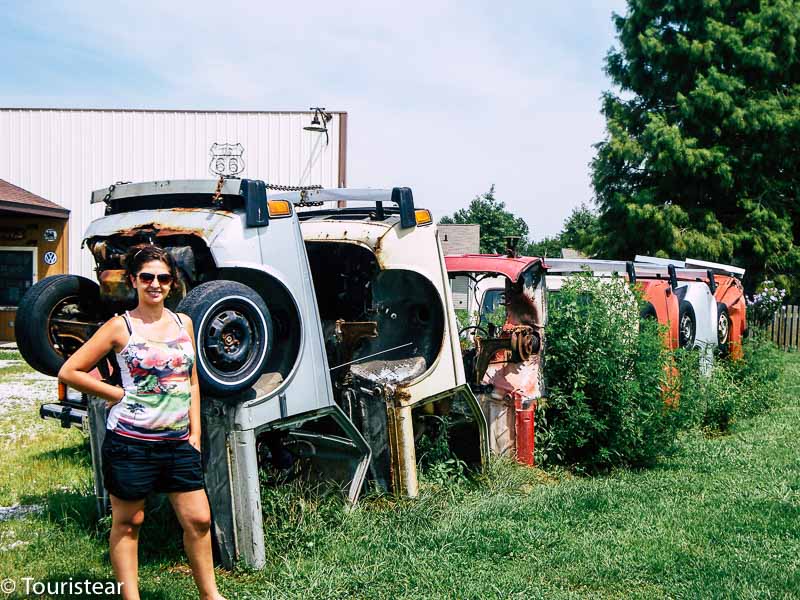 Springfield, Illinois
In Springfield is the Cozy Dog Drive Inn which has been running since the 2nd World War. They invented the Cozy Dog, a kind of hot dog, but rather put the wiener into bread, coated in batter, has a stick, and eats. It became very famous on Route 66.
Springfield was founded in 1819 and is known, especially because Abraham Lincoln lived in this city and had his tomb in the Oak Ridge Cemetery. You can also visit the city without rush and see the house where Lincoln lived.
Nowadays, it has been converted into a museum. Also, some ancient government buildings are in Springfield.
You should know that Illinois is Amish territory. The Amish are descendants of Dutch immigrants. They refuse to use technology, which involves not using cars, no electricity, or machinery of any kind.
They live as if they were in the eighteenth century. So don't be surprised to see them at all. The largest Amish community in Illinois is Arcola. You can detour if you want and go there, but beware, they don't like to be taken in pictures (logically).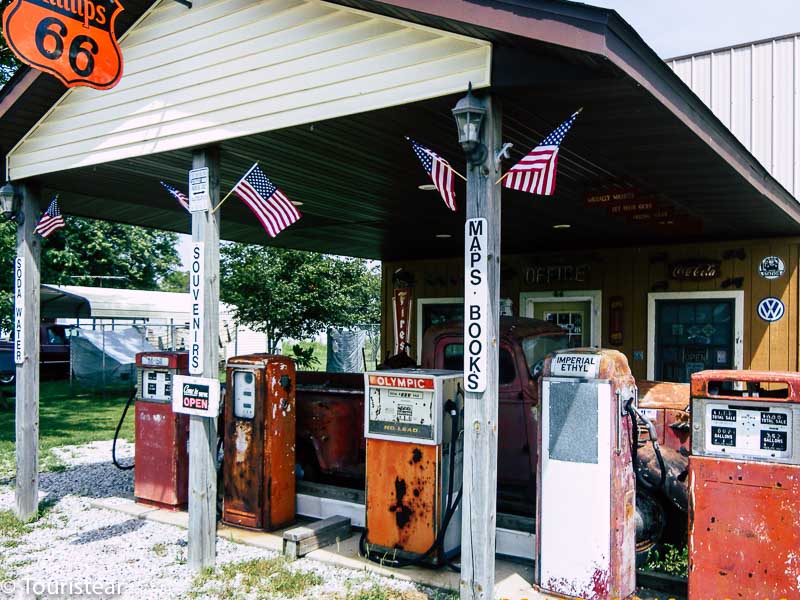 Lincoln, US Route 66
Keep going north, and there's little to get to Bloomington, but before you go through Lincoln, where it's The Mill Restaurant, formerly Blue Mill, and was established in 1920. Its design is like a German mill.
In 2007 a conservation initiative saved it from demolition and is now a museum.
What to do in McLean?
Before Bloomington is McLean, where Dixie Truckers Home is, for many years here, in a small parlor, the "Route 66 Hall of Fame", with pictures, souvenirs, and memories of Route 66, but it was moved to Pontiac, Illinois, due to a fire in 2004.
The Dixie Truckers Home is the oldest still operating truck stop on Route 66.
Best Things to do in Bloomington
And we've got to Bloomington, where Beer Nuts headquarters are. It is a snacks factory well known in the USA, and you can visit it, and there's a souvenir shop.
You also have to visit the David Davis Mansion, which Lincoln often visited as he was good friends with the Davises.
Walk around Downtown Bloomington, where Lincoln practiced law, and also lots of restaurants and shopping.
Uptown Normal and Constitution Trail are also worth seeing!
As you can see, today's stage is simpler and shorter than others.
Get ready for tomorrow as you get to Chicago, your endpoint of Route 66. You must take good advantage of tomorrow and the day after tomorrow to see as much as possible.
So I recommend you go to bed early and wake up pretty early, too, as usual in the last few days.
As always, if you have any questions, please do not hesitate to contact me!! Do you think I should add something? Any comment? Please tell me Did you like the post? Please let us know! Your opinion is important to us!
"Travel is fatal to prejudice, bigotry, and narrow-mindedness." – Mark Twain.
Route 66 Best Things to Do + Tips
Route 66 itinerary day by day
Day 12. St Louis. Missouri – Bloomington. Illinois. 162 Miles.
Did you like this post? Could you share it with your friends? Thanks!
Last Updated on 25 October, 2023 by Veronica
Disclosure: Some of the links on this post are affiliate links, meaning at no additional cost to you, I may earn a small commission if you click through and make a purchase.