Los Angeles. The Trip Starts Here
We begin our trip, the famous Route 66… that's a big deal, although on our first day we are not going to drive any stretch of the route. Instead, we are going to visit the city of Los Angeles, something that you have to do. We already have a plan of what we are going to do every day, and we know which dates we are going to travel on.
As I commented on day zero, we should have hotel reservations and we are just now waiting at the LA International Airport (LAX). We pick up the rental car in the airport and we have planted our GPS.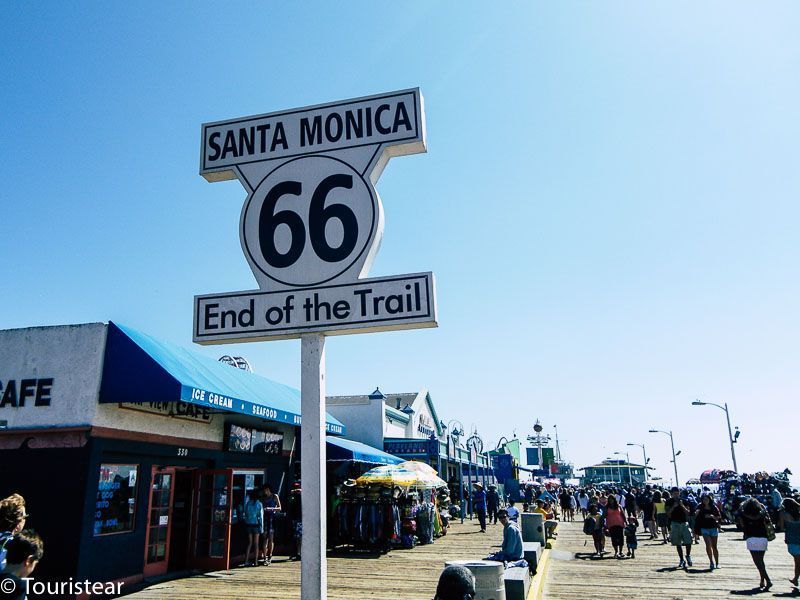 What to do first in Los Angeles?
We are ready for our first stop, Walmart. The idea is that we are not going to have breakfast, lunch or dinner in a bar or restaurant every day, because that's expensive, so the best thing to do is to buy one of those typical portable coolers used for the beach or camping. Inside we will be able to have fresh drinks and keep some food for each day, like ham and cheese for a sandwich, or whatever we want.
I'm not saying that you always have to eat like this, but for eating something during stops or while traveling, it is a very good solution. If not, you are going to spend a lot of money just eating. It's always necessary to pack an ice base into the cooler, but don't worry, most motels have an ice machine and it's free. So, when you're leaving the hotel, don't forget to fill up your cooler. It is really useful.
Walmart is cheap; thus, I recommend you to stock up on sodas, water and some food. Don't be surprised if you find next to the vegetables section a brutal exhibition of guns; it's a normal thing and you will get used to it soon. You already have your provisions, your route plan and you are in Los Angeles! There's nothing better to do now than get to know this great and awesome city.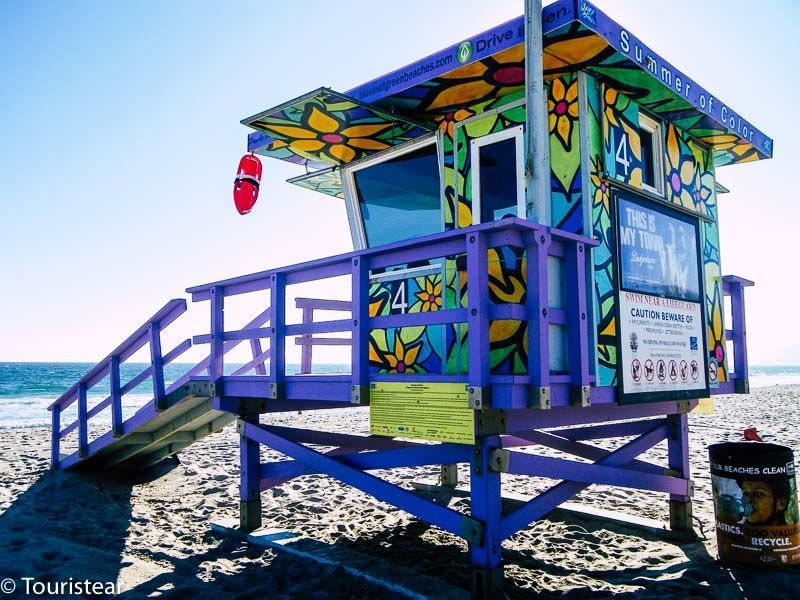 Driving Tips
Well, let's go with some tips for driving in the U.S.A. Of course, if you're a U.S. citizen, then just skip this section.
As I said in the previous post, and I repeat here, be careful. Traffic regulations in the U.S. are a little different than ours, and we have to get used to them. What could be unusual or funny for European people driving in the U.S.A.? The truth is, some things. I'm going to tell you the ones I remember…
For example, you will find an intersection where everyone has a stop sign. Yes, yes, EVERYONE, and what do they do? Everyone stops, obviously, and then they start by order of arrival. So when you arrive to a crossroad and you see from your right, your front and left cars arriving, don't do what any proud Spanish (or European) driver will undoubtedly do: Accelerate to get there the first and so keep on going first. Instead, take it easy, be aware who is right before you, and when he starts driving, then you start to cross.
Another thing: When you get to an intersection and you find a red light, a red light is to go straight or to turn left, but not to turn right. If you see that from your left there are no cars coming, then you can turn right smoothly. As always, do it carefully. If it takes a little bit because you're not sure, don't worry.
On the highways in Los Angeles I found that a lane called "carpool lane" is distinguished with a double line and to leave or enter these lanes is allowed only at very specific points, but these points are not defined by any guardrail. My first instinct is to get in, continuous line or not. Don't do it – you might have an accident, and on the other hand, they control traffic pretty good so you can end up with a fine just for a silly thing. In addition, they are very respectful of traffic rules; I have seen very few exceptions to this.
Another thing that´s a little different is when you get on (or enter) a freeway. In many of them you'll find a traffic light for each lane, which runs alternately, allowing each lane to get into the highway. It's something very useful indeed, and well thought out. As always, do not skip that traffic light! They take the safety distance between cars quite seriously, not like us. Do not come too close to the car that is before you, and take it easy; they usually let you have space to overtake.
Well, after these few driving tips, we'll continue on with our post.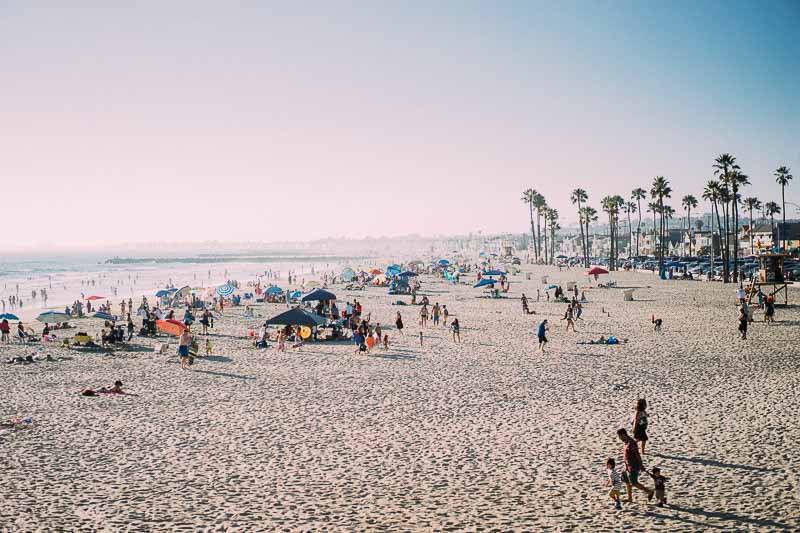 What to see in Los Angeles?
Beautiful Beaches of Los Angeles
Los Angeles is a huge city, really huge. You have to know where you want to go or what you want to see; if not, you're lost. What must you see in Los Angeles? The beaches, for starters: Santa Monica Beach, Malibu Beach and Venice Beach. You may also be interested in seeing El Matador Beach, Manhattan Beach and Hermosa Beach. All of them should be POIs on your GPS.
They are beautiful and famous beaches. I also have to tell you that I have seen a lot of beaches in Europe that are similar or better.
One of the things that caught my attention are the checkpoints of the lifeguards in Santa Monica; you have seen them thousands of times in movies or series like "Baywatch," and they are very nice. The Santa Monica Pier is pretty good; it has attractions and shops where you can buy souvenirs. The only thing that you must do is bathe at one of those beaches, not for anything specific, but because you are bathing in the Pacific!
I don't have very many opportunities to do that, so I didn't let it escape.
The Hollywood Sign
If you're tired of beaches or you aren't interested, you're in the entertainment capital of the world, so you can get closer to Beverly Hills or you can try to get as close as possible to the famous Hollywood sign. The best place to do that is Mulholland Highway.
I'll leave you the Google Maps point so you can have it for reference. Don't forget to take a picture. The people that live there are used to tourists, so if you get lost, ask. I don't know what type of experience other people have had with the L.A. citizens, but with me they were very kind and helpful; at least, this is what I remember.
Well, surely others will say otherwise and will have their reasons, but that was my experience.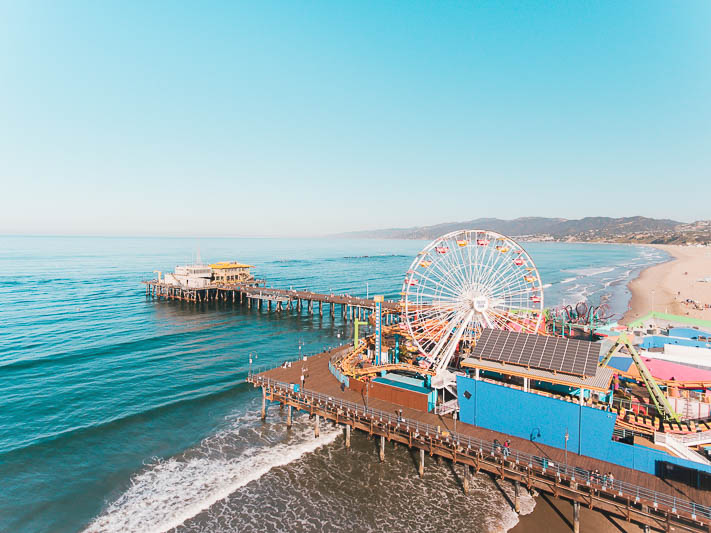 Beverly Hills, Sunset Boulevard and the Walk of Fame
What can I tell you about Beverly Hills? That you don't see anything. You can buy a small map with "The Route of the Famous" which says, this is the house of that actor, and that is so-and-so's house. When you finally go, you'll find a huge house, fenced with 7 meters of high and super-thick tree barriers. If you're lucky you'll see a celebrity on the street, but nothing else. I saw none. We did a loop, we snapped a few pictures and we left.
Don't forget to go for a walk on Sunset Boulevard; it has pretty cool places to have a drink. If you like going out at night, this is one of the places, but be prepared with a thick wallet. Parallel to Sunset Boulevard runs north Hollywood Boulevard, the famous "Walk of Fame" where sidewalks are decorated with those famous stars and/or the shape of the hand of someone famous.
In this street is also the world-famous Chinese Theatre and Kodak Theatre, where the Oscars ceremonies are held. You will not recognize them without all the paraphernalia, but believe me, those are the famous theaters.
This street is also filled with places to have a drink, and also pubs at night. But ultimately it is an ordinary street. I do not want to seem uneducated but it sometimes reminded me of Bravo Murillo in Madrid.
The Griffith Observatory
Close to Hollywood Boulevard is the Griffith Observatory, which has very good views of Los Angeles. I'll leave the link to Google Maps. Don't expect to see the famous letters from here.
We didn't waste our precious time visiting the film studios and all that stuff. If you want to do it, you will need at least one more day. If you decide to stay another day or two, be sure to follow Route 1, which goes along California from north to south connecting close to the coast San Francisco and Los Angeles. We did it (on another trip) and it's really worth it. It is 380 miles.
Make the trip stopping in the small villages and beach spots is worth it. Also on that coast are some of the places with the best waves in the world for surfing, as well as the most dangerous. Near San Francisco you can find Mavericks in Half Moon Bay or Ghost Trees in Pebble Beach.
In conclusion, I personally was a little disappointed with the city of Los Angeles itself, but this doesn't mean it isn't an experience that has to be lived once in life. It is necessary to know this city and keep the good things it gives to you in memory. The fact is, maybe I was expecting something different, that's all. Start preparing the backpack, because tomorrow you are going to do your first stretch of Route 66! Destination: Amboy, California.
"Travel is fatal to prejudice, bigotry, and narrow-mindedness". – Mark Twain
This post is part of Serie of Post about Route 66 Itinerary.
Did you like this post? Please share it, retweet it or whatever. Thanks!!
Book Your Trip
Book Your Flight
Find a cheap flight by using Skyscanner.
Book Your Accommodation
You can book your hostel, hotel, or apartments on Booking.com.
Don't Forget Travel Insurance
Travel insurance will protect you against illness, injury, theft, and cancellations. It's your protection in case anything goes wrong. You never go on a trip without it.
Best companies for activities
Check out Civitatis.com and find the best tours in English (French, Spanish and Italian)
Looking for the best companies to save money with?
Check out my resource page for the best companies to use when you travel! I list all the ones I use to save money when I travel – and I think will help you too! (Is in Spanish yet)
We are not native English speakers but we have decided to translate our post to English so we can share it with the whole world. If you see any spelling mistake or something, please let us know, it is so important to us. If you do so, we can improve our post and also our English knowledge! Thanks in advance!!!
In this post you may find affiliate links. This means that if you make any purchases by clicking on one of them, I will take a small commission, but you are not increased by the price. Why are we doing this? Because it helps us to keep this project running and to continue creating useful content for your travels. Thank you so much for the support!