Route 66, Best Things to Do in Los Angeles
We've compiled a list of the best things to do in Los Angeles and Route 66. So whether you're looking for an adrenaline rush, some culture, or just want to see the sights, this guide has something for everyone!
Los Angeles, it's a great place for travelers to experience and enjoy their trip. This blog post will tell you about some of the attractions that are worth visiting, as well as what makes them so unique!
Los Angeles Route 66
We count on you reading the Route 66 Planning and Budget post. And you have a plan for what you're going to go through each day that can be more or less flexible, and you should be clear by now about what dates you're traveling.
I also recommend reading this post about the day-to-day itinerary of Route 66 in 15 days. You will find a summary of what to see each day and the links to each post to expand the information.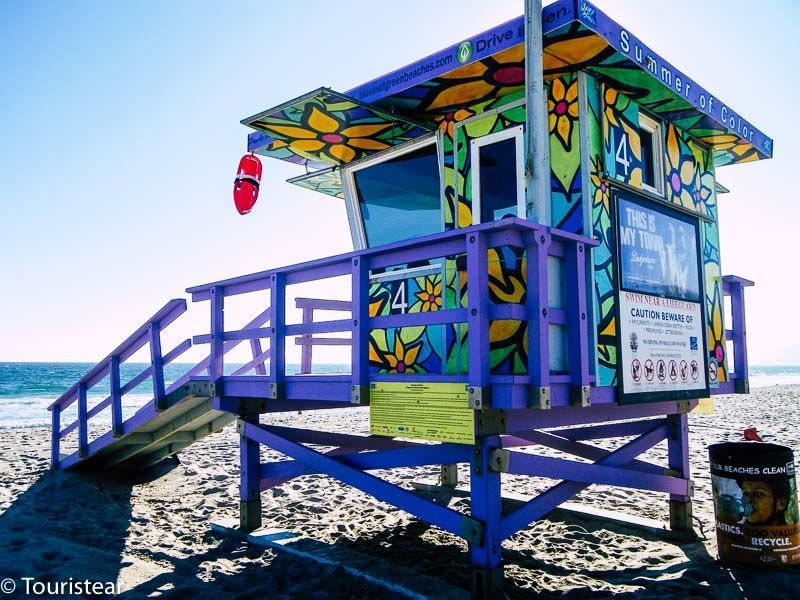 Where to Stay in Los Angeles?
As mentioned at the beginning of Route 66, it is recommended that you book the hotel rooms in advance.
The main reason is the price. When you make the reservation at least a couple of months in advance, you find accommodation at a better price, especially in the big cities in the US 66.
Where is the END of Route 66 in Los Angeles?
Los Angeles Route 66 end-of-route sign is currently located on Santa Monica Pier.
Formally, Route 66 never ended here by the sea. Rather, it ended in downtown Los Angeles at the corner of 7th and Broadway st. in 1926.
The journey was lengthened to Lincoln and Olympic boulevards in Santa Monica a decade later. One mile from the current end.
Since the end was not very scenic, in 2009, the Route 66 Alliance and the Santa Monica Pier Restoration Corporation put up the sign on the Santa Monica Pier, creating this unofficial end-of-the-road trip.
But much more attractive, so you won't be disappointed after driving the 2,500 miles of Route 66 🙂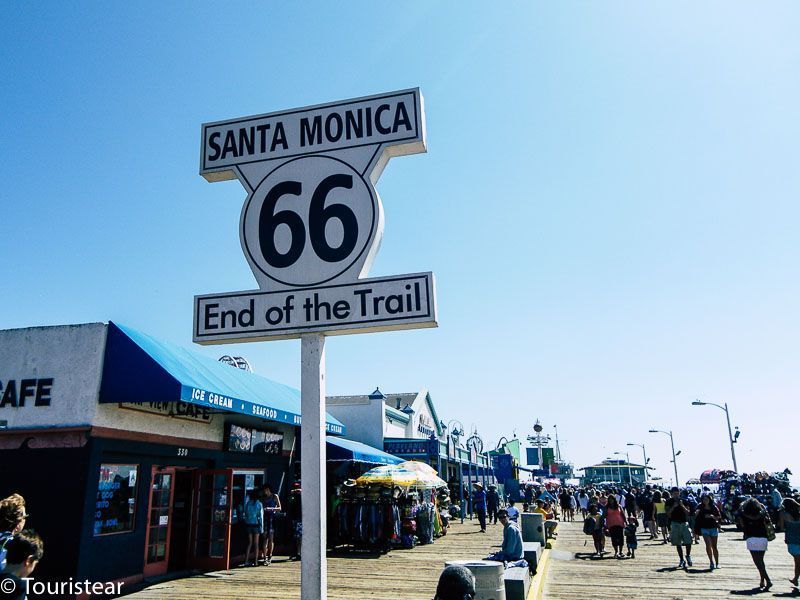 Los Angeles Route 66 Attractions
Here's a whole article with more the 100 activities with the coolest things to do in Los Angeles for all tastes and budgets. Let me know which ones are your favorites!
Los Angeles Beaches
Los Angeles is a gigantic city, but really huge, so you have to go a little directed to what you want to see; otherwise, you are lost. So what not to miss in Los Angeles, the beaches, to begin with:
Santa Mónica Beach,
Malibu Beach
Venice Beach
El Matador Beach
Manhattan Beach
Hermosa Beach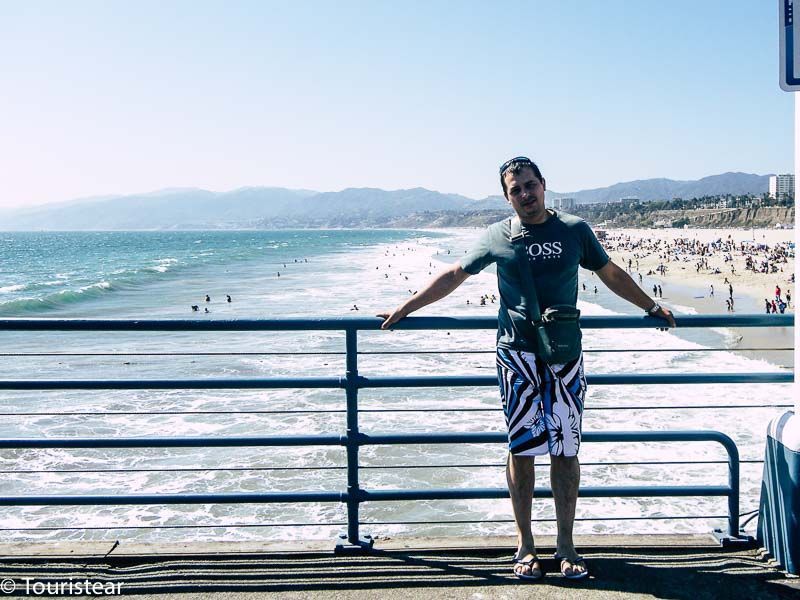 One of the things that caught my attention was the lifeguard guard posts in Santa Monica. Although you will be sick of seeing them in the movies or the series of "The Baywatch," they are very nice.
The pier of Santa Monica (Pier call them to the docks) is quite well, and has attractions and shops where you can buy some souvenirs. It has been one of the main attractions for those traveling Route 66 since the end of the route sign.
The only thing you should not stop doing is taking a dip on one of the beaches, not for nothing, but because you are bathing in the Pacific! But unfortunately, I don't have many opportunities to do that, so I don't let it escape.
Downtown Los Angeles
Los Angeles is a vibrant city with a fantastic mix between old and new. You can find a skyscraper around the corner, a colorful mural, a museum, or a funicular.
You'll find many things to do on your own; I recommend doing a self-guided walking tour of Downtown Los Angeles. It will take you about two hours, and you will get to know the most important places in the city.
Also, you can enjoy artisanal food at the Grand Central Market, a reinvented building that opened for the first time in 1917.
Beverly Hills
Suppose you have tired of beaches or are not very interested in them. In that case, you are in the city of the cinema, so you can take the opportunity to get to know Beverly Hills or try to get as close as possible to the famous Hollywood letters; the best place to do it is Mulholland Highway. Don't stop taking a photo.
People there are super used to tourists, so if you get lost, ask. I don't know what others will experience with the Americans, but they were very kind and helpful to us for practically as long as I remember.
But hey, I'm sure others will say otherwise, and they won't be right either; that was my experience.
From Beverly Hills to tell you, you don't see anything. However, you can buy a map with "The Famous Route," where they tell you that this is the house of so and so and that is the house of.
When you go, you find a great house, fenced, with some super dense 7-meter-high trees; if you are lucky, you see someone famous on the street, but little else.
Unfortunately, I didn't see any (at least I recognized). So we took a walk, took a couple of photos, and went off.
Take a tour of famous houses; I'm sure they will tell you interesting things.
Hollywood
Be sure to take a walk along Sunset Boulevard, which has pretty cool places to drink.
If you like to go out at night, this is one place, but pack your wallet.
Parallel to Sunset Boulevard to the north runs Hollywood Boulevard, the famous (never better said) "walk of fame," where its sidewalks are decorated with famous stars and/or the hand's shape of some celebrity.
In this same street are the famous Chinese Theater and Kodak Theater. In the latter, the Oscar gala is held.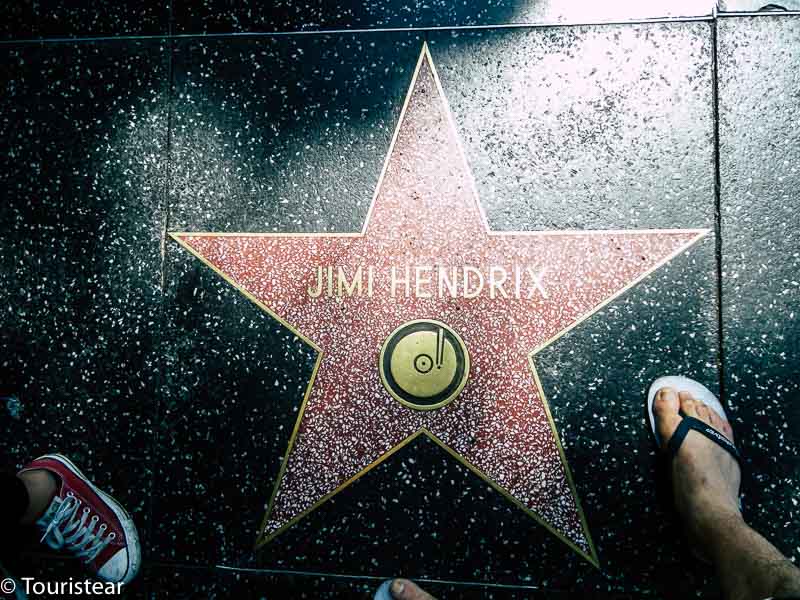 You will not recognize it without all the paraphernalia they assemble, but yes, those are. This street is also full of places to have a drink and pubs at night.
But it is definitely a normal street, I don't want to be a redneck, but sometimes it reminded me of Bravo Murillo in Madrid… There are many more beautiful streets in the world.
Near Hollywood Boulevard, you have the Griffith Observatory, with great views of Los Angeles.
To visit Universal Studios, you have to spend one more day.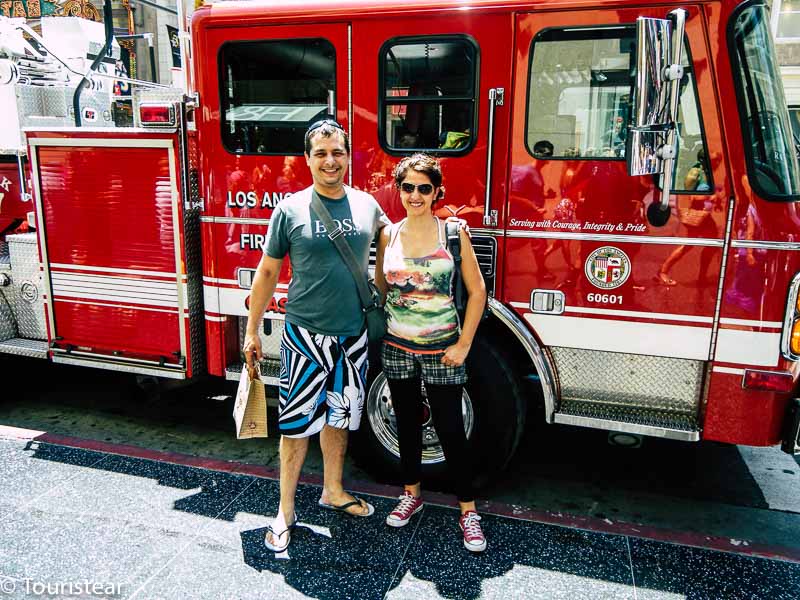 Travel the West Coast before or after Route 66
Do you have time to tour around Los Angeles? Then, don't forget to travel along the West Coast along Route 1, running through California from North to South, joining San Francisco and Los Angeles along the coast.
We did it before starting Route 66, and we loved it.
It is 380 miles, about 600 km, where there are many places to stop, charming cities, super famous beaches, and much more.
Also, on the west coast, you have some places with the best waves in the world for surfing.
The Best Area to Stay in LA?
Beverly Hills is the "posh" and most expensive area.
Downtown Los Angeles, the "Downtown," is less touristy than Hollywood.
Hollywood, close to major attractions
Malibu, Santa Monica, Venice, LA's beaches
West Hollywood is ideal for young couples.
Take into account for your road trip that your hotel has parking. Again, it the better if it's free or included in the room's price.
Here are the hotels we recommend to stay in and around Los Angeles. There is something for all tastes and budgets.
How to get from Los Angeles to Las Vegas on Route 66
From Los Angeles to Las Vegas on Route 66, there are 443 miles, approximately 700km. It may be a shorter ride if you're on the interstate, but you'd be missing out on some of Route 66's top attractions.
Route 66, what to see between Los Angeles and Las Vegas
Between Los Angeles and Las Vegas, you have some of the main attractions of Route 66. We recommend that you make this journey in 2 days and save about 4 days for Las Vegas, Death Valley, and Grand Canyon National Park.
Stretch 1. Los Angeles – Amboy
Madonna of the Trail
Fontana
Cajon Pass
Victorville
Newberry Springs. Bagdad Cafe
Ludlow
Joshua Tree National Park
Amboy, Roy's Motel & Cafe
Read the full post on The Route 66 Stretch from Los Angeles to Amboy.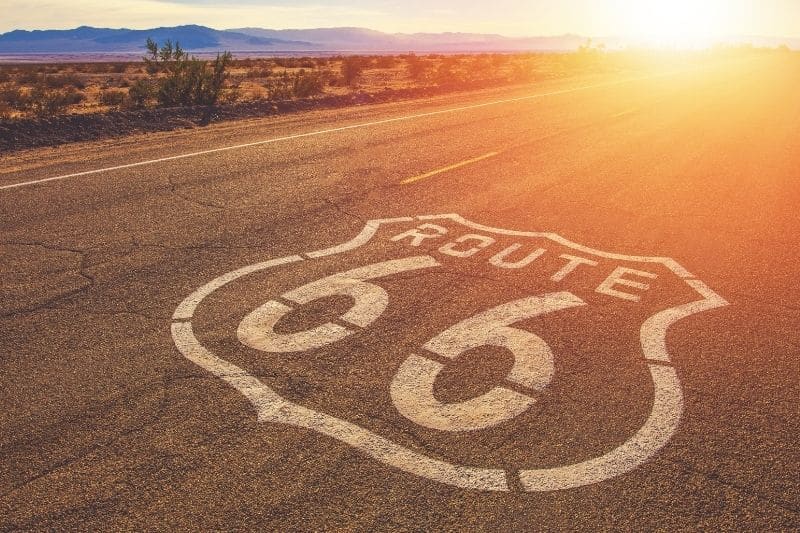 Stretch 2. Amboy – Kingman
Read the full post on the Route 66 Stretch from Amboy to Kingman
Stretch 3. Kingman – Las Vegas
Hoover Dam, on the border of Nevada and Arizona
How to Get from Los Angeles to Grand Canyon NP
Following the previous section, you can go from Los Angeles to the Grand Canyon, from Las Vegas or Los Angeles.
From LA to Grand Canyon National Park, there are about 500 miles (about 800 km). If you like to drive, you can do it on a day's drive. Stay at some Grand Canyon Hotels and enjoy a couple of days in this wonder of nature.
Check out the post about the Grand Canyon National Park.
Itinerary Route 66 day by day
Day 1. What to see in Los Angeles
Route 66 must-visit places
And if you like it, share it with your friends on social media. Happy and Safe Trips!
Last Updated on 31 August, 2023 by Veronica
Disclosure: Some of the links on this post are affiliate links, meaning at no additional cost to you, I may earn a small commission if you click through and make a purchase.