Route 66, Stretch from Kingman, Az to Holbrook, Az
The best things to do between Kingman, Az, and Holbrook, Az, on Historic Route 66. You will drive across Arizona, "The Grand Canyon State," on Route 66.
You will visit the must-visit places like Kingman, Seligman, or Flagstaff. In addition, you will pass by some of the sites mentioned in the famous song "Get Your Kicks on Route 66."
Read on, grab a pen and paper; we're going to start preparing this stretch of Route 66 through Arizona. A journey of 239 miles (385 km approx), not bad! Eh?
You have many deserts ahead and overwhelming landscapes that make you feel like an ant in the world. That is a highly recommended feeling because it makes you appreciate every moment you live on your trip differently.
As always, we go step by step to make a good Road Trip without skipping anything important.
Today there are a lot of places to visit, so I recommend that you get up early to go without rushing or if you like the plan, divide this day in two 😉
Here are the posts from the day before and after.
To start organizing your trip, we recommend that you first read: Route 66 planning and budget.
Disclosure: Some of the links on this post are affiliate links, meaning at no additional cost to you, I may earn a small commission if you click through and make a purchase.
Must-Stops on Route 66 Arizona
Kingman Az
In Kingman, you will find one of the museums on Route 66 that you must visit. Unfortunately, it closes at five in the afternoon.
Route 66 has played a historic role in the US. "It winds from Chicago to LA," as the famous 1946 Bobby Troup song goes. Kingman in northwestern Arizona is one of the cities you will pass through on your way.
It is one of the closest cities to the Grand Canyon and is a great place to visit, partly due to the mild climate it enjoys due to its elevation of 3,300 feet.
Kingman is the capital of Mohave County, with a population of just under 30,000, developed in the late 1800s when the railroad arrived. In the following years, it became an important mining and livestock center.
The history you cannot see in its streets is certainly available in its museums.
Kingman is a city where you can spend a whole day or more. There are many things to do and visit in Kingman, and you will likely feel a bit gloomy when it is time to go.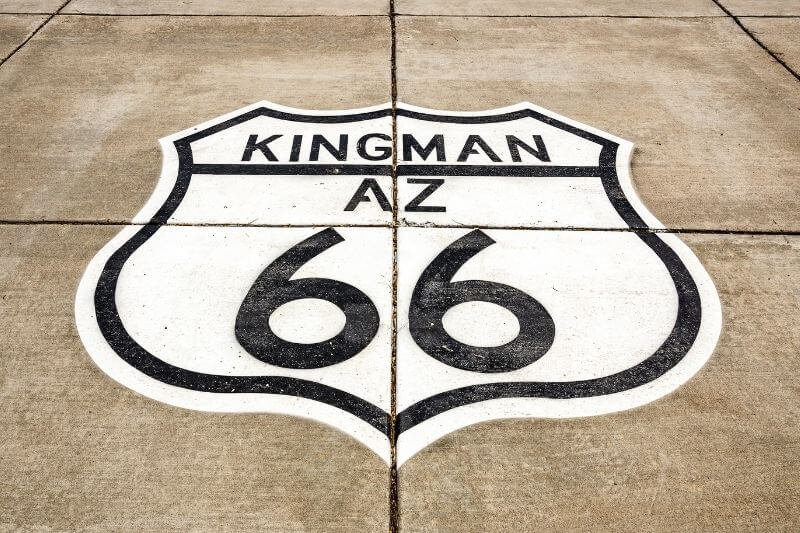 Top things to do in Kingman
Historic Route 66 Museum: The Arizona Route 66 Museum tells the story of this famous road and the transportation forms that have traveled it over the years. The Historic Powerhouse houses it and was a significant addition to Kingman's attractions when it opened in 2001.
Mohave Museum of History & Arts: The Daughters of pioneers founded the Mohave Museum of History and Arts in 1961 in a room within the Chamber of Commerce. Six years later, it moved into a new building with its own parking lot.
Mojave Lake
Kingman Railroad Museum
Kingman Visitor Center
Bonelli House
Black Bridge Brewery
Tombstone detours to a very famous ghost town.
Hualapai Mountain Park
Hackberry AZ, Route 66
What's in Hackberry? Well, aside from some animals and desert. Hackberry is famous for the General Store, a classic on Route 66. You can stop for a coffee and take a souvenir photo.
Hackberry General Store's nickname is "Mother Lode of Mother Road Memorabilia."
Hackberry is a small town in central Mojave County. In 1848, after defeating Mexico, the United States incorporated this territory as New Mexico, which later was divided, and a part became Arizona.
In about 1870, silver was discovered, and the community began to grow. The mine is named Hackberry, after a tree that grew near the mine.
In the following decade, the railroad arrived, and the Hackberry mine stop was created. At the beginning of the 20th century, the mine resources were depleted, and it was closed.
And it was not until 1926, with the layout of Route 66, that the town re-emerged with new businesses in the area.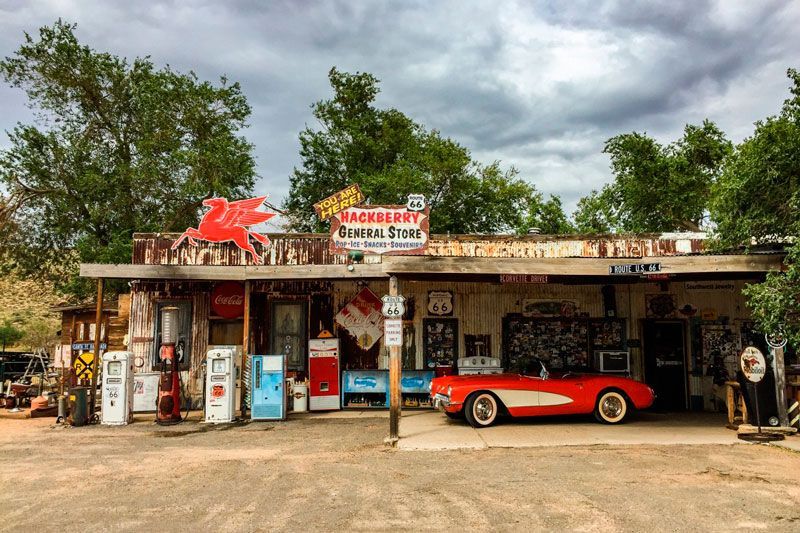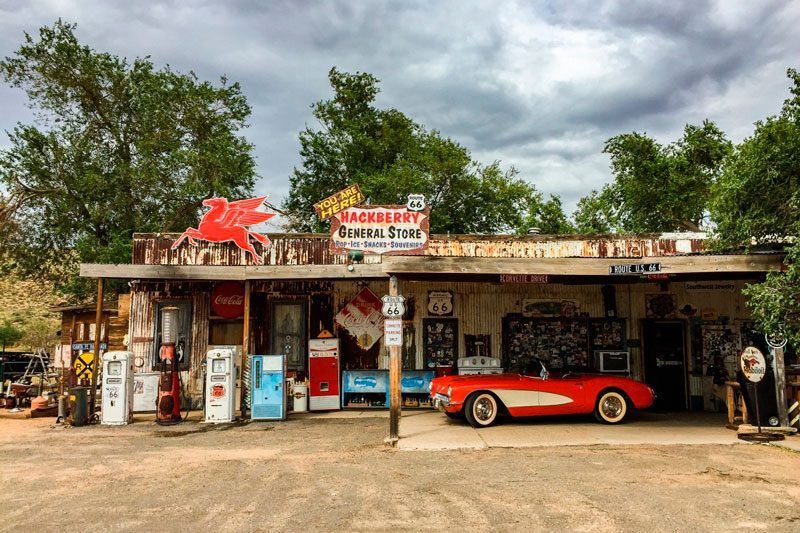 Starting in 1979, when I-40 came along, traffic on Route 66 decreased, causing many businesses to close. But the General Store survives and is a good place to stop and take a souvenir.
As we always say, do your shopping in the small shops to help conserve Route 66 and its businesses.
From Kingman to Hackberry, it is 28.4 miles, approximately 35 minutes drive.
Truxton, Will Rogers Highway
From Hackberry and along the original Route 66, we headed to Truxton, almost a ghost town, home to about 100 souls.
Some businesses remain in Truxton, such as the Frontier Motel and café, a bar, the first café where Truxton was founded, the old Cowgills Market, a gas station, and many abandoned buildings.
The most interesting thing about this small section is the Frontier Motel's light and the sign that says you are on the Will Rogers Highway.
¿What? But we are not on Route 66? Yes, Route 66 is also known as the Will Rogers Highway for most of its length.
Will Rogers (1879-1935), also known as the Cherokee Kid, was born in Oologah, Oklahoma. He was a comedian, actor, and current of social opinion closely related to Route 66. Its origins were Native American, at least in part.
He was a tireless traveler, and I would tell you that he was one of the first travel bloggers! If you don't believe me, study his biography. Logically there was no internet, but he published a column every week with his travels until he died traveling, of course.
Peach Springs & Grand Canyon Caverns
With a setting that inspired the city of Radiator Springs in the Pixar Film Cars, and activities like cave exploration, whitewater rafting, and the famous Grand Canyon walkway, Peach Springs, on historic Route 66, you can't miss it.
Peach Springs is a small capital town of the Hualapai Nation, on Mojave County's border, with two historical places you must visit and some other proposals I leave you here.
Historic Peach Springs Trading Post
John Osterman Shell Station
Grand Canyon National Park Detour
Rafting in Diamond Creek
Visit the Grand Canyon Cavern, the largest dry cave in the United States.
TIP: Make a reservation at Cavern Grotto at Grand Canyon Caverns & Inn and take the elevator 21 floors underground. You will sit on a platform with great views of the surroundings.
Where to stay in Peach Springs?
You can spend the night in "The Cave Room," in the Grand Canyon caverns. One of the 10 most unusual places in the world to spend the night. If you want to live a unique experience without a doubt, this is your opportunity.
You can stay in Hotel Resort Hualapai Lodge
Or at Hualapai Ranch and experience the Wild West.
Grand Canyon National Park Detour
To the north is the Grand Canyon National Park. This is one of the places where you can detour to visit it.
From Peach Springs to the Grand Canyon Skywalk (where the glass walkway) is 90 miles, about two hours of driving.
Seligman AZ Best Things to Do
Seligman is one of those places on Route 66 that you have to visit no matter what.
Its original name was "Prescott Junction," after the train stop, but in 1886 it was renamed Seligman in honor of Jesse Seligman of J.W. Seligman Co, who helped finance the train in this area.
Today Seligman is home to numerous gift shops, restaurants, and small motels that will take you back in time.
Must-Visit Places in Seligman
Route 66 Motel,
Copper Cart Restaurant,
Angel Delgadillo's Barber Shop
Snow Cap Drive-In of Juan Delgadillo.
Return to the 50's
Angel & Vilma in Seligman
Angel Delgadillo was a hairdresser and barber for 50 years at Seligman and was one of the fundamental pillars to finding the Historic Route 66 association, receiving the John Steinbeck Award.
In 1972, Angel Delgadillo put his hairdresser here to take advantage of the traffic that Route 66 brought. All was well until 1978 when I-40 bypassed Seligman and Route 66, and traffic began to slow.
Along with his wife and other merchants in northwestern Arizona, he created the Historic Route 66 Association of Arizona, the association of Arizona's historic Route 66. And they fought for Route 66 to be officially designated as a "historic highway."
The association was located in Angel's Barber Shop.
His work caused in 1987, Seligman was declared the Birthplace of Historic Route 66, And Angel is called the Guardian Angel of Route 66.
You definitely have to make a stop here, don't you think?
Between Seligman and Kingman, you find 86 miles of the original old Route 66.
In Seligman, the original Route 66 is dangerously close to I-40, but don't worry, we can go on the original highway for a good part of the route, parallel to I-40. But after halfway between Seligman and Williams, it's time to go on I-40.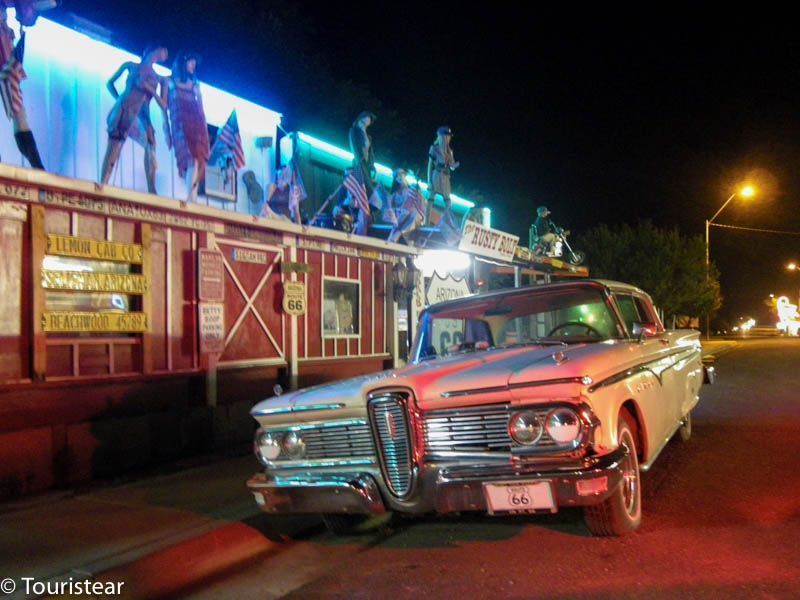 Practical info about Seligman
Distance Seligman to Flagstaff: 75.8 miles. Approximately 1 hour and 15 minutes of driving.
Distance from Seligman to Kingman: 72.5 miles. Approximately 1 hour and 10 minutes of driving.
Hotels in Seligman
Stay in Historic Route 66 Motel
Restaurants in Seligman
Here are some recommendations if you arrive in Seligman for lunch or dinner.
Copper Cart Restaurant
Roadkill Cafe
Ash Fork
You can stop at the Route 66 Museum at Ash Fork. It works thanks to donations from visitors.
Here you will see vintage vehicles, different tools and artifacts, and a scale model of the Escalante luxury hotel, which was in operation between 1907 and 1951.
If you like cemeteries, you can visit Ash Fork Settlers Cemetery, where the town's first residents are buried.
Williams AZ
In Williams, you will find a stretch of Route 66 with shops, restaurants, lodging, and cowboys in action.
Must-visit places
Make a stop at the visitor center for a map and updated information.
Walk along Route 66
Take a walking route or a picnic in one of the seven lakes in the area.
Visit the Grand Canyon on the historic "Grand Canyon Railway."
Have a beer at one of the local breweries.
Where to eat in Williams?
You have two typical Route 66 places to stop for lunch in Williams.
The first was the Rod's Steak House, whose mascot (a cow) was used to design the light and the cards. It has been in operation since 1946.
The second is the Fray Marcos Hotel, one of the hotels that were part of the Harvey House.
From Fray Marcos, they organize trips to the Grand Canyon.
Bellemont
Bellemont is the highest town on all of Route 66, and it is approx. 2,200 meters high (7,130 feet) within the Coconino National Forest
This region has been inhabited for more than 10,000 years.
It is known for being the highest city on Route 66 (7130 feet high) and for the movie Easy Rider, where the Pine Breeze Inn comes out.
Flagstaff AZ
Flagstaff is one of those places that takes you back in time and that you can easily imagine what life was like in other times.
Along the stretch of Route 66 that passes through Flagstaff, you will see several historic hotels with their classic neon signs, its famous Museum Club, which went from being the home of a taxidermist to a club where you can listen to live music and dance.
Route 66 Attractions in Flagstaff
Walk across the historic downtown
Weatherford Hotel
Downtowner Motel, Motel Sierra Vista, and Dubeau Motel Inn
The Spur Motel
L Motel
Lane Motel
Granny's Closet – Lumberjack diner (close right now)
Western Hills Motel
Motel 66
Geronimo Motel
El Pueblo Motor Court
Dean Eldredge Museum (Museum Club)
Tip: If you want a good photo of Route 66, go to the Amtrak train station in downtown Flagstaff and take a photo with the mural.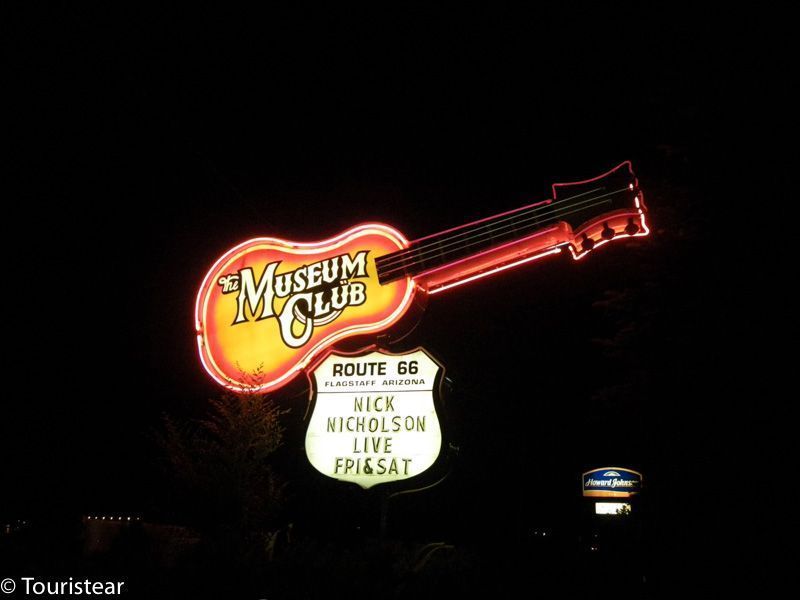 More Ideas for your visit to Flagstaff
Visit the "Mother Road Brewing Company"
Stamp your Route 66 passport
Take a photo (or more) of the Western Hills Motel neon sign.
Route 66 Mural on Phoenix Avenue
If you want to do outdoor activities, you are in luck after visiting the typical places of Route 66. In and around Flagstaff, you have a lot to choose from.
Coconino National Forest
Elden Pueblo Ruins
Red Rocks State Park
Wupatki National Monument
Sunset Crater National Monument
Winona AZ "Don't forget Winona…"
Winona is one of the towns mentioned in the song "Get Your Kicks on Route 66".
One of its icons was the Trading Post, which is currently closed, but you can see it.
And you also have to visit the 1924 bridge, called the historic Walnut Creek Route 66 bridge.
Trading Posts & Twin Arrows
Twin Arrows is a small town where we will find the Twin Arrows Trading Post, a combination of Café, Trading Post, and gas station distinguished by having two giant arrows stuck in the ground. At present, it is abandoned, and the state of the arrows is a bit sad. (My pic is a little old…)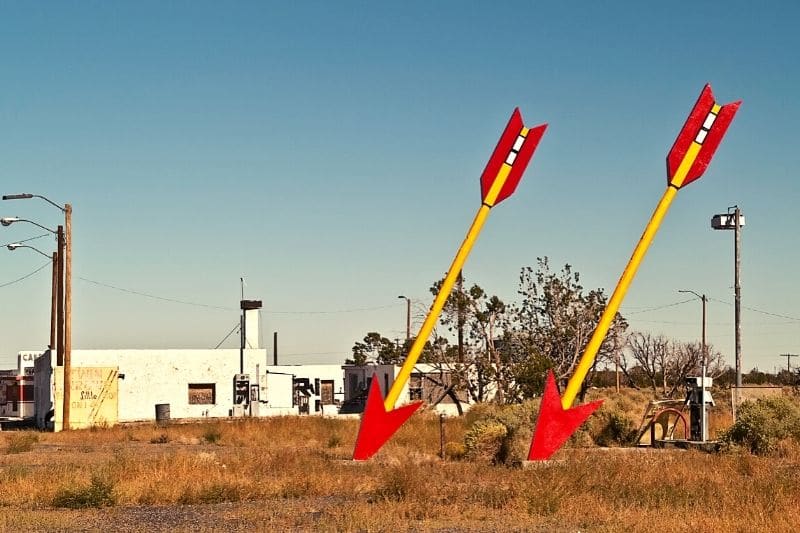 What is a Trading Post?
It is a "point of exchange." They were basically points in the American West where trade took place and served as meeting and news exchange points.
They were the only stores the colonists had at that time, and therefore, they were key points from East to West.
Remember that gasoline is much cheaper in the Indian reserves, so take advantage and load gasoline!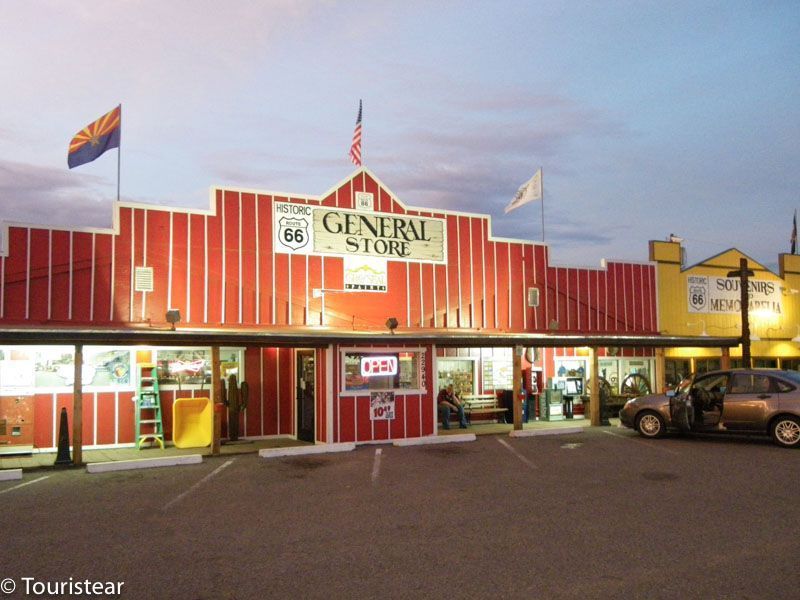 Two Guns, an Abandoned Town Since 1971
During the golden age of Route 66, Two Guns was a very popular trading post. But since 1971, it has been abandoned.
It can be reached very easily from the interstate. And here, you will find many abandoned buildings and stories of betrayal and murder.
If you search for information on the internet, you will find that Two Guns is a cursed town, but it could be a Shakespearean story.
One of the stories told is that in 1878, after a group of Apaches massacred a Navajo camp, they swore revenge. Navajo warriors found the hidden cave (Apache Death Cave) where the Apaches slept, very close to Two Guns, and set them on fire, killing 42 people.
In 1889, four train robbers allegedly buried their loot in Diablo Canyon. So now you know, you can go in search of it 😉
The bandits reportedly stole $ 100,000, 2,500 new silver dollars, $ 40,000 worth of gold coins, silver watches, jewelry, and diamonds from a train. All four were later arrested with only $ 100 to their name. One claimed that they hid the money in the cannon.
This place was easy to cross Canyon Diablo, first by wagon and then by car. And its original name was Canyon Lodge.
Earle Cundiff and his wife, Louise, had big plans for the area when they bought 320 acres of land in the 1920s. They built a store, gas station, and restaurant on the site.
In 1925, the area's prosperity caught the attention of Harry Miller, who leased part of the land.
Miller claimed to be full-blooded Apache and was touted to tourists as Chief Crazy Thunder.
When the highway was baptized as Route 66, the name of the site changed to Two Guns because it was the nickname of Henry E. Miller; he called himself "Two Guns Miller."
At Route 66's heyday, Two Guns had a gas station, lodging, grocery stores, a camp, and even a zoo.
Remains remain of a zoo that Miller built to house mountain lions and other animals.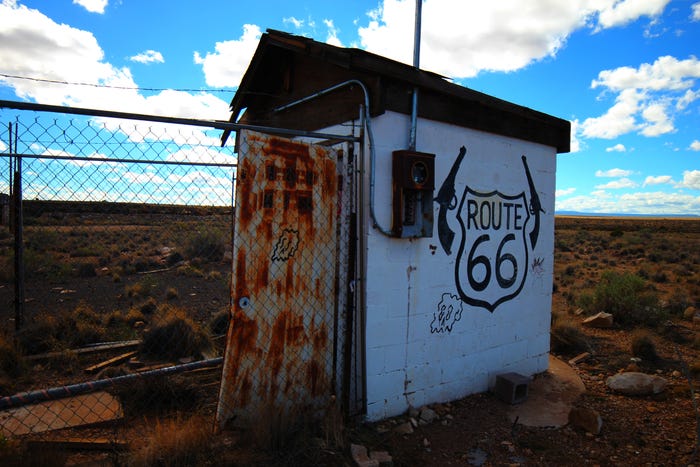 Walking through Two Guns can feel like you're walking through a grave.
Miller shot and killed Earle Cundiff, who was unarmed in 1926 and got away with it. Miller and Cundiff had been arguing over Miller's contract, which Miller thought was unfair.
In a lurid tribute, the graffiti on one of the buildings showed a smiling man firing a gun: a monument to the dark occasion or the work of a visitor who simply wished to paint a cowboy on a trading post?
In the 1970s, a man named Dreher bought the property and tried to revive the trading post. Two Guns would even have its own exit ramp, which helped access. But bad luck and fire killed the dream.
The Trading Post, where the fire allegedly occurred, is barely standing. Therefore, it is best not to enter.
Meteor City and Meteor Crater
We leave Twin Arrows in the rear-view mirror to continue our way to Meteor City and the Meteor Crater. What do you have to see? Well, just that, a huge crater that left a little meter, you have to go south along a small road about 20 or 25 km.
Meteor City Trading Post is in ruins. Oh, and if you were wondering, Meteor City is not a city or even a town. It's the dome-shaped Trading Post at Exit 239 off I-40. And that he had the longest map of Route 66.
The 2006 Cars movie features a building similar to the Meteor City and Lupton dome.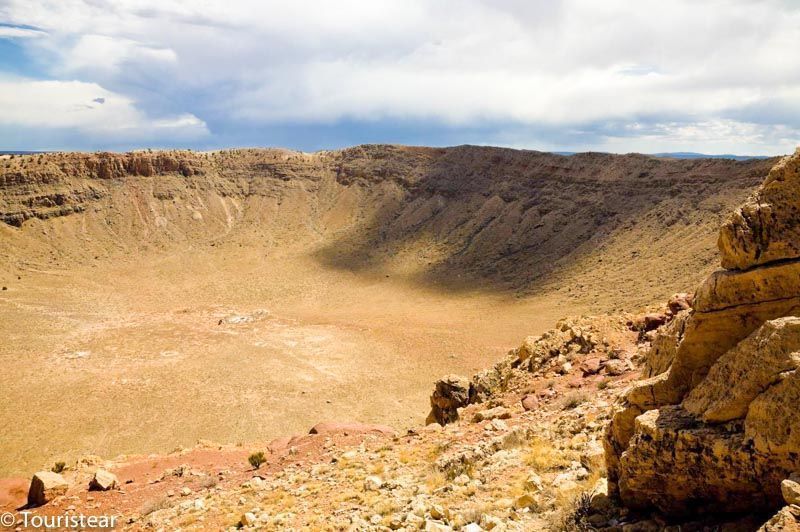 Winslow AZ Route 66
The city of Winslow is located in Navajo County and has about 10,000 inhabitants.
Winslow is famous for "Standin 'on the corner," made famous by the Eagles' song "Take it Easy." The sculpture and the mural are essential to visit and take photos of!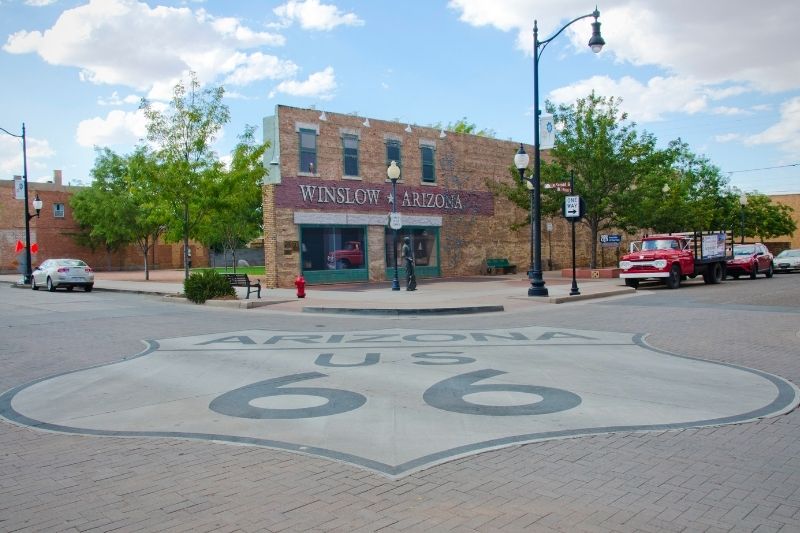 Winslow is also known for its railroad museum, colonial-style "La Posada" hotel, and the Homolovi Ruins State Park.
Past Winslow, we have Joseph City, where the only thing worth doing is the JackRabbit Trading Post, one of the most famous signs on Route 66.
Just a few miles from Joseph City is Holbrook, the end of our stage today.
Distance from Winslow to Holbrook: 32.8 miles, approximately 35 minutes by car.
What to Do in Holbrook? Route 66
Holbrook started as a town of cattlemen, railroad men, outlaws, and law enforcement officers. The train reached Holbrook in 1913 and Route 66 in 1926.
Today you can see the Native American culture permeating the city, its Hispanic roots, and pioneers in all life areas.
The city is located in Navajo County. It has a population of about 5,000 residents. And it's very close (18 miles) to the Painted Desert and Petrified National Park.
Holbrook is well known for its motel with Tipis, the tents of typical Indians. Wigwam Hotel (Tel: Office: (928) 524 3048 fax: (928) 524 3668).
For a reason, our end of today's route is here! Even if it is one night, it is worth it. It is recommended to book two weeks in advance in the high season.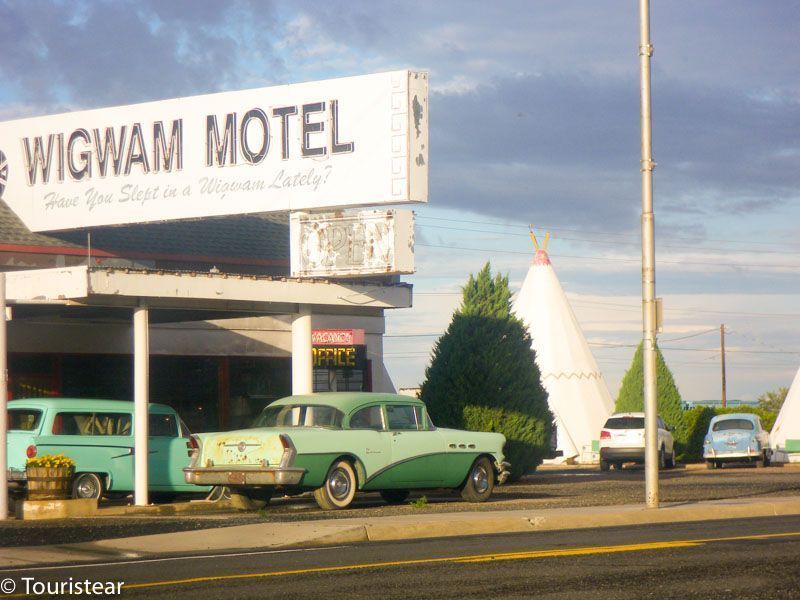 If you like vintage motels, in Holbrook, you will find a few:
Dinosaur statue and US66 shield
Joe & Aggie's café
Woods Inn
Hiway House Motel
Brad's Motel
Western Motel
Whiting Motel
City Center Motel
Wigwam Motel (historic landmark)
Sun-n-Sand Motel
Plainsman Restaurant
Sandman Motel
Desert View Motel
In the 238 miles of the stretch between Holbrook and Kingman on Route 66, you can enjoy historical places, old motels, national parks, and outdoor activities. As you can see, Route 66 is much more than souvenir shops and abandoned gas stations.
Take your time to plan the trip and enjoy the journey.
Where to Continue?
Plan Your Road Trip on Route 66
This post is part of the series of posts about Route 66 in 15 days
Day 4. Kingman. Arizona – Holbrook. Arizona. 239 Miles
Last Updated on 31 August, 2023 by Veronica