What to see from Kingman to Holbrook
Well gentlemen, Day 4, we are in the section Kingman to Holbrook. We have a lot of things to do ahead, and all good. We wake up in Kingman, Arizona. We're in the second State of the eight we are going to travel along. We will cross Arizona from side to side, while other states (such as Texas) we'll only do a partial crossing. Unfortunately we leave a lot untouched on the way!
Today, as expected, we'll not leave this state, Arizona The Grand Canyon State. Where are going to start in Kingman near the border of Arizona with California, and our destination is Holbrook.
A journey of 239 miles, long journey today! You have a lot of desert ahead and overwhelming landscapes that will make you feel like a tiny ant in this world. I think this is a highly recommended sensation because it makes you to appreciate every moment you are living on your trip in a different way.
As always, we will go step by step, without skipping anything important, nor entertaining us too much where not worthwhile. Today there are plenty of places to visit, so I suggest you wake up early so you can take your time and go slowly.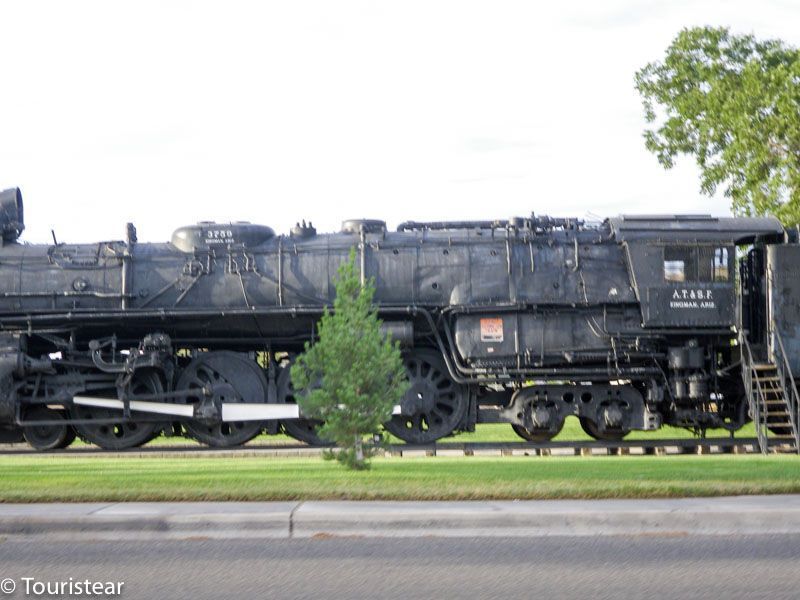 Lets go! From Kingman to Holbrook
The first stop of our todays route is Hackberry. We'll take the original Route 66 and travel a distance of 28.4 miles, about 35 minutes.What's in Hackberry? Well, apart of some animals and desert, the classic General Store of Route 66. Don't forget to stop and even have a coffee, and a souvenir, if you want.
The Will Rogers Highway
From Hackberry and following the original Route 66 we point to Truxton. In Truxton there's a cafe, if you want to stop, be my guest. The only interesting thing you can see is that in the sign it says "Will Rogers Highway".
What?, but are we not on Route 66? Yes, Route 66 is also known as the Will Rogers Highway virtually in all the way.
Will Rogers (1879-1935), also known as Cherokee Kid was born in Oologah, Oklahoma. It was a humorist, actor and a social opinion generator who was closely related to Route 66. His ancestors were Indians, at least in part. He was a tireless traveler, I'd say he was one of the first travel bloggers!!
If you do not believe me, study his biography. Obviously there was no internet, but he published a column every week with their travels until he died traveling, of course.
Seligman and the Caves of Grand Canyon
We leave Truxton behind and we address Seligman. Halfway we found Peach Springs, and between Peach Springs and Seligman we can see the Grand Canyon Caves. You are leaving the Grand Canyon at the north, but visiting it following this path is impossible.
To do so you would have to leave Las Vegas toward the nortwest, and not by this route. If you want to see the Grand Canyon, then you'll have to wait a little till we post the Pre-Route 66 journey. It's a stunning journey of seven days before making the Route 66!!
If you have decided to visit the Caves of the Grand Canyon, you must deduct two hours in your planning. If you've left Kingman soon enough it won't be a problem. Finally we arrive to Seligman. In Seligman you shouldn't miss the Route 66 Motel, the Copper Cart Restaurant, the hairdressing of Angel Delgadillo and the Snow Cap Drive-In of Juan Delgadillo.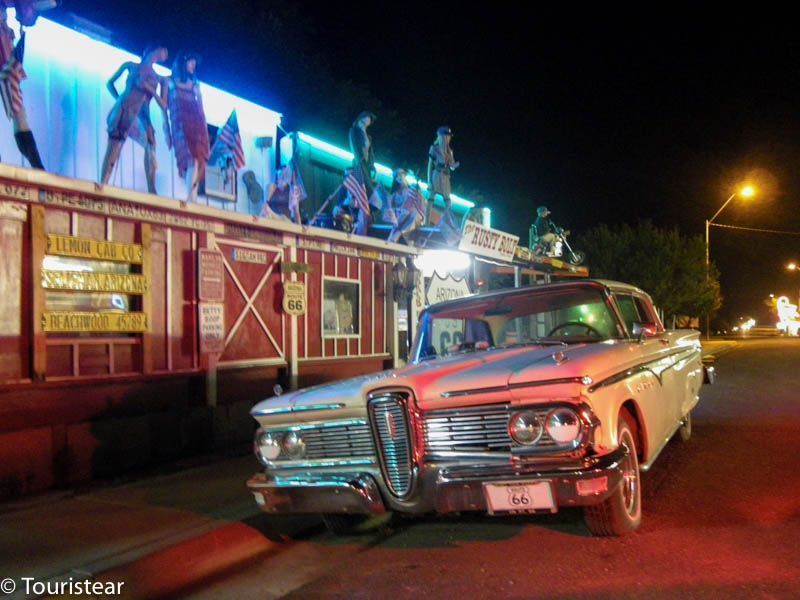 Angel Delgadillo was hairdresser and barber for 50 years in Seligman and was one of the fundamental pillars for the formation of the Historic Route 66 Association which received the John Steinbeck Award.
In Seligman the original Route 66 is dangerously close to I-40 but don't worry!, we can go through the original road for a good part of the route, which runs parallel to I-40. But halfway Seligman and Williams it's mandatory to get into I-40, whining is nonsense, it's a must.
Williams. Rod's Steak House
Once we arrive Williams if we have made a good planning, it would be lundh time. We have two possible restaurant options typical of Route 66. The first is Rod's Steak House, whose mascot (a cow) was used to design the sign and the menus. On the other hand the Fray Marcos Hotel, it's one of the hotels that were part of the Harvey House.
From the Fray Marcos there are organized trips to the Grand Canyon, but you'll probably not interested if you've already done our Pre-Route 66 (we haven't published it yet, but don't worry, it's coming).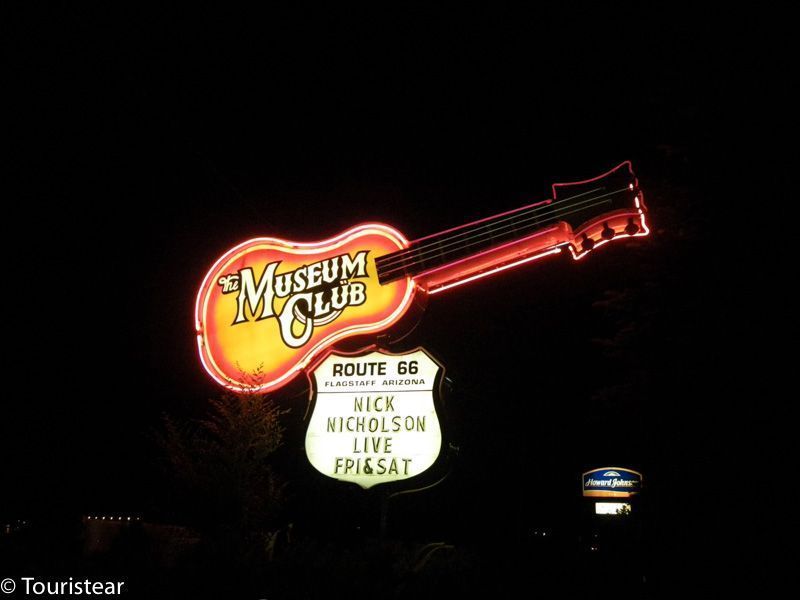 We left Williams behind and go ahead inexorably to our next destination, Bellemont. What's in Bellemont? Well, it's the highest city in the entire Route 66, 2200 meters high. You are going through a nature reserve, formerly Apache territory, do not hesitate to stop occasionally and enjoy what you see. We keep going tirelessly toward Flagstaff. The Museum Club of Flagstaff is a must.
Trading Posts & Twin Arrows
We leave Flagstaff and point to Twin Arrows which is a village where the Twin Arrows Trading Post is placed. Actually it is a combination of cafe, Trading Post, and gas station and it is distinguished by two giant arrows stuck in the ground.
What are the Trading Posts? Basically they were points in the American West where trading took place and also served as reunion points and to exchange news. They were the only stores that had the settlers at that time, and therefore key points on their way from East to West.
Note that on Indian reserves gasoline is much cheaper, so take advantage and fill up!
Meteor City and Meteor Crater
We leave Twin Arrows in our rear mirror and we continue our way to Meteor Crater and Meteor City. What can you see there?, just that, a huge crater a meteorite did long ago, you have to go deep south on a narrow road, about 15 miles. We couldn't see it because we got without daylight (bad timing).
We leave Meteor City and drive toward Winslow. Winslow is known for its railroad museum, the hotel "La Posada" of colonial style and the state park of Homolovi ruins. After Winslow we have Joseph City where the only thing worthwhile is the JackRabbit Trading Post, one of the most famous signs of Route 66.
A few kilometers from Joseph City is Holbrook the end of our stage of today. Holbrook is known for its motel with tipis, the typical indian tents. It is the Wigwam Hotel (Tel: Office: (928) 524 3048 fax: (928) 524 3668). That's why the end of our route today is here !!. Even a night's worth. We recommend booking two weeks in advance, I assume that you've done it much earlier.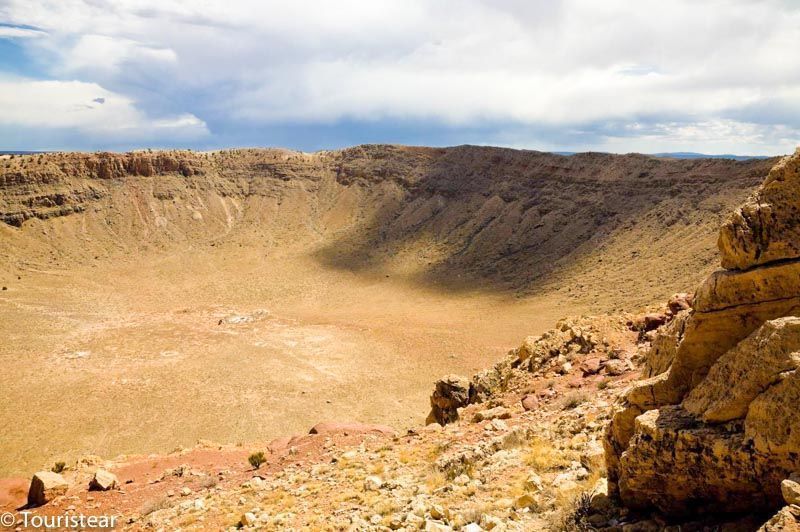 Don't miss going to the Trading Post and souvenir shops. You should rest for tomorrow … Tomorrow we'll see the Petrified Forest (Petrified Forest), the Painted Desert, get into into New Mexico! the Indian land, where the Roswell incident up at Area 51 in Nevada began …
"Travel is fatal to prejudice, bigotry, and narrow-mindedness". – Mark Twain
This post is part of Serie of Post about Route 66 Itinerary
Did you like this post? Please share it, retweet it or whatever. Thanks!!
Book Your Trip
Book Your Flight
Find a cheap flight by using Skyscanner.
Book Your Accommodation
You can book your hostel, hotel, or apartments on Booking.com.
Don't Forget Travel Insurance
Travel insurance will protect you against illness, injury, theft, and cancellations. It's your protection in case anything goes wrong. You never go on a trip without it.
Best companies for activities
Check out Civitatis.com and find the best tours in English (French, Spanish and Italian)
Looking for the best companies to save money with?
Check out my resource page for the best companies to use when you travel! I list all the ones I use to save money when I travel – and I think will help you too! (Is in Spanish yet)
We are not native English speakers but we have decided to translate our post to English so we can share it with the whole world. If you see any spelling mistake or something, please let us know, it is so important to us. If you do so, we can improve our post and also our English knowledge! Thanks in advance!!!
In this post you may find affiliate links. This means that if you make any purchases by clicking on one of them, I will take a small commission, but you are not increased by the price. Why are we doing this? Because it helps us to keep this project running and to continue creating useful content for your travels. Thank you so much for the support!