Visit La Maison Forte de Reignac, Dordogne
Maison Forte de Reignac is one of the strangest castles you'll visit and, surprisingly, much bigger than it looks.
It is located in the Dordogne – Périgord region and is an ancient castle excavated in the rock, exceptionally preserved and entirely furnished from the period.
It is the only monument of its kind in France; they call it the "chateau Falaise" or cliff castle. It is classified as a historical monument and has undergone almost no modification in the last 700 years.
But its history began 200 centuries ago, and I tell you everything below.
History of La Maison Forte de Reignac
The prehistoric villages were established in what would become the Maison Forte 200 centuries ago, taking advantage of living next to the Vézere River and the cliff's protection.
Today, Reignac is the only monument of this type of cliff castle in France, wholly intact and preserved in exceptional conditions, with period furniture in all rooms.
Classified as a historical monument on October 16th, 1964, it is in Périgord the strangest, most unusual, secret, and mysterious castle.
Built on a cliff overlooking the valley of Vezere, Reignac had known everything: from prehistory, 20,000 years ago, when hunter-gatherers used these large rocky shelters to protect themselves from the cold to the Middle Ages and the construction of the "cliff castle."
The castle is much larger than one could imagine from the outside. The facade hides great rooms, the large hall, the armory, the refectory, the plot, the kitchen, the chambers, the chapel, the prison cell, the dungeon, and the basements.
This place has been a center of great interest, and numerous scientific and archaeological research has been carried out.
On your visit, you will see authentic objects from prehistoric times that were discovered during the investigations.
The Wonders Behind Reignac's Facade
The Maison Forte de Reignac is not only a powerful lair on the slope of a cliff but the center of a domain where the lord of the place lived, surrounded by his family and his home.
Here he exercised his power and judged the misdemeanors of his land. The lord of Roque Saint Christophe's troglodyte city was exercised the right of high and low justice, about two kilometers away.
The castle was built in the fifteenth century, was occupied during prehistory, the Middle Ages, and was inhabited until the beginning of the twentieth century. It was opened to the public in 2006.
Ready to go back in time? All rooms at Maison Forte feature antique furniture and artifacts.
Must-Visits at Maison Forte
The Armory
The kitchen
The Countess's Room
The upper terraces with great views
The chapel
The Great Men's Room
The Great Hall of Honor
Period furniture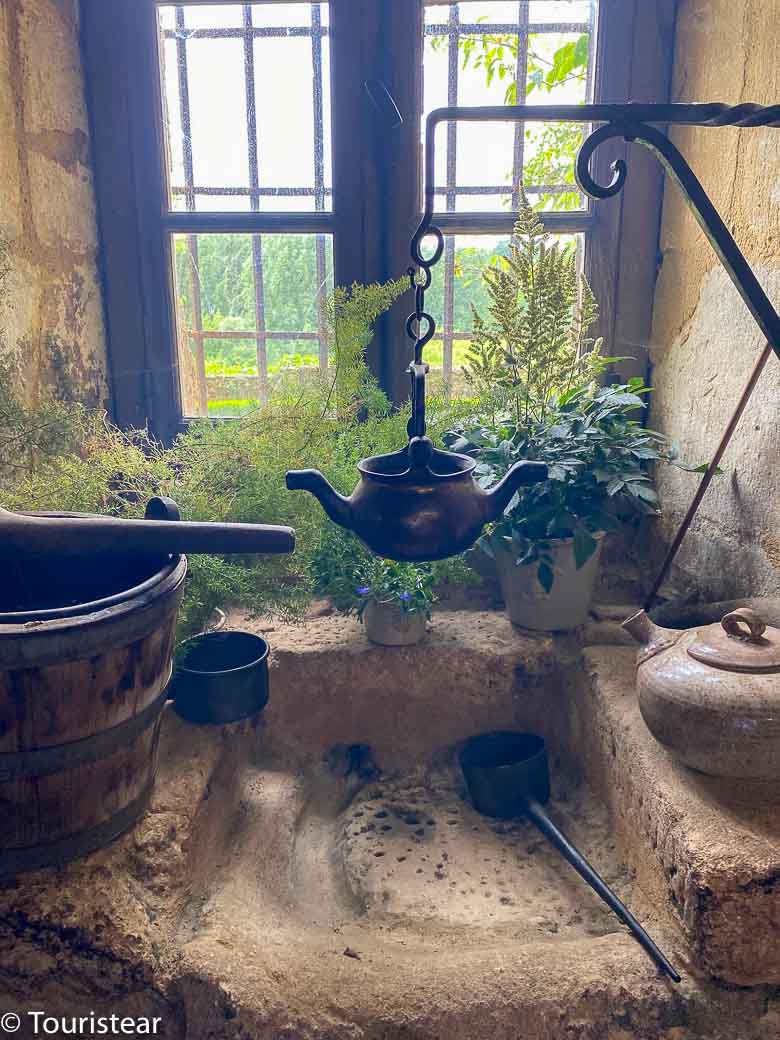 Prehistoric Museum
The prehistoric museum remembered how prehistoric people took possession of this part of the Vezere Valley.
You will be able to see original archaeological pieces excavated in situ and also reproductions. You'll see tools, weapons, and objects that tell what life was like in those prehistoric times.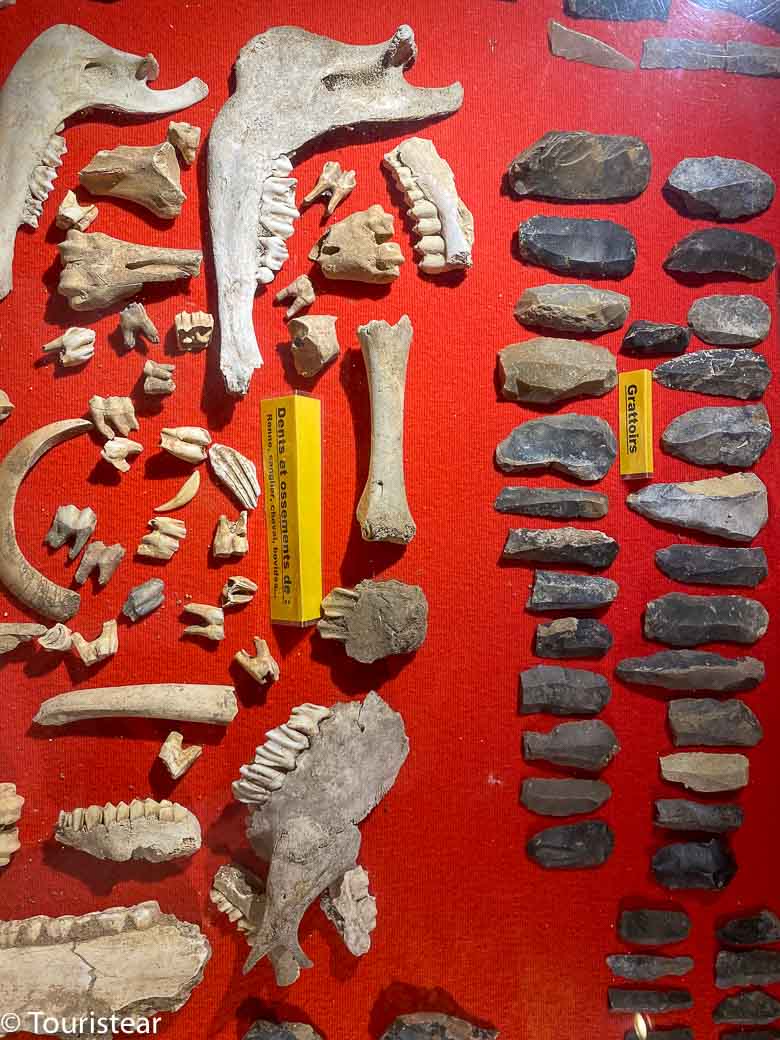 Torture Room
Maison Forte's torture room is known internationally. Its many authentic instruments will make your guts twist with a little imagination.
The collection features more than 60 authentic torture instruments and beheadings and other instruments for capital punishment. As well as paintings and engravings of the time.
In this room, you will see human cruelty at its finest. But this exhibition aims to raise public awareness of the practice of torture in the world.
Where to Stay Near the Maison Forte
There are several accommodation options in la Dordogne and close to Maison Forte de Reignac. You can choose between hotels, Airbnb, and campsites.
We spent the night at le Paradis campsite, in the camper van section. It is 5 stars campsite, but since we were the first customers after the first confinement was lifted in France, we were charged only 10 euros.
Practical information to Visit La Maison Forte de Reignac
How Much the Visit Cost?
The price of the visit is maintained throughout the year.
Adults €9 (general price)
Children €4,50 (5 to 13 years old)
Students €6.50
You can pay in cash, card, traveler's checks, and bank checks (in France, the check is used a lot, but I imagine they will only accept checks from French banks).
Opening hours to visit La Maison Forte de Reignac
Please note that Maison Forte de Reignac is open daily from February 1st until November 30th, including on public holidays other than December 25th, which is closed.
Hours change by season:
February and March from 10 am to 6 pm
April, May, and June from 10 am to 7 pm
July and August from 10 a.m. to 8 pm
September from 10 a.m. to 7 pm
October and November from 10 a.m. to 6 pm
Christmas holidays (France) from 10 am to 6 pm.
How Long the Visit Lasts
On the visit to the Maison Forte, you make it on your own and at your own pace. Next to the ticket office, you will find some guides in different languages, where are all the explanations of the visit.
So it's normal to visit in 1 hour or 1.30h. You do it at your own pace, and nobody rushes you to leave.
How to Get to La Maison Forte de Reignac
To get there, the easiest thing is in your vehicle. It is well indicated on Google Maps and quite well on nearby roads.
Maison Forte de Reignac is located in Tursac, on the D 706 road.
There is a free car park for all visitors. It has no height limit, so it is ideal to go with a camper van or motorhome.
Distance from Montignac-Lascaux: 23 km, approximately 20 minutes.
Distance from Eyzies-de-Tayac: 10 km, approximately 10 minutes.
Distance from Sarlat: 24 km, approximately 25 minutes.
Where to eat near Maison Forte
In Eyzies-de-Tayac, 10 km away,
In Tursac, 2 km,
In Peyzac-le-Moustier, 2 km away,
In Saint-Léon-sur-Vézere, 4 km (one of the most beautiful villages in France)
In Montignac-Lascaux, 23 km.
What to See near the Maison Forte
There are many options for visiting near Maison Forte de Reignac. Here we leave you several ideas to continue to delve into man's history from prehistory to the present day and some beautiful villages you must know.
Les Eyzies
La Roque Saint-Christophe
The village of La Madeleine
The Sorcier Grotto
Prehisto Dino
Grotto of Carbonnyres
Cromagnon
Prehisto Park
Plan Your Trip to Dordogne – Périgord
Disclosure: Some of the links on this post are affiliate links, meaning at no additional cost to you, I may earn a small commission if you click through and make a purchase.
Last Updated on 14 March, 2023 by Veronica
Disclosure: Some of the links on this post are affiliate links, meaning at no additional cost to you, I may earn a small commission if you click through and make a purchase.
Author: Veronica
Vero, a seasoned traveler, has explored 25 countries and lived in five, gaining a rich perspective and fostering an infectious passion for travel. With a heart full of wanderlust, Vero uncovers the world's hidden gems and shares insights, tips, and planning advice to inspire and assist fellow adventurers. Join Vero and let the shared passion for travel create unforgettable memories.