What is the Best Travel Insurance for Egypt
Traveling to Egypt is one of those things we all dream of doing at least once in our lives. Egypt is history, adventure, and discovery. As with any adventure, it is best to travel with insurance to provide peace of mind.
In this post, we tell you what the best insurance to travel to Egypt is.
New pieces of history of this incredible civilization are discovered every year, so we find more reasons to travel and visit its pyramids, museums, and fascinating white desert.
Some of the most exciting activities in Egypt may cause some common problems among travelers, such as dehydration or heat stroke, so we recommend taking out travel insurance for Egypt.
We give you a 5% discount on HeyMondo's insurance to make it easier. You will see that it is cheaper than you imagined.
We also bring you much more information about the requirements to enter Egypt, how to move around the country and many more tips.
What Does the Travel Insurance for Egypt Cover?
Mondo is the insurance that has accompanied us on most of our trips, that's why we recommend it, and we are delighted to offer you a 5% discount. We can offer you a 5% discount if you contract it from our blog.
Mondo provides 24-hour assistance through different channels, such as chat on its app and free calls from anywhere in the world.
And the best thing is that you will be referred to a hospital center where you will receive medical care without being asked to advance a single euro.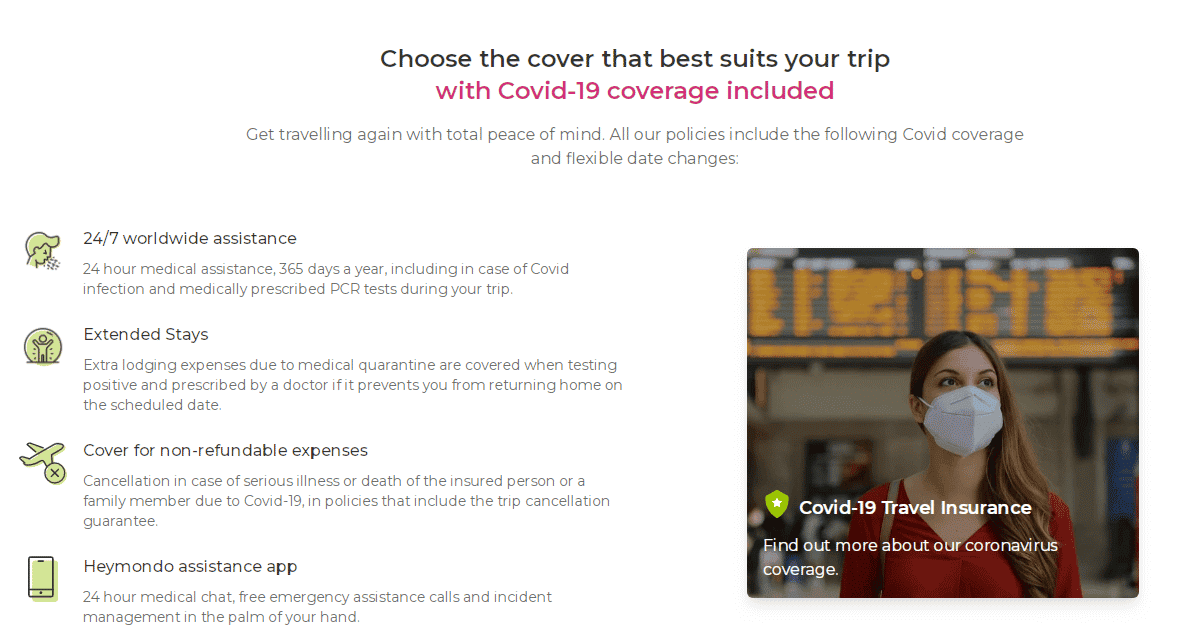 Medical Expenses
With Mondo, you don't have to worry about the coverage limit. With the Heymondo Top plan, you are covered up to 3,500,000 euros for medical expenses, and with the Premium plan, up to 10 million euros.
This policy protects you against medical expenses due to illness or accident, including hospitalization, medication, transportation, and repatriation.
Other expenses covered
Mondo pays your hotel expenses if you must extend your stay for quarantine.
They also cover you for lost and stolen luggage, any expenses incurred in the event of transportation delays, and even the purchase of an alternative flight if you miss a connecting flight.
Mondo's coverage is so comprehensive that it even includes delayed baggage delivery.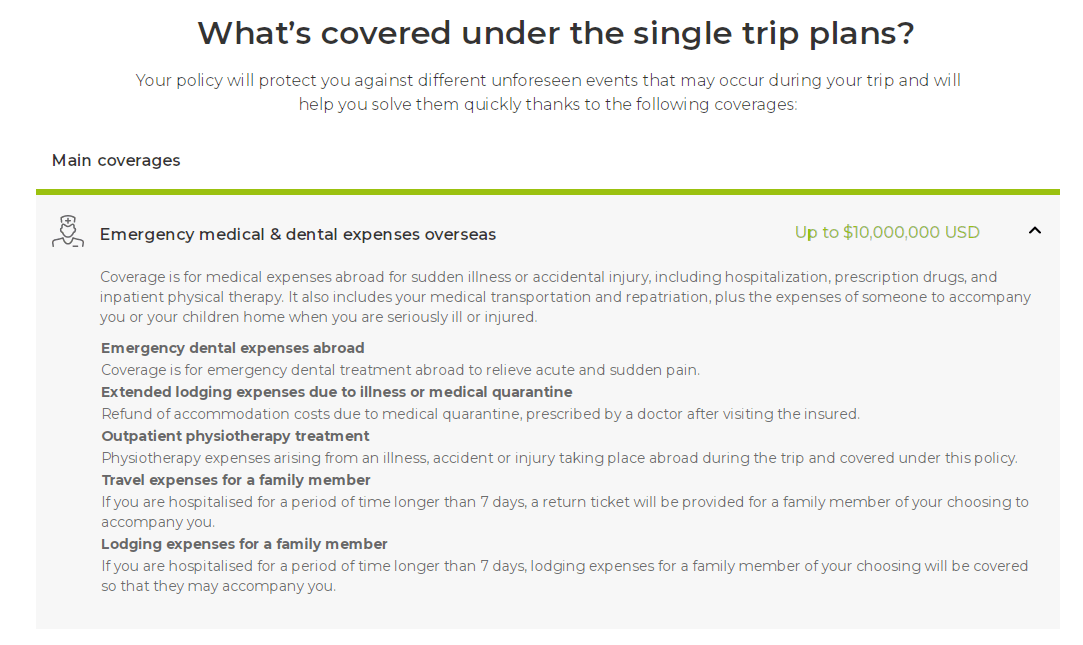 What is Cancellation Insurance?
Suppose you must cancel the trip before departure for any specific reason, such as having to quarantine for Covid or having your passport stolen. In that case, the insurance company will reimburse you for any expenses you cannot recover from your travel suppliers.
This could be hotel reservations, airline tickets, etc.
Usually, insurance companies allow you to include this option up to 48 hours after you have purchased your tickets, and it ceases to be valid once the trip begins.
Mondo allows you to contract it up to 7 days after booking your trip, and you will be reimbursed up to 7,000 USD.
You have a 5% discount applied to your trip cancellation insurance in this link.
Entry Requirements for Egypt
Covid-19
We have good news: as of June 2022, Egypt decided to eliminate the requirements related to Covid. In other words, neither the vaccination certificate nor the PCR is required.
Regarding the Covid situation in Egypt, we have to say that the percentage of people with a complete vaccination schedule is not very high; it is around 40%.
That is why we recommend traveling with travel insurance for Egypt that covers you for medical care by Covid.

The good news is that most of the activities you will be doing in Egypt are outdoors, and with a mask and proper social distance, the chances of contagion are much lower.
Travel Insurance for Egypt
This is one of the documents that immigration officials may request. On the form you must fill out to enter the country, you must indicate your policy number, so have it handy.
The Ministry of Foreign Affairs recommends insurance for travel to Egypt that covers all eventualities, including the risks associated with Covid.
Visa
If you are traveling with a European passport, you need a visa. Fortunately, it is effortless to achieve. You can buy it at the airport where you enter Egypt.
The visa costs 25€, allows you to stay in the country for up to 30 days, and is a single entry visa.
You can do the procedure online more than 7 days in advance if you prefer.
To obtain your e-visa, you must enter the Ministry of Interior of Egypt website.
To apply for a multiple entry visa, it is best to do it at the embassy or consulate nearest you or online. In this case, the cost is 60 euros.
Mandatory and Recommended Vaccines
Travelers wishing to enter Egypt from one of the countries at risk of yellow fever will be required to present a yellow fever vaccination certificate.
In addition, if you were in Equatorial Guinea, Pakistan, Cameroon, or Syria, you must prove that you have been vaccinated against polio.
Tips to Enjoy Your Trip in Egypt
Egypt is so fascinating that you will love it. But it is also better to consider several things to avoid having a bad time.
Here are some tips to help you enjoy your trip to Egypt.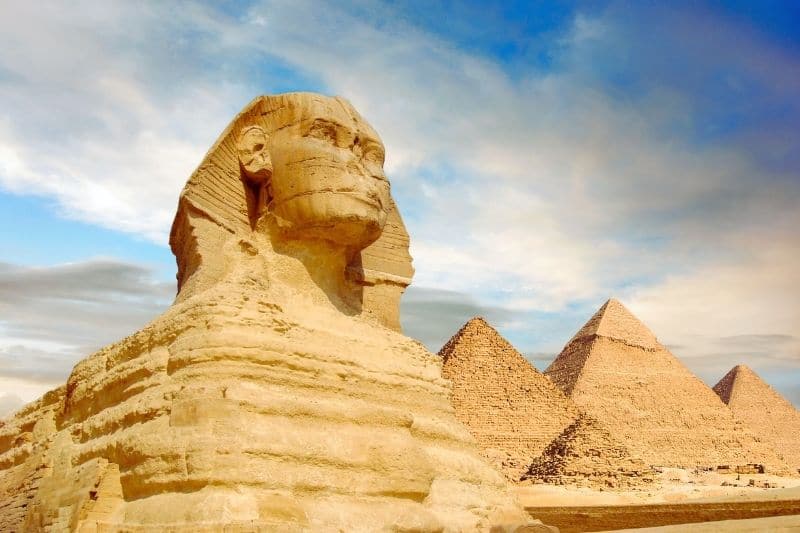 Food poisoning
We know that one of the best things to do when traveling is to try street food, but be careful as the hygienic conditions of many street stalls are not the best.
Suppose you have already been to other countries and had stomach problems from eating on the street and you are prone to this kind of problem.
In that case, the best thing to do is to look for safe places to try those delicious kebabs, baba ganoush, shawarma, and all the other typical Egyptian dishes.
It is also important to always drink bottled water.
Car or Transportation Accident
Traffic in Egypt, especially in Cairo, is quite chaotic. So pay attention when you cross the street.
If you take a desert tour, you'll want to ride a camel. If you do so, be careful and pay attention to your guide's indications because it is not uncommon for tourists to have accidents when falling off the camel.
Heat Stroke
We know Egyptian heat can be exhausting, so take all possible precautions to avoid dehydration and heat stroke.
Drink plenty of water, use sunscreen, wear a hat and avoid being outside at the worst hours. In addition, it is advisable to wear very light, long-sleeved, light-colored clothing.
Adventure Sports
As if Egypt lacked attractions, you can also do several tours with a good dose of adrenaline.
You can paraglide in Sharm El Sheikh, in the Sinai area. It must be a fantastic experience to look down from the sky over the desert and the sea.
If you want to tour the desert differently, you can take a quad bike safari in Hurghada. You will meet Bedouin villages and feel the thrill of speeding up and down the dunes. In this area, it is also possible to practice scuba diving.
If you enjoy all these activities, it is essential to have travel insurance for Egypt, including adventure sports coverage.
Security in Egypt
Although some believe that Egypt is an unsafe country, religious and cultural issues make it frowned upon for anyone to steal.
Of course, this does not mean that there is no robbery, there may be some snatching from a moving car and that sort of thing, but they are very rare.
Walking through its streets, we had no feeling of insecurity. But it is advisable to be very attentive to attempts of deception and scams, which are much more common.
The scams are the same as those tourists suffer in almost every country.
For example, when you exchange currencies, you may get shortchanged, the cab driver may give you a long ride to charge you more, or he may want to take you to the restaurant where he has a commission instead of the place you asked him to go.
Delays, Cancellations, and Loss of Baggage
If you travel with low-cost airlines or have to make connecting flights, you may experience delays and even miss a flight.
To avoid stress, it is best to have travel insurance for Egypt to cover this problem, so if you suffer a setback, at least you know that you have, it solved from an economic point of view.
Weather, When is the Best Time to Travel to Egypt?
The first piece of advice is that if you can avoid traveling to Egypt in summer. In some areas of the country, the temperature can reach 50°. I think about it, and it already makes me sweat.
Also, remember that in winter, the nights can be quite cold. Therefore, spring is the most beautiful time to go, as the landscape is shown in all its splendor.
The best way to enjoy your trip is to get up early and visit the places that interest you very early so that before 11 o'clock you can go back to your hotel and leave again in the afternoon.
Keep in mind that the further south you go, the hotter it gets. Beyond that difference, we would say that the best times of the year to visit the country of the Pharaohs are from March to May and from September to November.
However, if you can only travel in summer for work reasons, don't worry. With the necessary care and a guide who advises you well, you can also enjoy your trip to Egypt.
How to Pay in Egypt? Which Currency Should I Carry?
The official currency is the Egyptian pound, which locals call guinea or geneh. Today it is exchanged at 19 pounds for 1 euro. You can check the exchange rate at xe.com.
Of course, when you go to exchange houses, they will give you less than what you see on the internet.
In theory, it is not legal to make purchases directly in dollars or euros since when tourists want to pay with foreign currencies, the locals impose a significant surcharge. But just because it's illegal doesn't mean it's not done.
Pay in Cash
Cash payment is still the preferred payment method throughout the country, and in some areas far from the main cities, it is the only form of payment available. So you know, always have a few bills in your pockets.
Also, they are very accustomed to tipping in Egypt, so giving a few small bills to those who help you is advisable.
Debit or Credit Card
Credit and debit cards are increasingly accepted in the most populated and touristic urban centers. So you can use them in hotels, supermarkets, and restaurants.
But as we said before, if you move away from these cities, you may not find where to pay with a card since many small towns still do not have internet or the stores have not been able to connect and therefore do not have a way to charge if not in cash.
Also, remember that contactless cards are not yet widely used, so carrying a card with a magnetic stripe is better.
Wise Card perfect for travelers
Wise can be used to make payments and ATM withdrawals. The good thing is that you can pay in 50 different currencies, which translates into savings on the fees that banks charge you when you pay in foreign currency.
If you use the Wise Card to pay, you are only charged a nominal fee, with no additional charge. In addition, we have found that they always make the best change for you.
You can order your Wise account for free you only have to deposit a small amount of money in your account when you open it. At this moment, the deposit requested is 7€.
How to Get Around in Egypt?
To move around the country, you have many alternatives.
For long-distance travel, there are some low-cost airlines, such as Egyptair.
If you don't have much time to travel around the country, this can be a good option for trips like the one from Cairo to Luxor, which takes more than 8 hours by road. Cairo to Luxor, which by road takes more than 8 hours.
If you do it by plane, it takes 1 hour and costs about 75 dollars.
Another option for long trips is the night train. It is a less comfortable option but another experience where you share a place with the locals. In addition, it has options for seated or cabin travel.
The downside is that sleeping train travel is more expensive than air travel, so we don't think it's worth it.
It is also possible to rent a car or travel by bus.
For shorter transfers, it is pretty common to use Uber. If you dare, you can use the city buses and guide you with Google Maps, which has well-marked stops.
Of course, the buses are much slower, and with the traffic that the big Egyptian cities have, you will need a lot of time to move from one place to another.
Check out the Civitatis 8-day tour. It's the perfect way not to have to worry about putting your trip together. This 8-day tour includes everything!!! Check it out.
Check Out: How To Plan Your Trips Easily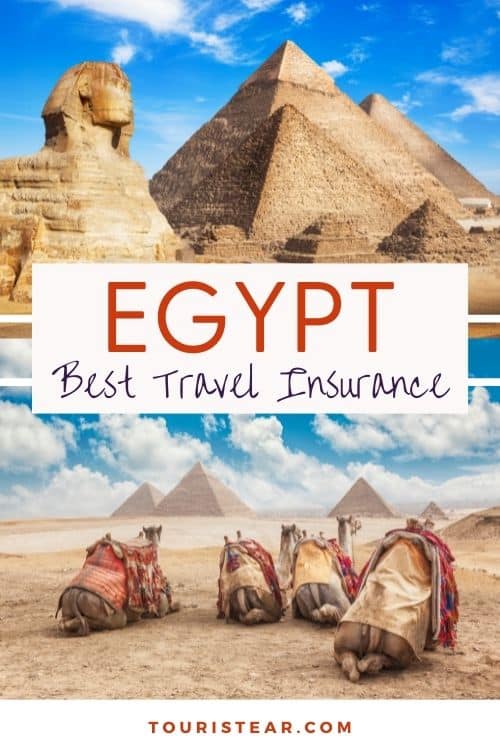 Last Updated on 19 September, 2023 by Veronica
Disclosure: Some of the links on this post are affiliate links, meaning at no additional cost to you, I may earn a small commission if you click through and make a purchase.
Author: Veronica
Vero, a seasoned traveler, has explored 25 countries and lived in five, gaining a rich perspective and fostering an infectious passion for travel. With a heart full of wanderlust, Vero uncovers the world's hidden gems and shares insights, tips, and planning advice to inspire and assist fellow adventurers. Join Vero and let the shared passion for travel create unforgettable memories.