How to Plan a Trip to Egypt
Are you planning your trip to Egypt? Here we are going to share with you the essential tips on how to plan a trip to Egypt, including when to go, where to go, and everything you need to know before you travel.
For example, did you know that you must apply for an e-visa before traveling to Egypt? This post will tell you how to easily apply for a visa to Egypt, what to wear, when to go, how to apply for a visa, and much more.
Why Should You Visit Egypt?
Egypt is home to the famous Pyramids of Giza and many incredible temples and history in all areas of the country.
Also, the food in Egypt is unique, and you have to try it. Of course, you also have the Nile River, an iconic river known worldwide.
You have incredible landscapes and a millenary history. Still, wondering why you have to visit Egypt?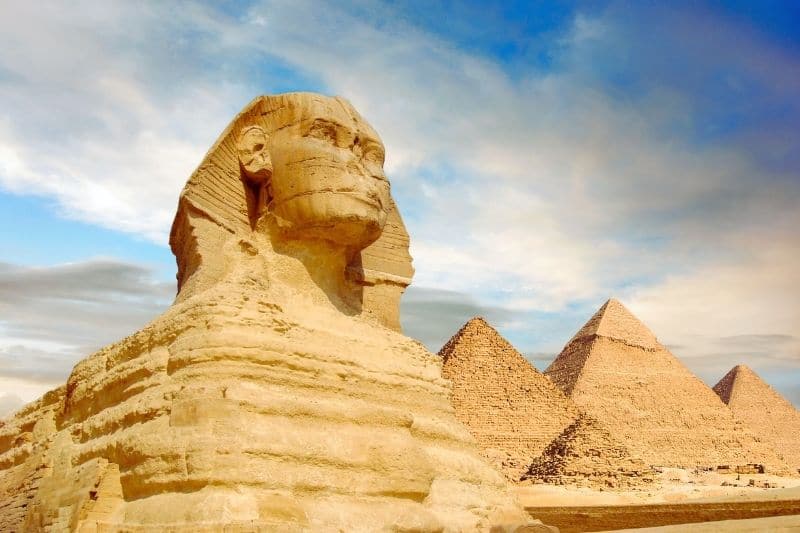 Best Time to Travel to Egypt
Spring is the best time to visit Egypt. The weather is warm but pleasant, the attractions are not too crowded, and the rates are also a bit cheaper.
Avoid traveling during Ramadan and between June and August; the temperature in Egypt during the summer is too hot to enjoy the attractions properly and is also often very crowded.
The high season in Egypt is from December to February; in these months, you have to expect higher prices and busier attractions. You can travel to Egypt in November or March for more affordable rates.
What You Need to Know Before Traveling to Egypt
Important information you need to know before traveling to Egypt:
Currency: The main currency used in Egypt is the Egyptian pound. You can exchange money in your country of origin, in Egypt, or use a system like Wise.
ATMs: If you prefer to carry little cash on you. You should know that in Egypt, you have ATMs on almost every corner, depending on your city.
If you withdraw money with your Wise card, remember that you get two free cash withdrawals per month. But make sure that the ATM where you are withdrawing money does not charge you commissions or that they are low.
Internet: In most hotels, you will find a good Wi-Fi service. But the best way to have internet anywhere in the country is to buy an e-SIM or a SIM card there. Upon arrival, choose a prepaid SIM card, and you will have internet wherever you go.
Tipping: In Egypt, anyone who provides a service will expect you to tip them. This is between 5 and 10%.
Language: The official language of Egypt is Arabic, but most of the population speaks English or knows phrases in other languages such as Spanish.
Carry cash: carry change for tips or pay for excursions or attractions, such as taking pictures with camels or at temples.
Comfortable clothing: when traveling to Egypt, remember that you will be traveling in the desert. So you have to wear comfortable and fresh clothes, if you are a woman, avoid showing too much skin.
Sunscreen: wear sunscreen, a cap, or a hat.
Water: stay hydrated. Always carry water with you.
Travel insurance: Is it mandatory to travel with insurance to Egypt? We will tell you all about it in the post.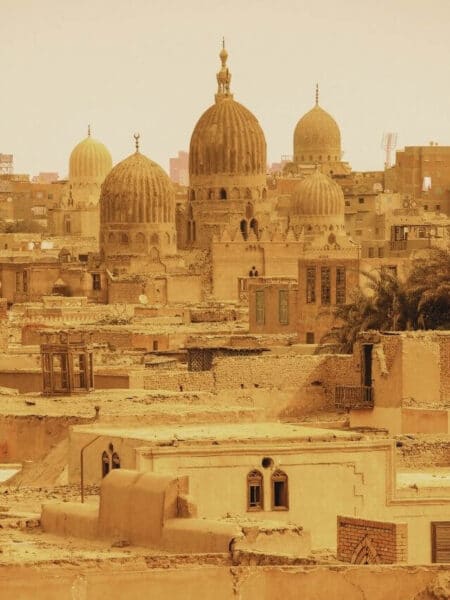 Obtaining a Visa for Egypt
As I mentioned at the beginning of the post, you will need to get an electronic visa to travel to Egypt.
An e-visa is an entry permit that you can apply for online seven days before travel, and the Egyptian government issues it to eligible countries.
The e-visa is easy to obtain, inexpensive, and not as time-consuming as traditional visas. You do not have to go to an embassy to apply for this visa, which is done online.
Who needs an e-Visa to travel to Egypt?
This e-visa was applied in 2017 to make obtaining a visa faster and more modern.
Egypt visa requirements online for Europeans
If you are from UE, you must apply for the Egypt e-Visa at least seven days before your arrival to ensure that the application is processed in time. Likewise, the requirements to travel to Egypt from Europe are as follows:
Have a European passport with at least 6 months validity (from the date of arrival in Egypt).
Attach a scanned copy of your passport.
Complete the online application form without leaving blank answers or making mistakes.
Pay the required fee through a credit or debit card.
Remember that this visa is only for tourist purposes in Egypt. If you travel to the country to study or look for a job, the e-Visa will not be useful, and you will have to apply for another type of permit.
Egypt Visa On Arrival for European Citizens
It is still possible to obtain a visa on arrival in Egypt (visa on arrival). You must queue up at one of the service counters at any airport terminal and apply for a visa.
The Egypt visa on arrival cannot be paid by credit or debit card. In addition, carrying the exact amount of cash is recommended to avoid any possible complications.
Once the formalities have been completed and the visa fee has been paid on arrival, applicants receive a sticker or stamp on their passport.
To enter the country, this visa sticker must be presented at the immigration counters.
The on-arrival visa for Egypt allows visitors to spend up to 30 days in Egypt and is only valid for one entry into the country.
The 7 Must-Visit Places in Egypt
Pyramids of Giza
Cairo
The Valley of the Kings in Luxor
Abu Simbel
Alexandria
The Siwa Oasis
The White Desert
Read our post about all your visits and what to do on your trip to Egypt. We will tell you in detail.
function loadScript(url, callback){var script=document.createElement('script'); script.type='text/javascript'; if (script.readyState){script.onreadystatechange=function(){if (script.readyState=='loaded' || script.readyState=='complete'){script.onreadystatechange=null; callback();}};}else{script.onload=function(){callback();};}script.src=url; document.getElementsByTagName('head')[0].appendChild(script);}loadScript('https://cdn2.civitatis.com/js/vendor/iframeResizer.min.js', function(){iFrameResize({checkOrigin:false,initCallback:function(iframe){setTimeout(function(){var resizeEvent = window.document.createEvent('UIEvents'); resizeEvent.initUIEvent('resize', true, false, window, 0); iframe.dispatchEvent(resizeEvent);});}})})
Should You Take a Nile Cruise?
Taking a cruise on the Nile is practically a must in Egypt. Many types of boats navigate this famous river between Luxor and Aswan. Cruise ships do not leave the Nile.
Most cruises last between 3 and 7 days.
You can choose to cruise on a steamboat to hyper-luxurious boats such as the Oberai or take a slow trip on an Egyptian sailboat called Dahabiya. And in between, there are many options for all tastes and budgets.
If you don't have time to take the cruise, opt to visit Cairo and Luxor. These are two of Egypt's must-see sites.
What to Wear in Egypt
You'll want to be prepared for a variety of weather conditions and terrain. And you'll want to consider what to wear in Egypt: follow local customs and dress conservatively. And, of course, you'll want to go shopping!
The official religion of Egypt is Islam, and 90% of them are Sunni Muslims. This means that most Egyptian women cover their shoulders, knees, and often their hair.
However, this is not always the case, and some more upscale neighborhoods in Cairo tend to have more progressive views on dress.
I recommend that you leave the shorts and tank tops at home.
*These recommendations do not apply if you are staying at a resort.
Clothing
Bring at least 4 different, comfortable, loose-fitting outfits so you don't have to worry about finding a laundry service during your vacation.
Remember that men in Egypt are very bold, so it is better not to show too much skin.
If you need a carry-on, check this post.
Comfortable dresses
Tights for under the dress (depending on the time of the year)
Sweater or sweatshirt
Long pants
T-shirts, shirts, long-sleeved blouses
Comfortable shoes and/or sneakers for walking on all types of terrain (Avoid white color!!!!)
Shoes/sneakers for going out (Avoid white color!!!!)
Do not forget your swimsuit at the beach or a resort.
Flip flops
Sportswear
Sunglasses
Pajamas
Underwear
Socks
Sling
Electronics
Camera and chargers.
Universal plug
External battery
Headphones or earphones
Download your favorite series, podcasts, or books.
For hygiene
Broad spectrum sunscreen
Face and body cream
100 ml containers for your trip
Toothbrush and toothpaste
Deodorant
Feminine hygiene products
Makeup
Medications if you take
Barrettes or hair ties
Shampoo and conditioner if you don't like the typical hotel shampoo and conditioner or use a special one. (You can also buy them there directly)
Don't forget to bring your passport, credit card, reservations, and camera, and turn off your cell phone notifications.
What not to bring to Egypt
Tops and tank tops
Shorts
Short dresses, miniskirts
Computer (if you are going on a trip to disconnect, don't take it!!!!)
Expensive jewelry
Are you ready for your trip to Egypt? Do you have other recommendations for planning your trip?
Last Updated on 19 September, 2023 by Veronica
Disclosure: Some of the links on this post are affiliate links, meaning at no additional cost to you, I may earn a small commission if you click through and make a purchase.
Author: Veronica
Vero, a seasoned traveler, has explored 25 countries and lived in five, gaining a rich perspective and fostering an infectious passion for travel. With a heart full of wanderlust, Vero uncovers the world's hidden gems and shares insights, tips, and planning advice to inspire and assist fellow adventurers. Join Vero and let the shared passion for travel create unforgettable memories.