Last Updated on 8 July, 2021 by Veronica
In this post, you will find everything you need to take to travel in a camper van or RV. It all depends on the type of van you're driving and the space you have.
What to bring in your van when you go on a road trip?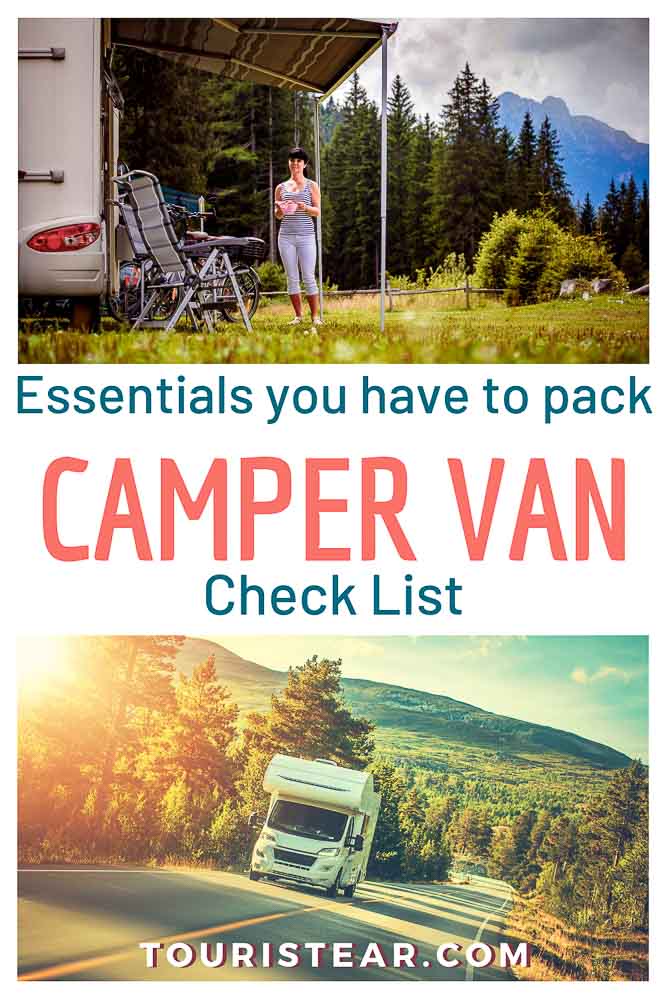 What to Bring in a Van Road Trip?
The basic things you have to take to travel by van are as follows.
In the comments, tell me what are your must-haves for van travel.
Food and cooking on your van journey
Plastic containers for storing food
Let's start the list of things you have to take to travel by van with the order in the kitchen, hehehe.
In the van, you will have the space reduced, so it is best to carry everything tidy to be able to take advantage of the space. Especially with food, it can attract bugs.
Other containers, boxes to keep everything tidy
To keep things in your neat van, keep them in boxes. Especially the small things, which can be easily lost.
12 V Portable Refrigerator
There are several types of refrigerators for your van, you have the 12V compressor, the 12V trivalent, the 220V (or 110V) ones with an inverter, the ones that are filled with ice…
Our recommendation is based on our experience of having had a 220V inverter and now a trivalent, the latter deserves the cash effort.
It is more efficient and consumes fewer resources, the only thing, is that when connected to the battery it does not cool much, but to gas or electricity, it is impressive.
Portable compressor fridges are great too. In another post, I will talk about the fridges in more detail.
Cooking rags
Kitchen rags, sponge, washcloths, paper towel
Campingaz, cooking stove, dutch oven
You can cook in the van or you can cook outside if you camping. We have had the campingaz flat that goes with cartridges, the stove that is connected to a cartridge that is like a small cylinder, and now, the kitchen fires installed in the van.
The one that is flat, is more stable, but the stove with the cylinder has more power. If the latter seems unstable, you can buy it a base (super cheap).
With these types of stoves, you have no trouble cooking almost anywhere.
Portable barbecue
A must-have on any van or camping trip is a portable barbecue. We started with coal, but very little ago we moved on to gas.
The reason for switching the barbecue from coal to gas is because coal barbecue is increasingly banned in more places. There are even campsites that forbid it!
I have to say, the gas barbecue is much cleaner and needs less space in the van since you're not going to carry coal or firewood. The gas can work with cartridges or the propane of your van.
We have this fantastic Weber BBQ. We opt for this one, because it weighs very little, has plenty of power, and allows us to work with both cartridge and cylinder, while others do not allow it.
In addition, it comes with two wings that are folding and help a lot, and that is collected inside the lid, which makes them occupy very little space.
Read the Weber Q1200 full review here
The grille is cast iron, so it's a very durable and powerful investment, I have to tell you that it's going super well. For four people it's perfect.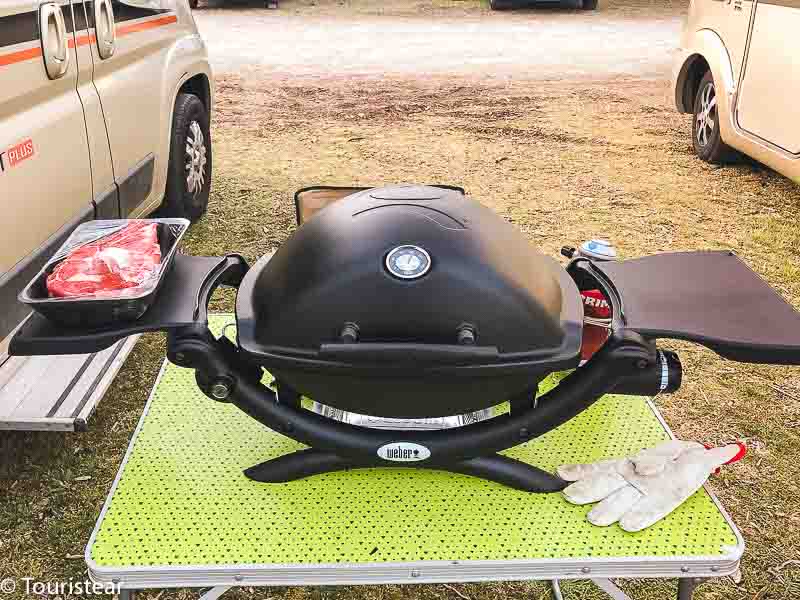 Disinfectant/water treatment
If you're going to drink water from your van, which is normal, you have to clean – disinfect the water. A few pills are put in the tank for this purpose and that's it. You have fresh water to drink and cook.
You can buy them online, in camping shops, or in shops specializing in vans and motorhomes.
Trash basket and bags
A folding trash can is ideal so that it doesn't take up much space and doesn't have the trash bag in between.
Please, we ask you to try to recycle.
Kitchen utensils for the van
Until we got into the camper world, I didn't know there were so many things for vans and motor-homes. There are super cool glasses, crockery of all styles, glasses of wine or champagne that are not glass but look like it, and a lot more things.
Here's a whole world for all budgets. But to begin with, take the utensils from home, however, if you can buy crockery and sturdy hard plastic cups, they are lighter and do not break.
Do not forget the utensils to cook: 1 pot, a frying pan and/or iron, drainer, cutting board, knives, etc.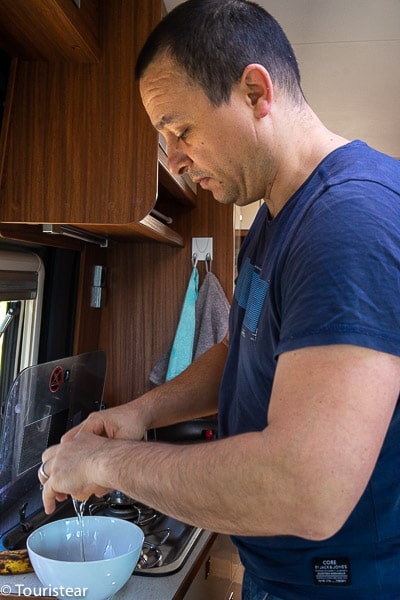 *Get an idea of what you're going to eat, so you'll know what you have to bring to prepare it.
Paper towel
Super useful for everything.
Hygiene, Bathroom and Health
A potty + air freshener + blue liquid
I prefer carrying a potty in the van. When we had the Trafic we had the potty in the middle, but now in the Jumper, we have a closed bathroom, which gives you more privacy.
With the portable toilet you have to carry the blue liquid. The measurements usually taken is 150 ml of blue liquid and one and a half liter of water.
You have to empty it every 2-3 days so it doesn't smell and so it doesn't weigh much… Potties have an indicator that alerts you if it's full, but it's best to empty them first.
Don't forget to bring your favorite air freshener 😉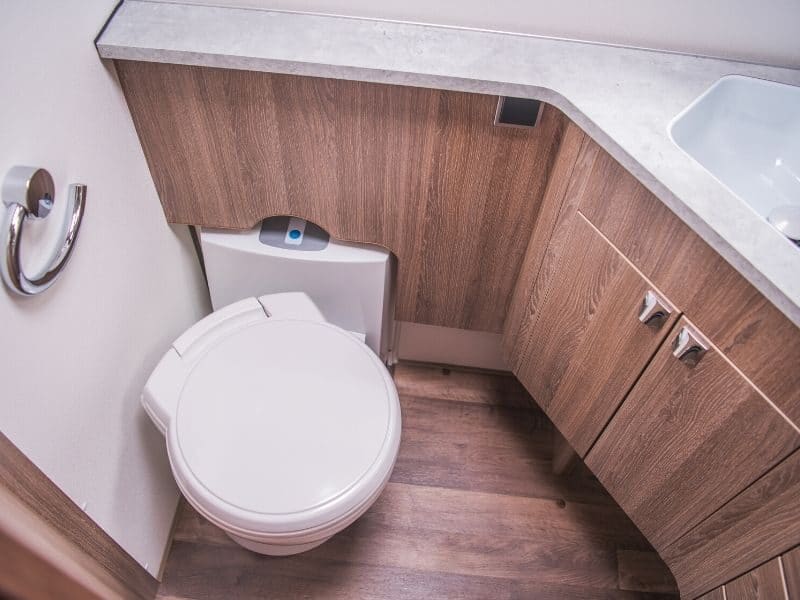 First Aid Kit
Carrying a first aid kit is a must. You can buy them or prepare them yourself. You need Band-Aids, Gauze, Sells, Ibuprofen, Acetaminophen, scissors…
Read these tips for travel by van for the first time
Toilet paper
There is special toilet paper for chemical baths, they ensure that it dissolves in blue liquid, although they are more expensive. My recommendation is that you buy normal toilet paper and put it in the trash.
Small and large towel
The thing about the shower in the van is a world. You can have a portable shower to shower outside the van or you can have a shower inside your van. In either case, you're going to need a big towel and a small towel.
The little one has it handy for when you wash your face and hands.
Cleaning
Small broom and dustpan
To keep the van clean you need a small broom and a dustpan. My recommendation is that you pass the broom after each meal, so as not to tempt unwanted visitors.
Carpet for the entrance of your van
To clean your shoes it is best to put a rug in the driveway of your van. You can put it in the van or outside if the weather's nice.
I have also seen, especially those traveling in motor-home, who carry a large carpet that they put in the place where then go the tables and chairs.
Removes fats and disinfectant (for kitchen and bathroom)
If you cook inside your van or motor-home you will need products to clean. Carry a kh7 fat remover and a disinfectant in your van to clean the bath or potty.
To sleep in the van
Sleeping bags or sheets and blankets
Before we traveled by van we did a lot of camping, so we have sleeping bags and tents.
When we were traveling in the Traffic, we wore sleeping bags and an eiderdown in winter. And in the Jumper, which has a fixed bed, we carry sheets and an eiderdown.
It is much more comfortable not to have to set up and remove the bed every day.
A good mattress is essential
Being able to rest well is essential in your van journey. Whether you're traveling in a small or large van, invest in a good folding or fixed mattress, but it's comfortable and in line with your weight.
We are about to buy an elastic Visco topper that is put on top of the mattress that we already have in the van. It's going to be a whim that's going to fall before this year's long trip. (we bought the topper in Ikea) I'll tell you 😉
Tools and others
Basic toolbox
Another thing you have to take to travel by van is a toolbox. A small kit with the basics: a star and another plane screwdriver, hammer, nails, wrench, cutter, pliers, and allen keys.
*Note: in high-volume vans, it is mandatory (at least in France) to carry a small fire extinguisher. My recommendation is to wear it in any type of Camper Van, it does not take up space and can save you from a bad unforeseen.
Cable to connect your van
When you go to a campsite or a special area for vans or motorhomes, you can connect to the mains.
This way, you won't use your van's secondary battery and you can have 110 or 220 V electricity to charge mobiles, laptops, batteries, etc.
Try to make the cable long and have the necessary adapters.
If you forget, at the campsites they usually sell them, but not at the best prices.
Flashlight
In your van, you have to carry at least one flashlight, better two, and batteries. In addition, to the obvious things, the flashlight is very useful to go to the bathroom at night, if you don't have it in your van.
Also for when you hear a noise at night or to scare off little animals.
A notebook and pen
A notebook and pens you have to carry in your van. I like to take it to take notes about the places we are visiting, a kind of logbook, but that also serves to write down things that we need, things that have been forgotten or that have been finished to us.
Hose and different adapters for charging water
To load the water from the van, you're going to need a hose. There are some that are long, but that takes up little space, those are the ones I recommend you buy.
And don't forget to bring different adapters for the faucets. You're going to be surprised how many different outputs they have. Minimum you have to buy an adapter for quick male-male connection and 3/4-male thread tap adapter.
You can buy them online or in any gardening and DIY store.
Rope and tweezers for clothing
If you're going on a long trip, you're going to have to do your laundry. There are many service stations that have washers and dryers or in the campsites. Don't forget to wear rope and tweezers to hang your clothes so they dry well.
You'll also need to bring soap and a softener to wash your clothes.
Wedges to level
If you can't find a flat place to sleep, you're going to need to level your van with wedges. They are essential to have a good rest.
Bicycle holder
For us, it is a must, in the Trafic traveling in Europe with my sister we put the bikes inside the van, but when we bought the Jumper we put the bike rack and it is much more comfortable!!!
Taking your bike on your van trip is very convenient for both visiting cities and sightseeing. Keep in mind that many times vans have to park away and the bike is very comfortable to arrive or to go to make the purchase, etc.
For camping
Camping table and folding chairs
You can't miss the table and chairs. They are ideal for eating out, for a beer or to work with the computer…
Awning
We have started to travel with awning with our second van and the truth that has become a must.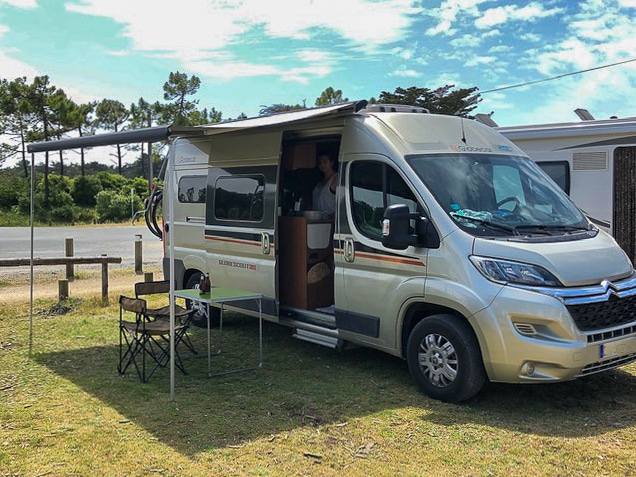 Electronic
In your van, you have to carry a 12V mobile charger to charge with the van lighter, so you can use the GPS and not run out of battery.
Carry chargers for mobile, tablet, laptop, Kindle, camera.
We also carry an external battery each. Don't forget the camera, the memory cards.
If you take a lot of photos, my recommendation is that you carry a portable hard drive, to download them.
Clothing and footwear
What clothes to wear on a camper van trip? Pack comfortable clothes to travel in and then wear clothes for the activities you're going to do.
If you go to the mountain do not forget the trekking boots, if you go to the beach do not forget the swimsuit and flip-flops, if you are going to walk a lot wear appropriate footwear.
If you are looking for an off-road shoe, I recommend you take a look at the shoes of Tropic Feel, we have a pair each and we love them, they are comfortable, amphibious, you can wet them and dry them quickly.
Before you travel, look at the weather forecast, to see if you're going to need a coat, raincoat, umbrella, etc.
Checks before traveling by van
If you haven't moved your van in a long time, check it: wheels, water, oil, battery, air conditioning, extinguisher, etc. On the back: check that everything works, that you have gas in the cylinder, and that it is clean to start the journey.
Check that you have all the papers of the van up to date: green letter, insurance, technical inspection of vehicles (if exist in your country)…
From the van we pass to you: bring your ID or passport, your health card, travel insurance, cash, debit, and credit cards.
Are you wearing anything else? Tell us in the comments.
Prepare your trip in Camper Van
Book Your Trip
Book Your Flight
Find a cheap flight by using Skyscanner.
Book Your Accommodation
You can book your hostel, hotel, or apartments on Booking.com.
Don't Forget Travel Insurance.
Travel insurance will protect you against illness, injury, theft, and cancellations. It's your protection in case anything goes wrong. You never go on a trip without it.
Best companies for activities
Check out Civitatis.com and find the best tours in English (French, Spanish and Italian)
Are you looking for the best companies to save money with?
Check out my resource page for the best companies to use when you travel! I list all the ones I use to save money when I travel – and I think will help you too! (Is in Spanish yet)