Camper Van Essentials: Complete Packing List
This post will find everything you need to take to travel in a camper van, RV, or motor home. Of course, it all depends on your van type and its space and organization.
What to Take For a Van Ride
The basic things you must take to travel by van or RV are as follows. In the comments, let me know your must-haves for van travel.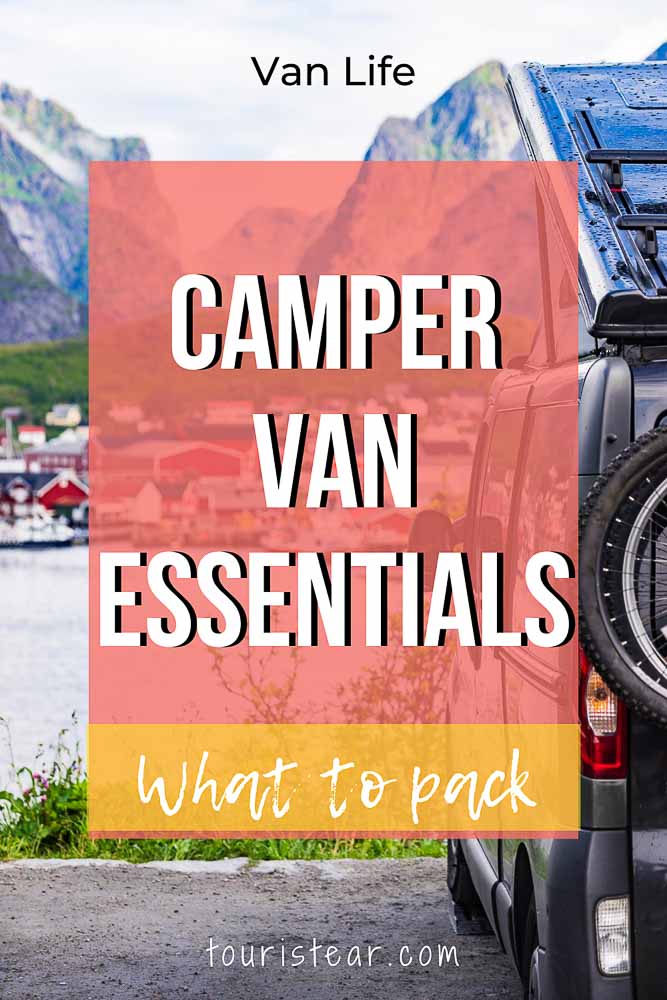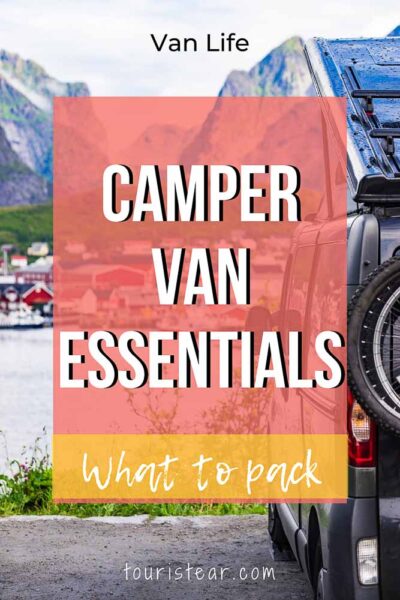 Food and Cooking on Your Camper Van Journey
Plastic containers for storing food
Let's start the list of things you must take to travel by van to keep your kitchen clean and tidy.
You will have the space reduced in the van, so it is best to carry everything tidy to take advantage of the space. Especially with food, it can attract bugs.
Other containers and boxes to keep everything tidy
To keep things in your van clean and tidy, keep them in boxes. Especially the small things, which can be easily lost.
12V Portable Refrigerator
There are several types of refrigerators for your camper van; you have the 12V compressor, the 3-way (it works with propane, electricity, and 12 V), the 220V (or 110V) ones with an inverter, and the ones that are filled with ice.
Our recommendation is based on our previous experience of having had a 220V inverter and now a 3-way; the latter deserves the cash effort. It is more efficient and consumes fewer resources; the only thing is that when connected to the campervan battery, it does not cool much, but to propane or electricity, it is impressive.
Portable compressor fridges are awesome too. In this post, I will tell you about the different types of portable refrigerators for travel and the best options, depending on your type of trip and vehicle.
Cooking rags
Dishcloths, cloths, scouring pads. Take a look here.
Campingaz, cooking stove, dutch oven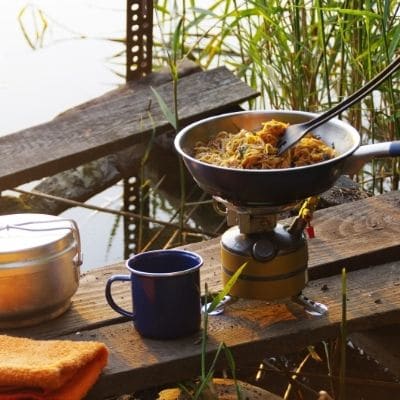 You can cook in the RV, or you can cook outside if you are camping.
We have had the Campingaz flat that goes with cartridges, the stove connected to a cartridge that is like a small cylinder, and now, the kitchen stove installed in the van works with propane. Pretty cool improvement.
The flat one is more stable, but the stove with the big cylinder has more power. If the latter seems unstable, you can buy it a base (super cheap).
With these types of stoves, you have no trouble cooking almost anywhere.
Coffeemaker
If coffee cannot be missing in your life, don't forget to bring a coffee maker to your van or motorhome. They come in all sizes and models and for different types of coffee.
You have portable pour-over coffee makers that only need hot water, Italian-type coffee makers, and 12V and 110V/220V coffee makers. Choose the one that best suits your type of trip.
Portable barbecue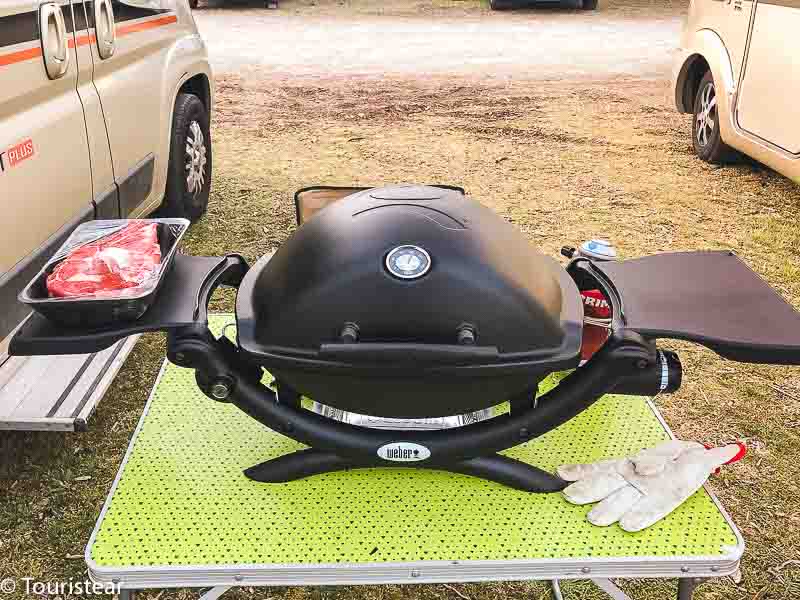 A must-have on any camper van or camping trip is a portable barbecue. We started with coal but moved on to propane gas very little ago.
The reason for switching the barbecue from coal to gas is that coal barbecue is increasingly banned in more European places. There are even campsites that forbid it!
I have to say, the gas barbecue is much cleaner and needs less space in the van since you're not going to carry coal or firewood. Also, the gas can work with cartridges or the propane of your van.
We have this fantastic Weber BBQ. We opt for this one because it weighs very little, has plenty of power, and allows us to work with cartridge and cylinder, while others do not.
In addition, it comes with two folding wings that help a lot, collected inside the lid, making them occupy very little space.
The grille is cast iron, so it's a very durable and powerful investment; I must tell you that it's going super well. For four people, it's perfect.
If you are looking for a cheap, portable gas barbecue, take a look at this one.
Disinfectant/water treatment
If you drink water from your van, which is normal, you have to clean – disinfect the water tank. There are pills to put in the tank for this purpose, and that's it. After that, you have fresh water to drink and cook.
You can buy them online, in camping shops, or specializing in camper vans and motorhome shops.
Trash Baskets and Bags
A folding trash can is ideal so that it doesn't take up much space and doesn't have a trash bag in between.
Please, we ask you to try to recycle.
Kitchen utensils for the van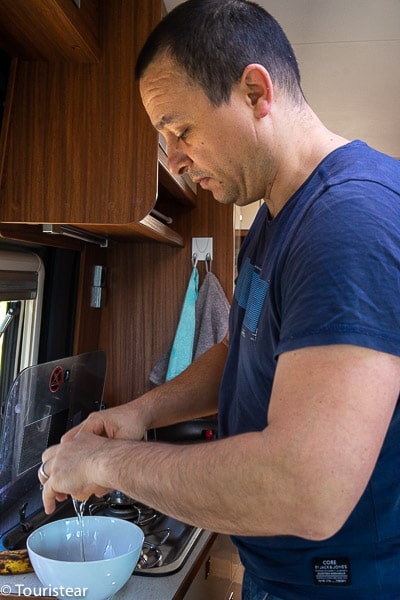 Until we got into the camper world, I didn't know there were so many things for vans, RVs, and motor homes. There are super cool glasses, crockery of all styles, glasses of wine or champagne that are not glass but look like it, and many more things.
Here's a whole world for all budgets. But to begin with, take the utensils from home. However, if you can buy crockery and sturdy hard plastic cups, they are lighter and do not break.
Do not forget the utensils to cook: 1 pot, a frying pan and/or iron pan, drainer, cutting board, knives, etc.
In summary, the basics of a camper van or motorhome kitchen are:
Staple Foods
To season: Spices, salt, pepper, oil, vinegar, etc.
Butter
Cereals
Sauces: mayonnaise, ketchup, mustard
Eggs
Bread, pasta
Sugar or a sweetener that you like
Jam, honey
Cans of tuna and other preserves
Water, beer, wine, juices, and soft drinks.
Hygiene, Bathroom, and Health
A potty + air freshener + blue liquid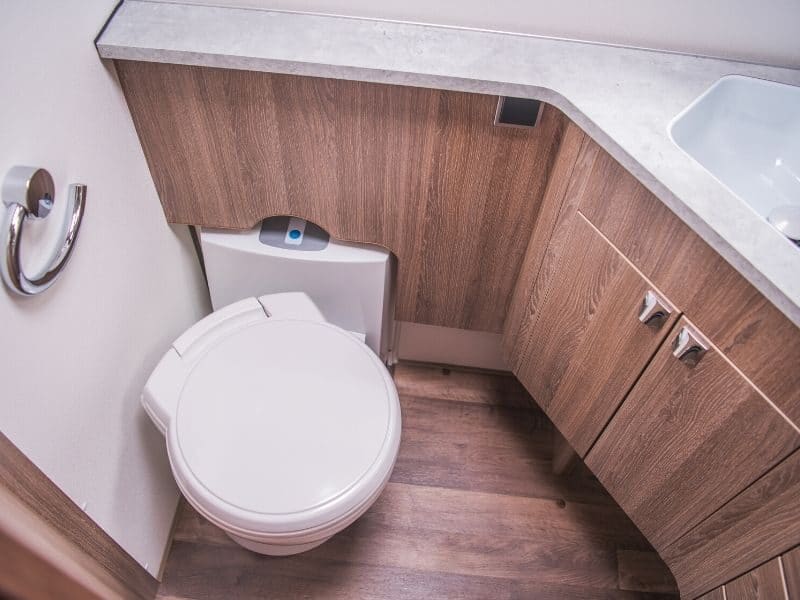 I prefer carrying a portable toilet in the camper van. When we had the Trafic, we had the potty in the middle, but now, in the Jumper, we have a closed bathroom, which gives you more privacy.
You must carry the blue liquid or these Dometic Powercare Tabs with the potty. The usually taken measures are 150 ml of blue liquid and a liter and a half of water.
You have to empty it every 2-3 days so it doesn't smell and so it doesn't weigh much. Potties have an indicator that alerts you if it's full, but it's best to empty them first.
Don't forget to bring your favorite air freshener 😉
* If you want a portable toilet, this is the one we had. In addition, it is the best seller on Amazon and has excellent reviews.
First Aid Kit
Carrying a first aid kit is a must. You can buy them or prepare them yourself. You need Band-Aids, Gauze, Sells, Ibuprofen, Acetaminophen, scissors, etc.
Read these tips for traveling by van for the first time
Toilet paper
There is special toilet paper for chemical baths; they ensure that it dissolves in blue liquid, although they are more expensive. I recommend you buy regular toilet paper and put it in the trash.
Small and large towel
The thing about the shower in the van is a world. You can have a portable shower to shower outside the van, or you can have a shower inside your van. In either case, you will need a big towel and a small towel.
The little one has it handy for washing your face and hands. And better if it is made of quick-drying microfiber.
Towels, I recommend the quick-drying microfiber.
Hygiene products (toothbrush, toothpaste, soap, deodorant, shampoo, you know what you need)
Portable Shower (if you don't have a fixed shower in your van)
Regular toilet paper, a trash can, or special toilet paper for chemical toilets.
Toilet brush
Moisturizing cream for face and body
Brush, comb, hair ties, and clips
Cleaning
Small broom and dustpan
To keep the van clean, you need a small broom and a dustpan. Or you can buy a small portable vacuum cleaner. I recommend passing the broom after each meal so as not to tempt unwanted visitors.
Carpet for the entrance of your van
To clean your shoes, it is best to put a rug in the driveway of your van. You can put it in the van or outside if the weather's nice.
I have also seen, especially those traveling in motorhomes, who carry a large carpet that they put in the place where the tables and chairs go.
Removes fats and disinfectant (for kitchen and bathroom)
If you cook inside your van or motor home, you will need products to clean. Carry a fat remover and a disinfectant in your van to clean the bath or potty.
Disinfectant
Sponges, scourers, cloths
Garbage bags
To sleep in the van
Sleeping bags or sheets and blankets
Before we traveled by van, we did a lot of camping, so we had sleeping bags and a tent.
When we were traveling in the Traffic, we wore sleeping bags and a duvet in winter.
And in the Jumper, which has a fixed bed, we carry sheets and a duvet. It is much more comfortable not to have to set up and remove the bed every day.
A good mattress is essential
Being able to rest well is essential in your van journey. It does not matter if you travel in a small or large van; invest in a good folding or fixed mattress, but a comfortable one according to your weight.
We have bought a viscoelastic topper that is put on top of the mattress that we already have in the van. It is a whim, but it is ideal for long trips. We bought it on Amazon, and it is a very comfortable one.
Don't forget the pillows and a thin blanket.
Tools and others
Basic toolbox
Another thing you have to take to travel by van is a toolbox. A small kit with the basics: a star and another plane screwdriver, hammer, nails, wrench, cutter, pliers, and Allen keys.
*Note: in the big camper vans and RVs, it is mandatory (at least in France) to carry a small fire extinguisher. I recommend having it in any Camper Van, RV, or Motorhome; it does not take up space and can save you from a bad unforeseen.
Cable to connect your van
You can connect to the mains when you go to a campsite or a special area for vans or motorhomes.
This way, you won't use your van's secondary battery, and you can have 110 or 220 V electricity to charge mobiles, laptops, batteries, etc. Try to make the cable length and have the necessary adapters.
If you forget, at the campsites they usually sell them, but not at the best prices. Better take a look at this one from Amazon to be prepared.
Flashlight
You have to carry at least one flashlight, better two, and batteries in your van, or it should be rechargeable.
In addition, to the obvious things, the flashlight is handy to go to the bathroom at night if you don't have it in your van, also for when you hear a noise at night or to scare off little animals.
Hose and different adapters for charging water
To load the water from the van, you're going to need a hose. Some are long, but that takes up little space; those are the ones I recommend you buy.
And don't forget to bring different adapters for the faucets. You're going to be surprised how many different outputs they have. At minimum you have to buy an adapter for quick male-male connection and a 3/4-male thread tap adapter.
You can buy them online or in any gardening and DIY store.
Rope and tweezers for clothing
If you're going on a long trip, you're going to have to do your laundry. Many service stations have washers and dryers or campsites. Don't forget to bring rope and tweezers to hang your clothes, so they dry well.
You'll also need to bring soap and a softener to wash your clothes.
RV Level Blocks
If you can't find a flat-level place to sleep, you need to level your van with blocks. They are essential to have a good rest.
Make sure they come with covers or have a large bag ready to store them. Why? Because if you park on the ground, they will bury themselves, and if you are going to be in the same place for several days, it is most likely that they have a few bugs. So you have to clean them and store them in a suitable place.
Bicycle holder
For us, it is a must; in the Trafic traveling in Europe with my sister, we put the bikes inside the van, but when we bought the Jumper, we put the bike rack, and it is much more comfortable!!!
Taking your bike on your camper van trip is very convenient for both visiting cities and sightseeing. Keep in mind that vans often have to park away, and the bike is very comfortable to arrive or go to make the purchase, etc.
For Camping
Camping table and folding chairs
You can't miss the table and chairs. They are ideal for eating out, for a beer, or working with the computer.
Awning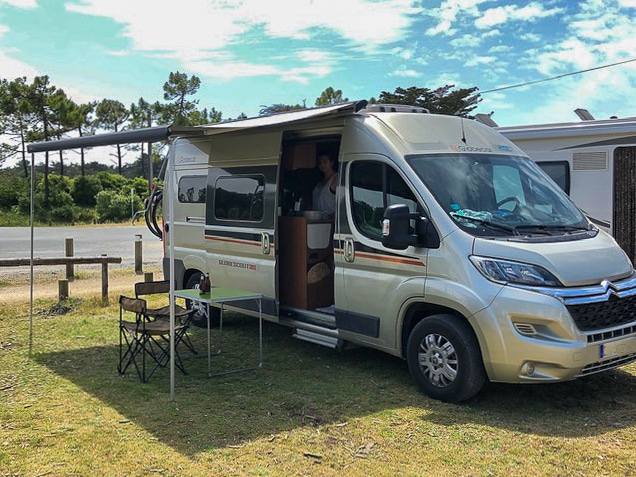 We have started to travel with awning with our second van, and the truth is that has become a must.
If you don't have an awning, you can bring an umbrella or a camping pergola to protect yourself from the sun, wind, or rain.
Electronic
In your van, you have to carry a 12V mobile charger to charge with the van lighter so you can use the GPS and not run out of battery.
Carry chargers for mobile, tablet, laptop, Kindle, and camera.
We also carry a portable charger each. Don't forget the camera and the memory cards.
If you take many photos, my recommendation is that you carry a portable hard drive to download them.
WIFI signal amplifier
Your favorite electronic devices (laptop, Kindle, Tablet, phone, etc.)
The chargers of the devices you carry.

Camera
Clothing and footwear
What clothes to wear on a camper van trip? Pack comfortable clothes to travel in and then wear clothes for the activities you're going to do.
If you go to the mountain do not forget the trekking boots, if you go to the beach do not forget the swimsuit and flip-flops, if you are going to walk a lot wear appropriate footwear.
If you are looking for an off-road shoe, I recommend that you look at the Tropicfeel shoes, we have a pair each, and we love them; they are comfortable, and amphibious, and you can get them wet, and they dry quickly.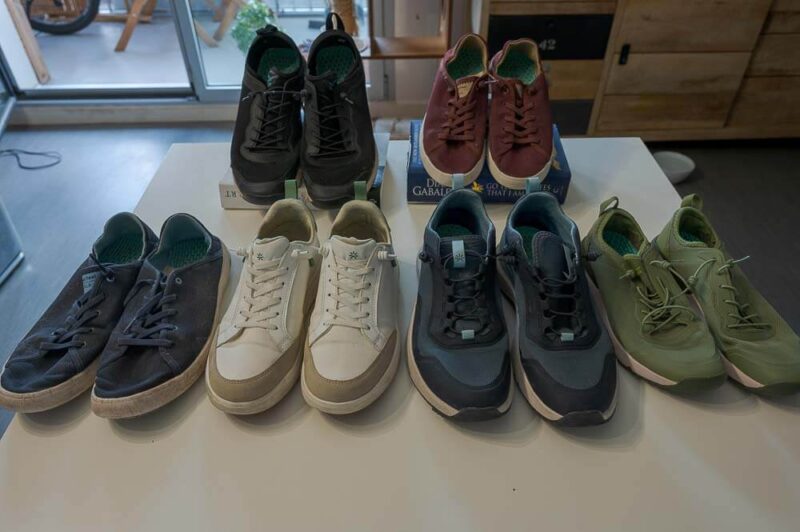 Before you travel, look at the weather forecast to see if you're going to need a coat, raincoat, umbrella, etc.
Hiking boots
Flip flops, crocs, sandals
Slippers to be in the van, or warm thick socks.
Socks, underwear
Shorts
Comfortable pants to be in the van.
Hiking pants
Long-sleeved and short-sleeved t-shirts
Sweatshirt and pullover
Hat, cap
Coat jacket
Swimwear
Watch
Glasses
Basic tips to get started
Keep it simple with solid colors or simple patterns that can match all your clothes.
Pack only clothing that is wrinkle-free and machine-washable
If you have a piece that you like a lot, bring two or an extra of another color. It will make dressing up a breeze.
If you don't use it often at home, leave it at home.
White clothes are not your friend on a camper trip.
Choose pieces that are not too bulky to avoid wasting space
Pay attention to the materials. Quick-drying sportswear will last longer between washes than cotton.
It's okay to use the same things multiple times
Make sure to plan for the change of seasons.
Check before traveling by van
If you haven't moved your van in a long time, check it: wheels, water, oil, battery, air conditioning, extinguisher, etc.
On the back: check that everything works, that you have gas in the cylinder, and that it is clean to start the journey.
Check that you have all the van papers up to date: green letter, insurance, technical inspection of vehicles (if they exist in your country)…
From the van we pass to you, bring your ID or passport, your health care, travel insurance, cash, debit, and credit cards.
Don't forget to:
Reservations (camping or RV areas, activities, restaurants, etc.)
APP to find places to sleep like Park4night
Cash, coins, and debit and credit cards
Others
A notebook and pen
A notebook and pens you have to carry in your van. I like to take notes about the places we are visiting, a kind of logbook, but that also serves to write down things that we need, things that have been forgotten or that have been finished to us.
What you don't need in a Camper Van
Expensive things like jewelry or electronics (unless you go to work during the trip)
Fire-making equipment, except that you go to campsites where it is allowed. If you want to have barbecues, take a gas one that you can use anywhere.
Formal clothes, if you want, take a change of clothes for a special occasion that you want to celebrate on your trip. But the best thing is to be comfortable.
Uncomfortable shoes, nothing worse than sore feet. Bring comfortable and appropriate footwear for the activities you are going to do
Many books on paper, it is best to travel light. If you are an inveterate reader, take a Kindle, it will be much more comfortable and less heavy.
Are you packing anything else? Tell us in the comments.
Plan Your Trip in Camper Van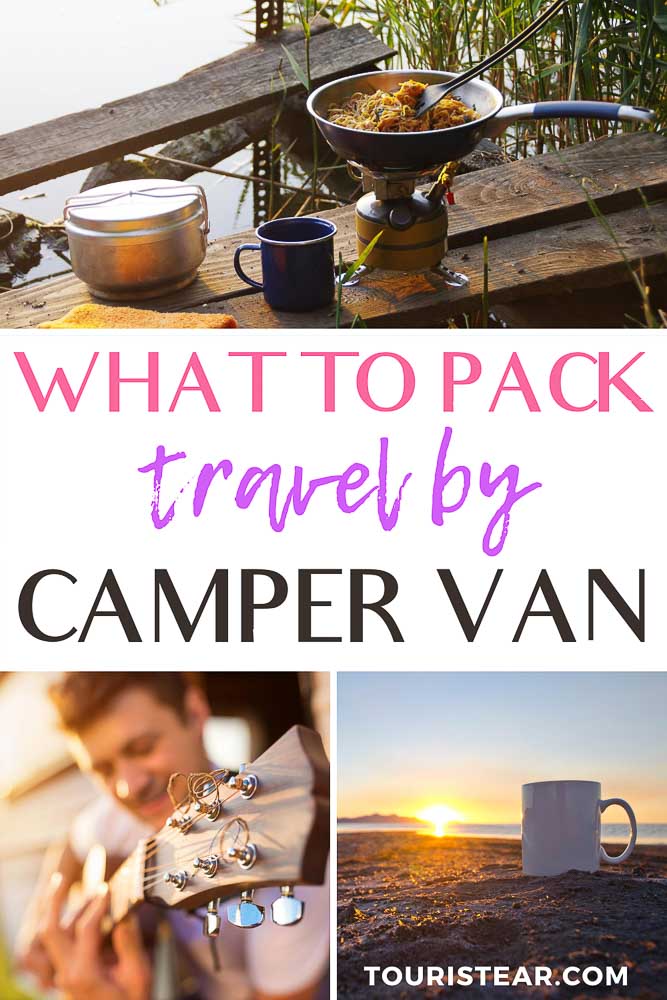 Last Updated on 5 October, 2023 by Veronica
Disclosure: Some of the links on this post are affiliate links, meaning at no additional cost to you, I may earn a small commission if you click through and make a purchase.
Author: Veronica
Vero, a seasoned traveler, has explored 25 countries and lived in five, gaining a rich perspective and fostering an infectious passion for travel. With a heart full of wanderlust, Vero uncovers the world's hidden gems and shares insights, tips, and planning advice to inspire and assist fellow adventurers. Join Vero and let the shared passion for travel create unforgettable memories.