Last Updated on 3 December, 2020 by Veronica
Buenos Aires is a city like no other. It is a city to enjoy, full of life and activities to do. You can live a tango experience, enjoy their gastronomy, shopping and of course, going out at night where "porteños" come out.
In today's post, I want to talk about what Tours you have to do when you visit the city of Buenos Aires. You know that this last month of August we were visiting it and this time we have done a few tours that organize the city.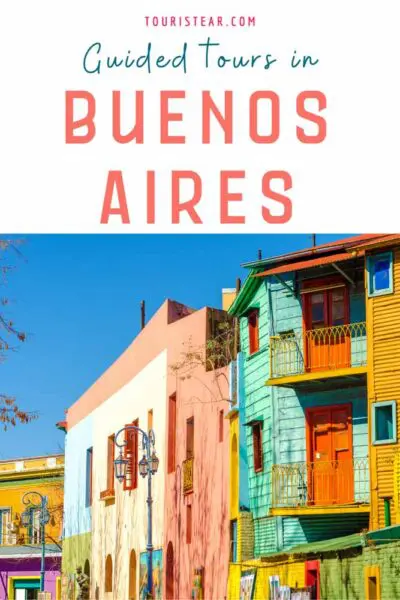 Tours you want to do in Buenos Aires
These excursions organized by the city of Buenos Aires are highly recommended and cheap. Especially for those of us who go from Europe, but also for the Argentinians themselves. I tell you the ones I like the most and I leave the link to you. Tell me what your favorites are!
Touring "La Recoleta" in a bike tour
Recoleta is the city's most elegant neighborhood, they call it "the Argentina Paris" by the number of French immigrants who had since 1840 and by architecture that they brought. Here you will find many art galleries, the best restaurants in Buenos Aires.
In this neighborhood you have to visit, in addition to the neighborhood itself, the cemetery of the same name, the Church of the Pillar, the Cultural Center, and the handicraft fair that operates Saturdays, Sundays, and holidays in front of the Church of Pilar.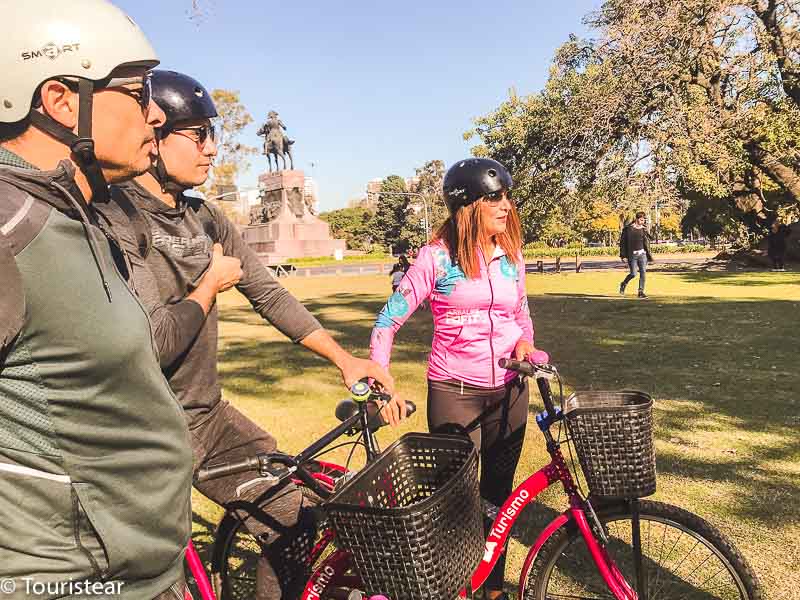 A good way to know Recoleta is with the bike tour. We loved it because we knew a lot of secrets of this neighborhood, its history, who were the famous people who lived here, and much more.
You may think that in Buenos Aires they drive like crazy (which is true). But they've created many miles bike lanes. So you don't have to go where the cars go and it's very safe. In addition, this neighborhood is very flat and there are no slopes, it becomes very easy in Bike.
If you're asking how much it cost, when we did it was 150 pesos, about 3€. The tour includes the bike and a professional guide who knew. Buenos Aires in detail.
If the idea of doing the bike tour doesn't call you, you can make the visit by the Recoleta on foot.
Tangueros bars walking tour
There are many tours about tango in the city of Buenos Aires. Every Thursday there is one for a different neighborhood, so you have to see which neighborhood it touches on the date of your trip.
You have a route through the tangueros bars of San Nicolás and Balvanera
Tangueros bars of the Recoleta
Visit Tanguero Bars in Retiro
Tangueros bars of San Nicolás and Recoleta
First, the visit is free and you go with a guide who is awesome what he knows about tango. The route is on foot, and you get to know different places where they met renowned tangueros bars, also places that no longer exist.
In our case we went by the Celta Bar, the Hotel Savoy, the Confitería el Molino, Café Los Angelitos and one of the least well-known houses of Carlos Gardel. During the tour is honored to Piazzolla, Ferrer, Gardel, Troilo and Goyeneche.
Completely advisable to do one of these walking tours. You're going to see another side of Buenos Aires.
Touring Palermo with a guide
Palermo is my Buenos Aires' favorite neighborhood. Here you have everything, history, culture, one of the best restaurants in town (la Cabrera, which we went to, but I'll tell in another post), many bars, a nice atmosphere. It certainly has to be in your must-see when you visit the city.
To be able to get to know a little more about this huge porteño neighborhood, it's best to do it with a Guide. On the Buenos Aires tourism website, you will see several tours, some are free and others are very cheap.
Among the must-see is the visit of urban art, the guided tour of the Forests of Palermo, the guided tour of the Temples of Villa Crespo and Palermo, and the guided tour of Palermo Hipódromo.
You have to choose, but if you can only make one, I would choose the Palermo Forests and urban art.
Visit the Japanese Garden
The Japanese Garden of Buenos Aires is the largest Japanese-style park outside the Japanese country and has unique elements of its culture.
The Japanese Garden from Buenos Aires was created by the Japanese community of the city and is located in the Palermo neighborhood.
It was built in 1967 in honor of the visit of then Crown Prince Akihito, present Emperor of Japan.
In its lakes, you will be able to see hundreds of colorful carps and it is allowed to feed them. Here you will see a typical Japanese garden, with its lakes, bridges, and waterfalls.
Inside the garden, You can eat sushi at their restaurant or have a cup of tea at the tea house in a traditional pagoda. We visited the tea house.
Address: Av. del Liberator and av. Casares, Palermo
Hours: daily, from 10 to 18 h.
Entrance fee: 150 pesos (September 2019) about 3€
Visits guided are organized by the Japanese garden itself, every Saturday, Sunday, and holidays at 11 am. Check out its website: https://jardinjapones.org.ar/visitas-guiadas
Walking tour Puerto Madero
Along the Rio de La Plata, we find one of the most exclusive and gastronomic neighborhoods of Buenos Aires.
Puerto Madero is an old port built so that large ships could reach the City. In 1882, the city government hired Eduardo Madero for the construction of this new port.
Only ten years then, with the increase in the size of the ships, Puerto Madero was disused and fell into a great state of decline. Years later, it began with the rehabilitation of the area to turn it into the wonderful space that is today.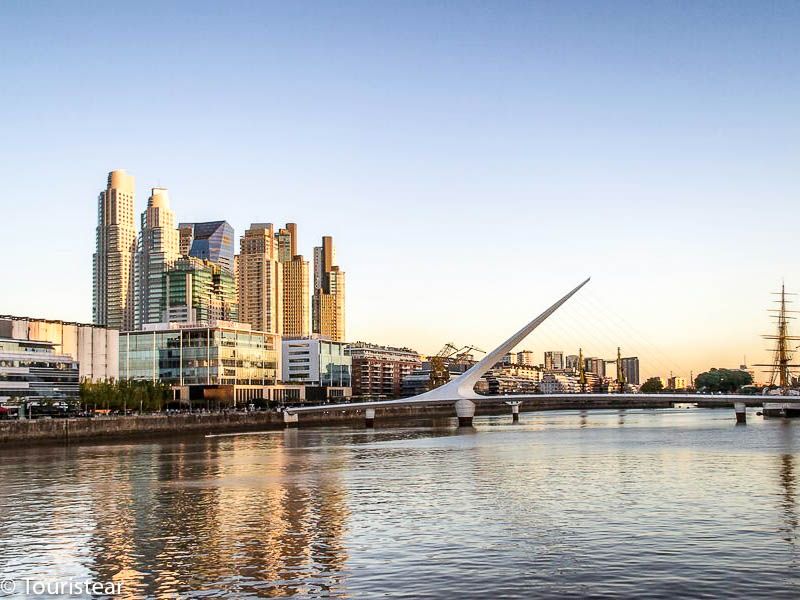 The visit to Puerto Madero will take you through history, help you discover the corners of the old port, and know the essential places to visit on this tour in Buenos Aires.
This activity has to be booked in advance, paid by card before starting and it could be canceled for rains (you are notified by email)
How to do tours in Buenos Aires
To make the excursions in Buenos Aires, you have to enter this website and here you will find a huge amount of excursions and guided tours of the city. You have to make the reservation in advance and payment is made at the time of the tour.
Another thing to keep in mind is that visits on foot or by bike are canceled if it rains.
Prepare your trip to Buenos Aires
Book Your Trip
Book Your Flight
Find a cheap flight by using Skyscanner.
Book Your Accommodation
You can book your hostel, hotel, or apartments on Booking.com.
Don't Forget Travel Insurance
Travel insurance will protect you against illness, injury, theft, and cancellations. It's your protection in case anything goes wrong. You never go on a trip without it.
Best companies for activities
Check out Civitatis.com and find the best tours in English (French, Spanish and Italian)
Looking for the best companies to save money with?
Check out my resource page for the best companies to use when you travel! I list all the ones I use to save money when I travel – and I think will help you too! (Is in Spanish yet)
We are not native English speakers but we have decided to translate our post to English so we can share it with the whole world. If you see any spelling mistake or something, please let us know, it is so important to us. If you do so, we can improve our post and also our English knowledge! Thanks in advance!!!
Some of the links you'll find in this article are from affiliates. This means that if you contract any of the services mentioned through the link we provide, we will receive a small commission, for you the price will be the same or you will have a discount. This way you help us to maintain the blog and continue to create content useful for your travels. Thanks a lot!