Visit to Perito Moreno Glacier
The Perito Moreno glacier is one of the most incredible places on Earth. It's a natural wonder that we can still visit and experience today.
Visiting the Perito Moreno glacier is something you have to do at least once in a lifetime. It will be an unforgettable experience.
This impressive natural creation, near El Calafate, also gives access to Los Glaciares National Park – declared as World Heritage Site by UNESCO in 1981!
You can take an easy day trip from El Calafate or spend more time exploring other sites like Los Glaciares National Park or Lake Argentino if you have already seen this amazing sight firsthand!
Top Things to Do in Perito Moreno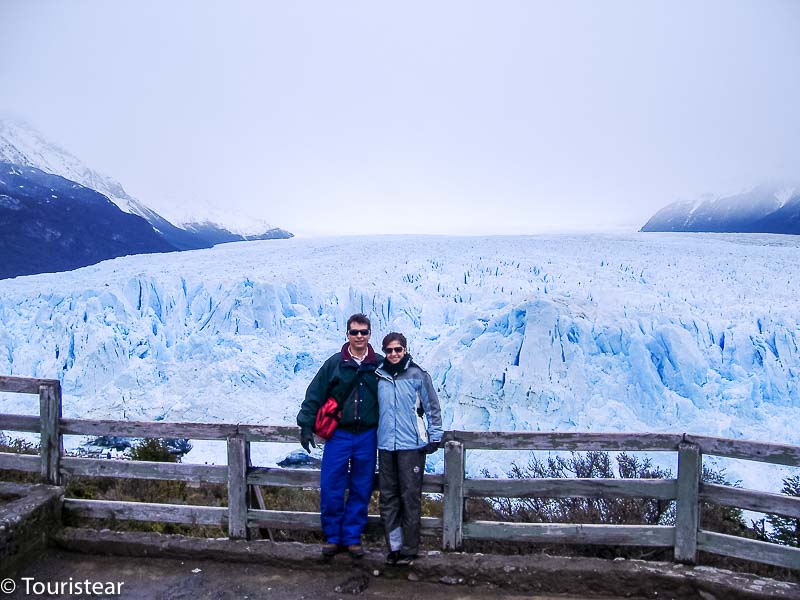 🗻 1. Marvel at the Perito Moreno Glacier:
One of the world's most awe-inspiring natural wonders, the Perito Moreno Glacier is a must-see. Watch giant ice chunks calve into Lake Argentino and hear the thunderous sound of nature in motion.
🚣 2. Boat Tours:
Get up close and personal with the glacier by taking a boat tour. It offers a unique perspective, allowing you to feel the sheer scale of this massive ice formation.
🥾 3. Glacier Trekking:
For the adventurers, strap on some crampons and embark on a guided trek atop the Perito Moreno Glacier. It's a once-in-a-lifetime experience walking on millennia-old ice!
📷 4. Viewing Platforms:
There are a series of wooden walkways and platforms offering various vantage points of the glacier. Perfect for those Instagram-worthy shots!
🌲 5. Discover Nearby Forests:
The area surrounding Perito Moreno boasts lush forests. Take a stroll, breathe in the fresh air, and spot local wildlife.
🦅 6. Bird Watching:
Lake Argentino is home to an array of bird species. Bring your binoculars and enjoy some serene bird watching.
🍲 7. Savor Local Cuisine:
While in Perito Moreno, relish the flavors of Argentinian cuisine. Try lamb dishes and don't forget to sip on some local Malbec.
How to Visit Perito Moreno Glacier?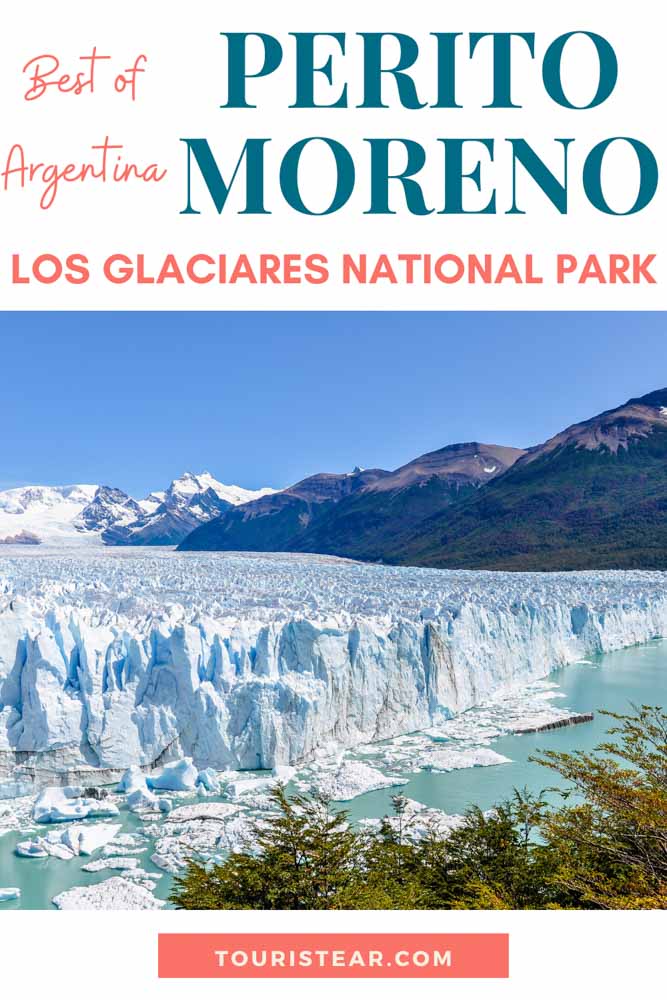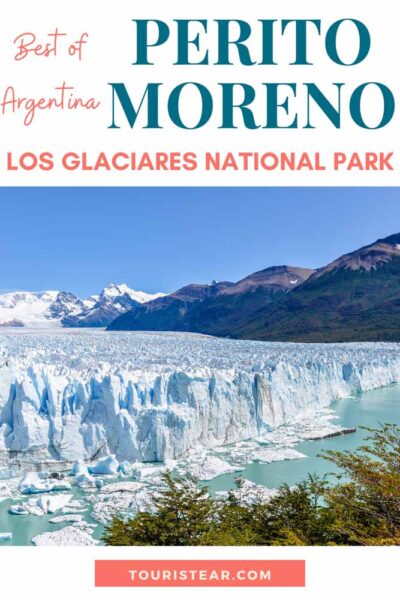 Los Glaciares National Park is an Argentine paradise for those who love nature and glaciers.
It was created in 1937 to preserve its glaciers and surroundings. And not only that, but also to protect it from various threats such as climate change or tourism-related disturbances.
Among the most well-known glaciers, we find the Uppsala, the largest; the Spegazzini, the highest; and the Perito Moreno, the most famous of all, thanks to the ice breaks that happen every few years, more or less by February.
To visit the Perito Moreno glacier, we traveled from Buenos Aires to Calafate. Our trip had a stopover in Ushuaia, so it took about 3 hours to arrive.
The plane was tiny and noisy, and I had never had so many turbulences in my life. But it was worth every second!
Where to Stay in Calafate?
We stayed at El Calafate for 3 nights in the Hostería Puerto San Julián, which is well located in the village and is well priced (or at least it was ;)).
Here you can see the hotels that are currently present and the prices they have.
The village of El Calafate is the base for all your activities, and it's an ideal location to get a sense of beauty from the glaciers. It's a small town with graceful inhabitants who are accustomed to tourists like you and me!
We traveled in October for our honeymoon a few years ago (2006) … Travelling in early October is to travel in the near-low season, as they are just coming out of a harsh winter.
Therefore, some excursions cannot be done because of the weather. However, there is more accommodation available, and best of all there are few tourists.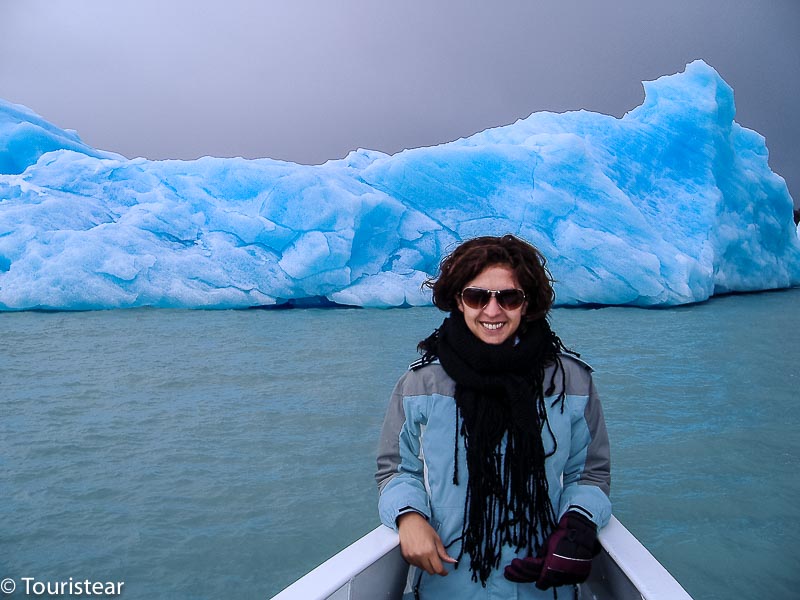 Best Tours from El Calafate
We didn't have contracted tours; we only had the flight and the accommodation. So we used our first day to organize the next two days.
Please don't do this, it's not a good idea, because you will waste 1 precious day, and it's also possible not to find the tours and activities you want to do.
The best recommendation I can give you is to buy your tours and activities in advance, especially if you're traveling in the high season or low season.
The first one is because you can run out of tickets, and the second one is because it may not be possible to do the excursions you want.
Visit this website for your tours, tickets and activities, where you will find the best tours to visit the Perito Moreno Glacier and this entire area of the National Park.
What tours we did?
We did 2 tours, one for each day. On the first day, we went to the Perito Moreno Glacier (obviously), and the next day we did the Upsala Glacier and the Spegazzini tour.
As I told you before, there were some excursions that we could not do, I was left wanting to trek over the Perito Moreno Glacier, but it was impossible due to weather conditions.
The excursion to Perito Moreno lasts all day. It is about 80 km from Calafate, with lake Argentino on your right.
The road has great views, and you'll see condors; they are some of the largest birds on the planet. Sadly, at that time, our camera was not the best…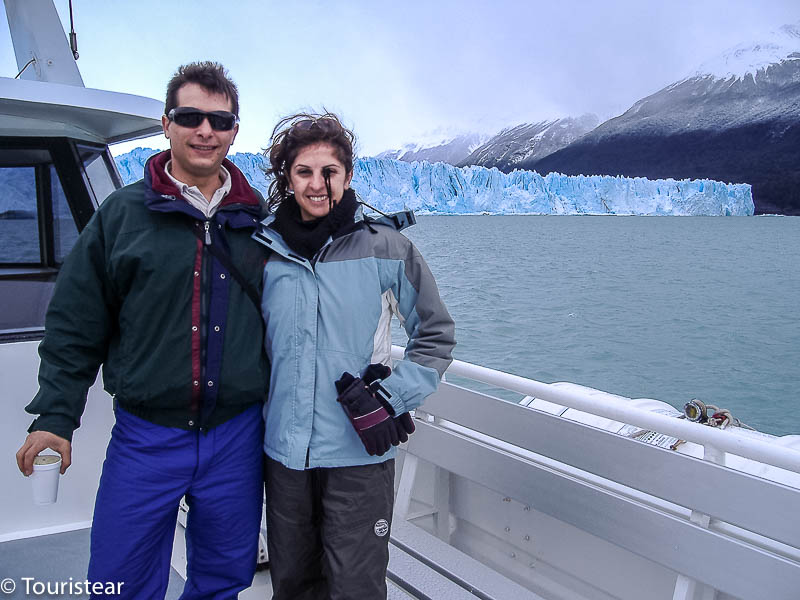 When I got to Perito Moreno Glacier, it was magnificent! The glacier is so tall and enormous that you can't help but be impressed.
You get an up-close view of the ice from right next to it–it's a whole new world inside this frozen enclosure. I had never visited a glacier before, and it was fabulous!
The sound of ice crashing into the water fills your ears.
You expect it to be a huge piece because you heard that giant roar.
Still, there are times when you can't see any sign of an icefall and other moments when even though they're small, with only seconds passing by since before you last saw them, they seem like big pieces coming off from the glacier.
This makes me imagine how impressive it must be to be there when the ice bridge breaks… I'd love to see it, even if it's only once in a lifetime.
You hear the sounds of the ice cracking inside because Perito Moreno is one of the fastest-advancing glaciers in the world.
Visit All Glaciers (Todo Glaciares)
For the next day, you have several options to choose from.
It is a very nice tour, very quiet. Then, you have to go to the meeting point to go to Puerto de la Cruz, where you'll embark on a catamaran.
You'll sail towards the Upsala Glacier, the largest of all. As you sail, you'll find ice floes and notice that many icebergs are much larger than the boat itself.
On the day that we traveled by catamaran, it was cloudy, and it even snowed on us, but the icebergs reflected this cool blue color that was awesome and definitely worth the weather.
I don't know how to say how spectacular everything was in words…
The Upsala glacier is unique compared to the others; being the widest and the most ice-suspended in the water, it doesn't break into little pieces like the others.
In this glacier, when it breaks, the piece that breaks off is the entire front which is more than 13 kilometers long.
Breaking like this creates a fairly violent wave in the lake that can overturn the boat, so they don't come within 600 meters of the glacier, just in case.
Apparently, it's spectacular, and very few have a chance to watch it live.
We were on the catamaran for about two hours. Then, we disembarked in Onelli Bay and walked through a forest until we reached Lake Onelli, where we saw three other glaciers; the Agassiz, the Bolado, and the Onelli glaciers.
Then we saw the Spegazzini Glacier, which is the highest in the National Park, with about 130 meters above water level.
Then we went back to Puerto Bandera and began our return.
Note: I have been told that it no longer lands in this area for environmental reasons. We made the trip in 2006 and were lucky enough to see it and walk around, as you can see in the photos.
If I remember correctly, we hired them with food when we hired the tours. Although you have the option to take food for yourself.
Where to Dine in Calafate?
The 3-night dinners were magnificent; plus, they coincided with one of the days with Fer's birthday, and we had dinner at the local restaurants.
Of course, we tried the Patagonian lamb at La Tablita restaurant. It is a classic of the city, the oldest restaurant in El Calafate, and where we were recommended the best lamb to eat in the city, and the truth is that it was delicious.
We also tried other local specialties such as salmon or trout and tried the fruit of Calafate, which has a saying that states that "whoever tastes the fruit of Calafate will come back for more!"
Also, on Fer's first trip to Argentina, I made him drink the Fernet with coke. So I recommend you drink it and make it more coke than fernet!
I hope that you all have the possibility to visit El Calafate and Los Glaciares National Park; it is an experience that must be experienced at least once in a lifetime!
Plan Your Trip to Argentina
Last Updated on 16 October, 2023 by Veronica
Disclosure: Some of the links on this post are affiliate links, meaning at no additional cost to you, I may earn a small commission if you click through and make a purchase.
Author: Veronica
Vero, a seasoned traveler, has explored 25 countries and lived in five, gaining a rich perspective and fostering an infectious passion for travel. With a heart full of wanderlust, Vero uncovers the world's hidden gems and shares insights, tips, and planning advice to inspire and assist fellow adventurers. Join Vero and let the shared passion for travel create unforgettable memories.