Uyuni Salt Flat: 3-Day Tour, Everything You Need to Know
The Salar de Uyuni is a unique and magical place located in southern Bolivia. It is the largest salt flat in the world, and in its rainy season, it becomes a large mirror where heaven and earth seem to merge.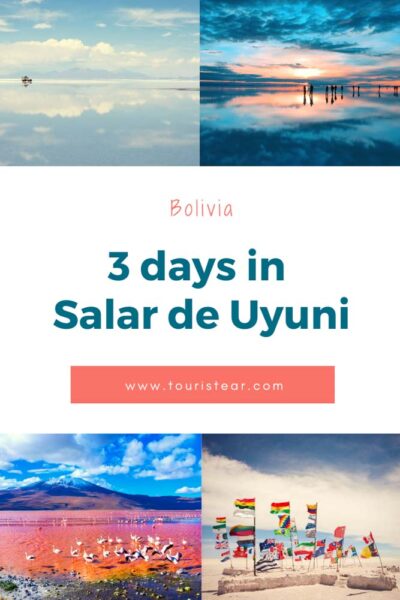 Uyuni Salt Flat: 3-Day Tour
When you visit the Salar de Uyuni, it gives you the feeling of being on another planet. You will see salt for kilometers and kilometers, colorful lakes, flamingos, geysers…
A landscape that looks like a whole other world.
This post will provide practical information about visiting the Salar de Uyuni in Bolivia. In my case, I did the 3 days tour, but you can book tours for 1, 2, 3, or 4 days.
Best Tips to Enjoy the Uyuni Salt Flat
You have asked me several times when it is best to go to the Salar de Uyuni. Well, without hesitation, it's in the rainy season, now I'm telling you why.
Best Time to Go To Uyuni Salt Flat
The good thing about going in the rainy season
The Uyuni salt flat is famous for becoming the largest mirror in the world for a few months of the year. If you want to see this phenomenon, you must go in the rainy season.
Since this mirror is a layer of water that floods the salt flat, the earth cannot absorb it and reflects light, producing these curious effects.
The rainy season in the Bolivian highlands occurs between January and February. I went in mid-February and was lucky enough to see this nature show.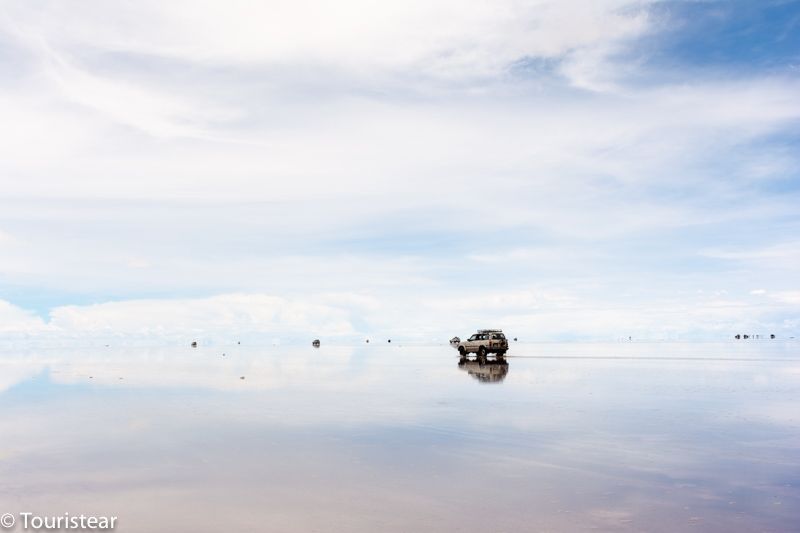 The bad thing about going in the rainy season
The bad thing about going during this season is that you may not see something because you get caught in a storm and/or places that have had their access blocked.
On the first day of my tour, they were commenting on the radio between the different drivers about the conditions of the accesses, as there were too flooded sites to get to.
But, in the end, our guide got in the same way, because it was not that bad and we could enjoy the Salar.
But on the second day, we weren't as lucky. We could hardly see the stone tree, and we did not see the red lagoon, as it literally did not look; it rained very hard, it was almost at the end of the day, and we went to our accommodation.
On this day I saw the biggest snowflakes I've ever seen…
What to Pack for the tour of Salar de Uyuni?
The main thing is to bring water, even if your guide carries water, I recommend that you also carry some.
Water
Sunscreen
Sunglasses
Light clothing and warm clothing (at night, it is very cold)
Raincoat
Appropriate footwear and mountain boots are ideal. Also, some flip-flops.
Cash. You will need it to be able to go to the bathroom, you are usually charged between 2 and 5 Bolivians and for the Eduardo Avaroa Andean National Wildlife Reserve. To buy some souvenirs, chocolate, etc.
Toilet paper, just in case.
Altitude sickness or soroche
What Are the Most Common Symptoms?
Severe headache
Physical fatigue or exhaustion
Sleep disorder
Nausea and vomiting
Digestive disorders
Agitation
Lack of appetite
Physical exhaustion
To Avoid Altitude sickness, follow these tips:
When you arrive, it is best to acclimatize, not agitate or perform physical exertion for the first few days; walking slowly and stopping to rest when necessary. It is also recommended to sleep well, eat light, and avoid alcoholic beverages.
To prevent altitude sickness or soroche, it is recommended to drink coca tea and/or chew coca leaves. The coca tea is quite good, and that's what the locals recommend; if you tell them you take pills for height, they look at you weird.
The coca leaves are not literally chewed. Instead, they put them glued to the inside of the cheek and let them take effect when mixed with saliva.
If you go to any city that is 2000 meters above sea level, it is recommended that you take these precautions to avoid the symptoms of altitude sickness.
During the Salar de Uyuni tour, you will be above 3600 meters and sometimes above 5000, but this will only occur on the third day.
As I returned from traveling Peru and Bolivia from the North, the altitude sickness did not affect me.
I only had a little discomfort on the third day when we exceeded 5000 meters above sea level, but I don't really know if it was the height or how bad I slept the night before.
But if you haven't got used to it before, you'd better take it easy, don't get back to Uyuni town.
How to Get to Uyuni Town
There are several ways to get to the village of Uyuni.
From Potosí, as was my case, I went by bus. You go directly to the Bus Terminal, and you will find a few that go to Uyuni.
Directly from La Paz. If you have no intention of touring Bolivia, you can go by night bus; the journey takes 12 hours if everything goes well.
From Villazón (on the border with Argentina). Here you have the option to go by train or bus. Choose your own adventure!
My experience was from Uyuni to Villazón by bus, which was horrible. Although, when it came to being on the road, a wheel broke; the good thing about this was that I could sleep without suffering the craters that the road had…
Another day I will tell you about my experience with Bolivian buses… By the way, they say the train isn't a marvel either…
From the Atacama. Hiring the tour in San Pedro de Atacama, you can tour the Salar de Uyuni; it is practically the same tour.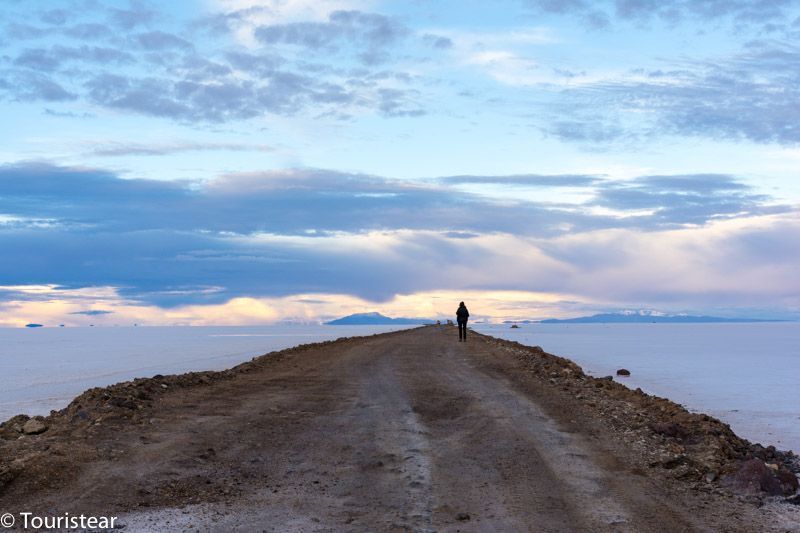 Where to Stay in Uyuni Town
Another adventure through Bolivian lands is accommodation. Often the quality of the accommodation does not correspond with what you are charged, and in Uyuni, despite being so touristy, the accommodation is no wonder.
I honestly do not remember where I stayed, but I still had to pay in cash even though I booked on the booking.
So in case of doubt, I recommend that you carry some cash for accommodation, lunch or dinner in Uyuni, and for the tour.
If you want to check out the Booking website or if you prefer and go well on time, you can tour some hostels or hotels and make your reservation right there.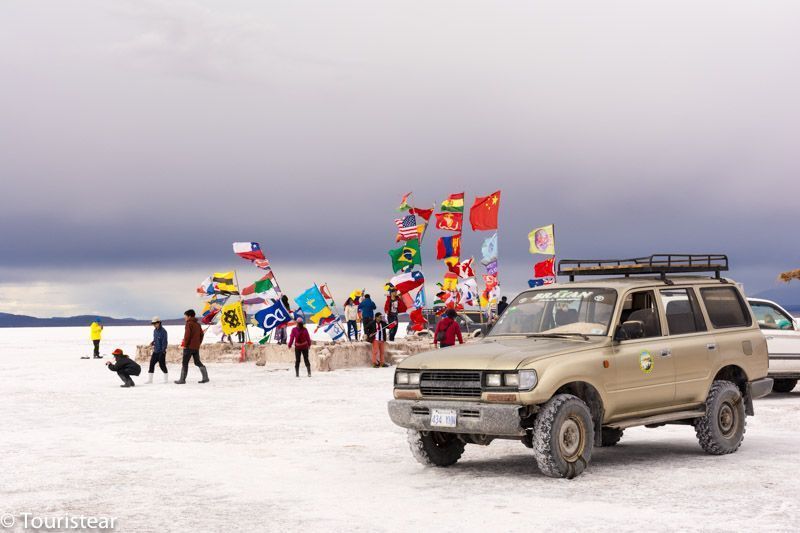 Uyuni Salt Flat Prices
Where to Hire the Tour of the Salar de Uyuni
The best way to hire a Salar de Uyuni tour is directly when you get off the bus. I'll tell you why.
When you get off the bus, even if you come busted from sitting for hours and all you want to do is drop the backpack, many people will try to convince you to hire the tour with them.
My recommendation is that if you arrive early or are not in a hurry, leave your backpack in the hostel and then go to the station's street (also ask at the hotel reception).
Ask a few agencies what the price is for the 3-day tour of the Salar de Uyuni and what it includes.
I got it for 80 bucks, but 2 of my German travel companions were charged $90 and the other 2, u$s105. They don't speak Spanish, so learn a few sentences in Spanish, and don't let them scam you!
This price includes practically everything: the guide/driver, the transport, the accommodation, all meals (breakfast, lunch, and dinner).
Ask if they can include "la Isla del Pescado" or Incahuasi Island. I don't think any agency includes the Eduardo Avaroa Andean National Wildlife Reserve. But you can ask, just in case.
If you are looking for a more fancy tour, check online. Also, you can book online Uyuni: Starlight and Sunrise Salt Flats Tour.
What are You Going to See at Salar de Uyuni?
During this tour, you will get to know the landscapes of another planet. The first and most popular visit is the train cemetery; there you coincide with many tours, with those of 1, 2, and 3 days.
Too many people, in my opinion…
Then you continue to the Salt Museums, the salt heaps, the Salt hotel Museum, Fish Island or Incahuasi, and finally, a night in a salt hotel.
On the second day, you go to the salt flat of Chiguana, to the Vocán Ollague, to the lagoons with flamingos, to the Siloli desert, to the Stone Tree, to the Red lagoon, and you sleep in a shelter inside the Reserve.
On the third day, you get up very early (at 5 am) to see the sunrise in the Geiseres, see the fumaers, and then take a bath in the hot springs at more than 5000 meters above sea level.
Then visit the Salvador Dali Desert, the green and white lagoons, and a few more stops.
Note: on these tours the third day; you can continue to San Pedro de Atacama.
Many agencies do just let them know. If you haven't, the hot springs are where the detours are usually made. In our case, the driver asked if anyone was going to the Atacama, they could choose to go in another vehicle.
Travel Insurance to Uyuni
It is necessary to take out travel insurance for all trips, but for some destinations, in particular, you could say that it is mandatory; it is the case of the Salar de Uyuni.
You will be three days exceeding 3500 meters above sea level; sometimes, you will be more than 5000 meters above sea level. Therefore, my recommendation is that you go with travel insurance. I think HeyMondo is the best travel insurance for this trip.
It has up $10,000,000 cover and great customer service.
Have you visited the Uyuni salt flat? What surprised you the most? Did it affect your height? Tell us about your experience to help more travelers get to know this wonder!!!
Plan Your Trip to Bolivia
Save This Photo on Your
Pinterest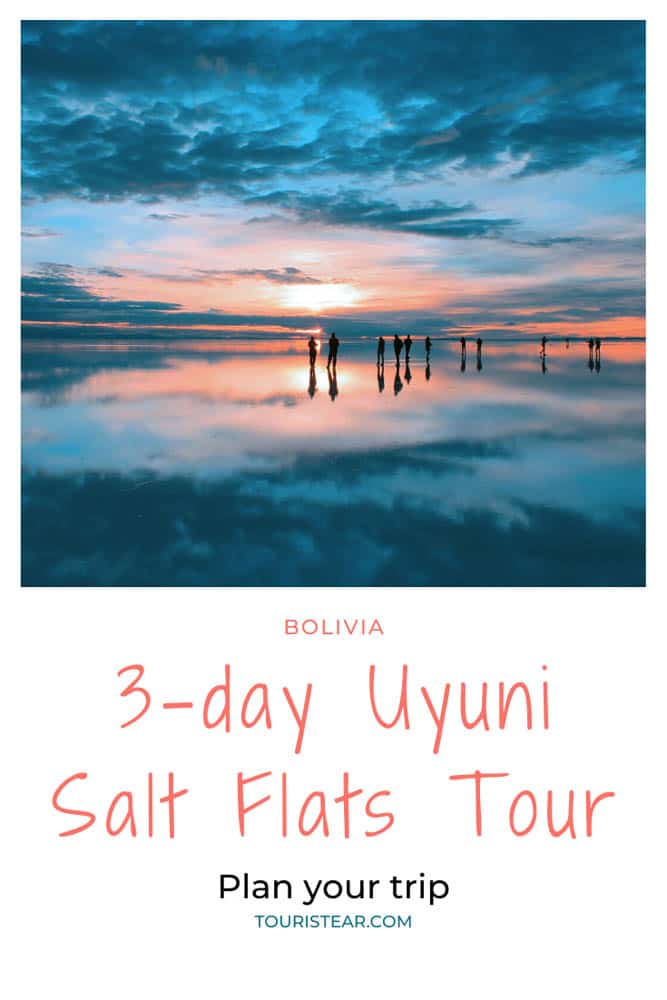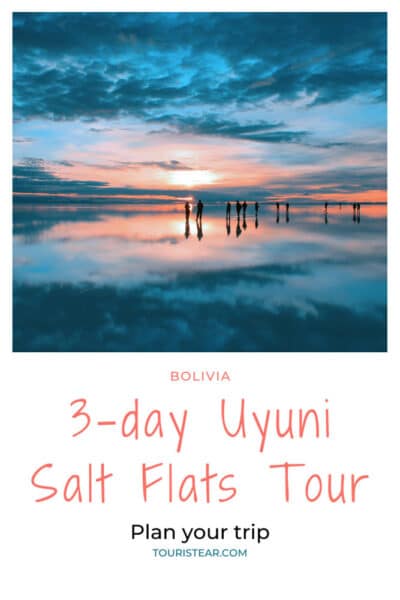 ---
Last Updated on 14 October, 2022 by Veronica
Disclosure: Some of the links on this post are affiliate links, meaning at no additional cost to you, I may earn a small commission if you click through and make a purchase.
Author: Veronica
Vero, a seasoned traveler, has explored 25 countries and lived in five, gaining a rich perspective and fostering an infectious passion for travel. With a heart full of wanderlust, Vero uncovers the world's hidden gems and shares insights, tips, and planning advice to inspire and assist fellow adventurers. Join Vero and let the shared passion for travel create unforgettable memories.