Last Updated on 17 December, 2020 by Veronica
Visiting the Mines of Potosí is a trip that takes you to the interior of the land in Bolivia. It is a special trip inside Cerro Rico and where you will also meet the protectors of the mine.
Visit to the Mines of Potosí
How to get to mines of Potosí?
I arrived in the city of Potosí in February, with a pleasant temperature and I was already acclimatized already used to the altitude. This city is located more than 3,900 meters above sea level and in some places, like my hotel, it is to more than 4,000 meters above sea level. Where they have a nice sign indicating that they have the highest "cyber" in the world at 4100 meters above sea level.
The day I arrived in Potosí, I asked about the area where the agencies are located. Because I wanted to do the tour to the Mines of Potosí, which is only and just it's possible with a guide. I asked in three agencies and I hired one that treated me well that I was well treated and that was well priced. It was an almost private tour since it was just me just and with another couple with and the guide.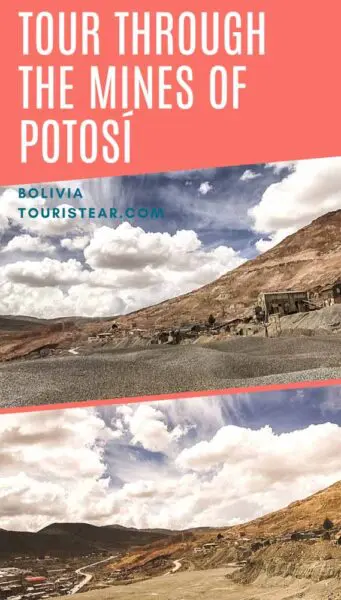 The Potosí Mining Market
We started the tour on a Saturday morning where we met at the agency's door and headed for the mining market. There, they explained a few things, such as that miner's mix coca leaves with other substances, for example baking soda or stevia. They told us in the market, that they use it to give it a better flavor and, above all, to produce more saliva makes and that the coca leaves have a greater more effect.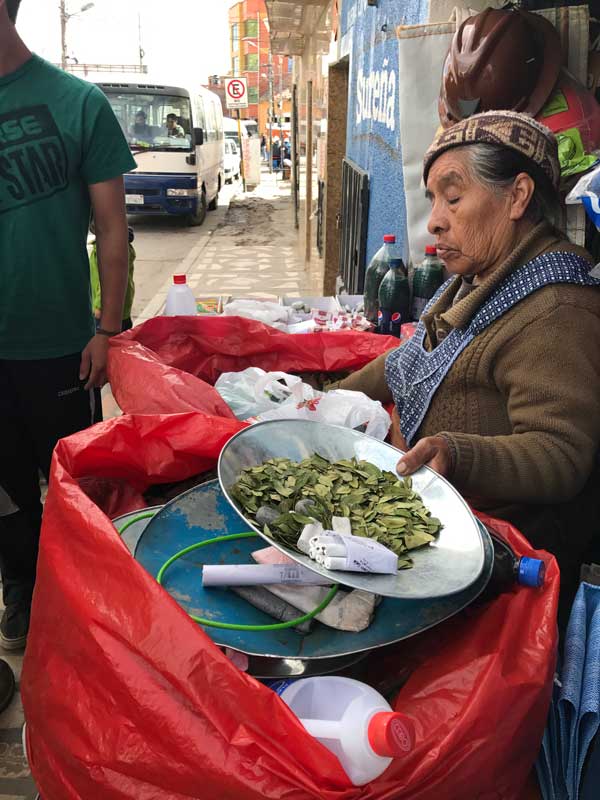 In the mining market, we bought buy gifts for miners who were are already prepared for you to give to them you. In the bag, you are given included in a bottle of soda, coca leaves, and cigarettes. Although it is not mandatory, it is more than advisable to buy something from them.
In order to visit the mines of Potosí, you have to put on safety clothes that are included in the ticket price. It consists of a pair of trousers and a shirt that, which you put on top of your normal clothes, waterproof boots, and boots of water and helmet.
Arrival at Cerro Rico
With the clothes on, we set on our way to Cerro Rico. Where we, make a stopped along the way and our guide explained the types of metals and minerals that are extracted from the mine. As I made the visit only with a couple, it was much easier to ask questions and consult any doubts.
It was very interesting and the views we had of the city and the landscape in general were magnificent.
In Cerro Rico, there are many galleries through which you can enter the mountain and where the miners work, grouped in cooperatives. We were approaching one of the entrances to the Potosí mines.
Once we arrived at the gate of the mine, we saw some people work grinding stones so that they could separate the silver from the useless and worthless parts. They do everything by hand and they seemed to take quite some time with the machines they used seemed to take quite some time with them. Here we offer our gifts to the miners and within a few minutes, we entered the mine.
We met "el Tío" (The Uncle)
Well-equipped and with the lights on, we went through the little tunnel. We went go in search of "El Tío", the protector of the miners, the one who grants them their material desires, we also went go in search of the Devil (El Diablo).
Uncle, "El tío", as the miners call him, is the God of the underworld. He offers them protection in exchange for offerings. There is usually a sculpture of The Uncle (El Tío) in each gallery and there, you can see the different offerings that the miners make to him. They offer him cigarettes, coca leaves, alcohol, among other things. During the carnival season, which is when I arrived, it was is also adorned with streamers and cheerful colors. The devil is very important at this time of year.
Our guide made an offering to the Uncle, you can see it in the video.
Once the offerings end, we continue to travel the mine to the next protector who, to which he grants spiritual desires. In this case, it is a figure of Christ, although as you will see in the photo, it is covered by streamers and ornaments that make it difficult to guess who what is underneath.
The way to get to it is becoming more complicated. At times, we had to bend down a lot because the tunnel got gets smaller and smaller. I'd tell you, sometimes they were about a meter high, with the floor sloping downhill and sometimes you find the beams that hold the split ceiling and it is complete darkness all around rotates only by the lights provided by of our helmets.
Feeling a Detonation Inside the Mine
And suddenly, you hear a loud noise and look at the walls to see if anything moves. The guide asks you "did you feel lt that?" and we keep still to make sure seeing that nothing moves because what we heard was an explosion as we find ourselves in the bowels of Cerro Rico.
Then, the guide tells us that it was a detonation that the miners who are working in another gallery have made and that are working in another gallery and that it is completely normal!
After visiting the two deities of the mine, we began our way back. Once I'm out of the mine gone, I ask the guide how far we've traveled, she tells me about 800 meters.
The truth is that the visit to the mine is very shocking. Because we were just walking bent over through narrow tunnels, with the ground full of water and yet. But miners work hours and hours in those conditions. On top of that, and the extraction is done by hand.
Save this image on your
Pinterest

!
Have you visited the mines of Potosí? What has been your experience?
Book Your Trip
Book Your Flight
Find a cheap flight by using Skyscanner.
Book Your Accommodation
You can book your hostel, hotel, or apartments on Booking.com.
Don't Forget Travel Insurance
Travel insurance will protect you against illness, injury, theft, and cancellations. It's your protection in case anything goes wrong. You never go on a trip without it.
Best companies for activities
Check out Civitatis.com and find the best tours in English (French, Spanish and Italian)
Looking for the best companies to save money with?
Check out my resource page for the best companies to use when you travel! I list all the ones I use to save money when I travel – and I think will help you too! (Is in Spanish yet)
Some of the links you'll find in this article are from affiliates. This means that if you contract any of the services mentioned through the link we provide, we will receive a small commission, for you the price will be the same or you will have a discount. This way you help us to maintain the blog and continue to create content useful for your travels. Thanks a lot!

We are not native English speakers but we have decided to translate our post to English so we can share it with the whole world. If you see any spelling mistake or something, please let us know, it is so important to us. If you do so, we can improve our post and also our English knowledge! Thanks in advance!!!