The 10 Best Things to Do In Kinsale, Ireland
Kinsale is a coastal town located in County Cork in southern Ireland. It is known for its picturesque harbor, colorful stores and restaurants, and rich history.
Kinsale is a popular destination for those looking to explore Ireland's natural beauty, as well as its culture and heritage.
There are many things to do in Kinsale, from visiting museums and art galleries to enjoying the local cuisine and exploring the coast on boat trips.
One of the main attractions of the city is Charles Fort, a 17th-century fortress that played an important role in the history of Ireland.
In addition, Kinsale is famous for its festivals, such as the Food Festival, which celebrates the rich culinary tradition of the region.
If you plan a road trip to Ireland, include this city in your itinerary.
From exploring the historic city center to enjoying the natural beauty of the coast, there is something for everyone.
Read on to discover the best things to do in Kinsale, Ireland.
Visit Charles Fort in Kinsale
Charles Fort is one of the most popular attractions in Kinsale. This star-shaped fort was built between 1670 and 1680 in honor of King Charles II.
Over the years, the fort has undergone major restoration, as several of its parts were destroyed in a fire in 1922.
Charles Fort is a place full of history and culture and offers a breathtaking view of the harbor and the city of Kinsale. In addition, the fort's interior offers a unique experience for those interested in learning more about the area's history.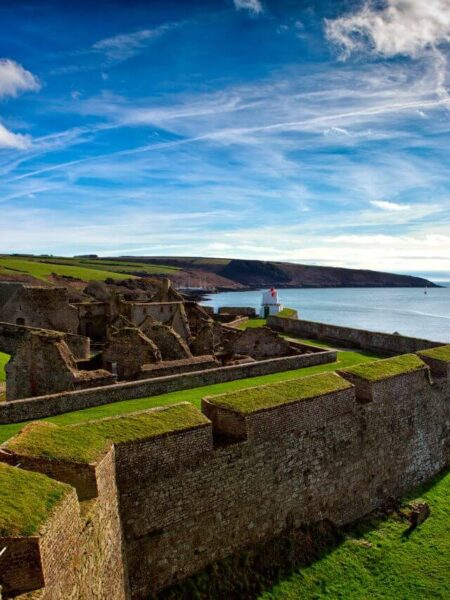 Visitors can enjoy a guided tour of the fort, which will allow them to learn more about the history of the site and explore the various areas of the fort, including the chapel, dungeons and soldiers' quarters.
There is also a small gift store on site where visitors can purchase unique souvenirs and items of interest.
Charles Fort is a must-see for those who want to experience the history and culture of Kinsale. Don't miss the opportunity to visit this impressive historical monument during your visit to the city.
Taste the Local Gastronomy In One of The Restaurants In Kinsale
Kinsale is known for its excellent food and for being a culinary destination in Ireland. There are many award-winning restaurants in the city offering a wide variety of local and international dishes.
From fresh seafood to traditional Irish dishes, there is something for everyone.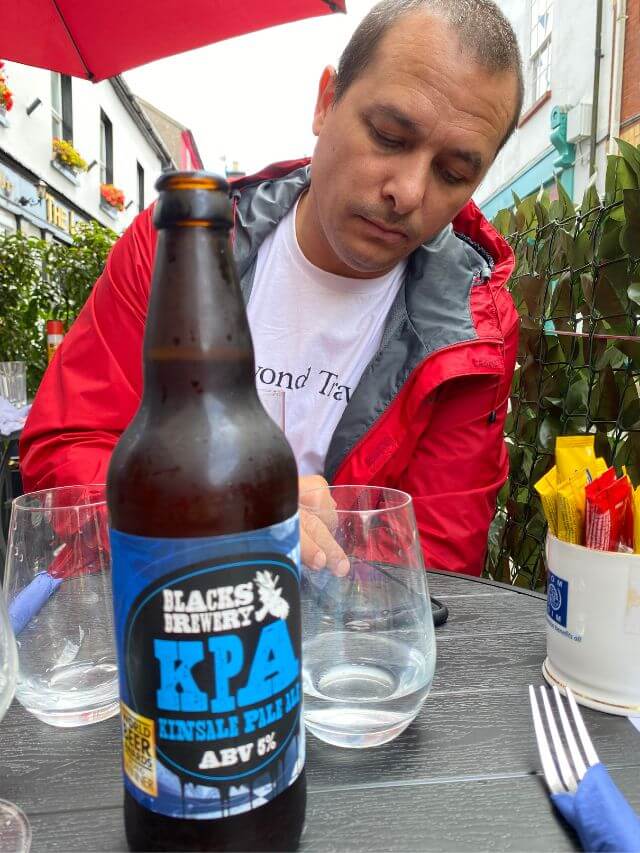 One of the most popular restaurants in Kinsale is The White House which offers a mix of Irish cuisine and seafood. Diners can enjoy dishes such as homemade smoked salmon and Irish lamb stew.
The atmosphere of the restaurant is cozy and quiet, making it the perfect place for a romantic dinner or a family dinner.
We tried to go, but there was an impressive line to get in, so we looked for one right across the street.
Another popular restaurant in Kinsale is CRU Winebar & Bistro, which specializes in seasonal dishes and high-quality wines.
Here you can enjoy dishes such as wild mushroom risotto and veal fillet with red wine sauce. The restaurant's ambiance is modern and elegant, making it the perfect place for a dinner with friends or a special occasion.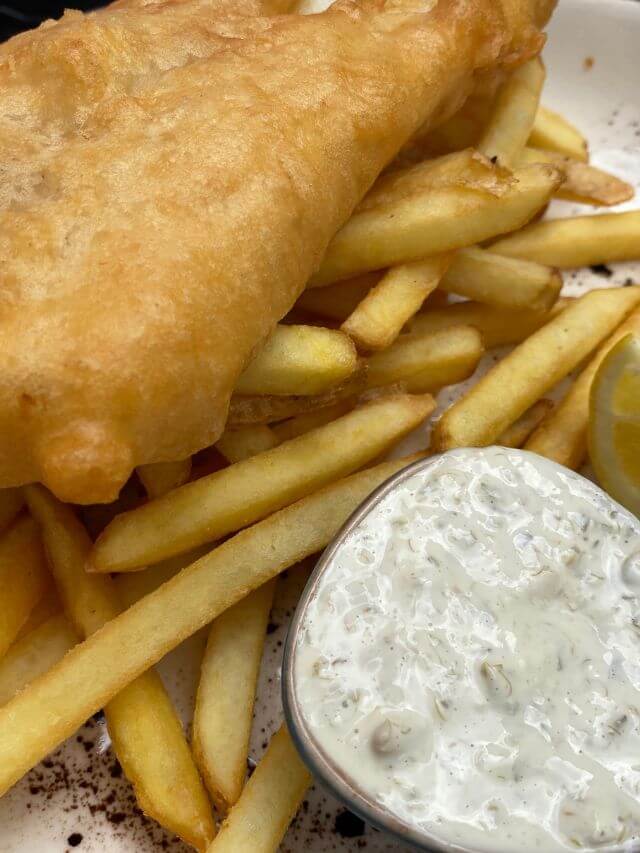 For coffee and sweets lovers, Cosy Cafe is an excellent option. The café offers a wide variety of cakes, pies and other desserts, as well as breakfast and lunch options.
Here you can try spinach and feta cheese omelet and pancakes with butter and maple syrup.
In general, Kinsale is a culinary destination not to be missed. With a wide variety of restaurants and dining options, you can experience the best of local cuisine and enjoy an unforgettable culinary experience.
Have a Kinsale Mead in a pub
If you want to try something different in Kinsale, try Kinsale Mead, a fermented honey-based drink. It is handcrafted at a small local distillery and has become a popular drink in local pubs.
Kinsale Mead can be tasted in several pubs in Kinsale, such as The Spaniard, the Bulman pub, and The Folk House. In addition, some of these pubs offer guided tours of the distillery where Kinsale Mead is made.
This drink can be drunk on its own or in cocktails. Some of the most popular cocktails are the Mead Mule, which is made with Kinsale Mead, ginger, lime and soda, and the Mead Margarita, which is made with Kinsale Mead, tequila, Cointreau and lime.
Just don't grab the car afterwards!
Tour the Old Head of Kinsale and Lusitania Museum
If you like history, you can not miss the Old Head of Kinsale Museum and Lusitania.
This museum is housed in the Old Head Signal Tower, which dates back to the 17th century and sits on a beautiful cliff with breathtaking sea views.
In addition, the museum has an exhibition dedicated to the sinking of the ship Lusitania during World War I.
The Lusitania Museum exhibit is very interesting and full of information about the sinking of the ship and its aftermath.
There are also a large number of artifacts recovered from the ship, including crockery, coins and other personal items of the passengers. In addition, there is a wealth of information about the history of Kinsale and its role in the First World War.
The Old Head Signal Tower is itself a popular tourist attraction.
From the top of the tower, panoramic views of the Cork coastline and the Atlantic Ocean can be enjoyed. There is also a small gift store in the tower where you can buy souvenirs and souvenirs.
Book day trips in Kinsale
Kinsale is a popular tourist destination with many day trips you can book to explore the area. Here are some options:
| | |
| --- | --- |
| Excursion | Description |
| Cobh (Cork) to Blarney Castle and Kinsale – Shore Excursion | This tour includes some of the most spectacular scenery Ireland has to offer. You will visit Blarney Castle, famous for its lucky stone, and Kinsale, a beautiful seaside town. |
| Full-day tour of West Cork with a visit to Kinsale | Experience the natural beauty and intriguing history of West Ireland west of Ireland Cork. Enjoy visiting Kinsale, known for its lively harbor and colorful and picturesque historic center. |
These tours are an excellent way to see the sights of Kinsale and the surrounding area. Book early to ensure you have a place on your travel date.
Learn About History at the Kinsale Museum
If you're interested in the history of Kinsale and its connection to the sinking of the Lusitania, you can't miss the Kinsale Regional Museum. This small museum offers interesting information about the history of the city and its importance in the First World War.
The museum features exhibits that include artifacts recovered from the wreck of the Lusitania, photographs and historical documents. There is also a section dedicated to the history of the town of Kinsale and its role in the fishing industry.
Take a Stroll Along the Harbor
Kinsale harbor is one of the most popular tourist attractions in the city.
Strolling along the port is a unique experience not to be missed. You can enjoy the sea breeze and admire the beauty of the boats moored at the pier.
In addition, the port has several restaurants and bars where you can enjoy a delicious meal or drink while enjoying the views. It is also a perfect place to take pictures and capture the essence of Kinsale.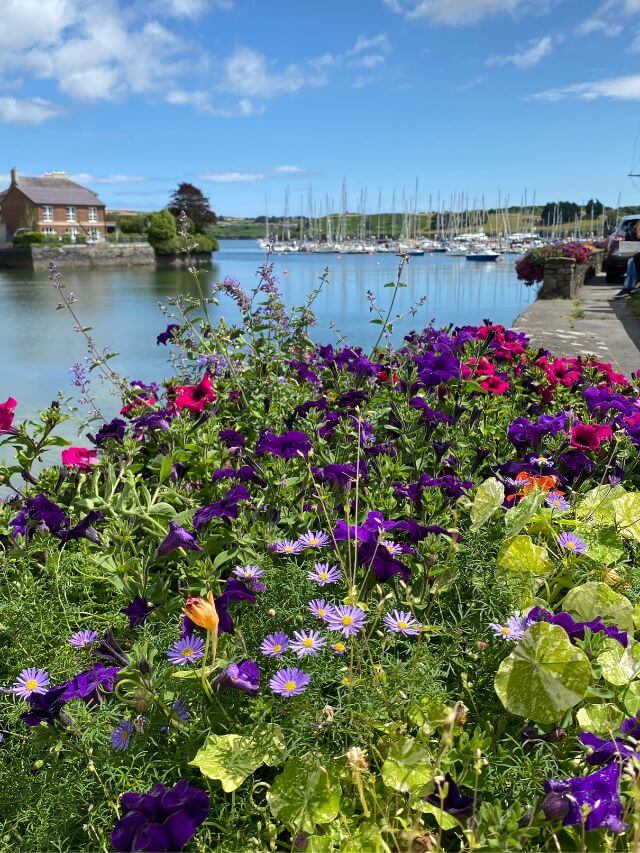 If you are interested in learning more about the history of the port, you can book a boat tour of the port.
During the tour, you will learn about the history of the port and the importance it has had for the city over the years.
See Dolphins, Whales, and Seals On a Boat Trip
One of Kinsale's greatest attractions is its proximity to the sea and the marine life that inhabits it.
If you are passionate about nature and want to enjoy a unique experience, you cannot miss a boat trip to observe dolphins, whales and seals in their natural habitat.
Boat trips depart from Kinsale harbor and are a popular year-round activity.
During spring and summer, it is possible to see humpback whales and common dolphins, while in winter minke whales and porpoises can be seen.
In addition, seals are permanent residents in the area and can be observed at any time of the year.
The boat tours are led by local experts who know the area and the marine life that inhabits it well. In addition, measures are taken to avoid interfering with the animals' natural habitat and to promote the conservation of marine life.
If you are lucky, you will be able to see dolphins jumping near the boat and hear their sounds.
You will also be able to see the whales emerging from the water and blowing air through their blowholes. Undoubtedly, it is an unforgettable experience not to be missed.
Visit James Fort and Desmond Castle
If you are a lover of history, you can't miss the opportunity to visit James Fort and Desmond Castle during your stay in Kinsale. Both are iconic places full of history that will transport you back to medieval times.
St. James Fort is a 17th-century fortress located at the mouth of the Bandon River. It was built to protect the city of Kinsale from naval attacks. Today, you can visit the fortress and explore its grounds. From there you can also enjoy spectacular views of Kinsale harbor.
On the other hand, Desmond Castle is a castle that was built in 1500 as the Customs House of Kinsale.
It was used as a prison during the Irish Civil War and today houses the International Wine Museum.
If you are a wine lover, you can't miss the opportunity to visit this museum and learn about the history of wine in Ireland!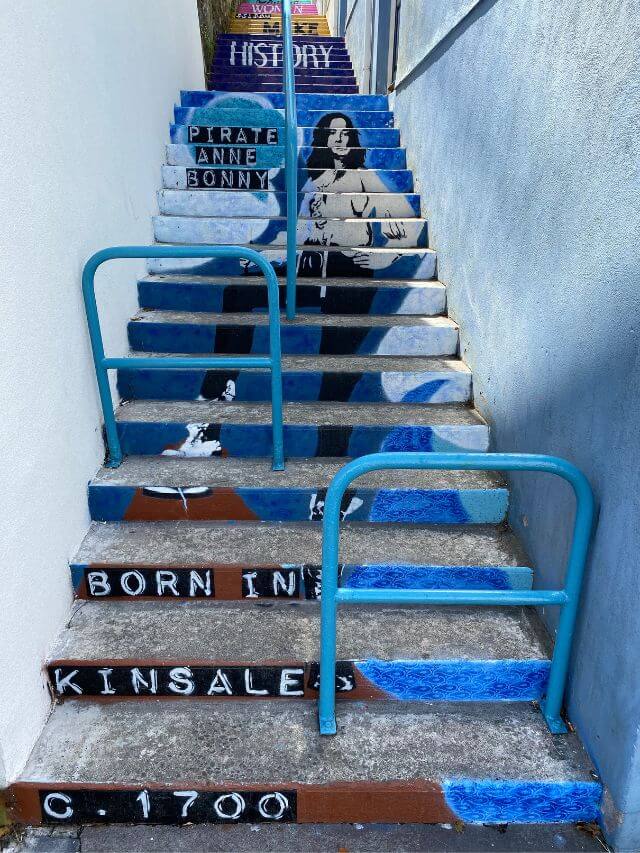 Local Events
Kinsale is a vibrant city offering a variety of local events throughout the year. From music festivals to sporting events, there is something for everyone. Here are some of the most popular events:
Kinsale Farmers Market: This market is held every Wednesday in the market square. Here you can find fresh, local produce, from fruits and vegetables to freshly baked bread and artisan cheese.
Kinsale Arts Week: This annual festival celebrates art and culture in Kinsale. For one week, there are art exhibitions, live music performances and creative workshops for all ages.
Kinsale Regatta: This annual sporting event takes place in August and features rowing, sailing and swimming competitions in Kinsale Bay. There is also live music and activities for the whole family.
In addition to these events, there are many others that take place throughout the year. Be sure to check your local agenda for updates on upcoming events.
In short, Kinsale is a vibrant town that offers a variety of local events to suit all tastes . From the farmers' market to the arts festival and the annual regatta, there is something for everyone.
Is it worth visiting Kinsale, Ireland?
Kinsale is a picturesque seaside town in the south of Ireland, offering a wealth of activities and places to visit.
If you are looking for a tourist destination that combines history, culture, gastronomy and nature, Kinsale is the perfect place for you.
And if you're going to tour the Irish coast, I'd say it's a must.
One of Kinsale's main attractions is its harbor. The city also has a historic center with cobblestone streets lined with colorful houses and handicraft stores.
It is also known as the food capital of Ireland, with a wealth of restaurants and pubs offering delicious local dishes and wines.
If you're a history buff, Kinsale also has a lot to offer. The city is home to several historic sites, such as Charles Fort, which was built in the 17th century to protect the harbor from possible invasion.
You can also visit the Kinsale Museum, which tells the city's history from the Stone Age to the present day.
When is The Best Time to Visit Kinsale, Ireland?
Kinsale is a beautiful coastal town located in County Cork, in the southwest of Ireland.
The city is known for its historic architecture, seafood restaurants and picturesque harbor. If you are planning to visit Kinsale, it is important to know the best time to do so.
The best time to visit Kinsale is during the summer months, from June through August. We went in August, the weather was pretty good in Ireland in general, with a few exceptions such as the Moher Cliffs which was terribly windy.
During these months, the weather is warmer and drier, making it more pleasant to walk around the city and enjoy the views.
In addition, during the summer months, there are a lot of festivals and events, which means there is always something to do.
If you prefer to avoid the crowds, you can also visit Kinsale in spring or autumn.
During these months, temperatures are cooler but still pleasant. In addition, there are fewer tourists, which means you can enjoy the city with more tranquility.
In winter, Kinsale can be quite cold and wet, which can make it difficult to explore the city. However, if you don't mind the cold weather, you can enjoy the city without the crowds of visitors found in the summer months.
How to Get to Kinsale?
Kinsale is a picturesque coastal town located in County Cork, Ireland. Here are some options for getting to Kinsale:
By plane: The nearest airport is Cork Airport, located about 20 km from Kinsale. From there, you can take a cab or bus to Kinsale.
By Bus: Kinsale is well connected by bus to Cork City. Buses depart frequently from Parnell Place bus station in Cork. There are also regular bus services from other parts of Ireland, such as Dublin and Galway.
By car: If you prefer to drive, Kinsale is about 25 km south of Cork. There are several car rental companies at Cork Airport and in Cork City.
Once you are in Kinsale, you can easily get around on foot or by bicycle. Cab services are also available, as well as buses connecting Kinsale with other parts of Cork and Ireland.
Remember, if you drive in Ireland, you drive on the left and the roads can be narrow and winding. It is important to pay attention to traffic signs and drive with caution.
Getting Around Kinsale, Ireland
The best way to get around Kinsale is on foot, as the town is quite small and compact. In addition, walking through its picturesque streets is a unique experience to enjoy the architecture and history of the city.
If you prefer a faster means of transportation, there is the option of renting bicycles at several local stores. This will allow you to explore the surroundings of Kinsale and its stunning natural scenery.
Another option is public transportation. Buses connect Kinsale with Cork and other nearby towns. You can also opt for a cab if you prefer a more comfortable and faster option.
Where to Stay In Kinsale?
If you are planning to visit Kinsale, you will need a place to stay. Fortunately, there are many options available to meet your needs and budget.
Some of the best rated hotels are:
Kinsale Hotel & Spa: this luxury hotel features spacious rooms, a full-service spa and breathtaking views of Kinsale Bay.
The Blue Haven Hotel: this boutique hotel is located in the heart of Kinsale and offers stylish rooms, an award-winning restaurant and a cozy bar.
Perryville House: this Victorian-style guesthouse features elegantly decorated rooms, a gourmet breakfast and an ideal location just a few minutes walk from downtown.
If you prefer something more economical, there are several more affordable accommodation options in Kinsale, such as:
The White House: this bed and breakfast located in a historic house offers comfortable rooms and a homemade breakfast at a reasonable price.
The K Kinsale: this modern hotel features well-appointed rooms, a bar and a convenient location near the city center.
In general, there are many accommodation options in Kinsale that can satisfy any budget and preference.
Whether you're looking for a luxury hotel or a more affordable place to stay, you're sure to find something to suit your needs in this beautiful Irish city.
We went by camper van, so the hotels are recommendations based on the opinions of other travelers. Parking is just outside the center if you are traveling in a camper or motorhome.
Plan Your Trip to Ireland
Last Updated on 7 September, 2023 by Veronica
Disclosure: Some of the links on this post are affiliate links, meaning at no additional cost to you, I may earn a small commission if you click through and make a purchase.
Author: Veronica
Vero, a seasoned traveler, has explored 25 countries and lived in five, gaining a rich perspective and fostering an infectious passion for travel. With a heart full of wanderlust, Vero uncovers the world's hidden gems and shares insights, tips, and planning advice to inspire and assist fellow adventurers. Join Vero and let the shared passion for travel create unforgettable memories.