How to Visit Kilmainham Gaol, A Must in Dublin
In this post, I will tell you how to visit Kilmainham Gaol, the old Dublin jail, now converted into a museum to remember history.
Kilmainham Gaol. Its name doesn't tell me anything at first glance, but the way it's pronounced is guttural as if coming from the back of the throat.
As if pronouncing its name invited you to draw from your interior the most basic instincts, to survive, to eat, in a place of destruction of the will, of the soul, of any representation of freedom.
The objective is not to correct or amend; no, the objective is to contain, reduce, destroy, inside and out.
Disclosure: Some of the links on this post are affiliate links, meaning at no additional cost to you, I may earn a small commission if you click through and make a purchase.
The Kilmainham Gaol Prison Museum in Dublin
When you get to Kilmainham, you don't appreciate anything that happened there years ago.
You will see Inchicore Rd, an ordinary street, and the Hilton just opposite that, already offers breakfast from early morning to cater to the earliest visitors, like us.
Inside the building is a cafeteria where you have an excellent breakfast, expensive but fabulous.
Entrance to the Prison with a Guide
We bought the ticket without a prior reservation, so we went first thing in the morning.
The price was €7 per adult or €15 per family (2 adults and three children), and we were lucky enough to get tickets!
Buying a ticket can be complicated because almost all or all of them are sold in advance.
Keep this in mind because otherwise, you can stay out.
We begin the visit, and our guide, an eminence in Kilmainham Gaol, knows everything, dates, people, places, events, etc. The assistant already told me: "you have got the best guide, enjoy the visit."
He is a red-haired middle-aged man who speaks slowly with a strong accent.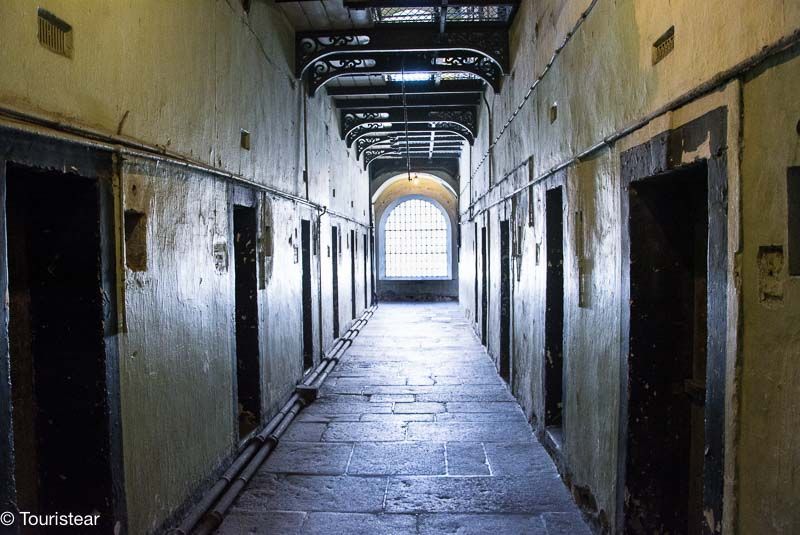 But he does not behave like a regular guide; he is affected by what he sees there, he speaks with great respect, and sometimes it seems that he will get emotional; I think he does, but we do not see it.
He wants us to confront the way prisoners "didn't live." We will watch a video in the chapel. You have to go through some of the prison corridors to get there. Your heart shrinks.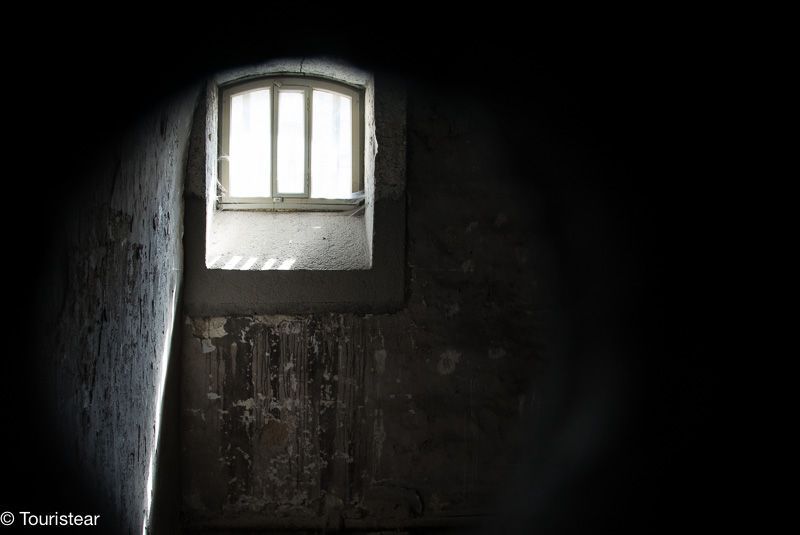 The Chapel of Kilmainham
We see the video in the chapel because the benches are placed like a movie theater. Kilmainham has two chapels, one Catholic and one Protestant, well separated from each other. The Catholic one is on the ground floor, and the Protestant one is on the top floor.
The Catholic is painted red, and the Protestant blue. Only the Catholic one is open to the public.
Joseph Plunkett and Grace Gifford were dating in Dublin. Joseph Plunkett was sentenced to death for treason for the 1916 uprising that ended in the Dublin library shooting. He only asked for one thing before he died, that he be allowed to marry Grace.
And in this chapel, lit only by candles and with two guards as witnesses, they were married. They were not allowed to speak except to pronounce their vows, they were married in complete silence, and when they were married, they were separated. He was executed 11 hours later.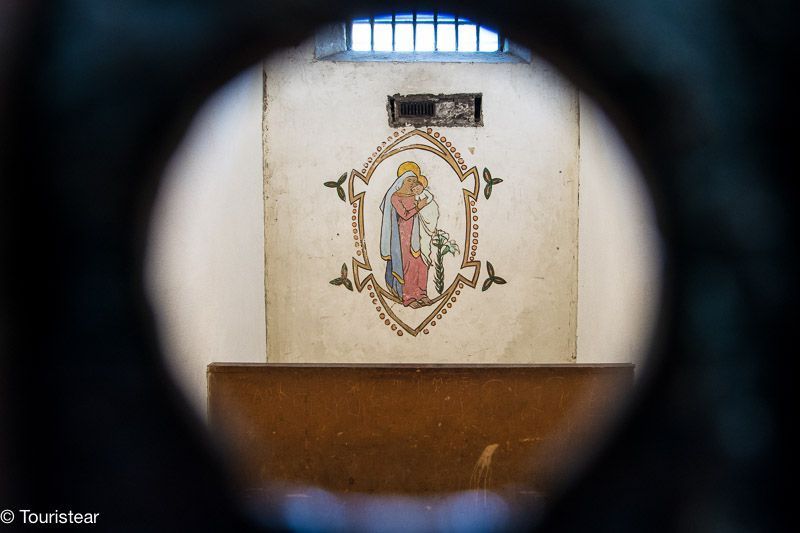 She was put in prison in February 1923; she was released in May.
She was a cartoonist, so in the cell less than two meters wide in which they kept her, she did the only thing she knew how to do, draw and paint. She painted a virgin and her son in her cell, and the prison was closed in 1924.
It is still preserved. She died in December 1955 at the age of 67.
The East Wing and West Wing of Kilmainham
The prison has two "wings" or sections—the East and West sections. The west section is the oldest and creepiest, with dark and dank corridors that smell death. Three prisoners escaped from this wing with the help of a jailer.
The east wing was renovated and is of a completely different design.
It is best known because it has been the setting for the film Michael Collins or In the name of the Father, among others.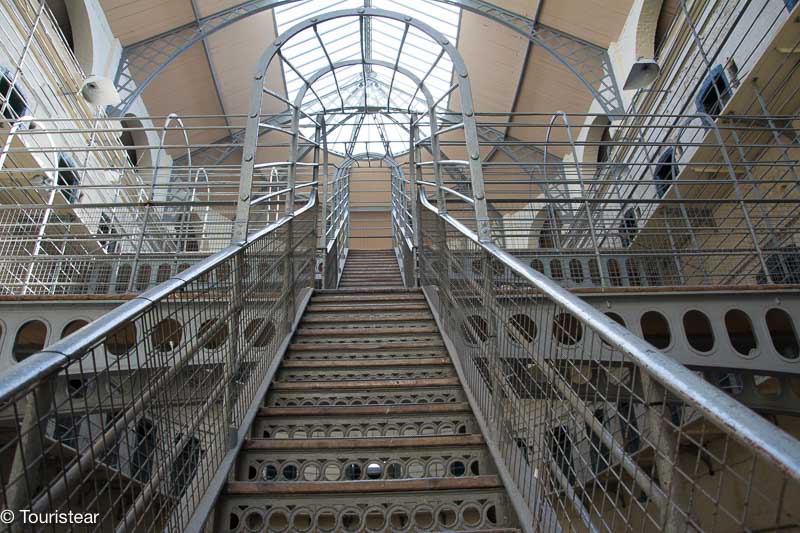 Each cell can be seen from a raised central platform, which is where the guards are.
The patio is brighter because it has a huge skylight, but the cells only have a small window located high enough so that the prisoners cannot escape, and of course, they cannot lookout.
The cells have a small sign at the top of the doorjamb where you can read the last prisoner who was held and executed before the prison closed and Ireland declared independence in 1937.
The Yard of the Stonemasons. The Shame of Kilmainham
It is called that because of that; it was what was done on this patio. Break stones. The jail closed in 1910, but in 1916, the English government reopened it for use as a detention center.
In this courtyard, between May 3 and 12, 14 leaders of the Irish movement were rushed to death in 1916, including James Connolly, who was practically unable to stand when he was shot, and Joseph Plunkett just after his marriage.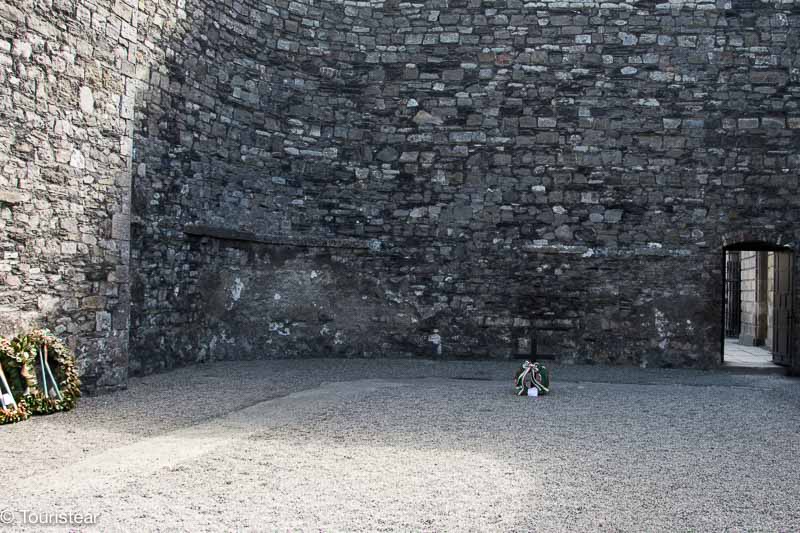 Kilmainham Museum
Don't forget to visit the museum. It has many objects, photos, and letters of last wishes written by those sentenced to death. One of the letters written by an 18-year-old boy to his mother telling her that he will die caught my attention.
His letter is rounded and childish without a traveled world, experience, or history.
We finished the visit around 11 o'clock and decided to go for a walk around the Temple Bar neighborhood and eat at the Temple Bar Pub.
It's a corner pub, and it's huge inside. It has an interior garden where it is wonderful, and if the weather is bad, you can eat inside. The food was delicious, and the portion was very generous.
As in all Irish pubs, a live band played traditional Irish music.
Although the pub is so big that you don't even hear it if you go to the inner garden. So you can choose with music or without music.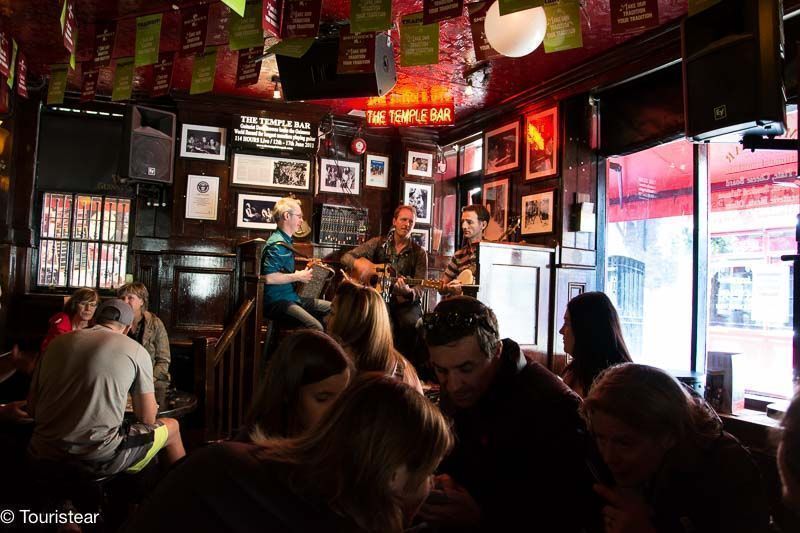 Plan your trip to Dublin
Last Updated on 22 September, 2023 by Veronica