Last Updated on 3 December, 2020 by Veronica
Today I will tell you about Marrakech, a charming city in southern Morocco, next to the Atlas Mountains.
There are two Marrakech. On the one hand, is the modern Marrakech or the newest part since it looks a lot like a city of western design and on the other hand, is the old part in which they try to keep the spirit of the traditional Marrakech intact.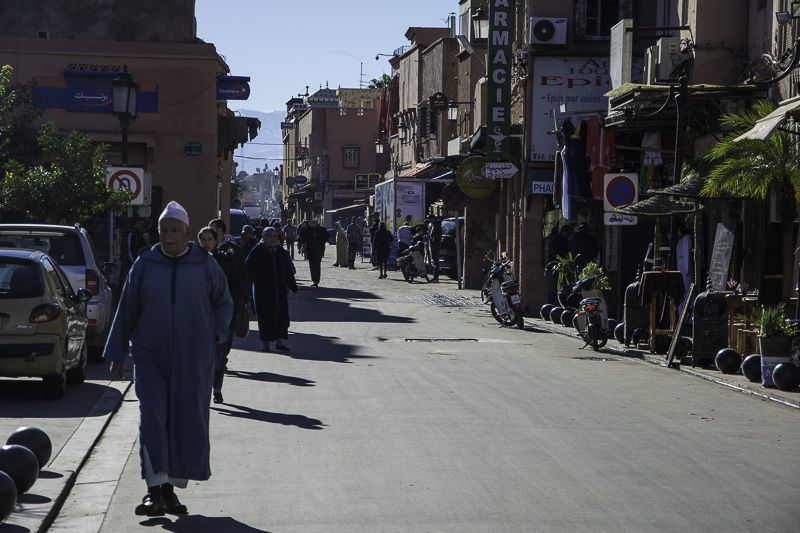 What to see in Marrakech?
We didn't visit much of the new part because we focused more on the old part or old town which is what we're going to talk about here today.
When you get to the old town of Marrakech, the first thing you feel is that everything is old, very old, and it seems like you have traveled back in time.
Yamaa el Fna Square: The center of Marrakech
The Yamaa el Fna square is the center of Marrakech. It is a huge square where you can find many food stalls of all kinds; from stalls selling snails to many stalls selling fresh fruit that looks very good or other stalls selling many nuts among which you could find almonds and figs.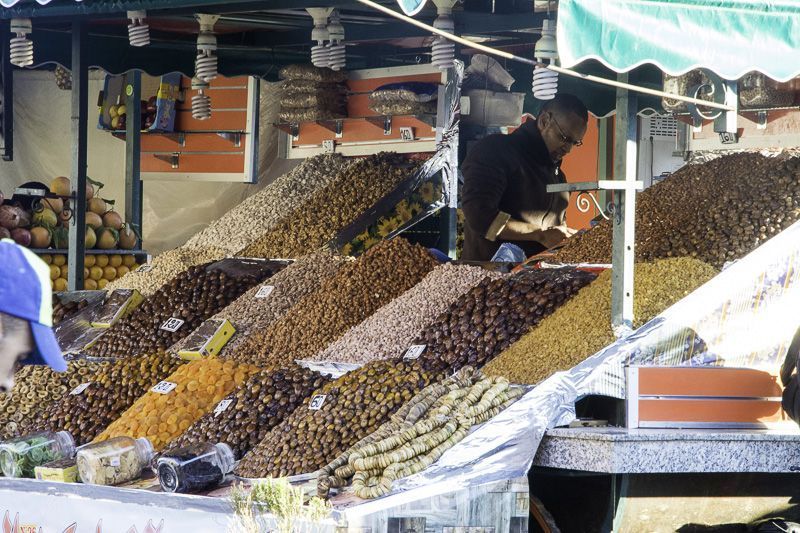 There are also cooking food stalls that prepare food for you there on the spot. There are also plenty of restaurants around the square, most of them fast food where you can get something to eat quickly. It is not recommended to buy food at the stalls of the square, however you should have no problem with the local restaurants.
We ended up buying nuts, dates, figs and peaches that were delicious, especially because they were very fresh and tender.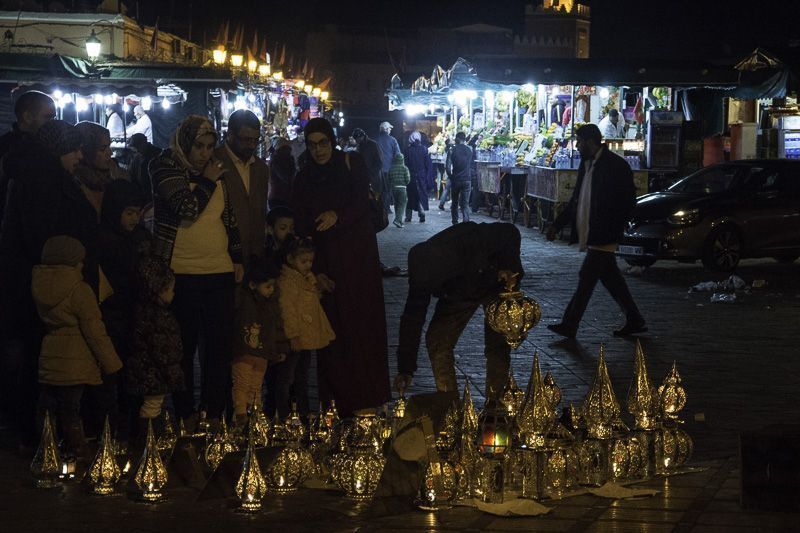 Around the stalls you can see people who are attending some street artists; comedians and storytellers. We could also see snake charmers trying to lure you by sounding their trumpets with their signature snake-ridden sound.
Be careful if you take a picture of them because they will quickly come forward to ask you for money. And if they offer you to take a picture of them, when you do, they'll ask you for money as well. Look, this is a general rule, when someone offers to pose for a photo, they will do it because they expect money in return and will ask you.
Check Out: Best travel insurance to travel to Morocco
Marrakech Souk
The souk is the main market in Marrakech. Each neighborhood also has its main market as well. The streets are narrow and in order to avoid sweltering heat, they are covered by a roofing so that it is easy to disorient and lose track of time.
As soon as you get a little curious and begin to eyeball the merchandise, the shopkeeper is ready to insist that you buy and haggle with him. They are quite insistent and on numerous occasions make you feel uncomfortable. So much so that we no longer approached any post so that we would not be bothered, unless we were looking for something very specific.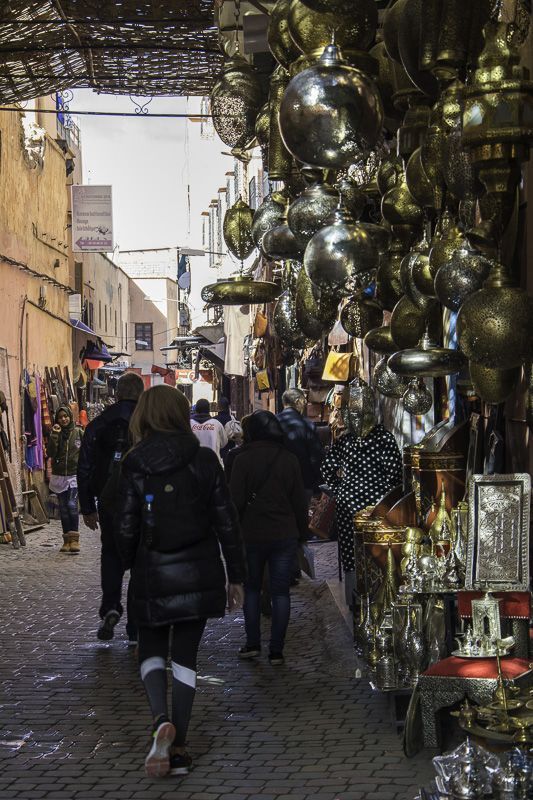 The market is organized by handicrafts, wood, skin, metal, fabrics, spices, food, glass, etc. So when you go through one of these areas you will find many little things of the same theme and craftsmanship.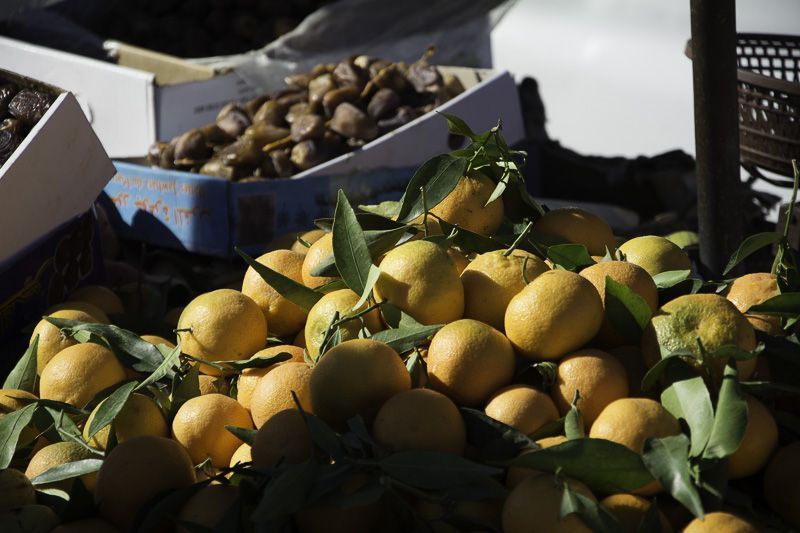 I was particularly struck by the food market because I'm not used to seeing food for sale like this very often, especially food such as meat or fish, and it can be a small shock for which you should be prepared for. The reason is that the hygienic conditions shine through in their absence and the fish and meat are exposed to everything.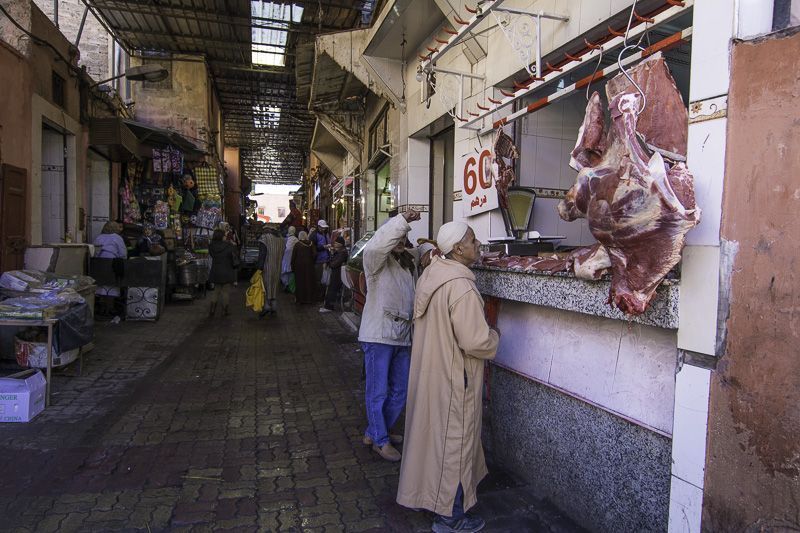 The argument I heard is that everything is super fresh and that they eat it on the day of. Well, I wasn't convinced and I didn't like the truth, but it was what it was. We always ate in restaurants which gave us some sense of security, but you never know where they've bought their food. What is certain is that we did not buy the food from the stalls and posts except for the fruit and the nuts.
We were also visiting the area full of weavers where they make handkerchiefs and turbans and also teach you how to place them properly. Although, to tell you the truth, I was not able to learn how it was done although I really noticed it!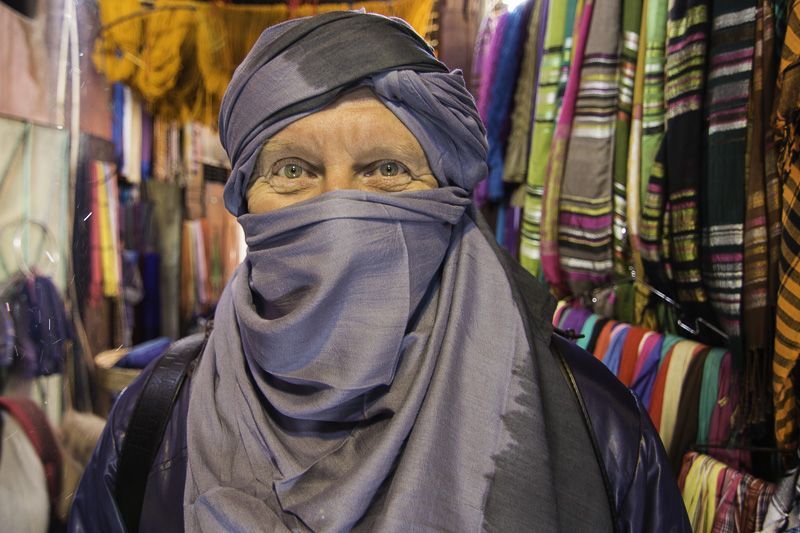 Marrakech Kutubía Mosque
Mezquite Kutubía is located next to Jamaa el Fna Square and is from the 12th century. We didn't go into any of the mosques but we could see them from the outside.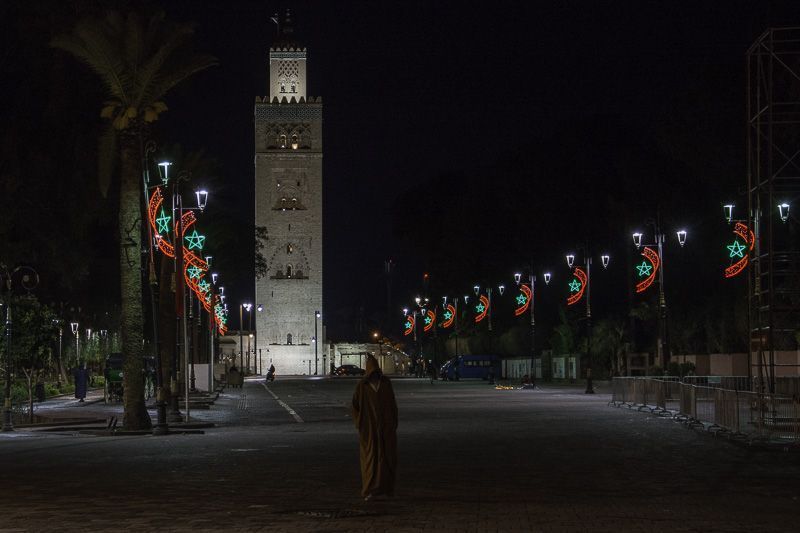 What stands out most is the tower or minaret of this mosque since it is sister of La Giralda of Seville. In fact, the architects relied on this tower to design La Giralda.
Bay Palace of Marrakech
This palace was built in the nineteenth century for a vizier of the sultan who was somewhat like a minister. You can visit the whole thing and the details of the palace décor are stunning.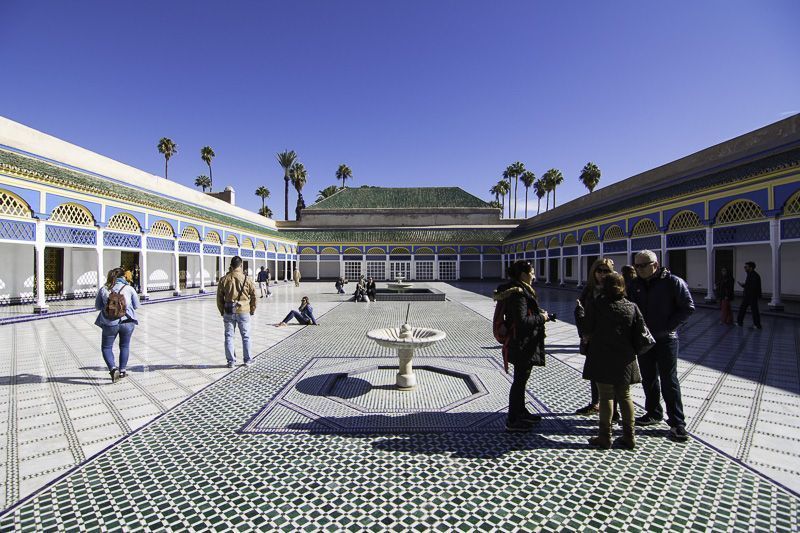 In the photo you can see the yard of the harem. This vizier had four wives and about thirty concubines in this harem. As we already know, you could have as many women as you were able to maintain in those times.
The Marrakech Palm Grove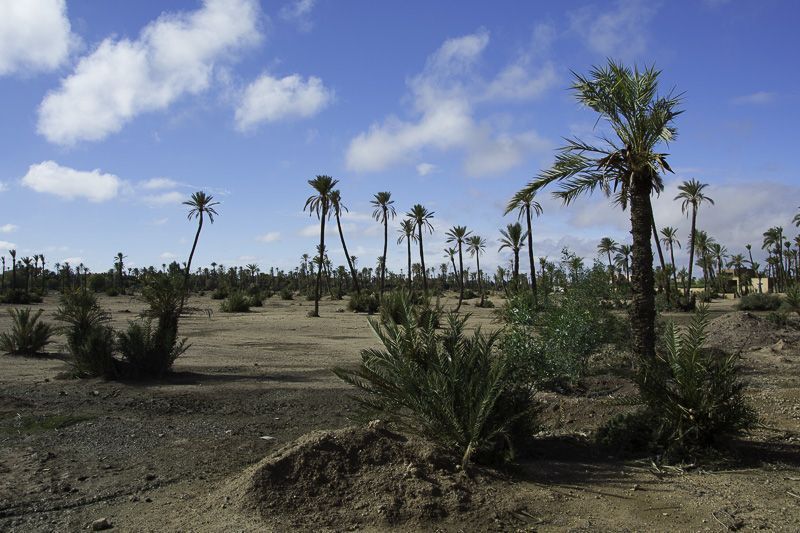 The Palm Grove is a huge expanse of land occupied by palm trees, but it is not easily accessible. It is not recommended to go on your own.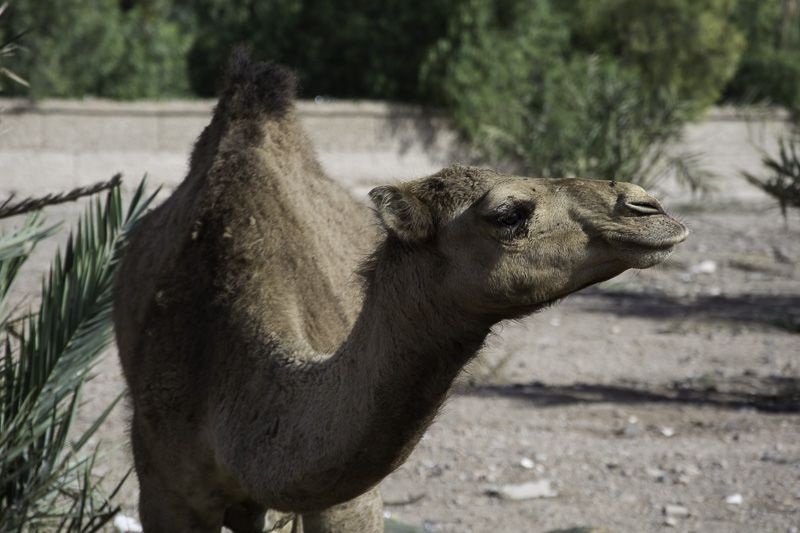 It's better to ask to be taken by taxi and there you will see that you can hire a camel ride through the palm grove. It is the best way to travel through the grove and it costs about 30 euros.
The Majorelle Garden or Yves Saint Laurent Garden: An Oasis in Marrakech
This is a beautiful garden that Jacques Majorelle, a French painter, began to build. He loved Morocco when it was a French protectorate and lived in it for a long time. He bought the estate next to the palm grove and built a villa in it and began to build the gardens.
It was originally a botanical garden with many exotic species that the painter had brought from his travels around the world. The painter Majorelle died and the gardens fell into absolute abandonment until Yves Saint Laurent bought it in 1980 and then restored and expanded it, leaving it in its current state.
The gardens and the museum are both visitable and the entrance for both has a cost of 100 dirhams (10 euros).
The Saadies Tombs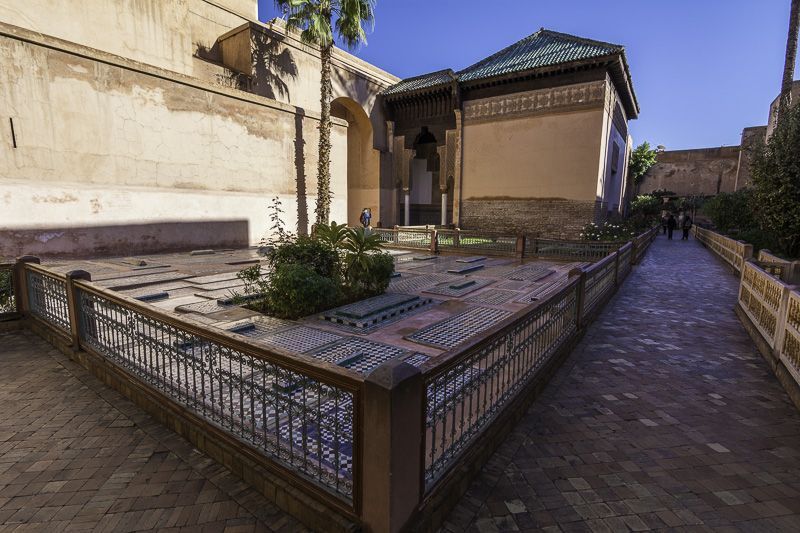 The Saadies Tombs are an interesting monument found in the souk of Marrakech. They date back to the 17th century but were closed and hidden until 1917 when they found them and opened them up to the public and began their restoration. They are made of carrara marble and are truly beautiful.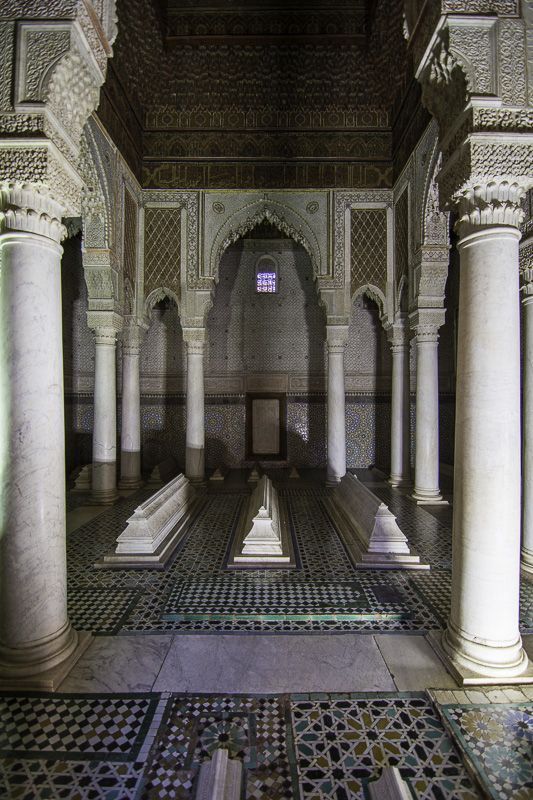 In these tombs are about 60 members of the Saadi dynasty, hence its name and among them is the famous Almanzor.
The Madrasa Ben Youssef
If you visit the Ben Youssef Madrasa you will be able to get an idea of what the Islam students who studied in this school experienced.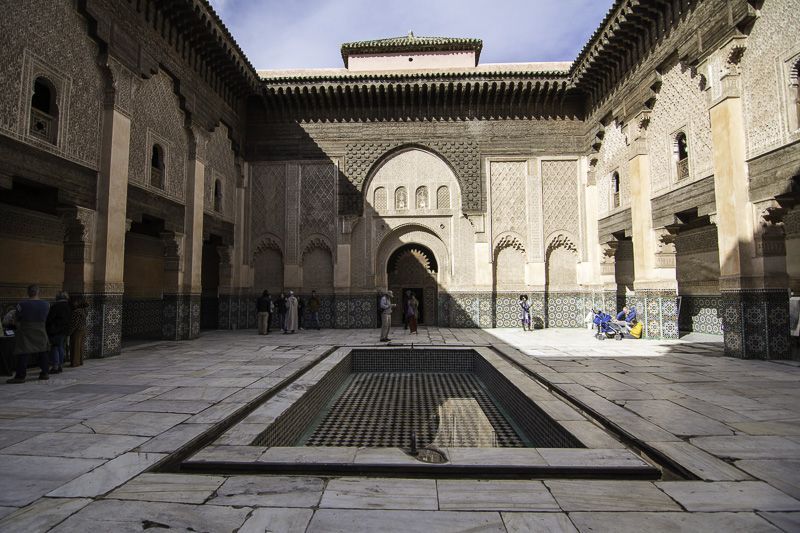 They call it medersa, not madrasa which is a Castellanization of the term. It is not currently functioning as a school and is a mere tourist attraction.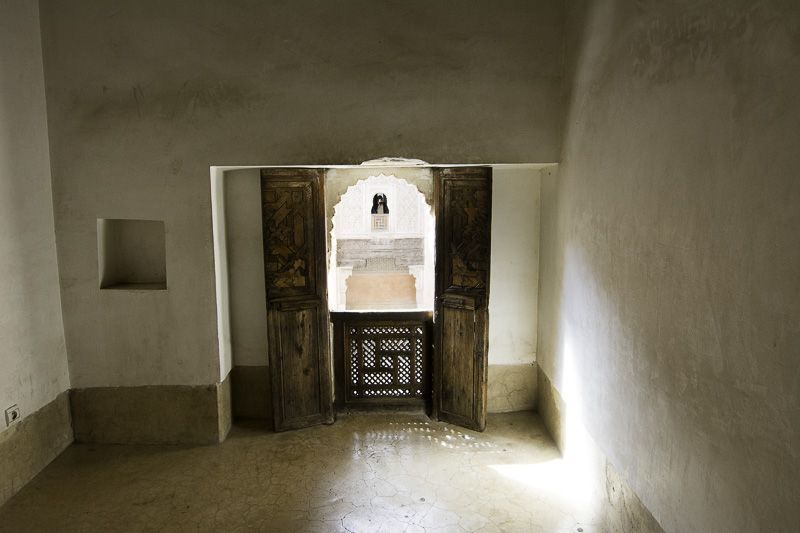 I hope our advice will help you to enjoy your visit to Marrakech.
Prepare your trip to Marrakech
Book Your Trip
Book Your Flight
Find a cheap flight by using Skyscanner.
Book Your Accommodation
You can book your hostel, hotel, or apartments on Booking.com.
Don't Forget Travel Insurance
Travel insurance will protect you against illness, injury, theft, and cancellations. It's your protection in case anything goes wrong. You never go on a trip without it.
Best companies for activities
Check out Civitatis.com and find the best tours in English (French, Spanish and Italian)
Looking for the best companies to save money with?
Check out my resource page for the best companies to use when you travel! I list all the ones I use to save money when I travel – and I think will help you too! (Is in Spanish yet)
We are not native English speakers but we have decided to translate our post to English so we can share it with the whole world. If you see any spelling mistake or something, please let us know, it is so important to us. If you do so, we can improve our post and also our English knowledge! Thanks in advance!!!
Some of the links you'll find in this article are from affiliates. This means that if you contract any of the services mentioned through the link we provide, we will receive a small commission, for you the price will be the same or you will have a discount. This way you help us to maintain the blog and continue to create content useful for your travels. Thanks a lot!