Seville, What to see in 2 days
Seville has a special colour… I had been in Seville a few years ago and at the end of April we had the opportunity to return to the capital of Andalusia and honestly, I did not remember it to be so beautiful.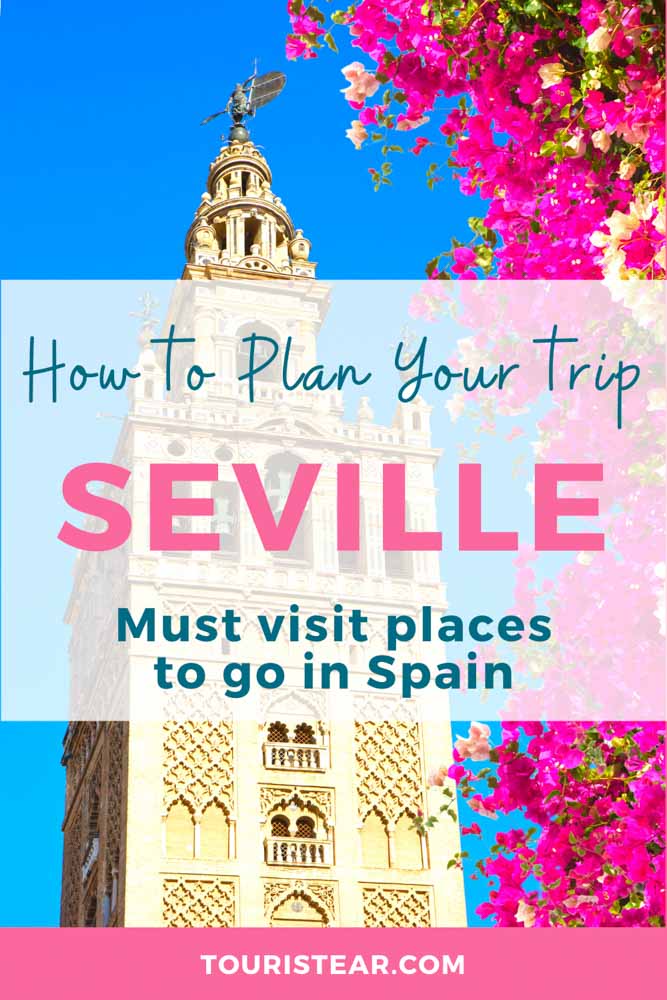 It was a little impromptu, a fleeting visit, which left me wanting to return. I tell you what I had time to see in a day in Seville and what are the places you must visit.
What to see in Seville in 1 or 2 days?
If you are planning a cheap weekend trip we tell you about our trip to Seville and everything we could see in this fantastic Andalusian city.
My recommendation is to start the tour of the Cathedral and from there walk through Seville. However, it is also a very comfortable city to travel by bike or by taking a segway tour.
Check out: Free walking tour with an English guide
Seville Cathedral and the Giralda
My visit began in the Cathedral of Seville and its famous Giralda. I was able to enter the cathedral for free, but there was a mass and it was not possible to complete the tour since the passage was blocked. I imagine that it was in order to not disturb the tour.
The Giralda is the bell tower of the Cathedral, formerly the tower of the old mosque. It is the city of the late twelfth century and one of the main attractions of the city and a must visit in Seville.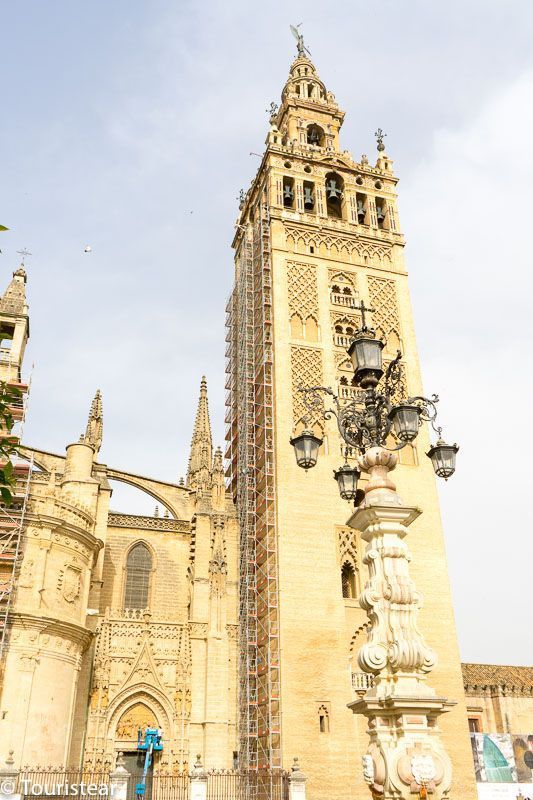 It has more than 800 years of history and has seen conquests, revolutions, and wars and yet remains the tallest building in the centre of Seville; up to 101 meters high. For many years it was the tallest tower in all of Europe.
You can climb the Giralda, the entrance fee is € 7 for adults and on Sundays it is free.
Real Alcázar of Seville
It is one of the most beautiful buildings and one of the main attractions of Seville. It is a few steps away from the cathedral.
The Real Alcázar de Seville is one of the oldest palaces in the world. He has lived and survived different cultures from the 11th century to the present day.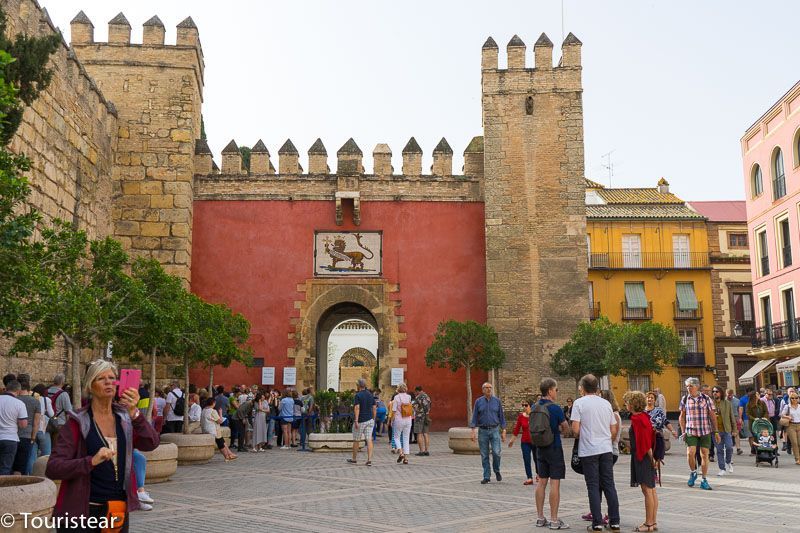 It is a witness to the history of Seville, marked by the diversity of cultures and the legacies that have been left behind.
It can be visited starting at 9.30 am and general admission costs € 11.50.
Golden Tower
The Golden Tower of Seville is a tower of the eleventh century that was built defensively and indicated access to the port of Seville.
I have read in different places and I also listened to a history teacher with his students who were just hiking hat the name of this tower came to be for several reasons. One such reason is that some say that because of the material that is was built from, sunlight gave it a golden tone and hence the name.
Others believe that the tiles were made of gold and others that this was the place where the gold and the riches that were brought from America were stored (The history teacher said that the latter was not valid). Which one do you choose?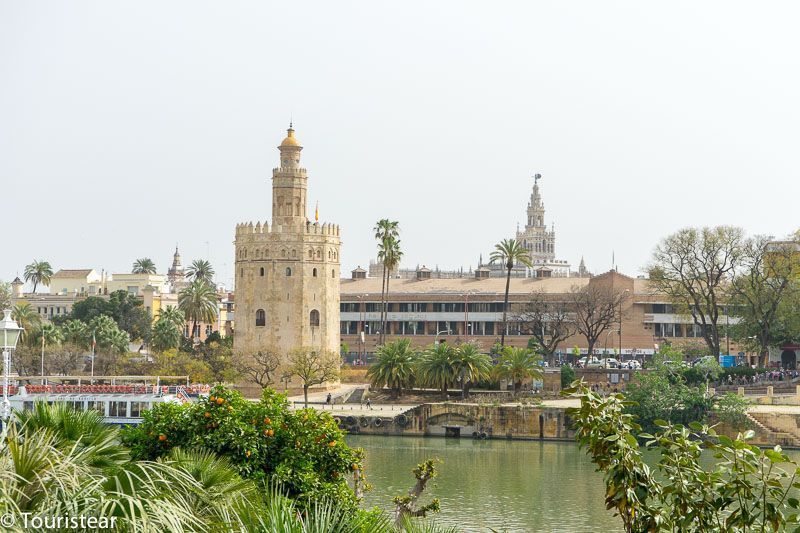 Neighborhood of Triana
The route that I took was from the bridge of the Torre de Oro (bridge of San Telmo) crossing to the neighbourhood of Triana. Around here I walked down Calle Betis to the Castle of San Jorge and the Puente de Triana. From there I wandered a little through this famous Sevillian neighborhood.
I visited its market, toured some of its streets, photographed its bridge and from the other side of the river I enjoyed its colorful Betis street.
Triana is a fishing district, cradle of bullfighters and artists, with many tapas bars (you have to try some if or if), and beautiful views. It is a neighborhood to fall in love with Seville.
Bridge of Isabel II or Puente de Triana
This bridge that connects the two banks of Seville is one of the most beautiful in the city. On one side of the bridge you can enjoy the views of the Sevillian skyline with its cathedral, the Giralda and the Torre de Oro and on the other side, the beautiful views of the Barrio de Triana, and its colorful houses.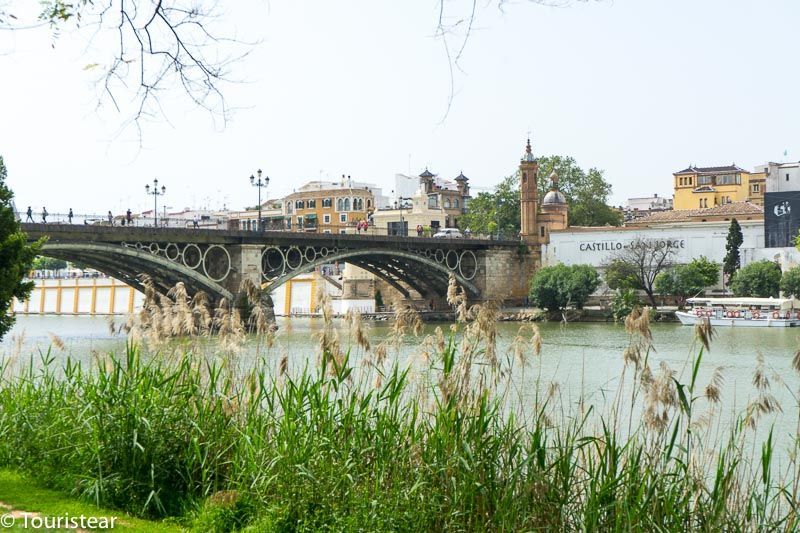 Paseo de Cristóbal Colón (Barrio del Arenal)
After visiting the Barrio de Triana, I crossed the Guadalquivir river, turned left and went to the Lonja del Barranco market. Although it was April, it was very hot and a beer never hurts, hehehe. Then I was walking along the promenade next to the river and headed towards the Plaza de España.
In the Paseo Colon you will find the Plaza de Toros, the Maestranza Theater and the Torre del Oro.
I do not visit what is related to the bulls because I do not like this practice. So I continue along the same path, which once crossed the bridge changes its name to Paseo de las Delicias.
Walk of the Delights
On the Paseo de las Delicias you pass in front of the San Telmo Palace and the Costurero de la Reina Exposition Center 1929. My tour continues along the Avenida de Maria Luisa to the Museum of Science House, past the Casino de la Exhibition – Teatro Lope de Vega and from there I go to the Plaza de España.
Square of Spain of Seville
The Plaza de España in Seville is inside the María Luisa Park. It was inaugurated in 1928 and is one of the most visited monuments of Seville and probably one of the most beautiful.
It has a semi-elliptical shape that looks towards the Guadalquivir. The decoration with tiles is impressive. It has a small channel through which you can take a boat ride.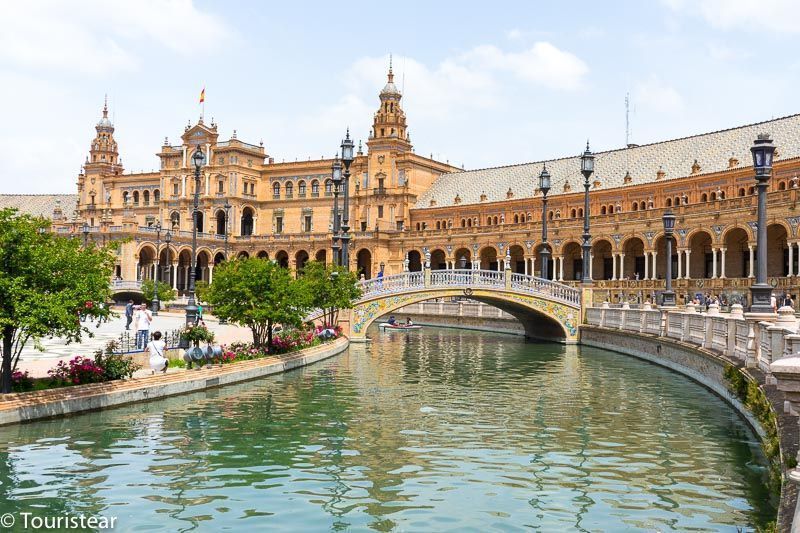 It is undoubtedly a place to visit with tranquillity, surely sunset is a very good time to photograph this magnificent square.
No doubt I have missed a lot of places to visit in Seville, but these are the ones that I had the time to visit and those that I believe are essential in a visit as short as mine to Seville. The good thing is that I cannot wait to go back and stay for a few days.
Where to sleep in Seville
In Seville there is a wide range of accommodation. However, we did not have much luck with the one we chose since it was on the Isla de la Cartuja, very far from everything. However, you could park superbly.
But I recommend you take a look at what Booking.com offers, you can find very picturesque accommodations with breakfast or dinner at very good prices.
How to get to Seville?
You can get to Seville by all means of transport from Madrid.
By train. The most convenient way to get to Seville from Madrid is the AVE (the high-speed train). Starts from Atocha and in a couple of hours you have arrived to Seville.
By rental car or in your own car. It is the way we have chosen, you know that we love to travel by car. Here the only thing you have to take into account is the hotel, since you have to have parking or a comfortable area to park and then you move by public transport or walking.
Bus. Buses arrive from Seville almost anywhere in Spain. It's a bit slower but it's cheap.
Airplane. I think it's the least practical way to get there unless you live near the airport, have a good bargain or visit for more than 3 days. I see it impractical because you lose time going to the airport, you have to arrive an hour before (minimum), etc.
What do you like most about Seville?
Prepare Your Trip To Seville
For Your Pinterest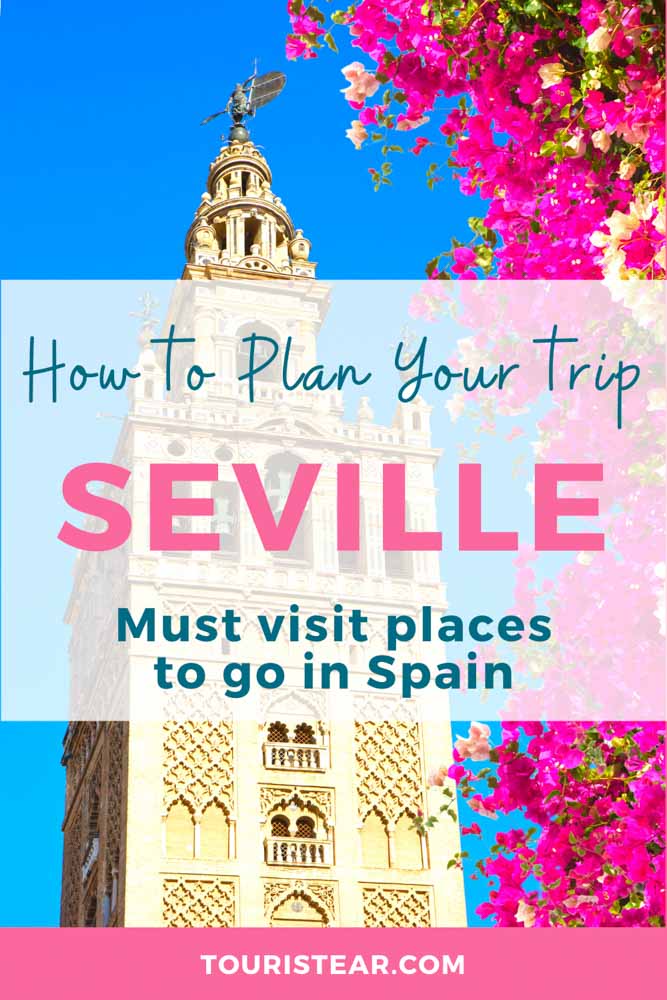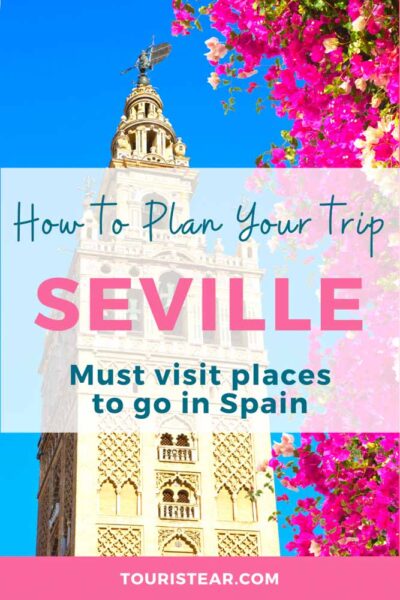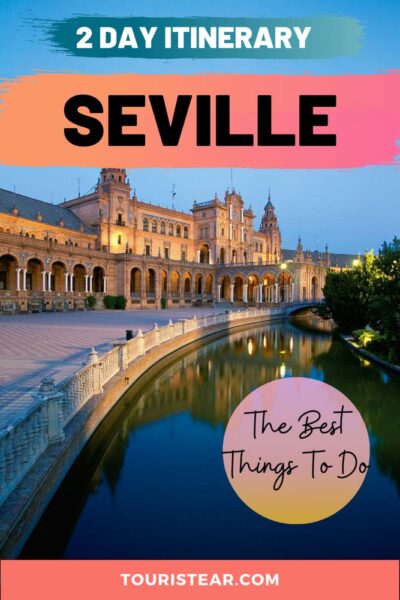 Book Your Trip
Book Your Flight
Find a cheap flight by using Skyscanner.
Book Your Accommodation
You can book your hostel, hotel, or apartments on Booking.com.
Don't Forget Travel Insurance
Travel insurance will protect you against illness, injury, theft, and cancellations. It's your protection in case anything goes wrong. You never go on a trip without it.
Best companies for activities
Check out Civitatis.com and find the best tours in English (French, Spanish and Italian)
Looking for the best companies to save money with?
Check out my resource page for the best companies to use when you travel! I list all the ones I use to save money when I travel – and I think will help you too! (Is in Spanish yet)
We are not native English speakers but we have decided to translate our post to English so we can share it with the whole world. If you see any spelling mistake or something, please let us know, it is so important to us. If you do so, we can improve our post and also our English knowledge! Thanks in advance!!!
In this post you may find affiliate links. This means that if you make any purchases by clicking on one of them, I will take a small commission, but you are not increased by the price. Why are we doing this? Because it helps us to keep this project running and to continue creating useful content for your travels. Thank you so much for the support!