Visit Madrid with a Free Walking Tour
We are very fans of being a tourist in our own city and last Saturday we went to the center of Madrid and did the free walking tour, like a real tourist.
Have you already done a free walking tour of your city? Then, we will tell you about our experience in Madrid!
A Free Walking Tour in Madrid
We arrived at 10 A.M. in Madrid and took breakfast in a tourist café; since we went as tourists, we lived the experience at 100%, right?
We went to a charming café on Calle Mayor, which has the menu in English, and I did not remember the name (sorry, I didn't take a picture).
We had a nice breakfast and went to about 10.40 AM to Puerta del Sol and looked for the free tours guys, quite easy to recognize because they go with umbrellas and green T-shirts.
We give our names to Javier, who will be our guide, takes note, and our first impression is already good. He is very nice, and you see that he likes to work with people.
The tour starts at 11 o'clock, and a fairly large group is formed with people from different parts of Spain, Portugal, Argentina, and Venezuela, and a German girl who wants to improve her Spanish. (Yep, we did the tour in Spanish)
We thought we would be the only ones who lived in Madrid, but surprisingly, more people from Madrid were doing it.
We recommend it because, besides having fun, you know more about the city you live or visit, you learn anecdotes of places where you have passed thousand times and you had no idea.
Plus, you make your weekend special and different.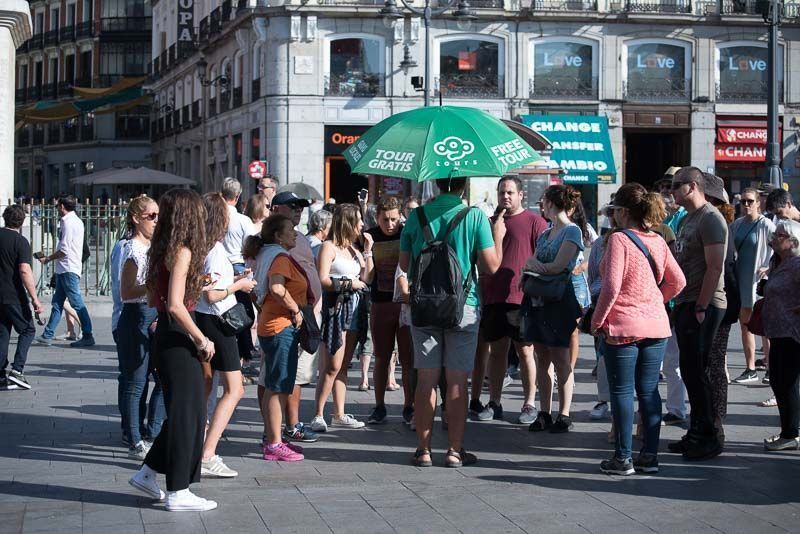 The tour of Madrid begins!
The tour starts at Puerta del Sol, and we make several stops within the square itself.
The first thing he tells us about is why it's called Puerta del Sol, and apparently, there are several versions, but the official one is that in that location was the wall of Madrid.
As you might know, Madrid was a walled city, and in the sixteenth century in the same place where the Puerta del Sol is, there was one of the entrances to the city, and on top of it had a drawing of a sun, so it was left with that name.
Puerta del Sol
Another version is that the square is shaped like a rising sun if you look at it from above and its streets are the rays. Although I doubt that in medieval times they could see from the sky the shape that made the square…
Then we stop at two important points of the square, such as the sculpture of the Bear and the Madroño and the zero km point.
The Bear and the Madroño are symbols of Madrid and are part of their shield. At first, it was a female bear, representing fertility; today, it is a male bear.
A long time ago, there were many bears in Madrid, and the madroño, which we almost do not see in the streets anymore, is a typical area tree with a fruit that is "self-fermented," and you can get drunk if you eat many!
The zero kilometer is from where the radial roads of Spain depart; it is said that if you step on the right foot at the zero points, you return to Madrid.
I do not know if it will be true, but the first time I visited Madrid, my friend Lucia took me to the typical places that I had to know, I do not know if I step with the right or the left, but after a week I came back and stayed to live…
Our guide, Javier, tells us that the building where the bells ring every December 31 was originally the post office and was also used as a prison at the time of the Franco dictatorship.
Plaza Mayor (Main Square)
It also teaches us to look at the details and look at the ground. In the Plaza mayor area, many shops have a plaque indicating their age, which means that that business has never closed or changed activity in at least 100 years, but it may have changed owners.
The first one we see is about religious art. It is more than a hundred years old and has always been the business of the same family!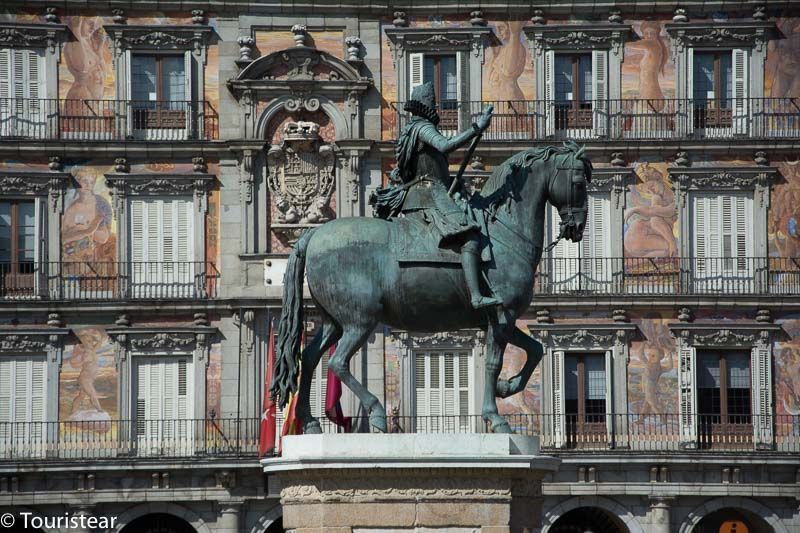 Something similar happens with the Posada del Peine, the oldest hotel in Madrid, which has been operating as accommodation since 1610 and became famous for being the only one who had a comb in every room.
Apparently, a few centuries ago, it was a luxury product, and they offered it in every room but tied to a chain, so they don't take it away!
We enter the Plaza Mayor, and they tell us a little about its history. We talk about Its fires and usages.
Did you know that the Plaza Mayor were murdered inmates or markets, and different events and shows were held?
In the plates of each street lamp, we can see the different uses that the square had. But, of course, you have to know where to look!
The tour continues very enjoyably; we visited the building of Santa Cruz, where rich, noble, and famous prisoners such as Lope de Vega were locked up.
We passed a street that will make you hungry, it is called "Calle Botoneras," and there are two bars very famous for their squid sandwiches where tourists and locals mix themselves. You can't leave Madrid without trying them!
The tour continues through the Plaza Mayor, the Plaza de la Villa, the Cathedral of Almudena, and the Royal Palace, but if you want to know more details about them, I recommend you enjoy the tour.
Let me know your thoughts. We liked it very much, had a great time, and learned many curiosities from the capital.
This tour takes 2:15h, and the guides do it for free and live from tips, so at the end of the tour, don't forget to give them a tip that you consider fair!
Plan Your Trip to Madrid
Last Updated on 1 September, 2023 by Veronica
Disclosure: Some of the links on this post are affiliate links, meaning at no additional cost to you, I may earn a small commission if you click through and make a purchase.
Author: Veronica
Vero, a seasoned traveler, has explored 25 countries and lived in five, gaining a rich perspective and fostering an infectious passion for travel. With a heart full of wanderlust, Vero uncovers the world's hidden gems and shares insights, tips, and planning advice to inspire and assist fellow adventurers. Join Vero and let the shared passion for travel create unforgettable memories.