Live a Flamenco Experience in Cardamomo
Feel flamenco vividly at Cardamomo
Today, I want to tell you about the experience we lived a few days ago at Cardamomo Tablao Flamenco of Madrid. Because I was surprised, I really did not expect what I saw.
As you know, I am Argentine, and well, I do not know much about flamenco. The first contact I had with it was the souvenirs brought by friends who came to Spain on vacation.
You would probably recognize the bailaora (flamenco dancer) with the polka dot dress. And my closest contact with the music was because of my former neighbor, who put flamenco on Sundays at 9 in the morning for the whole neighborhood (can you imagine?)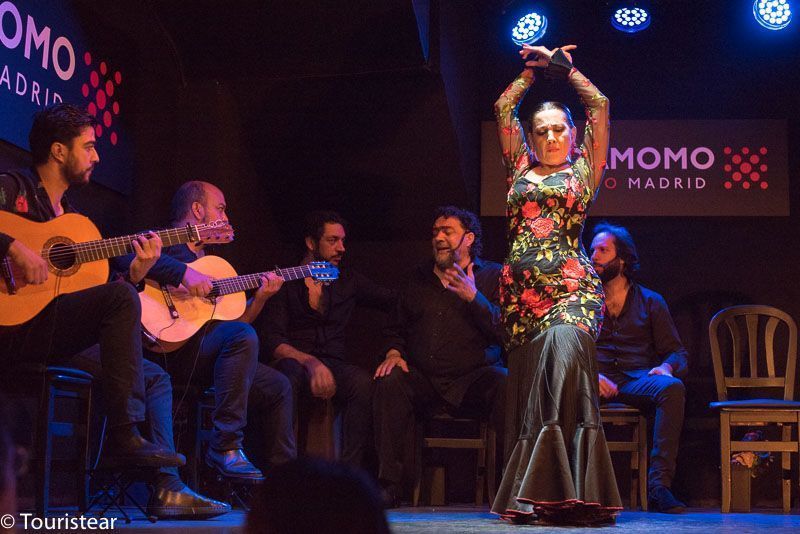 This tablao in Madrid Surprised Us
But I always had the idea of ​​going to see a live show. I think it's something you should do if you live in Spain or visit, at least even once.
Since we will move to France soon, we cannot put it off any longer. So we decided to go and have the experience at Cardamomo, a Flamenco Tablao at the center of Madrid with more than 25 years of experience.
Cardamomo, Flamenco Tablao at Madrid
The Tablao Cardamomo has more than 25 years of experience and was recognized by the Madrid City Council as "Cultural Heritage of Madrid" in 2014.
Without a doubt, the tablao guarantees that you will have an authentic experience with elite artists. To me, I sincerely loved it. It exceeded my expectations by far.
Moreover, since I did not know much about ​​flamenco, I thought these sites were traps for tourists, and the truth is the opposite.
There are tourists, obviously, but the show's quality, service, and food are out of this world.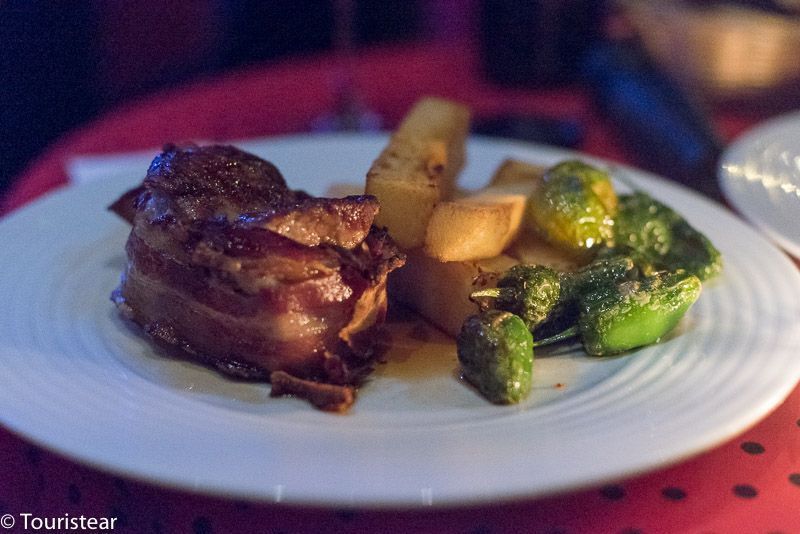 As they say on their website: "At the tablao of Cardamomo, dancing and singing coexist with such a passion that you can sense how it sprouts from within them.
Therefore, the emotional communication that our artists have transcends the spectators like unique personal and unforgettable experiences."
When the Flamenco show ended, as good bloggers that we are, we asked questions and got more information about flamenco and how is the experience of being at Cardamomo.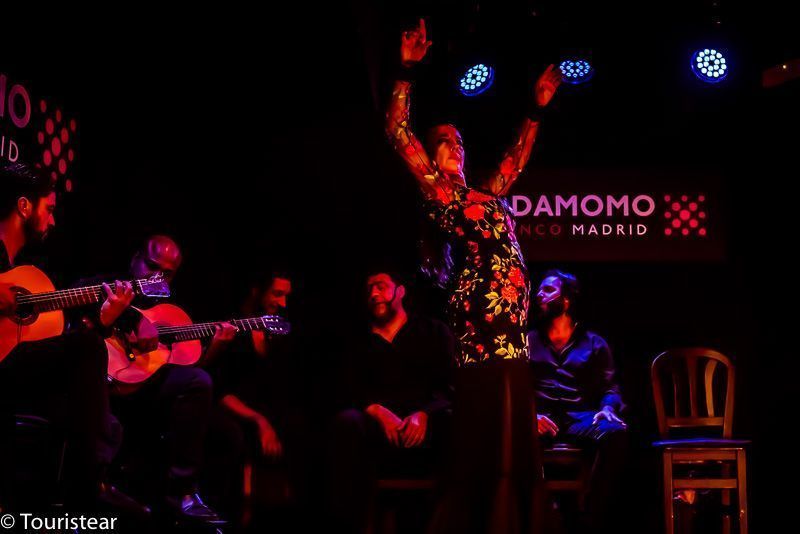 They told us that there are many types of flamenco, many "Palos" and that they are classified according to their compass, serious or festive character, geographical origin…
There are those that transmit joy or sadness, tangos, bulerías, fandango, etc. They also told us that they often improvise, depending on the experiences and state of mind of the cantaor (flamenco singer) and bailaor (flamenco dancer).
Who has Performed at Cardamomo
At the Tablao Flamenco Cardamomo, there are well-known artists from the world of flamenco. Among the best known there are Antonio Carmona, Diego el Cigala and Tomatito.
When we were there, the star dancer was Juan Andrés Maya, an amazing dancer.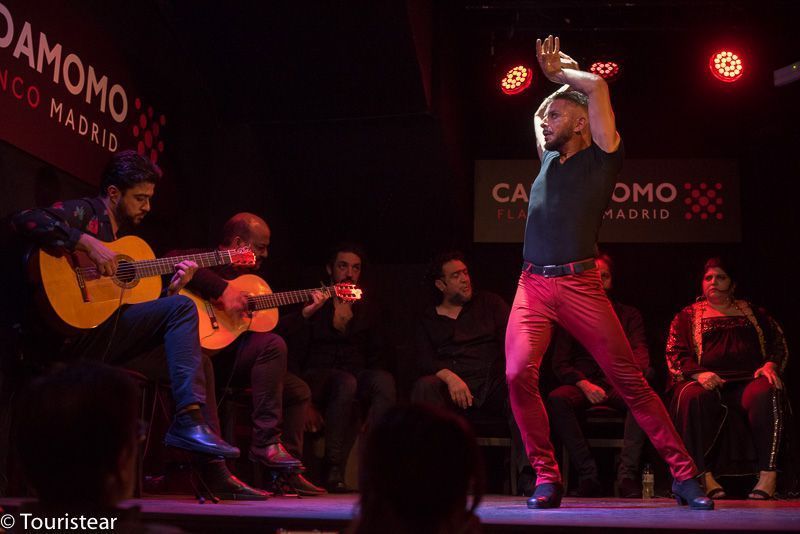 To see the Cardamomo schedule, you have to go to their website. I suggest that you put it on a month-by-month basis to know who is the main artist of the month or week.
How and When to Go to Cardamomo?
To see a flamenco show in Madrid, you can go any day of the week. Since they are open from Monday to Sunday.
The hours of the passes during the week are 7:30 p.m., 9:00 p.m., and 10:30 p.m. From Friday to Sunday, there are 4 shows: 6:00 p.m., 7:30 p.m., 9:00 p.m. and 10:30 p.m.
You can enjoy flamenco shows every day!
At the entrance, there is a welcome drink; also, you can eat tapas during the show.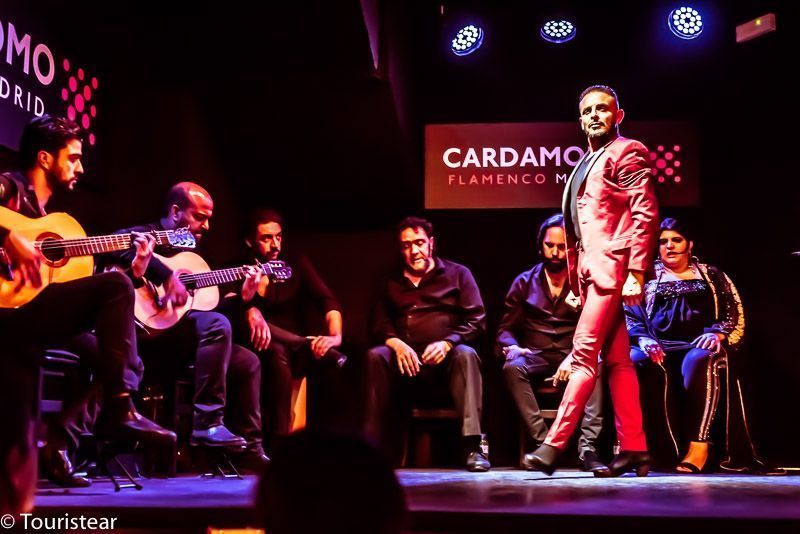 2022/2023 UPDATE: Unfortunately, they have stopped serving the menu; a pity because it was delicious. If when you make your reservation, you have the option to ask for a menu, do not hesitate and include it as part of the experience.
In our experience, the dinner was delicious. We ordered the Lola option from the menu. It includes salmorejo, which they call a shot, but it's a lot bigger than a shot (2 oz).
Afterward, we had a smoked salad that is exquisite. For the main course, you must choose between Iberian pork sirloin with sherry or salmon cava with steamed potatoes.
We chose the first option, and it was delicious. To finish, we had a chocolate mousse with nuts.
They have several menu options, including a vegetarian menu. You can also order tapas or pick a la carte.
In addition, there is a good selection of wines; we took a bottle of Vega Valerio Crianza, which was left empty!
How to Get There?
The best way to get there is by public transport, especially if you choose to go on weekends because the traffic in Madrid is crazy !!!
The nearest subways are Sol, Sevilla, and Antón Martin.
Nearby transport: C2 and C3 and buses: 15, 20, 51, 52, 53, and 54.
The address of Cardamomo Tablao Flamenco in Madrid is Calle Echegaray 15, and the phone is 918051038.
You can make the reservation online from this link; many times, there are discounts for reservations for more than 48 hours.
Have you ever been to a live flamenco show? Tell us about your experience!
Plan Your Trip To Madrid
Pin this image on your
Pinterest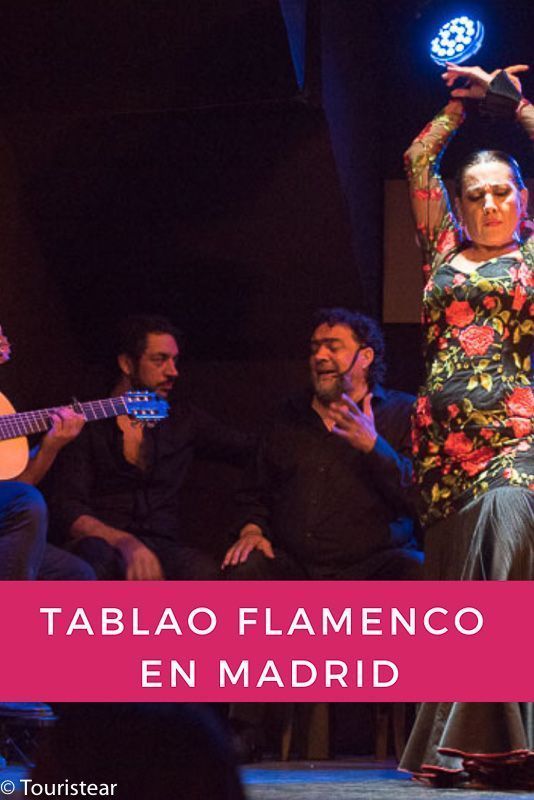 Note: We are not native English speakers, but we have decided to translate our post to English to share it with the whole world. If you see any spelling mistake or something, please let us know; it is so important to us. If you do so, we can improve our post and also our English knowledge! Thanks in advance!!!
Book Your Trip
Book Your Flight
Find a cheap flight by using Skyscanner.
Book Your Accommodation
You can book your hostel, hotel, or apartments on Booking.com.
Don'torget Travel Insurance.
Travel insurance will protect you against illness, injury, theft, and cancellations. It's your protection in case anything goes wrong. You never go on a trip without it.
Best companies for Tours
Check out Civitatis.com and find the best tours in English (French, Spanish and Italian)
Are you looking for the best companies to save money with?
Check out my resource page for the best companies to use when you travel! I list all the ones I use to save money when I travel – and I think I will help you too! (Is in Spanish yet)
Some of the links in this article include affiliate links. This means that if you purchase a product listed here following this link, I will receive a small commission, the use of this link to you does not increase the price. You help me continue with this project that I love, continue traveling, and Keep creating interesting content for your trips. Thank you so much!
Last Updated on 16 December, 2022 by Veronica