The Best Top 10 Activities to do in Mallorca
Mallorca is much more than beach holidays. This island will surprise you with everything you can do and enjoy, from its famous hidden coves to activities for all tastes, such as ballooning, cycling around the island, or visiting its wineries.
You can visit Mallorca for two whole weeks and every day does different things. Don't you believe me? Keep reading. I leave you more than 10 activities to do in Mallorca, which you will love.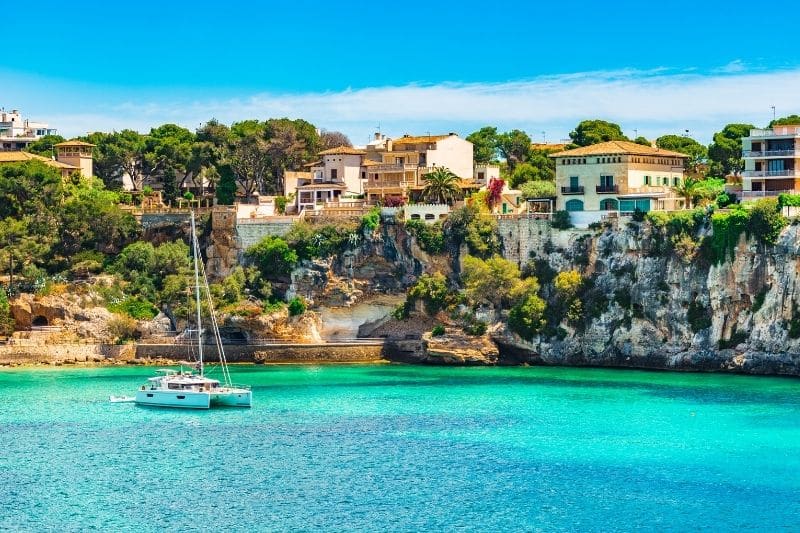 Best Things To Do in Mallorca?
Cruise around Mallorca
In Mallorca, you will find hundreds of boat trips. You can tour the bay of Palma de Mallorca on a catamaran, go to a party on a boat, watch the sunset or tour the island by boat with food included and enjoy a different perspective.
With its crystal clear waters, Mallorca deserves one or more water activities.
Check out this awesome romantic boat tour with a diner.
Helicopter Flight (cheaper than you can imagine)
You can fly over the island of Mallorca by helicopter only with your friends for 125 euros per person if there are three of them.
The flight departs from Son Bonet Airfield and goes to the Sierra de Tramuntana, Valldemossa, Soller, the coastal area…, and you're going to enjoy a unique experience on the island.
Throughout the helicopter ride, the pilot is your guide and tells you about the places you are flying over.
But if you prefer something quieter, you can fly by balloon at sunrise or sunset. I'll tell you next.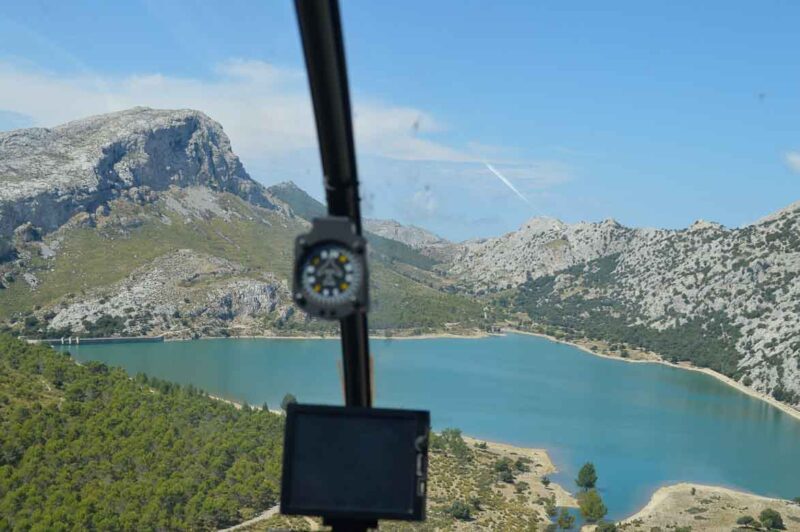 Flying over Mallorca by Balloon
If you want to have a truly memorable experience in Mallorca, consider taking a balloon ride around Mallorca. The trip takes two hours, and you can do it at sunrise or sunset.
Don't tell me it wouldn't be great to enjoy the sunrise from the heights and sunset on a little hidden beach?
Check the prices for your balloon ride here.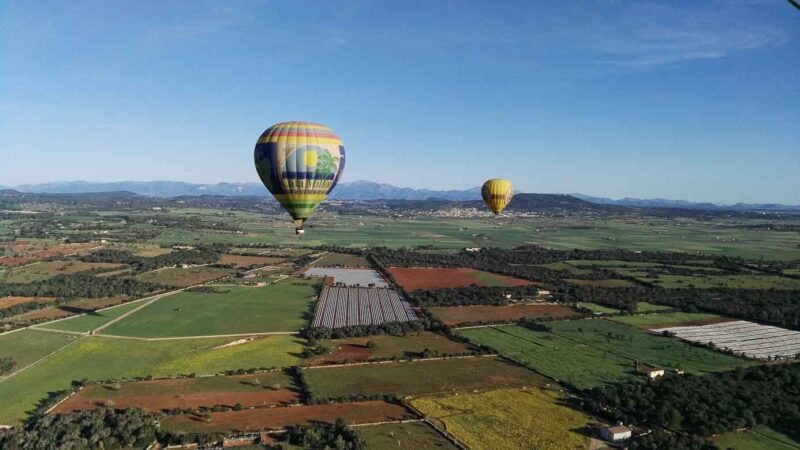 Kayaking in Cala Figuera or snorkeling
Rent a Kayak and tour the coves of Mallorca, take your snorkel, and enjoy the views underwater.
The best time to kayak is in the morning when the sea is calm.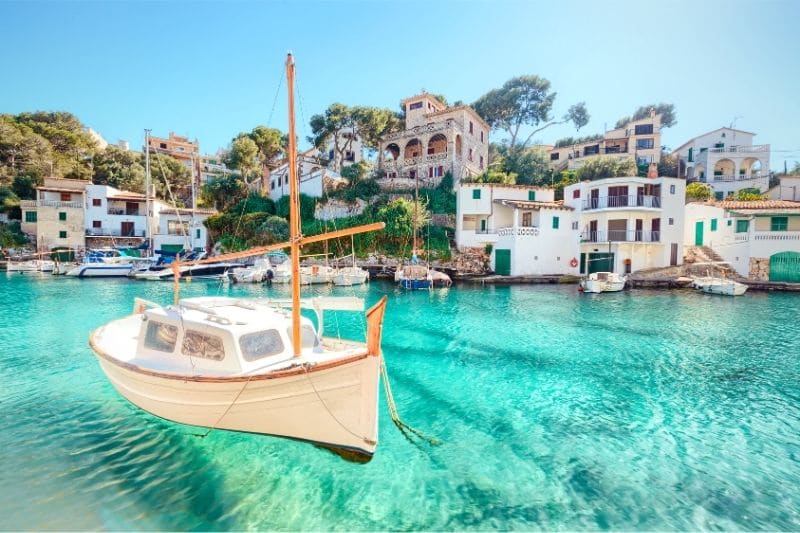 There is a route that departs from Can Pastilla; from there, you can head towards the islet of la Galera, where there is an archaeological site from the Phoenician period between the 4th and 2nd-century a.C.
Here you can take a bath, dive and watch planes fly over your head, as it is very close to the airport. Afterward, we recommend following your tour to Portitxol, an old fishing village near Palma.
TIP: don't forget to bring water, sunscreen cream, your GoPro, and a watertight backpack to store your stuff.
Dolphin Watching on Catamaran
A very nice excursion for the whole family is the Alcudia Bay Cruise.
It is an excursion of about 3 hours and goes from the bay of Alcudia to the cape area of Formentor to locate and see dolphins in the sea.
Once the dolphins are spotted, the boat stays in the area, without disturbing, to see the dolphins swimming in freedom.
Breakfast is included on tour, and they prepare it on the way back.
Hike to Calo des Moro
Calo des Moro, is the most beautiful beach I visited in Mallorca. The walk to the beach was lovely. When you visit this beach, explore the surrounding cliffs.
Take a Quad Bike or Bike Tour
If you're ready for adventure, take a quad bike tour of the island. In the end, you can even jump off a cliff!
If you prefer something quieter, rent a bike, go for a tour of the island, and enjoy its beaches and villages.
Drive to Sa Calobra, a beautiful route from Mallorca
If there is a road that you have to drive in Mallorca, it is this! It was sensational and by far one of our favorite things to do in Mallorca.
You're going to see wild animals enjoy sea views, cliffs, and gleaming lakes were just a few of the things we found along the way.
My recommendation is that you leave early in the morning and take about an hour to get down the road, as you will make many stops along the way, we can assure you! The roads are narrow at times, but they are in good condition. Get your camera ready!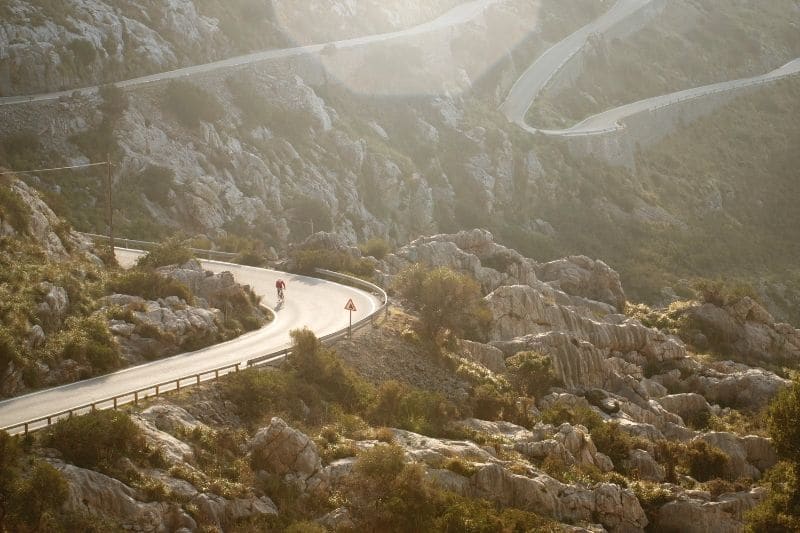 Take a Sea Cave Tour
If you want a really great adventure, you can take this sea caving tour. During the 5-hour tour, you will explore the most beautiful caves of Mallorca and see a completely different side of the island.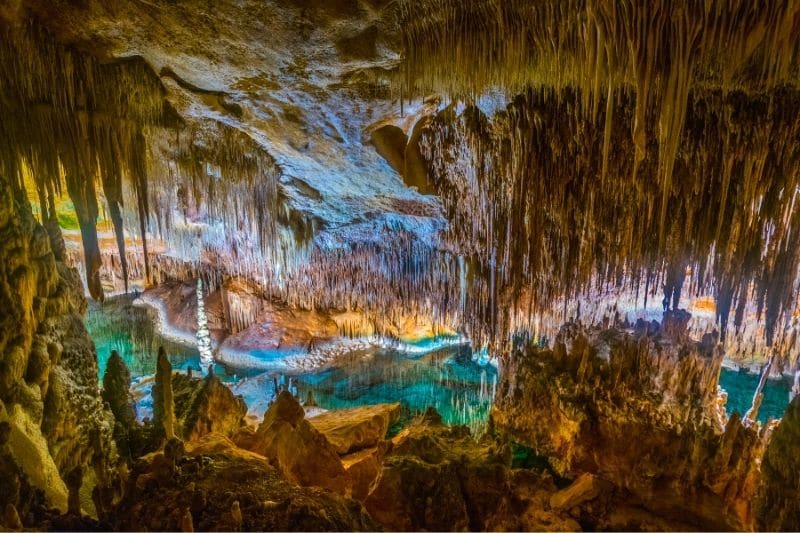 Visit the Wineries of Mallorca
In Mallorca, you can also enjoy its wines, vineyards, and wineries.
Mallorcan wines are constantly growing, and you can now find 70 local wine producers on the island offering tours and tastings.
There are five distinct areas on the island, all with different climates that create completely different wines: La Sierra Tramuntana, El Raiguer, El Pla, Serra de Llevant, and El Mijorn.
Check My Favorite Wine Tour
Private Wine Tour with Tasting and Picnic: Enjoy a private wine tour and visit a Mallorquin vineyard, where you'll receive an introduction about the wine-making process as well as enjoying the tastes of some of the wines produced. Your tasting will be accompanied by tapas.
Admire the Views from "Mirador Es Colomer"
Everyone loves a good lookout! Especially when it offers you one of the best panoramic views of Mallorca. Stunning cliffs and sea view as far as the eye can see!
You have to walk a little to get to the top, but it's worth it. Ah! And, as elsewhere in Mallorca, get ready for the nightmare of finding parking…
Extra tips
Do not stop spending a few days in Palma, and while visiting the island in your rental car, stop in as many villages as you can; you will see that they are super picturesque.
Don't forget Soller, Valldemossa, Santanyi, Santa Catalina, Banyalbufar, among others.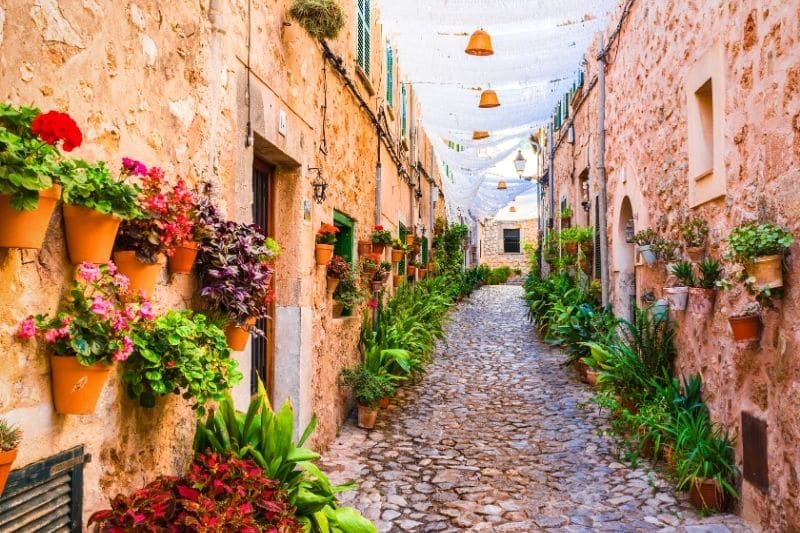 Plan your trip to Mallorca
Last Updated on 28 April, 2022 by Veronica