The Best Things To Do in Mallorca, Spain
Mallorca is much more than beach holidays. This island will surprise you with everything you can do and enjoy, from its famous hidden coves to activities for all tastes, such as ballooning, cycling around the island, or visiting its wineries.
You can visit Mallorca for two weeks and do different things every day. Don't you believe me? Keep reading. I leave you more than 10 activities to do in Mallorca, which you will love.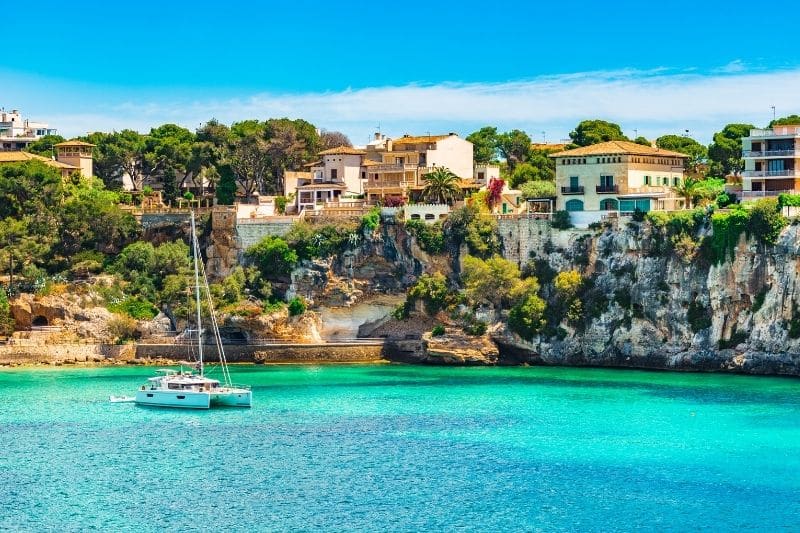 Best Things To Do in Mallorca
Cruise around Mallorca
In Mallorca, you will find hundreds of boat trips. For example, you can tour the bay of Palma de Mallorca on a catamaran, go to a party on a boat, watch the sunset or tour the island by boat with food included and enjoy a different perspective.
With its crystal clear waters, Mallorca deserves one or more water activities.
Helicopter Flight (Cheaper Than You Can Imagine)
You can fly over the island of Mallorca by helicopter only with your friends for 125 euros per person if there are three of them.
The flight departs from Son Bonet Airfield and goes to the Sierra de Tramuntana, Valldemossa, and Soller, the coastal area…, and you'll enjoy a unique experience on the island.
Throughout the helicopter ride, the pilot is your guide and tells you about the places you are flying over.
But if you prefer something quieter, you can fly by balloon at sunrise or sunset. I'll tell you next.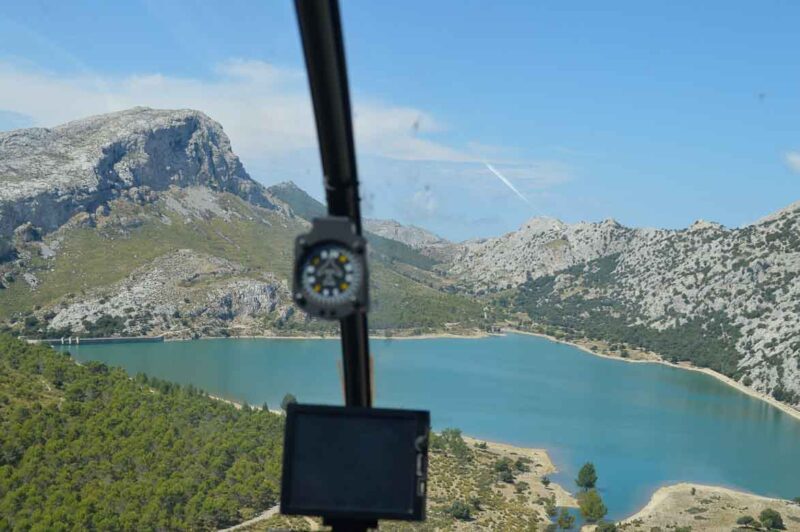 Flying over Mallorca by Balloon
If you want a truly memorable experience in Mallorca, consider taking a balloon ride around Mallorca. The trip takes two hours, and you can do it at sunrise or sunset.
Don't tell me it wouldn't be great to enjoy the sunrise from the heights and sunset on a little hidden beach.
Check the prices for your balloon ride here.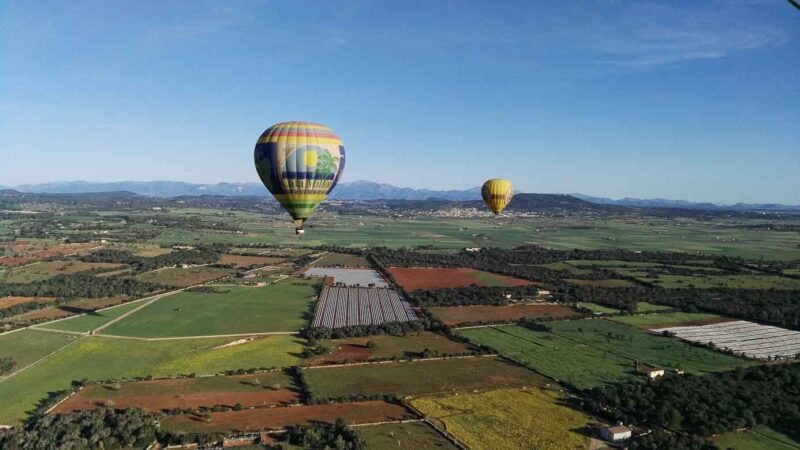 Kayaking in Cala Figuera or Snorkeling
Rent a Kayak and tour the coves of Mallorca, take your snorkel, and enjoy the views underwater.
The best time to kayak is in the morning when the sea is calm.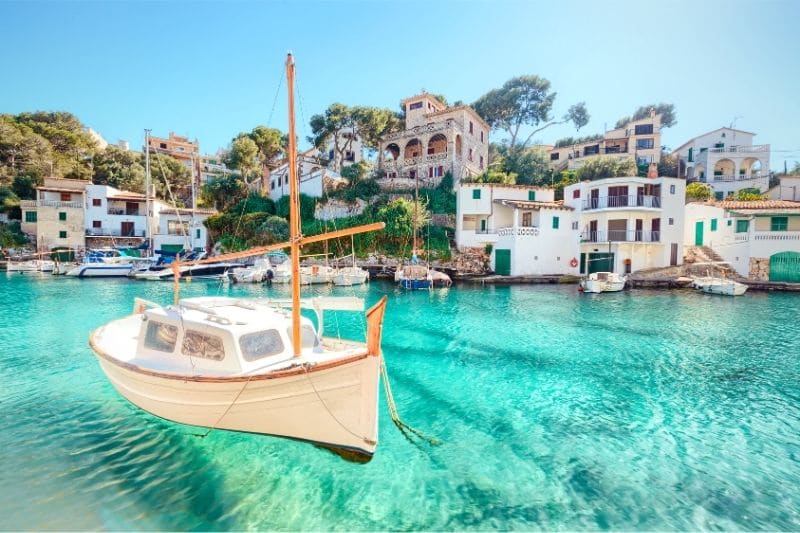 A route departs from Can Pastilla; from there, you can head towards the islet of la Galera, where there is an archaeological site from the Phoenician period between the 4th and 2nd-century a.C.
Here you can take a bath, dive, and watch planes fly over your head, as it is very close to the airport. Afterward, we recommend following your tour to Portitxol, an old fishing village near Palma.
TIP: don't forget to bring water, sunscreen cream, your GoPro, and a waterproof backpack to store your stuff.
Dolphin Watching on Catamaran
A very nice excursion for the whole family is the Alcudia Bay Cruise.
It is an excursion of about 3 hours and goes from the bay of Alcudia to the cape area of Formentor to locate and see dolphins in the sea.
Once the dolphins are spotted, the boat stays in the area without disturbing them, to see the dolphins swimming in freedom.
Breakfast is included on the tour, and they prepare it on the way back.
Hike to Calo des Moro
Calo des Moro is the most beautiful beach I visited in Mallorca. The walk to the beach was lovely. When you visit this beach, explore the surrounding cliffs.
Take a Quad Bike or Bike Tour
If you're ready for adventure, take a quad bike tour of the island. In the end, you can even jump off a cliff!
If you prefer something quieter, rent a bike, tour the island, and enjoy its beaches and villages.
Drive to Sa Calobra, a beautiful route from Mallorca
If there is a road that you have to drive in Mallorca, it is this! It was sensational and by far one of our favorite things to do in Mallorca.
You'll see wild animals and enjoy sea views; cliffs and gleaming lakes were just a few of the things we found along the way.
I recommend that you leave early in the morning and take about an hour to get down the road, as you will make many stops along the way, we can assure you! The roads are narrow at times, but they are in good condition. Get your camera ready!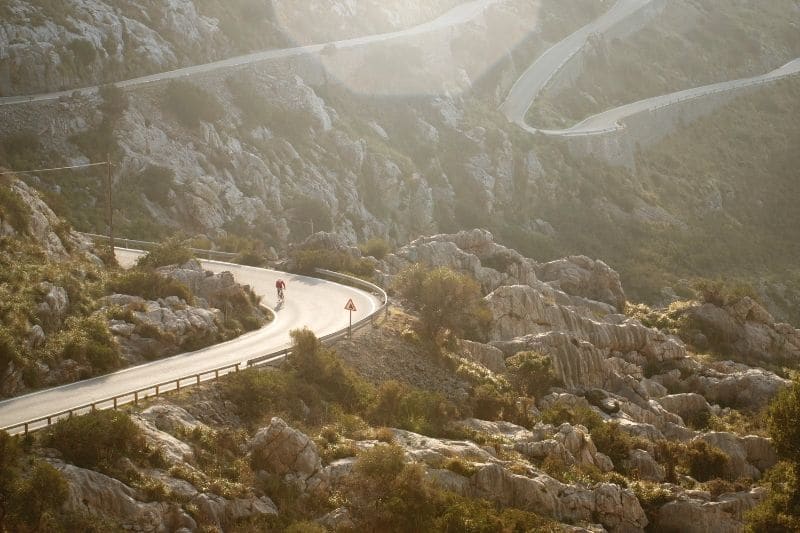 Take a Sea Cave Tour
If you want a really great adventure, you can take this sea caving tour. During the 5-hour tour, you will explore the most beautiful caves of Mallorca and see a completely different side of the island.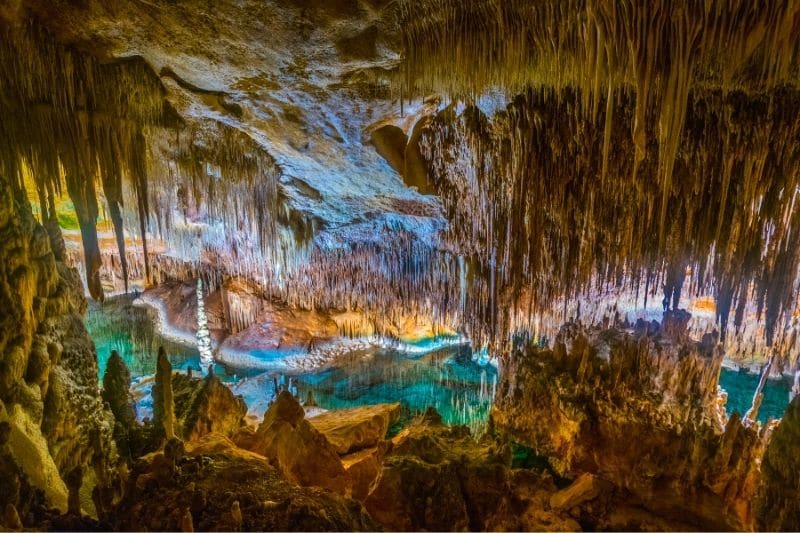 Visit the Wineries of Mallorca
In Mallorca, you can also enjoy its wines, vineyards, and wineries.
Mallorcan wines are constantly growing, and you can now find 70 local wine producers on the island offering tours and tastings.
The island has five distinct areas, all with different climates that create entirely different wines: La Sierra Tramuntana, El Raiguer, El Pla, Serra de Llevant, and El Mijorn.
Check My Favorite Wine Tour
Private Wine Tour with Tasting and Picnic: Enjoy a private wine tour and visit a Mallorquin vineyard, where you'll receive an introduction to the wine-making process and enjoy the tastes of some of the wines produced. Your tasting will be accompanied by tapas.
Admire the Views from "Mirador Es Colomer"
Everyone loves a good lookout! Especially when it offers you one of the best panoramic views of Mallorca. Stunning cliffs and sea view as far as the eye can see!
You have to walk a little to get to the top, but it's worth it. Ah! And, as elsewhere in Mallorca, get ready for the nightmare of finding parking.
Extra tips
Do not stop spending a few days in Palma, and while visiting the island in your rental car, stop in as many villages as you can; you will see they are super picturesque.
Don't forget Soller, Valldemossa, Santanyi, Santa Catalina, and Banyalbufar, among others.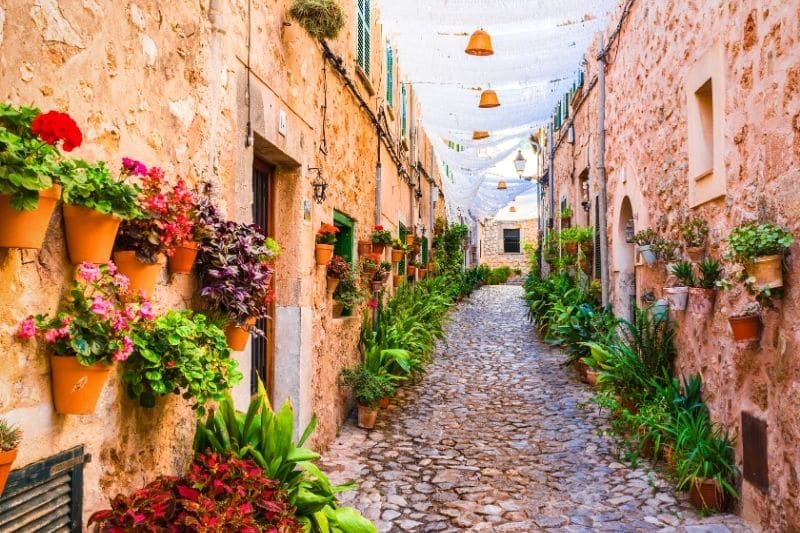 Best Things To Do in Palma de Mallorca?
Palma de Mallorca is located southwest of Mallorca along the Bay of Palma. It is a beautiful city and a good starting point for visiting the rest of the island.
In the historic center are the most emblematic sites, a mandatory visit to get to know the city well and enough for a weekend.
The Cathedral of Majorca
The Cathedral of Santa María is built in Gothic style on the city's old walls. It is located in the historical center, surrounded by old narrow streets.
It is worth seeing both outside and inside since part of the architectural changes at the beginning of the 20th century were made by Antonio Gaudí.
Book a guided tour to get to know the Cathedral in the best possible way.
Almudaina Royal Palace
It is the Royal Alcázar of Mallorca where royal celebrations are organized during summer.
At first, it was a Muslim fortress modified in the 13th century and belonged to the independent kingdom of Mallorca until its annexation to the crown of Aragon in the 14th century.
Main Square
In its beginnings, it was a convent, and the Inquisition later occupied the adjacent houses, and until well into the 20th century, it was not completely reformed.
It now has an underground car park and galleries where different shops and cafes are housed. It is an ideal place to take a break and see a show by a street artist.
Spain Square
It is the meeting point and the place of communication in Palma. The intermodal station is located there, and the largest roads in the city come together.
At Christmas time, it is filled with artisan stalls and typical food.
Bellver Castle
King Jaime II built the castle at the beginning of the 14th century to serve as a royal residence. In the 19th century, the coin factory was located there. It now houses the Museum of the History of Palma de Mallorca.
It has an original circular shape and is the oldest European castle built on this plane. It is located on a hill 112 meters above sea level, from which you can see views over the city of Palma de Mallorca and the bay.
Book your tour of Palma and visit Bellver Castle with a guide.
Arab Baths of Palma
Located in the old town, they take you back in time to the time of Arab domination of the city.
They were built in the 11th century on the Roman ruins of the previous city, and thanks to an advanced hydraulic system, they became a very popular meeting point for citizens.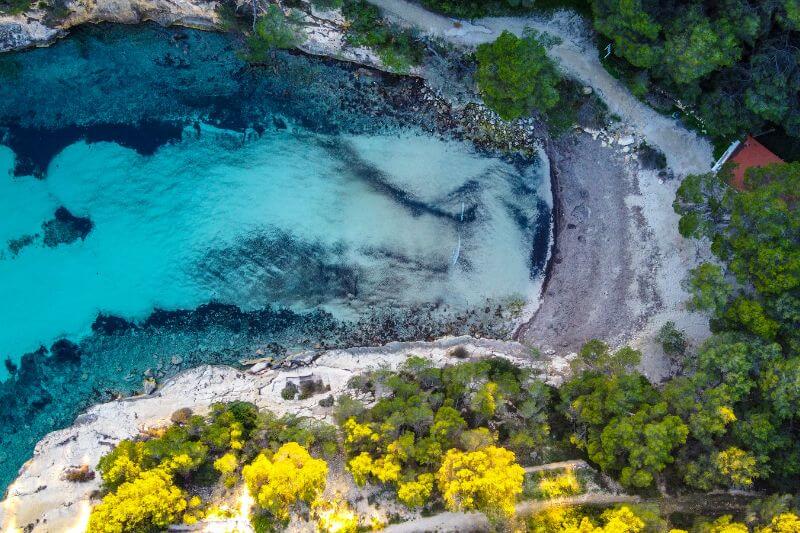 Jewish Quarter of Palma de Mallorca
Known as Call Maior, it was considered an independent city surrounded by walls in its heyday. Unfortunately, very few remains of the Majorcan Jewish quarter after it was burned and razed to the ground in the 15th century.
The best way to visit the Jewish Quarter of Palma is by walking through its streets and looking at the traces of past centuries. The places I recommend you visit are:
Sun Street,
Can Dusai Street,
the Church of Monti-Sion
and the streets of the guilds: Caldereros, Botones, Crianza, Peletería.
If you are one of those who like to discover the corners by yourself, go ahead, but there are also free walking tours of the Jewish quarter with a guide who will explain the details you can miss by going on your own.
Santa Catalina neighborhood
It is a neighborhood where past and present meet. Once home to fishers, mooring makers, and millers, it is now full of bars, restaurants, and shops.
Walking the streets, you can come across 18th-century mills and old houses. In the heart of the neighborhood is the Santa Catalina Market, covered, where you can try the rich gastronomic offer of Mallorca.
Other exciting things in Palma de Mallorca
Art Galeries
Walking through Palma, you will realize it is full of art galleries. It is, by far, the Spanish city with the largest number of these establishments.
In September, through the old town's narrow streets, La Nit de l'Art takes place, where art pieces are exhibited in small shops, bars, and restaurants.
Pilar and Joan Miró Foundation
A mandatory visit for lovers of Joan Miró's creations. It houses more than 6,000 pieces that can be seen inside the building, in the artist's former workshops, and outside, in the garden.
Palma Aquarium
Located near the beach of Palma, the aquarium has some 8,000 specimens in 55 aquariums. It also organizes environmental and awareness days.
If you like adventure, you can dive with sharks or rays, and for children, there are night camps in front of the shark aquarium.
Bay of Palm
From the bay, you can see the city of Palma in all its splendor and observe it "from another side." Join a tour through the waters of the Bay of Palma on a sailboat or a pirate ship with a DJ 🙂
The best time to do it is at sunset!
Promenade
It runs along with Avenida de Gabriel Roca and is 5 km long. It is a route with views of the sea and the marina, with bars and restaurants with terraces.
I recommend ending the day with a nice walk around at sunset!
The Best Coves in Mallorca and their Beaches
Cala Mondrago
Cala Mondrago is located southeast of the island, considered one of the best beaches in Mallorca. It is protected as a natural space; thanks to this, it does not have buildings and mass tourism.
It is awarded the Blue Flag, and tourists respect its beauty. However, it is not allowed to do water sports in its waters, so it is quiet, although in summer it gets quite crowded with bathers.
Cala Tuent
On the other side of Mallorca is Cala Tuent, with white sand and stunning views over the Serra de Tramuntana from the cliffs. It is close to another beautiful cove, Cala Sa Calobra.
It is a quiet beach and one of the least crowded since public transport does not reach it.
It also has no services or beach bars, so make sure you bring your own water and food. It is perfect to be in the middle of nature and practice snorkeling.
Cove Torta
La Cala Torta is in the north of Mallorca, a road that accesses it in quite a poor condition, but it is worth it.
It has a beautiful virgin beach in its natural state, away from tourism and noise. It only has a beach bar with soft drinks and typical Majorcan dishes.
Walking along the adjacent hill, we can reach another cove, Mitjana or Sa Duaia, which also offers us its natural environment and virgin beach.
Cala Varques
Considered one of the best virgin coves in Mallorca. You have to take a long walk from Cala Romantica to get to it, but it is certainly worth the effort.
It is important to bring plenty of water and suitable footwear!
Another way to get there is by boat. From Porto Cristo, they organize half-day excursions with several stops and snorkeling.
Cala Mesquida
It is located in the northeast of Mallorca and has a wide beach with fine sand. It is easily accessible by car and has parking, bars, and sun loungers.
It remains away from mass tourism and maintains its natural character thanks to being declared an "area of special interest."
You must be careful when there is a strong wind, which causes waves and currents. In any case, it is a perfect place if you are looking for a beautiful, large beach with services.
Cala Mitjana
It is another Cala Mitjana than the one I mentioned above; this one is located on the east coast of Mallorca. It is one of the smallest and most hidden beaches on the island. Only has access by walking or by boat.
It has a small beach, but you can also sunbathe on the rocks, surrounded by low cliffs covered with trees.
It is very quiet and does not have any services. Its waters do not cover much and have a beautiful turquoise color.
Estreta Cove
It is a tiny cove in the east of Mallorca. You have to travel a long way to get there, but it is a perfect place if you want to be alone. You can snorkel in its crystal clear and shallow waters.
Cala Figuera
Cala Figuera has its name thanks to the fig trees that grow on its shores. This one, unlike the previous ones, is inhabited and is larger.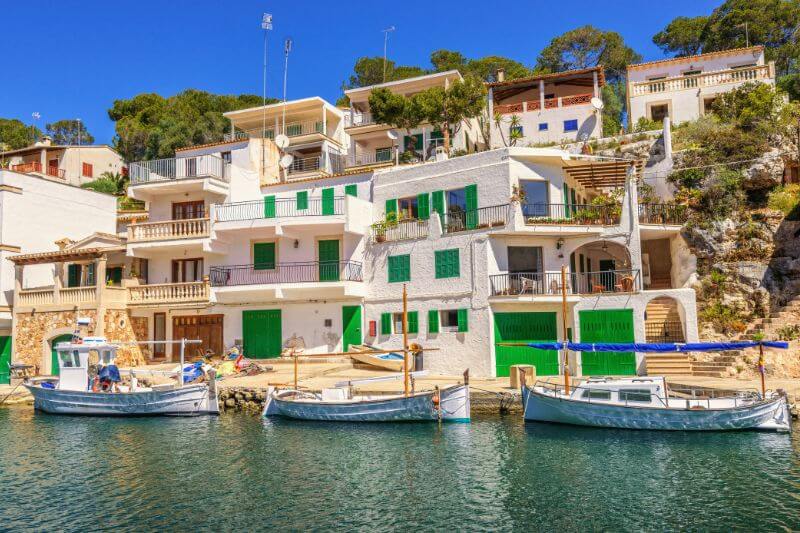 Filled with fishers' houses that slope down the cliffs, it is shaped like a Y with two entrances.
It does not have a beach, but it does have a fishing village where you can enjoy a good fish dish and wander around. High season usually has quite a few visitors, so we recommend arriving early to find parking.
Muro beach
It is the longest beach in Mallorca, with about 6 km of white sand and dunes. It is located near Port d'Alcudia, in the town of Muro.
It is a perfect option if you travel with family since there is room for everyone and the waters do not cover.
Es Trenc Beach
Probably the most famous beach in Mallorca, with fine sand and crystal clear waters, about 3 km long. It is located in the south of the island.
If you like sunbathing on the beach, this is your place.
Other recommended places to visit in Mallorca
Mallorca is mostly natural, with several natural parks, and when you go there, it would be a shame to miss out on what it offers.
Below you will find the best places for hiking, biking, outdoor walks, and beautiful views.
Torrent de Pareis
It is a torrent that runs through the Sierra de Tramuntana and flows into Sa Calobra. Its cliffs with walls of about 200 meters are impressive, seen from below.
The entire route is 3 km, and it is highly recommended to go in the low season since summer gets quite crowded with tourists.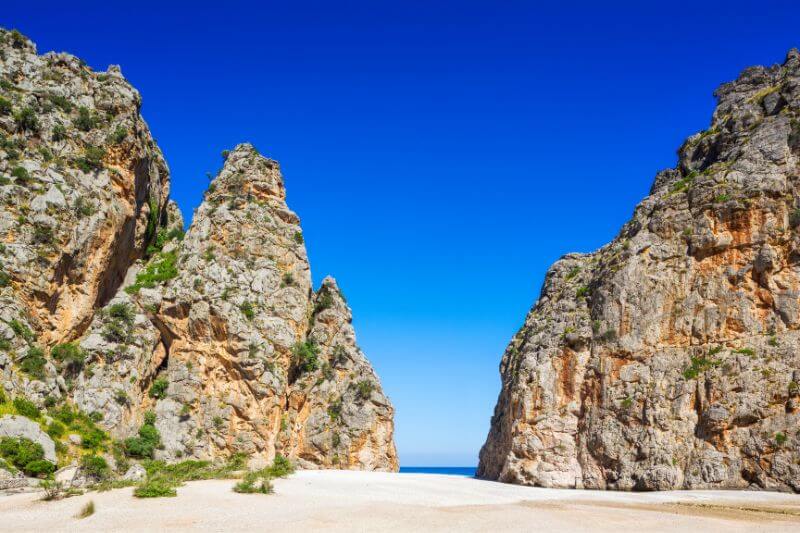 There are several ways to get there, but the one we chose, in the car through the "Knot of the Tie" to Sa Calobra that I mentioned above, is the most picturesque and exciting.
Tramuntana Mountains
It is the mountain range that crosses Mallorca 90 km long. In June 2011, it was declared a UNESCO World Heritage Site.
There are well-defined hiking trails to explore different points of the mountains, apart from appreciating nature and old towns with their dry-stone paths (the most famous route GR221).
There are several points where we recommend stopping:
The Lluc Monastery
The Sanctuary of Lluc is a place of pilgrimage erected in the 17th century that welcomes the Black Virgin, called "La Moreneta." Now you can spend the night there, but you must book in advance.
The best-known routes begin from the Monastery, such as the Dry Stone Route or the Torrent de Pareis Route, which end in Sa Calobra. However, there are also others, shorter and easier, that can be done as a family.
Valldemossa
Chopin described this small town surrounded by mountains as the most beautiful place in the world.
This is where the Polish composer lived for a while together with George Sand. Every August a classical music festival is organized.
Book here your free walking tour of Valldemossa with a professional guide.
Here you can also try the coca de patata, a sweet roll accompanied by horchata in summer or hot chocolate in winter.
Soller
A small town in the north of Mallorca that is surrounded by citrus plantations, thanks to which it gained its fame. Now it is where you can spend a pleasant day wandering around and eating typical dishes.
Every May, a representation of the Moors and Christians's battle is organized, and the town is beautiful, and full of decoration.
An old San Francisco-style tram leaves from the center of Sóller, which leads to the Port de Sóller, from where the boats full of citrus fruits are left. It is currently a mandatory visit in the northwest of the island.
It is a place with traditional architecture but everything necessary for a traveler to feel comfortable.
Mondrago Natural Park
It is one of the most beautiful natural sites on the island of Mallorca. It is located in the southeast and occupies about 766 hectares.
There is no specific time to visit it; it is always a good time. The most popular routes run through its trails, forests, and beaches and can be done on foot or by bicycle.
Albufera Natural Park
This important nature site is formed by an old lagoon that was separated from the sea. Now it is a humid area, with routes to do on foot or by bike, and perfect for bird lovers.
Cape of Formentor
It is the most entered point to the Mediterranean Sea north of Majorca. With its impressive cliffs and a lighthouse on the top of the rock 200 meters high, it is one of the essential places to visit on the island.
Below is the Playa de Formentor. It is a long beach, 1 km long, surrounded by turquoise waters and pine forests. It is in a bay, so no waves or wind usually exist. It is perfect for a getaway with children.
Cabrera Island
It is located south of Mallorca and can only be accessed by boat. The best option is to book a tour from Palma and spend the day on the island. It is a small paradise away from mass tourism.
Apart from taking walks along the trails, you can visit the castle ruins, the Blue Cave, or snorkel. The island has a hostel, but you have to book in advance.
Caves of Majorca
Caves of Drach
Four large caves with a total length of 1.2 km are located near Porto Cristo.
They can be visited throughout the year with a boat crossing the waters and appreciate the lighting that gives them a fantastic touch.
Classical music concerts are also organized inside the caves due to their special acoustics, a unique experience.
Caves of the Hams
They are also located near Porto Cristo. The name means hooks since it has geological formations in this way.
During the tour in one room filled with water, you are invited to listen to a concert.
Book your visit here, and check availability for the date of your trip.
Caves of Artà
Smaller than the previous ones but, on the other hand, the visit is more private. The tour is done on foot and passes through several rooms with impressive formations.
Remember that the temperature is stable all year round in the caves and is around 18º, so take something warm!
Are you already looking at flights to Mallorca? Take a look at the prices on Skyscanner and Momondo and tell us about your experience.
Plan Your Trip to Mallorca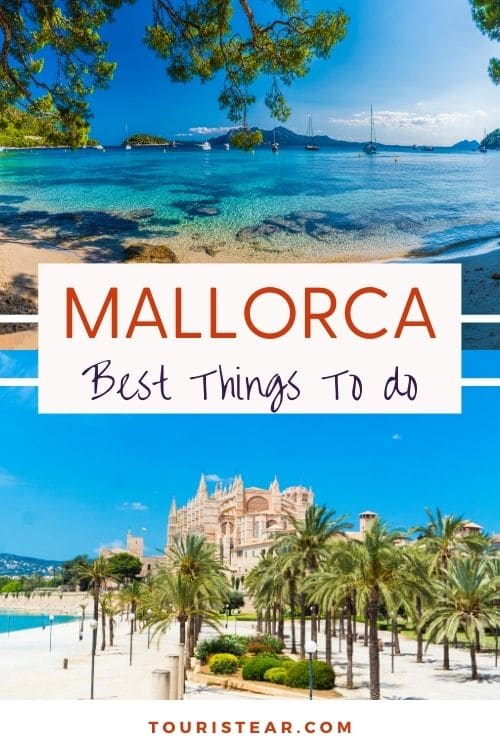 Last Updated on 22 September, 2023 by Veronica
Disclosure: Some of the links on this post are affiliate links, meaning at no additional cost to you, I may earn a small commission if you click through and make a purchase.
Author: Veronica
Vero, a seasoned traveler, has explored 25 countries and lived in five, gaining a rich perspective and fostering an infectious passion for travel. With a heart full of wanderlust, Vero uncovers the world's hidden gems and shares insights, tips, and planning advice to inspire and assist fellow adventurers. Join Vero and let the shared passion for travel create unforgettable memories.