Best Things to Do in Lima, Peru
Lima is a city that we love. We thought it was only going to be a stopover on our trip to Machu Picchu, but we found a city that has many activities to do, a great culture, and gastronomy that is crazy.
Now we will tell you what to see in Lima and you will understand why we liked it so much.
What do You Know most about Lima, Peru?
Lima is one of the most vibrant Latin American capitals there is. The city is home to more than 9 million people. And in this immensity, you will find Inca archaeological ruins, colonial churches, beaches, museums, and exciting nightlife.
But for us, nothing compares to the gastronomy of Lima. If Peruvian cuisine is recognized worldwide, Lima is home to the best restaurants in the country, so you can indulge yourself as much as you want.
In addition, if you compare prices with Europe, it is much cheaper.
Recommended: Do the Free Tour with a guide in Lima
How Many Days Are Enough for Visiting Lima?
If you are on a short trip and want to see the rest of the country, 2 days may be enough. But we recommend you stay for 3 days, so you can get to know several neighborhoods, the most exciting aspects of the city and make some excursions.
Within 3 days you will also have time to go shopping or, if you prefer, visit the beach.
What to See and Do in Lima
Now let's see what you can do in Lima.
Take a Photo at the Magic Water Circuit
The Magic Water Circuit was one of the attractions in Lima that surprised us the most and that we liked the most.
It is located in the Reserve Park and is famous for its impressive nocturnal water fountains that offer a spectacle of lights, music and drawings made with holograms on the water.
It is an ideal place to spend a relaxing afternoon or evening and enjoy the beauty and art of the fountains. It is also a popular place to take pictures, as they always look nice with water, and even better if they have colored lights.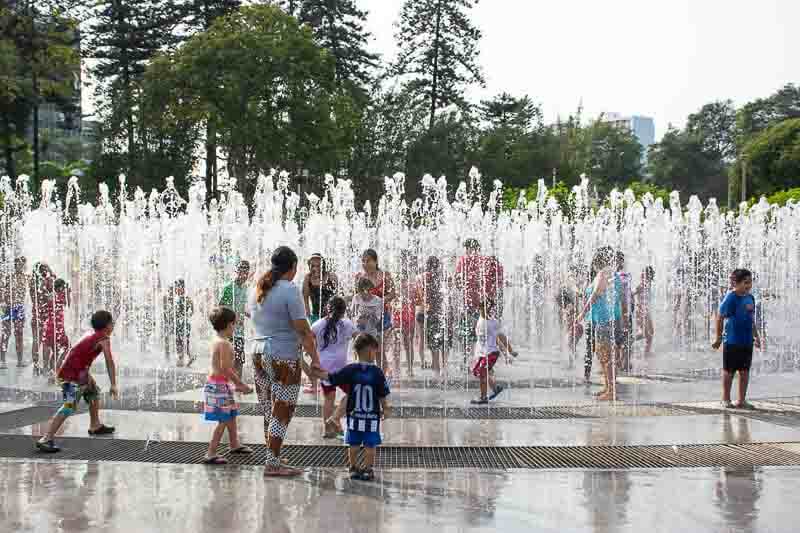 You will also enjoy contemplating the park, with its spectacular flowers and plants.
But the park is much more than a tourist attraction. It was designed to pay tribute to water and its objective is to teach visitors the importance of this resource so that they value it and take care of it. So it also has a lot of information for anyone who is interested.
It is open every day from 3 pm until 10 pm. And the shows are at 7, 8 and 9 pm.
Stroll through the Historic Center of Lima
The Historic Center of Lima is an area rich in history and cultural heritage that offers many tourist attractions for visitors. It has been considered a World Heritage Site since 1988.
Here are some places you must see:
Plaza Mayor (Main Square)
Also known as the Plaza de Armas, it's the heart of the Historical Center and is the site of many of Lima's historic buildings and important monuments.
A curiosity that may interest you is that on the head of the statue of liberty, there is a flame (animal). Legend has it that it was a mistake by the artist and that it was actually meant to be a flame of fire.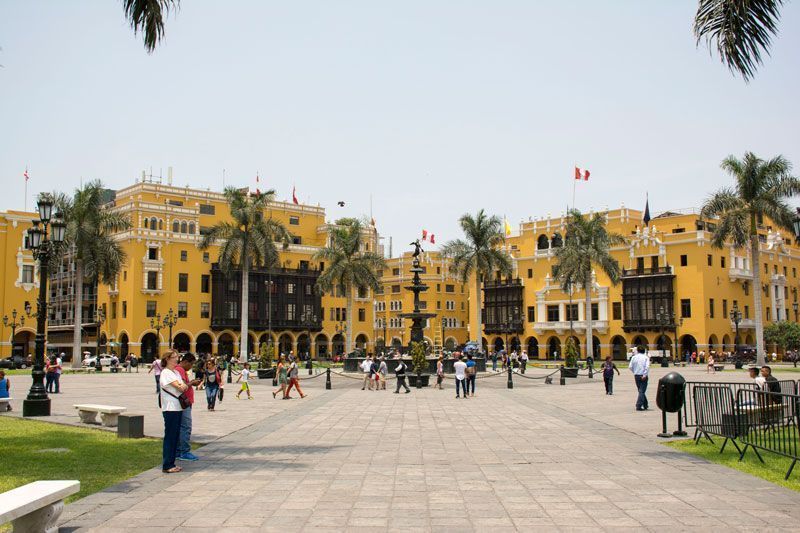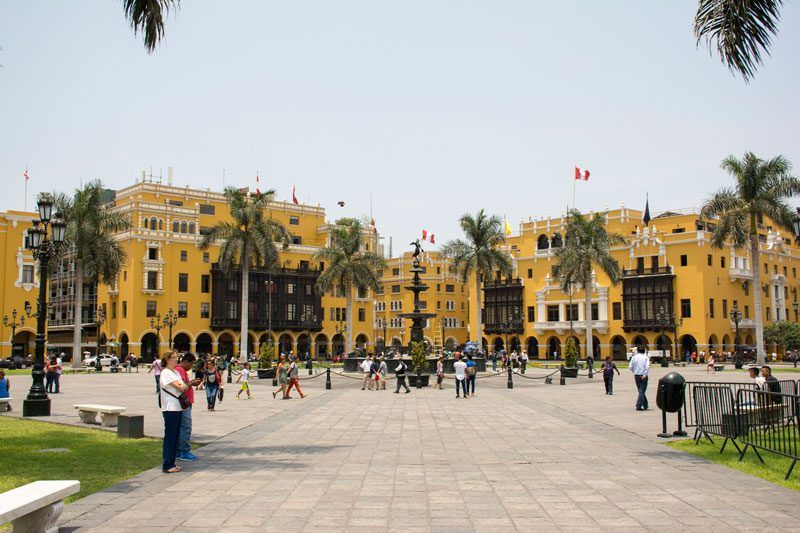 But the truth is that the animal is a Peruvian symbol, and it was exactly what the artist wanted to do. Or so they say.
Lima Cathedral
Like most Catholic churches in Peru, the cathedral was built on the same site where Inca gods were once worshipped. In addition, there was the palace of a prince of Cusco called Sinchi Puma.
It was built in the 16th century, making it one of the oldest colonial churches in Latin America and home to artistic and historical treasures.
Different chapels and extensions were added to the first part as the city grew and the status and hierarchy of Lima also rose.
Among the highlights are the wood carvings that can be seen in the choir stalls. The decorative style of the cathedral is a mixture of baroque and neoclassical.
Government Palace
It is the official residence of the President of Peru. It also houses a museum that exhibits artifacts and objects related to the country's history.
If you can time your visit to coincide, two moments might be fun or interesting.
One is the changing of the guard, which is done every day between 11:45 and 12:15. And the other is when the guards lower the country's flag, which takes place at sunset.
On Sundays, the changing of the guard includes the use of horses to perform military choreographies.
San Francisco Convent
It is one of the oldest and best-preserved convents in Lima. It was built in the XVI century and has a baroque and colonial style.
It is famous for its extensive library, which houses more than 25,000 old books, including some manuscripts from colonial times.
Under the convent there are a series of tunnels used as catacombs, where the remains of more than 70,000 people rest. If you want more information, you can visit their website.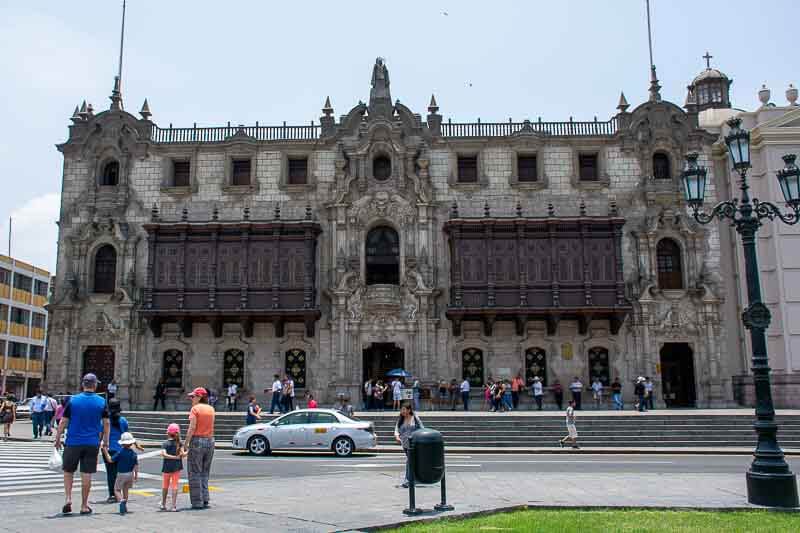 Larco Museum
The Larco Museum houses an impressive collection of pre-Columbian art and is known for its Moche pottery exhibits. You will also see a large collection of pre-Columbian gold pieces.
It is one of the best places to learn more about Peru's long and rich history.
Take advantage of the guides in the museum. The Peruvian guides are very good at telling their story and are very knowledgeable.
Basilica and Convent of Santo Domingo
It is one of the most important places of the Catholic religion in Lima and houses artistic and archaeological treasures.
In addition to the collection of relics and religious art, its beautiful colonial patio stands out.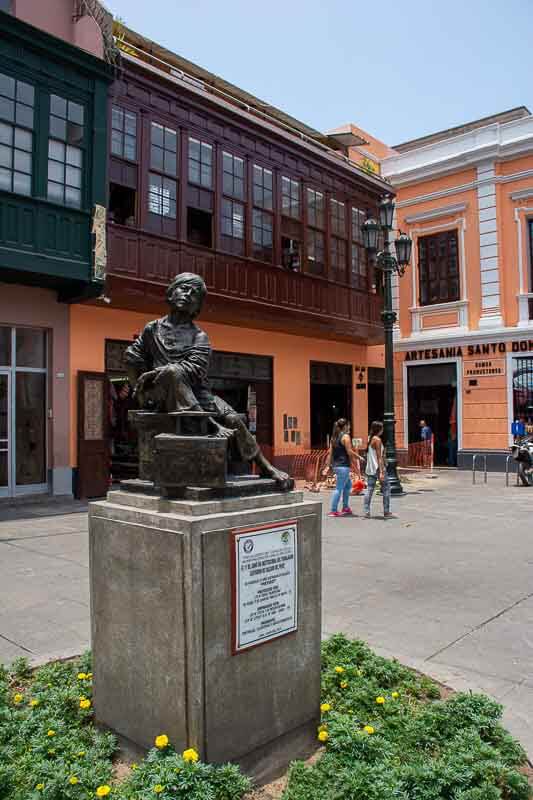 Visit the Natural History Museum
The Natural History Museum of Lima is an institution dedicated to the exhibition and conservation of the biodiversity and geological history of Peru.
The museum has an impressive collection of Peruvian fauna and flora specimens, including rare and endangered animals and plants.
It also has rooms dedicated to geology and the history of the Earth, showing the evolution of life and geological changes over time.
And among the most important permanent exhibits are those on paleontology and those dedicated to the prehistoric megafauna of South America and the dinosaurs that inhabited the region.
It is an excellent place for those traveling to Lima with children. The museum offers interactive and technological exhibits that help visitors understand Peru's biodiversity and natural history in a fun and educational way.
Sign up for a Peruvian Cooking Class
As we told you, one of the things we like most about Lima is the possibility of tasting the best dishes of Peruvian gastronomy.
But not only that, you can also sign up for classes and workshops to learn how to cook some of the most traditional delicacies. It is one of the things to do in Lima.
If there are 2 products that Peruvians are proud of, they are ceviche and pisco (long disputed with Chileans).
If you are interested in learning how to make the country's most famous dish and drink, you can sign up for this workshop designed for travelers.
The workshop begins with a walk through the neighborhood of Barranco and then Miraflores, where you will visit a traditional food market to learn about the basic elements of Peruvian cuisine.
The cooking class occurs in a restaurant where a chef teaches you how to prepare causa, ceviche and piscos sours.
And of course you will be able to eat everything that was cooked during the workshop afterward. A great way to get to know the best of Peruvian gastronomy!
Witness the Nazca Lines (1-day tour)
This is one of the most exciting tours to do from Lima.
The Nazca Lines remain a great mystery and continue to amaze all who see them.
The best way to see the complete figures is from the sky, where you can see the whale, the hummingbird, the monkey, the spider, the tree, and much more. Did you know that recently new figures were recently discovered?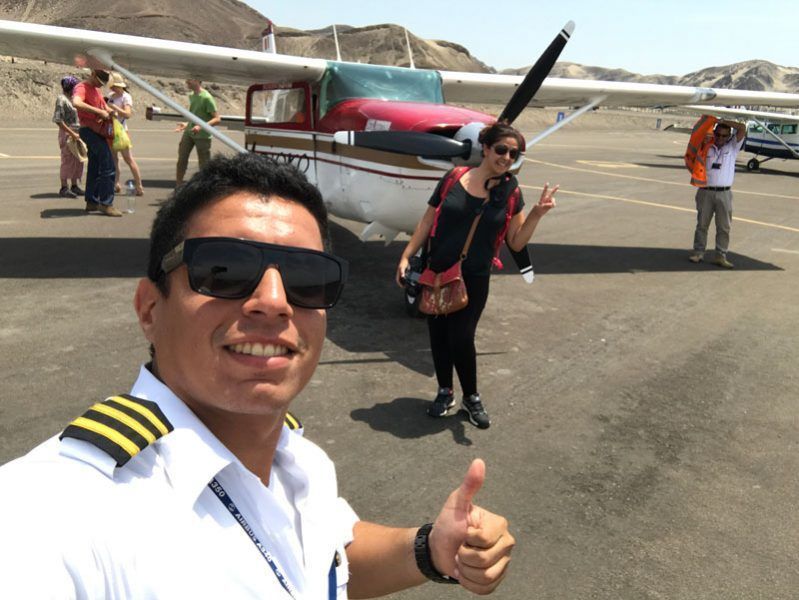 From Lima you travel to Ica, where you take the light aircraft. The flight lasts about an hour and a quarter.
In addition to the Nazca lines, you will be able to appreciate the Huacachina oasis, one of the most beautiful natural phenomena in Peru.
A lagoon in the middle of the desert. When the flight ends, you will be taken to the lagoon, where you will be able to appreciate the enormous dunes that surround it and the tropical palm trees that grow in this incredible place.
And to crown the tour, you will have lunch in a traditional restaurant, where you will taste several typical dishes of the local gastronomy.
All these visits can be done in one day by hiring the tour from Lima or you can do them in 2 or 3 days on your own.
Taste the Pisco Sour Cocktail
Pisco is a grape distillate that has been consumed since the 16th century. While the pisco sour was born as a derivation of the whiskey sour, it is known that it was created in 1916 by an American who had a bar in Lima.
There are several traditional bars and restaurants where they prepare the original recipe.
For example, the Hotel Mary and La Catedral in the bar of the Hotel Bolivar, the Capitán Meléndez in the neighborhood of Miraflores, and the Bar Inglés del Country Club, in the neighborhood of San Isidro.
In more modern bars, new recipes have been created to bring the drink to new audiences. There you can try it with coca leaves, passion fruit or other tropical fruits available in Peru.
At Huaringas Bar, you can taste the traditional pisco sour and 29 other varieties while listening to jazz concerts.
How to Make a Good Pisco Sour Cocktail?
The easy recipe follows a formula known as 4-1-1, which means that for every four ounces of pisco, one ounce of gum syrup and one ounce of lime juice is used.
This can vary if you like it sweeter or drier. In addition to these ingredients, half an egg white and ice is used if you want it very cold.
Put all the ingredients in a shaker or blender. First, the pisco, second the syrup, then the lemon juice and finally, the egg white.
Mix everything for a few seconds and then serve. Those in the know recommend serving in two stages: first halfway up the glass, wait a few seconds and then fill it up.
Visit the mud pyramids of Huaca Pucllana
It still seems incredible that these ruins exist in one of the most modern neighborhoods of a Peruvian capital. It is also incredible that for centuries the place has been abandoned.
Until the late 1970s it was used for motocross. It was not until 1981 that this archaeological complex began to be studied and revalued.
Thanks to these investigations, it was discovered that by the time the Spaniards arrived, this place had already been abandoned and that after the Lima, it was occupied by the Wari and finally by the Ychsma.
The pyramid is in Miraflores. Visiting these ruins, you will learn about the Lima culture, which dominated the region 1500 years ago.
On the tour through the ruins you can see ramps, passageways, ceremonial areas, plazas and much more. In addition, you can make the visit with a free tour.
And we say much more because excavations are still in progress, and new phases of the ruins are being discovered.
In addition to the pyramid and the ruins, you can visit the museum, where you can learn what daily life was like in the heyday of Huaca Pucllana and what the religious rituals of its inhabitants were like.
All the information about Huaca Pucllana is on their site. Do not miss this visit, it is one of the things to do in Lima that we always recommend.
How to visit the pyramid?
There are different options for visiting these ruins. If it is on your list of what to see in Lima, the most economical way is to visit the museum and pyramid circuit on your own.
But it can also be done at night in an extraordinary way. It turns out that next to the pyramid there is a very nice restaurant, from where you can visit the pyramid and with dinner you can visit them.
You can go to the restaurant on your own and while waiting for your meal ask for a tour of the ruins.
Another option to visit Huaca Pucllana is to sign up for this archaeological night tour with dinner.
On this tour, you first walk through Miraflores and enter Huaca Pucllana; then you visit Huaca Huallamarca in San Isidro, which also has a pyramid.
Then you will visit the Larco Museum and finish the tour at the Café del Museo restaurant, where you will have a magnificent three-course dinner.
There is another tour that also takes you to Huaca Huallamarca and Huaca Pucllana, but during the day. The difference, besides the schedule, is that this other tour allows you to visit El Olivar Park.
This large green space is located in the San Isidro neighborhood, in one of the most upscale areas of the Peruvian capital. The park is surrounded by embassies, large houses and Lima's finest restaurants.
Shopping, Dining and Biking at Miraflores
Miraflores is one of the most charming neighborhoods in Lima and one of the recommended things to see in Lima. Leaning on the sea, it has a great view and a relaxed atmosphere that can be enjoyed walking along the boardwalk.
One of the most typical walks is to go to the neighborhood of Barranco, passing by the Larcomar shopping mall, a shopping center with exclusive stores, a large food court, and spectacular views of the Pacific Ocean.
Another of the points that you can not miss on a walk through Miraflores is Kennedy Park. A green space surrounded by gardens and trees, where dozens of cats live and are well cared for and quite cuddly.
This park is an excellent place to buy artwork by local artists and to try some traditional desserts, such as mazamorra morada, picarones or suspiros a la limeña (Lima Style).
If you like biking, take advantage of the 10 kilometers of the Malecón Costa Verde, one of the best places to watch the sunset.
In addition to the Larcomar food court, Miraflores has many restaurants where you can eat the best Peruvian dishes and taste different piscos.
Some of the best known are:
Saha, which has a terrace bar;
Maido, which has Japanese-Peruvian fusion food and, according to some rankings, is one of the best restaurants in the world;
and Ámaz, where you can try dishes from the Peruvian Amazon jungle region, something you don't get in many restaurants.
The best free things to do in Lima Peru
We are going to recommend you many things to do in Lima for free…or for little money, with options for all tastes.
Take a tour through Barranco, Lima's trendy neighborhood
One of the things to see in Lima is Barranco, which is not only the trendiest neighborhood, it is the most bohemian and artistic neighborhood of the city.
Thanks to the street artists who have filled the walls with graffiti and murals and thanks to the facades of the houses, it is a very colorful and lively neighborhood.
You can start your tour at the Bridge of Sighs. This old wooden bridge was built in 1876, and because of its name attracts many couples every day who want to take cool pictures with the surrounding views.
Below the bridge is a pedestrian walkway known as the Bajada de los baños, which is home to a good number of cafes, bars and restaurants. At the end of the promenade, there is a lookout overlooking the Pacific Ocean that you will surely love.
It is also a neighborhood with a lot of history and culture. Here you can visit 3 museums:
Museum of Contemporary Art (MAC),
the Pedro de Osma Museum,
the Electricity Museum
and the MATE Museum.
We recommend the MAC, which is in a lovely building and, as its name suggests, has a large collection of contemporary and modern art by Peruvian artists.
As a modern and hipster neighborhood, it has several trendy stores with designer and avant-garde clothing.
If you are looking for nightlife, the neighborhood also has several options. Most of the most popular bars for drinks are on Grau, San Martin and Pedro de Osma avenues.
For something more lively and to have a beer, they recommend 3 bars: Garrison, Piselli and La Noche. At La Noche, you can listen to live music.
And if you want to watch the sunset, the best place to enjoy the sunset is on the Paul Harris boardwalk.
We recommend that you book this free guided tour.
See the artists at the Chabuca Granda Amphitheater
It is located in the Central Park of Miraflores. Although it has a good atmosphere every day, it is better to go on weekends, when there is more movement and more artistic attractions. Especially Friday and Saturday nights.
Street comedians often perform and there are also many musicians who play live. It is a great place to listen to and watch performances of Creole music and folkloric dances.
Visit the Bosque de Piedras de Lima
In Peru, there are several stone forests, but the one closest to Lima is Marcahuasi, which is only 3 hours away, in the district of San Pedro de Casta, so you can visit it in a day.
During the day it is possible to do several treks in the surroundings and if you want you can stay and camp, an experience that we recommend. Being quite far from civilization, the sky is very clear, so you will enjoy millions of stars.
To go there, first you have to get to the village of San Pedro de Casta and from there start a 4-hour hike to the stone forest. If you don't feel like hiking, you can take a cab in town.
Entrance to the forest costs 20 soles for foreigners and 10 soles for locals.
The forest is formed by gigantic granite boulders that have strange humanoid and animal shapes.
And in addition to the forest, you will find lagoons and a good variety of birds on walks through the area.
Learn about chocolate production at ChocoMuseo
If you like chocolate, this is one of the activities to do in Lima. You have 2 museums to enjoy and learn about its history. One site of the ChocoMuseo is in Miraflores, and the other in the Historic Center of Lima.
The museum is free; you can learn about cocoa beans and the process of transforming the bean into the chocolate we always eat.
In addition, the museum offers workshops to learn how to make chocolate. So if you are interested, you can get to work and prepare your own chocolate.
Climate of Lima
Lima has a warm and humid climate. The average minimum temperature is 16°C and the maximum is 24°C.
Summer in Lima goes more or less from the end of December to the first days of April; during this time, temperatures can be sweltering, especially on the coast. Winter in Lima goes from June to September.
It is usually quite humid in the city due to its location on the coast of the Pacific Ocean. That is why the city is known for its fog, especially during the winter season.
However, it never rains. It is the second driest capital city in the world, behind Cairo. But when it does, it is a disaster; everything is flooded, the water is cut off, they call them "huaicos."
In my case, it rained cats and dogs a few days before I arrived in Lima, and there was no water in the hotel, even though I was staying in Miraflores. The humidity is incredible and will surprise you, especially if you are traveling from dry places.
Lima, in general, has a pleasant and temperate climate all year round, with plenty of sunshine and few rainy days. However, it must be considered that the climate can change from one point of the city to another due to its topography and altitude.
The Best Time to Visit Lima
The best months to visit Lima are from October to April. These months are sunnier, the temperature is pleasant and the days are sunnier, so you can better enjoy the beaches and parks of the city.
As I told you before, it rarely rains in Lima, so you can visit the capital all year round.
But suppose your idea is to travel from here to Cusco. In that case, it is better to go in the dry season, because in Cusco it can rain a lot, and even there are often avalanches that leave the roads unusable and tourists have to be rescued after being stranded somewhere on the road.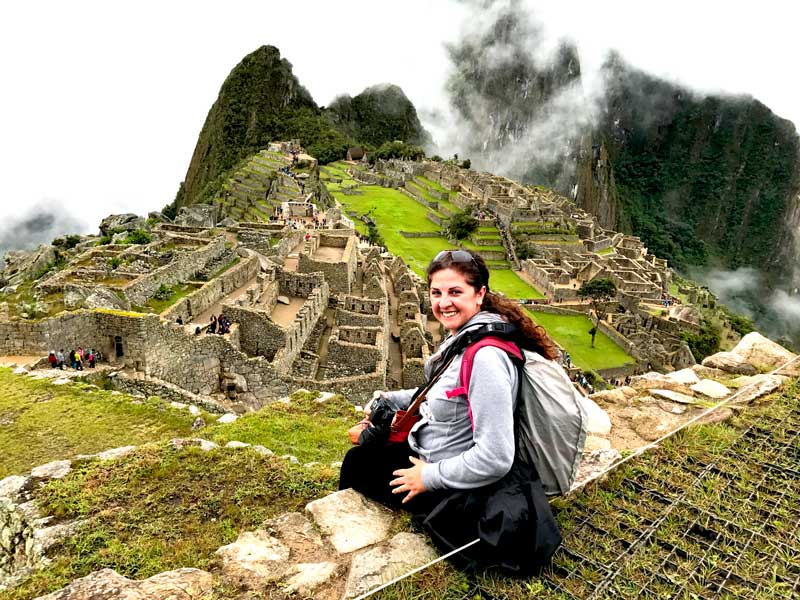 In any case, if you have to travel during the rainy season, remember that it does not rain all day, but it rains for a few minutes and then clears so you can continue visiting.
Is it Safe to Travel to Lima?
It is a difficult question to answer, but our opinion is that Lima is as safe as any other city with more than 9 million inhabitants.
What does this mean? That you will have to be careful. It is better to know which neighborhoods to move through and which not. That some neighborhoods are quieter and safer than others.
We walked at night in several places and had no problems. But of course, we walked through tourist areas where we felt quite safe.
If you stop at a hotel, the staff will surely be able to tell you where to move around and how to do it to avoid inconveniences.
In any case, take travel insurance for Peru with all the necessary coverage for your trip. In addition, through this link, you have a 5% discount on any of Mondo's insurances.
Where to Stay in Lima
We will show you some hotels in Lima where you would like to stay. We have chosen to recommend some of those that have the most recommendations in Booking.
And we put hotels in different neighborhoods and budgets, so you have a wider variety of options to consider. But on my trip I stayed in Miraflores, as it is a safe and lively neighborhood to go out at any time of the day.
Tierra viva Miraflores Larco
The location of this hotel is unbeatable. It is half a block from the Larco shopping area, 6 blocks from the Larcomar shopping mall, and 400 meters from Miraflores central park. So it is in a great area to walk around and see the best places in Lima.
The hotel has a terrace and offers a large buffet breakfast every day.
The hotel's décor is simple and modern, with common lounges and spacious, comfortable rooms.
The room for two people costs from 64 euros.
JW Marriott Hotel Lima
In addition to being a high-class hotel, the Marriot Hotel has meeting and conference rooms, making it a good option for those visiting Lima on business.
One of the things that dazzle guests at the Marriott is the outdoor pool, which overlooks the Pacific Ocean, thanks to its location in Miraflores, right on the oceanfront.
The hotel also has a gym and a restaurant where you can try local, international and Peruvian-Asian fusion dishes.
Less than a kilometer from the hotel you have Playa Redondo, Larcomar and Parque del Amor.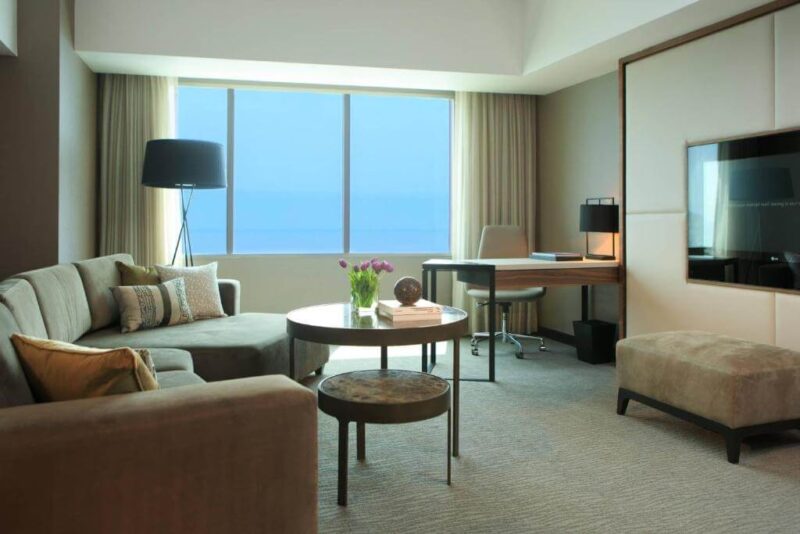 Double rooms start at 218 euros.
Ibis styles Lima San Isidro
The ibis hotel has a super modern design and decoration, which we find beautiful. Among its amenities, it has a meeting room, a gym, a terrace and a restaurant that serves a breakfast that guests love.
It is in the neighborhood of San Isidro, which, as we told you, is one of the most beautiful areas of the city. It is very close to several parks, shopping areas, restaurants and bars, so you can go for a walk and see many beautiful places.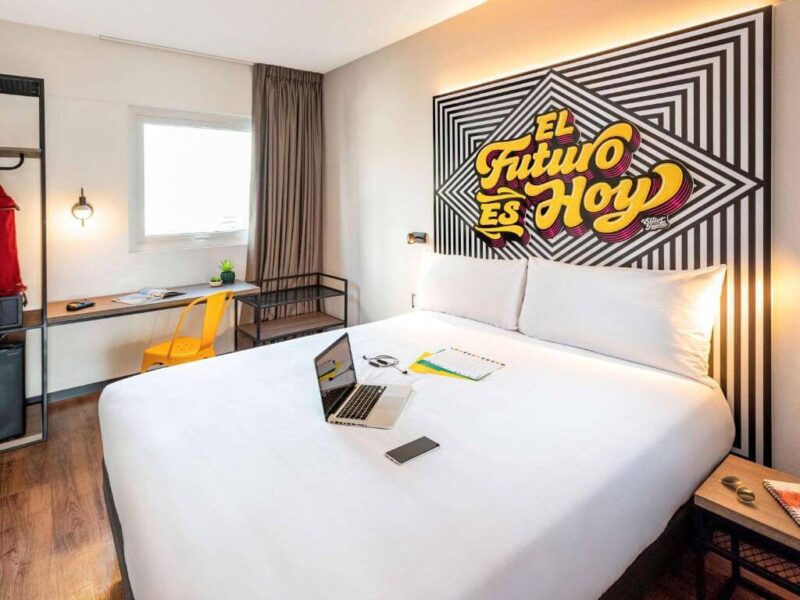 However, if you have already planned what to see in Lima, you will realize that it is not close to the most touristic spots.
Double rooms start at 54 euros.
Hyatt Centric San Isidro Lima
In the same neighborhood, but with a very different category and price, is the Hyatt.
This 5-star hotel has it all. Business center, meeting facilities, fitness center, laundry, restaurant and an outdoor heated swimming pool.
The pool is on the terrace, so from there you will have a great view of the city while relaxing.
It has several restaurants. A high-end restaurant that serves traditional Peruvian dishes, but they have given them a twist and put a gourmet touch to their preparations.
It also has a bar, for a quick and informal meal. And it has other options, such as a French restaurant and a cocktail bar on the terrace.
The hotel is 500 meters from Huaca Huallamarca, close to several parks and 2 kilometers from Huaca Pucllana.
The bedrooms are spacious and have modern and sophisticated decor. Double rooms start at 220€.
Second Home Peru
For the last recommendation, we go to Barranco.
Second Home is a 4-star guesthouse located on the coast of the neighborhood, so it has an extraordinary ocean view. It is a small lodge, with only 8 bedrooms, each with a different view.
Its style is quite particular, as it is decorated with a vintage aesthetic and many sculptures. The style has to do with the fact that it was formerly the home of a Peruvian plastic artist.
The rooms are spacious and several have balconies with tables and chairs to enjoy the view. You will also love spending time in their garden.
Besides being close to the sea, its location is excellent for walking around Barranco, Lima's artistic district.
Double rooms start at 78 euros.
This was our complete guide of what to see in Lima. Were you also surprised by all there is to do in this city? I think it is now better understood why we recommend trying to stay 3 days.
Hopefully you will travel with time to enjoy the beauty of Lima and all its activities.
Plan Your Trip to Peru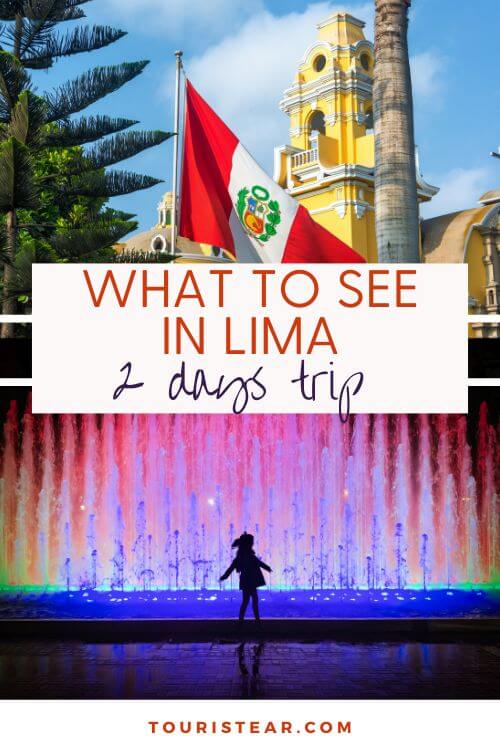 Last Updated on 11 April, 2023 by Veronica