Last Updated on 3 December, 2020 by Veronica
As you know, in February I was touring Peru and one of the places I visited was Machu Picchu. It is a must for all those who visit Peru for the first time. That's why I created this guide to visit Machu Picchu on your own where I will tell you how I have done it and the different options that are available to make this visit worthwhile.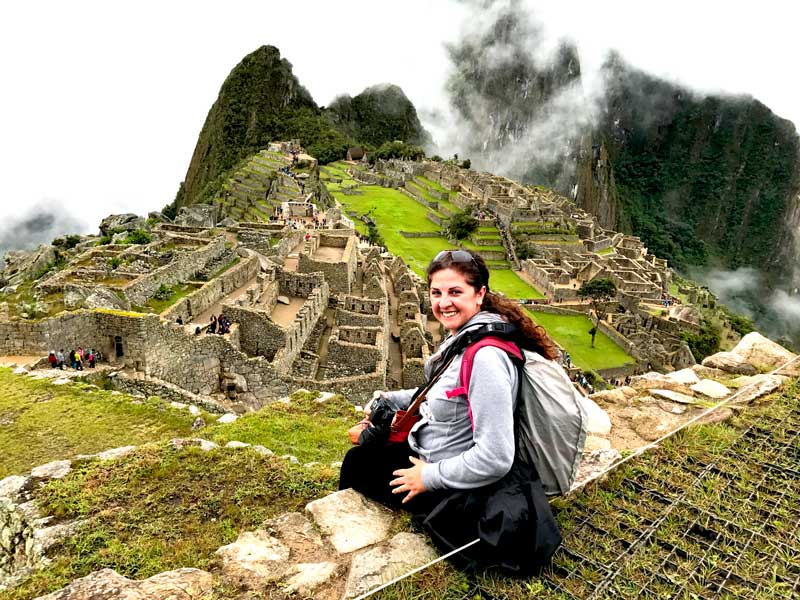 After much research over the internet and comparing prices, I decided to make my trip to Machu Picchu as follows.
Travel Itinerary to Machu Picchu
First, I did the Sacred Valley Day Tour and asked to be dropped off in Ollantaytambo. This way I saved a bus trip. I spent the night here.
*Note: When traveling in the rainy season, trains do not depart from Cuzco, but from Ollantaytambo, for this reason, I took advantage of the Sacred Valley Tour and stayed to sleep in Ollanta.
The next day during the early morning, I went by train from Ollantaytambo to Aguas Calientes, the nearest station to Machu Picchu.
I went up to Machu Picchu by bus and walked down. I spent the night in Aguas Calientes. After I made the visit, I think I spent the night in Aguas Calientes, I could have saved it and left by train to Cuzco.
I wanted to make the tour walking from the Hydroelectric. I will tell you below how to do it, but I was asking in some agencies and they were raising my price for doing it alone, so I decided to go by train. On the one hand, I appreciate it, because the visit to Machu Picchu is hard, between the altitude and the walks you end up exhausted.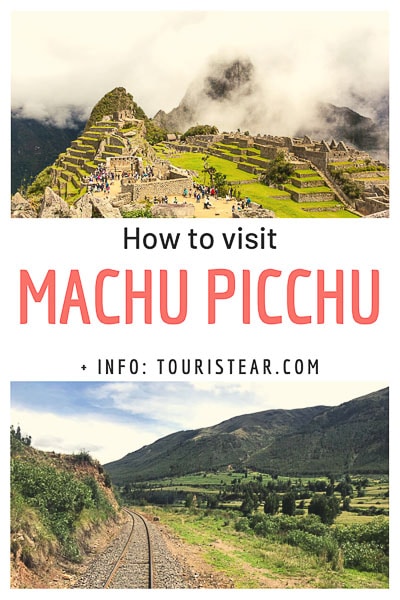 How to get to Machu Picchu?
As I was saying, my visit to Machu Picchu was in February, in the rainy season. In doing so at this time, I found that the trains did not leave from Cusco but from Ollantaytambo. For this reason, I made my visit to Sacred Valley the day before visiting Machu Picchu. I asked to be dropped off in Ollanta (the short form you're going to hear this city called), where I spent the night.
Below, I describe to you the different means of transport that are available to get to Aguas Calientes and their prices.
Getting to Aguas Calientes by Train
For those of us who are not Peruvians or are not a part of the Andean community, the trains we use are those of Peru Rail. This company offers a lot of schedules to get to Aguas Calientes, and they are different types of prices depending on the schedule and the type of train chosen.
Expedition to Machu Picchu
This is the most economical of the trains that arrive in Machu Picchu for tourists. It has all the comforts, also included in the price, a snack and a drink. The journey time (for all trains) is 3.50hrs if you leave from Cusco and 1.50hrs if you leave from Ollantaytambo. They do not let you carry a backpack that weighs more than 10 kilos, I left my large backpack in the hotel where I was staying the night in Cusco.
Price per person per way from $54

Vistadome
The best thing about this train is its panoramic windows that include part of the roof. It has included in the price a non-alcoholic drink and a snack to eat during the road. Guests can also enjoy traditional dances.
Price per person per way from $65
Belmond Hiram Bingham, the luxury train
It is the luxury train that takes you from Cusco to Machu Picchu, Aguas Calientes. It has a dining car, car bar, and an observatory car from where you can enjoy the outdoors and the wonderful route in the company of a Peruvian cocktail and local live music shows.
Price per person per way from $437
Depending on your tastes and budget you can choose one or the other train to get to the Inca citadel. If you want to check out the luxury trains of Peru Rail, this is the one that goes to Lake Titicaca from Cusco, an absolute wonder, both the train and the attention and landscape through which the trip takes place.
Getting to Aguas Calientes, Machu Picchu by Hydroelectric
As I told you above this was my initial choice. I wanted a good walk to get to Machu Picchu.
I was looking at my agency because I was traveling alone and I wanted to travel with a group. The agencies, however, wanted to charge me twice the amount, and I asked several agencies and all of them told me the same. But oh well, I'm glad I went by train because I ended up sore for the next three days.
Bus to Hydroelectric on your own
If your budget is tight and you have good legs, or you just want to do this tour, you can buy the bus ticket from Cusco- Hidroeléctrica- Cusco.
The journey time by bus is about 6 hours, so Cusco is departing early in the morning and then it is about 3 hours trekking to Aguas Calientes. Once in Aguas Calientes, you can choose to climb to Machu Picchu by bus or continue walking.
The price of the round trip bus is $30
Bus to Hydroelectric with a Cheap Agency
The same agencies that sell the Cusco – Hydroelectric bus ticket –  also organize group trips.
If you book in advance and have enough time you have the option of 2 days 1 night from $135, about 120 euros, for students or $155 for the rest based on shared accommodation.
They also have the option of 3 days 2 nights with prices from $180
You can take a look here to see all the tours: http://www.machupicchubuspackers.com/
Buy ticket to Machu Picchu
If you are going to make the trip on your own, either by bus or train, you will have to buy the entrance to the Inca Citadel of Machu Picchu. You can do it online in this official link: www.machupicchu.gob.pe/
Steps to buy the ticket online:
1. Choose the type of ticket you will buy. In this case, you will choose Machu Picchu. In the next drop-down, it gives you the option to choose schedules and also, if you want, the opportunity to climb the mountain or Huaynapicchu, this is the time to do it. I definitely bought the Machu Picchu ticket plus Huaynapicchu, but because it was raining I did not go up.
2. Choose the date you plan to make your visit. Put in the number of tickets you're going to buy. Take a good look at choosing the foreigners or the Peruvians and the Andean community as appropriate.
3. Click where you put step two and complete the data that it requests. Keep your passport handy.
4. Once you have completed the data from step 2, click on the button in step 3. You will get a pop-up window with the conditions of purchase, save it, or print it. Once you close that window, you will see that you have to confirm the reservation, enter an email.
You'll get a pop-up with a code again, which is the one you'll need to make the payment.
5. Once you have the code of your reservation, you have to make the payment within 3 hours or the reservation is canceled.
To make the payment you have to go to the "Payments" tab enter the reservation number and pay with your credit or debit card.
6. In order to enter Machu Picchu, you have to check-in and print your access ticket. To do this, you have to go to the "check-in" tab and enter the corresponding data.
Price: 200 soles, approximately 55 euros.
The process is a little long and perhaps not too intuitive, but this way you make sure you will have your Machu Picchu access ticket for the dates you plan to go, especially if you go in summer and want to climb Huaynapicchu.
I recommend you buy tickets for more than two months in advance. If you then decide and do it by agency, and you already have your tickets to Machu Picchu, ask them to discount it and you're done!
When to go to Machu Picchu?
Machu Picchu is crowded at any time of the year. I went in February, which is the rainy season, and there were quite a lot of people. People started arriving after 9 a.m.
I arrived at about 7 a.m. and it was fine, especially for taking pictures, even though it was quite cloudy and the clouds came and went.
Rainy season (November to April)
With regard to the weather, the rainy season is from the end of November to April, there is a lot of humidity, there are high chances of rain, and it is hotter. Don't think that in the rainy season it's raining all day because it's not. But there are rain showers that last 5 minutes and it looks like the sky is going down, but with a good poncho for rain or under a roof or in a bar, it's an easy fix.
The advantages of going in the rainy season to Machu Picchu is that there are fewer people, the landscapes are green, the climate is warmer, and the prices of the accommodations and the restaurants are usually lower.
Dry season (end April to November)
In the dry season, from the end of April to October, it is the time when there is virtually no rainfall, and you will find the clear sky, but it will be cold, there will be many more people, and the prices of services, such as accommodation and catering, will be higher.
Hire a guide?
If you want to visit Machu Picchu with a guide you can hire them right there. There are many guides who will offer their services to visitors to Machu Picchu so you'll have no problem finding a guide on your trip. You can also hear the explanations given by other guides, but it's better to not be so rude. If you don't want to hire a guide, take a good book from the area.
Hire a tour to Machu Picchu?
If you really don't feel like making this trip on your own, don't want to get complicated by buying tickets separately, or you just prefer someone else to organize it for yourself, check out the tour organization, Civitatis. It is quite well priced and well-reviewed by other users and you can also cancel it 15 days before for free if need be.
What to bring on your trip to Machu Picchu?
Regardless of the season you're traveling, you're going to need the following:
Mountain boots: that are non-slip and waterproof, especially if you plan to travel any of the mountains of Machu Picchu or walk down from Machu Picchu to Aguas Calientes, the trails are stone, they will be wet and slippery.
Waterproof poncho: Machu Picchu's jungle climate makes rains very unexpected, both in the rainy season and in the dry season.
Sunscreen, hat, sunglasses, Altitude (soroche) pills.
A backpack with your camera, some snacks, and water. Try not to carry unnecessary things because you're going to be carrying them all day!
How to Avoid Altitude Sickness
What are the most common symptoms
Severe headache
Physical fatigue or exhaustion
Sleep disorder
Nausea and vomiting
Digestive disorders
Agitation
Lack of appetite
Physical exhaustion
To avoid altitude sickness, here are some tips:
When you arrive in Cusco it is best to acclimatize to prevent altitude sickness; do not agitate or perform physical efforts at least for the first few days; it is best to walk slowly and stop to rest when necessary. It is also recommended to sleep well, eat light, and avoid alcoholic beverages.
To prevent altitude sickness or soroche, as it is called in Peru, it is recommended to drink coca tea and/or chew coca leaves. The coca tea is quite good and that's what the locals recommend. If you tell them you take pills for "soroche" they look at you weird, hehehe. The coca leaves are not literally chewed. What they do is "glue" them to the inside of the cheek and let them take effect when mixed with saliva.
If you go to Cusco or any city that is above 2000 meters above sea level, it is advisable to take these precautions so as not to suffer the symptoms of altitude sickness.
What I did was take a pill a few hours before I got to Cusco while I was on the bus. Once at the hotel, I took another pill, and then I started drinking coke tea and had no problems with altitude sickness. Soroche pills are sold at any pharmacy in Peru.
Where To Stay
There are accommodations for all needs and budgets. Here, I will share where I stayed and leave you a generic link from the area to take a look at the most up-to-date prices.
Ollantaytambo
Ollanta is a very small town. I stayed about 30 meters from the main square in Rumi Huasi.
In this link, you can see all the accommodations in Ollanta where you can choose according to your interest and budget. Check out the prices for your travel dates.
Aguas Calientes / Machu Picchu
Aguas Calientes is the closest village to the Inca citadel of Machu Picchu. In many places, they call it Machupicchu village and it is where you will find the different accommodations, restaurants, agencies and, where the train station is.
Here, I stayed at Machupicchu Packer. It is a few meters from the train station. It is very comfortable and useful if you leave early the next morning.
In this link, you can see all the accommodations in Machu Picchu where you can choose according to your tastes and budget.
Travel to Peru
Save this image on your
Pinterest
Book Your Trip
Book Your Flight
Find a cheap flight by using Skyscanner.
Book Your Accommodation
You can book your hostel, hotel, or apartments on Booking.com.
Don't Forget Travel Insurance
Travel insurance will protect you against illness, injury, theft, and cancellations. It's your protection in case anything goes wrong. You never go on a trip without it.
Best companies for activities
Check out Civitatis.com and find the best tours in English (French, Spanish and Italian)
Looking for the best companies to save money with?
Check out my resource page for the best companies to use when you travel! I list all the ones I use to save money when I travel – and I think will help you too! (Is in Spanish yet)
We are not native English speakers but we have decided to translate our post to English so we can share it with the whole world. If you see any spelling mistake or something, please let us know, it is so important to us. If you do so, we can improve our post and also our English knowledge! Thanks in advance!!!
Some of the links you'll find in this article are from affiliates. This means that if you contract any of the services mentioned through the link we provide, we will receive a small commission, for you the price will be the same or you will have a discount. This way you help us to maintain the blog and continue to create content useful for your travels. Thanks a lot!