Best Things To Do in Cusco in 3 Days
The city of Cuzco is most often used as a base of operations to visit the main attractions of Peru.
Cusco is the city we arrive at and then go on to visit Machu Picchu, but many people do not stop to know Cuzco and run out to the lost city of the Incas.
Today, I will tell you what there is to visit in Cuzco.
What to See in Cusco?
Cusco or Cuzco is a city with many interesting things to visit and do.
You can enjoy Peruvian gastronomy, visit temples, contemplate its architecture, make horseback riding tours, tour its squares, eat in its markets, shop, and enjoy its most famous drink, Pisco Sour, in some bars neighborhood of San Blas.
Also, another good thing about the city of Cusco/Cuzco is that you can visit it walking. You will also find nice accommodations at a good price and well located. Shall we?
Plaza de Armas, Main Square of Cusco
In the heart of Cuzco, we find its Plaza de Armas. Although it does not seem like a swamp, as you read, before the Incas arrived in Cusco, the Plaza de Armas was a swamp that they dried by bringing sand from the Peruvian coast.
The Plaza de Armas of Cusco became the religious, administrative, and cultural center of the Inca empire until the arrival of the Spaniards, who built temples and buildings in the surrounding area on the constructions of the Incas.
In the Plaza de Armas, you can find the Cathedral, restaurants, shops, agencies to hire tours, etc.
Churches
Cusco Cathedral is an imposing building that we find in the Plaza de Armas of the city. Its architecture has a mix of styles, as it has Gothic, Mannerist, and Baroque renaissance characteristics.
On both sides, it is guarded by two towers. Inside, you can see Cusqueñas' works of art.
In addition to the Cathedral in Cusco, you will find many churches. The most outstanding are La Compañía, La Merced, Santo Domingo or Qoricancha, San Blas, and Santa Catalina.
Murals of Cuzco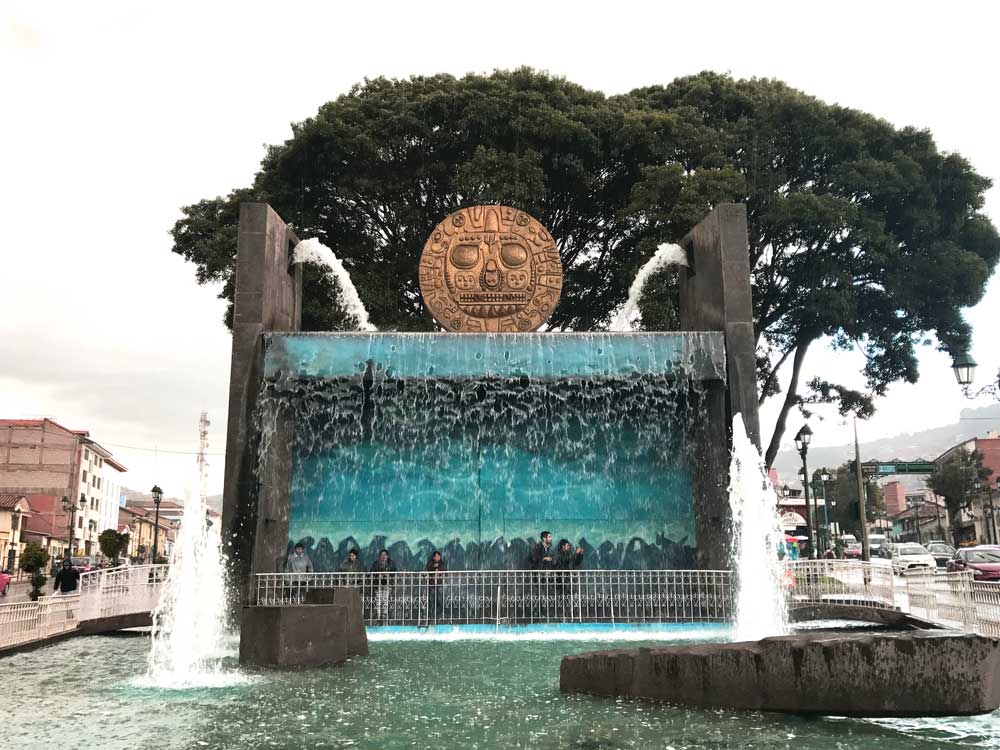 I stayed at a hotel where I was treated very well and recommended some roads to get to the more picturesque center than going down the avenue.
On those roads that I was recommended, I came across a few very nice Inca murals that deserve a visit.
Museums
If you like visiting museums, you're in luck. In Cusco, you will find different museums to learn more about the Inca culture in Peru.
These are The Inka Museum, the Regional Historical Museum, Casa Cabrera, and the Archbishopric.
The neighborhood of San Blas
The neighborhood of San Blas, the neighborhood of the artisans of Cuzco, is a must-visit.
It is a bohemian neighborhood and is ideal for a drink in the evening at some of its picturesque restaurants or in the afternoon to visit some of its art galleries and craft shops.
This neighborhood is full of slopes, so take it easy, but don't miss it.
I went to the neighborhood of San Blas on my last night in Cusco with my Italian friend that I met on the train to Machu Picchu.
We had dinner in a very nice place called El Pisonay, which is also cheap for foreigners. I don't think we spent over 20 suns since we had one pisco each and the service was very good.
In San Blas, it is much higher in altitude, and you have some beautiful views of Cuzco that deserve a visit.
The St. Peter's Market
At the market in San Pedro, honestly, I arrived by chance.
When I returned from Machu Picchu, the train left me in Ollantaytambo, and you barely get off the train. They offer you bus tickets to Cusco, and you leave in a minivan along with other passengers. It is quite cheap, about 10 soles, and leaves you in the center of Cusco.
I was left in a square I had already visited, and I thought I knew the way to my hotel; the thing is that I should have turned into a street that I did not take and ended up at the market of San Pedro.
There is a lot of movement in the San Pedro market, both within the market and in the surroundings. Inside, you will find stalls to eat cheap, really delicious fruit, prepare juices at the moment or you can buy meat, among a lot of other things.
You will find many stalls in the surroundings, and if you walk towards the center, you will see restaurants where the locals go, with much lower prices.
Tourist ticket
The tourist ticket allows you to access about 16 attractions in the city. Therefore, it is advisable to buy it to do the city tour in Cusco and visit the Incas' Sacred Valley. The attractions that you have access to are:
Regional Historical Museum,
Museum of Contemporary Art,
Museum of Popular Art,
Qorikancha Site Museum,
Qosqo Center of Native Art,
Monument to the Inca Pachacutec,
Sacsayhuaman,
Q'enqo,
PukaPukara,
Tambomachay,
Pisac,
Ollantaytambo,
Chinchero,
Moray,
Tipon,
Piquillacta.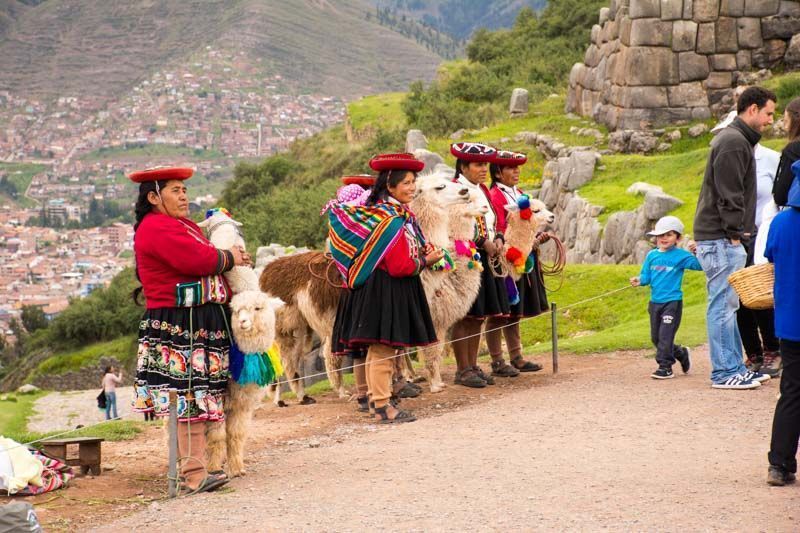 The tourist ticket has different modalities and prices; for example, the ticket is cheaper for Peruvian tourists and accredited students.
You can also buy it by one-day circuits or the one-stop tour ticket that lasts 10 days and includes all the attractions.
It can be purchased directly in Cusco, a few steps from the Plaza de Armas; you pay only in cash with soles. Although you can buy it online with your usual credit card.
If you want to see the Sacred Valley and do the city tour, you must buy it. You'll realize that you can't see everything and you'll have paid for attractions you won't see, but anyway I think the price isn't too much for everything there is to see.
Best Excursions To Do in Cuzco
There are plenty of excursions to Cusco, from getting to know the city on foot, horseback riding, learning to cook Peruvian food, etc.
Here I am leaving you some excursions that you will surely find interesting, and you can buy them here.
How to Get to Cuzco?
Cusco can be reached by land or air. I arrived by bus from Nazca, a very long journey (more than 15 hours without stops to be able to get off) that if I had to do it again, I would definitely not repeat it.
I would go back to Lima, and from there, I would take a plane at about the same price as the bus, and the journey only lasted a couple of hours.
To Cuzco, you can get by plane from Lima and the main airports, for example, Madrid.
You can also get there by bus from Lima and other points the Peruvian geography.
If you arrive by bus, the taxi to the center costs about 4 soles (in February 2017, it costs that). Always ask before you get on so they don't scam you!
Where to Sleep in Cusco?
I stayed at the Waynapicchu Hotel every night I was in Cusco. Moreover, when I went to Machu Picchu, I left them my backpack and spent one night in Ollantaytambo and another in Aguas Calientes, and they kept my backpack until I came back, free of charge.
In addition, they gave me a rain poncho that came very well for me when it started to rain in Machu Picchu.
To see all the hotels in Cuzco, click on the link.
Plan Your Trip to Peru
Last Updated on 9 October, 2023 by Veronica
Disclosure: Some of the links on this post are affiliate links, meaning at no additional cost to you, I may earn a small commission if you click through and make a purchase.
Author: Veronica
Vero, a seasoned traveler, has explored 25 countries and lived in five, gaining a rich perspective and fostering an infectious passion for travel. With a heart full of wanderlust, Vero uncovers the world's hidden gems and shares insights, tips, and planning advice to inspire and assist fellow adventurers. Join Vero and let the shared passion for travel create unforgettable memories.