Visit the Huacachina Oasis. Buggies & Sand Boarding in Ica, Peru
One of the funniest excursions I did in Peru was to visit the Paracas desert aboard a buggy, sandboard in the dunes, and finish the visit contemplating the Oasis of Huacachina in the middle of the desert.
Touring the Paracas Desert in Buggy
I arrived in Ica after hiking in Paracas. Then, visiting the Ballestas Islands, I saw a lot of birds and even penguins!
I arrived in Huacachina at about 3 pm after lunch and waited until about four o'clock to start the buggy tour through the desert.
The buggy is a vehicle that is ready to travel the desert dunes without problems. The drivers make it very fun, and you feel the adrenaline flow!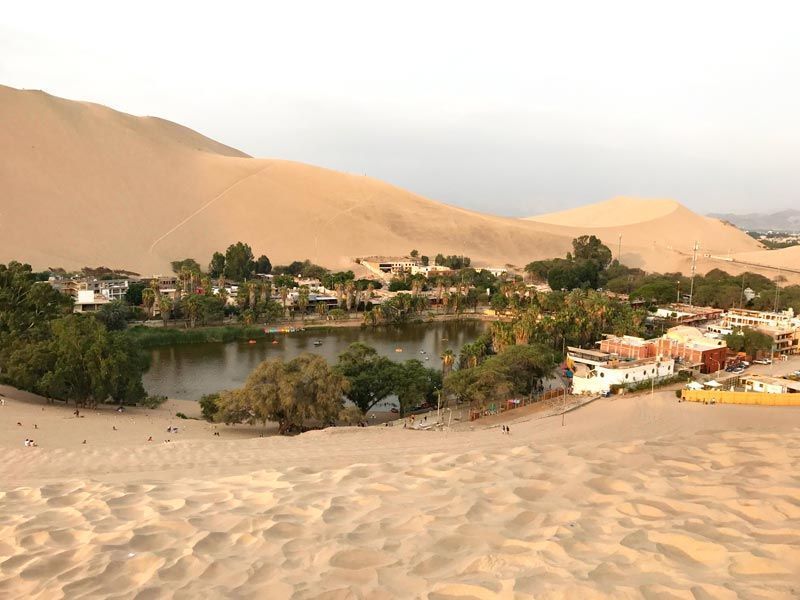 Before I got on the buggy, I asked what the best place to sit was. I was told that if I wanted to feel more adrenaline, I would sit in front. And that's what I did; I sat in front and at the "door."
There was another place in the middle, but at the door, it's cooler! Especially when the driver turned right.
The driver/guide made the tour of the dunes of the Ica desert a lot of fun. We climbed quite high dunes, made turns that looked like the buggy was going to flip over, especially when it was turning to the right; it looked like it was going to stamp me against a dune!
He even told us that all the drivers, including him, had never overturned!
In the buggy, we would go about 10 people (I think) almost all couples, and the truth is that I think I was lucky because they were all very nice until I stayed to eat the next day in Nasca (Nazca) with the three who the next day made the Nazca lines.
What surprised me, but negatively, was to see how much rubbish there was in the desert.
I couldn't believe the desert was dirty! Of course, there's only supposed to be sand, but there were too many people who traveled through the desert because there were many bottles, bags, and plastics. I felt quite sorry.
Sand Boarding in the dunes of Ica
After a while of spinning up and down the dunes, we made a stop to make our first sand-board descent.
I'm going to be honest, at first, I was a little scared. I felt like I would end up with my head buried in the sand, but because the guide was quite insistent and seeing that everyone was throwing themselves and nothing was happening, it was quite the opposite.
They loved it, and so I threw myself, and it was great!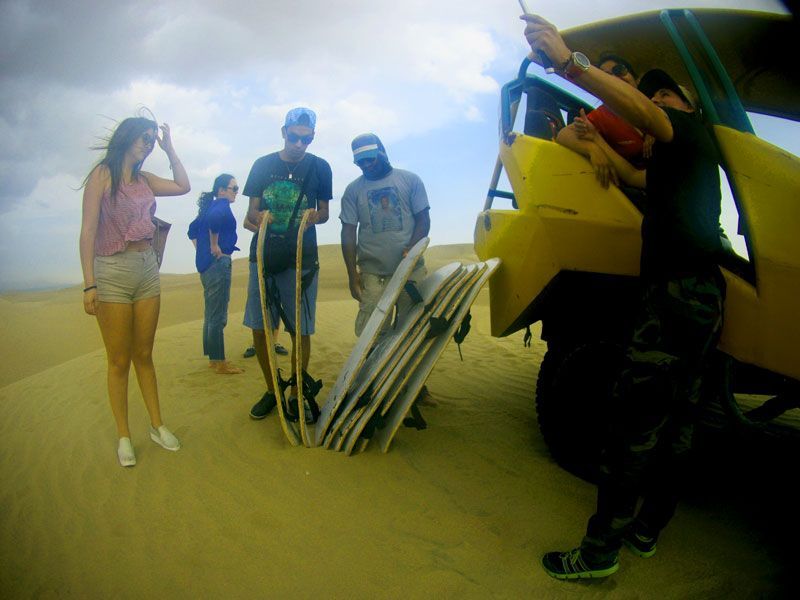 The first dune looked like waves, and, of course, being the first time I ever sand boarded, it didn't seem easy.
It gave the feeling that you were going to overturn and end up eating sand. As those in my group didn't have much experience in snowboarding or sandboarding, we threw ourselves with our chests leaning on the board, and we had our heads down.
When you caught the trick, you could pick up a lot of speed. When we were already less scared, and it seemed easier, we encouraged ourselves to stand on smaller dunes, but that is where I ended up falling on my ass, and the sand was pretty hard!
But anyway, it was a lot of fun for me.
Of all that we were, in the end, the last dune, the highest of all, there were three of us who threw ourselves. They made me this video to see a little of how high the dune was and the speed that you could reach.
Visit the Huacachina Oasis in the middle of the desert
When the tour was over, the icing on the cake was to see the Huacachina Oasis from the top of a dune. It's just like in the movies. A place full of vegetation with a small lake and surrounded by sand everywhere, but with some constructions.
When I arrived in Huacachina, I definitely made sure I visited the oasis, but from there, being in the oasis is not as appreciated as from above, even though you can cool off or have a drink in the beach bars around it or buy something from one of the street vendors in the area.
The truth is that it's much more impressive to see it from above, especially if you've never seen one. And if you stay to sleep there or if your bus leaves later, you can take advantage and watch the sunset in the desert.
How to Get to Ica
Hire excursion:
To get to the Huacachina Oasis, there are several options, as I did, hiring an excursion that included Paracas and Ica, by bus or rental car (this is the option I would least recommend). Or hiring the tours separately.
Here are the excursions of Civitatis, which I always use, but they were not when I made my trip, so if you hire them, tell me your experience!
By bus:
If you want to do everything for free, it is your thing to go by bus from Lima or Paracas. However, if you are going to make your tour of Peru in a southerly direction, buses are pretty cheap and usually good.
Once you arrive at the oasis of Huacachina, hire the buggy tour with the sand-board activity. When you are going to hire an excursion, ALWAYS ask in various places!
Where to Sleep in Ica
If you liked it very much and want to sleep in Ica, you have these options.
What I did was take the bus from 7.20 pm and go to Nasca (Nazca) because the next day, I wanted to fly over the famous lines of Nasca early, but that's another story, and I'll tell you in the next chapter 😉
Prepare your Trip to Peru
Book Your Trip
Book Your Flight
Find a cheap flight by using Skyscanner.
Book Your Accommodation
You can book your hostel, hotel, or apartments on Booking.com.
DoDon'torget Travel Insurance.
Travel insurance will protect you against illness, injury, theft, and cancellations. It's your protection in case anything goes wrong. You never go on a trip without it.
Best companies for activities
Check out Civitatis.com and find the best tours in English (French, Spanish and Italian)
Are you looking for the best companies to save money with?
Check out my resource page for the best companies to use when you travel! I list all the ones I use to save money when I travel – and I think I will help you too! (Is in Spanish yet)
Disclosure: Some of the links on this post are affiliate links, meaning at no additional cost to you, I may earn a small commission if you click through and make a purchase.

Last Updated on 26 January, 2022 by Veronica