How Much Does a Trip to Machu Picchu Cost?
There are many ways to visit this Wonder of the World, and each one has a different cost. In this post we are going to tell you how much a trip to Machu Picchu costs depending on how you choose to visit it.
We will consider different options for transportation, lodging, food and entrance to the Inca Citadel. At the end, you have how much the trip can cost you in total and what we recommend you to do.
Is It Expensive to Go to Machu Picchu?
This is always one of the most difficult questions to answer because the answer is relative to one's pocketbook. What we can assure you is that if you compare it with other destinations in South America, it is an expensive destination.
You have to take into account that in addition to getting to Cusco, you have to pay for the accommodation there, plus the transfer to the Inca City and the entrance fee.
And although you can go on your own from Cusco to Machu Picchu, most people do it on excursions, so you will have to add the cost of hiring an excursion.
Later on, we will see what is included in going to the Inca citadel.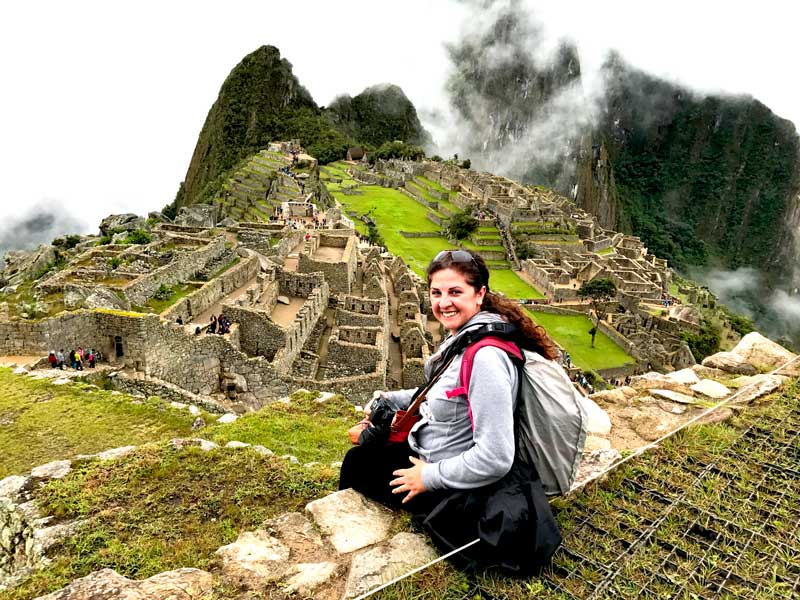 Is It Worth Going to Machu Picchu?
Just as we can assure you that it is more expensive than other places in South America, we can also assure you that it is worth going to Machu Picchu. We always say that it is one of those places that everyone should know.
Visiting Machu Machu is not only to know a beautiful place, but it is also to step on a place with a magnificent history, which will help you understand the entire history of the continent and see how advanced the Incas were.
You will also contemplate one of the most incredible engineering works in the Americas and understand the connection that the inhabitants of the region had with Mother Earth, and how everything they did had a symbolic and spiritual meaning.
Recommended reading:
Budget for Machu Picchu
Now, let's start talking numbers.
Transportation
As in any trip, the cost of transportation to Machu Picchu is one of the main concepts to be considered when preparing the budget.
How Much Does Travel by Train to Machu Picchu from Cusco cost?
In South America, rail connections are not abundant, so Cusco-Machu Picchu is a beautiful exception.
The train is the most elegant and fastest alternative to get to Aguas Calientes, which is the town at the foot of Machu Picchu. These are tourist trains, so the prices are not cheap.
The cheapest ticket to make a trip costs 57 USD and the most expensive ones 504 USD. This is only one way.
Please note that the 57 leaves are quite late from Cusco, so if you take it you would have to sleep in Aguas Calientes, so we recommend that you take one that leaves earlier, although it may cost a little more.
In addition to having different comfort and aesthetics, the price difference has to do with the benefits you receive on board the train.
The most economical one-way trip includes a snack and beverages, audio explanation of the route and music during the trip. On the return train you will also enjoy typical dances and a parade on board.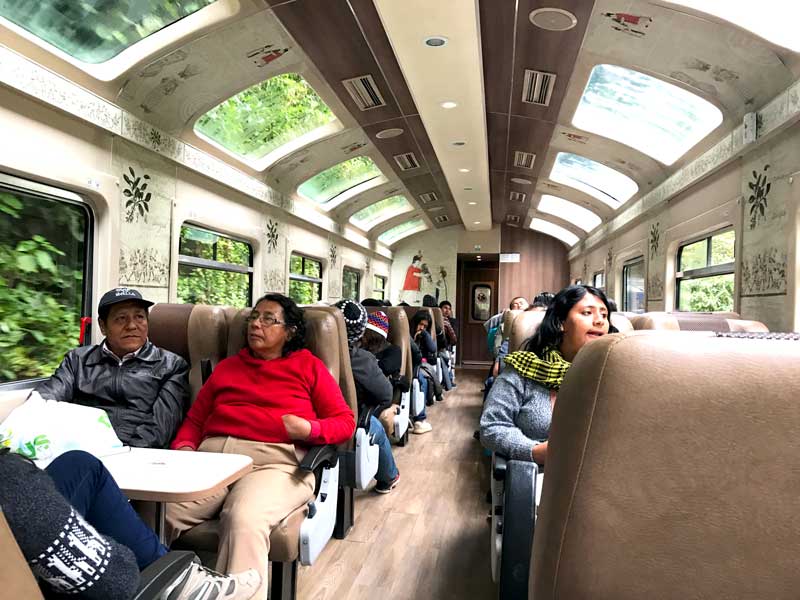 The most expensive train is the famous Hiram Bingham. It is a luxury train that has a dining car, a bar car and an observatory car. Passengers can enjoy the open-air scenery along the route, while sipping Peruvian pisco and watching a live music show.
The price of Hiram Bingham includes entrance to Machu Picchu and a tour guide. It also gives you access to the VIP waiting room at Machu Picchu station and includes a gourmet dinner on the return trip.
There are intermediate options, which are around 100 USD. In all cases, the ticket also includes the bus fare from Wanchaq Station (which is 5 minutes from the center of Cusco) to Ollantaytambo Station, from where the trains depart.
Depending on the train you choose, the trip takes between 4 hours 20 minutes and 5 hours.
How Much Does a Bus Trip to Machu Picchu from Cusco Cost?
There is no direct bus service from Cusco to Machu Picchu, so discard that plan.
Bus from Cusco to Hidroeléctrica
One of the most popular and economical ways to go from Cusco to Machu Picchu is to get from Cusco to Hidroeléctrica by bus and, from there walk to Aguas Calientes.
The bus from Cusco to Hidroeléctrica costs 60 Soles (16 USD).
Bus from Aguas Calientes Up to Machu Picchu
For foreigners, the bus that goes up from Aguas Calientes to the entrance of the citadel of Machu Picchu costs 24 USD, round trip. Children pay 12 USD each way, or 7 USD each way.
If you want, you can buy the tickets separately and it will cost you 12 USD each way. What most people do is to buy only the outward trip, since the return trip, as it is downhill, is easier to do on foot.
So if you're not too tired, go for it. It's a great excuse to take some time and think about everything you saw and experienced inside Machu Picchu.
The ticket office in Aguas Calientes is located at Av. Hermanos Ayar S/N, before the Ruins Bridge and for the return trip, the ticket office is right at the door of the Inca City.
In my case, what I did was to take the bus up and walk down. The descent is also quite steep and wet, so you have to be careful and wear good shoes that grip. The next day I had stiffness, hahaha….
Entrance to Machu Picchu
You already know how much you are going to spend to get there, now the most important thing is to buy tickets to the Inca City: buying tickets to the Inca City.
Entrance Only to Machu Picchu
Adults: 152 Soles (40 USD) / Minors: 70 S / 19 USD
Entrance Machu Picchu Plus Mountain:
Adults: 200 S (53 USD) / Children: 118 S (31 USD)
Entrance to Machu Picchu Plus Huayna Picchu:
Adults: 200 S (53 USD) / Children: 118 S (31 USD)
An important recommendation we have to make is that, due to the political conflicts that Peru has had lately, before buying tickets, read if Machu Picchu is open to the public, as sometimes they suspend the entry of tourists for security reasons.
*Disclosure: Price may change.
Eating Costs in Cusco
Peru has one of the best cuisines in the world, and not only is it exquisite, it is also very cheap.
In Cusco, you can eat in the local markets, where you will find some menus that start at 6/7 Soles (1.5-2 USD) and are very potent, ideal for the altitude and the cold of the city.
If you like this option, we recommend you to visit the San Pedro Market. In addition to the dishes of the day, you will find other Peruvian dishes for 10-20 Soles (2.65-6.30 USD); for example, seco de res, bife a lo pobre, or arroz chaufa.
Of course, there are also more upscale restaurants and some gourmet options. They generally feature dishes that are more modern versions of traditional recipes and can cost between 35 and 50 soles (9-13 USD).
Eating in Aguas Calientes has similar costs. A lunch/dinner starts at 3 USD at the market and can cost up to 40 USD at the exclusive Tinkuy Buffet Restaurant Sanctuary Lodge.
In between, there are many places where you will eat very well for between 10 and 25 USD.
Spending a Night in Aguas Calientes, Yes or No?
In our case, we spent the night in Aguas Calientes. We had planned that thinking that we were going to end up very tired when we left Machu Picchu, but we could have easily saved the hotel and returned to Cusco the same day.
And that's what we would do if we came back.
If you decide to stay overnight in Aguas Calientes, the cost of a double room starts at 15 USD and goes up to 1,650 USD at the Sanctuary Lodge hotel, which is the hotel where the restaurant we mentioned before is located.
However, most hotels are between 25 and 35 USD.
How Many Days Does it Take to Visit Machu Picchu?
The minimum we recommend is to plan 3 days for Cusco-Machu Picchu. The first day to arrive and get settled, the second day to do the tour and the third day to rest.
That is the minimum, but the ideal is to stay at least 2 or 3 days more, since in the surroundings of Cusco and in the city itself, there are many things to see that are almost as interesting as Machu Picchu.
There are many important ruins; churches built over Inca temples, museums and plenty of gastronomy to try.
In addition, you have to consider that Cusco is at 3,400 meters above sea level, so you need a period of adaptation to the altitude. Believe us, the first day you will not understand what is happening to you, you will only feel that your legs are heavier and that if you speed up your pace it is hard to breathe.
How Much Does a Tour to Machu Picchu Cost?
As you may have noticed, you can make a very economical trip or spend a lot, it all depends on what you choose. And when deciding how to visit Machu Picchu there are also several options.
Here are some alternatives that may be of interest to you. Please note that in all cases there are different prices for Peruvian and foreign citizens.
Excursion to Machu Picchu
This option includes the ride on the glass-roofed train so you can enjoy the scenery along the side of the road. It also includes the bus from Aguas Calientes to the Sacred City and the return trip.
In Machu Picchu is contemplated a guided tour of 2 hours and a half.
For foreigners, the cost of this excursion is 305 USD.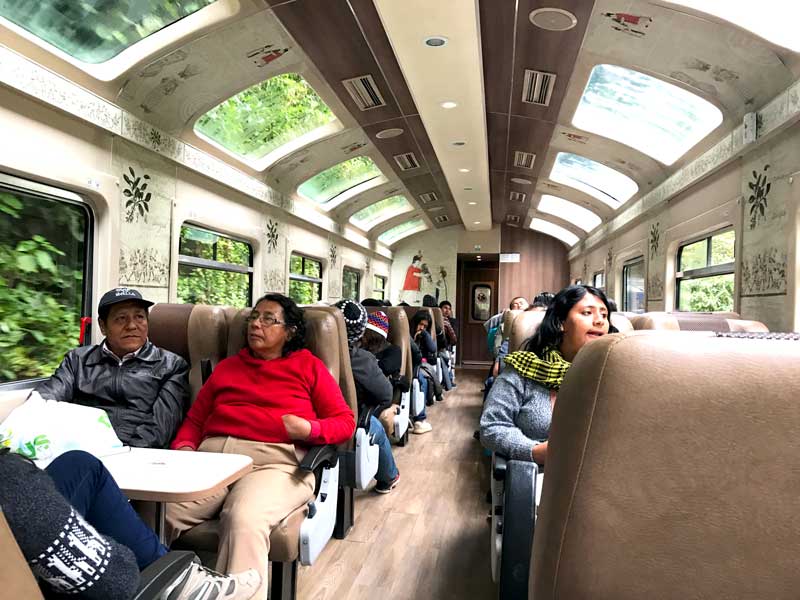 Excursion to Machu Picchu + Machu Picchu Mountain
It includes the same as the previous excursion and you can also climb and enjoy the views from the Machu Picchu Mountain, which is 3,000 meters high, so you can have incredible panoramic views of one of the 7 Wonders of the World.
The cost for foreigners is 365 USD.
4-Day Route to Machu Picchu By The Short Inca Trail
This is a unique experience, where you will visit impressive and historical places, where the ancient Incas walked.
It is an adventure that requires a good effort, so it is necessary to have a moderately good physical condition to withstand the long walks that have to be done every day.
The first two days you will visit the ruins of Tambomachay, Huchuy Qosqo, several Andean villages and taste traditional dishes in the middle of nature.
Includes hotel in Ollantaytambo, where you sleep the second night.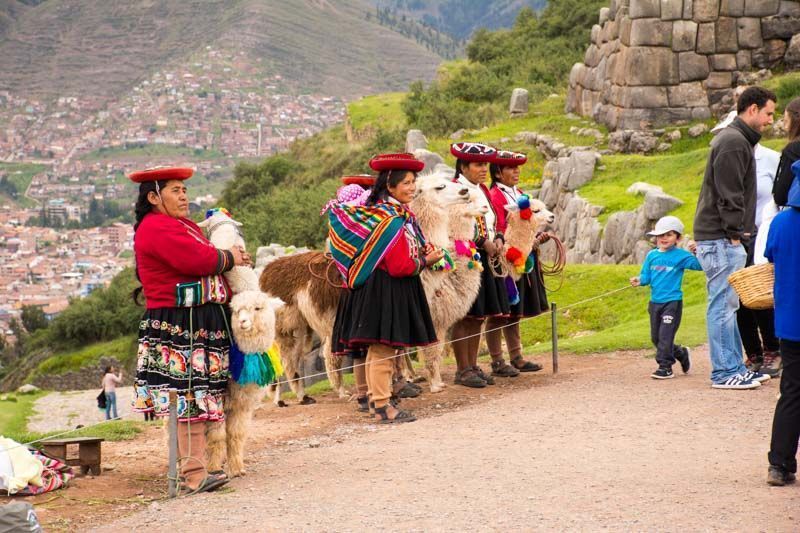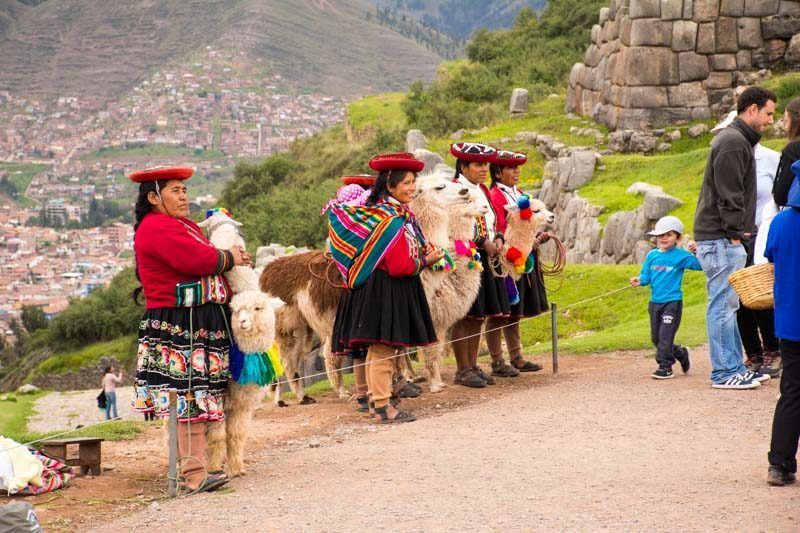 On the third day you will have a 7 hour hike. You will visit the ruins of Wiñay Wayna and the beauty of the valley.
After lunch you arrive at Inti Punku, the gateway to Machu Picchu and you can tour the sacred city on your own and watch the sunset in this mythical and historic place.
That night you will sleep in a hotel in Aguas Calientes.
On the fourth day the tour returns to Machu Picchu and this time you will have a guided visit and you will see the Inca Bridge.
In the afternoon you will start your return trip from Aguas Calientes to Cusco.
This 4-day tour costs 680 USD.
What Should I Prepare For a Trip to Machu Picchu?
Tip #1
The first thing you have to check is which is the dry season, since in the rainy season there may be avalanches and the route to Machu Picchu is closed. In many cases they do not refund the money for the excursion, but they give you the possibility of doing it on another date.
That is why the best time to travel to Machu Picchu is between May and November.
I traveled during the rainy season, in February. At that time you could only go to Machu Picchu by train from Ollantaytambo, the walking routes were closed and I could not climb Huayna Picchu because it rained and was unsafe to climb.
I loved my trip, but I know that if I had gone during the dry season, I would have been able to organize the trip differently.
Tip #2
As we told you, Cusco is 3,400 meters above sea level, so it is cold. So bring warm clothes and something to protect you from the rain.
A rain poncho is much better than an umbrella! You can buy it on Amazon or directly from there.
Tip #3
It is possible that you may be affected by altitude sickness, ask any local what to do and they will know how to help you. Usually they give you coca tea, but you can also get some pills that will help you feel better.
Travel Insurance
Enjoy a carefree adventure while being prepared for any emergency. Travel with a travel insurance from Mondo with a 5% discount with this link.
You can customize the coverage to your needs and dates to travel with peace of mind to any destination. In addition, if you get your travel insurance through this link, you have a 5% discount on any of the insurances of this company.
Ask for a free estimate; you will see that it is cheaper than you think.
How Much Does An Average Trip to Machu Picchu Cost? (Total Estimated Cost)
We have already reviewed the main costs you could have on your trip to Machu Picchu, now let's try to summarize it to make it clearer.
To simplify the comparison, in all cases, we will assume 3 meals per day, all costs are per person, except for the cost of the rooms, which are double room prices.
More Economical Option
This option includes going from Cusco to Hidroeléctrica by bus, the bus from Aguas Calientes to Machu Picchu, eating in markets, 2 nights lodging in a budget hotel in Cusco and the cheapest entrance fee to Machu Picchu.
We assume you will only dedicate 3 days to your trip to Cusco and Machu Picchu. For the return we put an economic train from Aguas Calientes to Cusco.
Transportation: 90 USD
Meal: 36 USD
Entrance fee to Machu Picchu: 40 USD
Lodging: 20 USD
Total: 182 USD
Option Average Price
In this case, we contemplate the possibility of going on an economic train to Aguas Calientes, eating in economic restaurants, 4 nights lodging in intermediate hotels, the round trip from Aguas Calientes, the entrance to Machu Picchu plus the Machu Picchu Mountain.
Transportation: 148 USD
Meal: 150 USD
Lodging: 80 USD
Entrance fee to Machu Picchu: 53 USD
Total: USD 431
Luxury Option
The last alternative to organize it on your own includes traveling to the Inca Citadel in the luxury train, eating in more expensive restaurants and staying in a superior hotel (not super luxury, but one with a higher price than the previous option) for 4 nights.
Remember that the Hiram Bingham train ticket includes entrance to Machu Picchu and dinner. Hiram Bingham's train ticket includes entrance to Machu Picchu and dinner.
Transportation: 1,008 USD
Meals: 185 USD
Lodging: 500 USD
Entrance to Machu Picchu: Included with the train ticket.
Total: 1,693 USD
Option With Organized Tour
As shown above, the prices of the alternatives vary from USD 305 to USD 680. To that you will have to add the cost of accommodation and food for the other days you decide to stay in Cusco.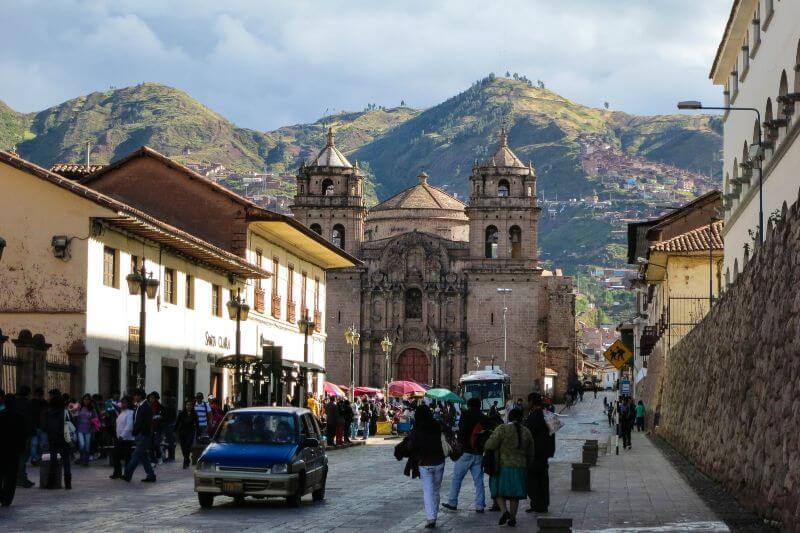 How Much Does it Cost to Visit Machu Picchu?
Analyzing everything we have told you, you can see that to visit the Inca Citadel you can spend from 180 USD to 1,700 USD, depending on the way you choose to travel, where you want to stay and where you like to eat.
But it is clear that the main variable is transportation since the luxury train is the most decisive factor in turning the trip into an expensive experience.
If you are physically fit and like adventures, our recommendation is that you hire an excursion to do the Inca Trail. It will cost you less than taking the luxury train and you will live a more authentic experience and have more memories engraved for a lifetime.
Plan Your Trip to Peru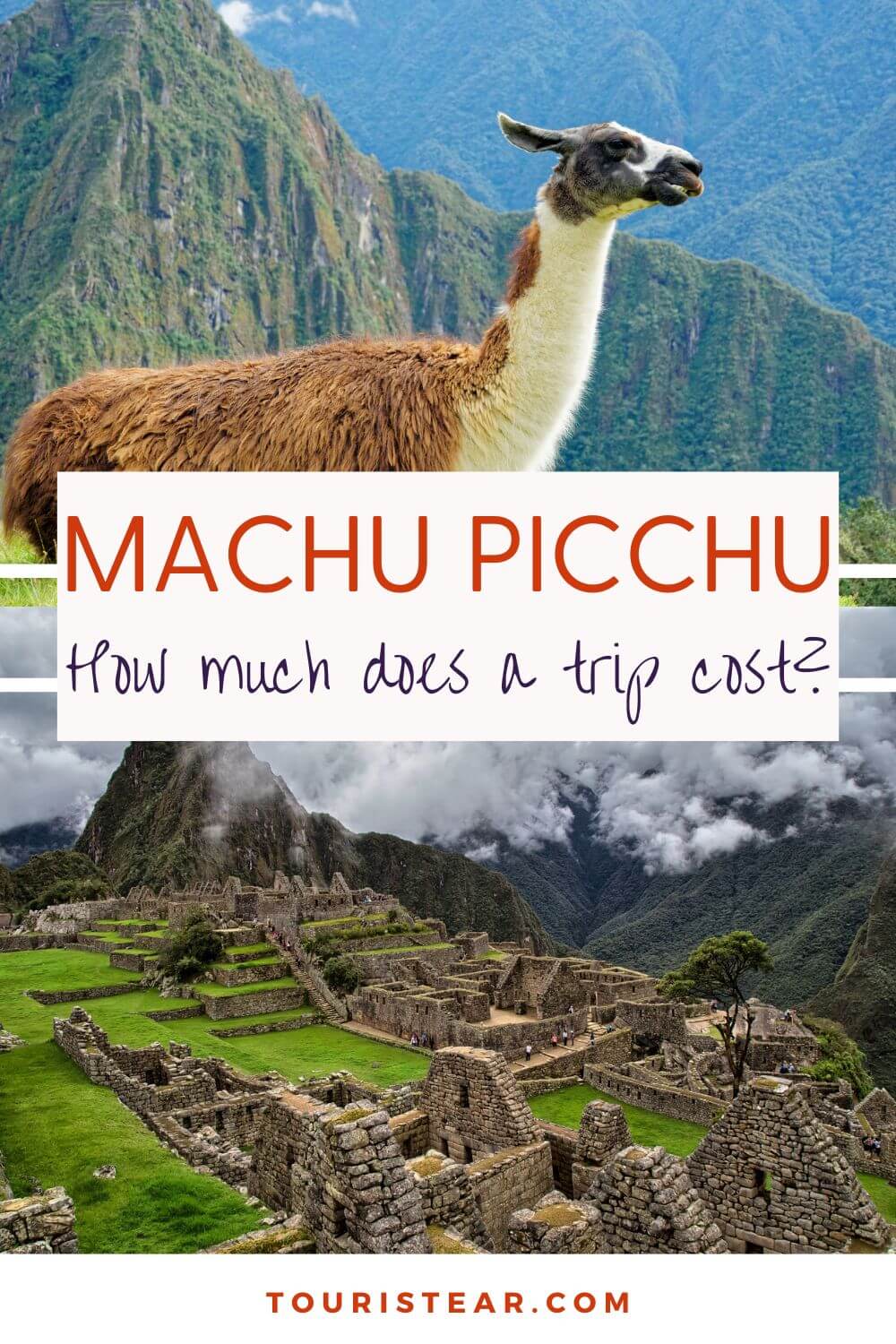 Last Updated on 7 September, 2023 by Veronica
Disclosure: Some of the links on this post are affiliate links, meaning at no additional cost to you, I may earn a small commission if you click through and make a purchase.
Author: Veronica
Vero, a seasoned traveler, has explored 25 countries and lived in five, gaining a rich perspective and fostering an infectious passion for travel. With a heart full of wanderlust, Vero uncovers the world's hidden gems and shares insights, tips, and planning advice to inspire and assist fellow adventurers. Join Vero and let the shared passion for travel create unforgettable memories.