Visit Auschwitz Birkenau Concentration Camp Memorial
One does visit the Auschwitz concentration camp, nor its extension in Birkenau, to have an excellent time, nor to "do entertainment tourism or selfies."
One visits the memorial to the Auschwitz-Birkenau concentration camp to become aware and learn more about its history. We realize how far people can go if we lose the fundamental values that make us humans.
In this blog post, I want to tell you about our visit to the Auschwitz-Birkenau concentration camp from Krakow and our experience.
A Visit Auschwitz Birkenau Concentration Camp Memorial
How To Get To Auschwitz From Krakow?
Usually, if you are visiting Auschwitz, you stay in Krakow.
The Auschwitz-Birkenau concentration camp is approximately 70 kilometers from Krakow, and the trip takes an hour to an hour and a half.
The visit can be done on your own in a rental car, or you can hire an excursion with an English-speaking guide.
Going To Auschwitz By Rental Car
If you have a rental car (or your own), you can go to the concentration camp on your own. The visit to the concentration camp is free of charge.
But it does not include any kind of guide or audio guide. For this type of visit, it is necessary to make reservations in advance because there is limited capacity.
If you plan to rent a car, click this link to get the best prices.
Book A Visit To Auschwitz-Birkenau
The most comfortable way to visit is to hire an agency that picks you up at the hotel and organizes the group for a visit with a guide who speaks your language.
All-inclusive, the price ranges from 45 € to 65 €. You can see the visit to Auschwitz here.
Bus from Krakow
You can also go by bus. The ticket costs 14 zloty, which is about three euros each way. Buses leave from Krakow MDA bus station and also from Glowny train station.
Blablacar, Uber…
Another option to consider is Bla Bla Car which works quite well in Poland, or Uber, where you can find a driver for 100 €. If there are three of you, Uber is very comfortable, and the cost is 33 € per person.
Entering Auschwitz
First, you should know that visiting Auschwitz is free if you do it on your own, without guides. Reservations are required because seating is limited.
If you want a guided tour to explain each place you see, it does have a cost depending on whether you do it in a group or individually.
If you have decided to hire the all-inclusive tour, you don't have to think about it. If you decide to go on your own, you must determine your preference.
The costs vary depending on whether you get an audio guide or decide to join a group. You can consult the official price list on the museum's website.
The Visit To Auschwitz And Birkenau
As I was saying, visiting Auschwitz is not a pleasure. You don't do it to have a good time. You do it to become aware.
We went with a guide in Spanish who told us the details of the camp.
"1,300,000 people were sent to Auschwitz," reads the first poster I see. I read on, "1,100,000 Jews, 140,000 non-Jewish Poles, 23,000 Gypsies, 15,000 Soviet prisoners, and 25,000 prisoners of other ethnicities," come on, they left no one with a head.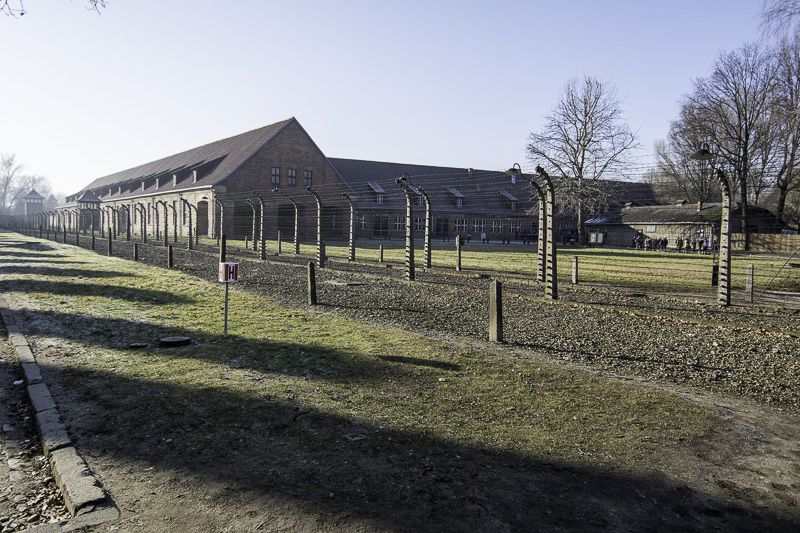 The visit takes place in an atmosphere of deep respect. People usually go in silence. No wonder. I did not want to be chattering while we visited. Some even got excited at certain times, and I could not help but look at them sideways.
We decided to make our trip to Poland in December. At this time of year, it is cold in Poland. We spent every day between three and six degrees below zero.
Visiting the camp with these temperatures, which are by no means the lowest in this area, gives you first-hand knowledge of the cold that the prisoners spent in the camp. The low temperature was one of the most common causes of death among them, along with hunger and lack of hygiene.
Auschwitz Camp I
When you enter the camp, you enter through the main gate whose lintel message is a demoralizing irony: "Arbeit Macht Frei," which means "Work sets you free" or "Work will set you free."
We entered the Auschwitz camp proper. The first camp was not particularly large and was built from barracks that had previously belonged to the Polish army.
Their initial objective was not extermination but exploiting the prisoners as slaves and labor force.
Its first prisoners came from Tárnow, a city of medieval origin east of Krakow. Visiting the city, by the way, is highly recommended.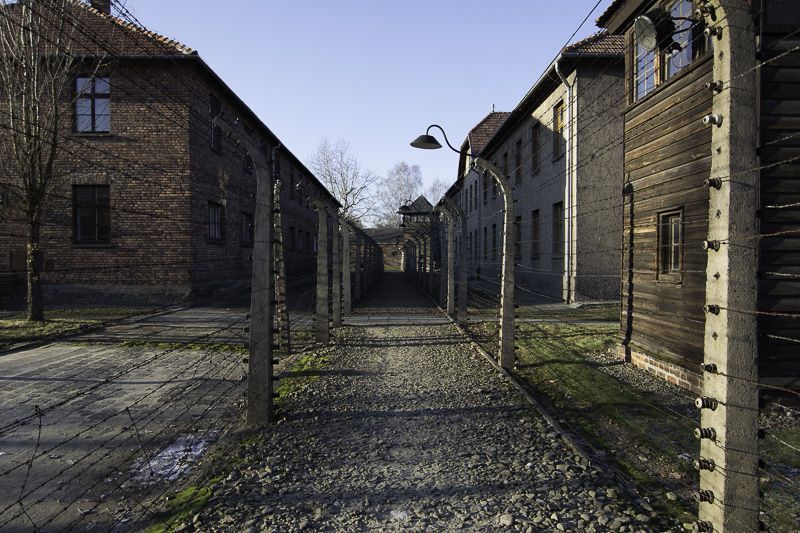 The field is surrounded by a double barbed wire fence that is scary and deeply saddening just to see. The barracks are aligned and perfectly placed in what could look like a small village with the same houses.
It is complicated to get an idea of what really happened there until you start to see inside the barracks the remains of the genocide.
It was in one of these ravines that the notorious Dr. Josef Mengele conducted experiments on human beings, women and twins, in Block 10.
Auschwitz Block 11
Block 11 was the most feared because it was the camp's dungeons. Disciplinary punishments were applied here.
Here you will see cells of one meter by one meter where four or five prisoners could be placed. Since the cell was tiny, they could only stand and could hardly move.
The vents of these cells were really small, and this was the worst thing because they could hardly breathe. Many died for this reason.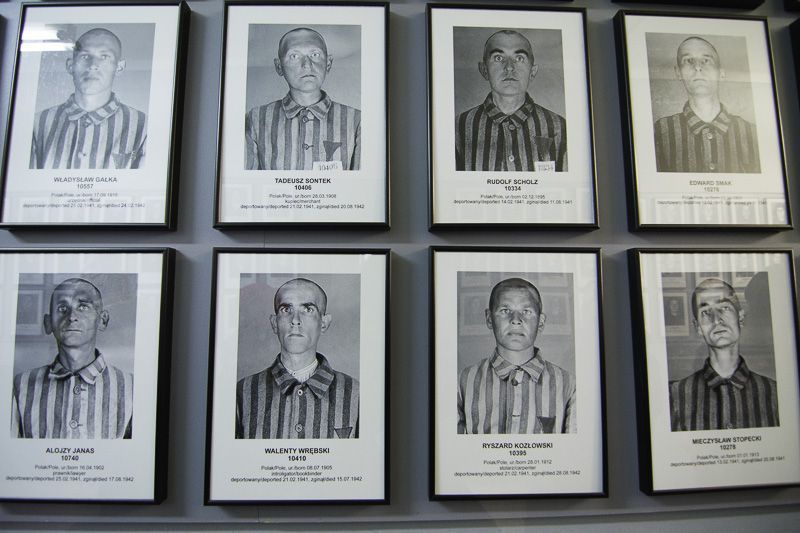 When we left block 11, in front of us, we found a steel beam on two wooden columns. Prisoners condemned to death were hung so the rest could see them and take an example.
In one of the blocks, you will see hundreds of photos of prisoners hanging, with their age, date of entry, and date of death. Most of the women I saw lasted between three and four months, and the men about 10 months.
You will see the remains. Only a few were left from everything they kept and stole from the prisoners.
They took their belongings and stored them, the suitcases, the shoes, the glasses, the hair. You will see hundreds and hundreds of pigtails of the women they murdered and then sold.
The talits that were taken from them, the pans and all kinds of utensils, the combs and brushes, everything by the thousands, stored, were thrown away.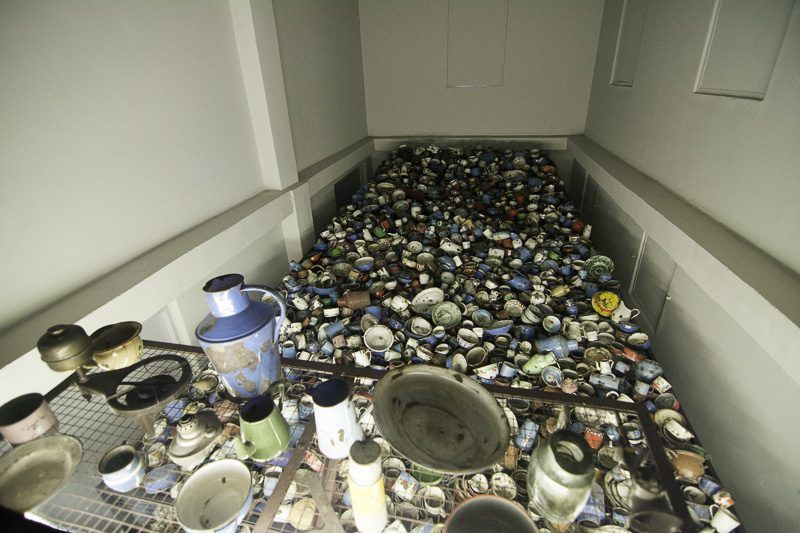 Block 11. The Beginning Of The Gas Chamber
It was in Block 11 where the experiments with Zyklon B gas were carried out. There is no need to go into chemical explanations. They were basically cans containing absorbent pellets.
In contact with moisture in the air, these pellets gave off cyanide gas and were used to eliminate insect and rodent pests in homes and factories.
However, the soldiers realized that they could use it to eliminate prisoners.
They locked four or five prisoners in cells and released open cans. They needed to know how many cans they required per person to be able to kill all the prisoners in the cell, so tests continued until they determined the number needed.
This meant that, at first, they did not succeed in causing death quickly, and the prisoners were in agony. They finally managed to determine the dose, 4 grams per person.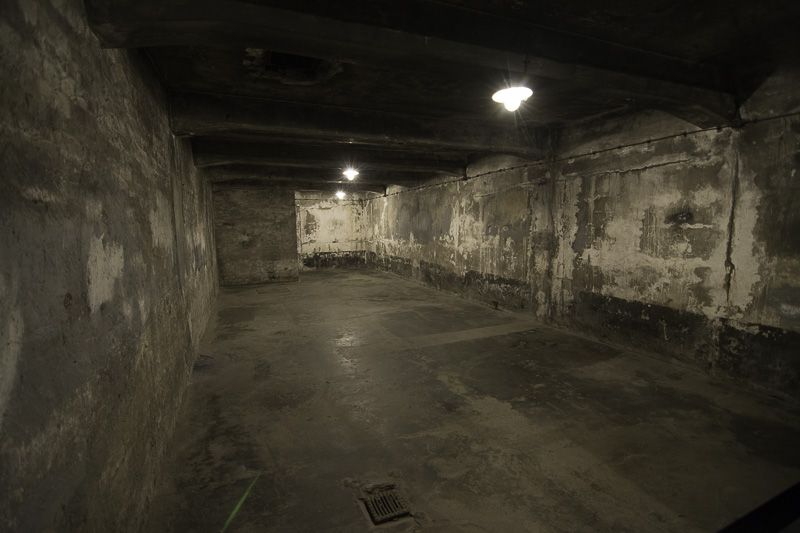 There is only one gas chamber left standing. You can enter, although out of respect for the thousands and thousands of lives lost there, you can't talk. I was allowed to take a picture.
You can see the traces of people's scratches on the walls, knowing they were being killed.
At the top, you can see the hole through which they threw the cans of Zyclon B. They were not showers or anything like that, as we have often imagined.
There were special workers who were Jews, called the sonderkommando.
They collected the corpses left over from the gas chambers, often their own families. They took them to the crematory ovens and burned them themselves, then collected the remains and ashes and disposed of them.
They were treated better and ate better, but they only lived for 6 months. After 6 months, they appointed a new sondekommando group whose first task was eliminating the previous group.
Expansion For Extermination Birkenau. Field III
However, the Auschwitz I camp became too small, and they began the expansion of Auschwitz II at Birkenau, about 3 km from Auschwitz I. It is a much larger camp than the previous one.
Here the railroad tracks ran directly into the camp, and the trains, loaded with Jews, were stopped for sorting, and all their belongings and luggage were taken away.
They divided the men on one side and the women and children on the other. Next, the doctor, by eye, decided whether they were fit to work or whether they went straight to the gas chambers.
The process had been greatly improved, and the gas chambers were designed for this purpose.
Instead of dumping the cans through a hole in the top, they poured the pebbles with Zyclon B gas down brass gutters with perforations, but there were never any showers.
The camp is huge, and most of the barracks are destroyed except for the brick columns that served as a chimney for the small stove they used to build.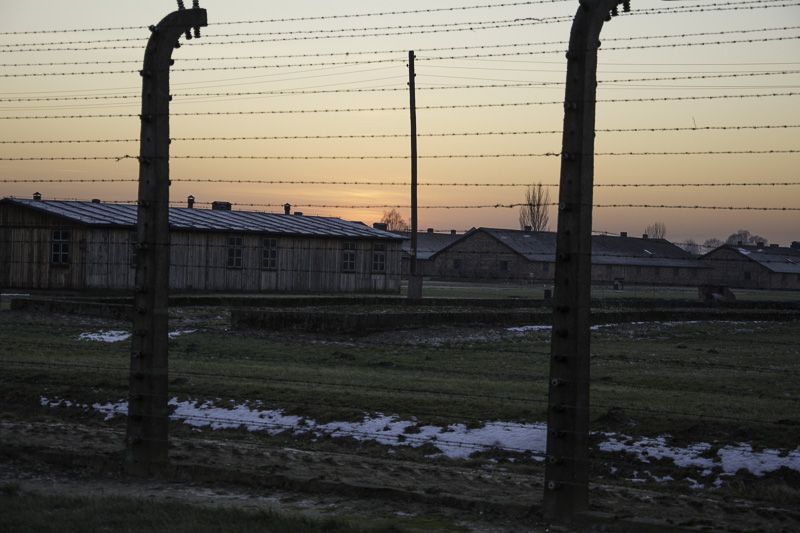 Only a few are left standing, and when you enter, remember the hundreds of people who died of cold, starvation, or murder in the same place.
You can also visit the barracks of the women who spent the least time in the camp.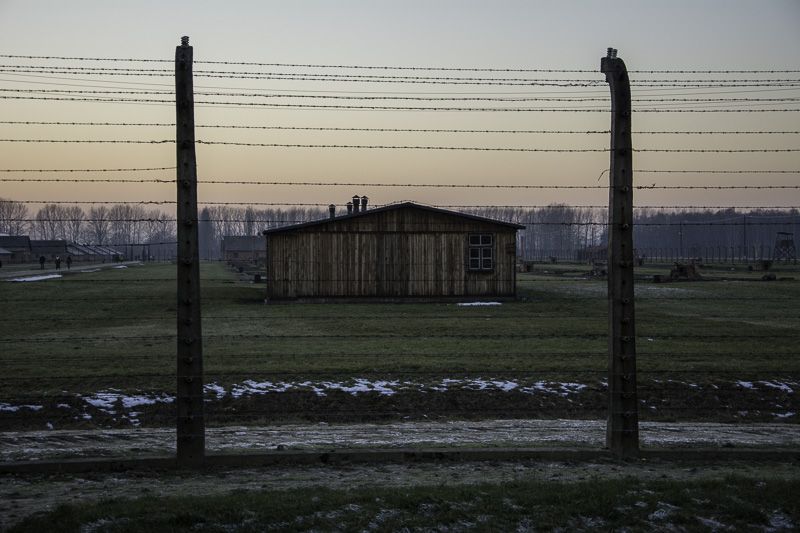 The sonderkommando, knowing that they would die sooner or later, decided to revolt and obtained explosives provided by female prisoners working in a weapons factory.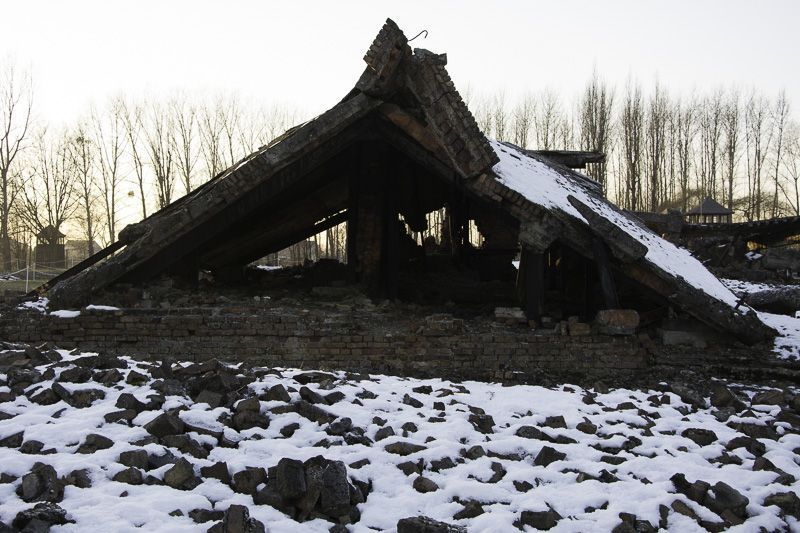 They blew up one of the crematories and tried to escape, but it was a failed attempt. The 250 sonderkommando were executed on the spot.
The remains of the destruction and rebellion have been left in the field as they were.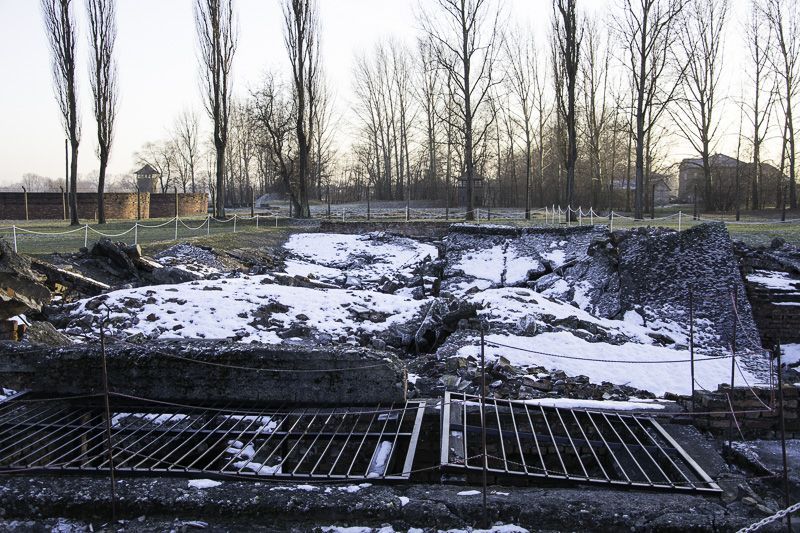 Next to the remains of the destroyed gas chamber 4 and some buildings at the end of the camp is the memorial for the victims of the Holocaust.
It is a visit to reflect, to become aware, and to know what should not happen again. Let's learn from it.
Plan Your Trip to Poland
Where to Sleep in Krakow
Visiting Tarnow and Zalipie
Last Updated on 13 September, 2023 by Veronica
Disclosure: Some of the links on this post are affiliate links, meaning at no additional cost to you, I may earn a small commission if you click through and make a purchase.