Visiting Wieliczka Salt Mine Near Krakow
The Wieliczka Salt Mine, a UNESCO World Heritage Site since 1978, is a must-see attraction in Krakow. While honestly not what I expected, they are pretty impressive, and I liked them.
Welcome to the enchanting world of Wieliczka Salt Mines, nestled just outside the vibrant city of Krakow! Prepare to embark on an extraordinary journey through centuries of history, natural beauty, and awe-inspiring craftsmanship.
As you venture deep into the underground labyrinth, be prepared to witness the remarkable wonders that lie beneath the surface.
Whether you're a history enthusiast, an adventure seeker, or simply a curious traveler, the Wieliczka Salt Mines are an absolute must-see destination that will leave you breathless with its captivating charm.
So, put on your explorer's hat, embrace the sense of wonder, and get ready for an unforgettable experience in this fascinating underground world.
Visiting Wieliczka Salt Mine
The Wieliczka Salt Mine is among the oldest in the world and reflects all historical stages of the development of mining techniques and technologies from the 13th to the 20th century.
There is a route that is prepared for the tourist visit, which is called the Tourist Route. Here, we can see the different corridors carved into the salt with numerous rooms and holes with works of art carved in salt.
Inside the Wieliczka Salt Mine, you will find incredible places, huge halls dug in the salt, museums, a beautiful chapel, and a lagoon. Of course, there are restaurant and souvenir shopping areas. You can take home a little salt from the mine.
As I mentioned, you will find many works of art, salt sculptures, and recreations of what life was like inside the mine.
When I say that it is not what I expected, I say it because I was expecting something more rustic, something more like the Mining Route that I did not know of its existence, which gives me an excuse to return. I will tell you more about it below.
Although not as much as the mines of Potosi, I did not imagine that it would be so well prepared for tourism and that it would be so beautiful.
Interesting and Surprising Facts about the Wieliczka Salt Mine
It receives more than 1 million visitors annually. That's why you buy your tickets online.
There are more than 300 kilometers of galleries, halls, and lagoons.
The maximum depth is 327 meters.
The Tourist Route only covers a small percentage of the mine and only goes 135 meters deep.
Women were not allowed to enter the mine because they brought bad luck!
On the fifth level of the mine, there is a spa called Kinga Physiotherapy Hospital, which opened in 1964.
You can suck the walls of the mine. They will tell you on your visit.
One of the Most Beautiful Rooms in the Wieliczka Salt Mine
One of the most beautiful rooms is the St Kinga's Chapel, where everything is made of salt, although surely the chandeliers made of salt are the most striking. They are really impressive.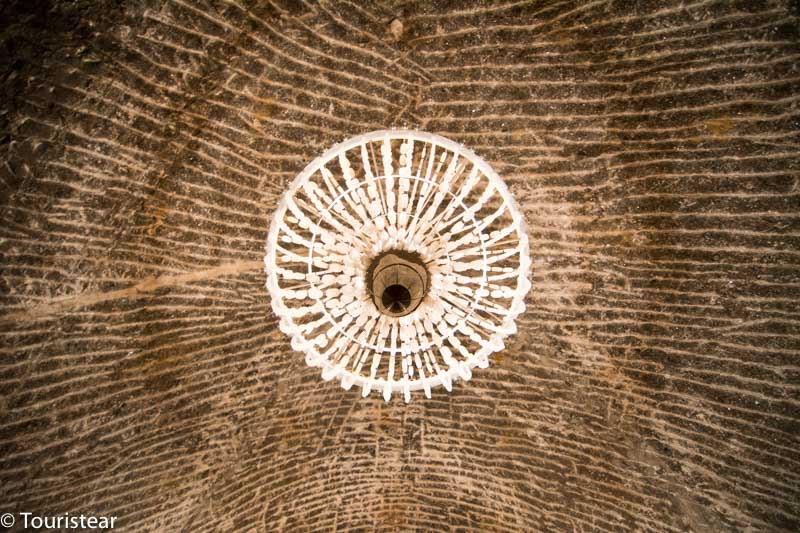 Another thing about this room is that it is wheelchair accessible, as it was when Pope John Paul II visited the mine.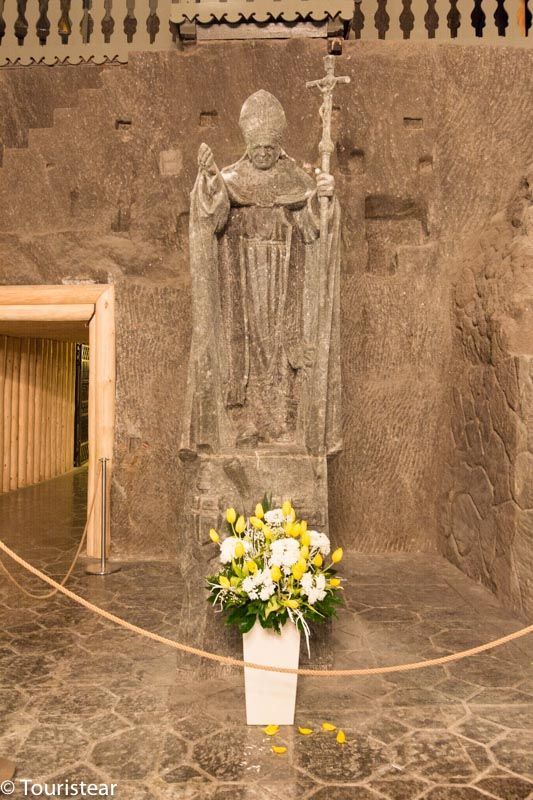 The only thing is that you have to pay an extra fee to take pictures in this room. Otherwise, they kindly ask you not to take them.
How to Get To Wieliczka Salt Mine?
The Wieliczka Salt Mine is located only 15 kilometers from Krakow. So you can get there by your own means in a rental car or by public transportation.
The cheapest option is the train, which departs from Krakow's main station.
But you can also go by bus, cab, minibus or take the guided tour from Krakow, which is the most recommended option, since you forget about driving, missing the bus, buying tickets, etc. It lasts about four hours, with a guide who will tell you what you are seeing.
The price is 35€ per person, you can see more information and make a reservation here.
Wieliczka Salt Mine Tour
It is a visit for the whole family. You can go with children, friends, and couples. But it is not suitable for people with reduced mobility except for the St Kinga's Chapel room.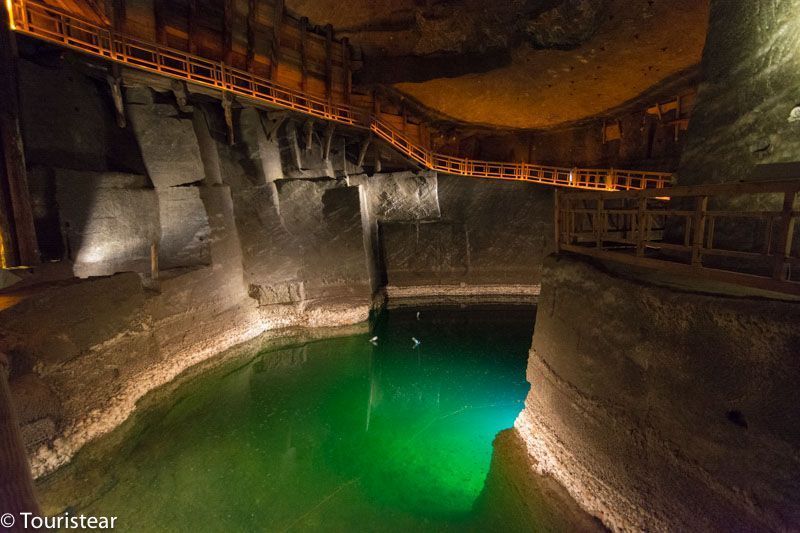 We took a guided tour through the Tourist Route. The tours through the salt mines of Wieliczka must be booked in advance, as each group has a departure time, so we did not need to squeeze through the corridors. We can listen to the explanations of our guide in our language.
Our tour departed from Krakow, you go to the meeting point, and from there, you go by bus to the Wieliczka Salt Mines.
The tour lasts about four hours and can be done in English, French, Italian and Spanish. Book it here.
Next time I want to do the expedition-type mining itinerary with work clothes, a helmet, and a lamp and live a different experience.
In case you are interested, the itinerary starts by going down the oldest existing well in Wieliczka: the Regis well. An experienced guide, called a master miner, oversees the expedition.
He naturally leads the "new miners" group through the labyrinth of chambers and galleries. And it teaches us the secrets of subway work.
The master miner assigns each expedition participant his or her role and the task to be performed. New miners learn to measure methane concentration, find and transport salt, trace the path, and explore unknown chambers.
This is how the day-to-day life in the mine is in practice, as well as some of the rites and traditions of the miners. It is a passage to know the secrets of the subway world.
In this itinerary, we did not visit any of the tourist routes.
Plan Your Trip to Poland
Save this image on your
Pinterest!
Last Updated on 8 September, 2023 by Veronica
Disclosure: Some of the links on this post are affiliate links, meaning at no additional cost to you, I may earn a small commission if you click through and make a purchase.
Author: Veronica
Vero, a seasoned traveler, has explored 25 countries and lived in five, gaining a rich perspective and fostering an infectious passion for travel. With a heart full of wanderlust, Vero uncovers the world's hidden gems and shares insights, tips, and planning advice to inspire and assist fellow adventurers. Join Vero and let the shared passion for travel create unforgettable memories.